March 26 - April 1, 2017: Issue 306

Victor James Daley: A Manly Bard And Poet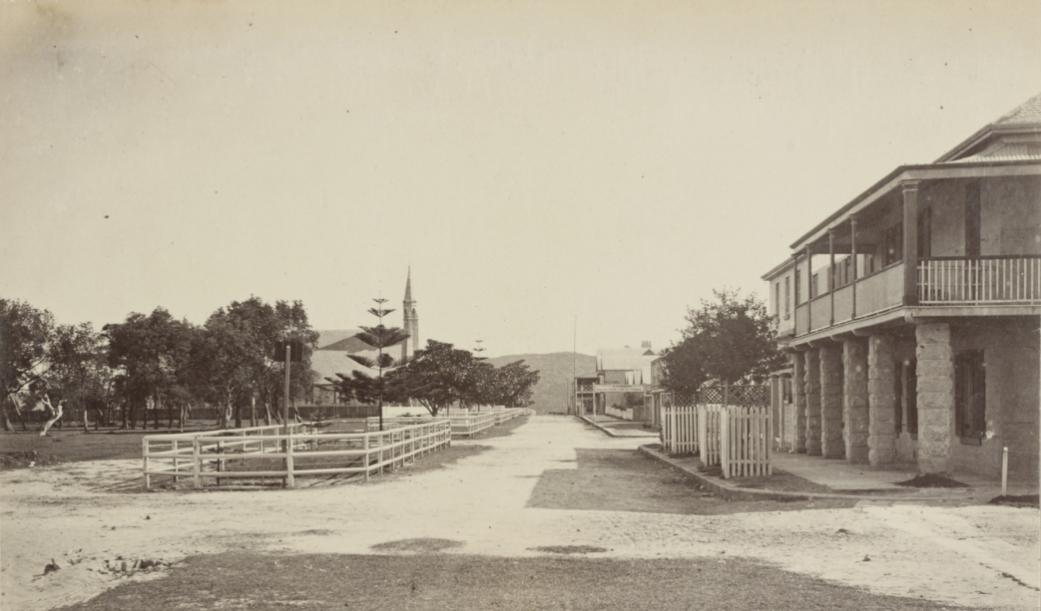 Photo 47a. 'at Manly the Corso' from Album "Views of Sydney and its streets, 1868-1881 / compiled by John Lane Mullins". Image No.: a1939111h, courtesy State Library of NSW
It should come as no surprise to those who watch the ocean, and see its lines roll in with the form of waves, that many an Australian poet has long been attracted to, inspired by, and at home amongst the Australian coastal landscape. This way of seeing 'vision' everywhere would also be applicable to green to blue hills to the western horizon, in Pittwater's case, aligned with the constantly changing colours of the estuary when not on the coast.
Those with enough intellect to string a few lines together that evoke and take us to places tangibly intangible are also those who frequently like to be within reach of a metropolitan area where people abound, where books in libraries are accessible, where paper and ink may be procured with which to write those bursts of feelings and thoughts down. Manly was within a steamer trip of Sydney 'town' before the advent of decent roads, and Pittwater a steamer, coach or sailing trip away.
Research has made it apparent Manly and Pittwater, and the long stretches of coastal bliss in between, have long been a haven and inspiration for these wordsmiths of song. It is in the petroglyphs that were made by the original custodians and the songs, of annual returnings, these are Markers for.
It is in the earliest records of those sent to or escaping to this beautiful land through the songs they brought with them and in the way they sought to communicate with those still in that northern 'green and pleasant land' what they were seeing, and filled to the pores and beyond with, here. For those living here these poets were popular when alive, as opposed to when dead, and through the wider range of newspapers and weeklies and monthlies available then than what is available as a 'newspaper' today, their stories and poems could be read and shared by a resident population that may not have access to books and libraries in rural areas outside the metropolis, or read aloud for those who had not had access to an education. For those to whom articles, poems and songs were read aloud is the inference of the first meaning of 'Bard'.
He was among those called 'Manly Bards' by Henry Lawson in a tribute poem published in 1906, months after his passing away.
There are at least two outstanding incidents prior to this which established Manly, a gateway north to greener Pittwater, as a place frequented by these now legendary poets and wordsmiths. There are links that fan out to Middle Harbour, and there mingled with a rising group of Artists, through Mosman and Mosman Bay, Little Sirius Cove, where Curlew Camp was located, and Balmoral, that extended and changed, or even began in the estimation of some, an Australian School of Art.
The first of these 'visitations' occurs in mid 1882:
This underlines a 'Lake Daley' harbourside of Manly location as he left Manly and returned to Manly:
Living at George Street Manly appears to be the second time Victor Daley resided at Manly, a residential term of a few years this time, in between sojourns for his health away from Manly - some of these references to Victor Daley spelling his surname in its original format:
Another pen-name, dreamed up during his residence at Manly, also gives us a Daley poem on Manly:
This reference gives some insight into the influence his sister, to whom he dedicated his 1898 book to, coinciding with his own tastes - one of his daughters is reported in some snippets as living or visiting her when he passed away in December 1905. This also confirms Victor Daley loved Manly as he returned to and lived there on more than one occasion:
In Manly:
A favourite Daley poem kept here illustrates the whole ethos of the gentleman during the year when he must have realised he would not beat the disease that was wasting his life: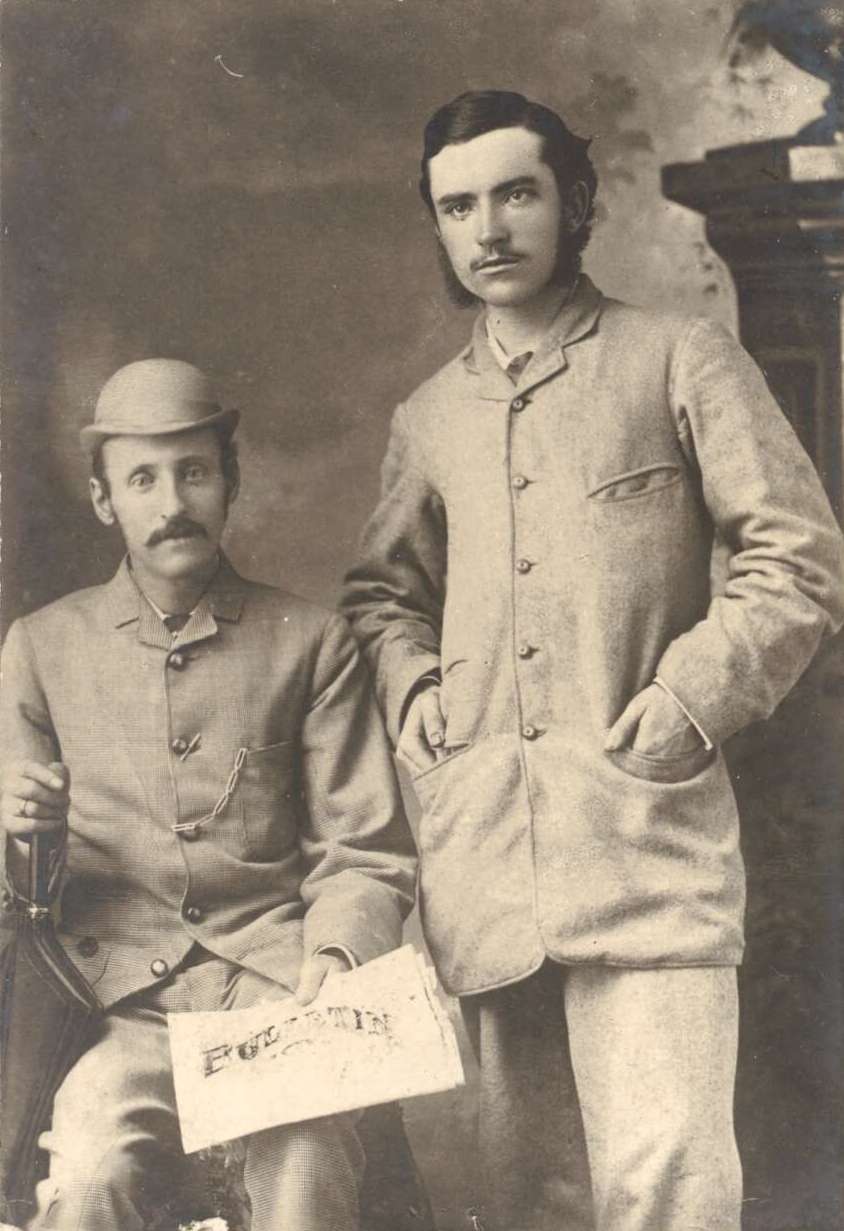 THE BARDS WHO LIVED AT MANLY
The camp of high-class spielers,
Who sneered in summer dress,
And doo-dah dilettante,
And scornful "venuses"--
House agents, and storekeepers,
All eager they to "bleed"--
The bards who tackled Manly,
Were plucky bards indeed!
With shops that feared to trust them,
And pubs that looked askance;
And prigs who read their verses,
But gave them not a glance;--
When all were vain and selfish,
And editors were hard--
The bard that stuck to Manly
Was sure a mighty bard.
What mattered floors were barren,
And windows curtainless,
And our life seemed to others
But blackguard recklessness?
We wore our clothes for comfort,
We earned our bread alway,
And beer and good tobacco
Came somehow every day.
Came kindred souls to Manly--
Outsiders that we knew,
And with them scribes and artists,
And low comedians too;
And sometimes bright girl writers--
Called "Tommy", "Jack", or "Pat"--
(Though each one had a sweetheart
The rest knew nought of that).
'Twas not the paltry village
We honoured unaware,
Or welcome warm, or friendship,
Or "tone" that took us there;
We longed to sing for mankind,
Where heaven's breath was free
We only sought the grandeur
Of sea-cliff, sands and sea.
And we were glad at Manly,
All unaware of "swells",
Of doctors and of nurses,
And private hospitals;
With little fear of bailiffs,
And great contempt for greed--
The bards who lived at Manly,
They were a healthy breed.
Oh! moonlit nights at Manly,
When all the world was fair!
In shirts and turned-up trousers
We larked like big boys there.
Oh! glorious autumn mornings--
The gold and green and blue--
We "stripped" as well as any,
And swam as strongly too.
The artist had a missus,
Who rather loved the wretch,
And so for days together
He'd stay at home and sketch.
And then--I fear 'twas only
When things were getting tight--
The bards would shun each other,
And hump themselves--and write.
When bailiffs came to Manly
They'd find no "sticks" to take,
We'd welcome them as brothers--
Their grimy hands we'd shake;
We'd send for beer in billies--
And straightway send for more--
And bailiff nights in Manly
Were merry nights of yore.
There are some things that landlords
And law can't do at all:
They could not take the pictures
We painted on the wall;
They could not take the table--
The table was a door;
They could not take the bedsteads--
The beds were on the floor.
The door of some old stable--
We'd borrowed for a drink--
A page of rhymes and sketches,
And stained with beer and ink;
A dead hand drew the portraits--
And, say, should I be shamed,
To seek it out in Manly
And get the old door framed?
They left the masterpieces
The artist dreamed of long;
They could not take the gardens
From Victor Daley's song;
They left his summer islands
And fairy ships at sea,
They could not take my mountains
And western plains from me.
One bailiff was our brother,
No better and no worse--
And, oh! the yarns he told us
To put in prose and verse,
And sorry we to lose him,
And sorry he to go--
(Oh! skeletons of Pott's Point,
How many things we know)!
The very prince of laughter,
With brains and sympathy;
And with us on the last night
He spent his bailiff's fee.
He banished Durkin's gruffness,
He set my soul afloat,
And drew till day on Daley's
Bright store of anecdote.
He said he'd stick to business--
Though he could well be free--
If but to save poor devils
From harder "bums" than he,
Now artist, bard and bailiff
Have left this vale of sin--
I trust, if they reach Heaven,
They'll take that bailiff in.
The bards that lived in Manly
Have vanished one and one;
But do not think in Manly
Bohemian days are done.
They bled me white in Manly
When rich and tempest-tossed--
I'll leave some bills in Manly
To pay for what I lost.
They'd grab and grind in Manly,
Then slander, sneer, and flout.
The shocked of moral Manly!
They starved my brothers out.
The miserable village,
Set in a scene so fair,
Were honester and cleaner
If some of us were there!
But one went with December--
These last lines seem to-night
Like some song I remember,
And not a song I write.
With vision strangely clearer
My old chums seem to be,
In death and absence, nearer
Than e'er they were to me.
Alone, and still not lonely--
When tears will not be shed--
I wish that I could only
Believe that they were dead.
With hardly curbed emotion,
I can't but think, somehow,
In Manly by the ocean
They're waiting for me now.
From For Australia (1913) and: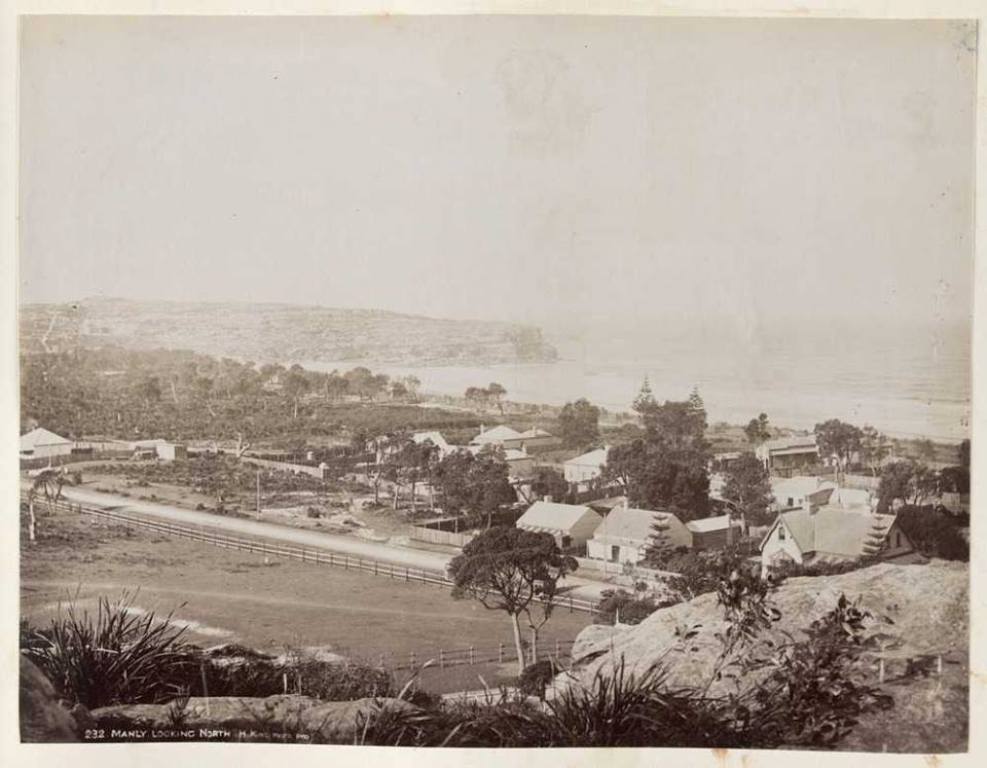 Manly, looking north circa 1888, Henry King photo - courtesy State library of Victoria.

I thought that silence would be best,
But I a call have heard,
And, Victor, after all the rest,
I well might say a word:
The day and work is nearly done,
And ours the victory,
And we are resting, one by one,
In graveyards by the sea.
But then you talked of other nights,
When, gay from dusk to dawn,
You wasted hours with other lights
That went where you have gone.
You spoke not of the fair and "fast",
But of the pure and true —
"Sweet ugly women of the past"
Who stood so well by you.
You made a jest on that last night,
I met it with a laugh:
You wondered which of us should write
The other's epitaph.
We filled the glasses to the brim —
"The land's own wine" you know —
And solemnly we drank to him
Who should be first to go.
No ribald jest; we were but two —
The royst'ring days were past —
And in our heart of hearts we knew,
That one was going fast.
We both knew who should win the race —
Were rest or fame the prize —
As with a quaint smile on your face
You looked into my eyes.
You talked about old struggles brave,
But in a saddened tone —
The swindles editors forgave
For laughter's sake alone.
You talked of humorous distress,
And bailiffs that you knew,
But with a touch of bitterness
I'd never seen in you.
No need for tears or quick-caught breath —
You sleep not in the sand —
No need for ranting song of death,
With the death drink in our hand.
No need for vain invective hurled
At "cruel destiny",
Though you seem dead to all the world
You are not dead to me.
I see you walk into the room —
We aye remember how —
And, looking back into the gloom,
You'll smile about it now.
'Twas Victor's entry, solemn style —
With verse or paragraph:
Though we so often saw your smile
How many heard you laugh?
They dare to write about the man
That they have never seen:
The blustering false Bohemian
That you have never been;
Some with the false note in their voice,
And with the false tear shed,
Who in their secret heart rejoice
For one more rival — dead.
They miss the poems, real and true,
Where your heart's blood was shed.
And rave of reckless things that you
Threw out for bitter bread.
They "weep" and "worship" while you "rest",
They drivel and they dote —
But, Victor, we remember best
The things we never wrote.
The things that lie between us two,
The things I'll never tell.
A fool, I stripped my soul, but you —
You wore your mask too well
(How strangely human all men be,
Though each one plays a part).
You only dropped it once for me,
But then I saw your heart.
A souls'-match, such as one might strike
With or without intent
(How strangely all men are alike —
With masks so different).
No need to drop the mask again,
On that last night, I know —
It chanced when we were sober men,
Some seven years ago.
They slander you, fresh in the sand,
They slander me alive;
But, when their foul souls flee the land,
Our spirits shall arrive.
In slime and envy let them rave,
And let the worst be said:
"A drunkard at a drunkard's grave,"
"A brilliant drunkard dead."
Because we would not crawl to them,
Their hands we would not shake,
Because their greed we would condemn,
Their bribes we would not take:
Because unto the fair and true
Our hearts and songs we gave —
But I forgot them when I threw
My white flower on your grave.
So let us turn, and with a smile
Let those poor creatures pass
While we, the few who wait awhile,
Drink to an empty glass.
We'll live as in the days gone by,
To no god shall we bow —
Though, Victor, there are times when I
Feel jealous of you now.
But I'll have done with solemn songs,
Save for my country's sake;
It is not meet, for all the wrongs,
That any heart should break.
So many need to weep and smile,
Though all the rest should frown,
That I'd take your burden up awhile
Where you have laid it down.
VICTOR J. DALEY.
(For the 'Freeman.')
Across the sweep of phantom spheres,
Beyond the glimpse of farthest star,
Out to the home of Nature's peers,
His radiant soul is speeding far. ;
Speed on, bright soul, spread wide your
gleams,
O'er- region's wrapped in endless night, ;
And light the way to Land of Dreams,
The poet's quest— the Land of Light!
While we — 'bereft of one who dared
In dazzling line to trace the path
To worlds unseen, and with us shared
His vision of life's aftermath —
Too sad for tears, too wrought for sighs,
And spellbound by the souls swift flight,
Are envious of the Paradise
Of Victor's dream — the Land of Light.
The hand that ever kindly gripped
The hand of' friend, and traced with pen
The priceless page of manuscript,
Is vanished from the reach of men.
The heart of gold, the jewelled brain,
The voice that echoed fancies bright,
We seek, and know we seek in vain,
Without his sphere — the, Land, of Light.
How poor are we in this great loss!
Our- little world has quit its best,
And holds but heavy, uncared dross,
And nights of 'gloom and days unblest.
Mean, too, are we to wish him here
To cheer. us. through our mortal plight,
When he escapes the 'lot austere'
To gain' the goal— the Land of Light.
But rich are we in that we hold
The deathless volume of his mind,
Tine diamond' thought and word of gold,
As legacy to all mankind.
And joy is ours, for Victor shines
Forever in his realm by right,
Where nought his noble. soul confines
Bohemia free. — the Land of Light. '
WILLIAM BEDE MELVILLE.
Ocean beach, Manley [i.e. Manly], ca. 1885 - Image nla.obj-144927039-1, courtesy National Library of Australia

More Manly, Mosman and Middle Harbour inspired Daley songs?
Half waking and half dreaming,
While starry lamps hung low
I saw a vision splendid
Upon the darkness glow.
The Capital Australian,
With waving banners plumed --
A shining flower of marble --
Magnificently bloomed.
Beside a snow-fed river
'Twas built in fashion rare --
Upon a lofty mountain,
All in a valley fair.
The stately ships were sailing,
Like brides with flowing trains,
To seek its secret harbor
Amidst Australian plains.
And all around it flourished
Luxuriantly free,
The giant gum and mangrove,
The crimson desert-pea.
And I beheld a building
That made a stately show --
The National Australian
Head Poetry Bureau.
I gazed upon that Building
With trembling joy aghast;
The long-felt want of ages
Was filled (I thought) at last.
No more the Native Poet
Need wildly beat his head
For lofty lyric measures
To buy him beer and bed.
Now he would lodge right nobly
And sleep serene, secure,
All in a chamber filled with
Adhesive furniture.
For never foot of Bailiff
Should pass his threshold o'er,
And never knock of landlord
Sound direful on his door.
The State should also aid him
To build his lofty rhyme
On lordly eggs-and-bacon,
And sausages sublime.
And he should drink no longer
Cheap beer at common bar,
But royal wine of Wunghnu
At two-and-nine the jar.
It was a vision splendid,
And brighter still did grow
When I was made the Chief of
The Poetry Bureau.
They clad me all in purple,
They hung me with festoons,
My singing-robes were spangled
With aluminium moons.
And, as a sign of genius
Above the common kind,
A wreath of gilded laurel
Around my hat they twined.
They also gave me power to
The grain sift from the chaff,
And choose at my large pleasure
My own poetic staff.
Then straightaway I appointed
To chant by day and night,
The brilliant young Australian
Who sang "The Land of Light."
I also gave in fashion
Hilariously free,
The Girl and Horse Department
In charge of Ogilvie.
And on the roof-ridge Brady
Sang salt-junk chanties great
To cheer the stout sea-lawyers
Who sail the Ship of State.
And tender-hearted Lawson
And Brennan, in the basement,
Crooned weird, symbolic songs.
And on the throne beside me,
Above the common din,
He sang his Songs of Beauty,
My friend, the poet Quinn.
Our own Australian artists
Made beautiful its halls --
The mighty steeds of Mahony
Pranced proudly on the walls.
Tom Roberts, he was there, too,
With painted portraits fine
Of men of light and leading --
Me, and some friends of mine.
And Souter's Leering Lady,
'Neath hat and over fan,
With Souter's cat was ogling
His check-clothed gentleman.
And Fischer, Ashton, Lister,
With beetling genius rife
--
Pardieu! I was their Patron,
And set them up for life.
And from each dusky corner,
In petrified new birth,
Glared busts of Me and Barton,
And nine fair Muses dwelt there,
With board and lodging free;
Six by the States were chosen,
And I selected three.
And there we turned out blithely
Australian poems sound,
To sell in lengths like carpet,
And also by the pound.
For Paddy Quinn, the Statesman,
Had made a law which said
That native authors only
On pain of death be read.
O, brother bards, I grieve that
Good dreams do not come true;
You see how very nobly
I would have done to you!
But, ah! the vision vanished,
And took away in tow
The National Australian
Head Poetry Bureau.
First published in The Bulletin, 1 September 1904, p36
With pen in hand and pipe in mouth,
And claret iced to quench my drouth,
That overlooks the sparkling sea,
Serenly gay, and cool, and bland --
With pipe in mouth and pen in hand.
This life I think is beautiful,
When at the jug I take a pull.
The harbor shines like azure silk;
The claret tastes like mother's milk;
Then to the pipe I turn again -
And then I trifle with the pen.
The red-faced neighbors townward go;
The air is in a furnace glow.
I watch them scorching as they pass,
Like flies beneath a burning glass --
Each clutching at the red-hot hour
For coin; their folly turns me sour.
The Business Man may fret and sweat
In his black coat, for etiquette,
And grow in shop and office old,
And gather wrinkles with his gold --
I sit in shirt-sleeves cool and bland,
With pipe in mouth and pen in hand.
The white clouds -- idle they as I --
Like dreaming gods, at leisure lie
Upon the hill-crests. Smoke upcurls
From chimneys lazily, and girls
Below me, with bare, brown arms fine,
Are pegging linen on a line.
The great ships, from the world outside,
Steam slowly in with stately pride,
Their giant screws now gently spin;
'Tis good to watch them gliding in
From East, and West, and North, and South,
With jug in hand and pipe in mouth.
These visions fill me with content,
And I remember not the rent.
When with cool breezes comes the night
It will be time enough to write.
Then you shall see me start the band --
With pipe in mouth and pen in hand.
"Creeve Roe"
First published in The Bulletin, 9 November 1911, p3
Victor Daley Timeline
Charles Wesley Caddy had five children and a wife who were living in a little cottage in Little Brighton street, Petersham while he was gallivanting with Argles and Daley at Manly. He married Elizabeth Jane Hicks in 1871 in Melbourne. A son of a large family of brothers and sisters, he was classically trained in music and offered a very good education. Prior to pursuing a literary career he worked as a school teacher.
While Mr. Norton was perhaps lamenting his inability to produce poetry by lampooning those who did, yet another benefit, this time to support those left behind, was being worked out - we include the reference to Mr. Fell as he had a holiday home at Mona Vale:
Family Threads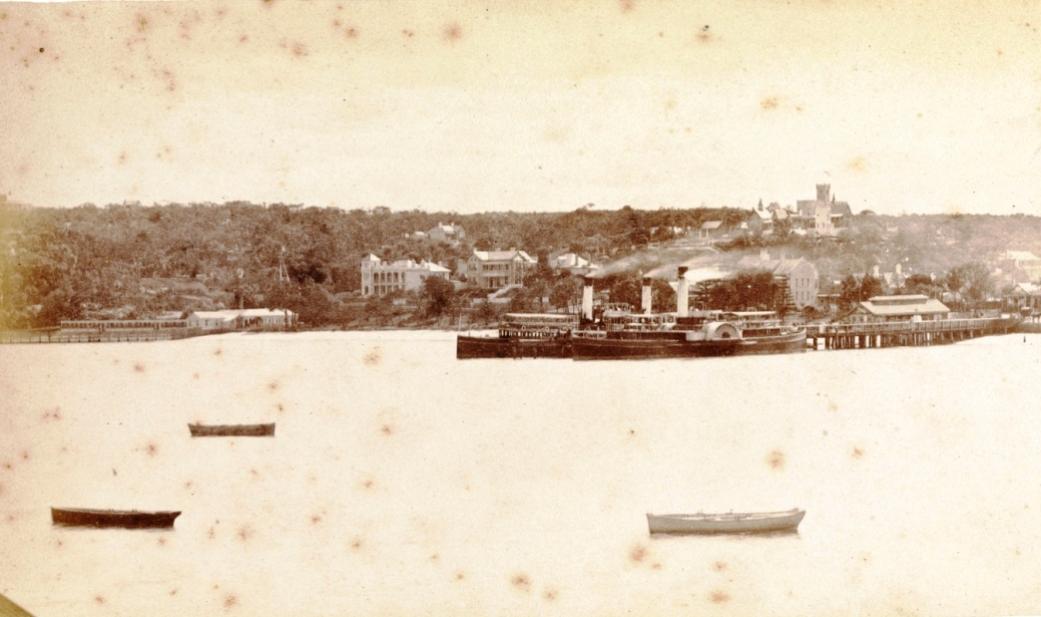 'Manly', from Album Mort family - Photographs of Sydney & N. S. Wales [ca. 1879-1889]. Image No.: a7242032, courtesy Mitchell Library, State Library of New South Wales
By
Arthur Jose
, journalist and historian - on At Dawn and Dusk (first published in 1898), in an Article title '
The Romantic Nineties' we hear about his one published, while alive, work.
More than once Daley
complains
about this photograph, not liking it, not thinking it captures his true essence at all. The description of Daley's physical
appearance
doesn't match that given later in a publication '
Victor Daley' by A.G. Stephens.
A. G Stephens (Alfred George), 1865-1933.
Sydney : Bulletin Newspaper Co. 1905.
This available online through the State Library of Victoria and includes another photograph which he didn't want being used
Mr. Stephens, who knew Daley, describes him as:
"Physically Daley was of the middle height, with a large head set upon somewhat heavy shoulders. His face showed his mixed ancestry: the brow broad; the eyes large, soft, and dark in colour; the nose strong, the mouth and chin weak. His hair and beard were brown, between black and ruddy. Colour counted for as much in his physiognomy as in his poetry; and the plaster bust modelled by N. Illingworth meets one strangely, so pronounced is the loss."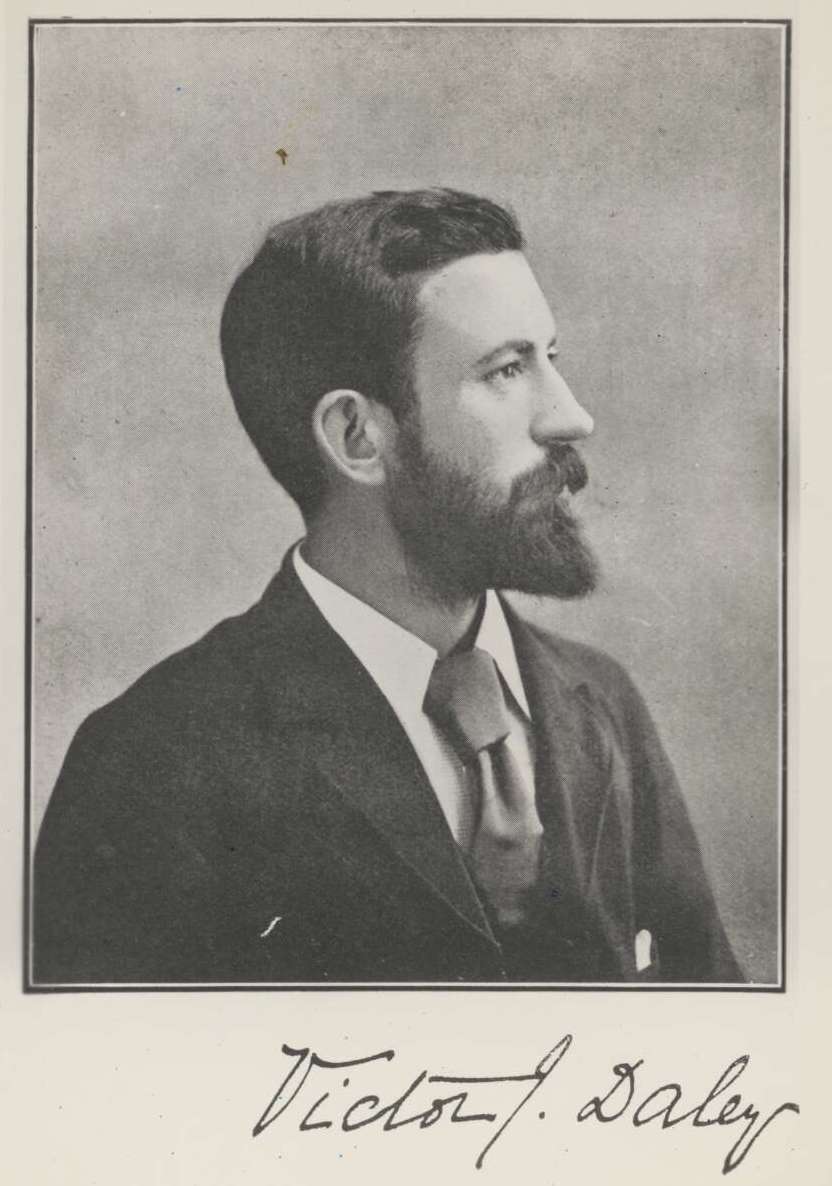 Portrait of Victor James William Patrick Daley, poet, ca. 1890s, courtesy National Library of Australia - http://nla.gov.au/nla.obj-137978549

To My Sister
by Victor J. Daley
In memory of our young days ashine
With dreams, when life was an opening rose,
Take, Alice dear, this little book of mine,
All made of dreams and dying sunset-glows,
A lonely bird that singeth far apart –
Yet shall sing sweeter in its home, thy heart
THE same year (1899) saw the birth and death of another notable little magazine, A. G. S tephens's "Bookfellow"-the original home of a charming quatrain about Australia "in contemporary literature." One would like to know the author. R.H.C were his Initials:
Whaler, damper, swag, and nosebag,
Johnny-cakes and billy-tea,
Murrumburrah, Mercmendlçoowoke, Yoularbudgeree,
Cattle-duffers, bold bushrangers, diggers,
drovers, bush race courses,
And on all the other pages, horses, horses,
horses, horses.
The "Bookfellow's" front cover was always a delight (Fischer was responsible for that). Chris. Brennan, who criticised contemporary British verse in "The Australian Magazine" with admirable tact, chose French poets for his "Bookfellow" critiques; and a mass of paragraphs, often of real literary Interest, appeared In it, probably because they were just too exotic to suit the "Red Page." But the magazine will be remembered chiefly for a delightful splurge by Victor Daley, which he called "Narcissus and Some Tadpoles." The sketch of Narcissus-avowedly the editor of the "Red Page"-is probably the most artistic bit of caricature known to Australian literature. One longs to quote the whole of it, but space is lacking;
I am the Blender of the pure
Australian Brand or Literature. . . .
The finest local poetry
Grows finer when distilled through me.
I murmur softly as I write
"How exquisite ! How exquisite?"
A second part, sited "In a Hop-Beer Hell," is a symposium of poets, Arthur Adams, Rod. Quinn, Brennan, Daley himself, and a couple more, who, after a violent altercation, have their respective merits allotted as follows;
Jones! You're the dreamiest poet In Australia. Stand out!
Smith ! you're the most distinguished poet in Australia. Stand out!
Brown! You're the grandest poet In Australia. Stand out!
Robinson! You're the prettiest poet in Australia. Stand out!
Doolan! You're the fattest poet in Australia, stand out!
Readers can fit the caps as they prefer.
The Two-sided Victor Daley.
THAT brings us to Victor Daley, as two-sided a personality as one can remember. On one side he was assuredly "the dreamiest poet In Australia," and the most purely-poetical, equalling Henry Kendall at his best, though by very different methods.
When "At Dawn and Dusk" was published Will Ogilvie wrote:
A perfumed flower
Recalls a passion-laden hour,
And breezes heavy with Its scent
Blow down beside his Lethe streams,
And stir the drowsy popples bent
In Daley's land or dreams.
I forgive the egotism for the sake of the coincidence-had already,
while I was struggling with the proof-corrections of Daley's volume
, found almost the same metaphors:
The scent of every faery flower
That In Titania's garden blooms,
Threading her slumbers, hour by hour.
With delicately rich perfumes,
my little eulogy began, and shifted its imagery to;
Out of the glowing brazier streams
A lucent vapour, spreading slow.
Whereon the singer's aery dreams
Like magic pictures fade and grow,
After that congruence of opinions we may perhaps grant the dreaminess- But it was the same Daley who, when he and John Farrell were working together at Queanbeyan, wrote:
Lord, give me In the Realms of Bliss
No measly harp to strum,
But let me sit and bang like this
An everlasting drum!
That was the Daley of the famous Dawn and Dusk Club, "whose meetings are veiled in secrecy," wrote a critic of 1899, but were more or less revealed to the world in after years by George Taylor, In "Those Were the Days!" It was that side of him, probably, that inspired his suggested advertisement for "At Dawn and Dusk":
"Are you suffering from heat, cold, boredom, bad dreams, colic, Influenza, spots before the eyes, or a feeling that something Is about to happen? Try a volume of 'Dawn and Dusk.* If one volume does not cure you, try a dozen. Angus and Robertson have stacks of them."
That reached me in purple ink on green paper, a vile combination to which he was addicted
.
The same medium was used for a vehement refusal to supply his portrait for a frontispiece to the volume: "Do they think the picture of a red-headed Tipperary Irishman is going to attract purchasers?"
The book's title was not his first or his second choice. He would have much preferred "Rabesqurat," but his publishers doubted whether buyers would have read "The Shaving of Shagpat"-and in any case, neither buyers nor sellers could have pronounced it properly. Then he proposed "Wine and Roses," which had merits as a title, but not as a title for that particular book. (It was used, posthumously, for a book it suited still less.) "At Dawn and Dusk" was a compromise.
It is hard to express to this generation our feelings about Daley the poet. We watched for his acceptance by the London critics with complete assurance, and their neglect of him staggered us: it broke for ever the old, bad tradition that London's approval was worth something.
When the best that they could accord him was "The Outlook's" "manly and sincere, what-ever their technical shortcomings," even A. G- Stephens protested: "But these are surely only the preliminaries of praise."
Of the Dawn and Dusk Club side of him I prefer that others should write. His own comment was:
"With wine and jest and laughter long,
Their lives appear to pass, maybe:
But still beneath the River's song
There sounds the sobbing of the Sea".
One of those sobs is my own most personal recollection of him. In the "Dawn and Dusk" volume he included a group of three poems instinct with passionate regret, which, as they stood, seemed to me associated unnaturally. I suggested giving them individual titles and destroying the pretence of connection. After argument-he was always patient of argument-he saw my point, but said he must have them grouped; and three days later he sent along a verse with the note "Will this make the connection plainer?"
Here is the verse:
These broken lines for pardon crave;
I cannot end the song with art;
My grief Is grey and old-her grave
Is dug so deep within my heart.
You must study the "Fragments" to see clearly how those four lines made them a single poem, one of the most moving he ever wrote. For my part I rejoice that my persistence drove him to write them. The Romantic Nineties. (
1932, June 4
).
The Brisbane Courier
(Qld. : 1864 - 1933), p. 19. Retrieved from
http://nla.gov.au/nla.news-article21975930
Extras And References
The City Of Sydney.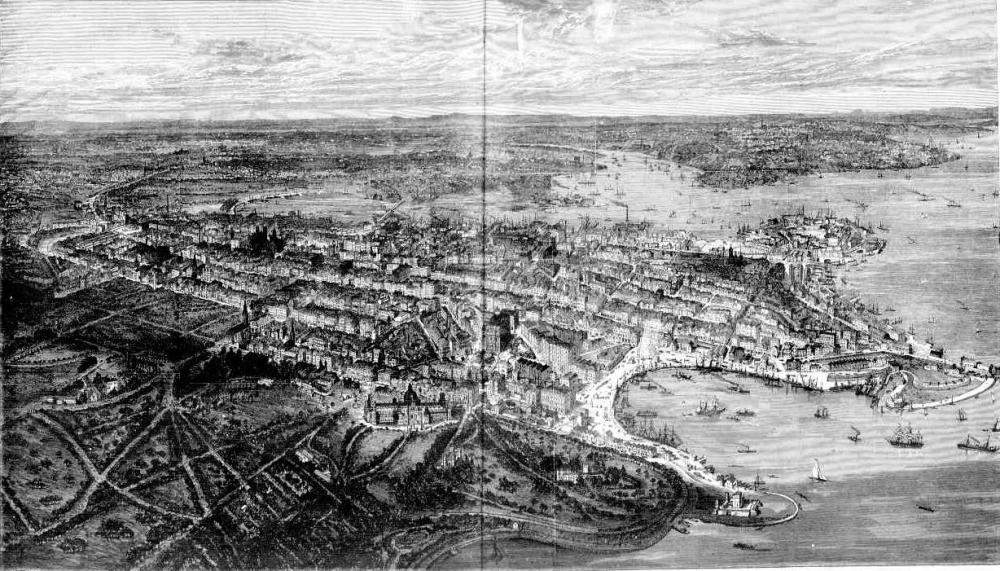 WITH this issue we present our readers with a large engraving showing a bird's eye view of Sydney, the "Queen City of the South." The picture will interest our town readers, we hope. We are sure that it will be useful, instructive, and amusing to such of our numerous readers as reside in the country. It will show at a glance the extent of the city proper. It has been found impossible to present in one view the magnificent suburbs. But as these have from time to time appeared in the TOWN AND COUNTRY JOURNAL, their absence from the present picture is not so much matter of regret. The artist
as been enabled to devote all the more attention to the city itself, and present its chief features on a more extended scale. The wonderful progress New South Wales has made since its first settlement, less than a century ago, is indeed remarkable But the progress of the metropolis is simply an evidence of the prosperity of the country generally. The head cannot prosper unless the body also participates in the prosperity. The following particulars in reference to Sydney will be read with interest :—
Sydney, situated in 33deg 51min south latitude, and 151deg 11min east longitude, is the capital and seat of government of the colony of New South Wales, and also the parent city of Australia. It is picturesquely situated on the southern shore of Port Jackson—named after Sir George Jackson, the then
Secretary to the Lords of the Admiralty. It was founded on the 26th January, 1788. by Captain A. Phillip, six days after his arrival in Botany Bay with a fleet of store and transport ships, for the purpose of founding a convict establishment. The new comers ware not allowed to disembark without a pro-test from the sable inhabitants of the soil. The little fleet was met on every point with shouts of defiance from the aboriginals, and cries of " Warra warra !'' —go away—betokened that but little hospitality would be extended to the strangers on landing. The locality chosen for the future city was a delightful spot at the head of what has since been named Sydney Cove, *near a limpid stream of water which has long since been covered in, but which was then, or soon after, known as the Tank Stream. The city proper is situated at a distance of four miles from the mouth of the harbour. The entrance to Port Jackson from the Pacific Ocean is upwards of a mile in breadth, and is well lighted during the night on its
southern cliffs, On the South Head, 1¼ mile from the entrance, in 33deg 51min 30sec S. latitude, and 151deg 19min E. lon., is the Macquarie lighthouse, 76ft high, erected on cliffs 268ft above the sea level, visible at 25 miles distance, showing a bright flash every minute and a half. On the Inner South Head is the Hornby Tower, painted in verticle stripes of red and white, with a fixed light, that can be seen from a ship's deck at 15 miles. Vessels drawing as much as 27ft can enter at low water, and in many parts in the city can lie close in shore. This last natural advantage has been greatly utilized, and the water is skirted with wharves, stores, and ware-houses. On the western side, where the shores are a little more precipitous, there is also an unbroken line of wharfage, used mainly by the intercolonial and other large steamers, and by, coasters.
The harbour is not an uniform expanse of water, but is broken up in all directions into capacious open-mouthed bays by the numerous promontories jutting out into it. Those bays are harbours in themselves ; and some of them, principally on the northern side, are the continuation of other harbours or rivers, which are navigable for several miles. The watery indentations that encircle the city allow the very heart of it to be easily reached from the water. There are some features of the city of Sydney which bear a striking resemblance to an English town. Some of the streets are narrow, tortuous, and without any pretentious to modern architecture. The houses
are what is best described by the term " an old fashioned look," although of late years much of this has been done away with, and the older portions of the town pulled down to make way for more modern
structures. Some of the business premises recently erected in Pitt-street, in George-street, in Bridge street, in York-street, and Wynyard-square, are capacious, elegant, and rank in a high order of architectural merit. The principal streets are laid out to the cardinal points of the compass, and inter-sect each other at right angles. They are designated George, Pitt, Market, King, and Hunter, the leading one being the first-named, which starts from the water's edge, Dawes Point, and runs completely through the city into the country, being called George-street west, when it passes beyond the rail-way station ; the length of streetage in all is about 130 miles, and the number of houses 19,000. The greatest length of the city is 3⅜ miles north and south, and breadth 2⅞ miles east and west, the total area being about 2000 acres.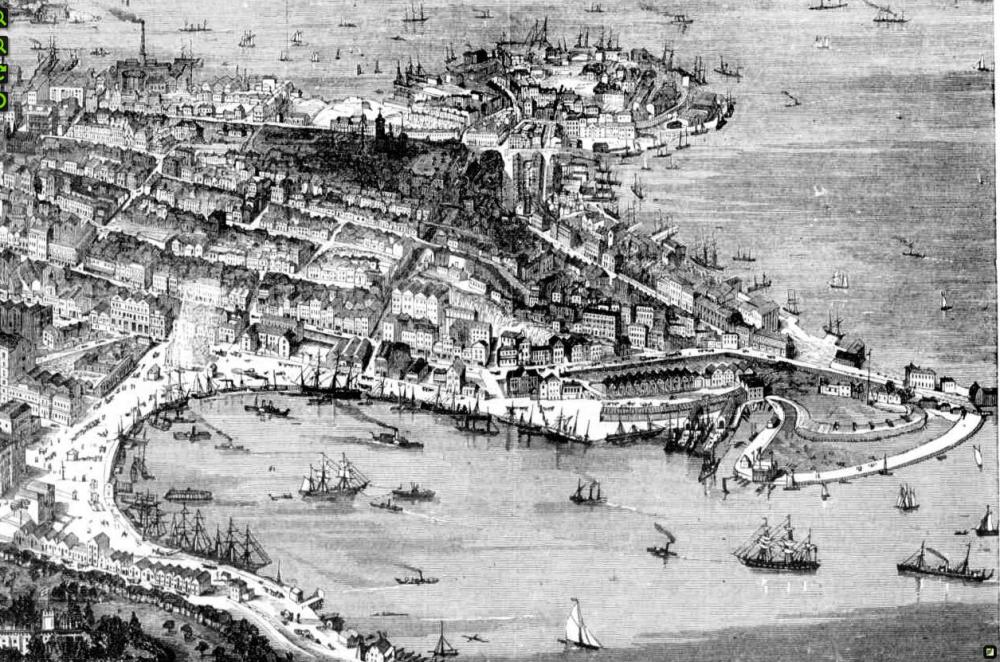 The modern public buildings of Sydney, as well as the warehouses, banks, and churches, are for the most part elegantly designed and substantially erected edifices. The city and suburbs abound in sandstone, which is easily quarried, capable of being worked into most ornate designs, at little ex-pense, hardens on exposure to the weather, and is of a substantial nature.
The Sydney University, which is built of this stone in the Gothic style of the 15th century, is an elegant building. The great hall is described by Anthony Trollope in the following words : " I think no one will dispute the assertion when I say that the college hall is the finest chamber in the colonies; if I were to say that no college, either
at Oxford or Cambridge, possesses so fine a one, I might perhaps be contradicted. I certainly remember none of which the proportions are so good." Its dimensions are 135ft long, 45ft wide, and 73ft high. The building is on a gentle acclivity, and commands a magnificent view. The two affiliated colleges. St. Paul's and St. John's (B.C.), are of the Gothic of the 14th century, and the whole of the University build-ings are surrounded by a large park to which the public have access. St. Andrew's Cathedral, the foundation of which was first laid on July 1, 1819, has been pulled down and re-erected thrice ; now it is a very handsome building with two towers, and also belongs to the Gothic of the 14th century. It is provided with a fine organ.
The Jewish Synagogue, which was completed in 1878, belonging to the Bizantine Order, is also an elegant edifice. The new buildings for Government offices—the Colonial Secretary's and Public Works forming one massive build-ing facing Macquarie and Bridge Streets, and the Crown Lands Offices fronting Bridge Street—are specimens of the skill of the architect which are rarely surpassed for elegance and inexpensiveness of construction. Then there are St. Mary's Cathedral (R.C.), which, after being twice burned, is now in process of re-erection on grander proportions than ever, its projected dimensions being 350ft long, width within transepts 118ft, width of nave and aisles 74ft, height about 90ft ; a central tower will be 120ft high, and two towers with spires at the southern end will rise to an altitude of 260ft—St. Patrick's (R.C.), St. George's, St. John's, St. Philip's, one of the oldest in Sydney, though the present structure if not altogether the original building, St. James's, the old Cathedral Church, opened on January 6, 1822, and about 120 other ecclesiastical buildings, which would not suffer much by comparison with the edifices of older countries. Government House, which belongs to the Tudor style, is delightfully situated and over-looks Farm Cove, or Man-of-War B. The building is surrounded by the Domain and Botanical Garden, and is a delightful place for a vice-regal residence. It is overtopped by " The Garden Palace," where the first International Exhibition of Australia was inaugurated on the 17th September, 1879. This immense building commands from its dome and its balconies a view of the grand scenery which meets the eye at every point in and around the metropolis of New South Wales.
The banks also are imposing buildings, and maybe said to belong to the Florentine, Roman, Italian, and Greek orders of architecture ; they comprise N. S. Wales, Commercial, Australian, Joint-Stock, City, English and Scottish, Australasian, the London Chartered, the Oriental, and the Mercantile Banks. The proprietary of the latter institution during the last year entered into their new building at the corner of George and Margaret streets, which has been purchased, placed in repair, and fitted with alterations at an expense of £25,000. In addition to these the Bank of New Zealand has very creditable
premises.
All these, as well as the Savings Bank, would reflect credit on many of the towns in the mother country. The Exchange buildings are also admired for their beauty and substance of construction. They belong to the Roman Corinthian order. Among other commercial buildings which attract the attention of visitors are the offices of the Australian Mutual Provident Society, the SYDNEY MORNING HERALD office (which is replete with all the appliances of the best London offices, the paper being printed on a Walter machine, similar to that in use in the London TIMES office). The SYDNEY MAIL, published and printed in the same building, is a weekly illustrated journal of a superior character. The structure where the TOWN AND COUNTRY JOURNAL and the EVENING NEWS are issued, is a roomy one, with elegant front. The TOWN AND COUNTRY JOURNAL office is fitted with one of the Victory printing and folding machines, the only one in N. S. Wales, which folds as it prints. This machine is capable of printing and folding 20,000 four-page copies per hour, or 10,000 eight-pages, and was introduced by the late Mr. Samuel Bennett to
meet the growing circulation of the TOWN AND COUNTRY JOURNAL—which has a weekly sale of over 30,000 copies. Another Victory has been added for the EVENING NEWS. The buildings of the SYDNEY DAILY TELEGRAPH, at the corner of Barrack and York streets, are also substantial and well-designed. There are also the magnificent warehouses occupied by Messrs. Newton Brothers, the buildings of Messrs. Mason Brothers, Messrs. Bradley Newton and Lamb's Auction Rooms, the warehouses of Messrs. Frazer and Company, of Messrs. Robert Gray and Sons, of Mr. E. Vickery's, of Messrs. Dalton Brothers, in Pitt-street ; also the large warehouses of Messrs. F. Hoffnung and Company, of Messrs. Young and Lark, of Messrs. Horace Woolnough and Company, and several others indicate the large business that is now carried on by importers and manufacturers in New South Wales.
The Post Office is of the Venetian and Florentine Italian order ; it is an imposing edifice, colonnaded on two sides, and described as well adapted for its purpose. It is built of Pyrmont stone, the colonnade being formed of pillars of polished grey granite. It was opened in September, 1874. The Town Hall is of great size, with a tower 200 feet high, and an architectural ornament to the city ; a hall to be used for public entertainments forms part of the design ; this hall will be galleried, and will be 132 feet long by 62 feet wide, and 66 feet high. It occupies the site that was formerly the old burial place when the brilliant future of Sydney was undreamt of. The Museum, on the eastern side of the city, overlooking Hyde Park, is a fine structure, with a bold Grecian front, and is extensively patronised, some 100,000 persons visiting it annually. The treasury is a very good building, of the usual freestone. Then there is the old Exhibition building - in the Paxtonian style—which has been found admirably adapted for local exhibitions—Prince Alfred Hospital, the new Gaiety Theatre, late Guild-hall, in Castlereagh-street, the Protestant Hall, the Parliament Houses, Custom House, the Mint, and others which, though not of elegant design, remind one of the days when George III. was King and Colonel Macquarie Governor. Turning to the private residences, many of them have been erected at enormous expense, and are surrounded with plea-sure grounds and gardens, which, with the natural beauty of the scenery, lends them a charm denied to those of other places.
The public traffic of the city and suburbs is carried on by a large number of hansom cabs, omnibuses, and hackney carriages. A number of four and five-horse American omnibuses afford communication with the
extremities of the city and the suburbs, and the water communication between the city and its transmarine, suburbs, Balmain, North Shore, and other localities, is maintained by numerous steam ferry-boats which ply at frequent intervals during the day till midnight. Towards the close of last year tram cars were introduced for conveying passengers from the Redfern railway terminus to the heart of the city in King-street. The experiment has answered so well that the shrill scream of the steam whistle will shortly be heard in many other parts of the city and suburbs.
The streets are lighted with gas at a cost of up-wards of £7154 per annum to the corporation. Sydney has spacious markets in its main thoroughfares, Pitt-street and George-street ; they are usually well stocked with fruits and vegetables of every kind, peaches, apricots, oranges, pine-apples, together with apples, pears, plums, &c., being in profusion during their respective seasons. There are four theatres— Theatre Royal, Queen's, Gaiety, and the Opera House. Notwithstanding the distance from the great centres of high civilisation in the north, Sydney is not only well supported with theatrical stars of all kinds but with English and Italian opera singers! Besides these, the Masonic Hall, Protestant Hall, and the Temperance Hall are used for places of public entertainment.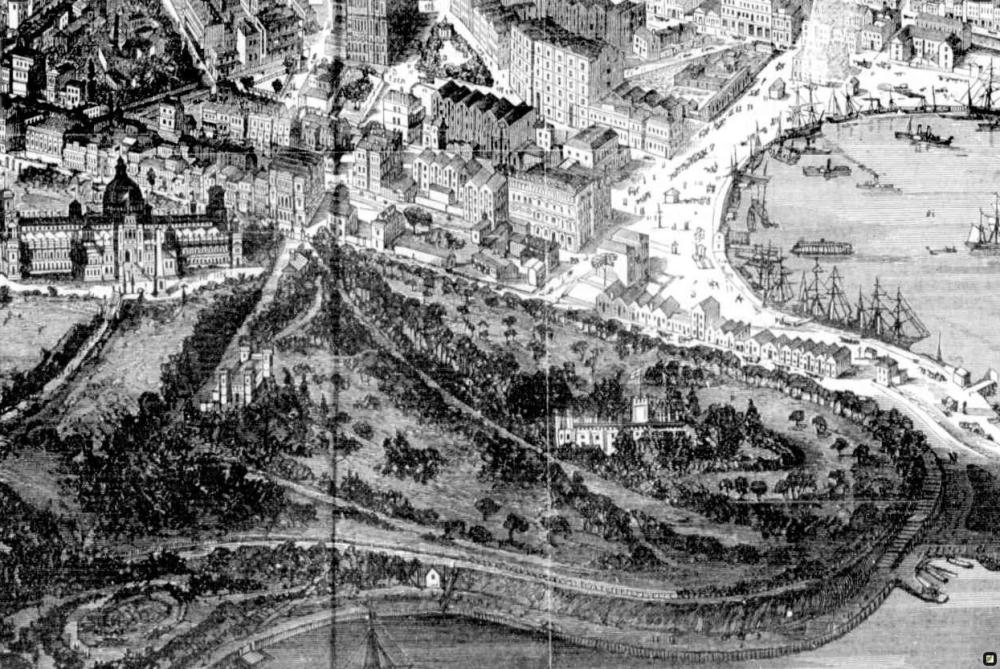 Although Sydney has few reserves answering to the shrubberied squares of most of the large towns of Great Britain, it has excellent park lands and gardens within its boundaries, easily accessible to the citizens. Hyde Park is a beautiful plateau of 40 acres, nearly in the centre of the city, with a statue to "Albert the Good." The Domain, a charming expanse of park land of 138 acres, is on the north eastern side of Sydney, surrounding the pretty inlet called Farm Cove. Near the main entrance is an excellent bronze statue of Sir Richard Bourke, by Westmacott. The Botanical Gardens embrace 38 acres, and are considered as amongst the finest in the colonies ; as in addition to the immense collection of exotics from every clime, the locality is one of great beauty, encircling the waters of Farm Cove, where the men-of-war belonging to the Australian station are anchored. Here in the Inner Domain, adjoining the Botanical Garden, is situated "The Garden Palace " for the International Exhibition, as already observed. More recently-formed preserves are Prince Alfred Park, 18 acres, and Belmore Park in the South, 10 acres, and a tract of 600 acres on the south-east side named Moore Park. Adjoining the latter ground is the Metropolitan racecourse (Randwick), which has an area of about 202 acres. The course is about 1¼ mile in circumference.
The Circular Quay at the head of Sydney Cove has a length of 1300ft, available for the largest vessels. Several plans have been proposed by the Government to extend the wharfage accommodation, and the reconstruction of the quay upon a new plan has long been projected. The Australasian Steam Navigation Company have expended large sums of money in making offices, wharves, and warehouses on Circular Quay, and all the shipping business of this extensive association is carried on there. The John Elder (s.), and other fine vessels reputed for the rapidity of their voyages to Europe now discharge at the Circular Quay. The extension of the railway to this point, and a good central station, are much wanted, and these improvements will probably be carried out be-fore long. Woolloomooloo Wharf, to the east, is 1200ft long, and was constructed at a cost of £26,000, a large tract of valuable land being reclaimed.
The eastern side of Darling Harbour, which skirts the western side of the city, has its frontage entirely occupied with wharves and quays. Here several steam companies have their stations, and the gas company its large works. On the north from Miller's Point to Dawes's Point (which includes all one end of the city), and thence round the largest headland of the port, the water side is also fully taken up by commercial premises, with the exception of the site at Dawes's Point, on which there is a battery. The works of Messrs. Thomas Rountree and Co., associated with their floating dock, are important. The dock offers every facility for vessels not exceeding 160ft length, and from 500 to 600 tons burden. The Fitzroy Dry Dock at Cockatoo Island, some few miles to the west of the city, is a Government establishment, and originally intended for the repair and overhauling of vessels of the Royal Navy. Vessels of the largest capacity can be taken in without the slightest difficulty, its dimensions being—length 450ft; width, 60ft; depth of water over sill, 21ft. The establishment is well provided with the largest, most powerful, and recently improved kinds of machinery. Other great dock works are those of Messrs. Mort and Co., at Waterview Bay. The dock is 390ft long, with an entrance 68ft wide, and a depth of water over the sill of 19ft 6in. It is partly cut out of the rock, and partly built up very compactly with stone masonry. This dock has taken in vessels of the largest size visiting the port, including that magnificent vessel the Chimborazo. The workshops cover a large area, with a bay front-age of 1500ft, employing when in full work 700 hands. A substantial patent slip is also here available for vessels of 1500 tons. The company undertake forgings up to 7 tons, and castings up to 14 tons. The Australian Steam Navigation Company have very extensive works, with most of the modern appliances for ship-building and repairing, on the western shore of Darling Harbour. In the workshops are employed at times upwards of 250 persons. The slip attached to the works can be used for vessels of 1500 tons burthen, and can take up two steamers at the same time. There have been constructed at these works several steam vessels. The large fleet of the company gives constant employment to the establishment, it being kept in efficient order and thorough repair.
For some time past steps have been taken to place the city in a state of defence, and batteries carrying Armstrong guns of large calibre now protect it in a great measure from attacks from a hostile fleet.
These defences have been still further augmented under Col. Scratchley's designs, which were adopted by the Government. The conformation of the shores affords the best facilities for the erection of fortifications, and seawards there is nothing to prevent the
city being made practically impregnable. Even now it would be a difficult matter for any ship to run the gauntlet of the numerous guns that could be brought to bear upon it even before entering the heads.
A torpedo corps has been established, and an electric apparatus placed at the South Heads, which will throw a light a radius of 15 miles.
The trade of Sydney is considerable, and gives employment to a large fleet of steamers. It is the head-quarters of the Australian Steam Navigation Company, the Pacific mail steamers, the E. and A. mail steamers, the P. and O. steamers, the vessels of the Orient line, and those of Money Wigram ; besides there are always four or five men of war anchored in the harbour. During the year 1878 the number of British and foreign vessels which entered Port Jackson was 1242—589 sailing and 653 steam. The aggregate tonnage was 712,303 tons.
The population of the city proper is estimated at 115,000 ; of the suburbs, 85,000. The water supply of the city is obtained from the Botany and Lachlan swamps. The number of houses in the city and suburbs was estimated in August, 1879, as 26,000. In 1878 the annual value of rateable property was £960,000 at 1s in the pound; estimated extent of roads and streets, 100 miles ; number of ratepayers, 17,140.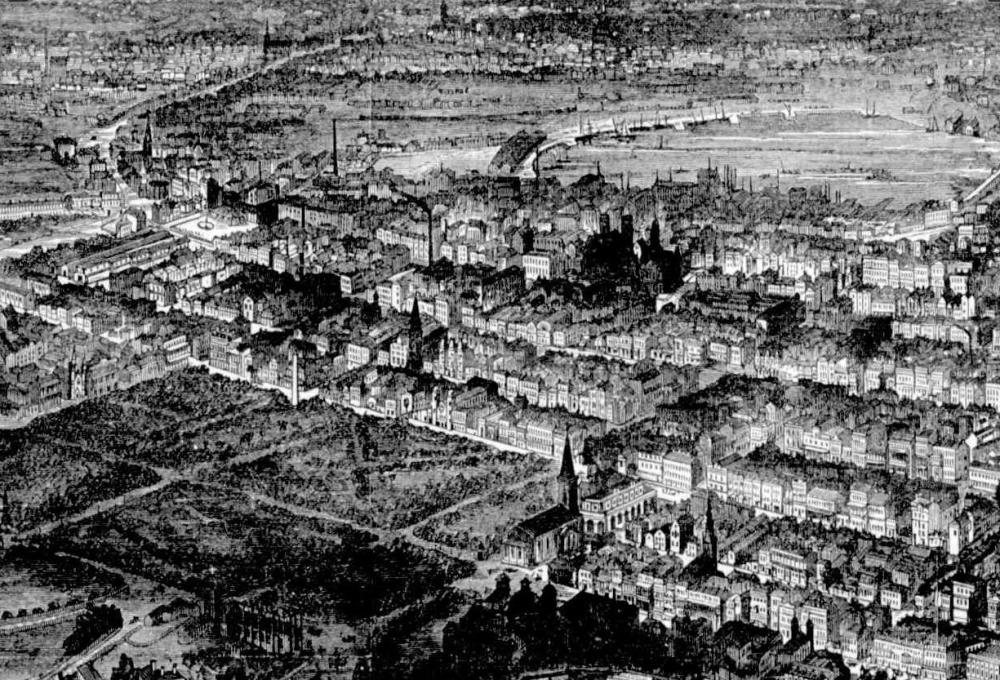 The suburbs of Sydney comprise Balmain, on the opposite side of Darling Harbour ; the Glebe adjoining the city, on the south-west ; Newtown, Redfern, Waterloo, all to the south ; Paddington, on the east; Concord, on the south-west ; St George and St Leonards on the north shore of the harbour. Each of these is an independent municipality, and there are other places. Favourite sites for pleasure resort are Athol Gardens, Chowder Bay, Balmoral, Pearl Bay, Clontarf, Coogee, and Botany.
Newspapers :
Morning daily-the SYDNEY MORNING HERALD, and the SYDNEY DAILY TELEGRAPH.
Evening Dailies—the EVENING NEWS, the ECHO, DAILY SHIPPING GAZETTE.
Weeklies—the TOWN AND COUNTRY JOURNAL, the SYDNEY MAIL, FREE
MAN'S JOURNAL, SYDNEY PUNCH, the AUSTRA-LIAN WITNESS, the WITNESS, the AUSTRALIAN CHURCHMAN, the PROTESTANT STANDARD, the CHRISTIAN ADVOCATE, GOVERNMENT GAZETTE (tri-weekly).
Monthlies—the "A.B.C. Railway Guide," CASTNER'S RURAL AUSTRALIAN, the ILLUSTRATED
SYDNEY NEWS, the AUSTRALIAN JOURNAL, the AUSTRALIAN, the FREEMASON, the AUSTRALIAN FREEMASON, and the AUSTRALIAN SKETCHER.
Sydney is the seat of a Roman Catholic Archbishop (Dr Vaughan), and of an Anglican Bishop (Dr. Barker), both metropolitans. The leading hotels are the Royal and Petty's, Pfahlert's, the Exchange, and the Oxford. The city is under municipal government, being divided into eight wards, named respectively, Bourke, Brisbane, Cook, Denison, Fitzroy, Gipps, Macquarie, and Phillip, each of which returns three aldermen. It has a fine School of Arts in Pitt-street, with a library of 25,000 volumes, and the public library in Bent-street is largely patronised, and now open on Sundays.
Numerous factories are in full work. The leather works of Messrs. Alderson and Sons cover 3½ acres and employ 500 hands. The factory of Messrs. Wright, Davenport, and Co., at Marrickville, employs 350 hands in the manufacture of boots and shoes. There are 32 clothing factories, employing from 50 to 400 hands each. There are two large steam joinery establishments, the largest of which has 250 men and boys in their employ. The coach factories are also extensive, and splendid cloths are turned out at Vicar's tweed mill. There are also several large foundries and engineering works, in which large castings and every description of mechanical appliances are turned out, even up to locomotive engines for the government railways. The City of Sydney. (
1881, January 1
).
Australian Town and Country Journal
(Sydney, NSW : 1870 - 1907), p. 20. Retrieved from
http://nla.gov.au/nla.news-article70951158
Everything was very gay and fine and splendid in those dear clays of twenty golden yeans ago. Sydney was not then gripped -n the cold hand of dull obstruction apathy Money rippled harmoniously over a pebbly brook-bed of prosperity. Metaphorically men burnt the promissory notes of their enemies as a sacrifice to future fortune. We were celebrating with a perfervid furore the anniversary of our first hundred years of history. Cannon boomed enthusiasm with aggressive -insistence, and squibs and crackers, illumined the purlieus of Wexford-street and outcast Woolloomooloo — and Woolloomooloo was fairly outcast in those prehistoric, remote times. Then, Bohemia was still an impossible 'inland seaport.' Daley and Caddy and Harold Grey wore wont to foregather at the 'Pirate's' a playful name bestowed by the illuminati upon Captain M'Laughlin, who wore a huge black beard and moustache, and spoke in ten or eleven languages. The captain was a vast institution, and ran a wine Bodega, to which Dan O'Connor used some-times to pay a ministerial visit. Holdsworth and Crick and Patsy Bourke were visitants, and were wont there to engage in wordy warfare.
At the time of which the present scribe is writing, ''The Picturesque Atlas Company" was busily engaged in Wynyard square, creating the three, great and beautiful art volumes. Dr. Andrew Garran; LL.D, M.L.C.., and subsequently Vice-President of the Legislative Council, was editor-in-chief, and to my own connection with the 'Freeman's Journal' and the kind offices of Mr. Thomas Butler (then editor of this paper) the offer was made to mo by the 'Atlas' directors, of the associate editorship. The premises of the leading Catholic journal in Australia were practically within a stone's-throw of the large building in Wynyard-square, and friendly communication was continuous. At the 'Freeman's Journal' office, palatially imposing after the quaint and tortuously-staired building in York-street, opposite the old Central Markets (now pulled down), the writer made the acquaintance of a host of brilliant men, among whom he can still count many true and constant friend's. The younger generation had. however, not then arrived. The Roderic Quinns, the E. J. Bradys, and the Henry Lawsons had still to win their spurs.
Victor
J. Daley flitted away to Melbourne, there to sojourn for many years. But there were W. B. Dalley and Frank Hutchinson, arid Frank Myers, and John Farrell, and 'Johnny' Hunt ('The Flaneur') and many, many others, some of whom have, alas! passed behind the veil. Dear old William J. Tarplee, J. W. Lambie, 'Jack' Soley, and 'Tommy' Elwell were then on the 'Sydney Morning Herald ' ; Hugh Mahon (now a member of the Federal Parliament), 'Jack' Danks, and Ernest Blackwell, on the 'Daily Telegraph' ; Terry was on the 'Evening News'; Harold Grey or Theodore Argles (otherwise 'The Pilgrim'), J. O'Brien, Victor J. Daley, John Warde, and F. J. Donohue ('Arthur Gayll') were all writing for 'The Bulletin.'
Frank Hutchinson is today the doyen of the Sydney press; twenty years ago he was one of the most notable men in the city. He often collaborated with Frank Myers, notably in the production of a History of the Soudan Contingent, which went campaigning in Africa in 1885. But Myers, brilliant, eloquent, and versatile as he was, never inspired the affection which seemed to irradiate the footsteps of the other Frank. Myers was more admired than loved. He lacked that abundant sympathy with which his confrere wais full to overflowing. Young Hutchinson was only nineteen years of age when he first came to Sydney— as was Daley also, who was albeit a much younger man. The ''Doyen' comes of a fine did literary family, and had for aunt that highly-cultured and sweet natured Mary Hutchinson, who wedded the poet Wordsworth. It is one of the inspiring reminiscences of Frank Hutchinson's infancy, that often he sat upon the knees of one dalesmen's poet and had his head caressed by the hand which penned 'The Excursion' besides some of the noblest sonnets in our British tongue. Frank Fowler (of the Sydney 'Month') was wont to boast in the brave days of old that he easily made a thousand sterling per annum as a journalist — unattached. But this was Frank Hutchinson's actual experience. It is over forty years since Hutchinson began to ply his pen for a livelihood, and for many years of that period he contributed from week to week, and from day to day, reams upon reams of racy comment, caustic satire, and weighty, pregnant editorial matter both to the daily and the weekly press. A valued and valuable leader writer in the columns of 'The Freeman's Journal,' he was also the life and soul of an evening paper now no longer in the land of the living, namely, the 'Echo,' of which for long doughty Frank Brewer, who was later succeeded by T. B. Clegg, was editor. Hutchinson, who is still alive and in the vigorous enjoyment of perfect health, has a shear of memories of the older days absolutely Mount Morganic in richness and inexhaustibility, he had the friendship of many friends and the acquaintances of many enemies.
He came into close and various contact with such notabilities as Henry Parkes, W. B. Dalley, Edward Butter, Q.C., Daniel Henry Deniehy, Henry Clarence Kendall, among a multitude of others. The world of a past Sydney he has read like the characters in an open book, but the man with whom, probably he was most closely associated was Frank Myers, a writer of very exceptional gifts. It is worthy of note that on the occasion of the celebration of the jubilee of the Fort-street Superior and Training School, the Ode was written by Frank Hutchinson, and was performed in recitative and choral parts by, the two thousand or so scholars of the institution. It is a splendid and lengthy work and fittingly commemorates the founders of the school, namely, John Hubert Plunkett, Sir Charles Nicholson, and William Sharpe Macleay.
Frank Hutchinson's fid us Achates and collaborateur in historical writing, Francis Myers, was as delicate a craftsman in the art of sentence-making as Benvenuto Cellini in that of cutting a cameo. Nothing that he touched did he not dignify. With the glamour of his style he could decorate a dingy hen-coop till it glittened as an Eastern palace of marble in the rays of a tropic moon ; or he could burnish with resplendent adjectives a piece of orange-peel in a slum gutter and make it blaze in the sunrays as imperial gold. Among much other work, Myers put forth two novels, 'Abisag, the Sunamite' and 'The Flame Tree.' the first a romance founded on a Scriptural subject, the second a story of Australia. But he wrote much — his pen tereatted of prospectuses of land sales and permutated to pantomime. He was poet, critic, leader and descriptive article and story writer, biographer, picture appraiser, and theatrical first-nighter — everything in turns as a literary craftsman, besides being a brilliant conversationalist and an .enthusiastic clubman. He died only the other day while en route to Kosciusko, 'the Moscow of ours,' as he somewhat magniloquently phrased it. He was a better prophet than he either hoped or anticipated to be, for like many another of the Old Guard, he perished in the snow-track before sight of the city was won by his veteran's eye.
In Frank Myer we lost one of the most eloquent of descriptive writers, if not 'the' most eloquent that we ever possessed in Australia.
W. B. Dalley was, of course, a great man — a great orator, a great journalist, great advocate and (although there be those who deny it) a great statesman. Most particularly, however, he was a great friend. He was a soother of dying pillows, a replenishes of empty purse, and a filler of empty stomachs. He was the Maecenas, the friend, the encourager, the helper of the man of letters, an unfailing staff in the days of need to the poet. Deniehy, Kendall, Farrell: all of them, and each in turn, were glad recipients of his bounty, hearkeners to his heartening voice. The writer has a pleasant reminiscence on this connection. Farrell was away up in the Blue Mountains battling along against adverse circumstances with a paper called the 'Lithgow Mercury,' at a time when every sovereign was worth more than a battery of artillery to a Napoleon might have been on an Austrian battlefield. Well, 'The Picturesque Atlas' folk had oceans of capital — much more capital than poetical appreciation — and Farrell, being my very good friend, I was anxious to devise something which might possibly help a poet out of a difficulty, and provide, ways and immediate means. As associate editor of the 'Atlas'' it occurred to me that a grand introductory poem from Farrell's pen would be a quite admirable way of encompassing several things at once and the same moment, of aiding Farrell, and of increasing the artistic value of the 'Atlas.' There was, however, very little hope of carrying the matter into being. As I before hinted, the directors were all purely business men — which means that poetry was not included in any manner in their calculation of dividends. Dr. Garran was, fortunately, very human, but most poetically critical. Moreover, he did not know, and had never met the poet Farrell. So when I suggested to him the desirability of an introductory Farrellian poem, he said simply: 'I leave it to you. I do not know anything about Mr. Farrell. You must talk to the managing director!' This, of course, would have been a hopeless business, absolutely foredoomed to failure. But I thought of something.
The 'Atlas' directors wanted the use of Dalley 's influential name for all that it was worth — at that day a truly princely asset. To the very last limit of manoeuvering they employed every art of deference and flattery to induce him to write a page or two for them. The great man would not, however, be drawn; .although, when, at a later date, Ernest Blackwell and a few friends put forth the 'Centennial Magazine,' Dalley was good enough to lend it his prompt and powerful assistance with a page or two of some pleasantly-writing 'Penseee.' But to return to Farrell's poem: The Managing Director of the 'Atlas voted especially to the promotion of a lively trade in sewing- machines, knew less about Farrell and about poetry than did Dr. Garran; and this is where my thought of Dalley's influence came in; I knew it would work wonders. I called on our statesman in his castle by the sea, 'Marinella' — a medieval fortress in miniature, terrible with arms and armour, menacious with suits of mail, and resplendent with battle-axes and the burnished weapons of a day that is no more. A quiet suggestion evoked from him a hearty response in the form of a letter which I was able to place before the Board of Directors, and the outcome was Farrells noble poem, entitled 'Australia,' for which (with Dalley's invaluable and influential assistance) he received the not unwelcome sum of £60. Dalley was, however, a very old and consistent friend to Farrell. Long before the poet had taken to journalism as a means of livelihood — when, indeed, lie was earning his family's crust as a brewer — he was wont to send to a few literary publications, of which 'The Freeman's Journal' was one, verses of varying calibre, few of which had not, previously been submitted to the great little man of Manly. I met Farrell for the first time quite a while before he had forsaken his vats entirely for his verses, and ceased to delight Queanbeyan with topical satire. Perhaps it was about the end of 1886, or the beginning of 1887, that Farrell brought out 'How He Died,' and other poems (Turner and Henderson), and William Bede Dalley wrote a highly enthusiastic criticism the thereof in the 'Sydney Morning Herald. He hailed the new poet as in Australian Bret Harte, and lauded the poetical gilts of Queanbeyan's popular brewer so warmly that Farrell was bath prompted and enabled to embark on a literary life.
One concluding anecdote about Farrell: It is a fitting conclusion to his life as a brewer — hospitable and generous-hearted. It was on a New Year's Eve, and the entire township turned out to greet their favourite citizens. Among others, the home of Farrell was visited. It was a two-storeyed house, and overlooked the roadway. It was midnight, or thereabout, and Farrell was on the eve of retiring. The crowd clamoured vociferously. Etiquette demanded that those called upon should stand treat. The poet came to the railing of the balcony and called into the night with generous gusto: 'All right, boys! You know I don't drink anything myself. But there are the keys of the brewery. Go down and help yourselves.' Amid the hurrahs of the crowd the keys jangled on the roadway.
Who can forget dear old 'P. J.'. He was an Elizabethan folio bound up in a modern frock coat, with a rosebud boutonniere lettering. Holdsworth, Ednie-Brown, and 'Tommy'' Elwell were inseparable in the old days when forestry was a department of the State, and not a neglected national asset. Nobody thought of calling the Poet Holdsworth other than 'P.J.' He was a very dear fellow; with a beautifully kind temperament, and an unruffable temper. He was, moreover, a fine bit of picturesqueness in a dull and unconventional world. For 'P.J' everybody had a huge and splendid affection — an affection unpurchasable by ducats or doubloons. Ho was a dandy of an ancient day, faultlessly attired always; punctiliously courteous to an extent embarrassing!; urbane in the highest degree of a marked distinction. His tightly-fitting and closely-buttoned frock-coat was ample in its proud imposing splendour touching almost the glowing boot tops of his shining patent leathers. His silk hat was immaculate, chaste in design, and as polished as a poem. His boutonniere was a dream of floral daintiness. His Malacca cane was adorned with the massive gold knob of a French marshal's baton. His style of beard-wearing was Shakespearean, after the mode of the Stratton-on-Avon bust, and his Elizabethan cast of features was an inspiration and a joy. 'P.J.' liked nothing better than to seize upon a crony of assured friendship and true artistry, no matter how thronged the thoroughfare, and to strike an attitude, as that, say, of Napoleon addressing the deputies on the great day of the eighteenth Brumaire, putting one hand into the bosom of his coat, holding with the other a coat-button of his vis-a-vis, and reciting his latest poetical tribute to his Queen of Dreams, or some other imaginary goddess of his adoration. He was a fine fellow, 'P.J.. with a true and emphatic gift of creative genius, albeit no great poet ; and his heart was as golden in sympathetic generosity as it was red with generous sympathy. As a writer of verse, 'Quis Separabit' touches as highest water-mark; but he wrote besides other fine verse, distinguished as much by gracefulness of phrase as by felicity of fancy. He was a scholar and a life-long student who had bathed in the Helicon fountain of Hippocrene, and steeped his soul and head and heart in the noble literature poured with lavish hands by Shakespeare and the mighty brood who graced and glorified the great and spacious days of Queen Elizabeth. P. J. Holdsworth was, by the way, a contributor to the 'Freeman's Journal,' as were so many or the leading litterateurs of Sydney, before as well as since a score of years ago. Peace to his ashes and honour to his memory. He left a multitude of friends, and hardly an enemy behind him.
When he came to Sydney Farrell struck up a close friendship with Holdsworth. This was inevitable, for they were the veritable likeness one of the other. The writer has given his impression of Holdsworth, the courtier. Farrell, the brewer, was his downright opposite. His clothes fitted him as would a sack a scarecrow. He cared for none of the trifles of life. Hearty, loud-voiced, humorous, exaggerative, Farrell filled the office of his paper with the great vastness of the genii confined by Solomon in the fisherman's vase. When he first went to the 'Daily Telegraph' as editor (when the paper had the Single Tax fever) he dressed him in purple and fine linen; or, rather, he donned a hat of the kind known as 'belltopper,' a frock-coat, together with all the fittings and appurtenances of a properly laid-out citizen of influence and affluence. But Farrell had no fancy for cigars of select brand, and would stand in King-street, 'belltopper,' frock-coat, and all the gorgeous rest of it, cutting away at a plug of 'ruby' tobacco with a brown-handled clasp-knife, and filling a meerschaum pipe with a bowl as big as the barber's basin in the immortal romance of Don Quixote. Farrell' s hands were always richly and rarely stained with nicotine essence, and after a hearty hand-grip his interviewer would carry away with him the odour of a vast Virginian plantation. But Farrell was a good soul, with a heart that matched his voice, and his voice was mighty and resonant as a brass band out for a holiday. Farrell had two distinctly Farellian characteristics — we will not call them failings; he never knew when to cease quotation when once he began quote a favourite poet, and he never knew when to cease writing once he began to write verse.
P. E. Quinn belongs to those days of twenty golden years ago. Quinn it was who introduced the present writer to dear old 'Tom' Butler — that sterling friend to many of Sydney's knights of the pen, and brother to the brilliant and gifted Edward. 'Paddy,' as his friends' called the elder of the two literary Quinns, was a splendid and audacious personage at that time, and quite unspoiled by Parliament. The younger Quinn (Roderic) was only a lad then, perhaps about seventeen years of age.
Henry Lawson's first verse appeared, perhaps, about the beginning of 1887. Brady, also, was awaiting the clang of the call-bell. Well does the writer recall, however, that tall human construction, which he has heard described as the 'Gothic' Tarleton (a Bachelor of Laws, by the way), who was wont to perambulate the city like a Tuscan companile torn by violent seismic shock from its pedal fastenings in the solid granite. J. G. O'Ryan, another barrister in those days, was also often to be seen in the offices of the 'Freeman's Journal'; to say nothing of the brilliant Thomas Chrysostom O'Mara (a onetime member for Monaro in our Parliament), and the no less brilliant but loss meteoric 'Dick' O'Connor (now of the Federal High Court), the ponderous and genial and able Sir Patrick Jennings, the Rev. John Milne Curran (to whom geology is a joke and mineralogy a jeu d'esprit), old Hary P. Mostyu (with his eternal red neckerchief), Francis Joseph Donohue (a cultured master of golden phrasing), William Eliard (who, as 'Timothy Fogarty' wrote reams of reminiscence and recountal of old time incident), J. Sheridan Moore (who not unworthily united in his own the names of two great literary Irishmen), Michael Mullins M'Ginr (with the features of an elderly cupid — a one-time part-proprietor), J. A. Delany (greatest of all Australian-taught musicians, and the remarkable Harold Grey (leanest and lightest of journalists). Delany was a very good all around man. Apart from his music, he was a thorough scholar, capable critic, and ready winter. His wit, humour, and power of repartee were of the first order. In tire company of the writer Delany was one evening walking home to Rushcutters's Bay. A tramp solicited alms with a breath which would have advertised
Farrell's Queanbeyan brewery
throughout a suburb. Delany, turning to the writer, inquired if the latter had any money, and being met with a negative, turned to the stranger, gravely proffering him his visiting-card, with the remark: 'Neither my friend nor I am in funds; but come to this address at 9 o'clock to-morrow morning, and I will give you two pianoforte lessons for nothing.'
The talk within the tavern ran
On perils of the sea ;
Then rose a weather- beaten man
With glass in hand said he :.
"To all brave mariners I drink
Good luck, and port secure,
For little do we landsmen think
What perils they endure.
I mind a voyage I was on
About a year ago ;
I thought the blessed ship was gone,
So hard the wind did blow.
The storm came like a demon down
A deadly howling gale ;
With fear that they would swiftly drown
The passengers were pale.
And venerable age was there, -
And youth so bright and gay,
But none could offer up a prayer
They had no heart to pray.
Dumb cattle also stood aboard
In terrified surprise.
Poor beasts they never said a word,
But stared with speechless eyes.
All eyes were on the captain brave;
His mouth was set and grim.
We knew he'd try the ship to save,
But none dare speak to him.
Then came a fearful wave and dire
I thought I should have died
It struck the boat and strained the wire
That yawned three yards aside.
But our good captain, tho' the punt
Was shook in ev'ry joint,
His passengers did safely shunt
To all brave mariners I drink
Good luck and port secure,
For little do we landsmen think
What perils they endure."
Victor James Daley was born on September 5, 1858, at Navan, in Ireland. He was brought up by his grandparents in county Armagh, and at an early age was sent to school at Devonport, in England. When 16 years of age he entered the employ of the Great Western 'Railway but after three years' service he migrated to Australia,
arriving in Sydney early in 1878. From Sydney he went to Adelaide, where he found work as a clerk. Thence he drifted to Melbourne and became a journalist. He tramped to Queanbeyan, near Canberra, where he edited a paper for five months. In 1881 he returned to Sydney, and began to contribute to Sydney Punch and to the Bulletin. Four years afterwards he returned to Melbourne, and for the next 13 years his life was one constant struggle against poverty. In 1898 his first volume of verse, At Dawn and Dark, was published in Sydney. As the result Daley was offered an appointment as clerk in one of the New South Wales Government departments. He accepted the post, but routine duties did not appeal to him, and he again resumed his journalistic work. In 1902 his health broke down, and his friends sent him on a voyage to the South Seas. After a long illness he died of phthisis at Waitara, near Sydney, on December 29, 1905.
His second volume, Wine and Roses was published in 1911. It has been written of Daley that his work was unique in the Australian poetry of his time. The bush had little charm for him, except as a sunny and temporary refuge when city life grew too strenuous; and three-fourths of his verse might have been written anywhere in the world, except for the perpetual glow of sunlight through it. That, and the inspiration to seek romance in the present, which vivifies his first book, were Australia's gifts to him; in the posthumous volume it has disappeared, to be replaced by a glamour of past romance that is purely Irish. Regarded simply as poetry, his work, at its best, was probably the best done in Australia in the period. VICTOR JAMES DALEY (
1927, October 30
).
Sunday Mail
(Brisbane) (Qld. : 1926 - 1954), p. 20. Retrieved from
http://nla.gov.au/nla.news-article99920358
SURFING AND CELEBRITIES.
Manly 'S Augustan Age.
(By C.R.C.)
It is an aspect of the eternal fitness of things that surfing, perhaps the most virile and most health-giving of all our sports, should have originated, as far as Australia is concerned, in a seaside village called Manly. So popular has the sport become that it is hard to realise that the right to surf was hardly won, and that it is barely thirty years since at was first admitted. Recent references to the origin of surfing, while substantiality correct, require a certain amount of amendment.
At a Sydney reunion of pioneer members of the Royal Life Saving Society, it was stated that there is still a law on the Statute Book of New South Wales which forbids bathing in view, of the public and that this law was challenged, in 1904, by 'Mr. W H Goucher,' with the result that an agitation in favour of bathing followed and the law has never since been enforced, the village Hampden referred to was Mr. W. H. Goacher (not Goucher) who, at the time, was editor of the local paper unless my memory is sadly at fault (and I was one of the crowd of spectators who aided and abetted him). Goacher was prosecuted in 1903 for the breach of a regulation framed under the Police Offences Act. Though fined in the Water Police Court, Mr. Goacher declared that he would continue to bathe in proper costumes and it was then discovered that the Police Regulation was ultra vires. It was to this, and not to any magnanimity en the part of the authorities, that Sydney people owe their right to surf. - At that time, Manly occupied a narrow isthmus and though it was still affectionately referred to as 'The Village.' it had already commenced to sprawl across the heights to the north and south. The first six years of the present century might aptly be termed the Augustan Age of Manly. Even before the ban on surfing had been lifted, men and boys were allowed to bathe on the Ocean Beach before seven in the morning. Like Wolley's 'little wanton boys' we youngsters would enter the water, clad only in 'trunks'. The official who used to chase us shorewards after seven was, appropriately enough, the municipal council's inspector of nuisances, and we wanton little boys saw to it that his job was no sinecure.
Even before the dawn of the century, Manly, had been the home of giants. Cardinal Moran's Palace and the College for the training of Roman Catholic priests towered on the southern heights. On the northern ' height was the ibid home of W. B. Dalley, built in the form of an English castle, and still called 'Dalley Castle,' though it has passed out of the hands of the Dalley family many years since; Its builder, W. B. Dalley, the father of the novelist J. B. Dalley, was a distinguished lawyer and politician who was prominent in the trial of the bushrangers and who was responsible for the sending of a contingent from New South Wales to the Sudan. It was stated at the time that a little boy in Manly had donated the contents of his money box to the patriotic fund raised in connection with the contingent. At all events, following an amount in a published subscription list, were the words 'A Little Boy |from Manly.' Political opponents said that the little boy was none other than W. B. Dalley himself, and the incident provided the Sydney 'Bulletin' with one of those stock mythical figures which were the delight of our fathers and grandfathers. Sir Edmund Barton, afterwards Prime Minister of Australia and a Justice of the High Court, was another well known resident of The Village during the Nineties.
It was just after ;the Boer war that W. B. Goacher commenced to edit a paper called 'The Manly News.' He was one of those lovable fire-eaters whose lifetime was spent in the fighting of forlorn hopes. He was more an artist than a journalist, and not very successful in painting or writing as, in looking after the interests of others, he neglected his own. Certainly, as the Sydney speaker said, surf clubs throughout Australia should do something to perpetuate his memory. He has yet another .claim to distinction. He was Manly's first Labour candidate. There had been a redistribution of seats in New South Wales, and Manly, formerly part of Wahringah, became part of the constituency then called Middle Harbour. In 1904, just after the redistribution, Goacher: came out as a candidate for Middle Harbour. His campaign was of the whirlwind variety. His meetings were always crowded. His oratory, and gift for repartee provided entertainment for the masses, but he; polled only thirty-three votes. The handicap of a tall hat and a frock coat was too great for a Labour candidate to carry in those days. Next week, in his paper, he returned thanks to 'the thirty-three intelligent electors of Middle Harbour. Poor Goacher's finances were never in a healthy condition and the loss of his deposit ruined him. He disposed of his paper to "Billy" Melville and went to live in Sydney.
Melville was one of the older school of Bulletin writers. He sang the praises of Manly in season and out of season. It was probably through his personal influence that Victor Daley and Henry Lawson came to live in 'The Village. I think Roderick Quinn lived there for a little while also.
Quinn, if not an actual resident, was a frequent visitor to the others.
I remember how we awe-struck youngsters used to gaze at the four poets strolling down the street arm in arm— and taking its width in their stride.
One of Daley's, sons was enrolled as a pupil at the Manly Public School. When asked his father's occupation young Daley replied 'writer,' and the headmaster who was a Master of Arts and an honours man in literature cheerfully wrote 'signwriter' in the school admission register.
It was through Melville, that I came to meet both Lawson and Daley.
I knew Daley the better of the two. Lawson could not remain long in any place, and while in Manly he met with a peculiar accident. While strolling along the Fairy Bower cliffs, he fell over the rim and broke a few ribs. The usual people said the usual thing about the accident, but I honestly believe that in his absent-mindedness Lawson walked too near the edge and overbalanced.
Daley, though a severe critic, was a kindly one. I once had the temerity to call at his house and show him a short story I had written. The place was almost unfurnished, but Daley received me as though he were conducting me into a palace. Incidentally he tore the story to shreds, which embarrassed me considerably because there was another man present, a grim silent looking man whom I thought must be some distinguished editor. I found out afterwards that he was a bailiff.
Daley made me sit down there and then and rerwrite the story. The next day, he took me up to Sydney and personally introduced me to the editor of the Bulletin, who also said scathing things about the story — but printed it.
All the arts were represented, in Manly during those years. Hilder had lived there for many years - even at that time, and was painting his delicate water-colours and battling against ill-health and genteel poverty. Charlie Bryant was still a schoolboy but was just beginning to make a name for himself in black and white work. W.H. Whiddon, afterwards Deputy Commissioner for Taxation in New South Wales, used to gather the aspiring vocalists of the village and drill them in light opera. As a choir-master and a producer of Gilbert and Sullivan operas, he did much to raise the standards of musical taste, not only in Manly, but throughout the whole State. Another notable resident was an exponent of an older and even more individual art. This was Larry Foley, the veteran pugilist. Somewhere about 1904, he established a boxing academy at his residence on the cliffs overlooking the Manly Lagoon. He gathered round him quite a school of fighting, neophytes but none of them achieved fame. Old Larry, it was said, had become crotchetty in his old age and very Spartan in his methods of instruction. If he did not think a pupil worth bothering about any further, a knock out blow ended that pupil's course of training and inclined him towards another career. For a season or two Larry's square stocky figure and his mutton chop whiskers were frequently seen on the promenade. It was a sight for the gods to see him and his great friend and fellow-Hibernian, the genial Dan O'Conner, disporting in the breakers. They were two of the few Manly great ones who remained distinguished looking in bathers. Dan O'Connor had ended his political career by that time. He provided the Bulletin with another of that paper's stock phrases. While Postmaster-General of New South Wales he had to decide upon the appointment of a minor official in his department; There were many applicants, several of whom were strongly recommended. The P.M.G. decided the matter in a laconic and- phonetic minute-— 'Appoint Maloney.' And Maloney was appointed. He habitually wore the tall hat and frock coat of the period, and his flowing white beard would have been the envy of any Druids' lodge. But to see him rising from the waves, in his red and blue striped bathers, with that avalanche of whiskers wet and bedraggled, was to obtain an idea of what Father Neptune must have looked like. Though a politician, he was a patron of the arts. He it was who spoke at Sydney's welcome to a famous French actress, and referred to the guest as 'La Belly Franzase.' SURFING AND CELEBRITIES. (
1933, February 18
).
The West Australian
(Perth, WA : 1879 - 1954), p. 5. Retrieved from
http://nla.gov.au/nla.news-article32585829
Behind the name of J.F. Archibald
To most who read of the Dobell portrait controversy and law suit over the Archibald Prize, to nearly all who looked up at the Archibald Memorial Fountain in Hyde Park, Sydney, the donor, J. F. Archibald, was only a name. Even then there was doubt on what his full name was. J. F. Archibald was Jules Francois in the Australian Encyclopaedia and in John's Notable Australians. But he was christened John Feltham (his godfather's surname). Early in life he adopted the French forenames instead. His mother, who died when he was seven, was of French and Jewish blood. His father was an English sergeant of police. He was born at Kildare, near Geelong (Vic.) in 1856. He went to a Catholic school in Warrnambool (Vic.), became a printer's apprentice and compositor on the local paper, subsequently a junior reporter on Melbourne's now long defunct Daily Telegraph. He was also a clerk In Melbourne, a bookkeeper in Rockhampton, an actor with a touring troupe, a cattle-drover, and a gold prospector before he came to Sydney, and on the Evening News met another reporter, John Haynes.
Archibald and Haynes produced, for a proprietary, a Catholic weekly, the Express. Given the use of this press, they also brought out an eight-page weekly, crude in its first production, but characterised by a fresh and pungent style. That was The Bulletin, founded in 1879. Archibald described the Sydney of 1879 as "ridden with the horrible cant of the badly reformed sinner. There was no health in the public spirit . . . Sydney socially limped in apeish imitation after London ideas, habits, manners. Sydney invited revolt from existing conditions, and The Bulletin was the organ of that revolt." The Bulletin wanted "more humanity in the laws, more freedom in the Parliament, more healthy independence in the Press." "The Father of the Radical Press in Australia" Archibald was dubbed by writer Fred Bloomfield, who also called him "a stalwart Republican (Archibald believed Australia should cut loose from England and be-come a Republic), an uncompromising Democrat, a root-and-branch Radical, a stern judge of Judges," and a protagonist of "practical Socialism." He was socially ostracised at the time of Queen Victoria's Jubilee.
During the Boer War he denounced Britain's "aggression" and advocated Boerland for the Boers. He opposed unrestricted Chinese immigration, Japanese , "peaceful penetration" and black kanaka labor on the Queensland canefields. An ardent, opponent of capital punishment, young Archibald travelled in the same coach as the hang-man to report a country hanging for the Evening News. When the coach stopped at a roadside inn he took the hangman's rope and hid it in the bush. (The hangman had to sit up all night greasing another rope.) Landed in gaol Haynes soon left The Bulletin, his interest bought out by the cartoonist- William MacLeod, and founded the Newsletter. W. H. Traill came into the editor's chair, which Archibald resumed when Traill went into politics. Traill wrote an article describing as a saturnalia of vice scenes at a public house near Clontarf Beach, where larrikins and their donahs revelled at weekends. The publican sued, got only contemptuous damages, but the costs were beyond The Bulletin and both (Hayne) Traill and Archibald landed in gaol. From the debtors' cells of Darlinghurst prison, where Archibald assiduously subbed copy, they were rescued by politician George Dibbs and public subscription. Public sympathy was theirs, and the case publicised The Bulletin, boosted its sales. "Frail, nervy , mercurial, intellectually arrogant, full of likeable little vanities, a witty and informative talker," was the description of Archibald by Mrs. William Macleod, whose husband came to own three-quarters of The Bulletin and shared his interest with Archibald.
Archibald became a tireless prospector of what he called "Australia's literary alluvial." From a pigskin bag crammed with copy he took home each night, Archibald would rake out on the ferry to Manly, where he lived, a short story by Randolph Bedford, a ballad of Banjo Paterson's or a Henry Lawson verse, one of Roderic Quinn's or Edwin Brady's. Or it might be something by Victor Daley, Ted Dyson, "Price Warung"
or John Farrell. Or a drawing by a young artist he had just discovered, Norman Lindsay. Phil May and Livingstone Hopkins (Hop) were brought out to The Bulletin by Traill. The paragraphs sent in from gold-field, shearing shed and cattle camp Archibald sub-edited and rewrote with polish and pungency, ending them whenever he could with a pithy phrase "like the crack of a stock whip." He boasted that the only good thing he threw into the wastepaper basket was a small dog that had been brought into the office. "Great sub-editor" The Bulletin wrote of Archibald — whose greatness as an editor is generally conceded — when he died in 1919, aged 64: "He was a great editor within his limitations; but he was a great sub-editor without any limitations whatever. ... it is doubtful whether he was responsible for half-a-dozen leading articles in all his years. But he wrote 10,000 pungent lines, and made phrases as other men make good resolutions."
Of the Bulletin, Randolph Bedford, one of its notable contributors, wrote in an autobiography just published in Sydney (Currawong Press): "The Bulletin . . . for 35 years was known as the Bushman's Bible. . . . The Bulletin kept its youth up to 1914 or so. . . . Then it began to fall away to what it is: chorus and echo: fatty-brained and dull; its youth and spirit departed." No seat, no book Colorful, and sometimes contradictory, are the sidelights on Archibald's character:
* An ardent political reformer, he "refused a seat in the Legislative Council before the messenger from George Reid could sit down." * He hated the chewing-gum habit, but habitually chewed pieces of paper, scissor-snipped from the margins of proofs.
* Though The Bulletin was started as a literary paper, Archibald took considerable persuading by A G. Stephens to introduce the Red Page.
*
He had a mental breakdown in 1902
and Archibald was regarded as finished. Yet he recovered most of his powers and became, literary editor of Smith's Weekly a few months before his death.
He died planning The Lone Hand magazine (later produced), of which he said:. "Its politics will' be sun-shine, good cookery and red um-brellas. ... Its religion, the conservation of public health and the adornment of homes of the people."
Archibald left £89,061. As well as providing for the Archibald Prize for artists, the memorial fountain by a French sculptor to celebrate the World War I alliance of France and Australia for liberty, he left money for cancer research, hospitals, the Benevolent Fund of the Australian Journalists' Association, and a fund "to buy tobacco for the inmates of Warrnambool Benevolent Asylum." A well-known artist tells of visiting his home, where Archibald took the visitor into his study, removed boots and socks, put his feet up and, with a long churchwarden pipe held between, his toes, kept up a flow of brilliant conversation. The senator stayed with his cows (
1944, November 12
).
The Sun
(Sydney, NSW : 1910 - 1954), p. 4 (SUPPLEMENT TO THE FACT). Retrieved from
http://nla.gov.au/nla.news-article229265459
'Bard'.
The pre-Christian Celtic peoples recorded no written histories; however, Celtic peoples did maintain an intricate oral history committed to memory and transmitted by bards and
filid
. Bards facilitated the memorisation of such materials by the use of metre, rhyme and other formulaic poetic devices.
In medieval Gaelic and British culture, a bard was a professional story teller, verse-maker and music composer, employed by a patron (such as a monarch or noble), to commemorate one or more of the patron's ancestors and to praise the patron's own activities.
Originally a specific, lower class of poet, contrasting with the higher rank known as fili in Ireland and Highland Scotland, with the decline of living bardic tradition in the modern period the term "bard" acquired generic meanings of an author or minstrel, especially a famous one. For example, William Shakespeare, and Rabindranth Tagore, are known as "the Bard of Avon" and "the Bard of Bengal" respectively. Compare Troubadore - a composer and performer of Old Occitan lyric poetry during the High Middle Ages (1100–1350). Since the word troubadour is etymologically masculine, a female troubadour is usually called a trobairitz.
The troubadour school or tradition began in the late 11th century in Occitania, but it subsequently spread into Italy and Spain. Under the influence of the troubadours, related movements sprang up throughout Europe: the Minnesang in Germany, trovadorismo in Galicia and Portugal, and that of the trouvères in northern France. Dante Alighieri in his De vulgari eloquentia defined the troubadour lyric as fictio rethorica musicaque poita: rhetorical, musical, and poetical fiction. After the "classical" period around the turn of the 13th century and a mid-century resurgence, the art of the troubadours declined in the 14th century and eventually died out around the time of the Black Death (1348).
The texts of troubadour songs deal mainly with themes of chivalry and courtly love. Most were metaphysical, intellectual, and formulaic. Many were humorous or vulgar satires. Works can be grouped into three styles: the trobar leu (light), trobar ric (rich), and trobar clus (closed). Likewise there were many genres, the most popular being the canso, but sirventes and tensos were especially popular in the post-classical period, in Italy and among the female troubadours, the trobairitz. Troubadore - a French medieval lyric poet composing and singing in Provençal in the 11th to 13th centuries, especially on the theme of courtly love or chivalry.
The Tourist.
Our Pleasure Trip To The Hawkesbury.
By Grandmamma.
' If, sick of home and luxuries, you want a new sensation,
And sigh for the unwonted ease of unaccommodation—
If you would taste, as amateur and vagabond beginner,
The painful pleasures of the poor, get up a picnic dinner!'
Such was the advice of Horace Smith in days of old, when we were young, and rather failed to appreciate his pleasant sarcasm. But as years go on, and the romance of youth goes off. in company with lissomness of limb and elasticity of spirit, his words of wit and wisdom find readier echo in our thoughts, and 'The days when we went gipsying, a long time ago.'
assume a somewhat fabulous halo —even a lunar halo— as they are pictured in our sane and sober elderly memories. A recent experience of our own suggests a variation on the above-quoted verse :
If, sated with the loveliness of Sydney's peerless haven
You covet sight of other scenes more rugged and unshaven—
If steamers swift and clean and trim you value not a stiver.
But like them slow, and black and grim, go up the Hawkesbury River!
We did, and as a member of the Society for the Prevention of Cruelty to Animals I am constrained to say to all who may think of doing likewise, 'Don't' — until a thorough reformation and rearrangement in the modes of transit be effected. On last Friday afternoon, our small party of three, viz., Mr. and Mrs. B ? and 'Grandmamma,' steamed pleasantly to Manly Beach in the Fairlight, in time to 'catch the coach' for Newport, as prescribed in our sailing directions. These assured us that the trip was always accomplished in the easiest and pleasantest manner, and that we should arrive in town on Saturday evening. How delusive these promises proved will be seen hereafter. Two rough vehicles were in waiting at Manly, and we scrambled into the better looking of the twain, drawn by four horses, to be immediately taken to task and roundly rated in no measured terms by the driver of the two-horse machine for not going in his coach and to his 'hotel,' he seeming to claim a monopoly of all Hawkesbury-bound passengers, whether he had room for them or not. Dire and dismal were the threats he hurled at us, and which rumbled in our rear as our good-humoured 'whip' drove off with us. The road was good, and glimpses of grand shore cliffs and headlands, and bits of lovely unspoiled ' bush,' bright with exquisite native flowers (which, alas, we might not stay to gather and delight in), pleasantly beguiled the way, and softened many a jolt ; whilst the discovery that two other lady passengers (visitors) were friends of mutual friends in various parts of Australia made a cheery, chatty quintette of the performance which had begun as a trio. 'Crack went the whip, round went the wheels, Were never folks more glad. They told the deeds of long ago, And merry tales and sad.'
Presently we splashed through a wide lagoon, looking, or at any rate intending to look, as though we found it quite an agreeable incident, but holding on tightly all the same, and hailing our return to dry land again with little gasps of satisfaction. The appearance, not far from the roadside, of a plant of the panoanus was a sensation. We greeted it with a cry of joyous welcome, as the advanced guard of those tropical glories which previous visitors to this region had glowingly described. The graceful plumy crowns of the cycas, too, were abundant in parts of the bush as we neared Newport, and we revelled in rich anticipation of the wealth to come.
Our conveyance brought us to the steps of the only visible house, a new-looking abode, of the usual country inn type, where, after considerable delay, a rough (very rough) meal was served; chops, coarse and nearly raw, over which the contents of the frying-pan had been liberally bestowed, and a piece of beef, which seemed to have been just introduced to a fire, but not permitted more than a brief acquaintance therewith.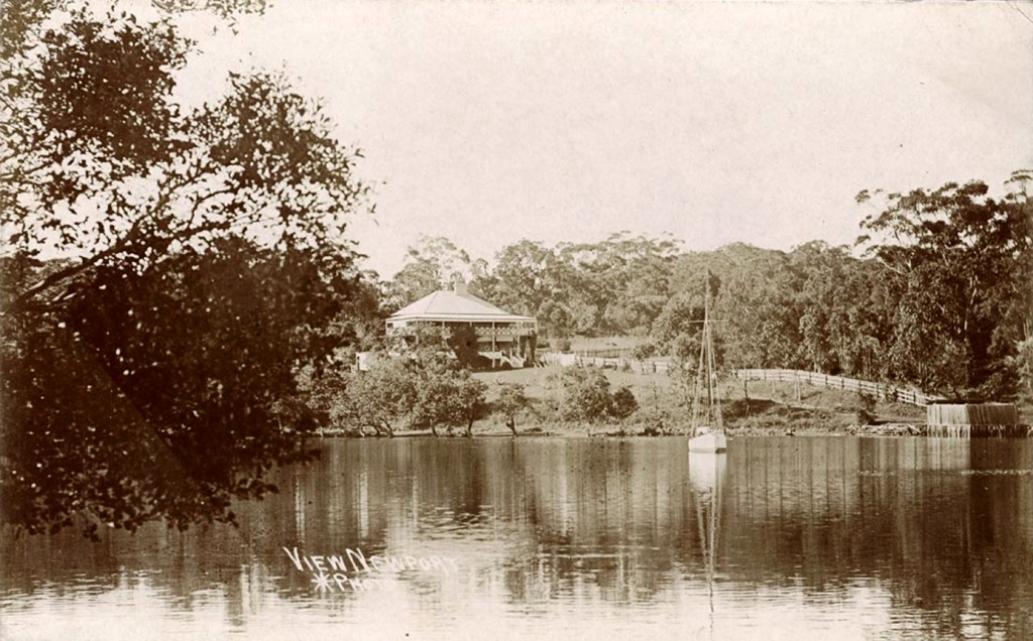 Scott's Hotel from Broadhurst image 1900-1927 106124h Courtesy State Library of NSW.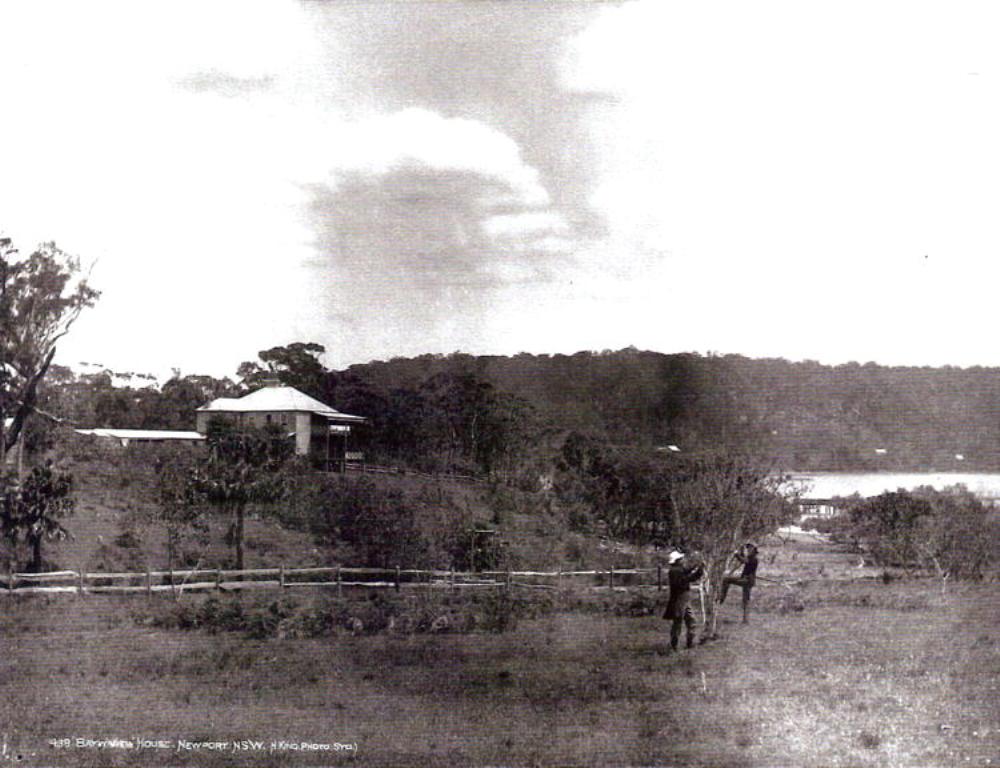 Henry King Photographs, courtesy National Library of Australia and Pittwater Image Library Mona Vale, c. 1900-1910. Top: Bay view House, Newport NSW. Below: Pittwater from BayView House.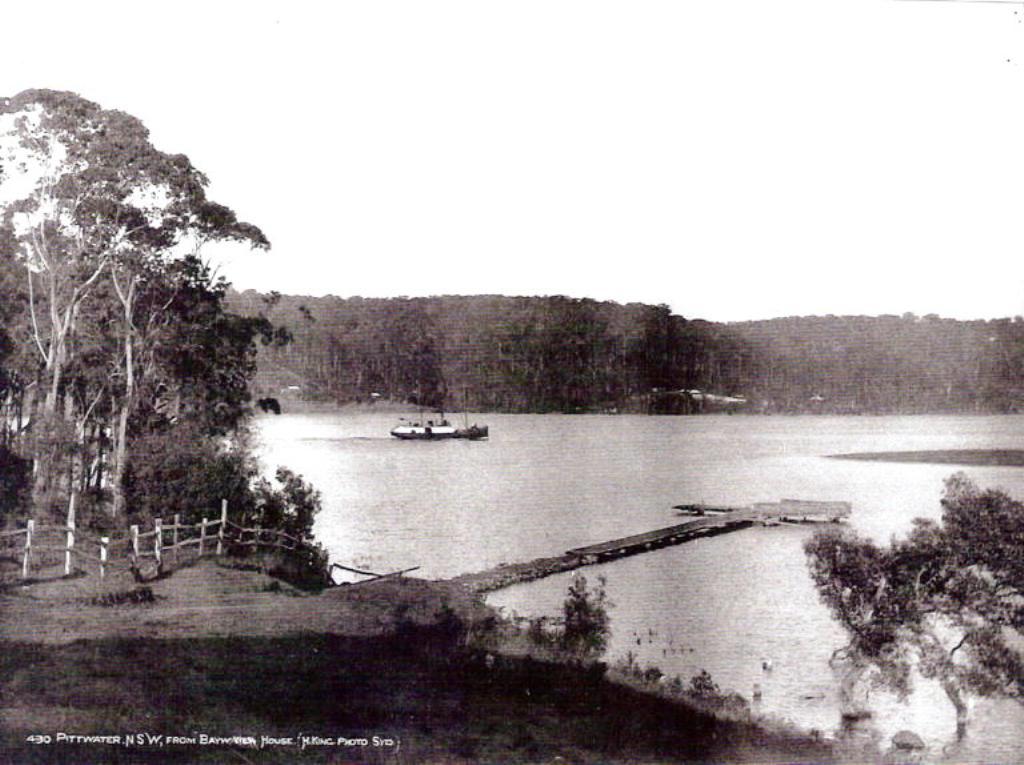 But appetite for even a more luxurious repast was destroyed by the announcement that the engineer of the steamer which we expected to take us on the morrow was very drunk at the other 'hotel' (kept by the opposition driver whom we did not patronise), and that he declared the vessel out of repair and unfit for the voyage, whilst darker rumours were soon afloat that he said she would 'blow up.' One version was that he threatened he would blow her up himself, as 'he could swim if others couldn't.' The roseate hue began to fade from the complexion of our hopes, and we spoke of returning to Manly in the morning; but a promise that the tipsy engineer should be well watched, and kept sober when he became so, allowed us still to dream of pursuing our intended course.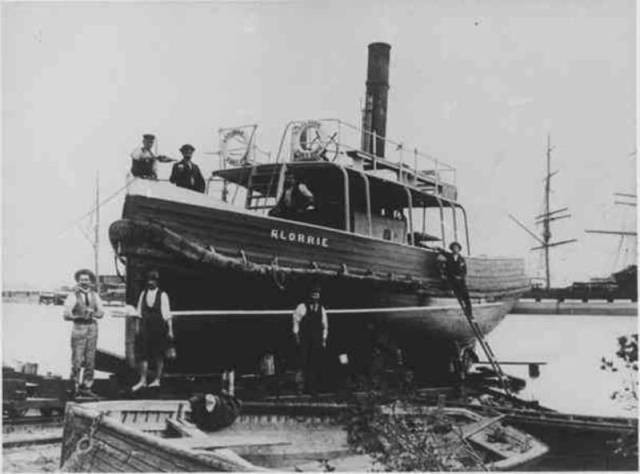 Our rooms, though small and scant of comfort, were clean; and our rest undisturbed by any entomological specimens. After a very early breakfast, we were summoned to go on board the steamer, which lay half a mile off, at a rude sort of landing place near the other 'hotel.' With great difficulty and fatigue we made the descent of the steep bank, some 50 feet in height, by means of logs laid at uncertain distances, making a species of stairway, some steps being thrice the depth of others, and all slippery. The captain — whose civility and kind attention throughout we all gratefully appreciate— assured us that the engineer was 'all right,' so, on arriving on board, we picked the least dirty spots to sit in, the deck being strewn over with coal, and off we steamed down Pittwater, at a very moderate rate, but fast enough for one of the party, who, pencil in hand, took rapid notes, rather than sketches, of the ever-changing and most picturesque headlands and islets as we proceeded. A pretty stiff breeze was blowing, and through the broken waters of Broken Bay the little steamer puffed and groaned and rolled horribly.
Elliot Island was long: the central point in our view, and its isolated position seemed, in our perhaps superficial judgment, to point it out as a suitable spot for the storage of at least a portion of the 900 tons of mischief in the shape of dynamite and powder, the expected explosion of which is now so sorely exercising the fears of many a worthy resident in and near Sydney.
The absence of nearly all evidence of population, so far as we could see, and the barren nature of the land around, seem to render it improbable that even in the future any number of inhabitants would occupy the neighbouring shores to be endangered by the proximity of a magazine on Elliot Island. The discovery that two passengers who had come by the other coach to the other hotel were friends from Melbourne, also, like ourselves, 'on pleasure bent,' was an agreeable surprise, and conversation, in often varying knots of twos and threes, went on with animation. As the channel narrowed, the shores gained in picturesqueness, and we understood the comparisons which have been drawn between the scenery of the Rhine and that of the Hawkesbury, but surely they were made by enthusiastic Australians of die 'Marchioness' persuasion, prepared to 'make believe a great deal' on patriotic grounds !
The towering heights, crowned and bristling with fantastic rocks, resembling in many places the ruined fortresses and castles of the old world, are most striking, and we gazed, in keen enjoyment, as cliff after cliff, and crag on crag appeared. But, alas for the imperfections of humanity ! We found that, after doing some 20 miles of ecstasy, the old story of 'Toujours perdrix!' made itself remembered; for there is, it must be confessed, considerable monotony in the general aspect of the wall-like barriers of cliffed and caverned rocks, although, if considered in detail, nature's inexhaustible variety gives to each some special feature.
The few habitations near the river are of a very humble character, and our expectations of seeing orange groves were but scantly realised. The native fig and a graceful pine in some spots gave a pleasant relief to the too common forms and sombre hues of the universal gum trees, but the prevalent browns and dim olive tints of the general masses were most aesthetic combinations, and ' tropical vegetation' was conspicuously absent. Long before we arrived at Wiseman's Ferry the condition of the delinquent engineer had again become critical, and our apprehensions as to progress and safety anything but pleasant. Our landing was effected in very primitive fashion, no attempt whatever had been made to cut down the bank, or to make the most rudimentary stepping-places, but we all had to scramble and claw our way up, clinging to projecting roots or hanging boughs, as we best might.
A walk of half a mile to the inn followed, and then succeeded luncheon, roughly served, but clean and abundant. On returning to the bank where the boat lay, the engineer was found lying on the deck in a hopeless state of intoxication, inert and insensible, he having, as was ascertained, brought with him a bottle of gin which he had finished. The captain said he did not understand working the engine himself, and that he could not take us further. The result of a council of war held on the spot was the decision that we must perforce return to the inn for the night, and that the captain should obtain the services of a sober engineer he knew of, and to whom he went forthwith; and our party, disgusted and disappointed, crawled wearily back again to the welcome shelter of the inn, and severally disappeared from public view for a 'siesta.' After tea we adjourned to the wide balcony to look at the brightly blazing bush fires on the neighbouring hills.
Next morning, Sunday, after breakfast we again walked down to the boat, and found the difficulties of re-embarkation greatly increased by the low tide. A large space of black mud now intervened between the steep bank and the vessel; over this some bits of firewood had been flung down for us to step upon and only the aid of strong and kindly hands enabled the elders of our party to escape being bogged, but no serious disaster happened, and we went on, under the care of the new sober engineer, the semi-sober one frequently and vainly endeavouring to interview the passengers, who very naturally declined to have aught to do with him. Parts of these higher reaches of the river were beautiful, even though but partially discerned through the thick veil of vapour — a most provokingly opaque combination of smoke and fog — and we were pleased and hopeful until, on reaching the end of our voyage at the landing place at Sackville Reach, it was found that the conveyance which had come to meet us the previous evening, and brought a number of passengers to go down the river, by the steamer that brought us up it, had returned to Windsor with its cargo of deluded tourists; and we were left without any means of proceeding, as arranged, to the railway. Another council was held. One passenger, not of our party, a young man, Winded, to walk the 10 miles; but we were (some of us) not young, and not able to be so independent. To land was simply absurd. We could not sit starving on the shore till on some future day (date uncertain) we might be picked up, and returned to our friends. The inn at Wiseman's ferry seemed our inevitable destination once more, and thither we steered, as vexed, humiliated, and indignant a group of grumblers, justified in the very strongest Utterances of our grumblings, as ever had the cup of pleasure embittered and spoiled by unpardonable negligence in those on whom the arrangements depended.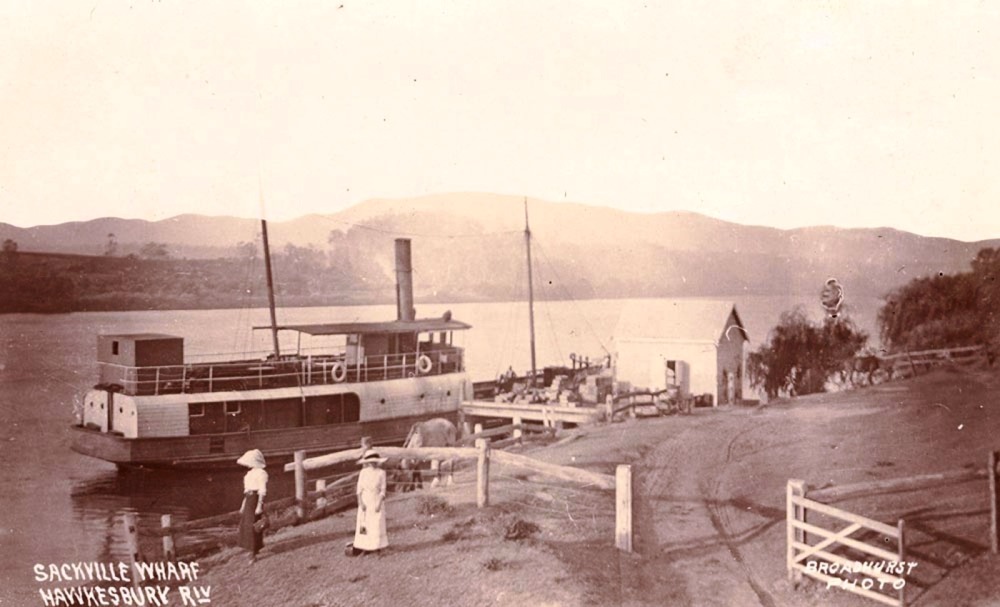 Sackville Wharf, Hawkesbury River, from Scenes of Hawkesbury River, N.S.W. ca. 1900-1927 Sydney & Ashfield : Broadhurst Post Card Publishers Image No.: a105344, courtesy State Library of NSW.

On arriving at Wiseman's, the new engineer positively refused to take us any further, and we as positively refused to put our lives in peril by going in charge of the drunkard. Meanwhile, dinner was an imperative necessity, and all of the passengers, save two, went up to the inn, a buggy having been sent down to convey them in relays. The two who remained, feeling unequal to any exertion, in their weary and hungry condition (having breakfasted at 7, and it was now nearly 4 p.m.), begged that some food might be sent down to them.
The indefatigable sketcher
beguiled the first half-hour with a pencil; then the cravings of Nature conquered even love of art, and eyes were strained in the direction of the inn. Poor Mrs. Bluebeard herself could scarcely have uttered in more plaintive accents, 'Sister Ann! Sister Ann! do you see anybody coming?' than our pair of expectants might have been heard to faintly exclaim in turn : — ' Look ! there's something moving. Is it a man? No, its only a cow.' 'Surely that's a human shape. No, it's a stump.' 'There's another figure ; yes, it really moves this way. Is it carrying anything ?' 'I think I see a bundle— perhaps a plate in a handkerchief!' 'Yes, he sets it down as he climbs die fence.' The excitement grew too intense for words. It teas a man!— he had a bundle! There was a plate inside with chicken and bread upon it! Knife and fork came not; but that chicken's bones were picked with a relish that rarely comes to mortal lips in civilised lands, and those two poor sufferers, restored and comforted, could listen calmly to the plans discussed.
At the price of five guineas extra, the sober engineer undertook to see us back to Newport that night.
Our Melbourne friends, fearful of the rough, sea and the lateness of the hour, and being utterly weary of the dirt and discomfort of the wretched little boat, resolved to sleep at the Ferry Inn and hire a vehicle to take them to Parramatta (39 miles) next morning. But our party of five remained on board. The return voyage was slow, and after sundown the seabreeze blew very cold. The wooden gridiron-seats were not couches to satisfy a sybarite, however one might twist and turn and ingeniously feel for a batten softer than the rest.
Broken Bay was what an old non-nautical Scotch servant of ours in the old days termed 'vary lumpy,' and the little vessel tossed and rolled amongst the lumps in so unpleasantly active a fashion that, had the exercise continued long, it would have had serious results; but we fixed our gaze either on Venus, brilliant above us, or on the bright red lighthouse star on Barrenjoey, and came safely into smooth water, going, I should think, about two knots an hour.
Remembering vividly the terrible steps at the Newport landing, grandmamma had determined to roll a sail about her and lie on the deck till daylight, but the good captain pledged himself that we should be helped safely up, and well redeemed the promise, with the ship's lantern carried in front, to show the 'course' to be steered.
The time being nearly midnight, the people of the inn had been long in bed, when the yelling steam whistle, telling of our approach, aroused them to prepare supper and beds. It would be hardly fair to criticise preparations so hurriedly made, however many their shortcomings. We had this and a half hour's rest, and rose at 5 on Monday morning. It was the opposition inn to which we had come, as being the nearest to the landing, and in the opposition conveyance, which exceeded, in ragged roughness of form and material, any other conveyance we ever beheld, we reached Manly, very thankful that our expedition had safely ended; and resolved to give friendly warning to others: that, until sober and civil persons are employed by the proprietors of all conveyances concerned, and punctuality, safety, and passable comfort assured to passengers, the grand scenery of the Hawkesbury had better remain unvisited.
The Tourist. (

1882, October 14

). The Sydney Mail and New South Wales Advertiser (NSW : 1871 - 1912), p. 638. Retrieved from http://nla.gov.au/nla.news-article161925522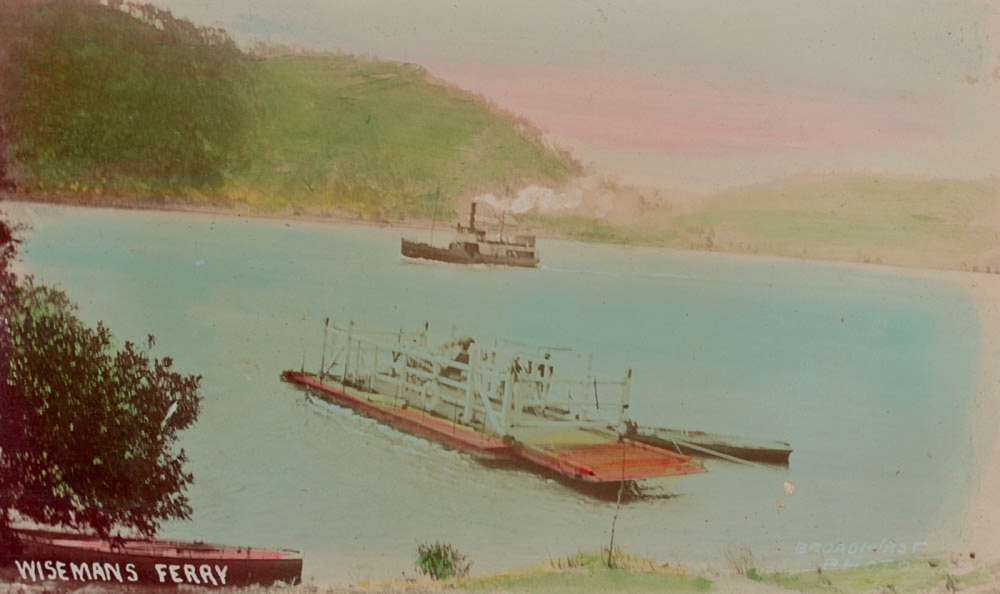 Wiseman's Ferry, N.S.W. circa 1900-19127 - Sydney & Ashfield : Broadhurst Post Card Publishers, Image No.: a106388, courtesy State Library of NSW

This is one of many retorts, over many years, to an Argyle style report:
A Pleasure Trip on the Hawkesbury,
TO THE EDITOR OF THE SYDNEY MAIL.
Sir, — We notice in your issue of the 14th instant, under the nom de plume of 'Grandmamma,' a long and plaintive story, commencing with the flourish of a poetical pen. Judging from, the manner in which this story is told, we should think that 'Grandmamma' possessed one of those super-poetical natures easily disturbed by common occurrences, and certainly unfitted to give to the pleasure-seeking public a fair idea of a trip on the Hawkesbury, under ordinary circumstances. The drunken engineer threatened to blow up the steamer, but 'Grandmamma' was Ices ambitious and contented herself by ' blowing up ' everybody in connection with buggies, coaches, steamers, and hotels en route. Now we have done the Hawkesbury, and although not wishing to assert ...we have, however, succeeded in enjoying ourselves thoroughly. We did not notice the roughness of the vehicles at Manly, neither the necessity to 'scramble' into them. We did not find the slightest cause for nervousness in crossing the lagoon— entre nous,' Grandmamma' must have been asleep when passing the stranded Collaroy, and the awaking -when in the proximity of the pandanus must have been the 'sensation ' referred to.
We happened to stay at the opposition house at Newport, and without delay were served with dinner, consisting of fowls and roast beef, the latter a little too well done, if anything.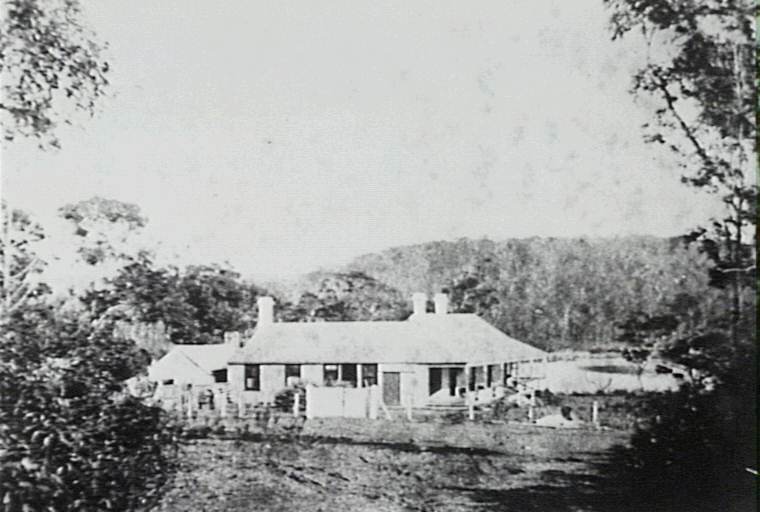 Picture of Newport hotel above is dated 10.7.1884 by Robert Hunt and courtesy Pittwater Local

studies

- Historical Images, Mona Vale Library.
After breakfast next morning, at the very early hour of 6, we made for the steamer, much fearing the descent of the steep bank. It is true we did not find marble steps, but very convenient ones, and were at a loss to know how other than a confirmed cripple could complain of the fatigue and uneasiness of their descent. We found the steamer all that could be desired, even to having carpets spread on the 'gridiron' seats, so particularly noticed by ' Grandmamma,' and the engineer was perfectly sober. After passing through beautiful scenery on either side, we arrived at Wiseman's Ferry — a distance of some 50 miles — at 12.30 p.m. Here we found a substantial stone wharf, upon which the passengers stepped directly from the steamer, even at low tide. As the steamer could not go alongside the hotel, and there were no rails laid for the hotel to run down to the steamer, we were obliged to walk some half-mile to the latter. A well served good, substantial lunch was ready, and we were attended during the repast. Finding also the hotel very clean and comfortable, and being informed by the landlord that he drove folks to or met them by appointment (by telegram, as there is only twice a week delivery of mail) at Windsor gratis, if they wished to stay here a few days, and not a week, as the steamer service would oblige them, we readily took the opportunity, especially when considering the rest of the river was more or less indifferent in respect to scenery. In this we had no cause for regret. We stayed some four days, during which time we had a boat and buggy at our disposal, and were able to make very pleasant excursions inland and down the river. After paying a very moderate reckoning, we were driven into Windsor and thence caught the train to town, having firmly made up our minds that, with your kind permission, we would first challenge ' Grandmamma's ' disparaging comments, and then give friendly warning to others that, if a few days are no object, by far the best (and also the cheapest) way of seeing the Hawkesbury is to adopt our plan and make Wiseman's Ferry the base of operations. — We remain, Sir, yours truly,
COMMONPLACE YOUNG MEN.
A Round Holiday Trip.
By "IBIS"
I had often heard of the beauties of the Hawkesbury, the afore irresistible charms of Kurrajong, so resolving to make a round trip of it, we arranged a party and started one fin morning in spring. I give my experiences with the charges or cost of the flying visit, hoping it will be valuable information to my readers, and that many may be enabled to do as we did in the coming Christmas holidays.
We reached the Royal Hotel, Richmond, at 11 o'clock, where, after being kindly attended to by the excellent lady of the house- we were thankful to lounge on the balcony and rest after the tiring events of the day. ' The next morning at half-past 9 we started by coach, Powell's Royal Mail; for the Kurrajong. This drive takes two hours and is a very pretty, pleasant road. The charge is moderate, about 2s, and the coach stops at Powell's homestead, where you can have a good dinner, cleanly served and not expensive, and any amount of any fruit in season, English or tropical.
When you reach the heights of the Kurrajong the view of the lowlands is very fine. You see Richmond and Windsor lying little patches in a field; the Nepean winding through the plain like a twist of macaroni — no larger, so you may guess the distance you see Parramatta and the adjacent little settlements, and (the 'Railway Guide' informs me) 'even the locality of the metropolis itself", for this I cannot vonch, as I did not observe it. As I stood upon the height gazing at the vast stretch of country before me, I was forcibly reminded of the temptation of our Saviour on the Mount. The most beautiful large tree ferns grow at the Kurrajong, and are easily procurable. Also the waratah, or so-called native tulip.
The next day we wandered about Richmond. This is quiet little place, whose-growth appears to have suddenly, stopped some thirty or more years ago. And the present inhabitants seem quite content to leave well alone. Business seems stagnant, and quiet content reigns over all. The park, or cricket and sports ground, lies in the centre of town and is a goodly square of ground, with a large ring like a mammoth circus fenced off from the trees and seats. The ground here is smooth and the grass green. There is not much in Richmond for sightseers to see, for it is built on a portion (very small) of the immense plains. Windsor also'is built on the same a few miles on — three or four, I think; but, then, Windsor is worth anyone's visit, if it is only to see the fast-falling old records of the past days of this colony. Windsor is one of the very oldest settlements, ranking almost with Sydney and Rose Hill, or, as they call-it- now, Parramatta.
We left Richmond for Windsor on Saturday afternoon by the 4 o'clock train,, and reached there a few minutes later. At the station waiting the arrival of the train were two omnibuses; and some safety cabs. I felt we were in a recognised town again, and felt sorry as I looked around and saw the substantial buildings as far up as eye could see. I was somewhat astonished too; for after Richmond with its placid quiet air, which put me in mind of a boy dozing at his work on a Summer's day, or a bullock driver asleep in his dray while the team pulled lazily on, the little town is there, but everything is green — grass even growing in its principal street; it seems dozing under the heat of the summer's sun. Now, Windsor, although so near; is entirely different ; life here strikes one as life — not existence only, but work. The very women who stand at their door to see you pass are busy — either with nursing or sewing. Sister towns, Windsor appears like a hungry ratter looking for his food; Richmond like a pampered overfed pet sleeping on his cushion. As we drove up the street I saw that most of the buildings were old. I felt a feeling akin to awe possess me as we went on. Up the old street on either side the old houses stood, thickly interspersed by the bright fresh ones, some with every pane of glass out and only the sash in the windows, others with the shutters hanging by one hinge, others in order but still unmistakably old. There seemed a forlorn air of neglected old age about them that appealed to the sympathies. They seemed to say, 'See, here we are ! standing still ; and each one us could tell many a tale if we chose.'
The people of to-day vanished, and I saw the inhabitants of the past once more come and go in the streets. The phantom faces looked out of the glassless windows at rue. A detachment of the old 109th marched down the street. I heard a clanging sound. Lo ! a body of convicts, with their grey or yellow dress, with the broad arrow-branded on the back, chained together, moved past with their armed guard. Yet another came on-. This time they took the place of four footed animals, and were drawing up a dray and its load. Now a prancing, champing horse came up the road, its trappings and its rider's dress glittering in the sun. He was an officer of the regiment sitting firmly upright in his saddle in all the pomp and glory of fall regimentals. Oh! people of the past ! Oppressed and oppressors, sinners and stoned against, how paltry and fleeting your sorrows and chains appear now ? 'Twas but a little time even at the best. You have passed away, and the earth knows you no more. Only the effects of your works remain. You have passed, even as we are doing, like a shadowy panorama.
The coach stopped at the Royal Hotel. This is a square brick building, still good, with a verandah round two sides, it ends the street, and was aforetime the officers' head mess-quarters. The old barrack and gaol are just round the corner of the opposite side, and would have been, I conclude, in sight of this house when the officers had it.
Opposite one side of the verandah is a smallish green field, fenced in by a white fence. Here stood the whipping post, the call bell, and the stocks of old memory. The present holders of the hotel remember all three standing, and of being in use.
Just below this is a branch of the river, almost dry as I saw it, edged on each side by large old weeping willows, brilliantly, brightly green. I have never seen such a multiplicity of weeping willows as I saw here, and on the Hawkesbury large graceful trees.
' 'I wonder' I wondered aloud, 'why they planted so many willows ?'
'Because thems the weeping willows,' returned a voice at my back. I looked round, and leaning against the inside fence was a little, dried-up looking old man.
'But what good do they do ?' 'Why, they show to the world the sorrows of 'em as planted 'em living momenters of tha old times.'
'But they weren't all sorry.'
' Every man Jaek on 'em, mum, frees or lags. Everyone on 'em.'
He said this with an uncompromising firmness that forbade argument.
'Why, the officers who lived here were not sorrowful? What had they to be sorry for ?'
'Most o' them tress were planned by the hoffisers. Out o' that werry door as fine a young gent as ever lived was carried in his coffin wi' a broken heart. Not sorry ! Why, sorrow an' New South Wales camped at the same fire, in them days! '
' So you remember them ? I asked,
'Remember 'em? I should think I did! I onghter when I lived in 'em!'
'I feel much interested in the past, and would be very happy if you would tell me something of it, but not all of suffering.'
'Why, twas the time of suffering. If that there piece of ground opposite could up and talk it could tell of suffering. Often the flogger has dyed the grass with the blood of man. Talk of suffering, why, if all the tears that were cried in Windsor could flow down together, they'd make as big a flood as ever swamped the town, or overflowed the banks of the Hawkesbury.'
….
Just then the tea bell sounded, and I was reluctantly forced to leave this entertaining fellow. I found out that the coach, for the Hawkesbury left at 7 o'clock on the following morning and if I didn't take that I would have to wait till the following Sabbath morning, as it only went once a week. We decided to leave in the morning. Intimating our desire to our hostess, she informed us that punctually at 7 the following morning we would have to be standing in the verandah, ready to mount, when the coach drove round ; for its driver was a very irrascible man, by the name of Paddy, and known far and wide for the hotness and strength of his temper, having frequently driven off without his passengers, loudly and often expressing his resolve to 'wait for nobody', even if this 'nobody should be the Governor of Australia'. At a few minutes before 7 the following morning we were standing on the verandah, awaiting the coach, and certainly lost no time in scrambling up into our seats. This was agreeable to the driver, so he greeted us by glancing round and giving us a grunt. This the hostess of the Hotel informed me, in a whisper, was a great unbending on Paddy's part. We were off, and crossing the bridge passed down-a very pretty road, still plentifully besprinkled with weeping willows. This drive is one of 10 miles, and was done by Paddy in fine style, and well within the two hours. He very politely came and helped us down, carried the box on board the little steamer that waited alongside the bank and returning, escorted us on board.. This unwonted conduct caused the captain of the steamer and his wife to stand aghast; they stared open mouthed at us.
But Paddy soon brought them to their seinses by telling them if they were one minute behind next time next trip they could stay away altogether or let the passengers find some other means of going over the 10 miles to Windsor; they wouldn't, get his car. The captain mildly explained that last trip the engineer had been under the potent power of ardent spirits. 'I don't care, drunk or sober, if yer not here to the minit you don't get me, so mind'. With this parting 'warning Paddy took himself off.
The little steamer lay against the log that does duty for the quay. There was on board, besides, 'our party.' the captain's wife, the captain, and his one solitary help. This person was A.B., engineer, steward, cook, and first mate rolled into one. Like a generally useful help, he was remarkably dirty and greasy. He was sitting forward with his arms' folded, dozing, when we came on board. He looked out at us with one eye, but immediately closed it, and his head fell on his chest, again. His appearance was very warmly received by one of our party, who fondly hoped there might be some after dregs of drunkenness left in him sufficiently strong to cause him to play some tricks.
This wish, I am glad to say, was not gained, as the present party was not the one who had so enlivened the trip of the preceding voyage.
He was sleeping off the effects of his alarming carovsal in the little slab hut on the bank, and the captain's lady informed me she had not yet recovered from the frights she had received, nor did she expect to for an indefinable period.
Be it known, the Hawkesbury River is one continuous chain of bends and curve. You appear floating down a beautiful lake all the way; every twenty yards or so you turn a sharp, corner, and, lo! a more beautiful spot than the last. These sharp turns are dangerous to careless steering, and require not only a keen knowledge of the river, but steady steering. If the steamer ran aground, there you might stay for days; for she is the sole disturber of the water, and the banks are but very thinly populated. Consequently the vagaries of this intoxicated engine driver caused considerable alarm to the captain and unbounded fright and horror to the passengers, who were mostly ladies — about 18, I hear — and who got entertained in a manner they did not expect in this their trip up the beautiful Hawkesbury. The captain could not steer and manage the engines, small as the vessel was. The gentlemen there were nervous— besides, they were landsmen in every sense, and understood neither ; besides, the help did not appear very drunk on starting. He had the signs of licker but he had a bottle of brandy by his side, and a frequent application of his lips to this soon began to tell upon him. The first intimation they had of this was when, the captain politely desired him to 'clap on a little more speed.'; He turned it on with such a will that they had sharp work to clear the corner in safety. The captain expostulated, and said 'slower', whereupon he nearly stopped the engine, and they scarcely moved through the water. By-and-by the captain mildly remarked a little more speed-would meet the wishes of the company better; hearing which the engineer sprung up, saying they didn't know what they wanted. He clapped on full steam, and the little boat positively flew up the river, emitting ever and anon an unearthly screech. This screech soon became a duet, for the fellow seeing the alarm around him, joined his voice to the whistle, and enjoyed amazingly the state of affairs. He kept possession of the engine, and the captain dare not leave the helm.
The ladies began to scream, the scenery
was forgotten, terror and alarm took possession of all, and confusion reigned triumphant* ' Ye want speed do ye ? I'll give yon speed; I'll race the whole wurruld. Whoop !
twenty to one on the 'Florrie.'
Look out for the banks, Cap'n.. Ha ! ha ! Isa ! be me sowl, but yo'll run uz aground if ye don't look sharp, an' thin tbira lovely crafchers forrard'll git drowned.
Och I sura 'twould amaze yiz,
How one Misther Theseas,
Desarted a. lovely young lady iv ould,
On a dissolute island
All lonely and silent
She sobbed herself sick as she sat in the cowld, '
"Take care Capt'n. Begorrah ye nearly done for us that time ; faith I never thought ye war such a poor steerer.- Its soon ye'll have us all on a "Dissolute island" if ye don't take care. But I'm not a miserable ould hathin. I'll not desart the ladies. I'll stick be ye darlings.'
Here the drunken fellow gave a long wink and leer at the crowd of terrified females and continued his song. The echos on the many hills around caught up the refrain and threw back the discordant sound in many voices. Presently he got tired and appeared to be dozing, and a consultation was held on board as to the best means of ensuring the safe termination of their journey. It was decided that the man should be taken from his present position and safely bound aft. This was quietly arranged, and two gentlemen were told off to bind the unruly delinquent, and then take his place under the captain's orders. It was a very easy arrangement, but scarcely so easy to do as to say. No sooner did they lay their hands on him than he sprung up and soon laid them both on the deck.
'Ha! ye divil's imps, would you take the engineer from his duty. What d'ye mane, ye pair iv igaorent savages be layin' yer claws upon rne ? Begorrah ! if ye attempt to get up from there I'll throw you both into the say. Where 'id ye be ye pair of lawyer's clerks — process servers may be for all I know, where 'id ye be, ye miserable haythins if ye tuk me from the works ? Stop yer screetchin ' he added, angrily, turning to the ladies, who were clinging together screaming, ' Ye set iv paycocke, or I'll blow ye all up, every one iv yez. Begorrah! I'll have ye in the nest world afore ye can say an ' Ave' if ye go on screetchin, ye unruly numbers iv society. I think ye've all come on boord drunk!'
Thus the up trip was made, the steamer arriving at the end of her journey a good hour or more late, where the passengers were received by 'Paddy ' the whip, on the bank. If the waiting had cooled his horses and his feet it had warmed his temper, for he was in a very fiery mood, and made his horses and passengers suffer in consequence. The excursionists, sightseers, and pleasure seekers will not forget their visit to the Hawkesbury in a hurry.
The intoxicated engineer was brought up in Sydney and accused before a jury of his 'countrymen, of riotous behaviour, being drunk and incapable at his post, and of endangering and threatening the lives of 'so many of her Majesty's subjects. But these enlightened body of men found a trace of spite and animosity on the captain's part, and the worthy engineer was discharged, leaving the court with an aggrieved air, Verily, trial by jury is a wondrous and fearful thing. Justice is Hindi and law is as uncertain a thing as a woman's mind, of betting a hundred to one on the favourite.
We all watched the engineer's every move with expectant delight, trusting to see some drunken vagary, but we moved uneventfully down the stream, passing from one bend into, another, each beautiful enough for fairy land. The banks on both sides were almost continuously edged with the graceful weeping willow, their dropping branches trailing in the water.' I have never seen any scenery in Australia to compare in the remotest degree with that of the Hawkesbury. Nor had I connected any such grandeur with the name of Australia. Take it where you will, the river is splendid? On one side a steep hill rising immediately from the water's edge, covered with lovely tree-ferns, cabbage-trees, large trees covered with brilliant scarlet blossoms, another yellow, a third pure white* with here and there a huge grey rock showing. On the opposite bank, about a hundred yards of level ground, upon which a homestead, perhaps, is built, then the ground gently rises into a hill, with more and more behind. Sometimes you get a glimpse far away up a beautiful glen, with little, and large hills rising on every side. This goes on all the way down.
By 1 o'clock we stop at Wiseman's Ferry, and see the telegraph wire and Sydney-road going up the hill. There stands the ruins of the old church, roofless, doorless, and all gone the way all things earthy, excepting the walls, it is built strongly of stone, so possibly the walls will stand till the stones are taken away. Within this church is a vault, also roofless, wherein lie the remains of Mr. and Mrs. Wiseman, and others. No more. The leaden coffins lie on their ..exposed to view and the weather. I wondered if really no person was left with sufficient Interest in these coffins to cover the vault, and so let them rest is peace. As we stopped at the stone wharf that Sabbath day, the place looked one of silence…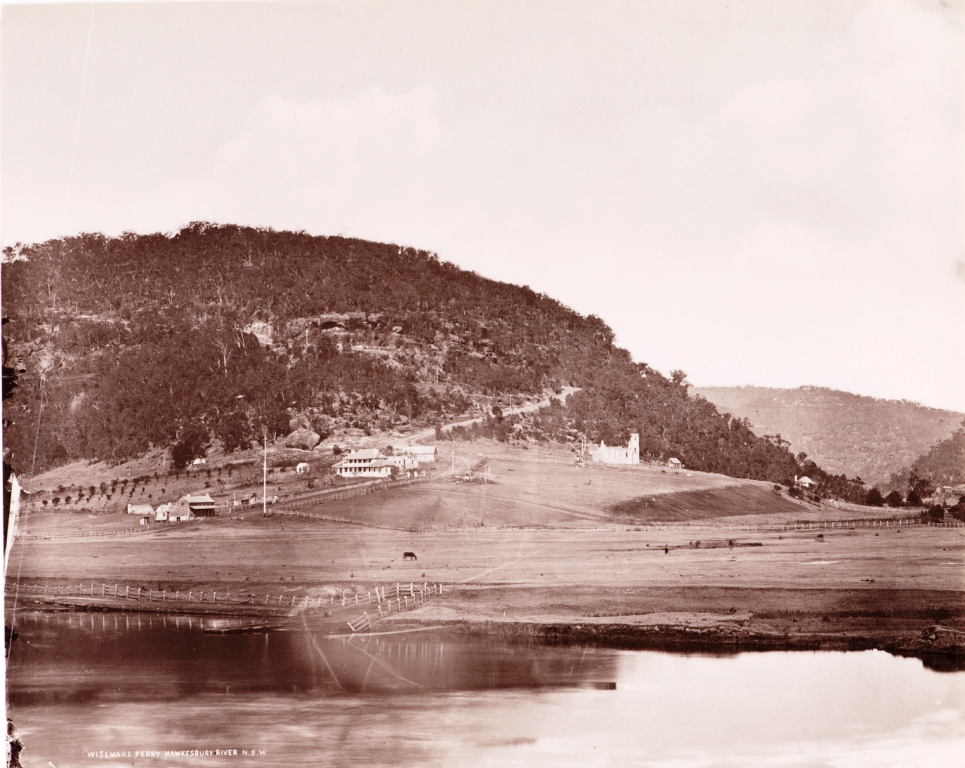 Wisemans Ferry, Hawkesbury River, N.S.W. Image No.: c026780132, from Album: Photographs of Sydney and New South Wales, ca.1892-1900 / N.S.W. Government Printer, courtesy State Library of NSW.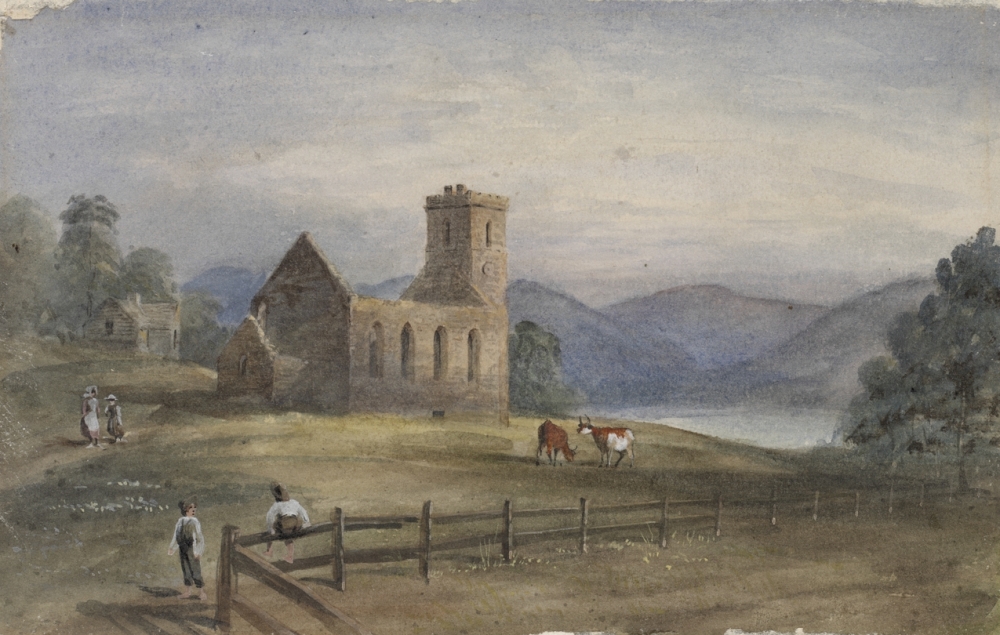 Old Church, Wisemans Ferry, Hawkesbury River by John Black Henderson (1827-1918) St. Mary Magdalene's Church (Wisemans Ferry, N.S.W.). Image No.: a1528498, courtesy State Library of NSW.

…was the dip of the' puntsman's oars and a Voice as he sang at his work. I thought it a beautiful picture as I watched his form bend with the strokes, and his punt move on. The horseman got out, and after a friendly leave taking, went up the opposite bank, had the punt cams towards our side. I pictured the man judging partly by the thin quavering voice— a little old shrivelled man bent with his work, but happy and content. I was envying him his disposition, when the punt drew near, and I saw the man was young, with a face swollen and distorted either with drink or insanity. He began cursing and swearing at the unfortunate captain, who really seemed a butt for all their anger, and flew to the rope vowing to cut it adrift as we were Secured a yard or so more to one side. He soon cooled down and began to make himself more pleasant by ridiculing our steamer's build, &c. He came on board, and depreciated every particle of her from the wheel down. This party's name is 'Jack' and he has plentifully bedaubed the fence with hid name and initials in tarry letters. He became quite friendly with us, and volunteered to show a trial and exhibition of his pulling capabilities This he quickly did by getting into a boat and pulling strongly Up the river, crying out as he did so, 'There's Bush for you. Ha ! Laycock, where are you now? Here's Wiseman's ferry style. Here's muscle. Come on Trickett. Come on, be beaten by Wiseman's ferry. Heap's Hanlan.' As he swept by he glared at me, inquiring ' what I thought of Wiseman's ferry style.' We all cried out 'lovely.'
This favourable opinion he received pleasantly, and he informed us of the nature of the river, the fish it held, all particulars, saying sharks abounded 16 or 20ft long. I expressed astonishment, when he said he didn't care, he'd swim across the stream at A swinging rate this minute. The arrival of two gentlemen from the Inn put a stop to his executing this feat, and we put off, Jack waving us a good-bye, and assuring us of a welcome on our next visit. As we had no dinner we made a meal of biscuits, oranges and sweets; the captain's wife very kindly gave me an excellent cup of tea, for which I felt grateful. She would take no money for it, but said she intended to begin and have tea, coffee, or chocolate for any who chose to take at so much a cup ; this will prove an additional comfort to this most lovely trip. The elder gentleman got out some sketching materials and began to sketch some of our party, very soon I followed his example and I was, glad to see their neglected blocks and pencils come out and be used. Thus example was better than preaching. The younger fellow-passengers in passing bowed; and we were soon, like most travellers in a small space, upon friendly terms.
Although Wiseman's Ferry looked uneventful quiet and peaceful, it sees some funny scenes at times. For example, a few days before a travelling Bible distributer had come to the river's bank with a buggy full of Bibles. The buggy_ was drawn by a horse that had had no drink for over 24 hours. (This treatment of the poor animal seems at variance with the load on the baggy.; Upon seeing the water it rushed into it and was drowned. The dismay of the owner was extreme, as he saw his possessions swallowed up by the water. He called upon Jack to help, but his ludicrous antics and words caused Jack to be powerless of anything but wonder at himself. The buggy had been rescued, and a few of the Bibles, the missionary had them all spread out on the grass in the orchard of the hotel, in the sun to dry, and was kneeling in the centre, crying and praying, asking the Father to come down and get him out of his trouble. Then he-, would sit down, hugging his knees up to his chin and stare stonily before him, crushed with sorrow. Again he would pray and cry. He diversified this by going- over his books turning and straightening them. He had been like that for the last three days, sitting helplessly crying aloud upon the Lord-to come down and help him, apparently forgetting that God helps those that help themselves. These fellow travellers of ours had subscribed .£2 10s towards his relief and gave it to him, but he still sat like Niobe of old in tears, and refused to be comforted. I have often wondered if he is there still, or if he has procured a horse to take his buggy, Bibles, and self back to Sydney. We still sailed on, the banks on either side still as beautiful; they widened as we reached the mouth, and the foliage upon the hills grew darker.
At last we turned into Broken Bay, and we looked an admiring farewell at the beautiful river behind us.
I had been often wishing to visit the Hawkesbury, for I had heard two opposite opinions as to its claims for beauty
: one was the laudatory encomiums of Anthony Trollope ;
the other the condemning, disappointed opinion of a whilom friend, also an author and a traveller.
But then he very naively remarked that his mode of travelling was rougher than he expected, and the creature comforts offered not up to his expectations or custom. He thus stood a living example that he saw through his palate, and proved the savine true that man may be governed by his stomach. He certainly has more of the animal than spiritual in his composition,
else he never could have passed so much of the beautiful in nature without acknowledging its power. We stopped, at the inn at Newport all night; in the morning drove along the lovely road into Manly Beach, passing the poor old Collaroy lying high and dry up on the sands near Narrabeen Lagoon.
The country around was brilliant with the bright hues of wild flowers at this season. The stately cabbage tree waved its fan-like leaves, and a flock of black swans were visible on the waters of the lagoon. A wallaby hopped across the road, much to the children's delight. We took the steamer at Manly, and so home, sunburnt, tired and happy and as Buttercup sang; ' Not a penny in our pockets, la-de-dah !' This trip I would urge upon the notice of youne people, shut up in the city at business all the week, and highly recommend it. You could leave Sydney by the 9 o'clock train for Richmond on Saturday morning j on arriving there take Powell's coach to the Kurragong, dine there ; go on to Windsor by the train, sleep all night there, down the Hawkesbury on Sabbath morning, and back in Sydney on Monday morning by the first boat from Manly in time for office, school, or shop. The probable expense would be between £3 and £4 possibly less. A Round Holiday Trip. (
1882, December 30
).
Evening News
(Sydney, NSW : 1869 - 1931), p. 6. Retrieved from
http://nla.gov.au/nla.news-article108000733
Michael Maher, the former engineer on the steamship Florrie, was summoned, by Mr. C. E. Jeannerett, the owner of the vessel, for having, on the Hawkesbury River, on the 30th September, by drunkeness, so neglected the engine of the vessel as to endanger her. The vessel was at Newport, Pittwater, on the 30th September, having onboard the Hon. W. A. Brodribb and eight other passengers. T
he speed of the vessel was very irregular, sometimes being very fast, at other times only two or three knots an hour, and occasionally the engine stopped working ; at times there was only 40lb. of steam, and at other times there was 70lb. ; the engineer was observed to frequently go up and down from the engine-room to the deck ; a stoppage was made at Wiseman's Ferry, and as the passengers after going ashore came aboard the engineer was found lying on the deck helplessly drunk. The party were going to Sackville Reach, but a consultation was held, and it was decided not to proceed until the services of another engineer were obtained. The passengers stayed at Wiseman's Ferry that night, and next day an engineer named G. Brooks was engaged to look after the engine of the vessel. The prisoner was committed for trial. Bail was granted, the prisoner being required to enter into his own bond of £80, and to find two sureties in the sum of £40 each. WATER POLICE COURT. (
1882, October 10
).
The Sydney Morning Herald
(NSW : 1842 - 1954), p. 5. Retrieved from
http://nla.gov.au/nla.news-article13524784
October sittings of the Metropolitan Quarter Sessions commenced yesterday, before Mr. District Court Judge Josephson, Mr. I. J. Healy prosecuted for the Crown. The only case of importance was one in which a man named Michael Maher was charged with endangering the safety of the steamer Florrie of which vessel he was the engineer, and the passengers on board of her, while on a passage from Newport, Pittwater, to Wiseman's Ferry, on the Hawkesbury River. Not withstanding that the evidence was very strong against the defendant, the jury found him not guilty, and he was discharged. NEWS OF THE DAY. (
1882, October 31
).
The Sydney Morning Herald
(NSW : 1842 - 1954), p. 7. Retrieved from
http://nla.gov.au/nla.news-article13527380
Death of the Hon. W. A. Brodribb, M.L.C.
The Hon. William Adam Brodribb, M.L.C., of New South Wales, is dead, aged 77. The deceased gentleman, who was the son of an English attorney, was born on May 27th, 1809, and came out to the colonies when only 7 years old, arriving at Hobart in 1816. He came to New South Wales in 1836, and at once engaged in squatting pursuits, being one of the pioneers of the Murrumbidgee, establishing a cattle station in the Maneroo district, and subsequently a sheep station near Gundagai. Thence Mr. Brodribb proceeded to the Goulburn and Port Phillip districts, and he there embarked upon an eventful and important exploring expedition in Victoria, which resulted in the opening up of the Gippsland lakes and the formation of the port now known as Port Albert, and named by his party. After many similar exploring expeditions, marred by much difficulties and hardship, Mr. Brodribb returned to New South Wales and again engaged largely in squatting undertakings. He crossed the Australian Alps with a herd of cattle and horses and a flock of sheep, and established a station at Wangaratta, but sold out on the approach of free selectors and went to Victoria, residing at Brighton, for which electorate he was returned to Parliament. He then went home to England, and returning to the colonies established some stations in the Lachlan district, New South Wales, somo of which he retained until his death. During a second visit to England Mr. Brodribb was elected F.R G.S. and F.R.C.I., and proved instrumental in bringing about some important reforms in the wool trade in association with Sir Daniel Cooper. Coming back to the colonies, Mr. Brodribb purchased Buckhurst, near Sydney, in 1876, and remained there till he died. He was called to the Legislative Council of Now South Wales in 1881. Death of the Hon. W. A. Brodribb, M.L.C. (
1886, June 2
).
The Telegraph
(Brisbane, Qld. : 1872 - 1947), p. 5. Retrieved from
http://nla.gov.au/nla.news-article174701998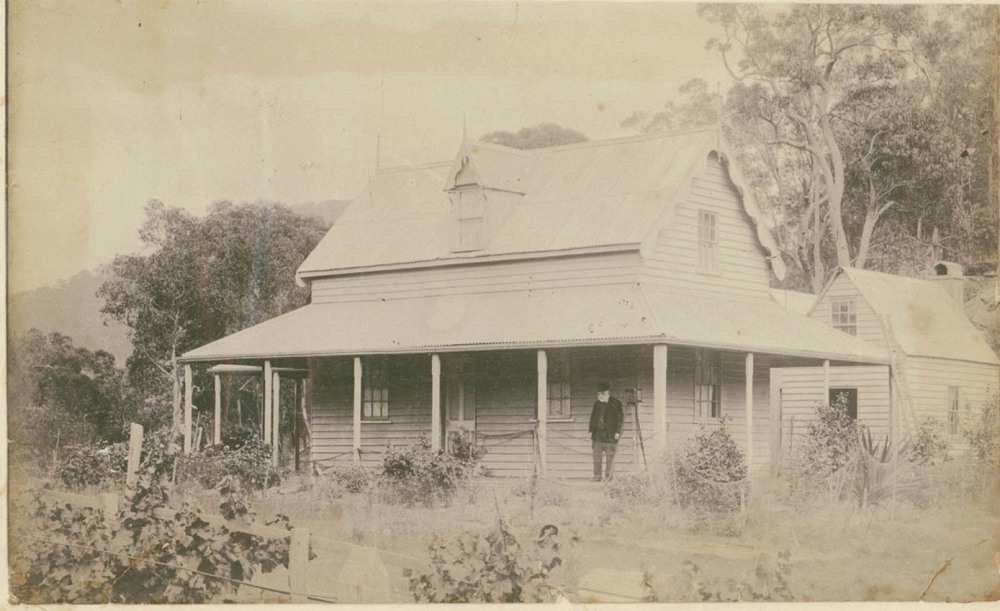 Alfred Milson's holiday house, Milson Island, Hawkesbury River - Dr R.D. Ward, amateur photographer, on the veranda of Alfred Milson's cottage, Milson Island, Hawkesbury River-
Digital Order Number: a282009 from Collection ; Millers Point, Sydney ; Residences at Hunters Hill, Milson Island & Nattai ; Ships, China, Eastern Light, & Parramatta, courtesy State Library of NSW
The Sketcher.
A Trip To Gosford.
Leaving Sydney by the 7.15 a.m. steamer for Manly, one discovers how pleasant and refreshing a trip down the harbour may be on a crisp September morning, and regrets on reaching Manly that there are but some 15 or 20 minutes allowed for satisfying the sharpened appetite before the Pittwater coach gets under way. Bowling round the corner, the team, fresh as two-year-olds, takes us at a merry pace along the level road, past the lagoon, and into the bush, continuing amid rock and scrub that grows so prolifically in this sandy soil. A fairly good road gradually ascends for several, miles, the left being a mass of rough broken country, and the right, some high ground shutting us off from the sea, till presently we come almost on to the sea-shore, and every hill we top gives as a view of the continuous bay and headland coast-line stretching ahead for miles.
After some six or seven miles, descending a sharp decline, we almost ran on top of the Collaroy, high and dry on the beach. The bizarre object startles one as it is so absurdly out of place; but the Company's balance sheet still reckons her an asset.
The road seems to end here, and the coach enters upon a level strip of sward overawed by a straight range of steep, rocky hills, with a cabbage tree on top, limned against the sky. Here, meeting the fresh north wind that lifts the horses' manes, the leaders put their heads down and stretched themselves for a canter. I had been especially directed to select this route on account of the beauty of its scenery, so closely resembling, at times, that of the Rhine. But although one part of Europe may frequently recall another to the recollection, yet in Australia nature has assumed such distinct characteristics, that all comparison is rendered out of the question, nor could any effort of the imagination convert the old stone ruins on the rise at the end of the flat into the remains of some castle of romance. We could not elevate oneself above the conviction it was but a settler's or free selector's home-stead. Recently the land about here was sold, fetching prices up to £10 for quarter-acre blocks.
A little further on we entered Narrabeen Lagoon, when the water came over the bottom of the coach. For three quarters of a mile the coach struggled along through marsh and water, not daring to stop lest the wheels sink in the sand. However, it is understood the Government will call for tenders next month for the construction of the bridge. Coming out of Narrabeen the coach passes round a finely formed hill abundantly clothed with tree and fern, including quantities of the Burrawang species. On the left arises a cleared eminence with two red cattle; beyond, a half-cleared flat, with a mass of low gnarled gum trees in front, through which the road leads ; on the right are some stretches of white sand, with a reddish-brown bluff rising above, and splashes of spray dashing up against it ; a few light clouds above break the sunshine. It is a good specimen of natural Australian landscape, and these are to the picture the finishing touches of the artist's master hand. As a centrepiece of such a scene, none but a painter knows the value of a lumbering coach and four, axle deep in water, slowly dragging its way along.
From Narrabeen to Pittwater is a succession of hills and gullies, the views, and retrospect from each becoming finer and finer.
The aspect of the coast, which is now continuously in sight, suggests somewhat the snapped off red clayey cliffs of Devon ; while two or three miles beyond are seen the deep gorges among the hills that hide the lake of Pittwater. From a distance, the rugged boldness of the hills bear many of the characteristics of mountainous parts of the Black Forest, although when close the vegetation and the general appearance of 'unfinishedness' effectually dispels the illusion.
Presently we approach a promontory with rounded top and sides, smooth shaven like a lawn, and interspersed with scrub like the soft buxom furze of a Cornish hillside. It is remarkable besides for its massiveness, and one feels on reaching the summit as though he had overcome one of the obstacles of life. At length, reaching the eminence above Pittwater, we take our last view of the ocean with its half score of white sails dotting its wide surface in an aimless sort of way, and call each other's attention to the dignity waves can assume as they come rolling in with a slow lazy sweep and curl and break on the curved sandy stretch that connects the protruding frowning headlands. Turning inland, we enter, as it were, the top rim of the basin of the lake, and suddenly come upon the loveliest spot between Sydney and Brisbane Water. On the left one looks down a gorge ever so steep down : down through the stems of several species of gum, ironbark, mahogany, forestoak, turpentine, and cabbage tree, their tops netted into a dense mass of foliage, their bases buried in a profuse overgrowth of fern, bracken, clematis, and the graceful burrawang, a species of palm-fern, while in the mid-distance between the tree stems one can trace the stream at the bottom. The scene is rich with the luxuriant beauty of a New Zealand pass. Coming round the shoulder of the hill, openings in the trees betray glimpses of the deep blue waters of the lake, while the scene stretches away beyond to the high enclosing hills, in all their deep colouring, like one of Conrad Martens' pictures.
A few minutes more, and the coach stops at the Newport Hotel, having accomplished the 14 miles in about two hours. At the waterside awaits the steamer Florrie. A little to the right, in a small bay, is another wharf, with a large house close by approaching completion, and destined for a boarding-house
. As we steam out, we wonder which way we shall take, for the lake is completely landlocked by huge bluffs rearing themselves up above us like so many 'Ball's Heads,' and suffering rough jagged gorges to penetrate their way deep into their mass. In several places where the nature of the ground allows settlement, cottages and gardens and orchards have sprang up, and their beauty of situation renders one envious of the owners.
Bending to the right, we pass between Lord Loftus Point and Scotland Island, while far ahead, near the heads of Broken Bay, is seen the noble island, in shape like a couchant lion guarding the entrance as he faces it. Pittwater forms a magnificent harbour, and, undoubtedly, in due time its waves will reflect the lights of a grand city reared upon its banks. Its entrance, some three miles wide, is wondrously safe. Its waters are deep, absolutely sheltered from every quarter; and as to its size, would float the navies of the world. Pittwater is the southern arm of the estuary, Brisbane Water the northern, while between, straight in from the Heads, stretches westward the grand outlet of the Hawkesbury River, between two enormous banks. Few rivers can match its magnificence of debouchure, as the hills boldly approaching the ocean in all their pride of strength majestically deliver up the waters confided to their charge. At the Barrenjoey lighthouse, whence also a cable is laid to Brisbane Water, we come in sight of the entrance to the harbour, and as we cross have a full view on our left of the estuary of the Hawkesbury.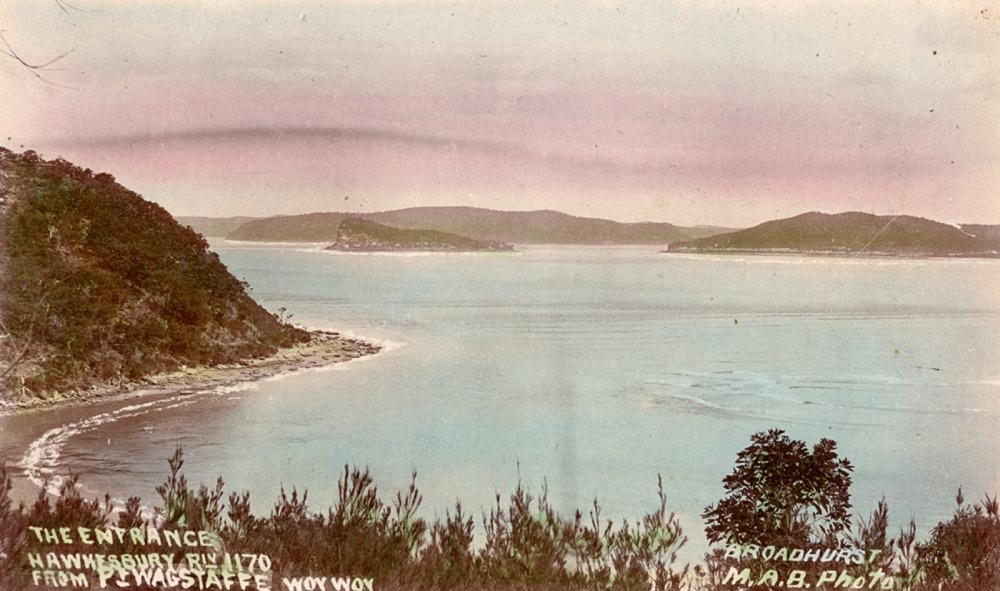 The entrance, Hawkesbury River, from Pt. Wagstaffe, Woy Woy from Scenes of Hawkesbury River, N.S.W. ca. 1900-1927 Sydney & Ashfield : Broadhurst Post Card Publishers Image No.: a105348, courtesy State Library of NSW.

Passing in front of the island, just under the lion's nose as it were, we approach the bar that spoils Brisbane Water as a seaport. It is thought that possibly by blowing up the half tide rocks by dynamite, as was done in Hobson's Bay, the unimpeded rush of water would carry away the sand bar. When the wind is blowing from the south-west the heavy rollers break right on to the bar, rendering it impassable. Before crossing one admires the singularly graceful contour of the high range of ground shutting us of from the ocean, while on the left the eye commands the still higher range that enclose the valley of Brisbane Water, and tempered as to its massiveness by that same deep colouring resting upon its sides that seems to belong to all the Hawkesbury scenery. Safely across the bar we begin to wind about with the river which is much too tortuous, for though numerous huts and humpies perch themselves upon the shore, yet the scene grows monotonous. One misses the rich fields and cornlands, the pasturages, and terraced vineyards that border the (in comparison) tame rivers of Europe. The hills and valleys in their form are beautiful enough, it is the same-ness of the vegetation, the everlasting, unchanging gumtree that tires the eye.
Mr. Rock Davis' building yard at Blackwall is the only place of interest passed on the way. One boat in the stream is near completion, and another is in process of building. Mr. Davis has been very successful with his boats, which, besides for their soundness and durability of make, are much admired for their grace-ful lines. He uses nothing but local timber. Several of the ferryboats in Sydney harbour come from his yard, and orders are tendered far in excess of his power to fulfil them. it is not very long since that he launched his first steamer as an experiment, and her arrival in Sydney at once gained a reputation for this yard, and at the same time proved the adaptability of the Brisbane Water timber for shipbuilding Just as one begins to grow weary and very hungry, our little craft emerges into the Broadwater, at whose far end, under the shadow of the hills, is discerned the little town of Gosford. Presently, on a point to our left, is noticed the first patch of cultivation. On the right, opposite East Gosford is Green Point, which was lately sold in allotments at such high prices. Drawing near Gosford, after some 25 minutes' run across the Broadwater, one's attention is attracted by the parsonage, with four Norfolk pines, admirably situated on a point. Farther round, lying between the hills that rise to a great height, on either side stretches back from the water the town of Gosford. Still to the left, at the extremity of the Broadwater, begins Nerara Creek,
extending in a north-westerly direction. On the right, through East Gosford, runs Erina Creek, watering the magnificently wooded tracts lying between Gosford and the sea.
Gosford, situated on the bottom slopes of a hill, consists of one street, in which are located the substantial post and telegraph offices, the Police Court, the Mercantile Bank, three hotels (one being a fine two-storey building), some five or six small stores, and a score or so of dwellings. High up on the hill is the Public school, with an average attendance of about 80. The surveyed line of railway crosses the Broadwater, and passes up the valley some 200 yards from the main street Brisbane Water was but little known until the proposal to construct this railway to Newcastle gave it a prominence it never hitherto enjoyed, although being one of the oldest settled districts. But since being brought thus into notice it has been largely visited by interested speculators and business people, who have returned convinced that Brisbane Water will become something of a winter and spring resort, which, added to the fact of its possessing- many undeveloped capabilities, and being, more over, situated between Sydney and Newcastle, will render it by the time the railway is opened an important town.
Compared with other parts of the colony, Brisbane Water exhibits a lack of energy and enterprise. Its inhabitants, able to earn a fair and regular livelihood by wood getting, have allowed every other industry to fall into abeyance. Even the gardens and orchards, so well known in former years, are now unfenced and uncared for. Even the very homes of the wood-getters are, in most cases, without an enclosure, or, at the most, they grow but a few vegetables to suffice for their own needs. Yet the soil and the climate are well adapted for cultivation and growth, and no place enjoys so mild a winter. But to the visitor the dominant notion of the inhabitants appears to be that it is easier to let the timber grow of its own accord, and content themselves with cutting it when it has reached the requisite size. And these carters and timber-getters do not even attempt to grow their own horse- fodder, preferring to obtain it all from Sydney. To one who knew the place 40 years ago it is saddening to see its retrogression, and naturally one begins to seek the cause. In the early days many of* the best families of the colony either lived there, or owned property. Its natural beauty, fertility of soil, nearness to Sydney, and its accessibility (for in those days a short trip by sea was preferable to one in bullock waggons) rendered it desirable for settlement, and accordingly Brisbane Water acquired a reputation. But the first settlers soon found that timber getting was far more profitable than agriculture, hence, except in a few clearings about each homestead, no attempt was made to cultivate.
The value of the timber trade may be inferred from the fact that from Erina Estate alone timber to the value of £4000 was sold in one year, and from that day to the present timber getters have been, and are still cutting timber on the same land. But in process of time, as the country became more opened up, and sheep farming took the premier position in the colony's industries, then one by one the old families left Brisbane Water, leaving none behind but the actual wood-getters, lime-burners, fishermen, and their purveyors. And thus remained the district for more than a generation. Bat now a new era has begun. At the prospect of a railway it has bestirred itself. Trade has revived. One steamer for passengers alone makes three trips a week, and two steamers direct make each two trips ; a bank has established a branch, and stores and dwellings are in course of erection. Even the church shared in the general improvement, a bazaar having been held to provide funds for its repair, when £106 were realised. As a final evidence of a better state of affairs, the people themselves admit there is now more money than there used to be. To one who knows anything of country towns this confession means much.
As to the salubrity of the climate, there can be no question. There is no doctor there. Yet, although the population is considerable, the last resident doctor declared he owed his subsistence to surgical practice. The appearance of the school children is a living proof of the truth of the doctor's assertion. Sitting on the upper verandah of Campbell's Hotel, one begins by admiring the magnificent hill uptowering in front, hiding the westering sun, and ends with an inexpressible longing to climb to the top, a desire which has to remain unsatisfied till the next day. It is useful to go early, for the cool of the morning is absolutely necessary to enable one to tackle the climb. One has positively to cling to the hillside, but it is an exquisite hill, wooded with tall, straight trees, and carpeted with fern, and capped with rock, the very top being a broad, flat rock, charming for a picnic ground, superb hi its loftiness of site., exquisite as to view. Following a first instinct, one seats himself on the edge of the rock and hangs one's legs over. It is a sheer drop of 20 feet to a broken mass of gray lichen and moss grown rocks, lying cosily in a bed of soft green fern. On every ledge rock-lilies have found a foothold. The treetops are 20 or 30 feet below, and one looks over all to the south over the Broadwater, four miles long, with Gosford below on the left, and the tongue of land running far out into the lake, dividing East and West Gosford. Away over the Broadwater, one looks down between the line of hills that opens for the vision, over the flat scrubby land at the river mouth, over the blue waters of Broken Bay itself; one looks, Broken Bay with its lion-like island in its midst more conspicuous now than ever, across the bay with its single white sails, across to the sandy beaches of Barrenjoey, and to the high lands beyond that finally stop the view. Down at my feet lay a true Australian scene of untouched forest, and to the right, round the hill, sweep the graceful windings of Nerara Creek, across whose mouth runs a line of white posts marking the site of the railway bridge. This hill is the great feature of Gosford, being admirable hi every respect, and a remark in its praise always elicits a gratified smile. On the opposite side of the town, delaying the sunrise, is another range of hills even more lofty, but not so fine, either in form, view, or vegetation. West Gosford lies in the valley between. Leaving West Gosford, a walk of a mile or so from the Post Office brings us to semi-deserted, slowly dying East Gosford, once the chief town, where is the church, and formerly the steamer wharf. The church had been built in one town and the parsonage in the other, in order to allay their rivalries.
In East Gosford the structures are of wood ; but in the other town nearly all the buildings are solidly built of stone. Stone houses in a country town always impress a visitor. They take away the 'mush-room' aspect that distinguishes but too many country places, and evidence, on the part of the inhabitants, a faith in their town. Crossing over Erina Creek by the old punt, still ferried by the same old blind puntman that took me across 20 years ago, we made the best of our way over a horribly bad road (which, however, Government is about to reconstruct) for a couple of miles through low-lying land, bordering the creek, heavily timbered, and with a strong under growth. Having reached a considerable clearing, we are suddenly astonished to behold a ketch, apparently entangled amongst the scrub. The existence of a vessel in the bush reminds one of scenes in Holland, where one is so often startled to see lumbering Dutch crafts in full sail in the middle of a field. Frequently a sail is the only indication one has of the proximity of a canal. At the wharfs of Erina and Wyoming, on Nerara Creek, the ketches chiefly load with timber, laths, &c. The present activity in the building trades in Sydney renders lath-getting unusually lucrative, enabling a couple of boys to earn as much as £3 per week. Bundles of laths, delivered at the wharfs, are sold for 13s. ; formerly they fetched from 6s., and men were glad to get that sum. Beyond the wharf a short distance, ascending a slight eminence, we come to the site where formerly stood Erina homestead (the residence of Henry Donnison, Esq.).
The half-destroyed orchard and the homes of three or four woodgetters in the vicinity are all that remain to mark where once stood a huge and handsome dwelling, with a village comprising artisans of several trades. A ride hence in an easterly direction for some four miles brings us to the coast. Several clearings are passed on the way, in most of which still stand the lemon hedges and the fruit trees that were once a source of considerable profit, but all now apparently forsaken for the timber trade. At first sight one is led to deplore the utter decadence of energy ; but what I myself saw, and the testimony of the people themselves, proved to me that timber getting in this locality is a substantial and remunerative industry, nor does there appear to be any indication of its languishing. Years ago one heard of most of the heavy timber being cut, but the trade is actually on the in-crease. The soil produces wonderful trees, tail, straight, and solid like a ship's mast, and trees that five years ago were reckoned but saplings are now being cut for beams and rafters— aye, even for the piles for the Circular Quay extensions. The supply between Gosford and Tuggarah appears to be practically inexhaustible. The country is undulating and varying in its character from stony ridges and clayey flats to the rich loam of the brush or scrub land. The chief wood obtained from the higher ground is red and blue gum, red and white mahogany, turpentine, iron bark, stringy bark, blackbut, and forest oak. From the brush land, whence come the finest, logs, are derived the coachwood, maidens' brush, and ash. The brushwood is very beautiful. It is a dense jungle, semi-tropical in its character, and wrapped in impenetrable shade. Roads run hither and hither through its midst like avenues cut out of the foliage ; the gaunt grim stems of mighty trees rear themselves out of the undergrowth; here and there giant logs, moss grown, peep from out the screening bush ; clustering vines and clambering clematis run from shrub to shrub; the lawyer vine weaves everywhere an almost impassable net ; Deep, mysterious fissures to the right and left reveal the wonders of vegetation. This is the very home of the fauna tribe, which seems to have attained its perfection, and the groupings of fernery present a positive artistic arrangement. The tree-fern, and also the much-sought-after Bangalow species grow in abundance. In the profusion of wild beauty and overbrimming luxuriance it seems to laugh at the puny attempts of art, and in the dark rivulets that are no sooner seen than lost again, one thinks he has found the dryad of the scene.
Ascending again, we presently pass two prosperous looking cottages, and come within sight of
Tarrigal lagoon,
then the ocean beyond, and some half-mile distant, on a' high bluff, the residence of Thomas Davis, Esq. Below his house, in a little bight well sheltered from every wind by Point Willoughby, axe the sawmills, building yards, and wharfs. The mill is not at present working, on account of new machinery being erected ; but the good order of the different departments, the constantly arriving teams, and the business-like aspect of the establishment greatly impress a stranger with the importance of the timber trade. D uring the whole of Mr. Davis's experience, but one mishap has occurred, when the schooner Wonga Wonga was blown on to the beach and wrecked, and yet this occurred through an accident that might have been easily prevented. The spot where stands Mr. Davis's house one would suppose to have been chosen from the whole coast for beauty. It commands a view of sea and coast line, over the fields on the hillside, over the lagoons, and the deep woods, away to the hills inland. Returning, we took a road that led us past the lagoon and Womberall Lake, meeting the Tuggarah Beach road. This led us through more magnificently timbered country, even richer in variety, and taking us likewise through much land adapted for agricultural settlement. It has been so long-supposed that coal was to be found in this district that Mr. Davis put down a bore at Tarrigal to prospect. He sank as deep as the old-fashioned bore would allow, and obtained such encouraging indications that he hopes to have it properly tested. The value of such a discovery, close to a place of shipment, is beyond estimate. A ride of some seven miles northward from Gosford, past Wyoming, along the surveyed railway track, brings us to Blue Gum Flat, another settlement that is developing in activity. At every turn of the road one encounters horse and bullock teams, for the timber on the flats beyond Blue Gum Flat is considered some of the finest that Brisbane Water produces. The road from Gosford, as might be supposed from the travelling of these teams, is execrable, although in many parts truly romantic. There is one grand avenue where the trees on either hand rear themselves straight up 100 to 150 feet, hiding their stems for 30 feet in brush, and burying their roots in fern. As we rode slowly along, the forest seemed to acquire that majesty that the American poet Bryant loved to tell of in his own great forests. It is grander even than the noble cuttings in the Black Forest. In the gladness of the morn, every bird seemed to have given itself to song, and ever and anon above the rest was heard the clear rare note of the tiny bell-bird. The road is hilly, but the view circumscribed by reason of the bordering growth of wood. In this direction is Wyong, where was recently found three distinct layers of coal de-posits, and for the purpose of working which Mr. Allison is reported to have gone to England to float a company. Not the least pleasant time in Gosford is the evening, when the environing hills early hide the sun, and lengthen out the gloaming. To drift about on the lake is full of that charm that has awakened poetry in every age, and as the hills draw down their shadows for the night, the masses of dark outline towering above the glimmer of the lake recall the solemn stillness of night upon Lake Como where one feels with unaccountable awe, that it is but the darkness that veils the presence of the Spirit that rules the destiny of life. SYDNEY. The Sketcher. (
1882, September 30
).
The Sydney Mail and New South Wales Advertiser
(NSW : 1871 - 1912), p. 542. Retrieved from
http://nla.gov.au/nla.news-article161926095
Victor James Daley: A Manly Bard And Poet - threads collected and collated by A J Guesdon, 2017.