August 21 - 27, 2011: Issue 20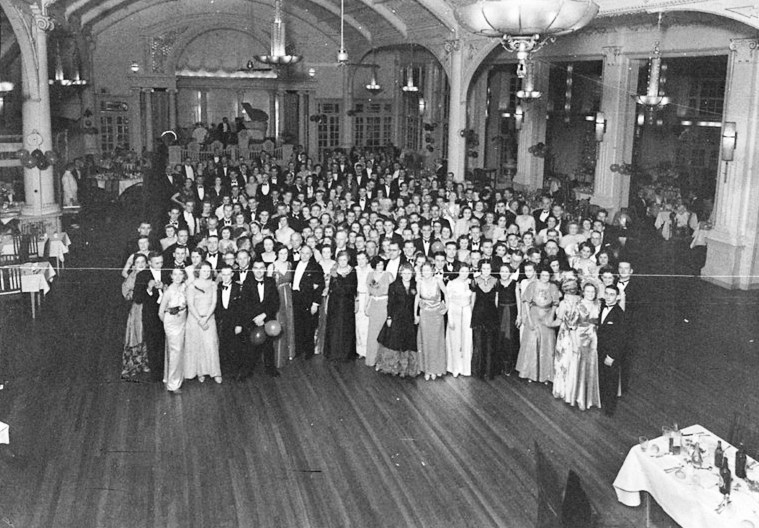 Above: Hood, Sam, 1872-1953 Title Dancers on the floor of the ballroom of the Wentworth Hotel at the McRae Knitting Mills' Ball , Date of Work 19/6/1937. Pic No.: 08382r. Below: The Wentworth showing the Ballroom entrance, from Hood, Sam, 1872-1953 Title The Lang street facade, before it was painted white, Wentworth Hotel (Brewster & Manderson, architects) Date of Work 8/1938 Pic No.: 09504r. Both Pictures are Courtesy the State Library of NSW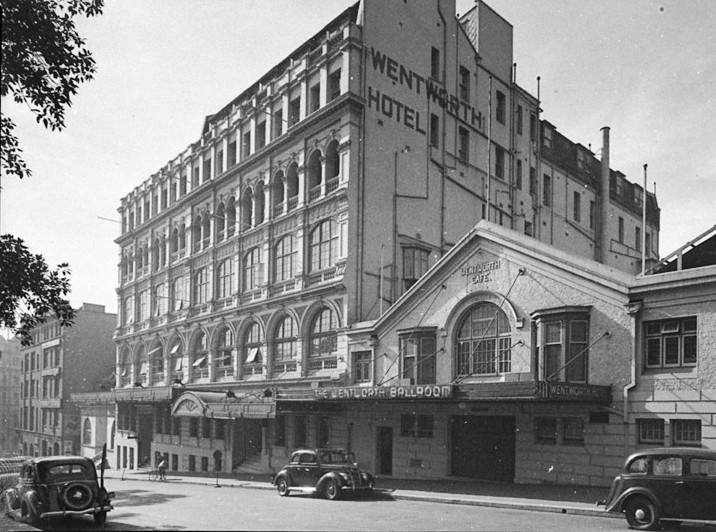 Further Reading:
Dresses; http://www.vintagedance.com/dress-20s.htm
Everyone had a ball it seems: http://www.powerhousemuseum.com/collection/database/subject=Dance&showall=1
Mona Vale Golf Club Homepage; http://www.mvgc.com.au/welcome/index.mhtml
Ballgowns: http://www.powerhousemuseum.com/collection/database/?irn=108860&search=gowns&images=&c=&s=
Newspaper Articles
Members of the Mona Vale, Golf Club are arranging to hold their second annual ball at the Wentworth on June 29. Mr. H. S. Luscombe is the honorary secretary of the committee; from NEAR AND FAR. (1928, May 22). The Sydney Morning Herald (NSW : 1842 - 1954), p. 5. Retrieved August 20, 2011, from http://nla.gov.au/nla.news-article16466581
Mona Vale Golf Club Ball: At the city's newest ballroom-the Manhattan-in Castlereagh-street, the members of the Mona Vale Golf Club entertained last night at their ninth annual ball. The sugar confections, in the shape of miniature golf sticks, which the club features at every annual dance, again adorned the tables around the ballroom floor. Saturday 1st, June 1935, from SMH. Mona Vale Golf Club Ball—. (1935, June 1). The Sydney Morning Herald (NSW : 1842 - 1954), p. 9. Retrieved August 2, 2011, from http://nla.gov.au/nla.news-article17183118
FORWOMEN (SECTION) ANNUAL BALL. MONA VALE GOLF CLUB 1932: FOR WOMEN. (1932, May 28). The Sydney Morning Herald (NSW : 1842 - 1954), p. 5. Retrieved August 2, 2011, from http://nla.gov.au/nla.news-article16895461
MONA VALE GOLF CLUB BALL 1930: The fourth annual ball of the Mona Vale Golf Club was held at the Ambassadors last night
MONA VALE GOLF CLUB. (1930, May 31). The Sydney Morning Herald (NSW : 1842 - 1954), p. 9. Retrieved August 2, 2011, from http://nla.gov.au/nla.news-article16686482
The eighth annual ball of the Mona Vale Golf Club will take place at Romano's on May 30. DON'T FORGET. (1934, May 26). The Australian Women's Weekly (1932 - 1982), p. 26 Section: THE AUSTRALIAN WOMEN'S WEEKLY HOME MAKER. Retrieved August 2, 2011, from http://nla.gov.au/nla.news-article51276284
http://nla.gov.au/nla.news-page4604068
1998 Maggie Prill interviewed by Janet Morice, 3 Feb.1998. Maggie Prill worked as a publicist for Romano's nightclub during the 1930's
From: http://acms.sl.nsw.gov.au/item/itemDetailPaged.aspx?itemID=404685
The Ambassador Ballroom:
An "indiscretion" in the Wentworth Hotel between a "lady in a low cut dress" and a "slightly drunk" party-goer swung the Strand Arcade into the 20s. The details of the incident are sketchy but it led to an unceremonious eviction from the hotel of Sydney jeweller and well known man-about-town, Percy Stewart Dawson and a new racier image for the Strand. Dawson vowed he would never be thrown out of a nightclub again. To guarantee that he decided to build his own: The brightest and the best night spot Sydney has ever seen. He chose the basement of the Strand Arcade for the venue of his club, The Ambassadors Café. The club housed a large, extravagantly decorated ballroom which seated 700, and a small Palm Court used mainly for luncheons and afternoon tea dances.
From: http://www.strandarcade.com.au/About-Strand
The Wentworth Ballroom was added and opened in 1920. The Prince of Wales, later King Edward VIII and the Duke of Windsor after abdication, danced in the new ballroom on a number of occasions. By 1925, the hotel was a well established and popular destination and was expanded to 100 rooms and further expanded in 1940 to 200 rooms.
From: http://www.sofitelsydney.com.au/explore-history.html
Copyright Pittwater Online News, 2011.
All Rights Reserved.
Mona Vale Golf Club Annual Balls
Mona Vale Golf Club has been a social centre for our community, contributing to many through charitable days and maintaining one of the finest golf courses in our area for over eighty years. During World War II its grounds were utilised as camping areas for troops being trained and battlements were set up. Originally a swamp area, the greens and gardens of MVGC are a vision for the eyes, especially early in the morning or late in the day. Mona Vale Golf Club is not only a socially conscious part of our community, and has been since its inception, there have also been many a time when the Club and its members engaged in what were the social activities of the day. During the 1920's and 1930's the 'dance season' encouraged Australians to participate in ballroom dancing. Australia was having a 'glamorous era', following New York trends, before the second World War began. Every club of social, sports, services and business company had an 'Annual Ball' that usually occurred during winter. Mona Vale Golf Club also had Annual Balls the first of these being in 1927.
Frills and frocks were the order of the day. Ballrooms had 'Ladies retiring Rooms' and 'Men's Smoking Rooms'. Descriptions of the gowns worn were as important as listing the who's who among those who attended. Reports that first appeared in sections of papers dedicated to women's interests soon were shifted to social calendar columns. The more severe lines of women's fashions during the 'Flapper' 20's gave way to more realistic rounded figures in the 30's. One fashion trend seemed to dictate that modern ladies acquire a chiffon handkerchief to drape over a partner's shoulder.
Everyone had a ball; From the Sydney Morning Herald 'For Women' Section' of May 28th, 1932,
"Now that the winter dancing season is in full swing, the various golf clubs have arranged their annual dances, and many of them have chosen city ballrooms as the most convenient meeting-place for the occasion. The members of the Mona Vale Golf Club held their annual dance last night at Romano's (YORK STREET), when there was a large attendance of members of this popular seaside club and their friends.
Candy golf clubs tied in bunches made appropriate decorations on all the tables, and badges in the form of miniature golf clubs were worn by the committee members.
The president of the club (Mr. Howard Coghlan), with Mrs. Coghlan, entertained a large party. Mrs. Coghlan wore a backless gown of violet satin, with a collar of violets around the throat. Their guests were Mr. and Mrs. Stanley Wiseman, the latter in emerald green and black velvet; ; Dr. J. A. McGeorge, Dr. and Mrs. L. Taylor, Mr. and Mrs. H. Gorton, Mr. and Mrs. F. Dunn, Mrs. E. Lee, who wore white satin; Mrs, Stuart Harvey, in black lace and georgette; Mrs. B. Osmond, wearing salmon pink georgette; Misses Jess Ball, who was in plum coloured satin, A. Le Brun, E. Hodgson, wearing petunia embossed georgette, G. Clarke, Phyllis Parkinson, Marjorie Snowden, Dr. T. Bolger, Dr. J. P. Hennessy, Dr. J. Gardiner, Dr. Hodgman, Messrs. C. Morgan-Jones, Mal- colm Aronson, J. Wiseman, and W. E. White-house.
Mr. E. A. Ostman, the club's captain, and Mrs. Ostman, whose frock was of reseda green moire, were host and hostess to another large party, which Included Mrs. T. E. Nicholls (captain of the associates), who was in jade satin, and Mr. T. E. Nicholls; Miss Beryl Jones, wearing black taffeta; Miss A. Brewster, In cerise velvet; Miss J. Rose, whose frock was of black, relieved with diamante; Miss V. Davies, Miss Phyllis Howatt, In a black and white gown; Mrs. Hume, Matron Clark, Miss T. O'Neill, Mr. W. Anderson, Mr. R. White, Mr. George Vaughan, Mr. D. O'Neill, Miss Jean Alford, and Mrs. G. Grimes. Mrs. R. M. Pegler, wife of the club's secretary, wore black lace encrusted with black sequins. With Mr. Pegler, she entertained Mr. and Mrs. D. H. Currie, Miss Bonnie Pike, Mr. V. M. Pike, Mr. R. Biddulph, Mr. Hunter Lowe, Miss McGowan, Mr. and Mrs. Frank Haigh, Miss C. Haigh and Mr. J. Haigh."
It must have been delightful, a vision, and a wonderful experience. Further descriptions remind us that in this pre-television world people entertained themselves and each other, and even during the Depression years, which peaked in 1932 in New South Wales with 21% unemployment, and even before the Harbour Bridge opened in 1932, locals went to town, literally, to dance. From the Sydney Morning Herald of May 31st, 1930; "The fourth annual ball of the Mona Vale Golf Club was held at the Ambassadors last night. The club colours of cerise and gold were used to decorate the ballroom. Miniature golf sticks tied with these colours were worn by the committee members. Lolly golf sticks and balls of cerise and gold decorated the tables. One of the attractions of the evening was a ballet performed by nine girls, who called themselves 'The Mona Vale Stymies'. It was arranged by Miss L Obst. The golf club anthem was sung at supper."
Romanos was one of many ballrooms in the city area and operated as a restaurant until the 1960's. Further MVGC Annual Balls were held at the Ambassador in the basement of the Strand Arcade and utilised a few times, and the Manhattan on Castlereagh street. Others Balls were held in the Wentworth, which the Prince of Wales was said to frequent during his 1920 visit, and where a reception was held for H. G. Wells was held in 1939. The much hired by others during this period, Mark Foy's 'Empress Ballroom', show how popular this form of meeting others may have been.
Many may see these as Empire Austen-like scenarios where every Miss must attend the forthcoming Ball as one of the means of meeting a husband but during the late 1920's and 30's in Australia they were also a means of raising funds for others.
"As the result of the golf tea dance organised by Mrs. Howard Coghlan at Mona Vale links last Saturday, the funds of the Pickwick Book Club Ball, in aid of the Deaf and Dumb and Blind Children Institution, have benefited to the extent of £14/10/. Mrs. F. Rush also raised £6/5/ for the same cause by a bridge party held recently at the Art Club. The ball will take place at the Ambassadors on September l0.
Also in the same 'Near and Far' list of that day: The Governor and Lady de Chair will attend the Royal Motor Yacht Club ball to be held at the Ambassadors' on September l8. From; NEAR AND FAR. (1929, September 5). The Sydney Morning Herald (NSW : 1842 - 1954), p. 5. Retrieved August 20, 2011, from http://nla.gov.au/nla.news-article16581411
Seems our local clubs liked the Ambassadors ballroom. Unfortunately this Ballroom was destroyed by fire in late July 1929. The rebuild was said to have cost thousands of pounds and was reported by the Sydney Morning Herald, who had their Head Office in Pitt Street then: EXCITEMENT AT THE AMBASSADORS. There were many exciting Incidents during a fire which broke out shortly before midnight in the premises of Macnaught's Shoe Store Ltd, 188 Pitt-street, city. Dense volumes of smoke penetrated from tin store to the adjoining ballroom of the Ambassadors where there were more than 200 dancers and members of the staff. Some men and women were obviously affected by the smoke and heat. The dancers had been unable to secure their wraps in the rush and stood shivering in the cold and wet street.
The fire caused extensive damage. The shoe store was gutted and a number of adjoining buildings were damaged. The dome above the ballroom of the Ambassador was destroyed and falling debris caused great damage to the dance floor and the content of the large room. Flames, shooting high into the air above the shoe store made a brilliant spectacle when viewed from a distance. The brigade fought the fire from every vantage point in the pouring rain and during a sharp hailstorm.
From: CITY FIRE. (1929, July 30). The Sydney Morning Herald (NSW : 1842 - 1954), p. 11. Retrieved August 20, 2011, from http://nla.gov.au/nla.news-article16571578
Unfortunately Mona Vale Golf Club itself experienced a fire in 1961, losing many of its records as the clubhouse burnt down.