July 31 - August 6, 2016: Issue 274

Shopping And Shops In Manly: Sales Times From 1856 To 1950 For A Fishing Village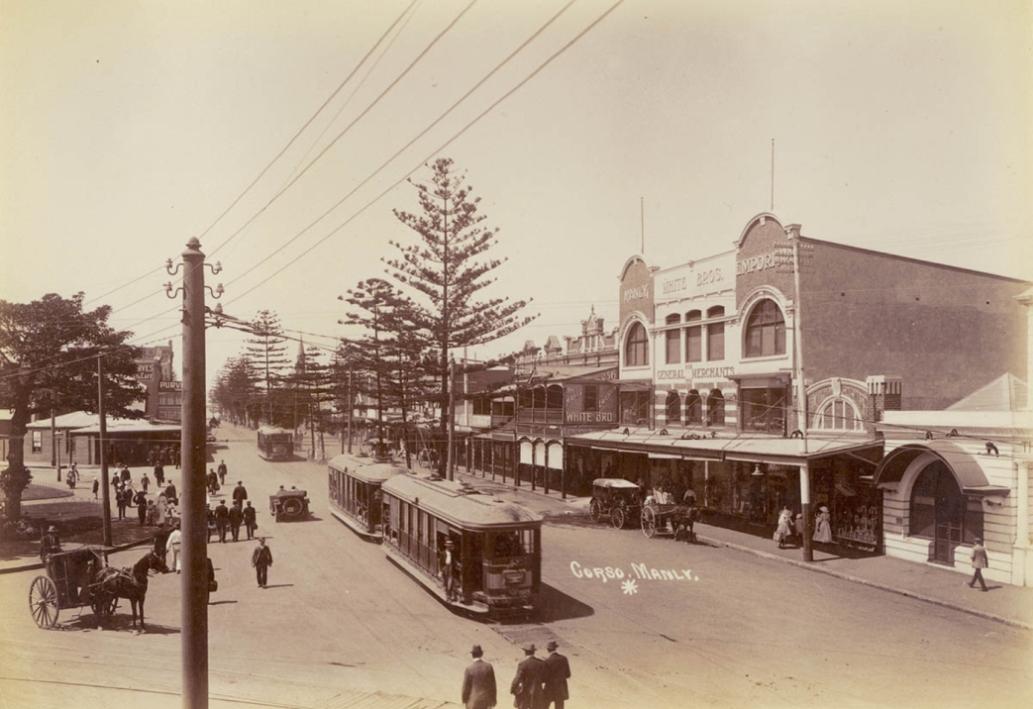 Manly Corso [showing trams] ca. 1900-1910. Image No.: a116256, courtesy Mitchell Library, State Library of New South Wales.
Now attracting masses of crowds during the annual Manly Jazz, Art and Food Festivals, the 'village' of Manly once expanded its population during the peak Summer times when steamers and then ferries conveyed thousands of people to the beachfront bay of bliss.
Each year, during January, June and until July 31, and into August for 'Final Clearances' a similar 'many of us' will visit the larger shopping venues to secure bargains – sheets we'll put away until old ones have worn out, shoes required to replace worn out soles, as our forebears did in the past.
Although Manly's shops were functional, catering to a year round permanent population, and then to the crowds that would come year round and en masse during the 'Season', these shops would sell out too, especially during Summer.
There are even other incidences of being short of what was needed, such as the 1911 dispute over meat, ludicrous from this distance, where the NSW Health Department was determined to introduce measures to stop people being poisoned by bad meat, in this early instance by enclosing butchers shops with glass or gauze wire, yes, decades before things like refrigeration!, and Manly Council backed their local suppliers to withstand such totalitarian measures, with the perpetuated result of course, and rescinded this order.
Manly Council was not alone in being a bit behind the times here as reports and incidences of 'ptomaine poisoning', a type of food poisoning, gastrointestinal disorder and illness caused by poisonous or contaminated food, continued in periodicals of the time, and would for a few decades. In most instances, particularly where Inquests were held following the death by the same, records indicate it is contaminated meat consumed by those who have died that is to blame.
More than half a century prior to the advent of such skirmishes people from Pittwater and Manly, and all points in between, would have gone right into 'Sydney Town' for the sales, and even to sell their own produce as all were food bowl areas or places from which salt, timber and shells for making lime to cement building together was drawn. Manly was a lace where the incautious could lose their lives, bringing tragedy to those they left behind.
Manly Wharf - circa 1885 -1887
In 1882 one of the gentleman elected among Alderman for the first ever Manly Council began to ensure Manly had an open welcoming thoroughfare from harbour to sea and a green open area for sports and community activities, such as the 1892 'Fish Fair':
Progress always attracts the progressive - anyone who loves those wonderful facades we see in the Arlington Amusement hall at Collaroy and still extant in Manly Corso
(Thomas Rowe)
This item shows the proprietors of these shops and businesses, in some instances, changed hands rapidly. Tragically, this also relates what could happen prior to the advent of permanent Surf Lie Savers on Manly Beach and life saving devices and equipment:
There were also a great many long-term shop keepers and even a few adjustments from farms and orchards to being able to buy food on a Sunday which makes you wonder how a place doing its utmost to attract people to rest and eat on the day of rest and feasting could ever get ahead. Listed here, and under fires, are businesses for many trades and professions outside of providing food for the hungry masses:
The disastrous fire which caused so much damage in 1887 is not the only to destroy commercial premises at Manly - among these two separate incidences bootmakers, a trade now gone from all but the Williams family of famous boots, appear again and again:
Some other shops and tree lined streets of early Manly:
These little epistles, run regularly on doings at Manly and 'Manlyites' appeared under the following illustrated Header:
Another shortage of everything needed was attributed to post-war scarcity as much as post-war industrial action an shows women organising and attending a protest on Manly Corso against not being able to shop for basics:
As the Port Jackson & Manly Steamship Company stated much earlier on to promote its ferry service Manly remains "Seven miles from Sydney and a thousand miles from care" - and that Corso, and all those who promenade are not just spectators to all the history they see and all those others passing by - they are, too, part of the parade: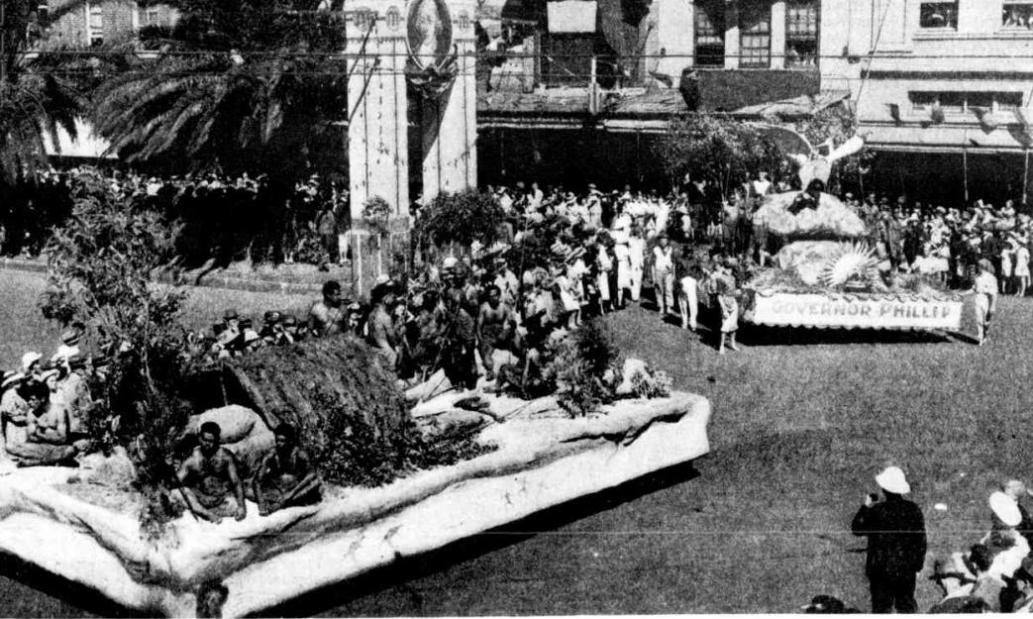 Floats in the Procession in Manly Corso on Saturday
Manly's 150th Anniversary
carnival began on Saturday afternoon, when about 20,000 people gathered to see a re-enactment of the landing of Captain Arthur Phillip, who visited Manly Cove before proceeding up the harbour to the site of the first settlement. The scene was colourful and animated. Craft of all kinds crowded Manly Cove, off the East Esplanade. In the background was a replica of Phillip's ship Supply,
With a new pool opening soon – Andrew Charlton pool - at Manly, a small inisght into another attraction at a younger Manly that brought thousands to the 'fishing village', and some of the usual trials communities go through when undertaking such ventures and making sure they 'get over the line':
VANDALISM AT BATHS

: MANLY COMPLAINT
Alderman Samuels stated at Manly Council meeting, last night that vandalism was rampant at Manly Baths. He said that, although the baths were still in the contractor's hands, hundreds of people were bathing there. Last Sunday over 200 people paid for admission. He understood that the council was not receiving any of the admission money, and would like to know who was. He had examined the portion where the club room is situated, and found that every pane of glass in the place had been smashed. Boys were kicking a football about in the room, no one was in charge. The Mayor stated that instructions had been posted up outside the baths warning bathers that they bathed there at their own risk. He promised to make a personal examination of the baths. VANDALISM AT BATHS (
1926, March 17
).
The Sun
(Sydney, NSW : 1910 - 1954), , p. 10 (FINAL EXTRA). Retrieved from
http://nla.gov.au/nla.news-article224058404
NEW MANLY BATHS:

work again held up more money needed
Owing to a dead-lock between the contractor and the architect, no work is being done at present at the Manly Baths," said Alderman Quirk, at the council meeting last night. The council decided to co-operate with the swimming club In making the official opening of the baths worthy of the occasion. The Governor will be asked to perform the opening ceremony after which the swimming club will take charge. The contemplated programme Includes the broadcasting of the official speeches, the attendance of the Manly Band, and the appearance of the sprint and distance champions, Messrs. Doyle and Christie, and the lady champions, Misses Couldwell and Pawley. Invitations will be extended to the residents and secretaries of all affiliated swimming clubs and the local sporting bodies to attend. On Thursday an Inspection of the baths will be made by the works committee, and the architect will be asked to attend.
NEW MANLY BATHS (
1926, August 25
).
The Sun
(Sydney, NSW : 1910 - 1954), , p. 2 (FINAL EXTRA). Retrieved fromhttp://nla.gov.au/nla.news-article222726577
CHARLTON TO SWIM AT NEW MANLY BATHS
The Manly Amateur Swimming Club has received a telegram from "Boy" Charlton, who is at Gunnedah, stating definitely that the champion will appear in an exhibition swim at the opening of the new Manly Baths next Saturday afternoon. After the carnival the swimmers will be entertained at the "Dungowan". CHARLTON TO SWIM (
1926, October 28
).
Evening News
(Sydney, NSW : 1869 - 1931), , p. 6. Retrieved from
http://nla.gov.au/nla.news-article117318755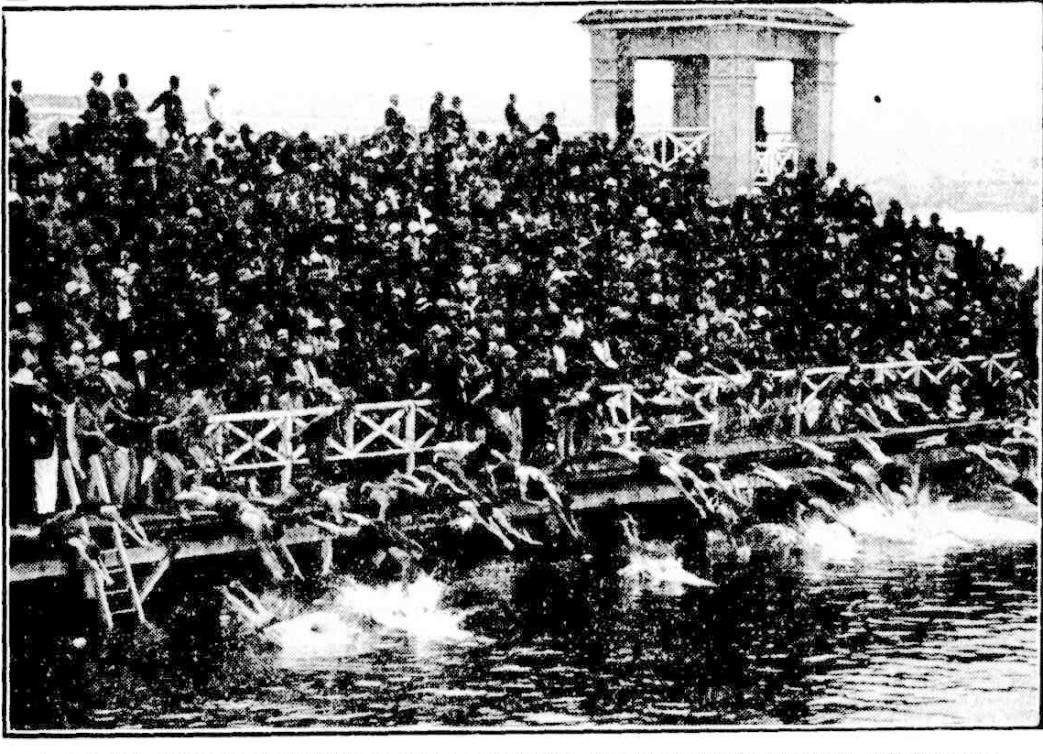 A LARGE CROWD WITNESSED THE OPENING OF THE NEW MANLY- MUNICIPAL BATHS ON SATURDAY. A PICTURESQUE FEATURE WAS THE PLUNGING OF 100
SWIMMERS INTO THE WATER AT A GIVEN SIGNAL. THE NEW MANLY BATHS. (1926, November 1). The Sydney Morning Herald (NSW : 1842 - 1954), , p. 14. Retrieved from http://nla.gov.au/nla.news-article16322835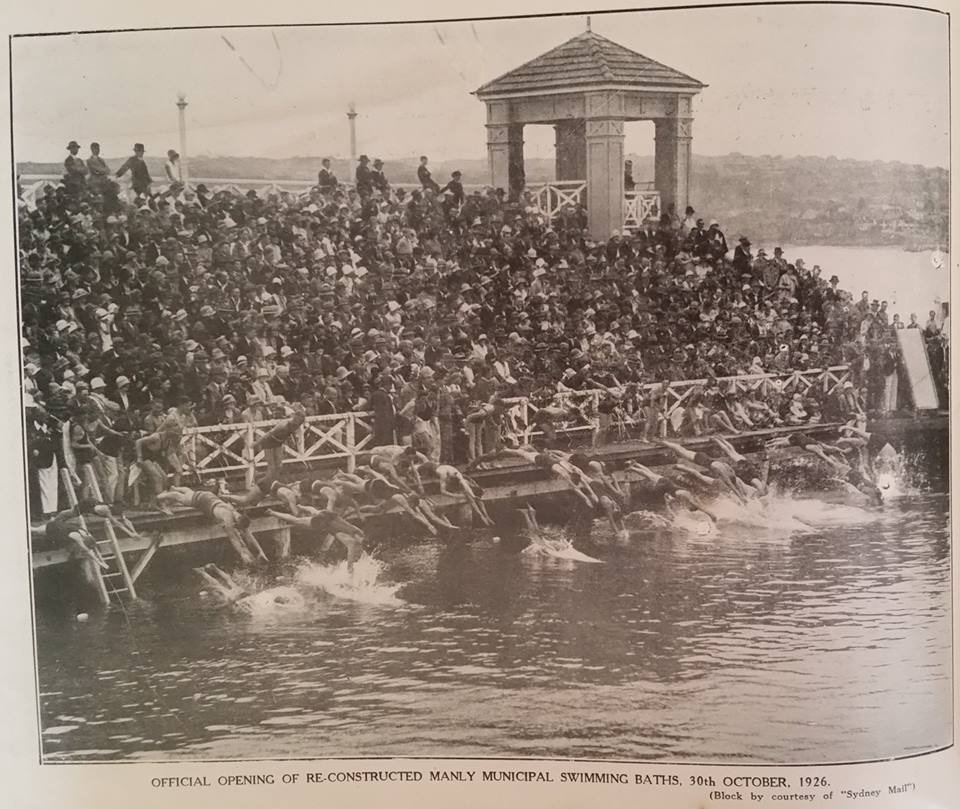 Above is the same image, broader, cleaner, as taken from the Jubilee Souvenir of the Municipality of Manly 1877 -1927 - courtesy Scott Lea, Old Sydney Album page on Facebook.
To celebrate the opening of the new Manly baths by the Mayor (Alderman Keirle) a swimming carnival was held yesterday. Alderman Keirle said that the baths had cost £12,000 to construct. NEW BATHS AT MANLY (
1926, November 1
). Daily Advertiser (Wagga Wagga, NSW : 1911 - 1954), p. 2. Retrieved from
http://nla.gov.au/nla.news-article145258931
MANLY'S new hot salt-water baths were officially opened last night by the Mayor, Ald. Keirle. The building, which stands Immediately behind the South Steyne surf sheds, is a two-storey structure, and has a distinctly attractive appearance. It cost £5000, the money having been advanced by the Port Jackson and Manly S.B. Co. at 6 ½ per cent Everything in it is of Australian manufacture. Electric baths are a feature of the establishment, and will provide treatment for a number for ailments. It Is intended that the services of a male and female massage expert will shortly be available to patrons.HOT SEA BATHS (
1926, June 5
).
Evening News
(Sydney, NSW : 1869 - 1931), , p. 2. Retrieved from
http://nla.gov.au/nla.news-article114382115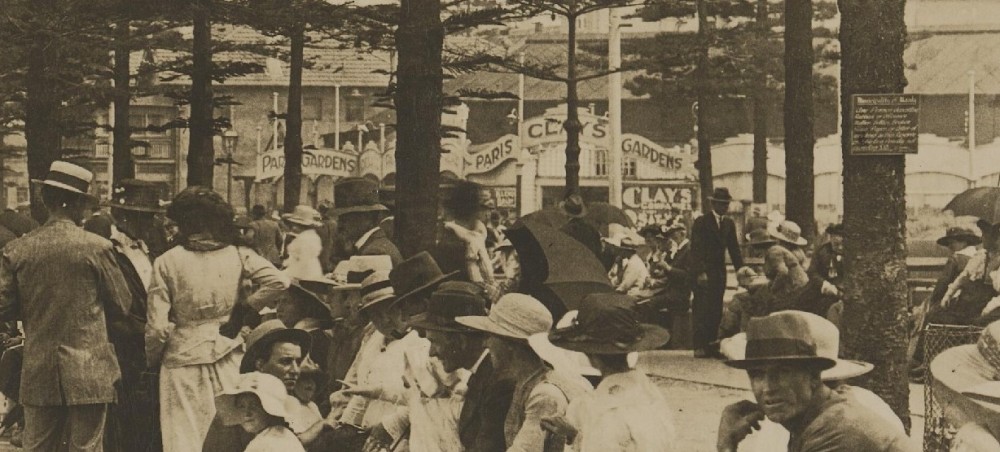 DIGGERS' PREFERENCE MANLY BATHS JOB
ALD. QUIRK said at Manly Council last night that he thought a time limit should be placed on preference to returned soldiers.
WHEN It was announced that 'Dick' Eve, world's champion diver, had been appointed manager at the new baths, Ald. Barton expressed regret that a returned soldier had not secured the selection. Ald. Quirk said if all appointment, were to go to returned soldiers, the rising generation would never bare a chance. He thought a time limit should be placed on preference to returned soldiers. As a matter of fact, Mr. Eve was too young to enlist at the time of the war. It was stated that the selection had been made from 22 applicants. A TIME LIMIT? (
1926, November 10
).
Evening News
(Sydney, NSW : 1869 - 1931), , p. 13. Retrieved from
http://nla.gov.au/nla.news-article117324491
References and Extras
Does anyone else think the bonnet (hat) worn by the lady in the photograph above ' Manly Wharf, circa 1885-1887 looks like this one, the 'Conchita Chapeau' from an illustration exhorting fashionable women to indulge in Spring Fashions and go....shopping....?: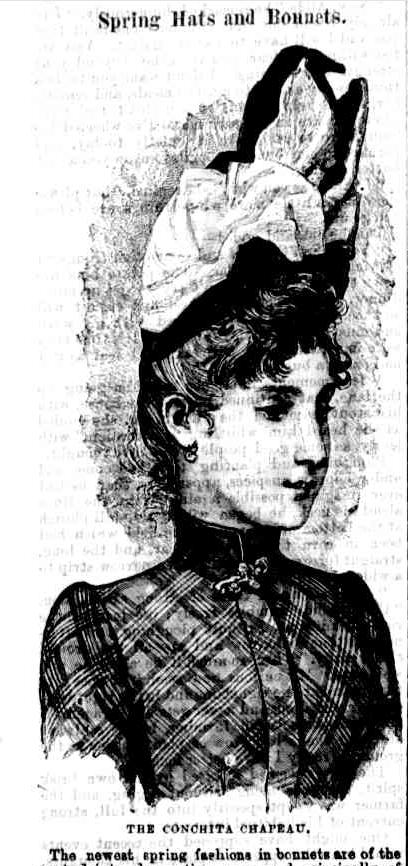 THIS SUNSET BONNET.—This together with the "sunset" parasol, is said to well become a pretty woman. The latest shape was the merest triffle in size, consisting of three or four rows of finely drawn ...(
1887, July 23
).
Australian Town and Country Journal
(Sydney, NSW : 1870 - 1907), , p. 34. Retrieved from
http://nla.gov.au/nla.news-page5097070
Scene, bedroom, suburban house. Time, 9.30.
Mamma discovered reading Bargain Column of the paper. Daughter dressing for town.
Daughter (brushing out her hair rapidly): "I don't know why you ever want me to go to these stupid, senseless sales. We don't want anything-not a thing (brushing her hair with alarming vigour) but a wardrobe -and we've wanted that for ages and a-ges and a-a-ges (beginning to comb out the knots with a vengeance). You can't see half the shop windows now for parcels and people; and I suppose lots of them want a wardrobe or u picture, or an easy chair, or something equally useful and essential, like us.
Mamma (continuing quite calmly in her reading) : "Home frocks-for morning wear In prints and linens-trimmed with embroideries, all sizes. Caroline, my dear. Usual prices, 32s 6d. Sale price, five and eleven. 5/11. I must have one."
Daughter: "But, Mamma, you don't want a house frock. Didn't we buy ordinary print at ordinary time, and make two dresses for less than 5s 6d?" .
Mamma: "But think of the embroideries And they were 32s 6d."
Daughter (doing up her hair hastily): "Embroideries about a house when a nice apron would cover any ' defects (pushing a hairpin into place). Couldn't we save up for a wardrobe instead, Mamma?"
Mamma (still reading): "All wool knitted golfers All colours Reduced from 8s 11d to 4s 11d. Have a look at them, dear They might come in nicely next year "
Daughter "Aren't you sick of the sight of golfers'' I am And It's almost certain that no one will want to wear them next season
(She begins to pull on her shoes somewhat savagely) Fashion is a fickle jade at her best '
Mamma "Well, here s exactly what we want Slightly soiled dressing gowns-"
Daughter Give me a cracked wardrobe for preference (ties her shoelace determinedly) At any rate, we could hang clothes in it but what were going to do with soiled dressing gowns I don't know '
Mamma You re certainly very rude, Caroline Allow your mother to know more than you. Get two dressing gowns. Hullo, what's this? Blanket slaughtering and-double green coupons "
Daughter 'But, mamma, the winter is nearly over and we don't want blankets in summer time And where are we going to hang our starched frocks it we haven't a wardrobe'"
Mamma "We can put the blankets away till next year. It isn't every day you got double green coupons, Caroline"
Daughter "But the moths and silver fish don't make any allowance for green coupons "
Mamma "Well, what about some gloves' We always want gloves Or laces, child You will want laces, for your summer frocks "
Daughter (putting on her hat) "Well, let's have a look at them "
Mamma Laces-laces-l-a-ces. I saw them somewhere "
Daughter I don't think there are any worth speaking about"
Mamma 'Caroline, I must say again that you are in a positively ugly mood this morning In fact, you're almost disrespectful. All your aunts go to the sales-some of your uncles too (throwing down the paper) I thought you wanted to go and have a look round and buy a few cheap things Don't you' '
Daughter 'No, mamma, I want you to buy a wardrobe with the money you wished me to spend on the useless bargains And I didn't mean to be disagreeable at all "
Mamma Well, well don't get down-hearted about it child And as you-say it is, absurd to buy winter things for summer, perhaps I'd had better get the wardrobe "
Daughter "Mamma, you're a darling-a darling, I knew you would see what was right in the end. Now we need not stand on chairs to see the set of our skirts any more (She takes up her purse and goes to the door followed by mamma)
Mamma Have a good look about before, you decide dear '
Daughter Of course You don't want anything else?"
Mamma: "No, only you might get a few handkerchiefs and perhaps a pair of stockings at the double green coupon shop."
Daughter (laughing) Very well mamma. But I'll have a look at the wardrobes first. Goodbye. (goes, down the path quickly)
In some departments the more things change the more they stay the same - although the writer of this item may have incited a few to do the opposite of this probably well-intentioned advice!:
The winter sales are in progress, and there are but few women 'who do not really enjoy the shopping excursions that they have reserved especially for the winter sale-time. Sales convey at once the impression of replenishing household stocks and that fascinating hobby— finding good remnants. It would be very interesting to discover how many women can really resist considering the purchase of articles that are marked down in price. When every purchase is a bargain, then shopping is done with an additional zest. Every woman knows the need for greater adherence to method in her home, and the household inventory, which used to be the housewife's pride, has returned to its own through sheer necessity. The attractive index cards that are obtainable really helps to make the routine business of the home much easier, for it takes but a moment to note down that a sheet or a towel is beyond ordinary use again, whereas if there is no note book or index handy, then the fact is not recorded, except in memory, which is sometimes treacherous. At times such as the present, when there are genuine reductions in-practically every line that the housewife requires, the information that those cards should contain would be of the very greatest service to her in helping her to purchase the required articles, instead of running the risk of over stocking.
It would be futile to put aside just a few hours for sale shopping. A whole day is necessary
for the careful selection of the bulk of articles that are to be bought. Some time has to be spent at the manchester department, almost as much at the hardware, china and haberdashery, and by the time this is done it will be well on towards evening. Fortunately, practically all of the large establishments have made ample provision for the comfort of the woman shoppers, and lounge and refreshment, rooms are provided in them all. That, of course, makes things very, much easier for the women who have but a limited amount of time to devote to their gale shopping, for they can obtain refresh-meat and can rest without appreciably interfering with their programme. Then, having attended to the bulk of the shopping, there are many etceteras that claim attention, among them the remnants of which will no doubt serve some very useful purpose at the hands of the skilful needlewoman. The woman who is not prepared to be interested in her shopping is going to lose out on the spirit of sale times. Perhaps she is setting out aimlessly, not quite sure what she wants or what will be of any use to her. As the shops are such busy centres at times like these, it would be far better for her to postpone her shopping until she has been able to make some sort of cursory examination to discover her needs.
The aimless shopper at sale time is certain to find that she has bought all sorts of things that are of no use to her while the things that she really needed were overlooked altogether
. To set out with a basic list, and to set out intent on enjoying every moment of the time spent shopping, is most satisfactory from every woman's point of view. JULY SALES. (
1927, July 5
).
The Age
(Melbourne, Vic. : 1854 - 1954), , p. 5. Retrieved from
http://nla.gov.au/nla.news-article206179490
Manly Shop Facades and frontages were echoed in Arcades built by the first Mayor of Manly, Thomas Rowe - even buildings have fashions!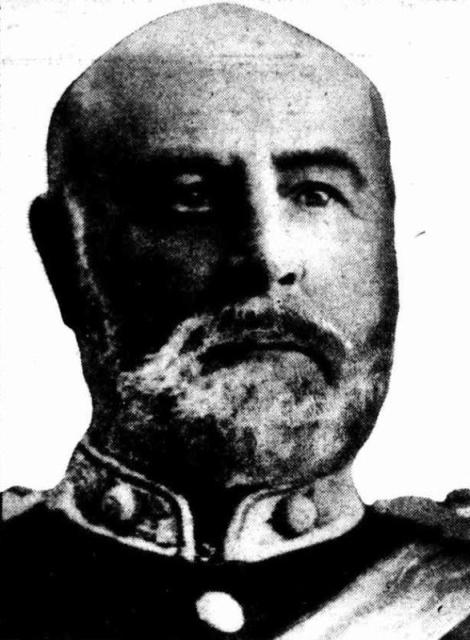 Chain stores follow bright idea
Thomas Rowe— man of ideas. First mayor of Manly
Right: Thomas Rowe— man of ideas.
LIFE has quickened in Sydney's old world arcades beyond the expectations of many, but only to the degree envisaged by their innovator, Thomas Rowe, whose name is perpetuated in the little street near the Hotel Australia.
The architect who conceived those arcades at the beginning of the 80's had two aims — a greater area of shop frontage and reduction of the length of blocks, inviting and permitting pedestrians to take short cuts, and, at the same time, to run the gauntlet of the traders.
The arcades came in where courts and places had been allowed to end blindly, and where there had been little to entice the explorer to their depths.
Rowe put
his first arcade, the Sydney
, on ground that has historic and piquant interest. It was once the possession of William Hutchinson, who served the convicts, not only as their chief superintendent, but also as their banker, a fact which "somewhat shocked Mr. Commissioner Bigge" when he reported on Governor Macquarie's administration of the infant colony.
The arcading, with glass for roofing, joined King St. to George St. by an elbow, and cost £30,000 to build. The fruits of Rowe's conception were never fully realised in this arcade, though it brought a harvest to the Hutchinson estate. It was sold to Dymock's for £120,000 in 1919, and Hutchinson's beneficiaries received a total of £279,000 as a result of his original holding, which included the site of Belfield's. Hutchinson's name is still to be found in the crook of the elbow.
Rowe's next project for an arcade was on the site of the Bull's Head, in George St., opposite the opening between the sheds of the old markets. "A red bull's head faced on to George St.. and it was an old hotel when I saw it in 1874," the veteran sportsman and solicitor F. E. Mcintosh says. "The Bull's Head was sited on a grant to my grandfather, Robert Mcintosh, who was once the organist at St. James."
Robert Mcintosh's sons, Robert and Jim, quarrelled, and one night Jimmy's sons took possession of the Bull's Head while Robert's sons were at the theatre. The lawful occupants pretended, on their return, not to know the interlopers, and called the police to eject them. Robert eventually exploited his holding by entering into a contract with the Withers Brothers, who had a little drapery shop nearby.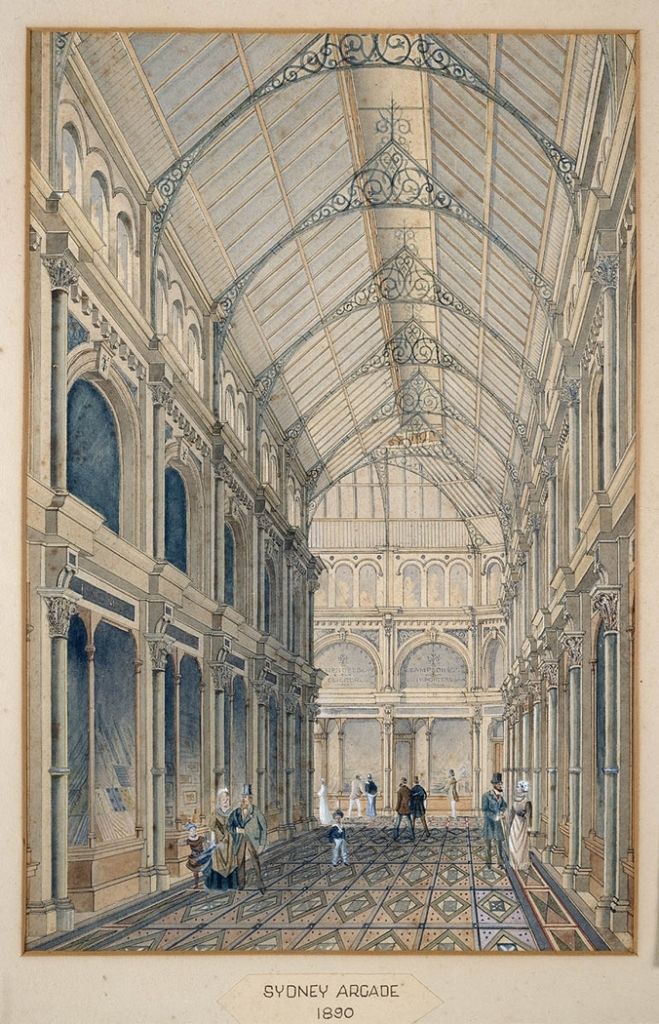 Interior of the Sydney Arcade, Thomas Rowe, 1890. Courtesy the State Library of NSW, Image No.: a128781h
The Withers built the Royal Arcade,
in conjunction with George Hill, who owned the Pitt St. side, but the Mcintosh family has never relaxed its original hold, canny Scot folk, and a great-grandson of Robert, Noel Mcintosh, QC, is the present chairman of directors of the arcade. After Angus and Coote had bought the Hill interest for £44,500 in 1931, a dispute arose concerning the glass roof over the arcade. This had been one of the glories of the Renaissance style arcade, but now it had become somewhat dangerous. "E. J. Coote wanted to take the roof off, but he couldn't get Mcintosh to agree," Beatrice Phillips, an old employee of the jewellers, said.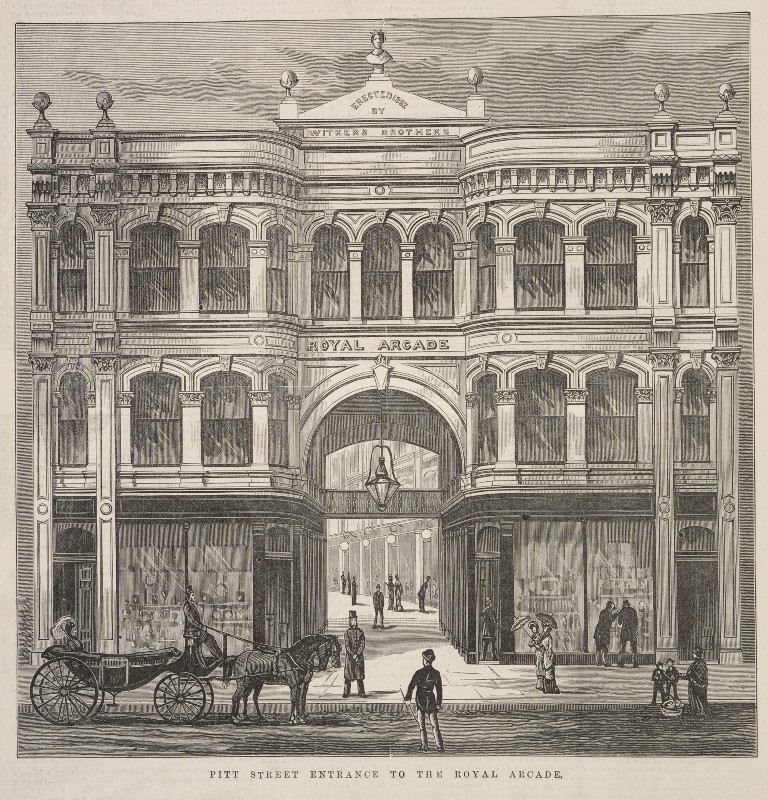 The Pitt Street entrance and the interior of the Royal Arcade, erected by the Withers Brothers (Illustrated Sydney News, 25 November 1882)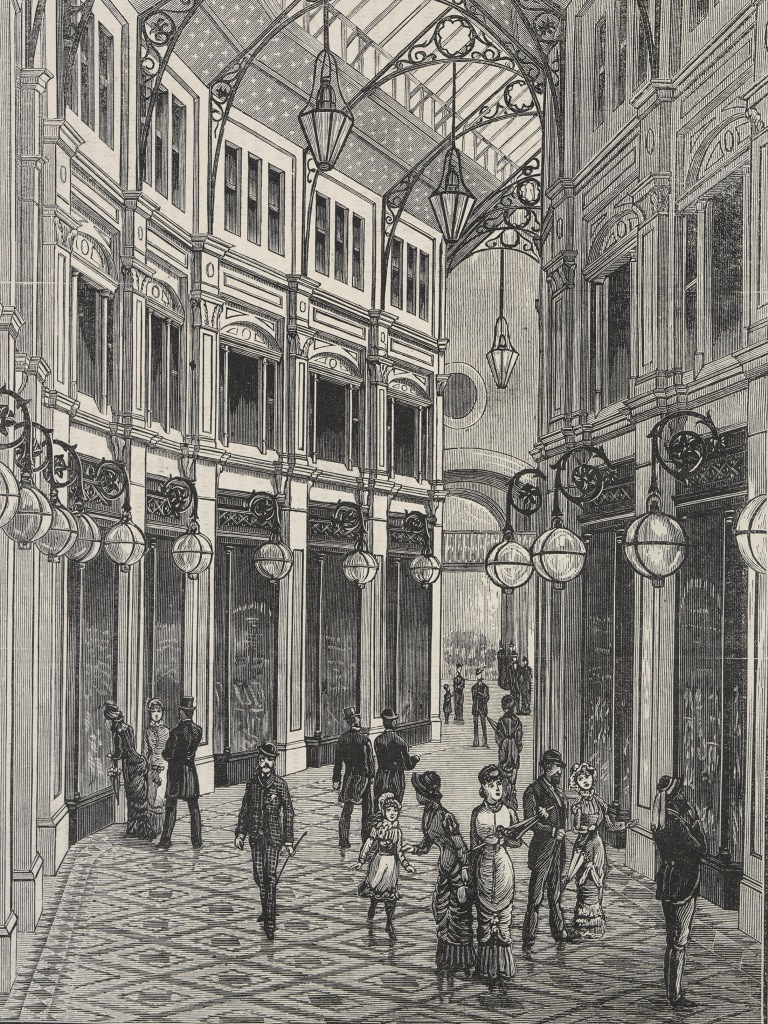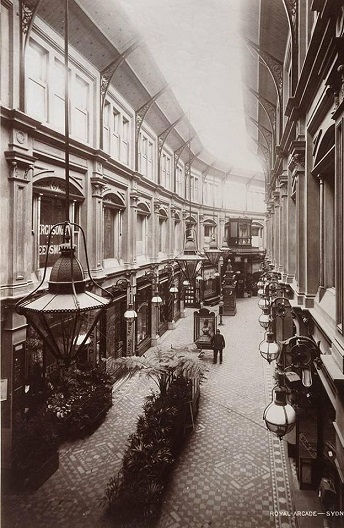 The Royal Arcade - circa 1892
"Finally he took off his half, and the wind did the rest," she added. Nevertheless,
the Royal Arcade goes on
, the haunt of philatelists, old and young. New Eastern culinary odors leplace the Continental blandishments of Madame Pura's Latin Cafe. Gone are all traces of the ancient waxworks of Cristofani and Ghiloni.
The Victoria Arcade
is almost an extension of Rowe St., but it cannot be claimed for Rowe.
Inside the arcade in the half light the name of the architect, C. A. Harding, can be seen.
The arcade's downhill grade from Elizabeth St. quickens the natural pace, and hardly permits any proclevity to dawdle, while the uphill stretch finds many with bellows to mend. In its earlier years the Victoria Arcade boasted of its typewriters, not in the modern sense, where it refers to the machine, but to the first legitimate use, by women (and men) who operated the type. Some time before the arcade site was chosen a hairdresser named Scurrah conducted his business in one of the tiny shops fronting Brougham Place, as it was known before it became Rowe St. According to the chronicles . . .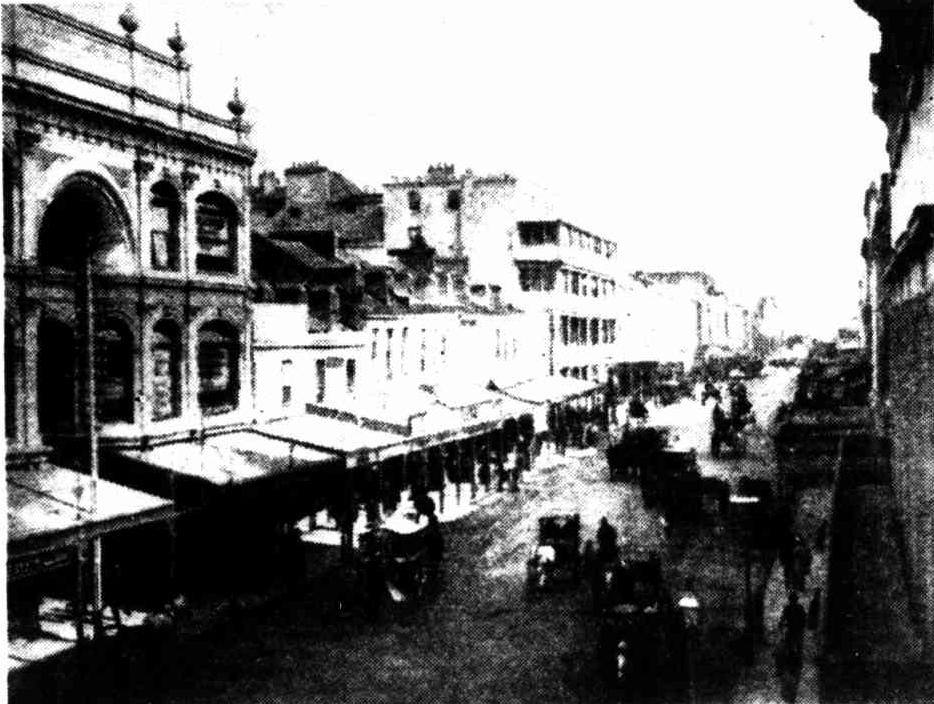 Photo: George St., Sydney, in the heyday of the arcades.
The Sydney Arcade
is in the foreground, while
Foley's Hotel still occupied the site of the Strand Arcade.
Before Rowe began the third of his arcades, the Imperial
,
he conducted a competition among the bright young men of his staff for a design for the Pitt St. and Castlereagh St. frontages.
Alfred Spain's design illustrates the facade at the lower level, while that part which faces the position of the old Girls' High School, now covered by the St. James Theatre and David Jones, was the work of J. A. Kethel.
The Imperial Arcade
building was a benefaction to that part of Castlereagh St. at the time (1890), and some of its lustre was later to be physically transmitted for the benefit of Harry Rickard's Tivoli, which was lit by electricity from Joynton Smith's plant in the arcade. The benefit to Castlereagh St. boomeranged in a favorable manner many years later, when David Jones made its expedition to the street, for the arcade led right to its doors.
The Strand Arcade was opened in 1891
. Four hundred guests assembled, for the glittering triumph on April 1 of Gates and Dillon, the joint entrepreneurs of the venture.
A short time before, the celebrated and notorious White Horse Tavern had been on that spot, and it was there that prize-fighting reputations were made and unmade in the presence of Larry Foley. The Black Prince, Peter Jackson, was Foley's right hand man and instructor; Bob Fitzsimmons and others met in Foley's ring. To crystallise reminiscence of a more palatable type of the Strand how many would care to go beyond the fabulous fruit salads of B. O. Lane?
Fruit was cheap, of first quality, and served with a generous hand. Icing sugar was heaped on, and according to taste. And then the succulent sweet was topped off with pure rich cream. All for 3d! After Lane there were the Silvester Brothers, who sliced beef and ham with rapier-like blades, spearing recalcitrant titbits with the same implement, long before the machine age lessened the time, and cut some of the tantalising moments. The same Strand captivated other senses, too: the fragrant myrrh and sandalwood of the Saleh's eastern bazaar could be freely inhaled before the stimulating odors of Harris' freshly-ground coffee were to be savored. Lolly pigs and giant walking sticks of pink and white peppermint kept many young eyes and noses glued to the windows.
Thomas Rowe began to practise as an architect in Sydney in 1856, and some of his works are monumental — St. George's Church, The Great Synagogue, Newington College, Sydney Hospital, among them. He was the founder and president of the Institute of Architects for many years. He was the first Mayor of Manly, and is credited with planting those magnificent Norfolk Pines. His son, Ruskin, keeps up the name and profession, and proudly points to the fact of his initial part in the planning of Her Majesty's Arcade. He was not invited to finish that work.
From theatre to chain store
And yet the hand and mind of Thomas Rowe was behind Ruskin when he carried out the demolition of Her Majesty's Theatre, a tragic sacrifice admittedly, for the installation of Woolworth's chain store. For what is the great chain store, and many of its counterparts? Only our old friend the arcade all over again, leading from one street to another, past the varied and brightly - lit wares, placing the temptation and the tempted in juxtaposition, just as Thomas Rowe had planned it nearly 75 years ago.
Half a Century of Wonderful Progress
In the growth and progress of Manly during fifty years we can trace surprisingly accurately the ratio of development made by the big city across the gleaming blue waters, if or, as Sydney grew mile by mile, the 'village,'' as Manly is fondly termed by residents, made relative progress.
MANLY is fast taking on the appearance of a city, and is spreading north and west into populous suburbs which indicate, as surely as anything can, that the Manly of half a century hence will show just as great progress relatively as that which has occurred during the last fifty years — that is, since the incorporation of Manly as a municipality in 1877, 50 years ago. In that time, seemingly long in the history of a new country: but only the measure of two generations, Manly has grown from an obscure waterside village — a real village then — set in scenes of primitive grandeur not far removed from when it was the happy hunting ground of the coastal blacks, to a proud position amongst the finest seaside residential areas of Sydney, and one of the most popular pleasure resorts in the Southern Hemisphere.
MANLY has the distinction of being one of the landing-places on the first visit ever paid by white men to Port Jackson — that of Captain Phillip, who entered the harbour on January 21, 1788. This was only three days after the arrival of the First Fleet in Botany Bay, after a voyage lasting since May of the previous year, and after Captain Phillip had come to the decision that Botany would prove unsuitable for establishing a settlement. The records show that after entering the Heads the expedition in three open boats proceeded for a short distance south, and made its first landing at Camp Cove, near what is now Watson's Bay, near a point upon which a memorial tablet was unveiled a few days ago. No doubt from here the navigators got a clear view of the beautiful land-locked waters near Manly and North Harbour, for they next proceeded in their boats to Manly Cove, where they made a landing and spent the night.
In a letter written by Captain Phillip, dated May 15 of the same year, and sent to the British Government, we learn how Manly was christened. 'When first I went in boats to Port Jackson,' he wrote, 'the natives appeared armed near the place at which we landed, and were very vociferous; but, like the others, were easily persuaded to accept what was offered to them. The boats, in passing near a point of land in the harbour, were seen by a. number of men, and some of them waded into the water unarmed, received what was offered to them, examined the boats with a curiosity that gave me a much higher opinion of them than I had formed from the behaviour of those seen in Captain Cook's voyage, and their confidence and manly behaviour made me give the name of Manly Cove to this place. The same people afterwards joined us when we dined.'
FOR many years Manly remained in its state of nature, and even fifty years after Captain Phillip's first visit there was only a collection of huts and a population of 43.
The name of Henry Gilbert Smith will always be associated with the pioneer work of creating the Manly which was soon to be set on the high road of progress and prosperity. He built the Pier Hotel, upon the site of which now stands the modern Hotel Manly, and it was due to Mr. Smith's remarkable public-spiritedness and foresight that Manly is now so splendidly endowed with beautiful parks and reserves.
In the elegant Jubilee Souvenir of the Municipality of Manly there is this tribute to Mr. Smith: — 'To him the municipality is indebted for Kangaroo Park, Town Hall Park, Central Park, and Gilbert Park. Many of our elegant pine avenues owe their origin to Mr. Smith's activities in planting trees, and in inducing fellow-residents to follow his good example, including Mr. C. H. Hayes, who was responsible for the pine trees gracing the Ocean Beach. Henry Gilbert Smith was 'a village Hampden' with dauntless breast, and to him Manly, as it stands to-day, owes much.
Many stories have been told of the kangaroo on the hill which has been a silent witness for 70 years of the growth and development of Manly. It has
been reported that Smith gave a commission to a stonemason named Youler in 1857 for the kangaroo
, his intention being to attract visitors to Manly and induce them to climb the hill. One man so charmed was the patriot W. B. Dalley, who decided to make his home on a near-by site, and erected what is
known as 'Dalley's Castle.'
The lack of a regular service had much to do with keeping Manly in its primitive state for so many years.

In 1854 Mr. Smith chartered The Brothers,

which made the trip as the occasion warranted; but a more regular service by paddlesteamers — Emu, Pelican, and Black Swan — was commenced. The Rapid and the Victoria, which ran afterwards, were succeeded by the Phantom, first of the Port Jackson Company's now modern and fast fleet, which provides a frequent and pleasant service for those living in or visiting this popular resort.
THE incorporation of the Manly municipality was dated January 6th, 1877, the proclamation being made under the seal of Sir Hercules Robinson, then Governor of the colony.
The first, poll was taken on February 13th of that year, when Charles Hayes was elected at the head with 101 votes, and two days later Alderman Thos. Rowe, was elected first Mayor of the municipality. Alderman C. H. Hayes occupied the Mayoral chair for three years — 1882-3-4. He had a splendid record as a Mayor and citizen, and during his occupancy of the chair Ivanhoe Park was made available as a public park, no less than £7300 being paid by the Government for this resumption. 'This act alone,' said Dr. Thomas, ex-alderman, in unveiling the mural tablet inscribed with the names of Manly's Mayors in the Council-chambers some years ago, 'should place the people of Manly as debtors to Mr. Hayes for all time — a man who, more than any other, for 17 years directed the destiny of Manly.
In the years since then other Mayors have been Alderman E. W. Quirk (1901 to 1906), Alderman Bonner (1908-14), Alderman Heaton, Alderman Reid (191921), Alderman A. C. Samuels (192425), and the present Mayor, Alderman A. T. Keirle, who has occupied the chair on seven occasions. A native of Somerset, Mr. Keirle came to Australia in 1884, and, through varied experiences of the press, in the law, and in commercial pursuits, he has achieved business success and well-deserved popularity for his work in the public interest. His patriotic work during the war is well known, and it was largely through his enthusiastic leadership that the municipality was placed on the scroll of honour in the War Loan competition. Keirle Park, near the Manly Lagoon, stands as a monument to the success of his reclamation scheme, but that is, only one of a number of beautification schemes which this energetic Mayor has consummated. He was also an enthusi
astic advocate of the Spit Bridge, which has done so much to bring Manly nearer the city. The Town Clerk, Mr. Leslie C. Wellings, who was appointed in 1921, succeeded the late Mr. Danllogan, a great authority on local government, who had held the position for 21 years. Mr. Wellings was one of the first amongst Manly boys to enlist, and he had distinguished service to his credit on several fronts.
A VIEW OF MANLY FROM THE AIR.
A CARNIVAL STUDY.
GREAT as has been the progress of Manly during the last two decades, those best endowed to give an opinion regard the advancement of the past as quite modest compared with the prospects before the Manly of the future. Manly has been singularly free from boom periods, progress during the last twenty years showing but little departure from steady advancement. The population has grown from 13,599 in 1914 to 25,000 last year, being at the rate of about 1000 per annum, an increase which indicates clearly that its advancement is more rapid than that of either the city itself or of country towns. This shows that it would be a great mistake to regard Manly as merely a large popular pleasure resort, for its population to-day is a more steady factor than ever it was, and land values are maintained on a very firm basis.
Values in such thoroughfares as the Corso are on a par with some of the prices asked for city land a few years ago
, and the demand for land near the harbour and ocean fronts for residential purposes has given such sites a high value which is not likely to retrogress. The unimproved capital value of land in the municipality in 1914 was £1,195,992, and last year it was estimated at £3,648,530. The municipality has a completely modern service of electric light and power, now owned by the council, which purchases electricity in bulk from the Sydney City Council. There are now about 5000 consumers, and over six hundred street lamps are in use. The Manly Gas Company has been in operation since 1883, and the number of consumers has increased from 200 originally to 6800 to-day, consuming 200 million cubic feet per annum. Manly also has the advantage of modern sewerage.
ONE of the most striking features of Manly is the Corso, which distinguishes Manly from all the other marine suburbs of Sydney. Nature could not have been more prodigal in its gifts to man than by the generous treatment it has lavished on this beautiful watering resort. On the harbour side there is the incomparable harbour beach, beach, where the translucent waters of historic Manly Cove gently lap the white sand and sea wall, while to south and north are many picturesque indentations where the harbour shores' sweep towards North Head and North Harbour. The narrow neck of land separating the harbour from the ocean, which gives Manly its splendid distinction, is intersected primarily by the Corso, which has ever been the business hub.
The competition amongst business men to secure a site on the Corso has made land values soar enormously there, and it has resulted in the rapid modernisation of its buildings, until today the Corso has the appearance of a city shopping centre.
Yet in 1877, the year of Manly's incorporation, the Corso was, according to Mr. R. J. Wild, who came to Manly in that year, 'only a sand track.'
Mr. Wild, in giving his reminiscences to the publishers of the Jubilee Souvenir, said : 'On the left side there were the Pier Hotel, a few weatherboard cottages, a grocery shop and post-office, two other shops,
and a house called Bolton's cottage
. Then, besides a few other small shops, there were two hotels, including the Steyne,' which is still one of the leading hotels to-day. On the other side of the Corso there were even fewer buildings, one of which was the Church of England, which has since been twice enlarged. Today the Corso, as the principal shopping centre, is completely self contained, and one can there purchase almost anything required for a modern home.
THE Corso leads directly to the Ocean Reach, which is famed throughout Australia for its beauty of contour, its magnificent avenue of Norfolk pines, and for its delightful surfing. It is surfing which has proved probably the best asset to all Sydney's oceanside resorts, and in no case has this been truer than of Manly. Little more than a generation ago this pastime was actually discouraged, for it was against the law that one should bathe in the surf during daylight hours, and then only in the most all-encompassing garments. Fortunately, surfing has come into its own because of its undoubted pleasure and health giving attributes. The tide, once turned, has swept with ever increasing force over Sydney's inhabitants, and every beach within reach of the city has rapidly grown into favour, first amongst surfers, and then as residential areas. Manly has large and well-appointed dressing pavilions, which are always crowded during week-ends and holidays. Surfing has its tens of thousands of devotees, and alongside the bathers are those more venturesome spirits who paddle out on their surf-boards beyond the ordinary breakers to await the big waves which will carry them right to the beach while they standup, poised adventurously above the sweep of the foaming breaker.
Manly's reconstructed municipal baths, probably the best-equipped in Australia, were officially opened on October 30 of last year.
MANLY IN THE SEVENTIES.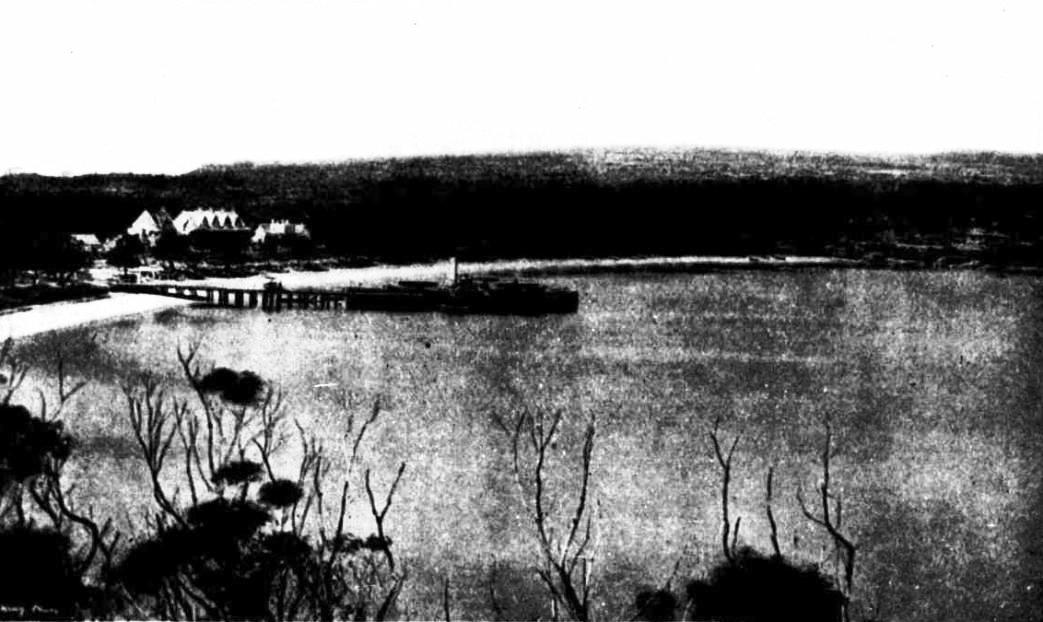 Fifty years ago Manly was — or seemed — remote from the city. The picture gives a view of the harbour front shortly before the incorporation of the municipality.
MANLY'S civic spirit was stimulated by the event of its approaching fiftieth birthday to do something on the grand scale to fittingly commemorate the occasion. To arrange for a six months' celebration might seem a rather ambitious scheme, but it caught the public imagination, and the Jubilee Committee set enthusiastically upon its task. Local business people gave their hearty support to the scheme; Manly Municipal Council offered a guarantee of £1500 and the Port Jackson and Manly Steam Ship Company, Ltd., gave a donation of £500. The committee, under the secretaryship of Mr. James A. Miller, arranged a comprehensive programme of fixtures for the six months, which covers practically every activity, including sporting, musical, and social entertainments, which are calculated to make such an impression on visitors that they will be tempted to live permanently in the idyllic surroundings of this delightful waterside suburb.
The celebrations were officially opened by the Governor, who was accompanied by Lady de Chair and Miss de Chair. The Venetian Carnival which is now being held gives a romantic touch, to the Esplanade and waterfront with its festoons of electric lights amongst the waterside houses and trees, and out on the water illuminated boats gliding to and fro across the sheltered cove. Along the Corso, ablaze with myriads of coloured electric bulbs, stalls are erected for the sale of various articles by volunteer sales men and girls, while on the ocean beach there are numerous sideshows for adults and children, including the old-fashioned but ever-popular Punch and Judy shows, acrobatic turns, and merry-go-rounds brought up to date with aeroplane seats. The thousands of visitors who annually make Manly their holiday Mecca have entered into the spirit or the carnival, and on the principal nights the stalls and shows have been crowded with gay throngs bent on enjoying the fun. On Anniversary Day there was a record crowd at Manly, and the jubilee stalls did a thriving trade. Manly Jubilee: Continued Page 10.
The features of holiday-time at Manly have become famous beyond Australia. Vivid snapshots of the magnificently-built brown men of Manly Beach engaged in their thrilling sports in the surf have given 'The Village' a fame that rivals that of Honolulu. On the occasion of displays by the surfers groups such as our artist depicts throng the sands (see sketch below). Manly municipal Jubilee (
1927, February 2
).
Sydney Mail
(NSW : 1912 - 1938), , p. 8. Retrieved from
http://nla.gov.au/nla.news-article169144790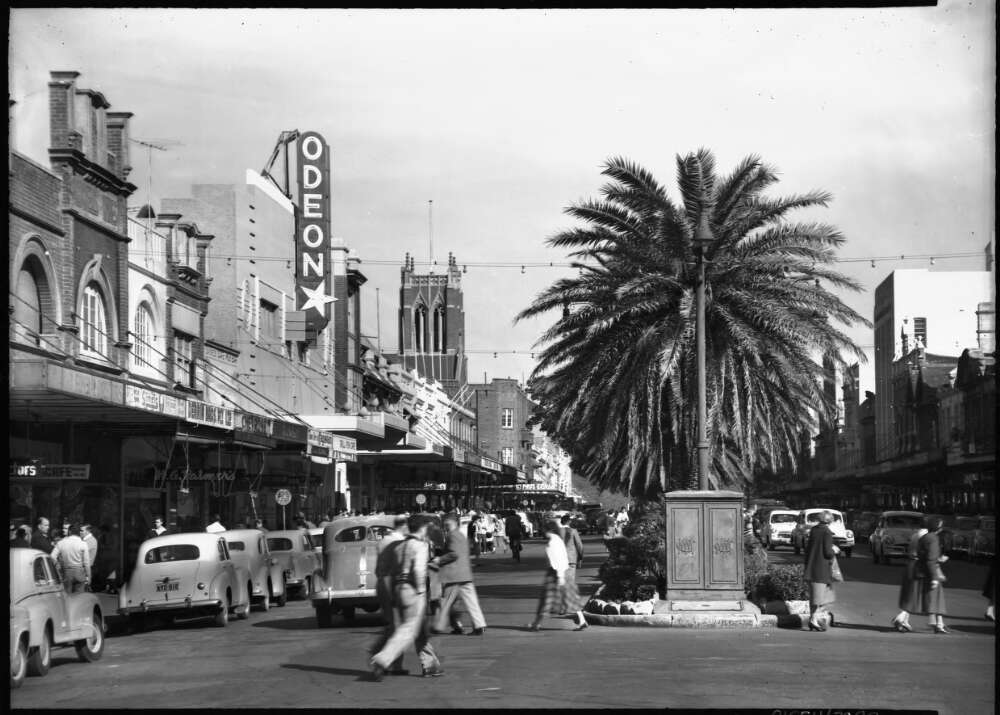 Shopping And Shops In Manly: Sales Times From 1856 To 1950 For A Fishing Village - threads collected and collated by A J Guesdon, 2016.