January 5 - 11, 2014: Issue 144
Camping at Narrabeen – A Trickle then a Flood
Floods, tales of old legendary deeds occurring further up the lagoon at Deep Creek, camel rides, diving off bridges into clear waters, shrimping, catching fish as big and plentiful as 'small whales' – these were the early days of Narrabeen lagoon and camping during the summer months at one of Sydney's premier 'health resorts'. A tram track opening, buggies and coaches and omnibus prior to this and children diving off banks into water or trailing home slowly at sunset covered in sand – there's nothing like camping and caravanning to evoke the endless ease of Summer.
Although Narrabeen Lake Park and then Lakeside Park had permanent residents 1930's through 1950's, camping at the Lagoon for leisure and health began within a hundred years of European settlement and had been a favourite homeland of our Indigenous custodians for time immemorial prior to that.
This week we are running the often hilarious My Holiday by Charles de Boos (published 1861) and although he slept on ground near the lagoon wrapped in blankets during the cooling months, it did not take long for many to walk in his footsteps and fall in love with this place.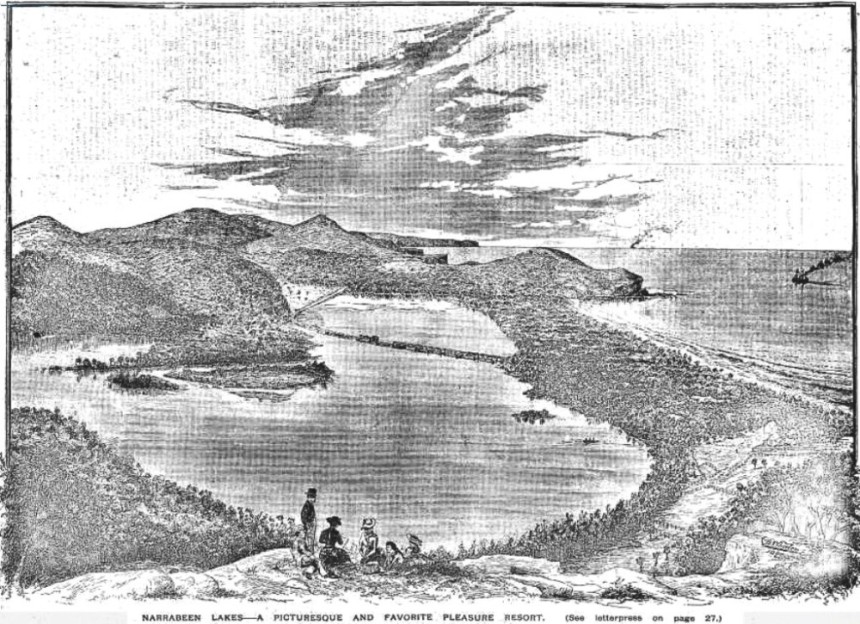 Narrabeen Lake. A FAVORITE PLEASURE RESORT. (See illustration on page 26). Narrabeen Lake is one of the prettiest spots within easy reach of Sydney. It is situated six miles from Manly, being accessible by coach daily from that popular watering-place. Narrabeen is rapidly becoming a favorite resort for picnic parties and pleasure-seekers of all kinds, who are attracted there by the beauty of the scenery, which is of the character so well described by Byron in the lines:
There is a pleasure in the pathless woods,
There is a rapture on the lonely shore, There is society where none intrudes,
By the deep sea, and music in its roar.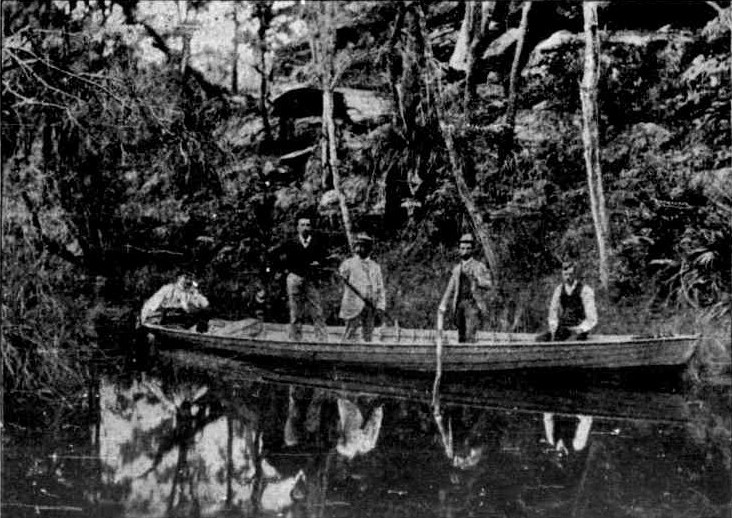 A great variety of ferns and wild native flowers abound in the neighborhood, and waratahs are very plentiful. The illustration is taken from the plateau - an elevated position in the fore- ground overlooking the lake. A beautiful view is obtained from here. To the left are picturesque hills and undulating vales, with their luxurious foliage and bushy undergrowth of wild vines, which flourish in tropical profusion ; while here and there are huge gray rocks, whose sombre hue serves to tone down the rich colors in the scenery. To the right is a view of the beach and ocean, with a coastal steamer on her course northward. In the distance is Broken Bay, the entrance to the Hawkesbury River. Narrabeen Lake. (1890, March 29). Australian Town and Country Journal (NSW : 1870 - 1907), p. 26. Retrieved from http://nla.gov.au/nla.news-article71109744
Old Narrabeen by Madame Roth -1891 - EXHIBITION OF EARLY PAINTINGS BY AUSTRALIAN' ARTISTS AT HORDERNS' GALLERY. (1925, December 2). The Sydney Morning Herald (NSW : 1842 - 1954), p. 18. Retrieved from http://nla.gov.au/nla.news-article16258273
On the Narrabeen Lagoon, AT MANLY. The picture, shown on this page, is taken atone of the most picturesque spots on the lagoon. It is on the opposite side from Manly, close to the gasworks ; though it is sacrilege to name, the lagoon and gasworks in the same breath. The party in the boat wended their way pleasurably up one of the many pretty tributaries. The picturesquely-wooded foreshores, with their fretted rocky caves and mirror-like waters, form a surpassingly beautiful scene. Ferns, flowers, and grasses are plentiful. Shady nooks and bathing places easily found. The picture is quite an artistic creation, and does not belie the original. Regular bodily, exercise is worth a host of physicians. On the Narrabeen Lagoon-Manly. (See letterpress on this page - picture at above right.) On the Narrabeen Lagoon,. (1892, March 19). Australian Town and Country Journal (NSW : 1870 - 1907), p. 30. Retrieved from http://nla.gov.au/nla.news-article71235518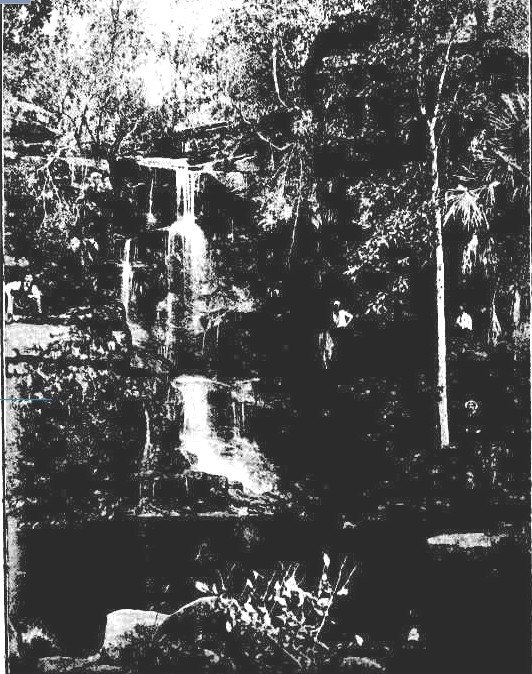 Narrabeen Falls - A Christmas Holiday Trip. (1893, November 25). Illustrated Sydney News (NSW : 1853 - 1872), p. 14. Retrieved from http://nla.gov.au/nla.news-article63672418
Narrabeen does not, in common with other parts of Australia, possess an everlasting summer but it is, however, a Paradise for those in search of quiet and pleasure. A more delightful spot for ruralising than Narrabeen does not exist in Australasia. To the wearied and faded business man it affords a haven of rest and retirement such as no other spot within easy distance of the city can. The natural beauties of the district alone are attractions. But added to this there is the best of shooting and the best of fishing and boating, and no finer sport for the artist to indulge his proclivities for sketching, or the young and agile to follow their fancies in the shape of cricket, &c. As a holiday resort it abounds in every essential to pleasure. For those fond of aquatics and fishing there is a magnificent lake, and for those fond of these beauties and excitement of the ever restless sea there is a beach, unrivalled in New South Wales for wild and romantic scenery, stretching from Long Reef to near the far-famed Barrenjoey, with a most beautiful view of sea and coast. There are also salt and fresh water bathing, and boating parties who make the easy trip up the gorge at the head of the lakes will not soon forget its beauties — the waterfalls, the mountainous banks, with every kind of ferns and wild flowers, and tall palms, some 40ft or 50ft high. A visit to Mount Ramsay will also repay the visitor the trouble of climbing to the top, from which a most delightful panorama of coast, sea, and lake scenery is obtained. Now that the steamboat fares to Manly are reduced so liberally, a trip to Narrabeen is within reach of all classes, and a day spent at that quiet, secluded, and most beautiful of our watering places should be a great benefit to a number of people during the holiday season. Narrabeen. (1893, December 23). Evening News (Sydney, NSW : 1869 - 1931), p. 3. Retrieved from http://nla.gov.au/nla.news-article112936347
Those coming to Narrabeen for the 'health benefits' weren't the only ones camping at Narrabeen. for the purposes of exercises. This would recur in WWII, but then, in earnest:
N.S.W. Field Artillery. FIRING EXERCISES NEAR NARRABEEN. (See illustrations on this page.) The Field Artillery of New South Wales last month formed a camp near Narrabeen, on the road from Manly to Broken Bay, with the object of giving officers and men some practical work in the shape of range and competitive firing. The camp was formed on June 7, and three days later was occupied by the A battery of Permanent Artillery. This battery was in camp continuously for more than a week. The partially-paid bat teries also took part in the exercises, but only to the extent of one whole-day parade. B battery (partially-paid) went into camp on June 12, when both gunners and .drivers were given a day'à sound work at drill and firing. C battery (partially-paid) were put through similar exercises on June 19. The A battery, (permanent), of course, had daily drills during the period they were camped.
The officers at the camp were as follow: A bat tery (permanent)-Lieutenant-Colonel H. P. Airey, D.S.O., in charge; Lieutenant E. A. Antill, adjutant, B.D.F.A. ; Lieutenant Christian, B.D.F.A.; Brigade Sergeant-major H. Coleman; Brigade Quartermaster-sergeant Rauchle. B battery, (partially-paid)-Major R. M. S. Wells, and Lieutenants J. H. Plunkett, J. H. Schwabe, V. Airey, and C. Griffiths. C battery (partially paid)- Captains Lenehan and Anderson, and Lieutenants E. A. Pearce, Flannery, and H. G. Shaw.
The chief umpire was Colonel S. C. TJ. Smith, R.A. (commanding N.S.W. Artillery Forces), and the assistant umpires were Lieutenant-Colonel H. V. Savage and Captain Le Mesurier. Major Bridges acted as instructor to the camp, and Lieutenant J. Mair as range officer. A detachment of the Medical Staff Corps, under Surgeon Lieutenant-Colonel Dansey, was also on duty.
Field Artillery Exercises-Long Range Firing by the N.S.W. Brigade Division.
* (FROM PHOTOGRAPHS BY 'IMHO CHOWN STUDIOS, SYDNEY.)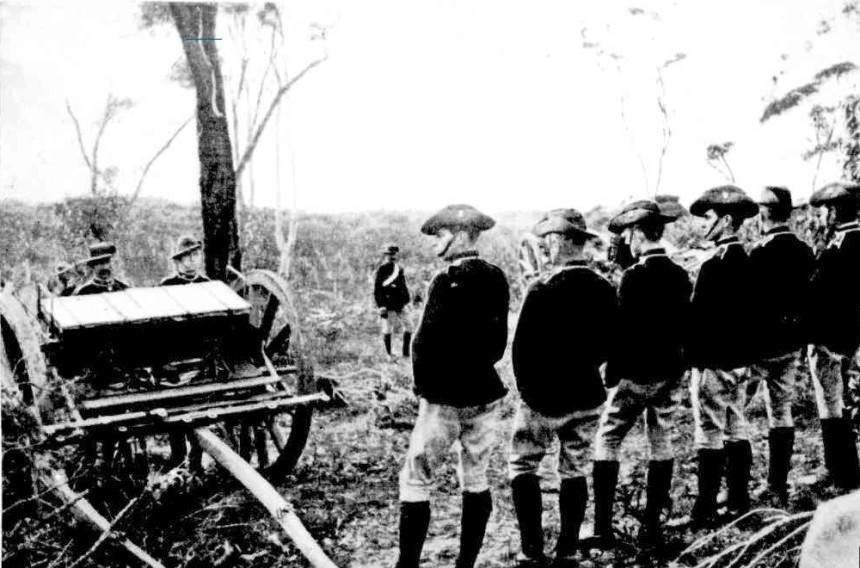 Ready for Action.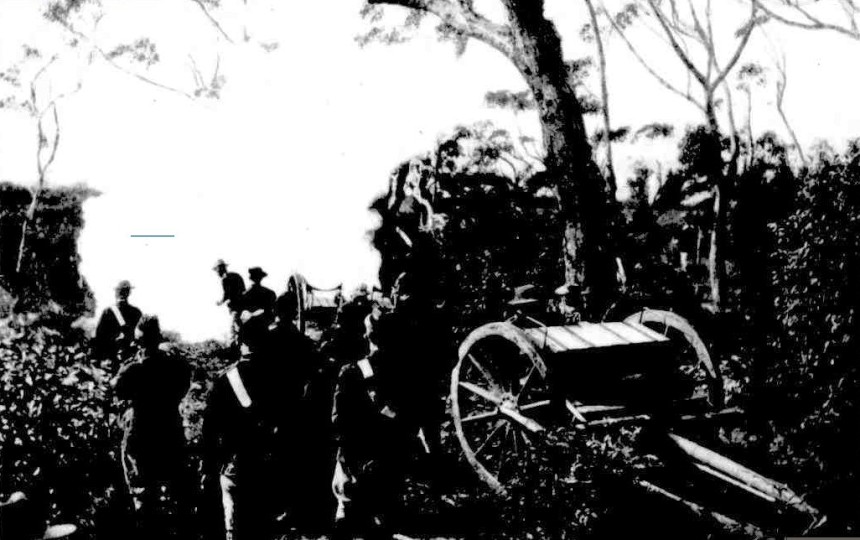 "B" Battery Firing.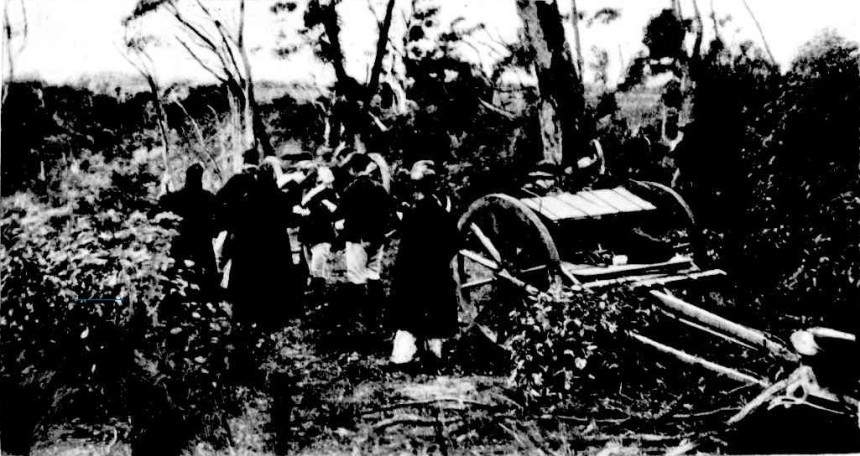 After the Firing.-The Umpires Comparing Notes.
N.S.W. Field Artillery. (1897, July 3). Australian Town and Country Journal (NSW : 1870 - 1907), p. 32. Retrieved from http://nla.gov.au/nla.news-article71275301
Narrabeen was renowned as a place that attracted artists during the 1930's, '40's and '50's but this too began way before then. One earlier record of an Australian artist using this area to teach others as much as hone his own skills, as well as taking to surf bathing and camping out, along with residents who were prepared to risk their own lives just prior to the founding of the North Narrabeen SLSC, meant land, including the purchasing of 'camp sites' was soon on the horizon:
In the Sydney Artists' Colony. HOW PAINTERS LIVE. THEIR WORK, AMBITIONS, LOVES AND HABITS. A PECULIAR PEOPLE. MODELS, AND THEIR ROMANCES. By Alfred R. Coffey. SPECIAL, FOR 'CATHOLIC PRESS.' Take the ordinary life of one of our principal Sydney artists, W. Lister Lister, President of the Art Society. He has large classes for landscape painting, and is very much liked by all his pupils. 'Uncle' (as he is called by some of those who have been longest with him), followed by a dozen or more lady students, is a familiar sight at Freshwater Beach, and other sketching places. Of course, he is not always tied down to the city, and goes away on several painting tours during the year. Occasionally some of his pupils get up a party, and stay at Narrabeen for a month or so, and have a delightful time, painting all day, and then boating on the lagoon or impromptu musical programmes at night. Lister is a hard worker, as shown by his contributions to the annual exhibitions, many of his pictures having been purchased for the National Gallery, including ' The Ever Restless Sea.' In the Sydney Artists' Colony. (1897, December 25). The Catholic Press (NSW : 1895 - 1942), p. 5. Retrieved from http://nla.gov.au/nla.news-article104407228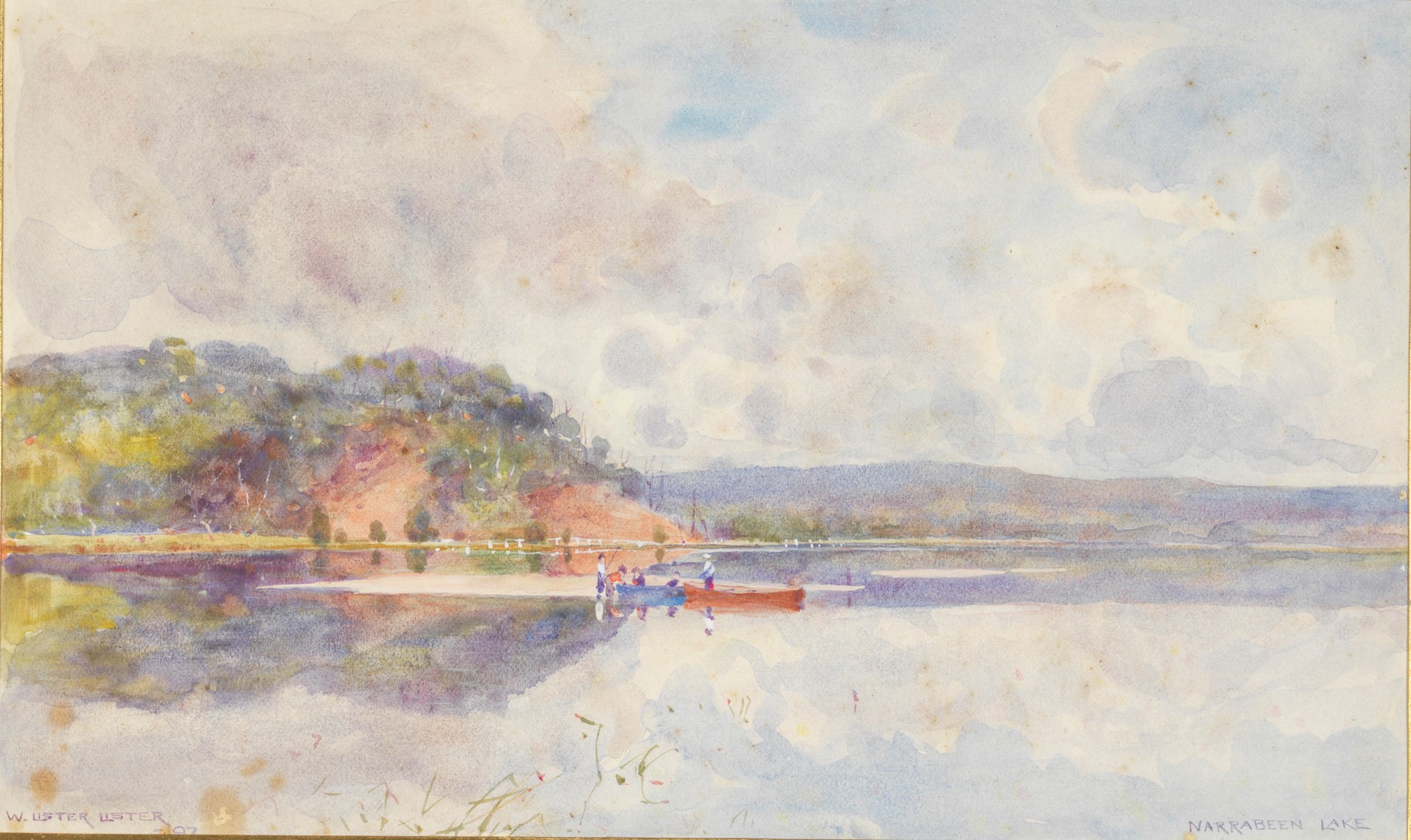 f.9 - Lister, William Lister.
Narrabeen Lake
, From: Farewell presentation album to Mr. and Mrs. Robert Brough from the playgoers of Sydney,
1897
, Item No.:e00345_0013_m, from the collections of the State Library of New South Wales.
Falls - Narrabeen Lakes, series, circa 1900-1910. Image No.: a116484h, courtesy State Library of NSW.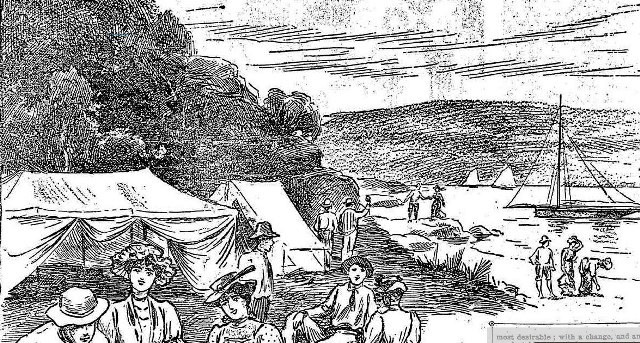 Interesting and Varied Experiences of Readers, together with Many Useful Hints. A WIDE FIELD. Campers who want swimming, fishing, and boating cannot do better than give one of the following places a trial : PITTWATER AND.' NEWPORT.— Coach from Manly, boats' at Church Point. NARRABEEN.— Coach from Manly. Holiday Camping in New South Wales . (1905, December 10). Sunday Times (Sydney, NSW : 1895 - 1930), p. 17. Retrieved from http://nla.gov.au/nla.news-article125875047
THE NARRABEEN LAKES. Who does not know of the beauties of Narrabeen Lakes?— that charming 'village by the sea,' seven miles from Manly. On one side the ocean beach — three miles long— a magnificent stretch of clean, hard sand — an ideal spot for bathing. On the other side the picturesque lake, fringed with wattle, fern, and lilli pillys, swarming with fish, and the habitat of the swan and shy waterhen, etc. This fine spot is destined to take a big leap forward very soon, as its manifold charms, attractions, and 'get-at-ableness' are commanding the attention of all sorts of people — people who want a quiet place to loaf at, families who want a safe place to boat, fish, and bathe at; quiet folk who are satisfied to ramble 'midst the hills and dells, and gather the beautiful waratahs, native roses, and other wild flowers; and, last, but not least, 'the keen-eyed man, with his optic fixed. on 'the main chance.' On eight-hours Day, at 2 o'clock, on the ground, Arthur Rickard and Company, Limited, auctioneers, of 84B Pitt-street, will sell a fine estate In subdivision — the Narrabeen Lakes Estate, close. to hotel, -school, P.O., church, stores, etc., fronting both lake and ocean. Full particulars of this important sale and the arrangements to convey visitors to and from it are advertised. THE NARRABEEN LAKES. (1906, September 27). Evening News (Sydney, NSW : 1869 - 1931), p. 3. Retrieved August 28, 2013, from http://nla.gov.au/nla.news-article114087901
Arthur Rickard and Co , Ltd., report the following sales during the week -Brick cottage, No 203 New Canterbury road, Petersham, £400, lots 14 to 17 section 1, and 12 to 20 S3 and 80 section 2, Wright's Ls tate, Hurstville building sites, £313, lots 11, li, 22, and 24, Holland s Estate, Chatswood, building sites, £237, lots 3, 7, 8, 34 to 01, section 1, and 35, 67. 61, and 04 section 2, Dellwood Park I-state, Granville, £224, lot 17A Pymble View Estate, Turramurra, 4 acres, gorden land, £105, lot 5, Neutral Heights, Neutral Boy (leasehold), £95, lots 01 and Oi, section 1, Quakers' Hill, 10 acres, farm block, £85, lots 12, 13, 81, and 32, section 2, 20 section 3 22, 23, 21 section 7, . Narrabeen Heights Estate, Narrabeen (camping sites), £53, lot 61… PROPERTY MARKET. (1908, June 6). The Sydney Morning Herald (NSW : 1842 - 1954), p. 15. Retrieved from http://nla.gov.au/nla.news-article14940315
SEASIDE CAMPING FOR YOUNG MEN. To the young man employed in the city or living in a suburbs where he has not easy access to the seaside, there is no question that camping out at some seaside place not only affords him a most enjoyable holiday, but also in the majority of cases, will — unless he overdoes things —prove beneficial to his health. This has been the experience of the writer, who put the tale of consecutive Easters at Narrabeen and had an excellent time despite the fact that it was raining more or less the whole time. SEASIDE CAMPING FOR YOUNG MEN. (1908, December 20). Sunday Times (Sydney, NSW : 1895 - 1930), p. 6 Section: The Sunday Times MAGAZINE SECTION. Retrieved from http://nla.gov.au/nla.news-article126730999
This is a Scout's troop:
AT NARRABEEN.— The Petersham troop spent a happy time under canvas at Narrabeen. They mustered at the Customs House on Saturday, December 31. and caught the 7.30 a.m. boat to Manly, arriving at Narrabeen about 10 o'clock. Five tents were erected. There were 21 scouts presenting. Scoutmaster Williams was in charge. Swimming parades were held regularly, at which a good deal of practice was put in at life-saving. Instruction was given in bridge-building. Games of attack and defence, tug-of-war, and other sports served to liven up the work,.... took a party prawning in the Narrabeen Lakes, the expedition being interesting and producing many prawns and crabs. Camp was broken at 3 o'clock on the Monday afternoon, and the march to Brookvale accomplished. The whole camp was a success, so much enjoyed by the lads, there being nothing to mar the splendid time. On the way home the lads were able to render a good turn to some ladies in difficulty about transporting their luggage. IN CAMP. (1911, January 8). Sunday Times (Sydney, NSW : 1895 - 1930), p. 17. Retrieved from http://nla.gov.au/nla.news-article120788129
NARRABEEN AND DEEWHY. Between Manly and Pittwater and comparatively close to Sydney are the two salt water lakes of Deewhy and Narrabeen. Both are rich in prawns in summer time, and the scene at night on Narrabeen, when hundreds of people, clad in swimming costume, and carrying hand-nets and lights, seek the delicious crustaceans, is a striking one. Deewhy Is the haunt of black swans and Is very shallow. Narrabeen Is narrow at its lower end, but widens out into a fine sheet of water a mile above the bar, which is frequently opened either by man or the ocean waves, so that the sea water has free access with the tide. Plenty of fish are caught in the lake, and on the ocean beach and rocks, and surfers and "sun-bakers" spend many enjoyable hours on the long sweep of clean, white sand, and in the tumbling waves which wash it. Deep, South, and Middle creeks are three beauty spots of Narrabeen. Just off the placid mirror-like waters of Deep Creek are two small but picturesque waterfalls. Narrabeen is reached by boat to Manly and thence by tram at a cost of 9d. Little wonder therefore that it is a popular resort for thousands of people during eight months of the year. With Rod and Line. (1912, September 24). The Sydney Morning Herald (NSW : 1842 - 1954), p. 9. Retrieved from http://nla.gov.au/nla.news-article15363330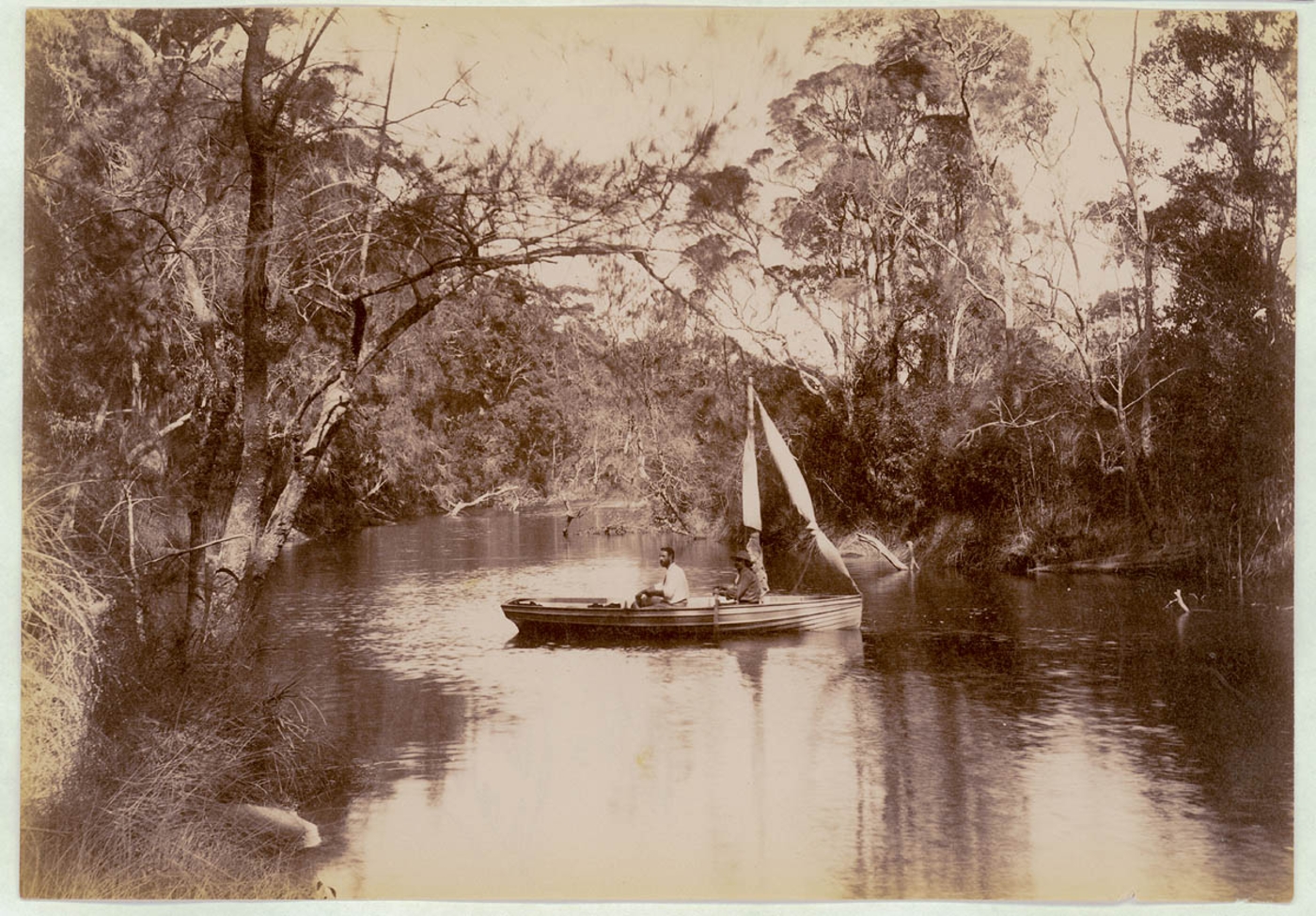 View - Narrabeen Lakes, series, circa 1900-1910. Image No.: a116488h, courtesy State Library of NSW.
With the opening of the Narrabeen Tram line on Monday 8th December 1913, finishing just before the lake, more and more visitors and holiday makers had easier access to cooling Narrabeen during the Summer seasons. Even prior to then those who could not afford or had not purchased their own 'camping sites' became a problem to be overseen by the then fairly young Warringah Shire Council as much as 'improvement schemes':
NARRABEEN LAKES. WORKS DEPARTMENT'S SCHEME AGREED TO. A special meeting of the Warringah Shire Council was held to consider the proposed scheme by the Works Depratment for improving the Narrabeen lakes. The proposal is to cut a channel in the rock at the foot of Narrabeen head from the ocean into the lake, in which the tide will flow. Councillor Quirk moved that the Minister for Works be informed that the Council is prepared to guarantee the following-"To carry out the work of constructing an opening on the lines of the plan and specifications submitted, 18ft wide, at a cost of £580 that the council guarantee to put the work in hand immediately the work of constructing the tram Is commenced which will allow it to be completed some months before the tram reaches Narrabeen and that a sufficient number of boats will be provided at four different points on the lake " The motion was unanimously agreed to. NARRABEEN LAKES. (1911, May 11). The Sydney Morning Herald (NSW : 1842 - 1954), p. 3. Retrieved from http://nla.gov.au/nla.news-article15239491
NARRABEEN TRAM. The Narrabeen tramway has been handed over by the Public Works Department to the Railway Commissioners. The commissioners have definitely decided that no steam trams are to be run on the line, and the work of electrifying the line has commenced. The line will shortly be taken right on to the Narrabeen Lakes. NARRABEEN TRAM. (1912, April 20). The Sydney Morning Herald (NSW : 1842 - 1954), p. 20. Retrieved from http://nla.gov.au/nla.news-article15337900
CAMPING AT NARRABEEN. A ratepayer sent in a long complaint for the Warringah Shire Council at its last meeting regarding the manner in which the governing powers had neglected his property at Ocean street Narrabeen. As his premises was situated on the road to the ocean beach which was used by large numbers of pedestrians it deserved some consideration. During the four Easter holidays a couple of dealers with their families camped over their part on the fairway close to the waters of the lake. They made themselves very objectionable to everyone in the neighbourhood by stealing wood. The campers even went so far as to enter private property and remove some wooden seats, which were used for firewood. The female campers were perhaps worse then their companions and their language to any one at all respectable, was, to say the least, most insulting. When the camp was broken up what was left behind was disgusting. The writer hoped the council would not allow such a state of affairs again.
President Quirk pointed out that if the writer had gone to the telephone and let the officers of the council know what was going on something would have been done to remedy the evil. It was no good waiting for some weeks after the campers had left the district and then complaining. The letter was received. CAMPING AT NARRABEEN. (1913, April 3). Evening News (Sydney, NSW : 1869 - 1931), p. 5. Retrieved from http://nla.gov.au/nla.news-article117935961
"LITTLE WOODEN HUTS." SEA BREEZES FOR BUSH TOILERS. HOLIDAY FOR THE MOTHERS AND CHILDREN. SEASIDE' CAMP ASSOCIATION. The organising secretary (Miss Grace Burrows) and those interested in the scheme for the establishing, of seaside camps for the women, and children of the bush are earnest, and their enthusiasm has made them quick to seize opportunity. Just now, when the muggy heat of February is clearing the city of all those fortunates who have money and leisure enough to enable them to fly to cooler climes, and driving the remainder of the population to surf beaches, this little band of organisers has sent out into a hot world a plea for the weary mothers of the hush (says "The Sun" of February 8). .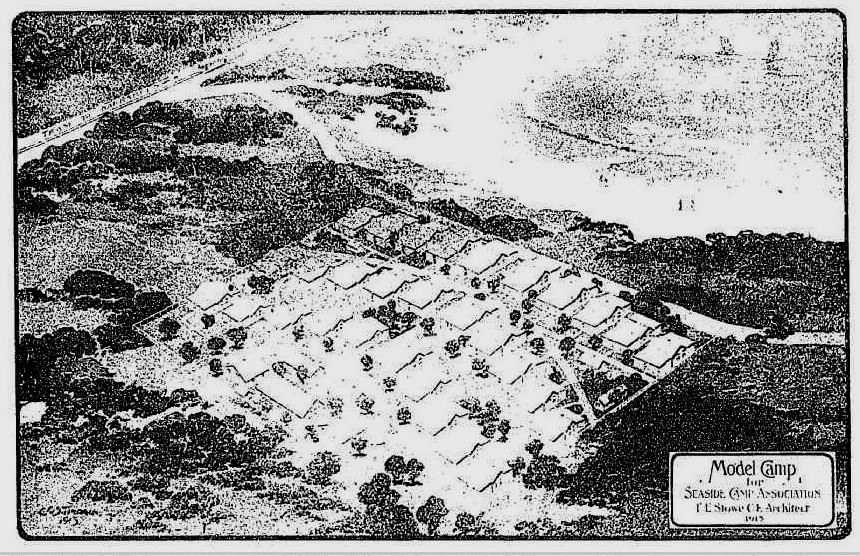 PLAN OF THE SEASIDE CAMP. It was drawn by Major Stowe, architect and civil engineer, who is giving his services to advancement of this scheme.
The loveliest place in all the district, on the electric tramline is Narrabeen, with city Water beside the trams. The Minister for Lands has leased three acres for the camp on that reserve on a permissive occupancy, and on condition that the place is made sanitary and due attention paid to shire regulations. This is a good-help, but now the startling facts of finance have to be faced by the association, and overcome before the 'Tent City' can be a reality.
Major Stowe- who is an honorary worker, has worked out the cost of sanitation, lighting, and water, an left large figures in his trail... A septic tank will cost £120, and drainage £70. The water service from Pitt water-road, a distance of 2000ft.,' wil cost £150, and gas for lighting am cooking £500. After these fundamental expenses will come the cost of a general dining-room, a social hall, staff quarters, lavatory accommodation paths, roads, and a fence all round The complete scheme will cost £2600 and the cottages another £100 pounds after that.
One of the schemes suggested for raising some, of this amount was to have memorial cottages whereby ead donor of £100 could have a cottage called after himself or herself, or any name they chose. The tenants of the camp cottages will pay rent for their accommodation at schedule rates which will be fixed as low as possible.
A cook will supply all meals, as in a shearer's hut, and the cost of living will be the very lowest, consistent .with good quality and simple style. The bush mother will be thus freed for once in her life from the cares of cooking. Agitators in this scheme will be working hard during the coming year in order to have the camp established if possible for next summer. "LITTLE WOODEN HUTS.". (1914, February 16). Barrier Miner (Broken Hill, NSW : 1888 - 1954), p. 3. Retrieved from http://nla.gov.au/nla.news-article45271747
The land we have secured is on a reserve of 179 acres, so that there is plenty of space, and a look at the plan will show its desirability. On the left of the picture is the Narrabeen tram, driven by electricity, and a little past the tram is the Salvation Army building and farm, where we can get milk and vegetables for the settlement. The city water pipes run along the Narrabeen-road, so that we are close to the essential needs of the camp, transit and water. The camp is on the side of a hill ; which slopes UPWARDS to the beach and then falls rather abruptly, so that the camp is really sheltered from the storm winds, while still close to the water. The slope of the land is, therefore, back from the beach, and our septic tank and drains will run away from our beach, back a long distance to wards the Dewhy Beach. This is very admirable for our camps, but adds to : the cost of sanitation. Our hon. engineer is Major J'. E. Stowc, C.E.. who has given the matter his time and attention in most heroic fashion, so that we are on quite safe ground in regard to the requirements of the Government and the Shire Council in regard to sanitary matters. Our camp is easily reached by tram from Manly, and is yet far enough away from the crowd to form a safe resting place for the bush mothers and their children. The Seaside Camp. (1914, February 27). The Sydney Stock and Station Journal (NSW : 1896 - 1924), p. 8. Retrieved from http://nla.gov.au/nla.news-article125349827
Several reports appear during the ensuing years, mostly at times of high drama when the lagoon near the camping site, as it was then 'Lake Park', had silted up at the entrance or too much rain too quickly, combined with the high tides that came, and still arrive at this time of the year, naturally caused flooding. In among these were a few snapshots of what many enjoyed most of the time - immersion in the great outdoors:
Three Girls in a Boat. A THRILLING EXPERIENCED. Three North Sydney girls (says the 'Evening News') will remember the first day of 1922 as long as they live. They had an experience at Narrabeen Lake, which for danger, discomfort, and, sensational incident, has rarely been eclipsed. They are Miss Hilda Cox, Miss Margaret McClure, and Miss Helen Cavanagh. Miss Cox and Miss McClure conduct a refreshment, room' at 108 Walker Street. On several occasions the trio had gone to the lake upon holiday camping expedition's, and on Sunday morning they started off for their accustomed spot, about three miles up the lake. They had a tent fly with them, with blankets and other bedding, and their intention was, as usual, to pass the time swimming, rowing, fishing,. flower-gathering, and taking pictures, each of the ladies having a camera. They hired a boat at Narrabeenand rowed to Deep Creek against a strong wind, but the lake was not then in flood, as it was later, and they arrived safely on Sunday afternoon, pitched camp, and had their New Year's Day dinner. In the evening the storm became violent, with disastrous effects to the camp, but the ladies moved to a big cave, about 100ft. up the hillside, and felt safe and contented. A roaring fire was made and the night was passed fairly comfortably. Next day the rain teemed all day but they played cards, sang, and danced, and one of the party (Miss McClure) enlivened matters with the ukulele. In the afternoon the storm intensified in violence, and the trio were nearly blown out of the cave. The rain blew in, and drenched everything and they were wet to the skin.
About 3 p.m. they saw that five young fellows in a boat were in trouble, having lost their rowlocks, and after some talk it was arranged that they should strike camp, and all proceed down the lake for home in one boat, towing the other. Meanwhile the lake had risen in flood. Crossing under the bridge at the entrance to Deep Creek, the party of eight all had to lie in the boat, in order to pass under, and even then Miss Cox received a violent blow on the head which almost stunned her. No sooner had the boat passed under the bridge than it was in very rough water and, getting broadside on to the waves, filled and throw the party into a deep part of the lake. Miss Cavanagh could not swim, but the other members of the party assisted her, and after a tough struggle for about 20 minutes they all got into a depth of Water, in which they could stand up. At this time it was nearly, dark, and the girls returned to the cave on foot, having rescued some of their. things, but lost their blankets, a lamp, a rug, some shoes, and their parcels of food.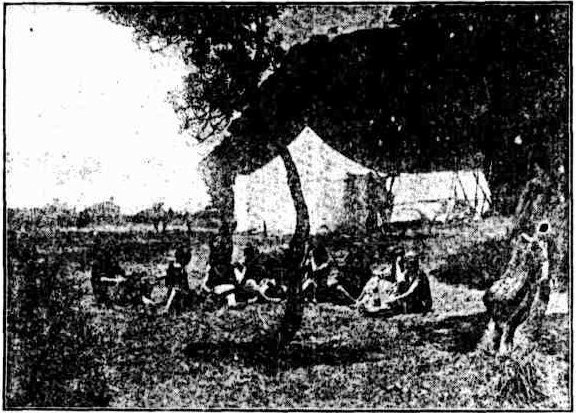 The young men went back after the sunken boat, but were not seen again. The trio of young ladies spent 'another night in the cave, without food or light, wet to the skin, shivering, and unable to sleep. When day came at about 4 o'clock they started to walk to Narrabeen, and found that they could only do so by skirting the lake, and wading through the flood waters, most of the time being up to their waists in water, and sometimes up to their necks. They had a four-mile journey to cover, and it took them between six and seven hours to do it. Their cameras were wet through, as was every thing else, but the ukelele — Miss. McClure managed to keep this dry throughout, as well as to save her pet white poodle dog. They were badly bruised and knocked about during the journey, and, suffered severely from attacks of leeches, while the fear of snakes was ever present to assist in discomforting them. Eventually they got to a spot within about a hundred yards of a boatshed, but the water then deepened, and they could not wade the remaining distance. Miss McClure, therefore, placed the poodle on the top of a post, and swam, to the shed. In rowing back to her companions, (there had been nobody at the shed, so she commandeered the boat), she rowed over the top of the submerged fences. A little later, cold and wet, weary, and famished from nearly two days abstinence from food, the trio reached Narrabeen, where the waters of the lake were, practically level with the tramline. Among the drenched belongings of the party was their revolver (Miss McClure has a gun license, and can shoot straight), which is always taken by the party when they go camping. At Narrabeen the proprietress of a cafe gave the trio tea and food, and helped them to dry their clothes, after, which they were taken to their homes at North Sydney by the friendly driver of a motor waggon. They have had enough of Narrabeen, and say that in future they will do their camping-out at National Park. Three Girls in a Boat. (1922, January 13). The Richmond River Herald and Northern Districts Advertiser (NSW : 1886 - 1942), p. 6. Retrieved from http://nla.gov.au/nla.news-article126121167
PICTURE (Above right): THIS IS THE LIFE-Easter time camping a time. These girls at Narrabeen (Sydney) know something about the outdoor life. No Title. (1923, April 7). Queensland Times (Ipswich) (Qld. : 1909 - 1954), p. 7 Edition: DAILY.. Retrieved from http://nla.gov.au/nla.news-article111471397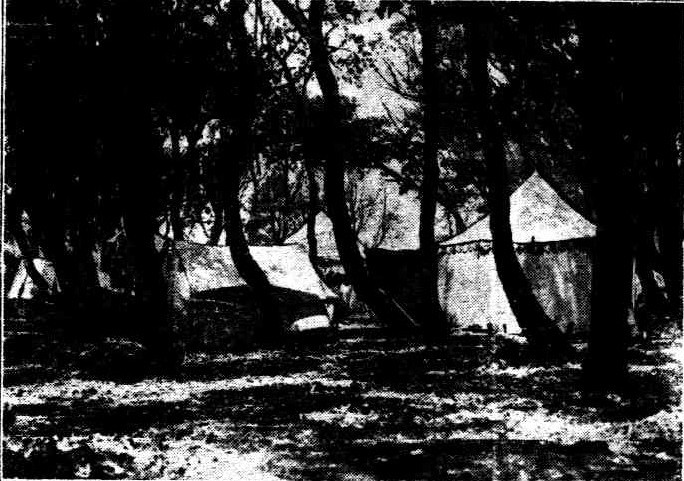 PICTURE: THIS IS THE LIFE! There was scarcely an acre of camping ground within miles of Sydney which did not, during the holidays, have its canvas city. Photo taken at Narrabeen. THIS IS THE LIFE!. (1924, January 19). Recorder (Port Pirie, SA : 1919 - 1954), p. 4. Retrieved from http://nla.gov.au/nla.news-article102228587
NARRABEEN AND ITS PANORAMAS. ARCADIAN SPOT OF SURF AND LAKES HAS DOUBLED ITS POPULATION IN LAST FIVE YEARS. NARRABEEN, with its golden beach, shining lake, and flowery forest, is a jewel in a fairyland called Warringah. Electric trams, motor bus services, and motor cars have enabled city folk to easily reach this beautiful spot,- but greater wonders still have been worked lately. The new bridge across the Spit has had an effect upon Narrabeen, which very few people anticipated. Any number, of motorists are now driving across Spit bridge and direct into Narrabeen, thus avoiding the detour through Manly. Narrabeen is naturally very happy on this account. When the North Shore bridge, is built, and the railway is running through Narrabeen, as it is anticipated it will, the place will be one of great importance. It is difficult, as one regards crowds of gaily dressed bathers on Narrabeen's beaches today, to realise that 20 years ago there were but three houses in the place. .
. . FURLOUGH HOUSE, Where thousands of soldiers', wives and children have received kindly treatment. NARRABEEN AND ITS PANORAMAS. (1925, February 1). Sunday Times (Sydney, NSW : 1895 - 1930), p. 7 Section: Social and Magazine Section. Retrieved from http://nla.gov.au/nla.news-article128164073
Some of the 1920's 'proposals' which never came off included:
PROPOSED NEW RESERVE. The Minister for Lands (Mr. Wearne) yesterday visited Warringah Shire. At Narrabeen Dr. Arthur and Messrs. Scott Fell and Murphy, Ms. L.A., and Councillor Parr (president of the shire) requested that several small islands in Narrabeen Lake should be joined by reclamation to provide a recreation reserve. It was pointed out that a private dredge is at present at work in the lake, and arrangements could be made to have the work carried out at once. Joining the islands together would provide a reserve about eight acres in extent, and lo carryout the reclamation to 3ft above spring tide would cost £2000. A bridge or causeway to connect the islands with the mainland would cost an additional £500.
Mr. Wearne said that he realised the need for the proposed park area, and also the national nature of the work. He did not think that the shire should be expected to bear the cost, and he would go further into the proposal. The joining of the Islands would cause deeper channels to be made in the lake, and he thought that the shire council should make some provision to regulate the depth of water in the lake by building the necessary work at the ocean entrance. NARRABEEN LAKE. (1925, March 23). The Sydney Morning Herald (NSW : 1842 - 1954), p. 10. Retrieved from http://nla.gov.au/nla.news-article16196481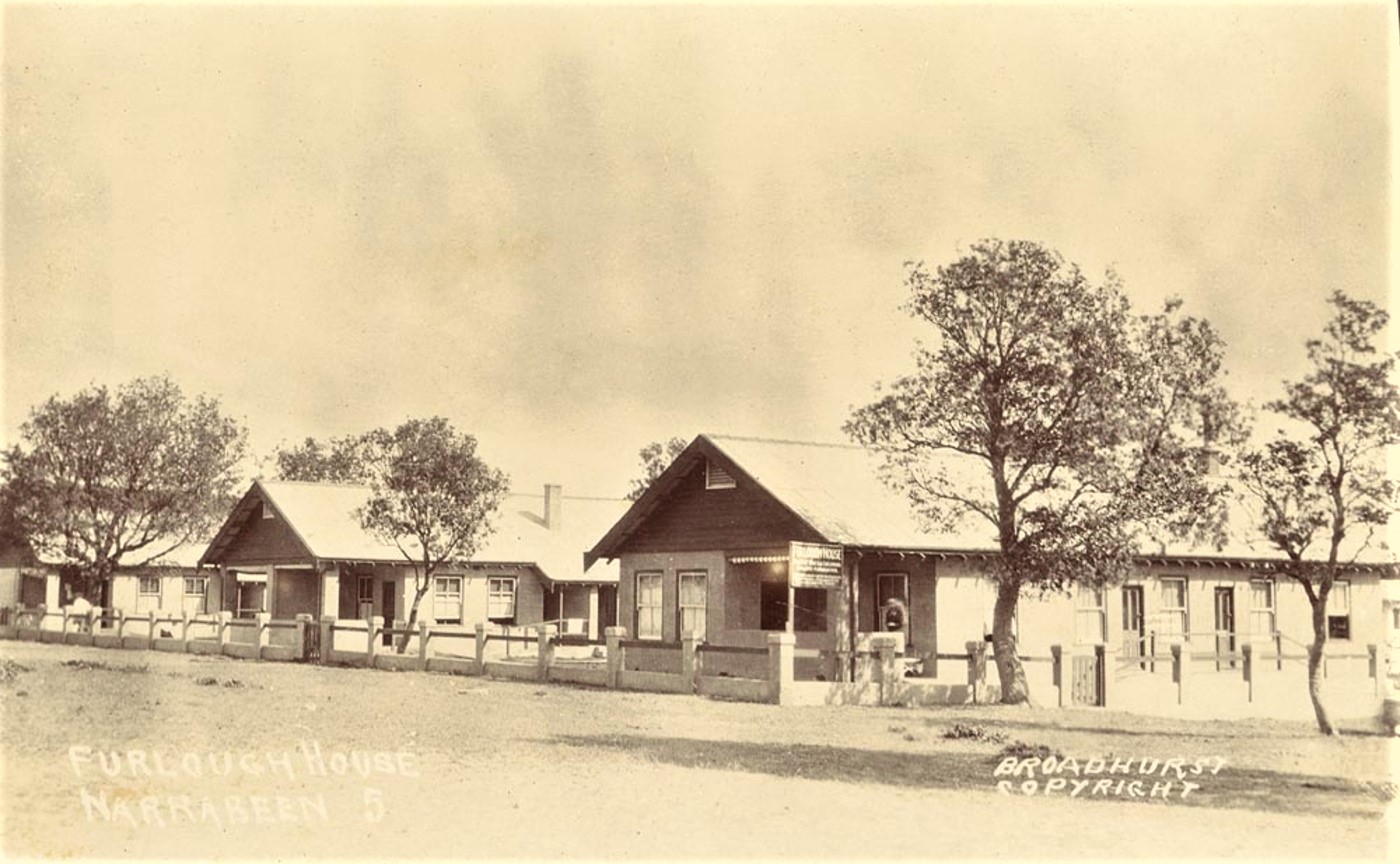 Furlough House, Narrabeen, Image No.: a106067 from State Library of NSW is same photo as one in article from Feb 1. From Scenes of Narrabeen album, ca. 1900-1927¶Sydney & Ashfield : Broadhurst Post Card, courtesy State Library of NSW.

FORD MOTOR CLUB. The Ford Automobile Club is arranging a camping party to Narrabeen during the Easter holidays from April 2 to 5. It is expected that at least 50 cars will take part in the Easter Party. FORD MOTOR CLUB COMING EVENTS. (1926, March 20). Evening News (Sydney, NSW : 1869 - 1931), p. 2. Retrieved from http://nla.gov.au/nla.news-article117278467
An interesting sub-note to the above notice is in Warringah Council Minutes regarding the above notice, in that the club requested and were denied a reduction for bringing in a larger camping party. There was too much demand for too little space.
Expenditure on Reserves in Warringah Shire. Warringah Shire Council has acquired land valued at £36,247 for public recreation purposes, during the past ten years. Of this amount, the sum of £31,267 was incurred for the purpose of establishing beach reserves, with the exception of £6000 which the crown contributed towards the cost of Collaroy Beach resumption. £25,542 has been incurred in the last four years. Now an additional sum of £30,200 is to be raised by two loans for the purpose of making further acquisitions of foreshores for the public, and for liquidating some of the liabilities included in the above list to a total of £6600. The balance of £23,600 will be spent in enlarging the ocean beach reserve at Newport, providing reserve for recreation and access to Pittwater, Newport, enlarging ocean beach reserve Mona Vale, enlarging Lake Park on northern shores of Narrabeen Lake and extension to Dee Why beach reserve. Local Government. (1927, May 25). Construction and Local Government Journal (NSW : 1913 - 1930), p. 8. Retrieved from http://nla.gov.au/nla.news-article108990996
From its outset the Lake Park (now award winning Lakeview Park) at Narrabeen was a family orientated camping site. From Warringah Shire Council Minutes of Meetings records: W.S.Peterson. 27/7/28. Requesting permission to for certain improvements in Lake Park, Narrabeen . Resolved Crs. Hitchcock,' Parr) - That permission be granted for the erection of swings etc. as proposed, provided they be erected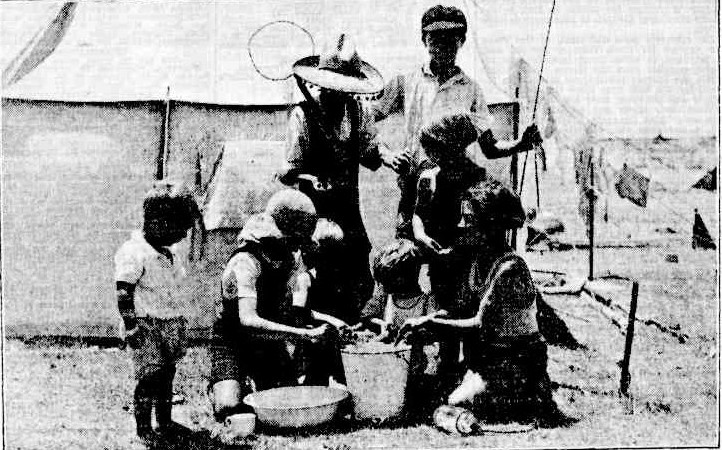 FORTUNATE HOLIDAY MAKERS, IN UNCONVENTIONAL ATTIRE, SCORN THE HEAT AT NARRABEEN CAMP COLONY.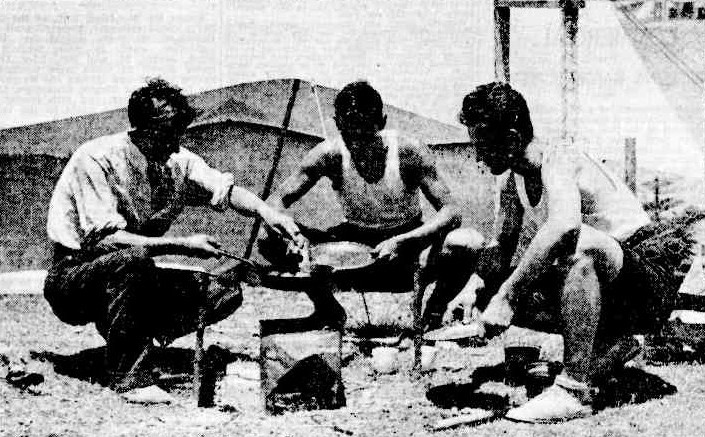 CLEANING THE CATCH AFTER A FISHING EXPEDITION. THE "COOKING FATIGUE" PREPARES THE MIDDAY MEAL. PICTURES: FORTUNATE HOLIDAY MAKERS, IN UNCONVENTIONAL ATTIRE, SCORN THE HEAT AT NARRABEEN CAMP COLONY. (1930, January 3). The Sydney Morning Herald (NSW : 1842 - 1954), p. 14. Retrieved from http://nla.gov.au/nla.news-article16614906
Dear Dimity Dell,-I am very sorry that I nave not written for such a long time, but I know you will excuse me. I had a lovely holiday. We went out camping to Narrabeen. Have you ever been there? We went in swimming every day. I will try to write often, so as to keep the Page merry and bright. I am sending in n little poem which I hope you will like. BLUEBELL. (aged 10)
Dear Bluebell,-Yes, I have been to Narrabeen and have had some lovely times there, indeed. For how long were you there, dear? Did you do any fishing and what is more important, did you catch anything? Thank you for the verses, dear; they are very nice, I am glad that you have decided to write more often to the Page and so shall look out for an other letter from you very soon. Dimity Doll. White Merit Card. (1930, January 25). The Canberra Times (ACT : 1926 - 1995), p. 6. Retrieved from http://nla.gov.au/nla.news-article2273650
Some of the most beautiful and clearest photos we found in both newspaper articles and in online digital records of Narrabeen during the 1930's stem from the camera of the brilliant Sam Hood. Our research pointed to another of his aquatic passions and a reason for frequent happy trips to get one or two seasonal shots of Narrabeen caping life: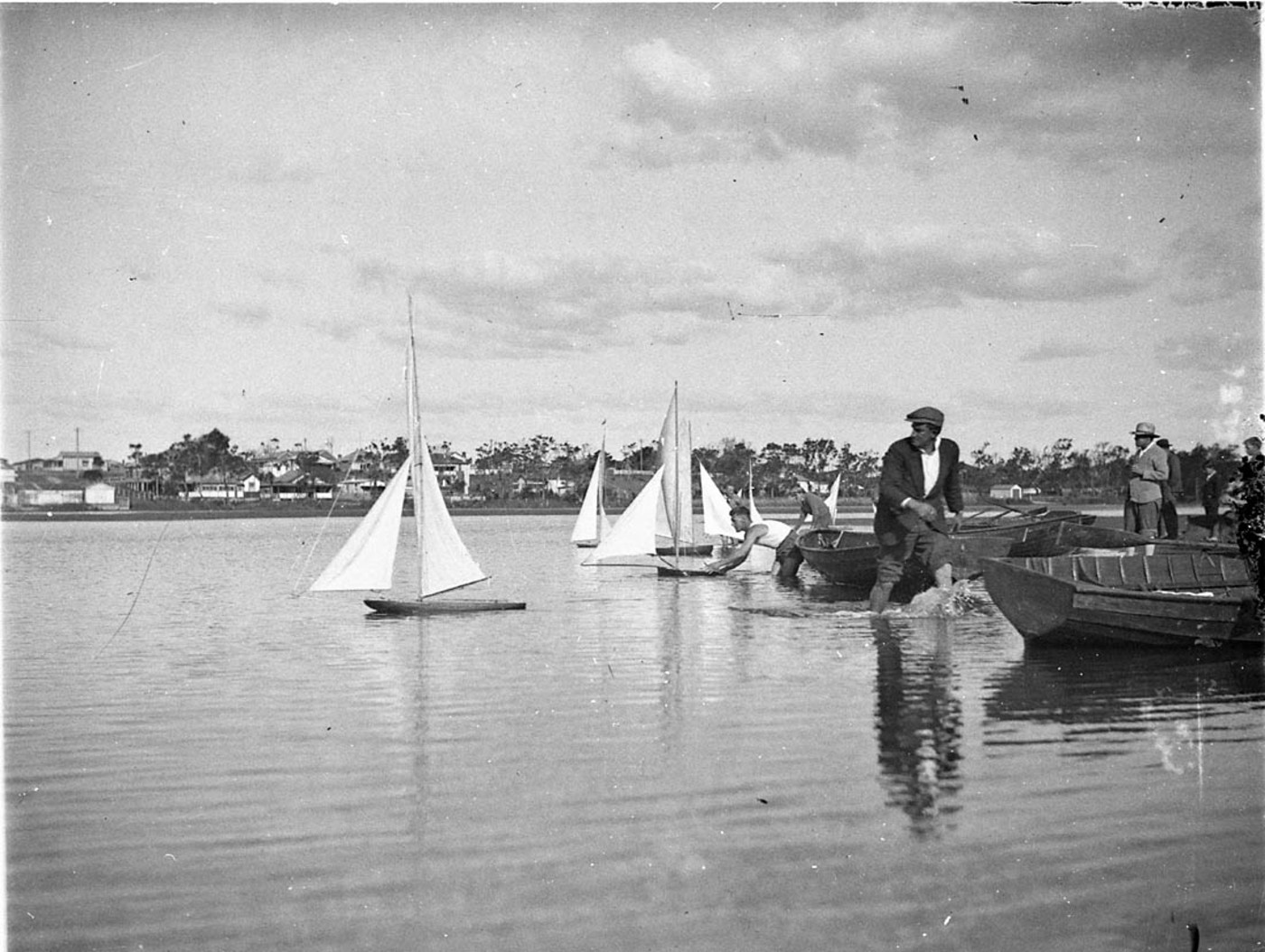 Sam Hood's eldest son Albert, an enthusiast, on right, in a cap. 1930s, Images. No.: Home and Away – 7200 and 7201, courtesy State Library of NSW.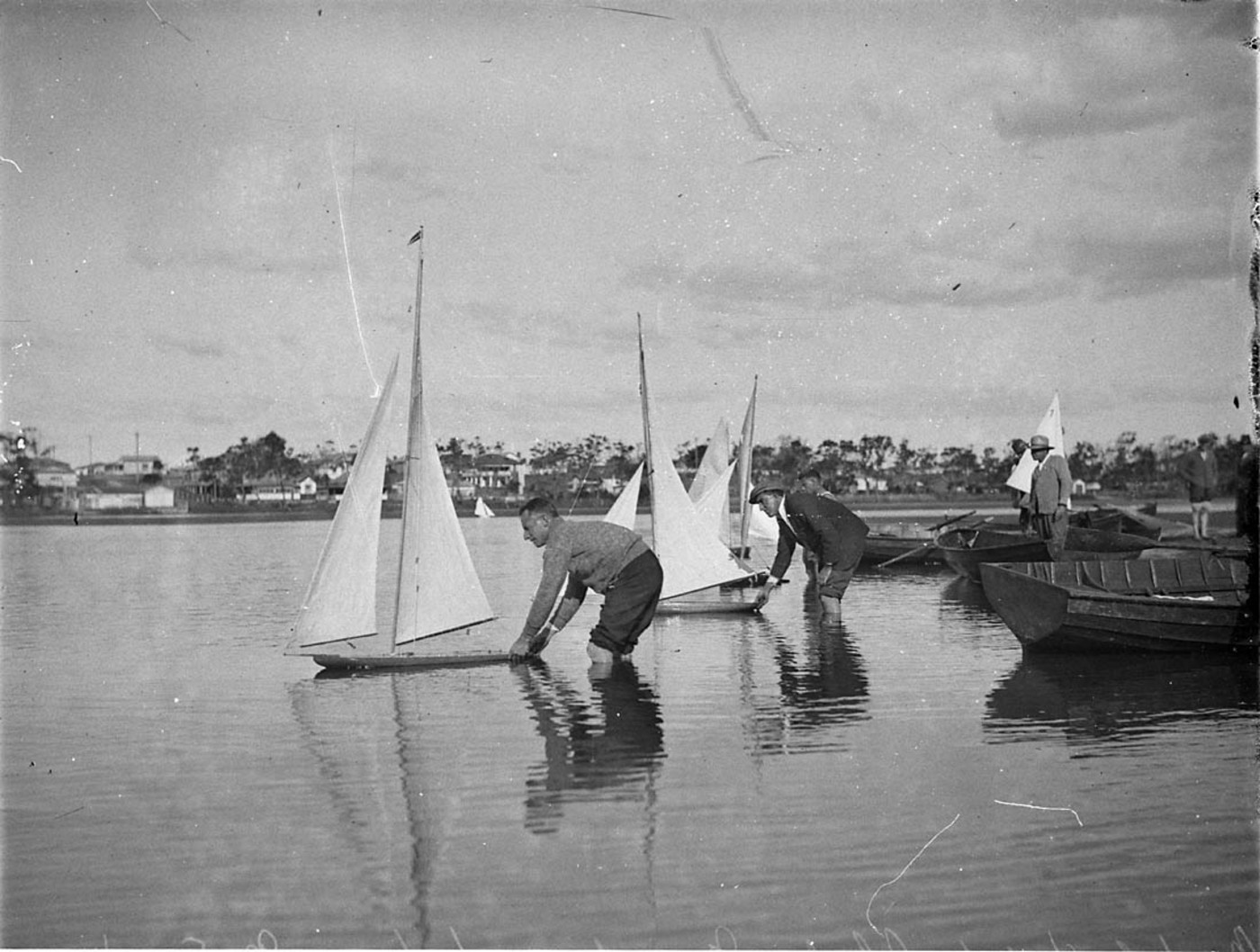 Russell Bishop & Albert Hood, Item: hood_07201h, courtesy the State Library of New South Wales.

Many visitors from interstate also came to Narrabeen and reports of happenings at Narrabeen, whether flood or fine, appear throughout the nation's papers:
ELTHAM. Eltham Citizens on Tour Advice has been received from the vicar (Rev. T. Mappin) that he reached Sydney safely and has since enjoyed-the scenic delights the northern State has to offer. He has visited most of the beaches, and was anticipating walking over the span of the Harbor Bridge, for which he had received a special permit. He was further looking forward to camping at Narrabeen, half-way between Manly and Palm Beach. ELTHAM. (1933, January 27). Advertiser (Hurstbridge, Vic. : 1922 - 1939), p. 2. Retrieved from http://nla.gov.au/nla.news-article56739841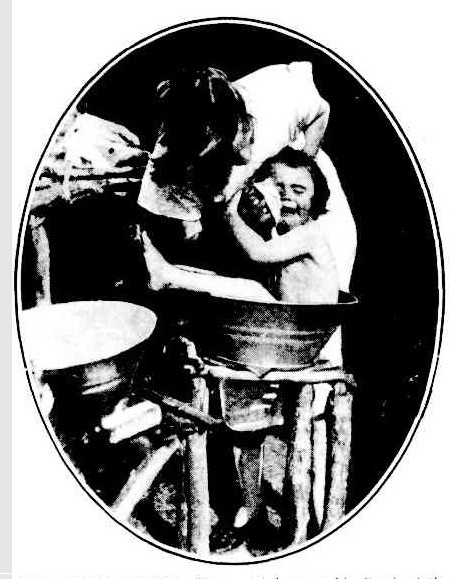 SOAPSUDS AND SCREAMS.-This young lady protested loudly when bath time came. A scene at Narrabeen (N.S.W.) during the holiday season. No title - picture to right. (1933, February 11). The Argus (Melbourne, Vic. : 1848 - 1957), p. 5. Retrieved from http://nla.gov.au/nla.news-article4524439
Before the Commencement of the 1933-34 season some long awaited, considering Newport's second rock baths were opened in 1924, calmer facilities for bathers were opened at Narrabeen. There were also a few protests against schemes that weren't about stopping flooding through a silted up lagoon-to ocean pathway:
Rock baths were built at North Narrabeen Headland at a cost of £494. This is the tenth rock bath built by the council. THE COUNCILS. (1934, January 9). The Sydney Morning Herald (NSW : 1842 - 1954), p. 13. Retrieved from http://nla.gov.au/nla.news-article17038853
NARRABEEN LAKES. Protest Against Shell-dredging Scheme.
The Parks and Playgrounds Movement decided yesterday to co-operate with other public bodies in a deputation to the Minister for Local Government to protest against the granting of a lease by the Mines Department to a public company for the dredging of Narrabeen Lakes.
Mr. A. J. Small (chairman) said that the company proposed to obtain shells for lime-stone. The dredging of the lakes for this purpose would be detrimental to the surroundings. At present the water in the lakes was shallow and safe for children and non-swimmers, but if the dredging was allowed a dangerous channel, 20 feet deep, would be created down the centre of the main lake. The waters would be stirred up, big holes would be created, and the beauty of Narrabeen Lakes would be spoilt.
The meeting also decided to protest against the action of the Main Roads Department in establishing a quarry on the hillside of Bilgoela Beach. The road from Sydney to Palm Beach, it was stated, was the most beautiful coast drive in the State, and the establishment of the quarry at Bilgoela ruined a delightful vista. The whole of the hillside over-looking the beach was being devastated.
The Main Roads Department, it was stated, was usually very helpful in preserving natural surroundings, but on this occasion no thought or consideration had been given to the question of town planning. NARRABEEN LAKES. (1934, December 6). The Sydney Morning Herald (NSW : 1842 - 1954), p. 15. Retrieved from http://nla.gov.au/nla.news-article28021345
HOLIDAY TRIPS. Popular Beauty Spots GOOD CAMPING. For those motorists who wish to confine their holiday trips to beauty spots within an easy run the N.R.M.A. Touring Department to-day suggests a number of places where there are good camping and picnicking arrangements. In the districts north of Sydney, there are good picnic and camping grounds at Narrabeen, Avalon Beach and Palm Beach. At Lake Park Reserve, Narrabeen, under the control of the Warringah Shire Council, there is ample space for camping and picnicking. At Avalon Beach, the N.R.M.A. camp is immediately behind the surf beach, and is one of the finest camping grounds near Sydney. It is well sheltered on the eastern side, and there is a considerable area of clean grassy ground. Fishing, surfing, golf and tennis are to be had and between Christmas and New Year sports will be organised among the campers. Reservations are made through Mrs. Ralph, The Avalon Store ('phone Y9112). PALM BEACH AREA At Palm Beach camping is permitted on Governor Phillip Park, between the golf links and the ocean beach. This area is controlled by the Warringah Council, and fresh water and sanitation have been installed. Stores may be obtained nearby. Palm Beach is 25 miles from Sydney. There is a splendid surf beach close to the camp and still water swimming may be had on the Pittwater side. Fishing is usually good. This locality Is ideal for a summer holiday. HOLIDAY TRIPS. (1935, December 28). The Maitland Daily Mercury (NSW : 1894 - 1939), p. 10. Retrieved from http://nla.gov.au/nla.news-article127100097
The 1930's saw many in Australia made homeless during the Depression. Camp cities, not all official, or living in camping grounds, was an alternative to not living anywhere. Others of course used this as a testing ground prior to moving into the area – buying their little piece of green land and erecting a home on it – work could be found in Warriewood bringing in crops, fish could be found by walking onto the beach and throwing in a line:
A canvas town for holiday - makers has sprung up overnight at Narrabeen, where hundreds of families are enjoying the open air life. Right: Camel rides are a great attraction. PICTURESQUE SCENES AT PITTWATER REGATTA — INTERNATIONAL TENNIS — HOLIDAYMAKERS UNDER CANVAS. (1937, December 28). The Sydney Morning Herald(NSW : 1842 - 1954), p. 10. Retrieved from http://nla.gov.au/nla.news-article17443640
Narrabeen, on the coast 15 miles north, of Sydney, Lake Park Reserve is available for motor camping. This area is on the left side of the road way immediately north of the bridge across the entrance to the lake. Camping Grounds Near Sydney. (1938, April 15). The Braidwood Dispatch and Mining Journal (NSW : 1888 - 1954), p. 4. Retrieved from http://nla.gov.au/nla.news-article120705410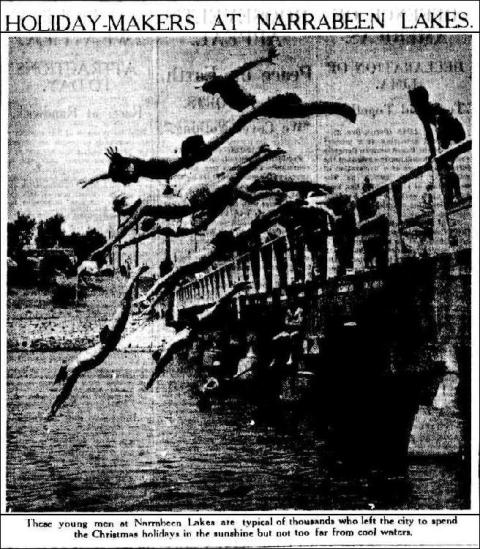 HOLIDAY-MAKERS AT NARRABEEN LAKES. These young men at Narrabeen Lakes are typical of thousands who left the city to spend the Christmas holidays in the sunshine but not too far from cool waters. Picture: HOLIDAY-MAKERS AT NARRABEEN LAKES. (1938, December 26). The Sydney Morning Herald (NSW : 1842 - 1954), p. 8. Retrieved from http://nla.gov.au/nla.news-article17542475
The outbreak of World War II an Air Atillery attack unit was set up at Narrabeen and reports show men practicing using this equipment. Once again the same pictures that appear in these articles are also available online under 'Narrabeen' at the State Library of NSW. These units took over a portion of 'Lake Park'.
From Warringah Shire Council Minutes of Meetings records: Australian Military Forces, Eastern Command, 14/6/42, advising that a small part of Lake Park,Narrabeen, was recently occupied for defence purposes, and requesting confirmation that the Council does not desire to claim compensation in respect of Park such occupation. Resolved, - They be informed the Council does not require compensation provided the ground is restored to its original state.
Australian Military Forces, 12/8/42, advising that it is quite agreed that at the termination of the Commonwealth's occupation of Lake Park, Narrabeen, it will be the responsibility Park of the Commonwealth to see that the Perk is restored to its original state. "Received" 24.
UNDER CANVAS AT NARRABEEN. Not only ice chests, kitchen dressers, and family pets accompanied holiday-makers to the camping area at Narrabeen, but also a piano was installed in one tent. Neighbouring tent dwellers crowded in to sing choruses. More than 6,000 are under canvas for the holidays. UNDER CANVAS AT NARRABEEN. (1945, January 2). The Sydney Morning Herald (NSW : 1842 - 1954), p. 4. Retrieved from http://nla.gov.au/nla.news-article17940043
Post WWII a scarcity of building products and homes for returning service people, who could now marry their sweethearts, saw people filling the park anew, as much for living permanently in as for seasonal holidays. The period up until the mid 1950's is also when annual 'storm and flood' reports equalled those of the simple delights of being beside the sea under canvas. The smiles on some faces, and bemusing lines about having caught their breakfast fish by stretching out a hand, indicates that if you're going to go camping in Australia, you can almost bet that it will rain and shall begin to clear the moment you have set off for home:
There have been 900 tents at Lake Park, Narrabeen Lakes. Caravan days. (1947, January 7). The Sydney Morning Herald(NSW : 1842 - 1954), p. 1 Supplement: The Sydney Morning Herald Magazine. Retrieved from http://nla.gov.au/nla.news-article27904020
TATTERED TENT TOWN AT NARRABEEN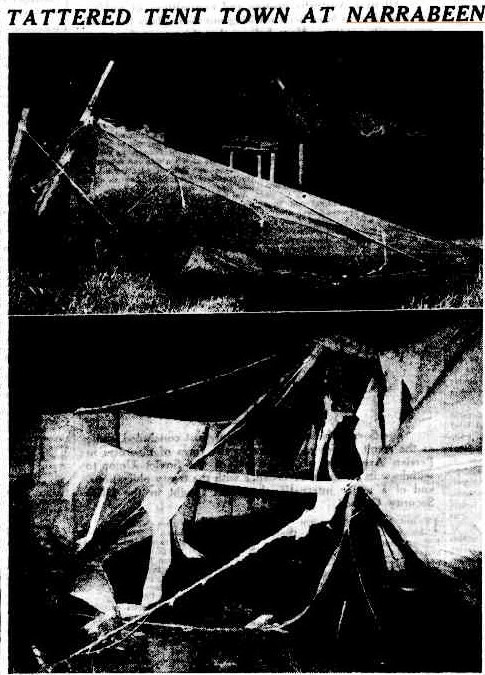 Torn to ribbons by wind yesterday morning and flooded by continuous heavy rain, these "homes" in Narrabeen's Tent Town were forlorn and deserted last night. Illustrated. TATTERED TENT TOWN AT NARRABEEN. (1946, April 17). The Sydney Morning Herald (NSW : 1842 - 1954), p. 1. Retrieved from http://nla.gov.au/nla.news-article17976502
GIRL SAVED FROM DROWNING. A youth saved Kay Wilcox, aged 7,of Ocean Street, Penshurst, from drowning in Narrabeen Lakes yesterday. Alan Taylor, of the Lake Park camping area, was standing on a bridge when he saw the girl sink in about 12ft of water. He dived in and brought her unconscious to the bank. He threw a blanket over her, and ran for lifesavers, who gave her artificial resuscitation until Manly Ambulance arrived with carbogen gas equipment. The child responded sufficiently to be taken to Manly Hospital, and was out of danger last night. GIRL SAVED FROM DROWNING. (1947, January 9). The Sydney Morning Herald (NSW : 1842 - 1954), p. 5. Retrieved from http://nla.gov.au/nla.news-article27904461
A FITNESS CAMP AT NARRABEEN is to be established on the Middle Creek side of the main lake at Narrabeen, near the Cromer golf course and the Wakehurst Highway. The Minister for Education. Mr. Heffron, said last night that instructions had been given for building the camp, which would be located within 200 acres of land taken over by the Government.
Facilities for camping, boating, and swimming would be provided and children would be able to receive instructions in social studies, camp craft, plant life, and marine growth. Mr. Heffron said it was intended to make camping an important part of the physical education programme. FITNESS CAMP AT NARRABEEN. (1947, July 7). The Sydney Morning Herald (NSW : 1842 - 1954), p. 4. Retrieved from http://nla.gov.au/nla.news-article18033682
Hail Damage SYDNEY. A severe hail storm, accompanied by fierce gusts of wind, caused thousands of pounds worth of damage in Sydney's northern suburbs. Vegetable and flower growers' glasshouses at North Narrabeen and Mona Vale were wrecked, and the fibro walls of uncompleted houses were torn off by the wind.
At North Narrabeen, many surfers, caught unawares by the sudden storm, were bruised by large hailstones. Campers in the Narrabeen holiday camping area were flooded out, and several parts of the camp were temporarily isolated. Hail Damage. (1948, January 2). Barrier Miner (Broken Hill, NSW : 1888 - 1954), p. 6. Retrieved from http://nla.gov.au/nla.news-article48500554
PANIC IN CAMPING AREA. The storm struck the Narrabeen camping area with terrific force. Within 30 seconds the wind had destroyed eight tents and much of the campers' gear. One of the campers, Mrs. J. McDonald, said most of her household goods in her tent were completely destroyed. A steel ice chest was flattened like a board.
GRABBED BABY
She said: "A man ran into our area and yelled, 'There's an 80-mile-an-hour wind com- ing.' " "We saw a great black cloud racing towards us. "I grabbed my three-year-old baby and ran 30 feet to Mr. J. Manning's tent. The storm struck before we could do any- thing. I have never seen anything like it. "About five others and myself clung on to Mr. Manning's tent. We thought it would take off."
Mr. Manning said: "The women in the area panicked, but I don't blame them." PANIC IN CAMPING AREA. (1949, November 28). The Sydney Morning Herald (NSW : 1842 - 1954), p. 1. Retrieved from http://nla.gov.au/nla.news-article18137593
HOMEWARD RUSH. Late in the afternoon the city teemed with home-going crowds. More than 30,000 holiday makers returned to Sydney by train last night, and 20,000 who had spent the holidays in the city left for their home towns. Seventy-one trains, including 45 specials, were crowded with people from the Blue Mountains and coast resorts. Earlier trains were only partly filled. Many people had left the re- turn journey till late, and the peak period at Central Station was from 9 to 11 p.m. In 10 minutes 84 taxis left the station. Late last night the assistant Stationmaster at Central, Mr. W. Carter, said: "It has been one of the smoothest holiday periods we've ever had.
Many people staying at holiday resorts are not expected to return until the end of the school holidays. The management of the Narrabeen camping ground reported that only a few people had left during the day, and that no great exodus was expected later in the week. HARVEST FROM HOLIDAYS. (1949, January 4). The Sydney Morning Herald (NSW : 1842 - 1954), p. 3. Retrieved from http://nla.gov.au/nla.news-article18102450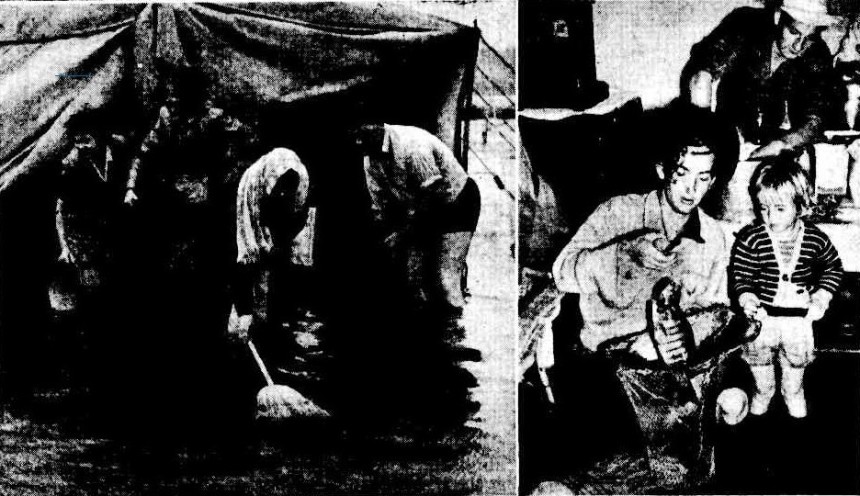 PICTURES: Lower Left: Holiday campers at Narrabeen reserve salvaging their belongings. These are some of the hundreds affected by the flood at the reserve. Lower Right: Mr. J. Thompson, of Lidcombe, with fish he caught in his tent during the flood at Narrabeen camping reserve yesterday. RAIN SCENES IN SYDNEY YESTERDAY. (1949, January 11). The Sydney Morning Herald (NSW : 1842 - 1954), p. 1. Retrieved from http://nla.gov.au/nla.news-article18091215
Campers Clean Up Holidaymakers at the Narrabeen camping area on the north coast began cleaning up today. The water level of the near by lake, which overflowed and flooded portion of the area yesterday, dropped considerably overnight. MAROONED CAMPERS RESCUED. (1949, January 11). The Daily News (Perth, WA : 1882 - 1950), p. 4 Edition: HOME. Retrieved from http://nla.gov.au/nla.news-article83762173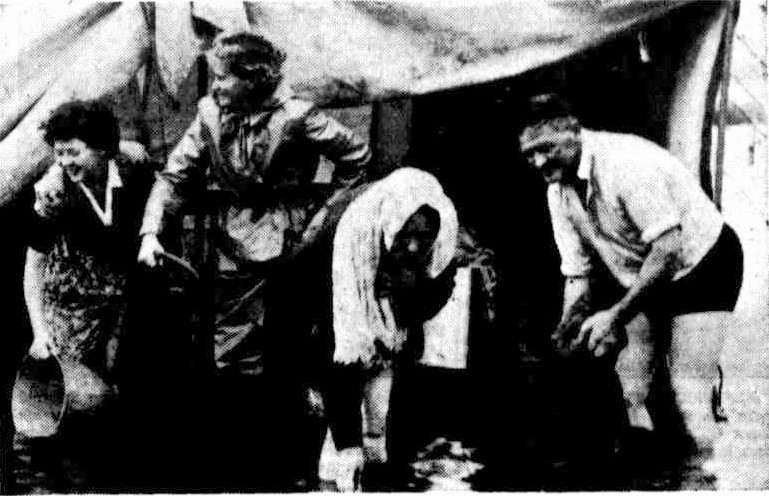 HOLIDAY CAMP CHAOS: More than 6000 occupants of the holiday tent town at Narrabeen. N.S.W., spent hours of anxiety early this week when a deluge of ten Inches caused the Narrabeen Lakes to flood. Floodwaters banked back and swirled through the tents to a depth of 4ft. in places. No Title. (1949, January 13). The West Australian (Perth, WA : 1879 - 1954), p. 6. Retrieved from http://nla.gov.au/nla.news-article47637971
GIRL CRASHES DOWN CLIFF. Sydney.Gwendy Howe13, fell 60 feet down a cliff at Narrabeen. She escaped with concussion and bruises. Gwendy, who lives in the Narrabeen camping area, was playing with four friends at the top of the North Headland. when she lost her balance. She was admitted to Manly Hospital for observation. GIRL CRASHES DOWN CLIFF. (1950, October 3). Barrier Miner (Broken Hill, NSW : 1888 - 1954), p. 6. Retrieved from http://nla.gov.au/nla.news-article49584015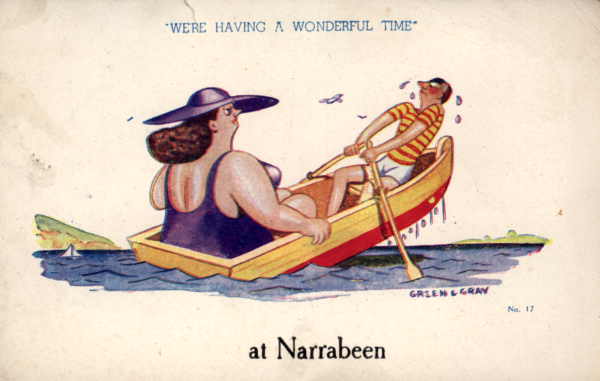 "WE'RE HAVING A WONDERFUL TIME" at Narrabeen – circa 1950: postcard: Image No: pc003647, courtesy State Library of Victoria.
Hurt By Exploding Fire Extinguisher. Thomas Gimbert, 39, of Lake Park Road, Narrabeen, had his jaw fractured and his face severely cut yesterday afternoon when a fire extinguisher exploded in his face. Gimbert is a groundsman at Narrabeen camping area employed by Warringah Shire Council. He was refilling an empty fire extinguisher when it exploded and the top struck him in the face. Manly Ambulance took him to Manly District Hospital. Hurt By Exploding Fire Extinguisher. (1951, January 11). The Sydney Morning Herald (NSW : 1842 - 1954), p. 3. Retrieved from http://nla.gov.au/nla.news-article18194624
SYDNEY BATTERED BY WIND AND RAIN. RIGHT: After her tent was blown down at the Narrabeen camping area, Mrs. F. Osborne (right) and her four young children sheltered in a tent occupied by Mrs. J. Shepherd and her family. Eleven people are now living in the tent. SYDNEY BATTERED BY WIND AND RAIN. (1951, June 9). The Sydney Morning Herald (NSW : 1842 - 1954), p. 3. Retrieved from http://nla.gov.au/nla.news-article18222620
TENTS FLOODED Part of the camping area at Narrabeen which was flooded yesterday. TENTS FLOODED. (1952, August 6). The Sydney Morning Herald (NSW : 1842 - 1954), p. 4. Retrieved from http://nla.gov.au/nla.news-article18276459
THE MOTOR WORLD NEWS AND NOTES FROM THE N.R.M.A. NEW SYDNEY CAMPING GROUNDS- The N.R.M.A. reports that Warringah Shire Council has established two new camping grounds on the peninsula north of Manly. One, for caravans only, is at the beach end of Golf Avenue, Mona Vale. This is available until March 31. Water supply is available, and surf beach and rock baths, are adjacent. Charge is 15/ a week. This council has also established a summer camping area for tents and caravans at Middle Creek, Narrabeen Lakes,. for use until April 30. Facilities include spring water and lavatory accommodation, bathing can be had in Middle Creek and the lakes. Charge is 15/- per week, or 5/- per day . Applications for camp sites should be made to Council Chambers, Brookvale, N.S.W. THE MOTOR WORLD. (1952, December 19). Western Herald(Bourke, NSW : 1887 - 1970), p. 4. Retrieved from http://nla.gov.au/nla.news-article103924743
400,000 In Need Of Houses. At least 100,000 families, consisting of about 400,000 people, were in urgent need of housing in N.S.W., Mr. R. W. Askin (Lib., Collaroy) said yesterday. Mr. Askin was speaking in the Legislative Assembly during the Address-in-reply debate. He said that 50,000 of these families lived in tents, garages, tenements, or shared houses. As well, there were now well over 50,000 sub-standard dwellings.
"This is a shocking commentary on the failure of the Cahill Government's housing programme," he said.
Mr. Askin said that in his electorate hundreds of families lived permanently in tents at the Narrabeen Park camping area. Under the stress of these conditions, many families were being broken up. A County of Cumberland investigation of a sample slum area in 1947 showed that in a large percentage of cases, living conditions were shocking. 400,000 In Need Of Houses. (1954, September 2). The Sydney Morning Herald (NSW : 1842 - 1954), p. 5. Retrieved from http://nla.gov.au/nla.news-article18453233
We're going to close this short overview of Camping at Narrabeen with a puzzler we're still getting to the bottom of. Many people swear they waved at Queen Elizabeth II during her 1954 visit as she went on a trip to Palm Beach, and there are too many who have stated this for all to be wrong. Eventually the truth shall out of course, and while finding a timeline that attests to our love of camping at Narrabeen another thread in this puzzle has also revealed itself: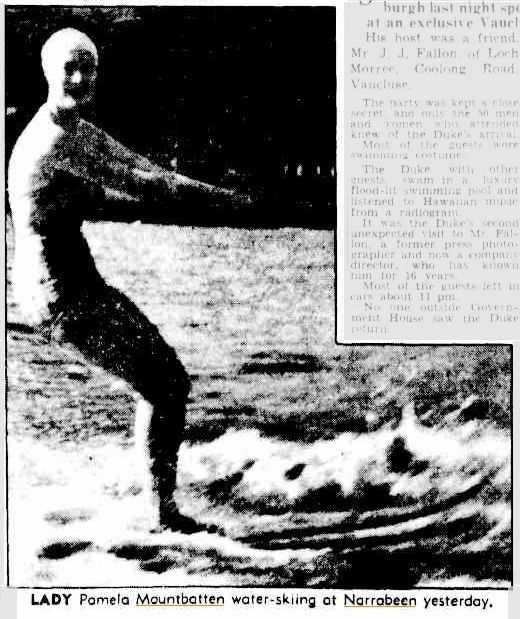 Ladies-in-waiting Confuse Crowds. Cars containing the Queen's Ladies in-Waiting confused crowds yesterday who rushed to see the Queen pass. The people thought the Queen would be in the cars. The Ladies-in-Waiting are Lady Pamela Mountbatten and Lady Alice Egerton. Both went driving-Lady Pamela to Narrabeen Lake to water-ski, and Lady Alice to Palm Beach. Hundreds thought Lady Pamela was the Queen when they saw her driving to Narrabeen Lake. She drove to the lake in a Royal tour Daimler. Two men went with her to the lake, and also Miss Elizabeth Northcott, daughter of the Governor of N.S.W.,Sir John Northcott.
ARMY DRIVERS
The party used two cars driven by Army personnel. Crowds rushed to the road-side, waving flags and cheering when they saw the two cars approaching. Both cars were black and both bore silver crowns. About 150 people were waiting outside Dalwood Homes, in Wakehurst Park-way in case the Queen passed. They groaned with disappointment when they saw that neither the Queen nor the Duke of Edinburgh was in the cars. Groups of people further along the road caught only a glimpse of the occupants, and thought they had seen the Queen. When told they had not seen the Queen they decided to wait in case she also passed.
Mr. W. Ledsan, president of the Dolphin Water Ski Club, met the party at the lake. Lady Mountbatten then changed from a light cotton print frock into a white swim-ming costume and she and Miss Northcott climbed into a motor boat. Mr. Ledsan drove the motorboat to the end of the lake, where the water was calm. Half an hour later the boat returned towing Lady Pamela on water-skis. Water-ski experts, among a crowd of 200 who watched, said Lady Pamela was a proficient water-skier. She was on the lake for nearly an hour.
PALM BEACH TRIP
Lady Alice Egerton, meanwhile, was in a party of two Royal cars that went to Palm Beach. With her were the Queens secretary, Sir Michael Ademe, her assistant secretary, Colonel Martin Charter is, the Minister in charge of the Royal tour, Mr. Eric Harrison, and the Commonwealth Director, Lieutenant-Colonel F. H.Berryman. Crowds cheered, waved, and tooted motor horns as the cars passed them on the way to Palm Beach. When they saw the Queen was not in the cars they also decided to wait for the Queen. A rumour spread that the Queen's car would come next. At Palm Beach the party went to the home of Mr.Sam Walder. All the party surfed later except Lady Alice, who sat on the beach. Mr. Walder's home is near the home of Mr. J. Carroll, where it was rumoured last week that the Queen and Duke would rest. Ladies-in-waiting Confuse Crowds. (1954, February 8 - Monday). The Sydney Morning Herald (NSW : 1842 - 1954), p. 4. Retrieved from http://nla.gov.au/nla.news-article18408639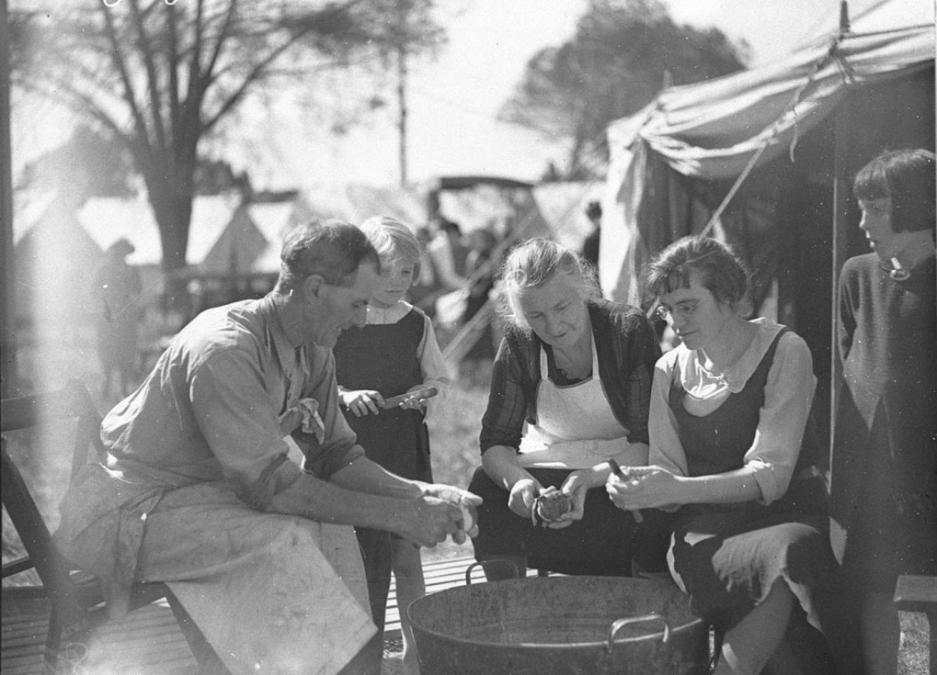 Seaside Camp project at Narrabeen (?), 1930's, by Sam Hood, Image No.: Home and Away - 808.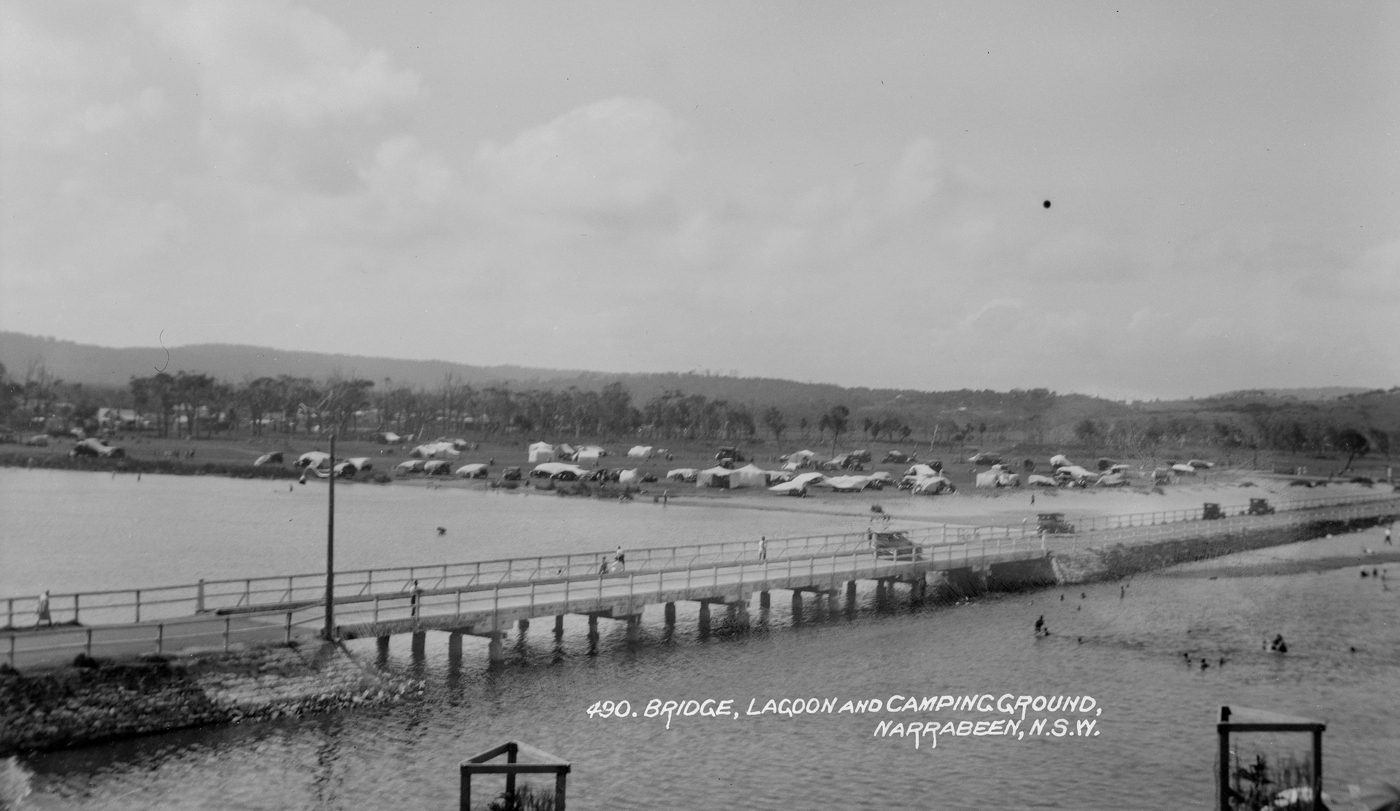 Samuel Wood - postcard photonegatives of Narrabeen, ca. 1928. Images No.: a1470095 and Bridge, lagoon and camping ground, Image No.: a1470093, courtesy State Library of NSW.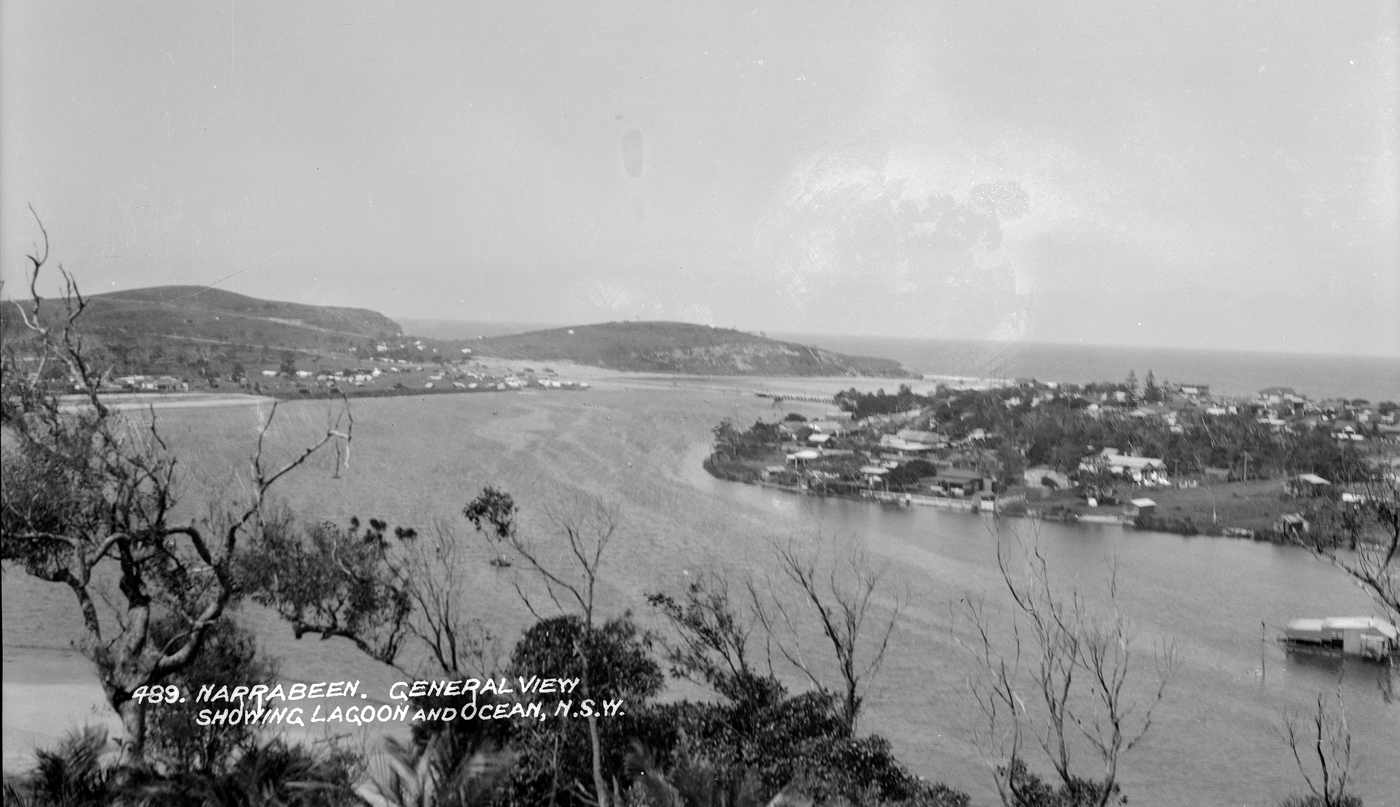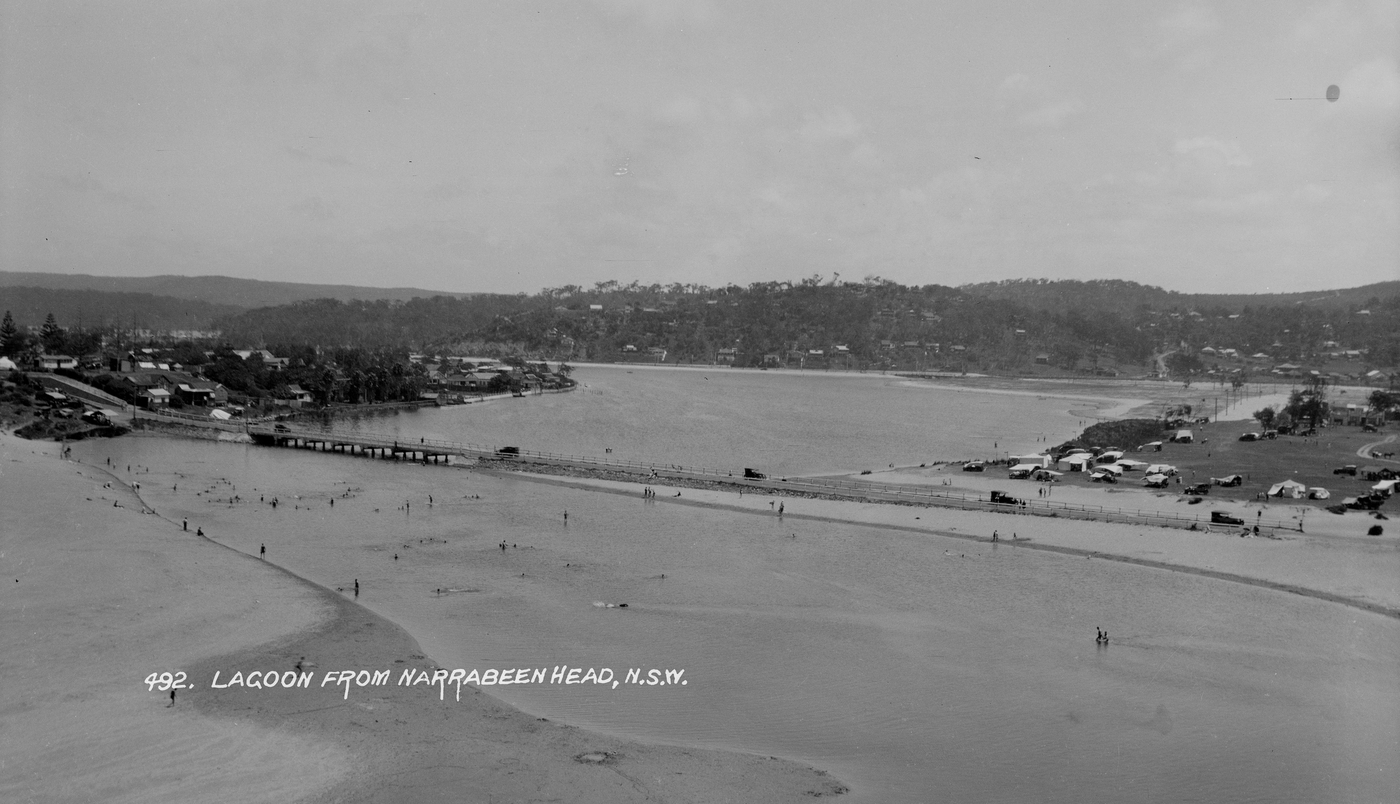 Samuel Wood - postcard photonegatives of Narrabeen, ca. 1928. Image No.: a14700932, courtesy State Library of NSW.

Incidentally:
TRAINING CAMP FOR BOY SCOUT OFFICERS. APPROACH TO THE CAMP, BETWEEN PYMBLE AND NARRABEEN, TO BE OPENED BY THE GOVERNOR-GENERAL ON MARCH 7.
This beautiful stretch of country is the gift of Mr. V. Roinel and Mr. and Mrs. Danvers Power, to the Boy Scout movement of New South Wales, for a training camp for officers and rovers, similar to the well known establishment at Gillwell Park in England. The cleared space In the picture indicates the site of the actual camp itself. The estate, which is now the splendid domain of the Boy Scout movement, is known as Korman Hurst, and is at the foot of Tumbledown Dick Hill, between Pymble and Narrabeen. Mr. Kelso King has provided the funds for fitting out the camp, which will be opened on March 7 by the Governor-General (Lord Forster). The estate, eminently fitted, li. is considered, for tho work of the movement, includes three structures, one of which a three-roomed cottage will be used as a clubroom and library. The two other buildings will be used for Red Cross purposes and for stores and offices. An Honourable Charge has been Issued by the Chief Scout (Major-Gcneral Sir Robert Baden-Powell) to Mr. Hartley MacAlllstor, Deputy Commissioner, authorising him to act as a Deputy Camp Chief at the now camp. Accompanying this document were the little badge beads of office. TRAINING CAMP FOR BOY SCOUT OFFICERS. (1925, January 17). The Sydney Morning Herald (NSW : 1842 - 1954), p. 13. Retrieved from http://nla.gov.au/nla.news-article16187662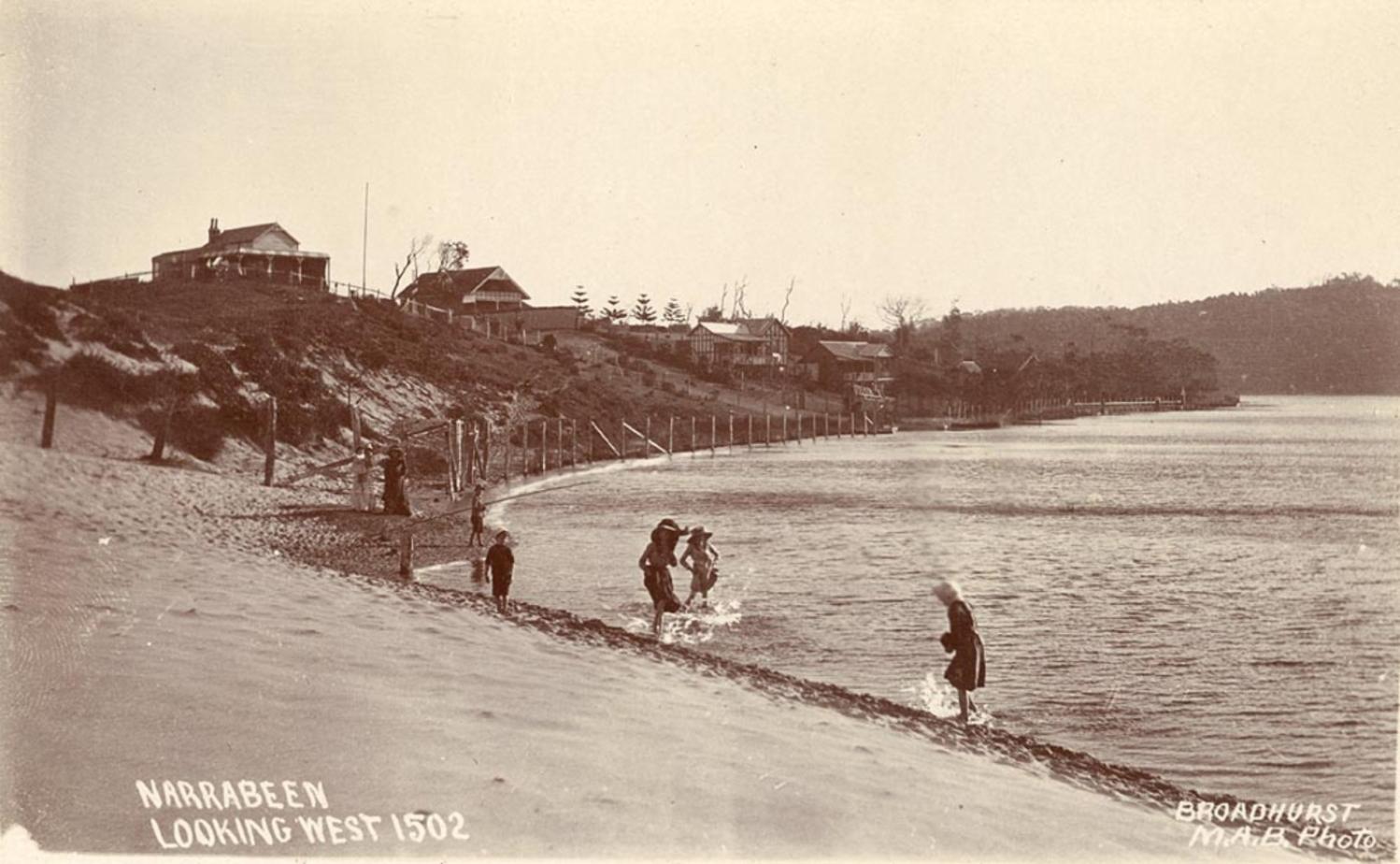 From Scenes of Narrabeen album, ca. 1900-1927- Sydney & Ashfield : Broadhurst Post Card, courtesy State Library of NSW. Images No: a106056h (above) and a105060h.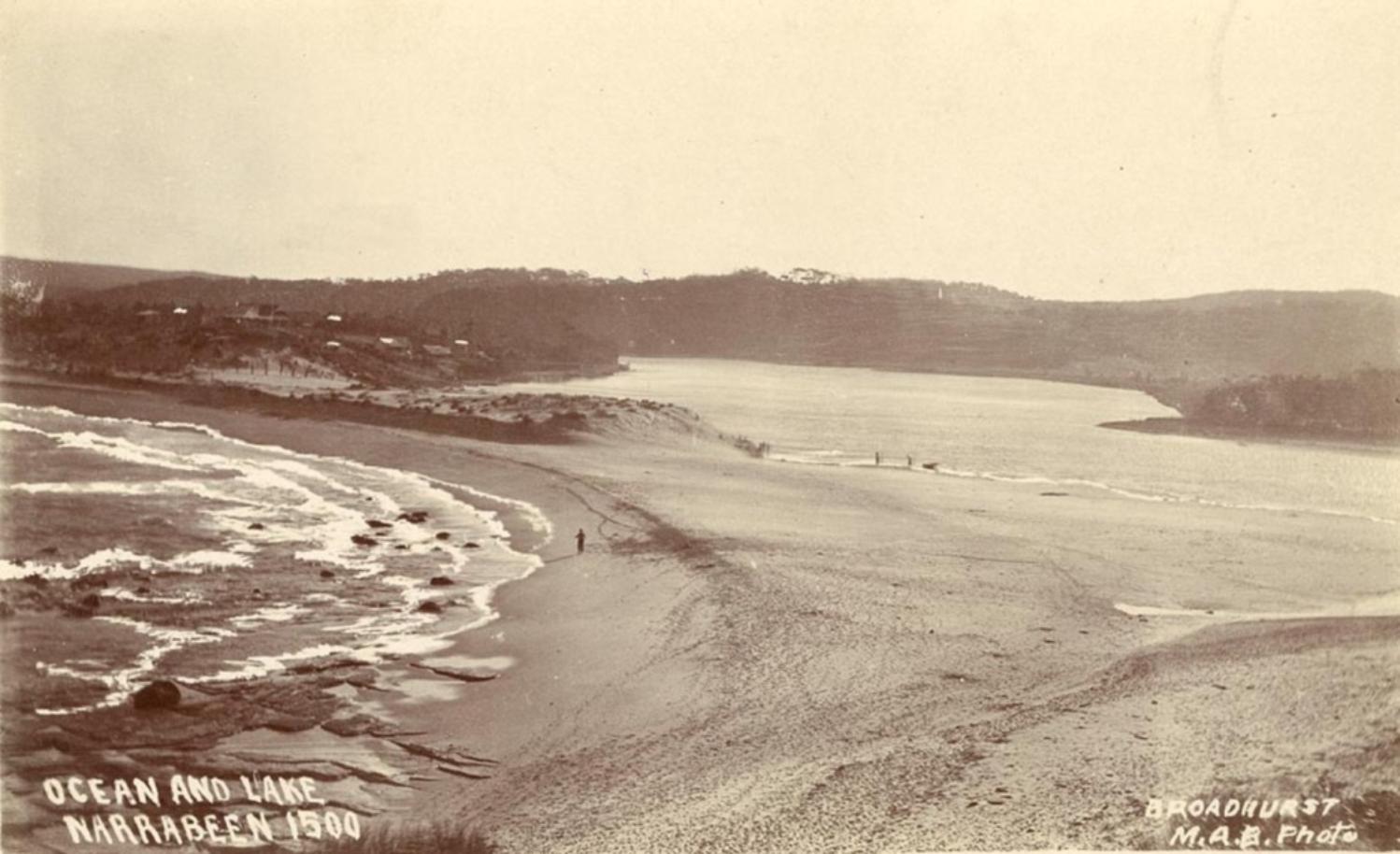 Camping at Narrabeen - A Trickle then a Flood threads collected and collated by A J Guesdon, 2014.