October 6 - 12, 2013: Issue 131
A History of Pittwater Parts 1 and 4
by John Illingsworth
We are very fortunate this week to share with you two wonderful films by the very talented John Illingsworth. These extensive and well researched pieces utilise not only the natural environment but many historical images and represent close to one thousand hours of work. John is the only technician so is doing it all on a budget of zero what's more. John has kindly sent through an overview of both these Histories and those who have helped put them together:
About the Making of these films:
Part 1 was completed a year ago but the above updated version is significantly improved – it was only uploaded today. Part 4 was completed a week ago.
Part 5 will be next because it will round off the WWII story – it will really be part 2 of part 4. Together they could be called PITTWATER'S WAR. I hope to start parts 2 and 3 next year.
The reason for jumping ahead to part 4 is that a group of people working to uncover the partially lost history of the fortress are active right now – it wasn't reasonable to ask them to wait a year or two while I got my act together.
They are a good group – Rohan Walter of Newport, Vic Rae at Cessnock, Peter Adderley and Peter Rea who live on the north side of Broken Bay, Natasha Funke is an NPWS ranger, Jim Macken is from Coasters Retreat and Jack 'Bluey' Mercer is a rivetting 90 year young man from Lugarno who was one of the 80 odd men who actually installed the guns at West Head. All of these people assisted the film enormously.
Rohan organised his friend David Geer to, very generously, fly his Searey seaplane from north of Brisbane down to Pittwater for so we could shoot the aerial footage.
Vic Rae edits Gunfire, the magazine of the Royal Australian Artillery Association (NSW) Inc.
Peter Rea and Peter Adderley are local historians and Peter Rea is currently mounting an exhibition on the Sydney Harbour submarine attack.
Jim Macken is of course a well known (and much loved) local historian who very generously gave me unfettered access to all of his material along with permission to use it however I wished.
Natasha is an energetic, passionate young woman who is helping to retrieve this almost lost knowledge and put it in the public space.
With Bluey's living memory they've pieced together much of what was almost lost. For example, not many people will recall there was a railway on the cliff face a West Head. It's gone now but the foundation remains. It was inclined at a 50 degree angle. What people didn't know, until Bluey told them, was that there were two parallel railways connected by a pulley system that geared them 2:1. The reason why these guns were mounted near to water level and not on the top of the cliff is equally fascinating.
The film tries to set West Head, Kuringai Chase and Commodore Heights within an over-arching historical narrative that is national rather than parochial. Local history is all well and good, and people are always interested in their own area, but an historian's task (as I see it) is to 'frame' that local knowledge within the larger historical context. That way small local events can be seen to have national relevance. That is why I range widely in the discussion – or widely for a localised history at least.
Another, not a member of the group, is Tony Dawson. Tony has written a terrific history of Kuringai Chase and Commodore Heights. 'The Commodore and the Pastoralist' is published the Manly Warringah Historical Society – it's the real deal, nothing faux about it. Tony also gave me permission to use his work as I wished, and he supplied me with some terrific images.
Everyone has been enormously helpful but I particularly thank Jim Macken and Tony Dawson for their intellectual generosity.
A HISTORY OF PITTWATER – PART 1: DISCOVERY (improved version) By John Illingsworth
A HISTORY OF PITTWATER – PART 4: WEST HEAD FORTRESS By John Illingsworth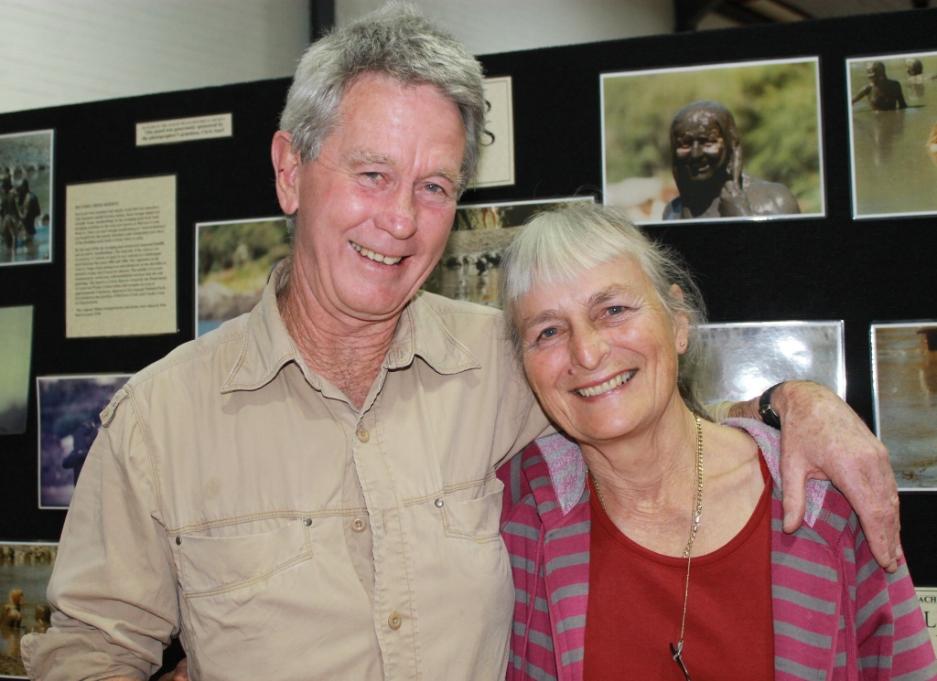 John and Lyn Illingsworth.
A HISTORY OF PITTWATER - PART 1: DISCOVERY (improved version) - Published on Oct 2, 2013
The discovery and first explorations of Pittwater, Broken Bay and the Hawkesbury River by Governor Arthur Phillip 1770-1789. Strong focus on plants, animals & the First Australians as seen through the journals of the officers and the First Fleet water-colours. This version has improved sound, clearer narrative and location subtitles.
A HISTORY OF PITTWATER - PART 4: WEST HEAD FORTRESS - Published on Sep 27, 2013
The story of the WWII fortress at West Head up to March 1941, including the installation of the guns as told by the man who was there - Jack 'Bluey' Mercer. The history of Commodore Heights, attempts by speculators to subdivide Kuringai Chase and the building of the Hawkesbury River railway bridge. An over-arching strategic theme from 1882 onwards reveals how the defence of Pittwater, Broken Bay and the Hawkesbury River railway bridge was essential to the war effort and the defence of Sydney.
Copyright John Illingsworth, 2013.