April 10 - 16, 2011: Issue 1
Marie Beuzeville Byles
8th of April, 1900 to 21st of November, 1979
Marie Byles' birthday was two days ago. Described by some as 'prickly', 'difficult' and 'intimidating' of presence, Marie remains a singular woman of strength whose actions and deeds are a truer manifestation of what lived in her heart. As New South Wales' first female solicitor Marie employed mostly women at a time when women working was considered unacceptable, even if they toiled all day and half the night as housewives. Marie encouraged and helped single mothers, when these were pariahs in our society, to find their own financial independence. To many she was refuge of common sense and decency. Her refuge was the Bush and views of trees, miles and miles of trees. Her gift to subsequent generations is spoken quietest by her battles for our environment.
"I do think that if we relax and let go and seek harmony with the natural things around, then Nature may be the goddess to us…Can the bush help us keep smiling? That is the test of its "spiritual value." I think it can – if we let it!"
(Byles, Bona Dea 1945, 11).
Her time spent at Seawards, Sunrise Road, Palm Beach was certainly inspiration for a lifelong love affair with the bush. Weekends were spent tramping up and down hills in the area, marvelling at the sprays of bush-flowers. Her list of places 'adored'; Bouddi, Sandy Beach, Sandy Cove, Barrenjoey, Empire Bay, Pretty Beach, Currawong, (Hindsight, August 2010).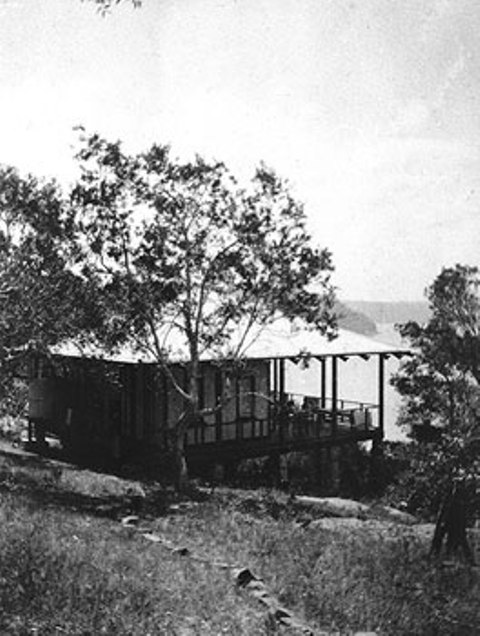 Seawards, Sunrise Road, Palm Beach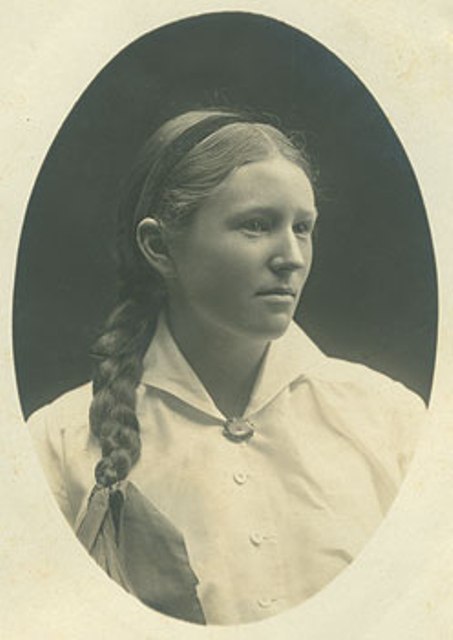 Seawards was a simple cottage structure with open 12 foot verandas on which the family slept.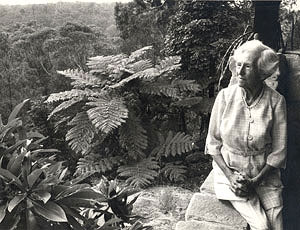 It is similar to what Marie later built at the home she named 'Ahimsa'. Marie loved the outdoors and slept in the open all year round on these wide porches, considering them "for eating, sleeping and living" (Hindsight, 2010). Marie's attitude towards structures is reflected in this, to build buildings that blend in with the landscape instead of attempting to block it out or overshadow it. Hers was a lyrical celebration of the beauty there, of a Garden that speaks softly with your soul.
Marie cultivated like minded individuals. "Byles was friends with Clare Stevenson and Stella James who had a Burley Griffin home designed for them in bushland on Sydney's northern beaches. According to Stephenson, the design of the Stella James house in Avalon reflected the relationship between these women as equal partners and their desire to fit in with their surroundings rather than dominate them." (Cadzow, p.16, 2007).
It was this love of the Bush and our area that made her and the Sydney Bushwalkers strive to ensure the preservation of what has become the Bouddi National Park. Bouddi, from Gurungai, meaning 'The heart'. From Seawards Marie used to look across the water at what would become Bouddi National Park, her 'fairyland' (Dufty, Hindsight, 2010) and want to walk and camp there. Our area was a lot wilder then and she and her fellow bushwalkers had to make their own trails.
Her belief and practice of seeking the Bush as her Sanctuary, her 'fairyland', gives her the last words in this small celebration of one of our community cognizant locals,
"There is something in the contact with the human being and Nature which is very hard to explain. (when) you lie on Mother Earth and look up at the stars, the life-force seems to bring a new health to your tired limbs and worried mind."
Marie Beuzeville Byles.
Further reading:
Ahimsa ( ) n. A Buddhist and Hindu doctrine expressing belief in the sacredness of all living creatures and urging the avoidance of harm and violence.
Ahimsa is a term in Sanskrit that refers to non-harming or non-violating self or others. The sutra, or aphorism on ahimsa, states that in the presence of one in whom this is solidly established friendliness prevails and violence and hostility dissipate.
In 1932, the National Parks and Primitive Areas Council was created in New South Wales with the objective of locating and identifying areas suitable for new national parks and primitive area reserves. By 1957 this group was known as the National Parks Association and was working to establish an authority to administer all national parks throughout the state. A decade later, the National Parks and Wildlife Act became law in New South Wales. This legislation created a single agency, known as the National Parks and Wildlife Service, whose responsibility was to care for, control and manage the national parks in the state. From: http://www.australianforests.org.au/managingforests/forest-conservation.htm
Marie Byles Lookout at Bouddi National Park: http://www.abc.net.au/rn/hindsight/galleries/2010/2855041/12.htm
And:
Marie Byles Lookout to Bullimah Lookout Marie Byles Lookout to ...
MB Images from State Librray of NSW and : http://www.abc.net.au/rn/hindsight/galleries/2010/2855041/
Hindsight, Adventurous spirit, Marie Beuzeville Byles, ABC Radio, 22 August 2010: http://www.abc.net.au/rn/hindsight/stories/2010/2855041.htm
References
Byles, Marie Beuzevill. Bona Dea, 1945, 'If We Let It,' Sydney Bush Walker, 141, November, 11.
Cadzow, Allison. 2007. Footprints, Imprints: Seeing Environmentalist and Buddhist Marie Byles as an Eastern Australian Journal of Multidisciplinary International Studies, vol 4, no 1. See At: http://epress.lib.uts.edu.au/ojs/index.php/portal/article/view/163
Maries' Books:
By Cargo Boat and Mountain (1931)
Footprints of Gautama the Buddha (1957)
Journey into Burmese Silence (1962)
The Lotus and the Spinning Wheel (1963)
Paths to Inner Calm (1965)
Stand Straight without Strain (1978)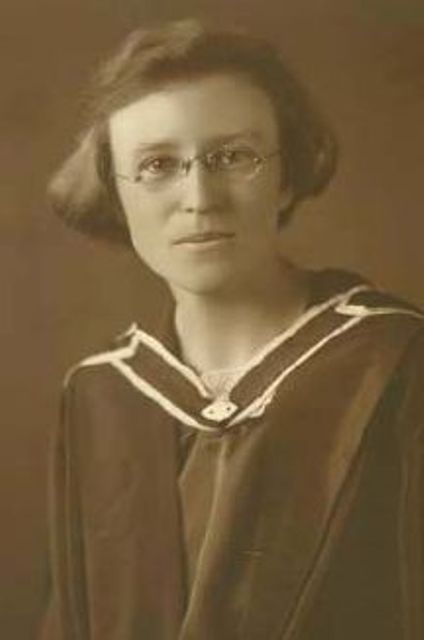 Extras
Coast and Mountain Walkers' Club
As their final festivity for the year, the members of the Coast and Mountain Walkers' Club of New South Wales were entertained last night at a lantern lecture given by Miss Marie Byles, of the Sydney Bushwalkers' Club. The subject was, "Mountaineering in New Zealand." The lecture was given at Tilt's Cafe, Pitt-street. In the new year the club will move to larger quarters at the Green Trees Cafe, Rowe-street. BRIEFLY. (1935, December 20). The Sydney Morning Herald (NSW : 1842 - 1954), p. 4. Retrieved from http://nla.gov.au/nla.news-article17230422
OUR WILDFLOWERS
Sir,-Bushwalkers who see the wild flowers vanishing each year are satisfied that the only way to prevent their eventual extermination is to prohibit their sale. It is too easy for flower merchants to take the flowers from public lands and later produce a permit to show they came from private property. Far more stores are selling wildflowers this year than in previous years. This means that more and more of the bush is being stripped, never to recover. Prohibition of sale may seem an extreme measure, but our wildflowers are unique in the world, and only prohibition of sale will preserve them.
N. B. BYLES,
Women's News ;
ALDERMAN'S SISTER HAS OWN LAW FIRM
The distinction of being the first woman to go through the Law School in Sydney falls to Miss Marie Byles, who is a sister of Ald. B. U. Byles, of Wagga. She was admitted to the Bar in 1924, and since then has packed a crowd of Interests Into her busy life. She now has a legal firm of her own, and apart from her profession she has played her part in many spheres.
Miss Byles was one of the foundation members of the Sydney Bushwalkers' Club. Deeply interested in the alienation of Parklands, she devoted much time to this cause, and has succeeded in having various reserves kept in their natural state, with a view to preserving for young hikers what is their natural heritage. These include the beautiful Garrawarra Reserve, south of National Park, near Sydney. A keen hiker herself, Miss Byles has gone far afield, and has hiked along the Road to Mandalay, over high mountains to the Indo-Chinese coast. She visited Chungking and. with a small party of friends, made part of the Journey on foot, eating the rice of the country with chopsticks, and living as the Chinese do. The necessaries of life were carried on donkeys which were cared for by Chinese porters. Miss Byles has climbed mountains in Skye, Norway and Canada and has scaled some virgin peaks In New Zealand. Her book, 'By Cargo Boat and Mountain,' tells of some of her experiences
WOMAN SOLICITOR
Another member of a legal family Is Miss Evadne Fenn Lusher. After graduating in Arts at the Sydney University, she returned to Wagga and became articled to her father in the firm of Lusher, Young and Stellway. Very successful In her work, she Is now a practising solicitor, and a partner In the firm. After completing her law examinations, Miss Lusher gained her degree of M.A. Her thesis was based on anthropology, a subject in which she has been keenly interested. She made a survey of Wagga, which entailed much research and revealed a quantity of little known Information 'and historical data of great interest to the district. Women's News (
1946, June 13
).
Daily Advertiser
(Wagga Wagga, NSW : 1911 - 1954), p. 3. Retrieved from
http://nla.gov.au/nla.news-article145013141
Hikes for Children from the City
""IN HERE are many children in Sydney's industrial areas who are growing up with no knowledge and therefore with no appreciation of the bush. The bush is a mystery to them. They see nothing of it from one year's end to the other- and yet, to those to whom it has been introduced by the Bunyips, it is a source of unlimited pleasure.
The Bunyips was founded about 18 months ago by Miss Nora Ankerson
with the assistance of members of the Bush Walkers' Club
. With the exception of herself (she acts still as a supervisor)
and Miss Marie Byles, who is the patron, the office-bearers of the Bunyips
are all fourteen year-old girls.
The president is B. McKinnon, the secretary Winifred Newling, and the treasurer D. Blackmore.
Miss Ankerson, who is a schoolteacher, realised how starved city children are for the bush when she took her own form girls to the bush for lessons or for picnics. She realised then that there is any amount of enthusiasm for the bush lying dormant in city children, who only need someone to take them.
Young Children Good "Hikers"
SO she organised the Bunyips, whose ages range from eleven to sixteen. Smaller children can belong if they are accompanied by an adult, though very often the small ones walk as well, if not better, than their elders. On one of the bush walks of the Bunyips a small girl of six led all the way-and the way was something like 14 miles.
To spread the enjoyment of bush-walking to children from industrial areas, six children are invited to each walk of the Bunyips. At one of the most recent walks the visitors were three boys from the Free Library in Surry Hills. They were so enchanted with their day's outing ' that they are now saving up the necessary shilling to become members in their own right.
Visitors are asked to contribute threepence each and their own lunch to their day's outing, as the members of the Bush Walkers, who cast a friendly eye over the Bunyips' activities, consider that they appreciate their day more if they con-tribute something themselves towards its success. The average cost of taking a party of six out for the day is 7/6.
THE Bunyip walks are great "mixers." At the beginning the boys and girls each keep to their own groups, but by the end of the day they are perfectly happy "pairing" off.
The half-yearly meeting of the Bunyips will be held in a camp In February at Cheltenham, and there will also be six lucky visitors for this week-end.
Three of the recent visitors were eight-year old boys, and they were simply delighted with their new experience. As one mother said: "David was so excited and talked so fast I couldn't make head or tail of what he was talking about."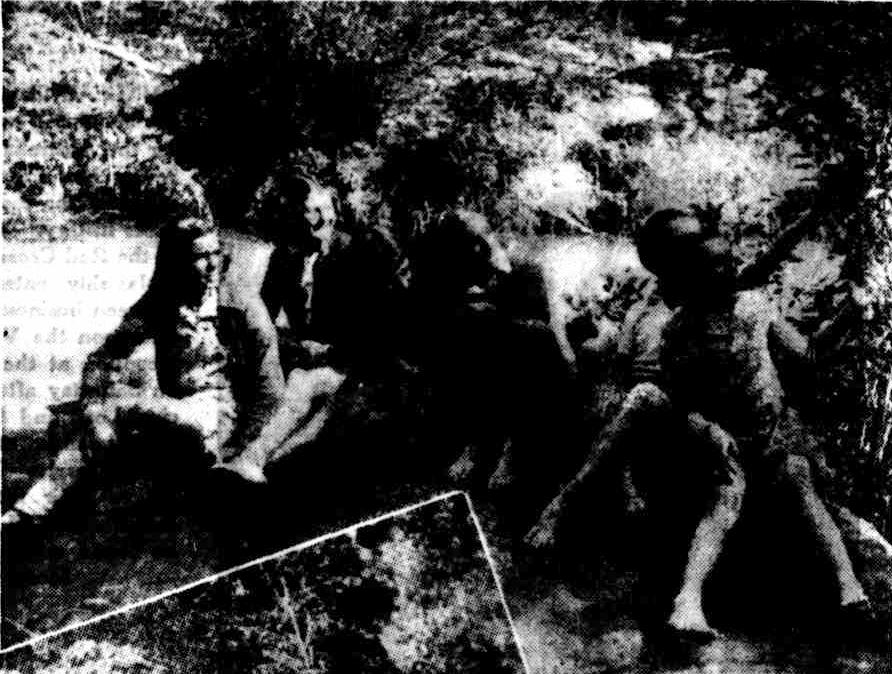 A rest by a stream during a Bunyip bush walk.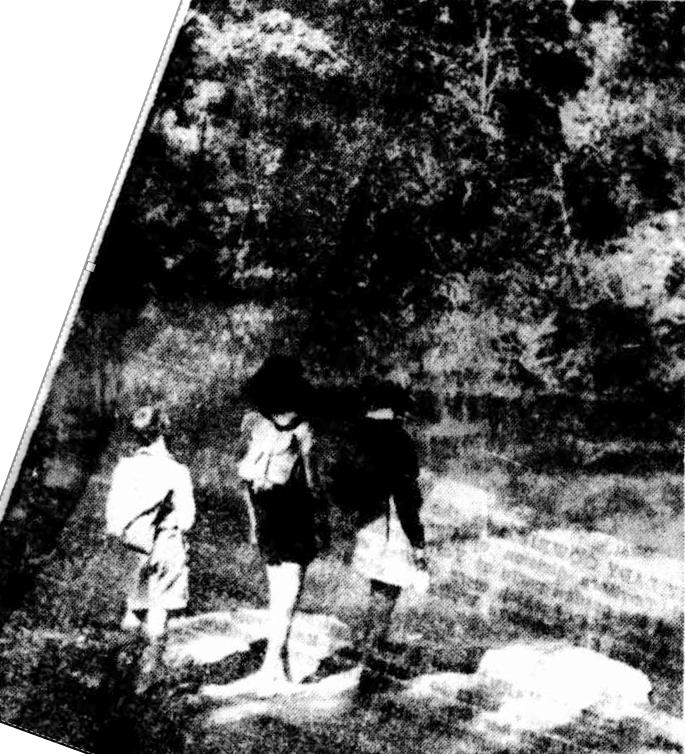 City children enchanted with bush beauties.
BUSHFIRE PSYCHOLOGY
Sir,—Has the "Herald" ever considered how it could help prevent bushfires if it dropped that sentence "bushfires broke out" and said instead "bushfires were started, by whom it is not known."
Newspapers can change the psychological attitude of people almost overnight, and it is our psychological attitude towards bushfires that is one of their basic causes. If newspaper reporters constantly reminded us that it was human beings, not nature, which caused such-and-such a bushfire they would, accomplish more towards the prevention of bushfires than many posters.
Another newspaper phrase which should be dropped is that "no property is in danger." Bush is public property, a national heritage far more valuable than houses, which money can replace in a few months. Only time, 20 to 100 years of it, can replace the trees, bushes, flowers, birds, and animals that a bushfire destroys, and sometimes not even time can replace them.
N.S.W. Federation of Bushwalking Clubs.
Sydney.
Palm Beach Camp
Sir,—It is gratifying to read that there at last seems a possibility that Warringah Shire Council will put an end to the permanent camps on Phillip Park.
Permanent camps on a public park have been a scandal for many years. They are instances of the filching of public lands by private individuals.
M. B. BYLES.
Eastwood.
Palm Beach Camp (1952, August 25). The Sydney Morning Herald (NSW : 1842 - 1954), p. 2. Retrieved from http://nla.gov.au/nla.news-article18278690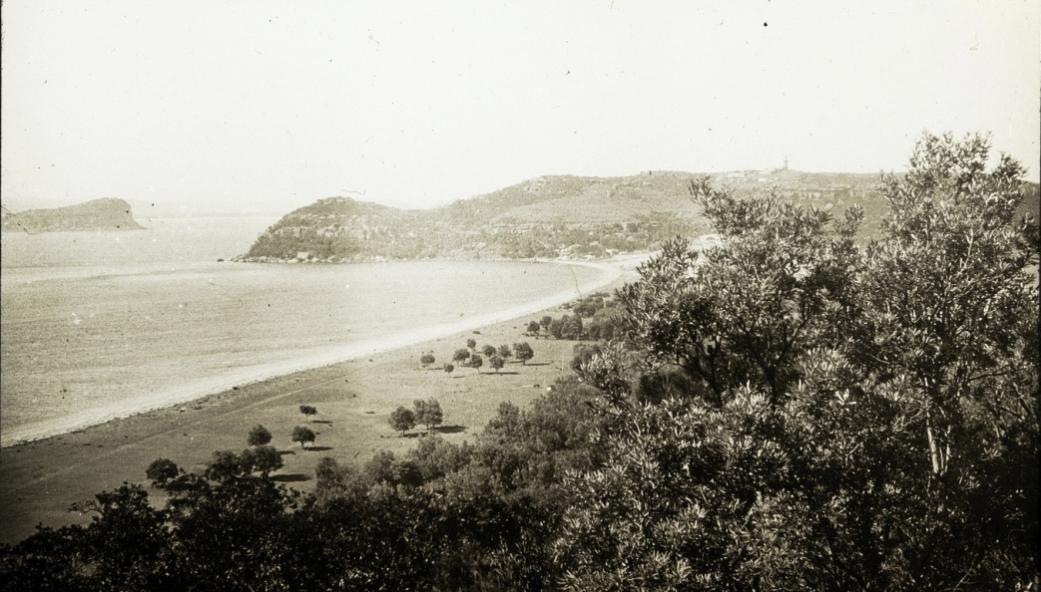 Barrenjoey, Lion Island and Palm Beach Golf Course from Marie's (Sunrise road). Album: Box 87: Myles Dunphy lantern slides of Wattamolla, Hawkesbury and Broken Bay, Windsor Church, etc., ca. 1910-1930, courtesy Mitchell Library, State Library of New South Wales and Courtesy copyright holder. Image No.: c014180028h
Our first month of historical pages celebrates the women who lived on waht was called 'Spinster's Hill) (Sunrise Hill) at Palm Beach, as most of the blocks were sold to single women in the 1912 sales by the Barrenjoey Land Company. In this series will will celebrate the lives and accomplishments of women such as Marie Byles of Seaview, the first woman Solicitor of NSW and Dr Luicy Gullet, who once owned Jeeda at 40 Sunrise Road.
We will get to some very fine men also, but as this first ever Issue also celebrates the historic victory of the Friends of Currawong ensuring, through many years of hard toil, that Currawong Beach remains public property, we shall lead off with Marie, one of our original Pittwater Environmentalists. Marie's love of Palm Beach and the bush instilled what would be a lifelong commitment to Nature and the saving of pristine places as permanent National Parks, including leaving her beloved home, Ahimsa, and its grounds, to the National Trust.
Of 'note' while researching 'Spinster's Hill':
"Palm Beach, contrary to popular opinion, wasn't named after Livistona australis, or cabbage tree palms. It was coined instead by the Barrenjoey Land Company in 1912 as a sales pitch, marketing this new seaside estate as Sydney's very own Florida strip..." 1912 sale of blocks at Palm Beach NSW by Barrenjoey Land Company. From: http://smh.com.au/news/property/what's-in-a-name/2007/01/12/1168105152671.html?page=2
Marie Byles Threads collected and Collated by A J Guesdon, 2011