May 2011: Men of Note
Our second month of Historical articles celebrate men who have lived and worked in Pittwater. From all walks of life, professions and interests, they give us an insight into dynamic characters with limitless horizons. They also let us glimpse what Pittwater was like during their heydays.
James Francis 'Frank' Hurley, Capt. (Hon.), OBE.

15 October 1885 – 16 January 1962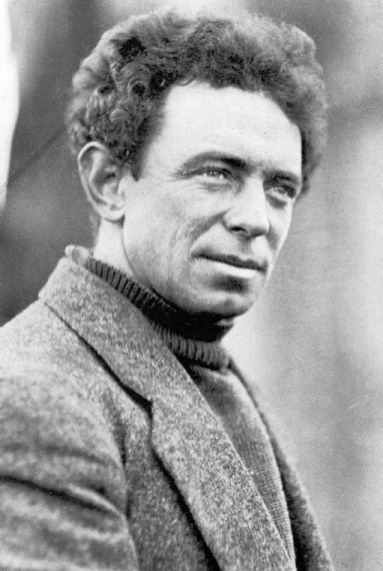 "I know I had found my real work, and a key, could I but become its master, that would unlock the portals of the undiscovered world." Frank Hurley.
Frank Hurley was a frequenter of the Northern Beaches and when finally he decided to dwell for any length of time in one place, it was Collaroy Plateau he settled in, leaving this world in 1962 from there. During the 1930's he utilised Loggon Rock an original log cabin, complete with twig windows and a wooden floor at Whale Beach, the quaint weekender built by Alexander Stewart Jolly for Franks' uncle and friend of Jolly, Colonel Lionel Hurley, (who was film censor, designed 1929)in 1931.
Australian Moving Picture Enterprise. —Travelling to the Eastern States on the liner Hobson's Bay, which arrived- at Freemantle last evening from England, are six English moving picture artists who were selected by Captain Frank Hurley to come to Australia in connection with the production of films at Thursday Island and New Guinea. Captain Hurley returned to Australia about a month agoi after having studied for about two rears the moving picture in dustry in America and Great Britain. The English artists will be joined by a party of Australians at Sydney. When he passed through Freemantle on his way to the Eastern States, Captain Hurley said that it was the first time since tire motion picture industry was established that artists had been sent 1,400 miles in connection with the production of films. NEWS AND NOTES. (1925, August 28). The West Australian (Perth, WA : 1879 - 1954), p. 10. Retrieved from http://nla.gov.au/nla.news-article31877061
The man who filmed the first 'action shots' in the sport of surfing (Tall Trees 1937, Palm Beach) he was also a cataloguer of our beaches in photos when there was more bush then buildings.
For much of the 1930s Hurley worked in Sydney for Cinesound. At Loggon Rock the raucous parties he hosted became infamous, visitors and guests including a who's who of artistic circles during the pre-war cocktails, dance and talk all night era.
"Like Loggan Rock's owner Lionel Hurley, Frank gained a reputation as the generous host of many uproarious parties attended by well known figures in the theatre, film making and artistic circles. Guests of these two men included 'Mr RKO', Ralph Doyle the film distributor and his wife, Patricia Minchin whose fame as a photographic model was sealed with the launch of the ubiquitous advertising campaign featuring Patricia as the face of the Atlantic Ethyl oil company. Ken Hall, writer and director of the Dad and Dave series of movies and important pioneer in the Australian film industry was also a regular guest at Loggan Rock. Prior to World War II other well known Sydney siders took advantage of the cabin and its facilities. It was a regular weekend retreat for Margaret Jay, a successful interior designer and Elizabeth McIntyre the prolific children's writer and artist."(NSW Government Heritage website. 2007)
Jolly himself wrote two children's books, published in 1932, that, due to his preference to camp on the sites he was working on, could well have been written while constructing, by hand, Loggon Rock. One of this, titled 'Spirit of the Bush' evokes what he experienced in early 1930's Whale Beach. Avalon, and Whale Beach, had a large and vibrant artistic community during the thirties. A place frequented by the intelligentsia and all manner of artists and writers.
Mr. Hurley was the third of five children to parents Edward and Margaret Hurley and was raised in Glebe, a suburb of Sydney, Australia. He ran away from home at the age of 13 to work on the Lithgow steel mill, returning home two years later to study at the local technical school and attend science lectures at the University of Sydney. When he was 17 he bought his first camera, a 15 shilling Kodak Box Brownie which he paid for at the rate of a shilling per week. He taught himself photography and set himself up in the postcard business, where he gained a reputation for putting himself in danger in order to produce stunning images, including placing himself in front of an oncoming train to capture it on film.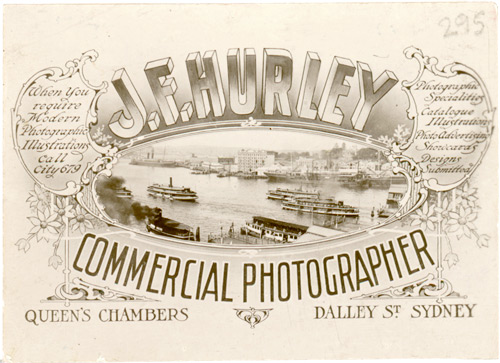 Business card, 1910 - Source: Australasian Antarctic Expedition - Records, 1 Dec. 1910 - 1 Dec. 1915

Official war photographer for both world wars, a colourful character who sought adventure and to portray it to those living more sedate lives, Frank Hurley also presents a fractious side to his personality in his clashes with Mawson, Antarctic explorer and with Australia's war historian, C.E.W Bean over his use of composite pictures during WWI when battle scenes weren't vivid enough (in one picture, Hurley used a sky background from the Sydney beaches). Some sources state Hurley had a 'burning resentment' regarding the carnage in France and presented this through one particularly horrific photograph 'Morning at Passchendaele'. Another, 'Chateau Wood at Ypres. 1917' shows the destruction of land in war zones all too well.
Hurley also used a movie camera to record a range of experiences including the Antarctic expeditions, the building of the Sydney Harbour Bridge, and war in the Middle East during World War II. The camera was a Debrie Parvo L 35mm hand-crank camera made in France. This camera is now in the collection of the National Museum of Australia.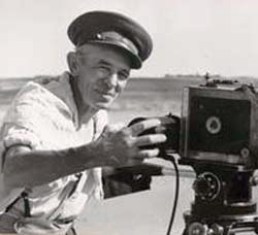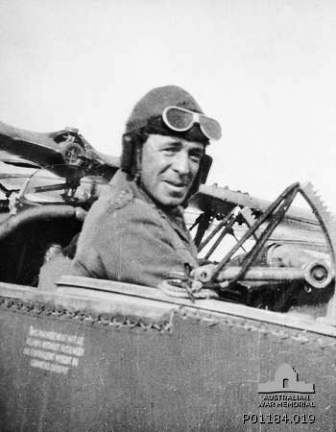 Frank Hurley with Captains hat on: ID number P01184.019 Place made Ottoman Empire: Palestine PALESTINE. C. 1918. CAPTAIN FRANK HURLEY, THE OFFICIAL PHOTOGRAPHER AND CAMERAMAN TO THE AIF IN THE MIDDLE EAST, IN AN OBSERVERS SEAT IN AN AIRCRAFT. (ORIGINAL HOUSED IN Australian War Memorial ARCHIVE STORE) (DONOR J. E. WORTH) Permalink: http://cas.awm.gov.au/item/P01184.019 James Francis (Frank) Hurley, by unknown photographer, 1940-50, courtesy of National Library of Australia. nla.pic-an24573624. In Palestine he flew for the first time and had many adventures while photographing the Light Horse during the battle of Jericho.
He also sparked ire in (Sir) Hubert Murray and the Papuan administration over the alleged bad publicity he gave to the Territory through sensationalized stories of head-hunters and unexplored jungle wilds. It was during this time he was accused of improper methods used to gather a large collection of artefacts for the Australian Museum, Sydney.
Frank was married to opera singer Antoinette Rosalind Leighton after a ten day courtship in Cairo, (married on 11 April 1918), and father of three daughters, twin girls Adelie and Toni, Yvonne, and son Frank jnr.. His exploits chart the life of a human dynamo who was also, despite his propensity for parties and cultivating others of note, for touring with his films and photographs after expeditions to narrate or lecture on the images, a loner. His incessant drive for the next adventure, and to capture it on film, made his family life one of 'visits'. His numerous photographs of his children and wife, throughout the years, detail his love for them and their adoration of their father.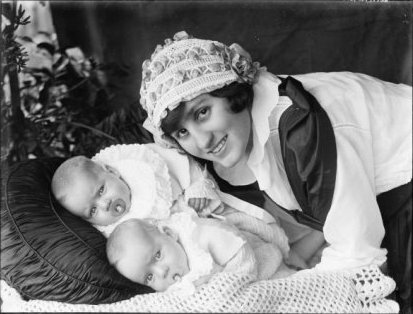 Antoinette Hurley leaning over her twin daughters, Adelie (nearest the camera) and Toni, 1919, Courtesy National Library of Australia.

These images are a delightful charting of his children growing up and evidence that when he was home he engaged with them, could make them smile and laugh. His own existence a solitary one though, driven to capture as much as he could on film when he wasn't planning the next adventure during his 'recluse' times at Whale Beach.
Hurley made several documentaries throughout his career, most notably Pearls and Savages (1921). He wrote and directed several dramatic feature films, including Jungle Woman (1926) and The Hound of the Deep (1926). He also worked as cinematographer for Cinesound Productions where his best known film credits include The Squatter's Daughter (1933), The Silence of Dean Maitland (1934) and Grandad Rudd (1935). His 1941 documentary short Sagebrush and Silver was nominated for an Academy Award at the 14th Academy Awards for Best Short Subject (One-Reel).

Prolific in images, movies and words, a pioneer in Australian documentaries and colour photography, he was awarded the Polar Medal (given for service in the Arctic and Antarctic regions) and two bars and in 1941 was appointed O.B.E. Pioneer in Australian.

While living on Collaroy Plateau Frank became involved with ABC radio. He was a frequent storyteller on the perennial children's program The Argonauts. He enjoyed even more a degree of commercial success by publishing his photos on advertising calendars, postcards and tourist booklets.
His most successful book was Australia: A Camera Study published in 1955 and reprinted three times. He engaged in aerial photography with Brud Rees on his Piper Cub float plane.
Although his record of just about everywhere on the planet, and in Australia, has created a record of his times for all ages, it is his photographs of local wildflowers and beach landscapes that we all love:-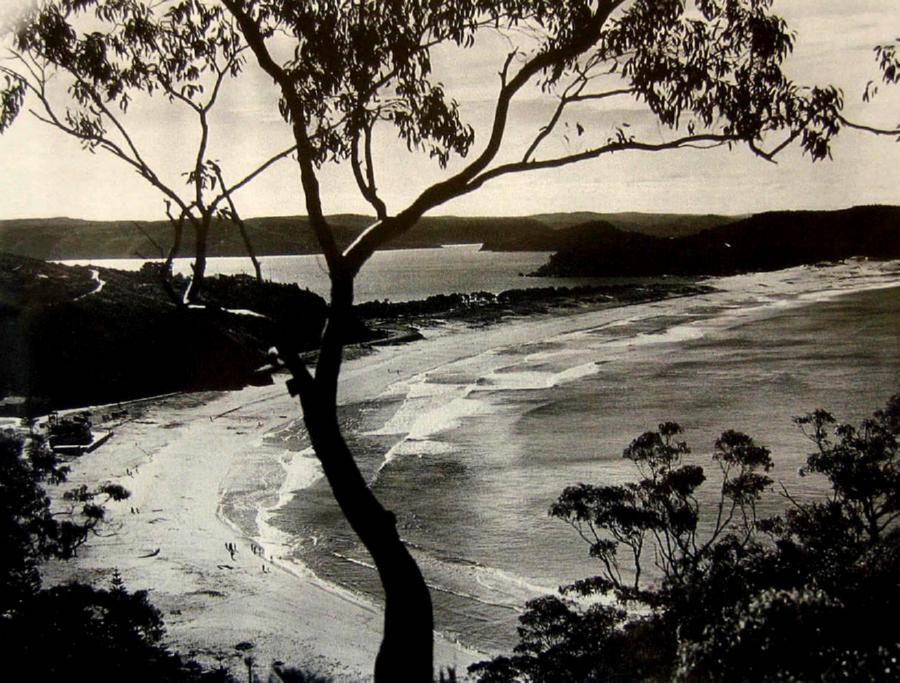 Palm Beach, Broken Bay, Sydney by James Francis (Frank ) Hurley - Courtesy of Sotheby's © James Francis (Frank) Hurley or assignee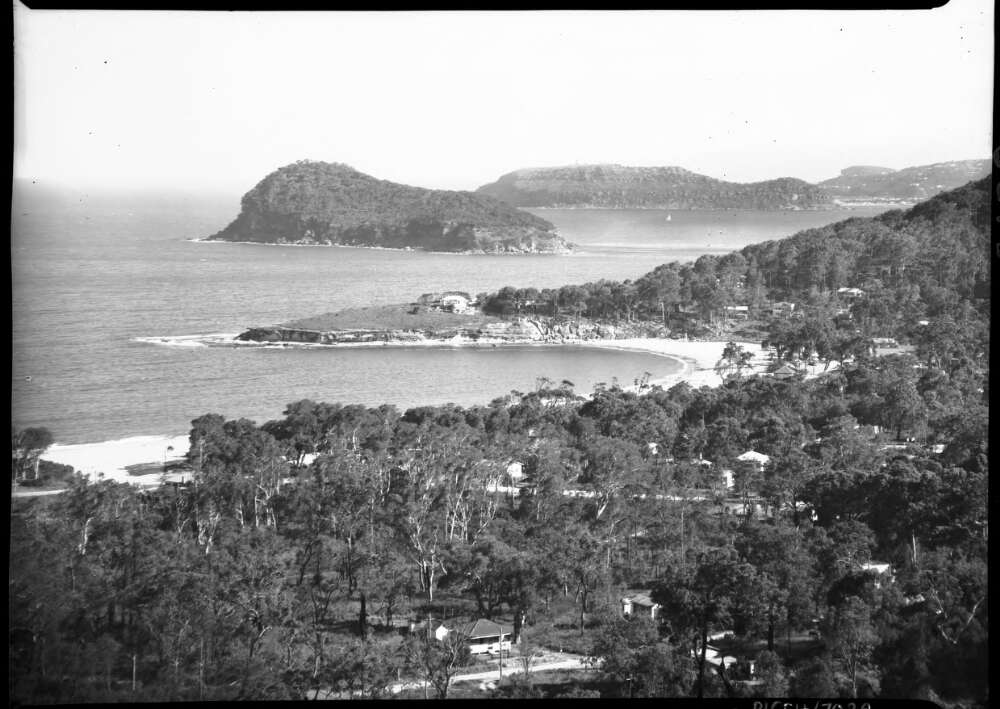 Pearl Beach and Lion Island. Photo: Frank Hurley, National Library of Australia © James Francis (Frank) Hurley or assignee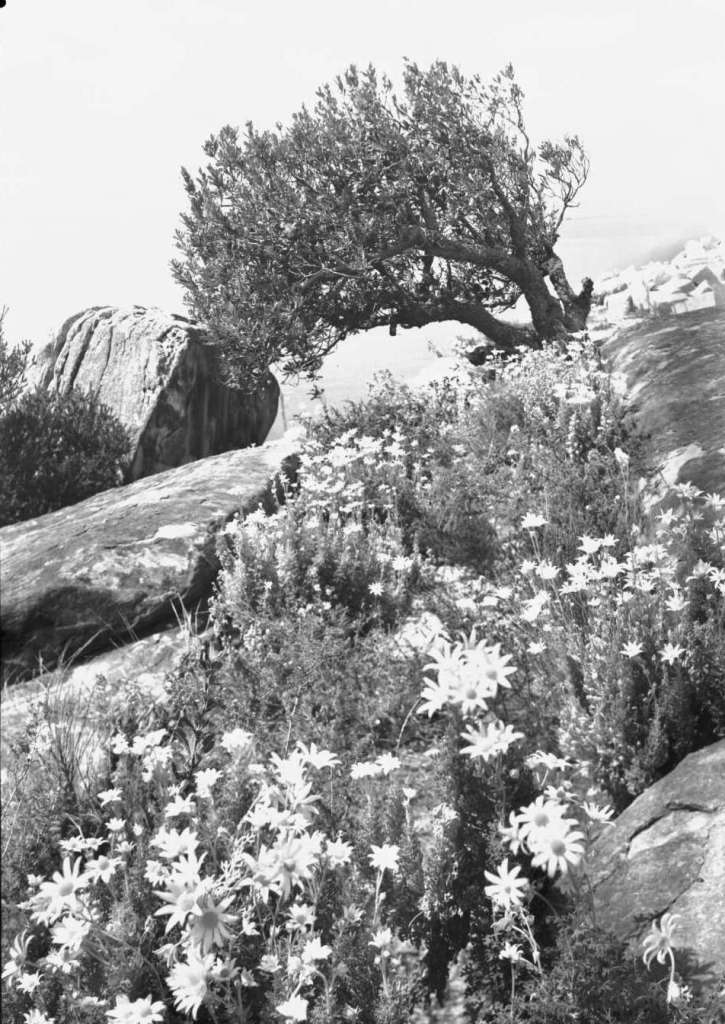 Wildflowers by the sea, flannel flowers at Palm Beach by Frank Hurley - courtesy National Library of Australia - © James Francis (Frank) Hurley or assignee

Quotes:
Aboard Endurance
"7-14-15 A mild blizzard set in during the morning.... It is bitterly cold and no one is allowed away from the ship. We are not anxious however. The alluring cosiness of the Ritz being too enticing. All day the wind screams in our rigging." - Frank Hurley, Diary
"Near enough is not good enough".
Photographs:
Head shot: Frank Hurley, Feb. 7, 1915 (aged 23) Photo by Thomas Orde-Lees.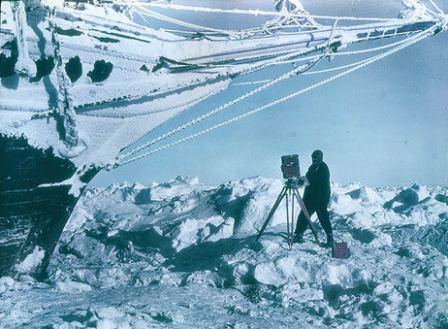 Frank Hurley (taken on board Endurance) 1914 some sources state.
References, Further Reading, Listening and Looking:

http://www.kodak.com/US/en/corp/features/endurance/
Frank Hurley visited the Antarctic six times between 1911 and 1932. For more information and pictures, visit Discover Collections: Hurley's Antarctica on the State Library of NSW's website: www.sl.nsw.gov.au/discover_collections/natural_world/anta...
A Photographers Life: http://www.alasdairmcgregor.com.au/page3.html:
Blog for further reading on Antarctica: http://www.frankhurley.org/
Ernest Shackleton's fabled Endurance expedition to Antarctica, 1914-1917.
Shackleton following the rescue(30 August, 1916.)
"[Hurley] was one of the most active workers on the Expedition. Extremely clever, could do anything mechanically: always at work: splendid photographer: good for all schemes. No coward and a worker in the boats [going to Elephant Island] and fertile in devising schemes for bettering conditions. Thus you see a man of resource and intelligence..."

Frank Hurley. (2011, April 6). In Wikipedia, The Free Encyclopedia. Retrieved from http://en.wikipedia.org/w/index.php?title=Frank_Hurley&oldid=422621154

Notable sales have been a bungalow. No. 325 New South Head-road, for £9000; the residence of Captain Hurley, the adventurous airman and Antarctic explorer, situated at Wunulla-road, Point Piper, for £7000; REAL ESTATE. (1929, September 28). The Sydney Morning Herald (NSW : 1842 - 1954), p. 10. Retrieved from http://nla.gov.au/nla.news-article16588133
Frank Hurley: The Man Who Made History (2004) clip 2 on ASO ... Hurley's composites. Video excerpt 1.50 minutes with curator notes. Also has ... http://www.aso.gov.au/titles/documentaries/frank-hurley/clip2/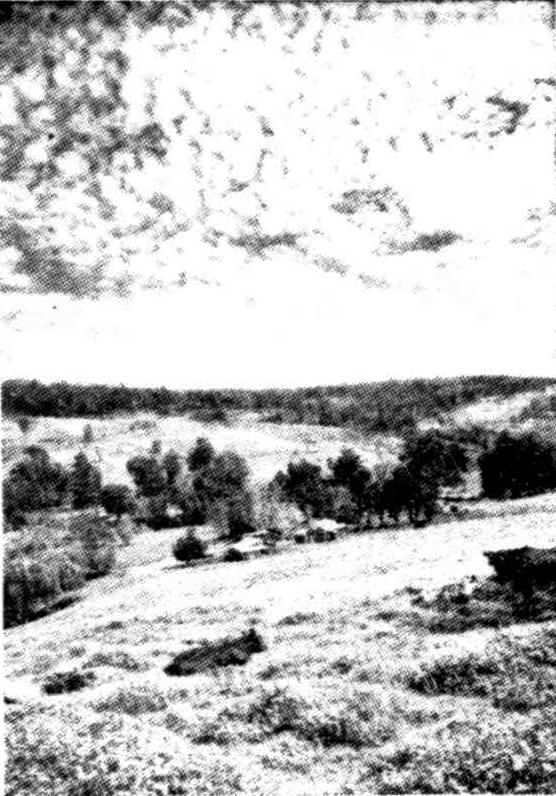 This picture of pastures in Blackwood Park, near Bridgetown, is one of the many picturesque landscapes in Frank Hurley's latest Camera Study, 'WESTERN AUSTRALIA' (Angus and Robertson, Sydney, 42/). Of the hundreds of magnificent photographs in the book many are extremely well reproduced in color, faithfully representing the beauties of this vast, widely diversified State. Pictures of its world-famous wildflowers are particularly fine. And Frank Hurley supplements his photographs with an informative and interesting text. No title (1953, November 7). The Advertiser (Adelaide, SA : 1931 - 1954), p. 9. Retrieved from http://nla.gov.au/nla.news-article48915719
SYDNEY, Tuesday.
Internationally famous war photographer, Captain Frank Hurley, died at Collaroy to-day. He was 76. Captain Hurley was official photographer for the Australian Government in both world wars. He worked up to the time of his death—taking pictures of a dam yesterday for a new book.
His photographic career began soon after he ran away from Glebe Public School at the age of 13. Captain Hurley accompanied Sir Douglas Mawson on his Antarctic expedition in 1911 and reached the South Pole. He made four Antarctic expeditions.
Captain Hurley is survived by his widow, Mrs. Antoinette Hurley, three married daughters and Mr. Frank Hurley, jnr. FAMOUS WAR CAMERAMAN DIES AT 75 (1962, January 17). The Canberra Times (ACT : 1926 - 1995), p. 6. Retrieved from http://nla.gov.au/nla.news-article104920109
Photographic holdings
Photographs by Hurley of the Antarctic are held by a number of institutions. Notable collections include the Australian War Memorial, Canberra, National Library of Australia, Canberra, Scott Polar Research Institute, Cambridge, Royal Geographical Society, London, and the South Australian Museum, Adelaide.
National Library of Australia
Frank Hurley Negative Collection, 1910–1962 - copyright until 2032 - death of author + 70years
The collection contains 10,999 glass negatives, plastic negatives, colour transparencies, lantern slides, and stereographs that have been fully catalogued and digitised The collection covers photographs of Hurley's trips to Antarctica; as official photographer during World War I 1914-1918; later travels in the Middle East and Egypt; as official photographer during World War II 1939-1945; Papua and New Guinea; Australian scenery, industries and social life and customs.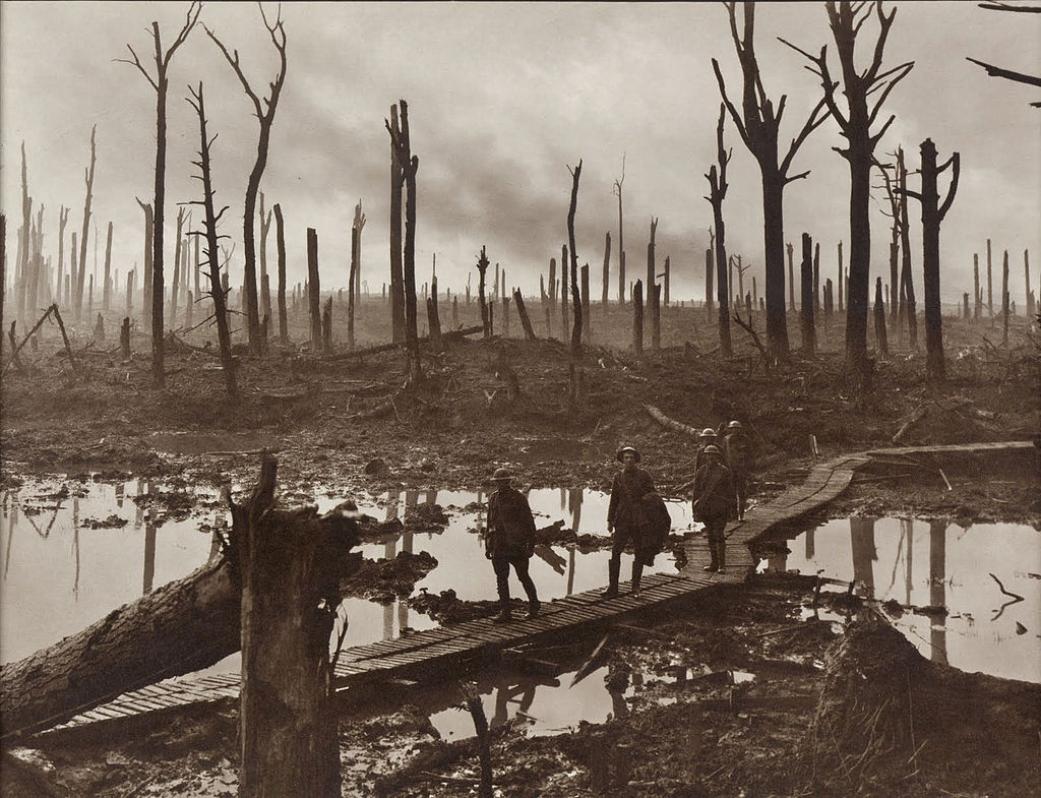 Chateau Wood, Ypres, 1917 by Frank Hurley
Soldiers of an Australian 4th Division field artillery brigade on a duckboard track passing through Chateau Wood, near Hooge in the Ypres salient, 29 October 1917. The leading soldier is Gunner James Fulton and the second soldier is Lieutenant Anthony Devine. The men belong to a battery of the 10th Field Artillery Brigade. Australian War Memorial collection number E01220.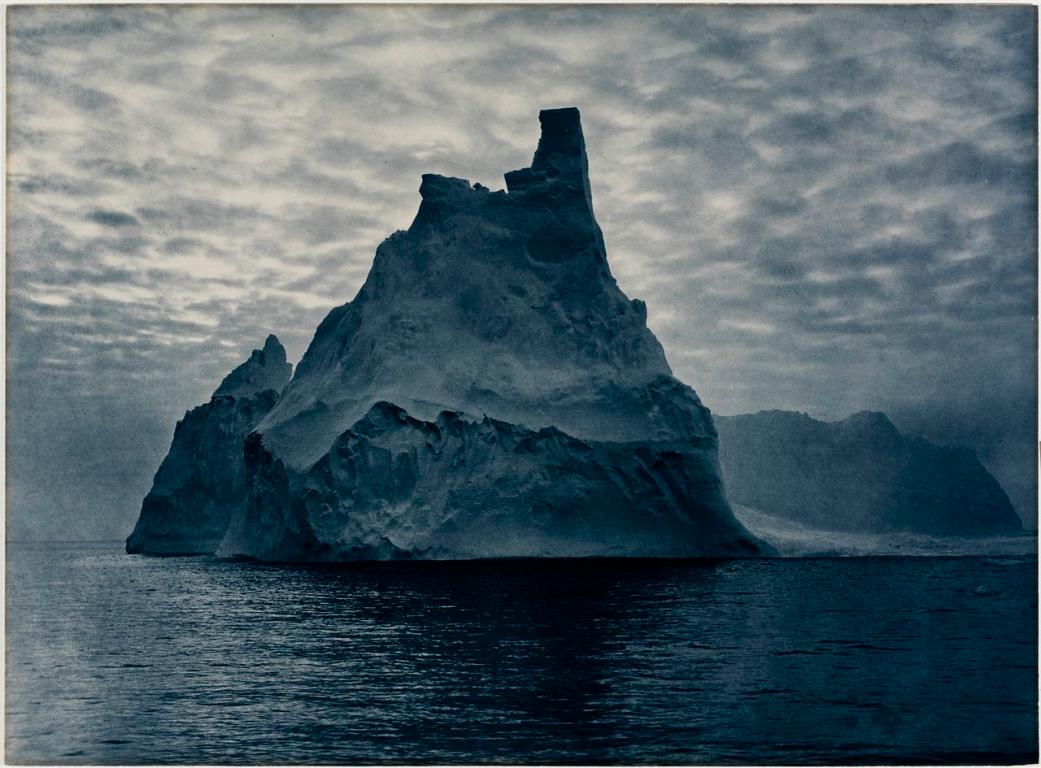 "A radiant turret lit by the midsummer midnight sun", 1912 photo by Frank Hurley held by State Library of New South Wales.

Frank Hurley visited the Antarctic six times between 1911 and 1932.
Frank Hurley was also the official photographer on Ernest Shackleton's Imperial Trans-Antarctic Expedition which set out in 1914 and was marooned until August 1916; Hurley produced many pioneering colour images of the Expedition using the then-popular Paget process of colour photography. He photographed in South Georgia in 1917. He later compiled his records into the documentary film South in 1919. His footage was also used in the 2001 IMAX film Shackleton's Antarctic Adventure. He returned to the Antarctic in 1929 and 1931 on Mawson's British Australian (and) New Zealand Antarctic Research Expeditions (BANZARE).
Frank Hurley threads collected and collated by A J Guesdon, 2011.