January 8 - 14, 2017: Issue 295

Palm Beach Link With 1817 and 1917 Set to Disappear in 2017: Beach Road Rendezvous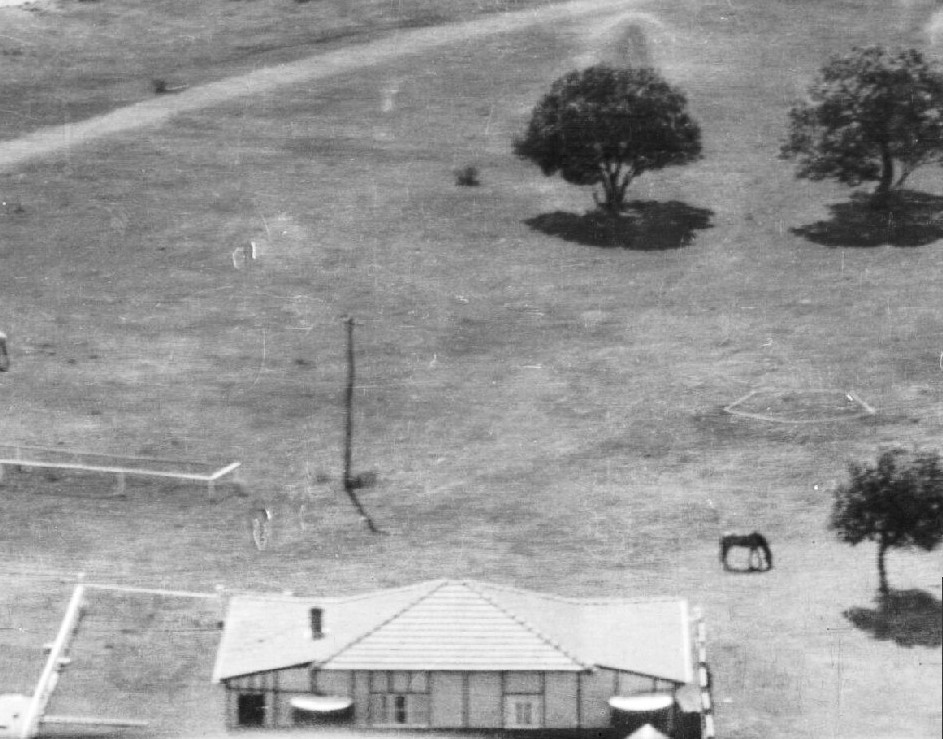 Section from Enemark panorama, circa 1922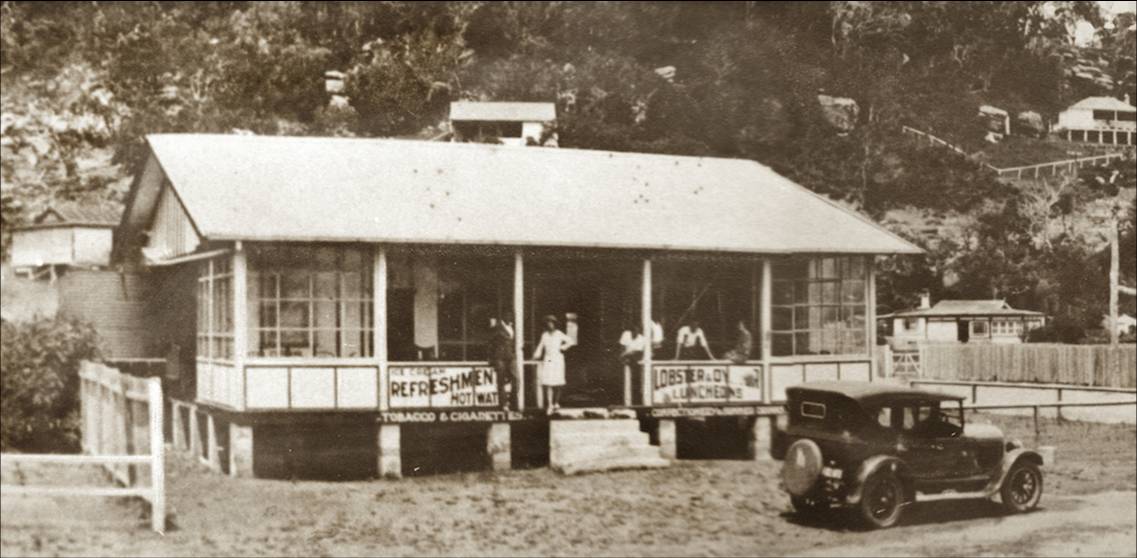 The Renezvous, Palm Beach - Gonsalves family photo
The proposed demolition of the building at 1186 Barrenjoey Road, Palm Beach, the original "Rendezvous Tea Rooms" will sever threads which go back into Pittwater's past and bridge the years when all was paddocks and a dairy, and in those who lived and worked here, stems back further still when the origins of two of the early proprietors of stores and refreshment rooms at Palm Beach are taken into account.
One of these gentlemen, Reginald Augustus Howlett was educated at
Bay View school
when that still existed, listed with his brother William as among those who won prizes in 1905, and his father, Henry Neil Howlett (born 1863), was an early member of the newly fledged Pittwater Progress Committee, a forerunner of the Bayview-Church Point Residents Association, alongside
Kathrine Roche's
husband.
MUNICIPAL COUNCILS. BAYVIEW, Friday.
A ballot was taken of the electors at Bayview Post-office last Tuesday for the purpose of filling three vacancies in the Pittwater Progress Association. There were six candidates, viz.,
J. J. Roche, James Booth, Henry Howlett,
James Symonds. Leon Houreux and J. W. Austin. The three first named were elected. _ MUNICIPAL COUNCILS. (
1902, June 28
).
The Sydney Morning Herald
(NSW : 1842 - 1954), p. 16. Retrieved from
http://nla.gov.au/nla.news-article14437679
Henry Howlett had a store at Mona Vale and was clearly keen on cricket - on a then much larger Mona Vale Village Park:
At the annual general meeting of the Pittwater Cricket Club held at Howlett's store, Mona Vale
, the report showed that the club was in a promising condition. There was a credit balance, and new members were coming forward satisfactorily. The following office-bearers were elected for the ensuing year: — Patron, Colonel Ryrle, M.P.;- president, Councillor A. Ralston; captain, Councillor J. F. Duffy; vice-captain, Mr. J. W. Austin; treasurer, Mr. F. Douglas;
secretary, Mr. R. Howlett
;
selection and subcommittee, Messrs.
C. Price,
H. Howlett
, and F. Douglas. CRICKET. (
1912, September 5
).
The Sun
(Sydney, NSW : 1910 - 1954), p. 5 (FINAL EXTRA). Retrieved from
http://nla.gov.au/nla.news-article228823584
Reginald Howlett's uncle, Alfred Howlett, appears in records for Brookvale from at least 1893 and in the earliest 1906 handwritten Warringah Shire Council minutes of meetings as one of the gentlemen working on building roads and the tramway from Manly to Brookvale and then further. He was
responsible
for finding a metal quarry in the vicinity of Brookvale with which to turn dust to navigable ways.
The Howlett family also supported and helped build Methodist churches and congregations wherever they were - whether at Camden, where father of Henry and Alfred, William Howlett lived (born 1832 in Parramatta to William 1877-1833 and Lydia - William Howlett being one of 250 convicts transported on the ship
Larkins
, 24 July 1817) or at Brookvale.
Reginald was living with this uncle and probably working with him as a clerk prior to enlisting to serve in the A.I.F. in World War One, as his enlistment papers dated July 28th, 1915 state.
By February 1916 he was in Tel-El-Kabir and was moved from the 3rd Battalion to the 55th Btn. and then sent into France.
Carl Beeston Gow
, whose family were at this time serving as Light-Keepers at Barrenjoey, was also part of the 55th Btn. Carl was 20 years old, Reginald 21 when they signed up. Reginald's records indicate he was frequently ill - sent to hospital in France a few times during 1916 and 1917 - possibly trying to survive the influenza that killed hundreds of thousands during and straight after WWI.
Both young men were lucky, despite illness, and being wounded in Carl's case, they survived and were able to come home. Unfortunately Henry, Reg's father, died a few days after he disembarked on May 25th, 1919 - he was discharged July 18th, 1919, Carl May 22nd.
Reginald also lost an uncle and an aunt within months and another aunt, to the same pandemic, 12 months later:
HOWLETT.—June 11, at Manly, Henry Neil, dearly loved husband of Sarah Howlett, of Mona Vale, and dearly loved father of Harold, Reginald, William, and Ivy, aged 56 years. Interred in Church of England Cemetery, Manly, Thursday, June 12. Family Notices (
1919, June 13
).
The Sydney Morning Herald
(NSW : 1842 - 1954), p. 8. Retrieved from
http://nla.gov.au/nla.news-article15851234
Edwin Howlett, brother of Mr George Howlett, of Hornseywood, and the late Mrs John Adams (whose death was reported in last issue) died at Camden on the 4th instant from pneumonic influenza. Deceased, who was 63 years of age, had lived in the Camden district all his life. He leaves a wife and a large family. The funeral took place on Saturday, the interment being in the Methodist Cemetery, Camden. About a month ago a brother of deceased,
Henry Howlett, died at Manly, at the age of 56 years
. He leaves a wife, three sons and one daughter. The cause of death was pneumonia. Obituary (
1919, July 12
).
Nepean Times
(Penrith, NSW : 1882 - 1962), p. 3. Retrieved from
http://nla.gov.au/nla.news-article86191413
DEATH OF MRS. HOWLETT.
Mrs Mary Ann Howlett, wife of Mr. Robert Howlett, of Epping
, and well known in this district, died at her residence, Epping, on Friday of last week, at the age of 59 years. She was the daughter of the late Mr. James Campbell, of Luddenham, at which place she was born. She leaves one brother, Mr. Kenneth Campbell, ex-Mayor of St. Marys and the undermentioned five sons and one daughter. Another son was killed at Gallipoli. Mrs. Howlett was twice married. Her husband is the son of the late Mr. Howlett, of Luddenham, and is a brother of Mr. George Howlett, Alf Howlett (Brookvale), Mr. Jones Howlett and Mr. William Howlett (the latter two in other parts of the State).
Two of his brothers died about this time last year from pneumonic influenza
, and about the same time he lost a sister-the wife of Ald. J. Adams, of Penrith..
The NSW Public Health Department report that in 1919, almost 40 per cent of Sydney's total population had influenza. In some areas of Sydney, the deaths from influenza accounted for 50 per cent of all deaths and 6000 were lost from influenza across NSW.
So much loss on coming home, on top of being witness to so much devastation, can make someone reach out for life with both hands.
The engagement is announced of Miss Katie Chrystal, eldest daughter of Mr. and Mrs. G Chrystal, Ormiston, Berowra, and Mr. Reginald A. Howlett, late 55th batt., A.I.F., second son of Mrs. Howlett, Mona Vale. The wedding will take place early in March. WOMEN'S NEWS (
1920, February 29
).
Sunday Times
(Sydney, NSW : 1895 - 1930), p. 3. Retrieved from
http://nla.gov.au/nla.news-article120515641
HOWLETT -CHRYSTAL.—
A military wedding was celebrated at St. Mark's Church' of England, Berowra, between Miss Katie Chrystal and Pte. Reg. Howlett (late 55th Batt, A.I.F.).
The Rev. Wade, of Hornsby, officiated. The bride's gown of ivory pailette was hand embroidered and trimmed with silk Maltese lace and seed pearls. Her veil of tulle was encircled with a wreath of orange blossoms, and she carried a shower bouquet tied with ribbons of the bridegroom's colors. The bridesmaid, Miss Maggie Chrystal, wore a frock of cream crepe de-chine, hand-embroidered, and a cream hat, and carried a bouquet of pink roses tied with the battalion colors.
Capt. C. B. Gow, M.C. (late 55th Batt.), was best man
. The reception was held at the Berowra Hall, where the bride's mother received about 90 guests. Her gown was of silver-grey taffeta, and was worn with a hat to match.
Mrs. Howlett, mother of the bridegroom, wore a black
pailette costume and a hat en suite.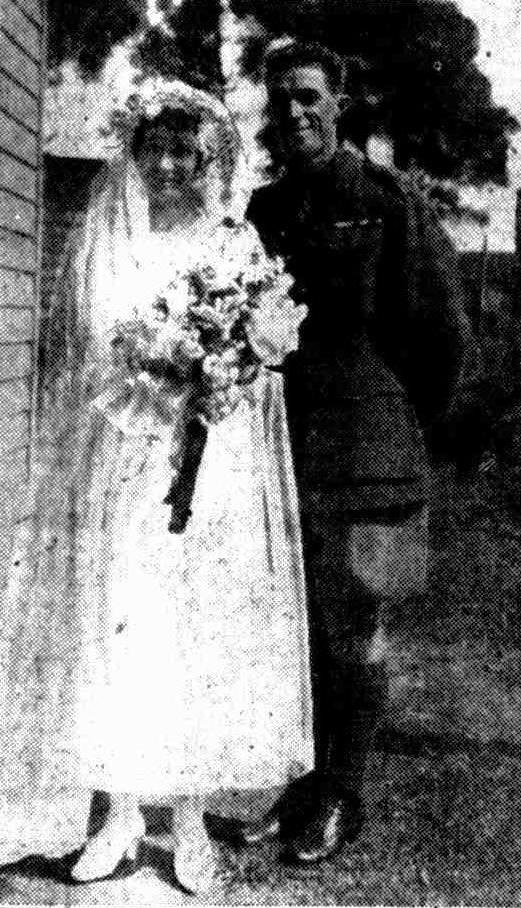 PRIVATE REG. HOWLETT AND HIS BRIDE.
Carl Gow and Reginald Howlett subsequently went into business together, taking over the original landing place for those thinking of visiting Palm Beach as tourists or holiday makers, described in 1912 as:
BEAUTIFUL PALM BEACH, BARRENJOEY.
How many of the Sydney folk have heard of Palm Beach, situated on the neck of land adjoining the Barrenjoey Lighthouse reserve and Pittwater Harbor? One of those most glorious spots, given by Nature to the Sydneyites, where rest from the weary toils of the week may be enjoyed. As a comparative stranger in your midst, I would never, perhaps, have feasted on its exceptional beauty and the environs surrounding it had I not chanced upon a small red booklet, circulated on account of a land sale held there on Friday afternoon. I took the trip, at a cost of 2/6 return — cheap enough in all con-science ! — and
on arrival at the pretty little jetty on the estate
was so charmed with the natural beauties and picturesqueness of the scene that I feel it a duty to enlighten others of this most charming spot. A glorious day, one of happy Sydney's best, and the beauty of the scene at Palm Beach will long live in my memory. The harbor, with its beach of sand, hard and white, its clear and placid waters for the children, the wild, natural scenery of the hills, the living fragrance of the bush and the beautiful Palm Beach for the surfers, with its ever sounding ocean roar, contrasting strangely with the harbor's peace, and calm, the stately palms in the numerous gullies, and the whole scene clothed with a sea and sky, of exquisite blue. From the hills cape after cape comes into view, both north and south, and to the west we see the Pittwater Harbor, with its numerous bays, "The Basin," Kuringai Chase, the majestic and awe-inspiring Lion Island, Ettalong, and several other points of interest. If you have never been to Palm Beach, go. It would be difficult for me to express the treat in store. There is nothing I have seen on your coast to approach it, and it is a matter of much wonder to me that with a splendid service of cars from Manly, and subsidised by a regular launch service (1 1/2 hour from Manly), it has not been availed of ere this. The opening up of the estate will probably attract the populace, and I am informed Palm Beach is an ideal surfing one, and with all its other natural attractions should bring many an advocate to the shrine of its temple. The land facing the beach has been dedicated to the Council as a reserve for a public park. I understand that every lot was sold at satisfactory prices, including the pretty little bungalow residence recently erected, and the vendors must be highly complimented on opening up such a beauty spot for the permanent use of the people. BEAUTIFUL PALM BEACH, BARRENJOEY. (
1912, January 28
).
Sunday Times
(Sydney, NSW : 1895 - 1930), p. 12. Retrieved from
http://nla.gov.au/nla.news-article126060685
Observation Point, Palm Beach, Newport Digital Order Number: a106120 circa 1912, Broadhurst Image, courtesy State Library of NSW.
"The Jetty, Palm Beach" places the spectator on a high grassy bank, with trees, below which stretches a sandy shore and a breadth of dimpling water. The warm, purplish haze which hangs over the further coast is very tenderly suggested, and the eye dwells upon it both with pleasure and instruction.
THE LISTER EXHIBITION. (
1917, May 8
).
The Sydney Morning Herald
(NSW : 1842 - 1954), p. 5. Retrieved from
http://nla.gov.au/nla.news-article15712131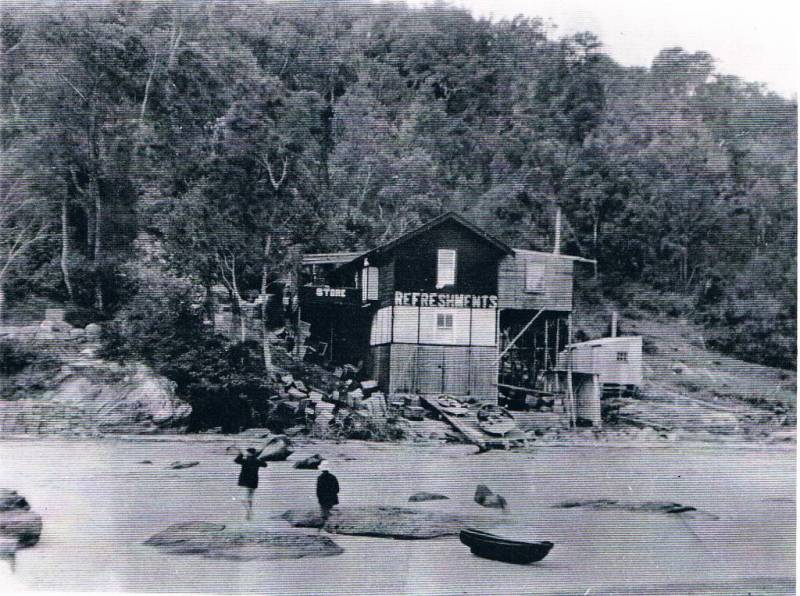 Above and Below: Gow's Store in its early days courtesy Peter Verrills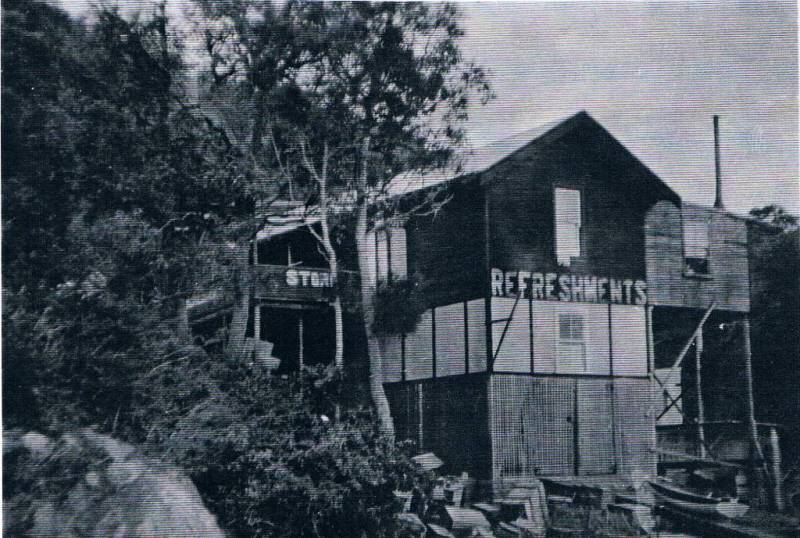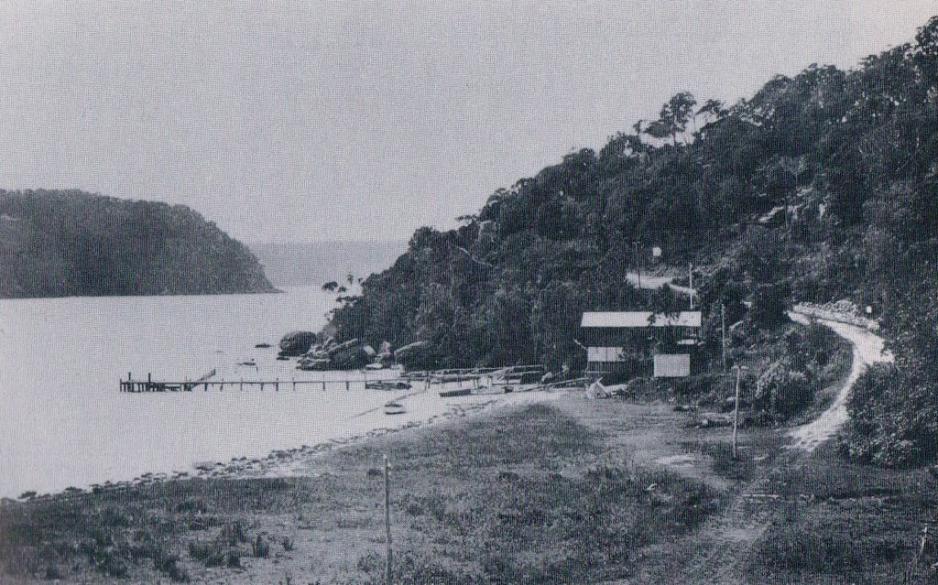 Gow's jetty was link with the outside world for visitors to Palm Beach - this image circa 1920-21. Courtesy Peter Verrills.
Carl Gow and Reginald took over this property from a man named Ellis who in turn had taken it over from James Booth, a well-known early builder employed by the Barrenjoey Company. Above this jetty (known as Gow's Wharf) the first General Store, originally called 'Booth's Store' after James Booth, the stonemason/builder credited with constructing that first wharf became a Howlett-Gow concern. A few other threads indicate late 1919 as being when the pair had taken over the jetty and store. Carl seems to have had a talent for being on the water and around boats, becoming a successful fisherman, so it may have been Reginald and his bride who kept the store to begin with:
DISTRICT COURT. (Before Judge Backhouse.) CONTRACTOR'S CLAIM. Alfred Wrigley Ellis, of Palm Beach, near Barrenjoey, sued Bernard Stiles, of Yarrandi, Church-street, Newtown, medical practitioner, and P. M. Stiles, his wife, for money alleged to be due under a contract. The claim, £68 19s 1d, was for time and money lost owing to the stopping by the defendants of their contract with the plaintiff for the erection of a cottage at Palm Beach. The defendants paid £18 15s into court, and denied further liability. Mr. A. R. J. Watt, instructed by Messrs. John M'Laughlin and Son, appeared for the plaintiff, and Mr. Clive Teece, instructed by Mr. J. T. Ralston, for the defendants. His Honor returned a verdict for the plaintiff for the amount paid into court. DISTRICT COURT. (1918, March 13). The Sydney Morning Herald (NSW : 1842 - 1954), p. 9. Retrieved from http://nla.gov.au/nla.news-article15773331
PALM BEACH.-Furnished Cottages to Let and For Sale.- Gow and Howlett, Store. Phone. 24. Advertising. (1921, April 23). The Sydney Morning Herald (NSW : 1842 - 1954), p. 4. Retrieved from http://nla.gov.au/nla.news-article28086899

This, despite the wonderful spelling of their names, indicates the pair were part of the Palm Beach landscape, and had been for a while:
The first general store was at Palm Beach, on the Pittwater side near the jetty, as early as 1914, and was known as Booth's store. Later it became Ellis' store, and then after the last war two returned Diggers, Mr. Fred Howlett and his partner, Gowe, took it over. Their general supplies came by ship from Sydney by the Erringhi and the Kallawatta, and meat and bread came by launch from Newport. They made their own ice-cream in those days, and froze it in old fashioned freezers with coarse salt. It was just as popular as the well known brands are today.
It was not until 1929 that Howlett's store was established on the beachside of Palm Beach. Before that there was no road through from Pittwater, and the top road was used by residents. Palm Beach setting for smartest sea and sun togs. (1946, January 12). The Australian Women's Weekly (1933 - 1982), p. 22. Retrieved from http://nla.gov.au/nla.news-article47245736
Meanwhile, over that hill the sandy 'road' leads up in the photo above, members of the earliest families to settle permanently in Palm Beach were milking their cows and catching an abundance of fish or building the earliest weekenders and larger homes for the many that would soon flock to Palm Beach for 'the season'. The Gonsalves and Verrills families, who had links with Newcastle, where the Gow family hailed from, were whom Carl and Reginald may have been leasing and selling cottages for - along with the Palm Beach Company.
On the other side of the hill a golf course, horses and still intact Broken Bay Customs Station structures can be seen, along with a Gonsalves-Verrills residence to the east of their Waratah street home in sections enlarged from this panorama:

Above: EB Studios (Sydney, N.S.W.). circa 1917 - before 1946, Panorama of Palm Beach, New South Wales, 13 , retrieved from http://nla.gov.au/nla.obj-162489097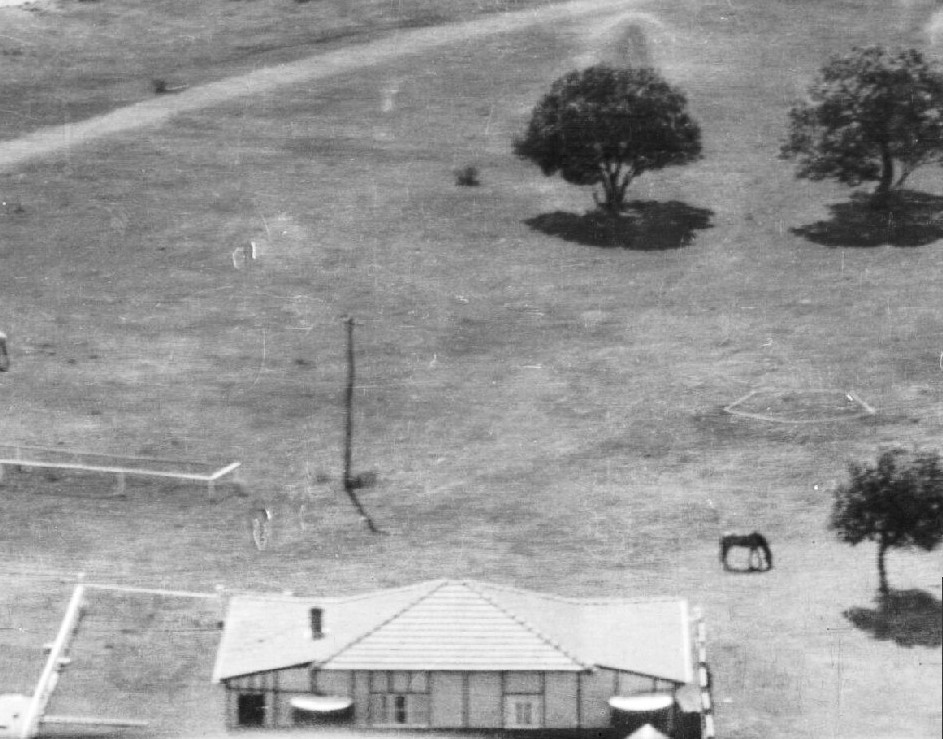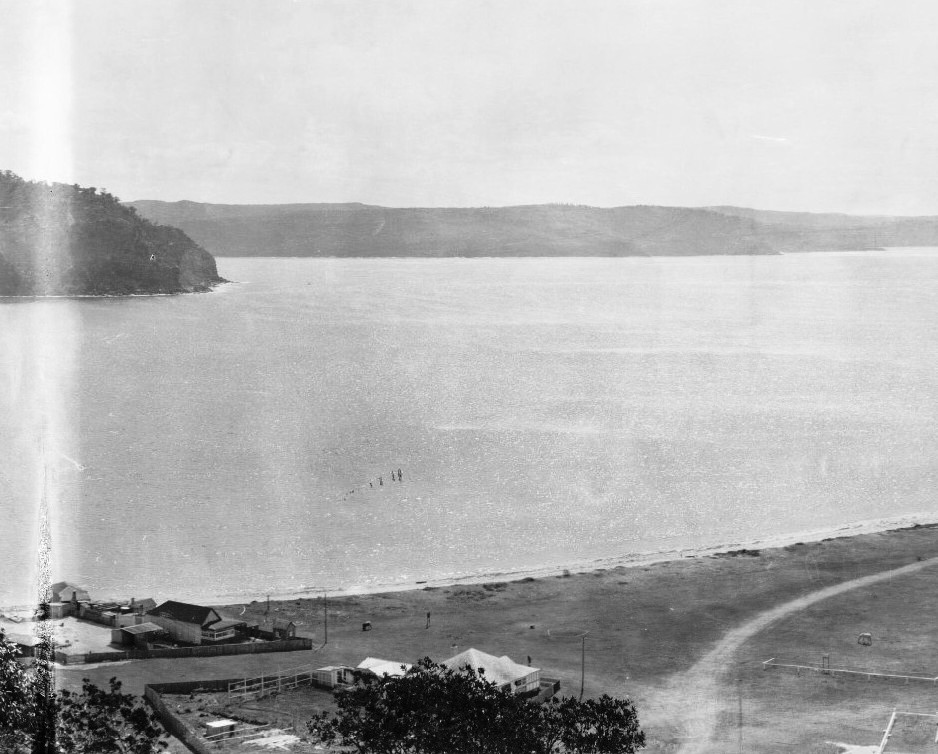 Those who knew and know the relatives state this became Carl Gow's residence - possibly so as not to get in the way of the bride and bridegroom, or to be around people he fished with - the Gonsalves. The Pano shows no evidence of the Hammond home, built 1924, next door which later became the site for the
Palm Beach Golf Club
- Joan Hammond later became a very successful golfer.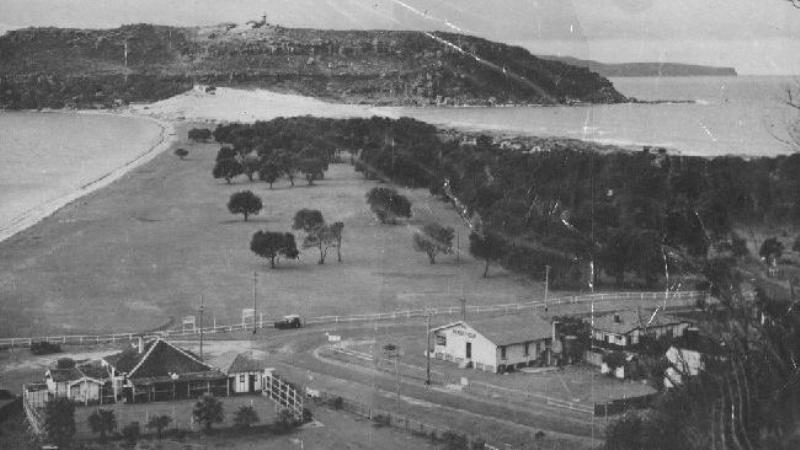 Hammond home next to Rendezvous - circa 1924-25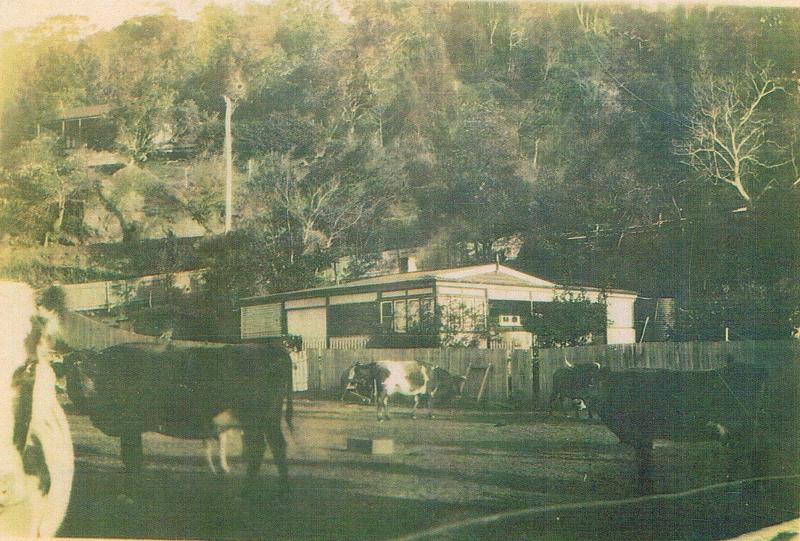 Gonsalves family home in Waratah Street, Palm Beach. From Verrills family album.
In 1908, at Woollahra, Francis Joseph Gonsalves was born. Francis J (Frank) was the sixth of seven sons and five daughters. Francis Joseph junior married Mary Jane Delaney in 1941. His sons were Frank and Carl. Of Frank seniors sons, Henry (Tim) and Sydney (Sid) Frederick, Harold (Midge) Edward appear with Carl among Palm Beach SLSC's earliest records: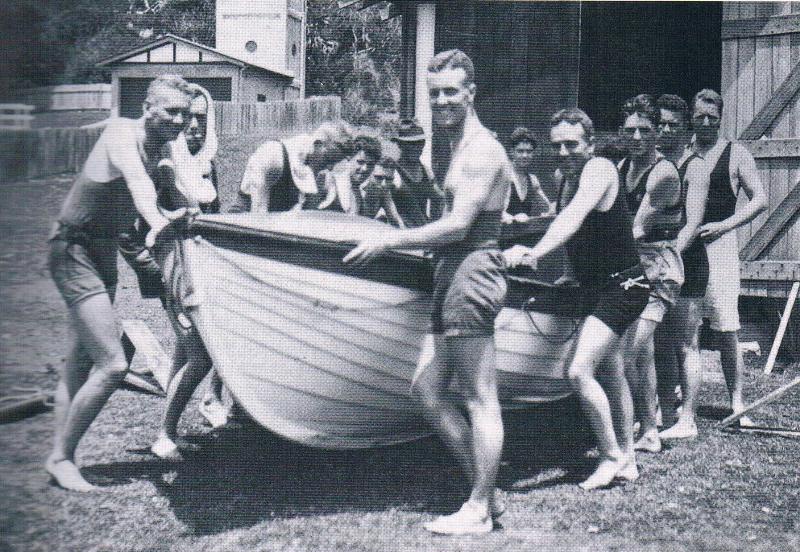 PBSLSC -The First Shed: Left; Merle Loxton,
Laurie Gallagher
, Tim Gonsalves and Sydney Gonsalves. H.R. Ayres and Harold 'Midge' Gonsalves. Right;
Adrian Curlewis
, Len Palmer, M Ormsby.
A few of their adventures as members of PBSLSC:
PALM BEACH TO NEWCASTLE. SURFERS' EXPERIENCES. NEWCASTLE, Friday.
The surf boat containing the members of the Palm Beach crew-the three Gonsalves brothers, Goddard, and Gow
-who will compete at the surf carnival, arrived at Newcastle shortly after noon to-day, after an exciting trip up the coast. Leaving Palm Beach at 4 a.m. yesterday, they were expected, at Newcastle before dusk last night, but a message arrived later that they bad landed at Terrigal to spend the night. Upon landing, the captain (A. Goddard) said that soon after starting they had to face a strong nor'-'easter, and after a hard row they decided to land at McMaster's Beach. As they turned the boat shorewards he was knocked overboard by a huge wave, and the next wave washed him further from the boat. "I was very glad," he said, "when they turned towards me, and eventually hauled me aboard, as the place has a bad reputation for sharks."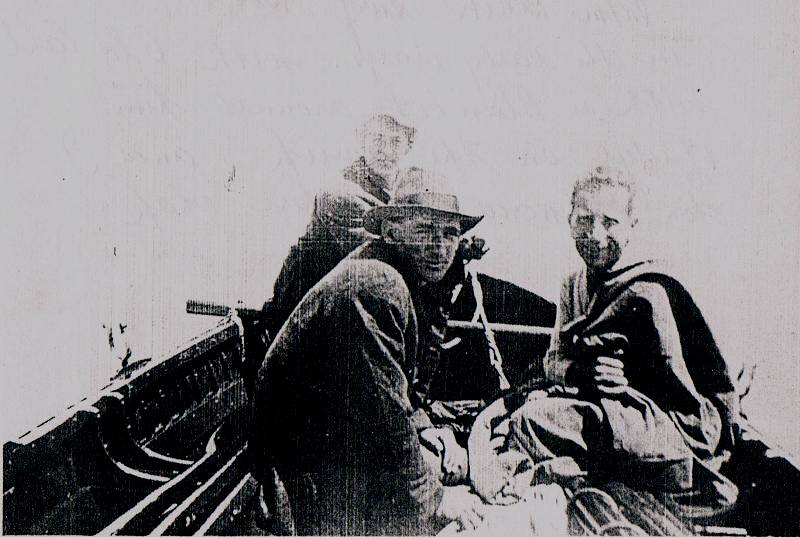 Later, on there appeared to be no chance of reaching Newcastle before dark, they decided to land at Terrigal. A start was again made at 6 o'clock this morning, and after rowing a few miles, they were picked up by the North Coast steamer Urana, and arrived off Newcastle about noon. The visitors wore welcomed by the president of the Newcastle Surf Club (Dr. Idris Morgan),and entertained at lunch In the Surf Club's pavilion. BOAT TRIP. (
1926, February 13
).
The Sydney Morning Herald
(NSW : 1842 - 1954), p. 15. Retrieved from
http://nla.gov.au/nla.news-article16264350
And here they all are again in a boat and on the water: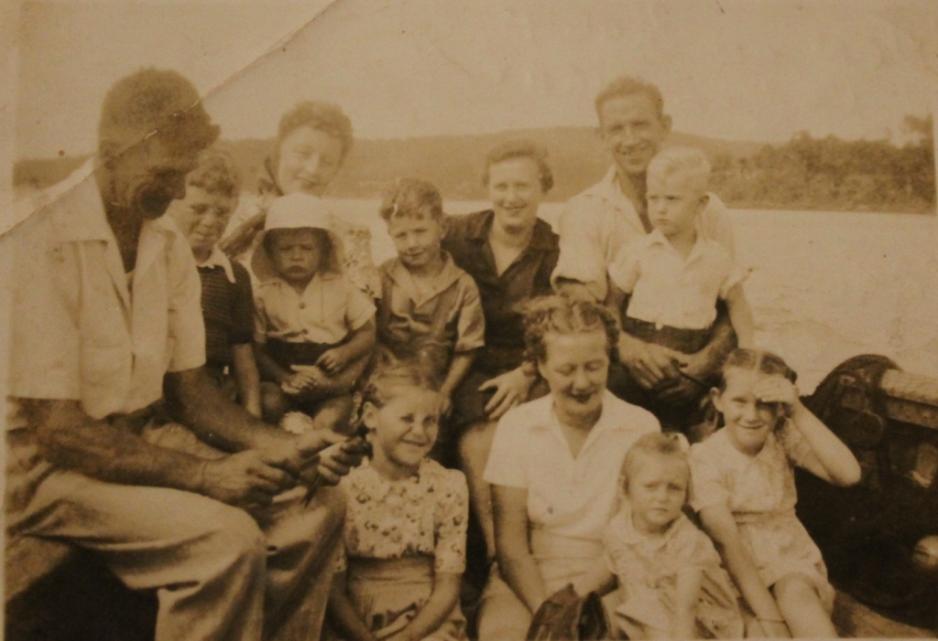 Carl Gow at far right, back row. Image Courtesy
Tom Gilbert
who is wearing the white hat, pictured with members of Lipscombe, Gilbert and Gonsalves families.
The nice element about this photograph as it brings in another memory for some of the formation of Palm Beach Kindergarten Mark I:
Palm Beach locals establish new kindergarten
Thirty-five Palm Beach children between the ages of three and five years will form a guard of honor when their new kindergarten is officially opened by Mr. P. C. Spender, MHR. on October 3.
"Establishment of this kindergarten is the result of three years' hard work by local residents," secretary and organiser of the Kindergarten Committee, Mrs. Harold Daniell, said. "We are particularly delighted, as it is the first time all Palm Beach residents have been working for one project."
The new building, which will be worth about £3500, also contains a pavilion for the North Palm Beach Surf Club members and a hall
which may be rented by other local organisations — the first hall of this type in the district. Worked in cottage The children started their kindergarten work about two months ago in a nearby cottage, but are anxious to move into their new building, which has all the latest kindergarten equipment. A full-time trained kindergarten teacher will be in charge, with a domestic assistant. For a nominal fee the children will receive their fruit and daily milk, and, in time, the committee hopes to provide a midday meal cooked in the modern all-electric kitchen.
An upright baby grand piano was bought with funds raised for the committee by Mrs. S. Donsalves.
A sum of £250 subsidised by the Warringah Shire Council went towards building costs. Members of the management committee include Mrs. Daniell, Mrs. Rudolph Mueller,
Mr. C. Gow
, and Mr. Frank Savage, who is president of the North Palm Beach Surf Club. Palm Beach locals establish new kindergarten (
1948, September 15
).
The Sun
(Sydney, NSW : 1910 - 1954), p. 11 (LATE FINAL EXTRA). Retrieved from
http://nla.gov.au/nla.news-article231143495
NB: the reference of a 'Donsalves' would be a Gonsalves
CHINESE dishes and barbecued food were served to more than 60 guests by the committee of the Palm Beach Kindergarten at the buffet party held at the home of their president, Mrs. Rudolph Mueller, at Palm Beach last night. Mrs. Mueller was assisted in entertaining the guests by Mrs. S. Allen. Social News And Gossip (
1951, August 19
).
The Sunday Herald
(Sydney, NSW : 1949 - 1953), p. 19. Retrieved from
http://nla.gov.au/nla.news-article18496063
With the growing popularity of Palm Beach bringing more and more visitors ways to cater for them closer to the beach itself would have been an obvious way to supplement and grow an income. Although this does not state which premises this is for, it probably wasn't the Gonsalves - Gow boatshed:
QUARTER SESSIONS APPEALS.
Hearing was continued of the appeals of Carl Beeston Gow and Alfred Edward Cooper respectively against the adjudication of the Metropolitan Licensing Court
refusing to grant their respective applications for publican's licenses for premises at Palm Beach. Both appeals were dismissed
, and the adjudications of the Licensing Court confirmed, with 20 guineas objectors' and £3/3/ Crown costs in each case. Mr. W. J. Bradley (instructed by Mr. W. H. Drew) appeared for appellant Gow; Mr. Clancy (instructed by Messrs. H. J. Aspinall and Son) for the appellant Cooper; Mr. V. H. Treatt (Instructed by Miss M. B. Byles) for certain objectors; and Mr. C. E. Weigall (Solicitor-General) for the police. QUARTER SESSIONS APPEALS. (
1927, February 15
).
The Sydney Morning Herald
(NSW : 1842 - 1954), p. 8. Retrieved from
http://nla.gov.au/nla.news-article16354861
Undeterred Carl tried another idea, despite a battle with that too:
PROCLAMATION.
REVOCATION OF RESERVE No 61,192 FROM
SALE OR LEASE GENERALLY.
IN pursuance of the provisions of section. 25a of the Crown Lands Consolidation Act, 3913, I, Sir Dudley Rawson Stratford de Chair, Admiral in the Royal Navy, Knight Commander of the Most Honourable Order of the Bath, Member of the Royal Victorian Order, Governor of the State of New South Wales and its Dependencies, in the Commonwealth of Australia, with
the advice of the Executive Council, do hereby proclaim j Reserve No. 61,392 from sale or lease generally, notified 7th June, 1929, being the land described in the Schedule hereunder, to be revoked, and the same is hereby revoked accordingly;—
EASTERN DIVISION.
Metropolitan Land District, and Warringah Shire.
County of Cumberland, parish of Narrabeen,; about 18 perches embracing the land applied for under Special Lease Application 1928-31, by Carl Beeston Gow, as shown by red hatching on heliograph R. with Papers L.B.
1928-585.
[Leases 1929-5,534]
Signed and sealed at Sydney, this thirteenth day of June, 1929.
D. R. S. de CHAIR,
Governor.
By His Excellency's Command,
FRANK A. CHAFFEY
(for Minister for Lands). [6035] GOD SAVE THE KING!. PROCLAMATION. (
1929, June 14
).
Government Gazette of the State of New South Wales
(Sydney, NSW : 1901 - 2001), p. 2500. Retrieved from
http://nla.gov.au/nla.news-article223022371
NOTIFICATION OF GRANTING OF SPECIAL LEASES.
Sydney, 30th August, 1929.
It is hereby notified, for general information, that Special Leases of the lands specified in the annexed Schedule have been granted to the undermentioned persons.
The leases are subject to the provisions of the Crown Lands Consolidation Act, 1913, and the Regulations thereunder, and to the special conditions, provisions, exceptions, covenants, arid reservations set out at the foot of the Schedule.
Rent is subject to adjustment on survey as from the commencement of the next year ensuing.
Any amounts which have been paid in excess will be refunded upon application to the State Treasury.
Any amount required to complete payment of expenses and rent from the date of the commencement of lease to 31st December, 1923, must be paid by the lessee to the Grown Land Agent of the District or to the State Treasurer within one month from this date, otherwise the lease will be liable to forfeiture, and should forfeiture be declared all moneys lodged with the application will become forfeited to the Crown.
For the year 1930, and any subsequent year, the rentals must be paid during the month of December of the preceding year.
Mr- B. T. BALL. Minister for Lands.
Gow, Carl Beeston, of Palm Beach. The Warringah Shire Council, of Brookvale.
County Cumberland, parish Narrabeen, portion 132; C. 4,003-2,030. Area, 18 ½ perches.
Refreshment Room. 1928-1931.
NOTIFICATION OF GRANTING OF SPECIAL LEASES. (
1929, August 30
).
Government Gazette of the State of New South Wales
(Sydney, NSW : 1901 - 2001), p. 3627. Retrieved from
http://nla.gov.au/nla.news-article223084652
In February 1930 T. Gonsalves was requesting permission from Warringah Shire Council to erect six shelters on Governor Phillip Park in the vicinity of his Store (this later became known as The Beacon Store and was near the Barrenjoey Boatshed). They may have been similar to those built at what was then The Rendezvous to serve afternoon teas in - groceries were sold from the corner of the home: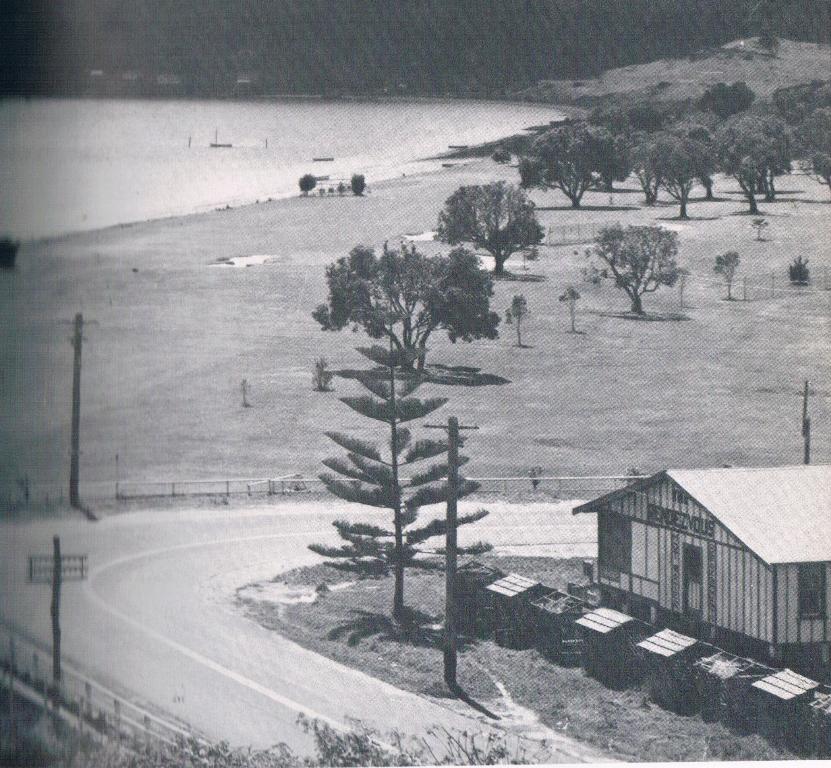 FIRST BALL - PALM BEACH GOLFERS
OVER 150 guests attended the first annual ball of the Palm Beach Golf Club, held at The Rendezvous. Palm Beach . Card tables were provided for non-dancers. Among those present were the president, Mr. S. H. Hammond, and Mrs. Hammond, vice-president. Messrs. B. B. Wiltshire, C. R. Crossman, E. R. Moser, D. B. Wiltshire. J. E. Armstrong, Percy Hunter, B. L. Houghton, Lady Maitland, Miss Cook. Mesdames S. J. Robinson, Peters, Brown, K. Barr. A. H. Aplelt, W. Woodley, Harper, C. A. Broughton, B. B. Wiltshire. H. Hendry. Wolstenholme, Hooper, Jeremy, P. H. Rush, E.B. Clarke, Misses M. and F. Coyle, Mackay, Brown. Molly Hawkes, Kathleen Strange, Biddy Bellbridge, Enid Donovan. H. Trewthze, Oarran, Wolstenholme, H. Dickson, V. Hendry. Walker, Goddard, Phyllis Clarke, M'Kenzie. L. Myers, Carlton, H. Hillyar, S. Myers, B. Downey, M. Campling, S. Downey. L. Campling and Messrs. J. Coyle, Peters, E. Barr, S.J. Robinson, Gibbons, S. Cutner, Lance Mullins, P. L. Houghton, J. Coyle, A. S.Mann, A. H. Aplett, W. W. Woodley. C.A. Houghton, H. D. Wolstenholme, E. Holden, C. Pulley. B. P. Dawson, Hooper, Jeremy. L. Jones, A. Britton. C. A. Clarke, Coffey and Hunter. FIRST BALL. (1929, April 8). Evening News (Sydney, NSW : 1869 - 1931), p. 10. Retrieved from http://nla.gov.au/nla.news-article118778203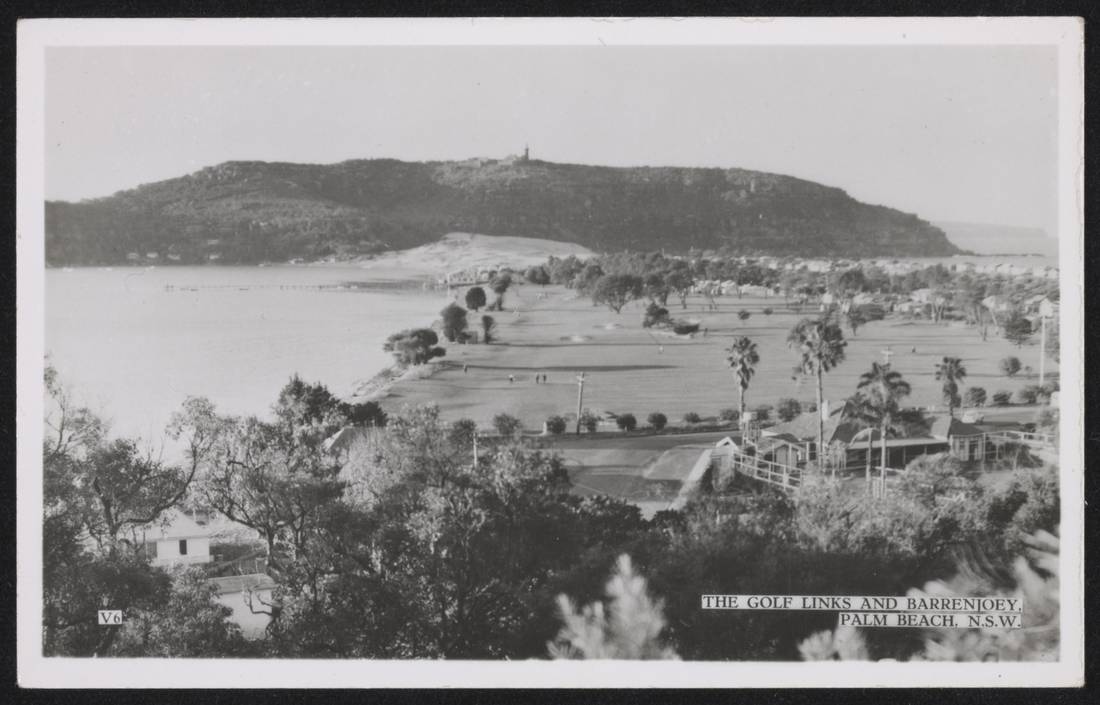 Palm Beach Golf Course circa 1947, showing tents of campers in background and Barrenjoey Boathouse and trees on golf link greens. Courtesy National Museum of Australia, from Josef Lebovic Gallery collection no. 1. And below one prior to the Barrenjoey Boatshed being built and tarred roads from the same collection: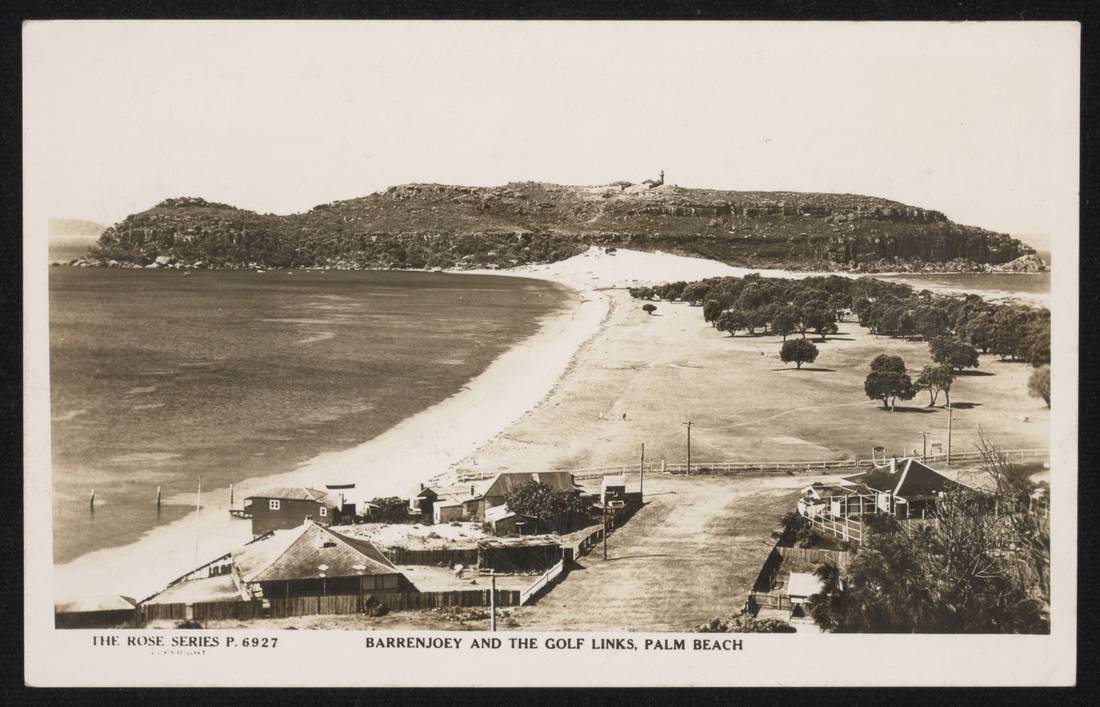 PALM BEACH GOLF CLUB DANCE - THE Palm Beach Golf Club held the first annual ball on Thursday night, at the Rendezvous. There was a full attendance of members and their friends, numbering about two hundred. Besides dancing to' excellent music, there were cards for non-dancers, and the evening was so successful that it was accepted as the augury of future annual functions. Among those who attended were Lady Maitland, with her sister, Miss Cook. Mesdames Hammond, A. H. Aplett, W. Woodley, Peters, Rush, A. Broughton, D. B. Wiltshire, M. Hendry, Hooper, Jeremey, and Misses Bellbridge, Molly Hawkes, Kathleen Stranger, Enid Donovan, Coyle, Brown, Hawkes, Gurran, Dickson, Phyllis Clarke, and Harper. PALM BEACH. (1929, April 7). Sunday Times (Sydney, NSW : 1895 - 1930), p. 20. Retrieved from http://nla.gov.au/nla.news-article131624961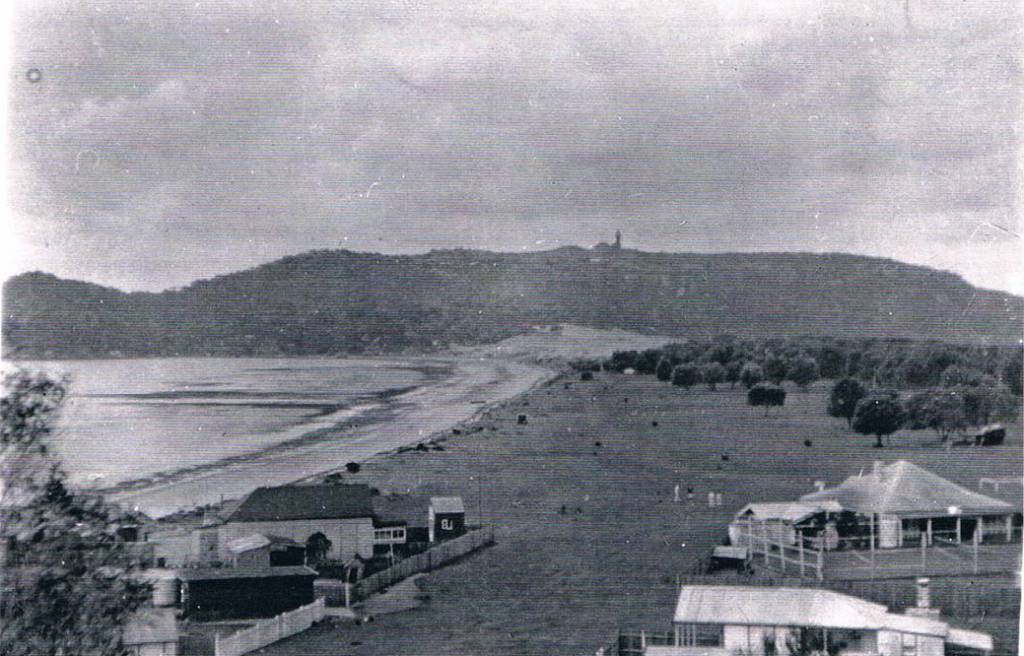 Palm Beach Golf Course - photo from Verrills Family Albums. Courtesy Peter Verrills.

The Palm Beach Surf Live-Saving Club will hold its annual dance at the Rendezvous Tearooms, Palm Beach, on December 28.The proceeds will go to the club's funds. Among the attractions at the dance will be a competition, the prize for which will be a flight in a seaplane, given by Captain J. Pentland. NEAR AND FAR. (1929, December 17). The Sydney Morning Herald (NSW : 1842 - 1954), p. 4. Retrieved from http://nla.gov.au/nla.news-article16610763
AT PALM BEACH
"EVENING dress was distinctly "not done" at the New Year's Eve dance at "The Rendezvous," Palm Beach, last night. Among the 170 who came for the fun only one girl wore an evening gown, the rest donned beach or sports costumes, with bizarre effect. Some girls chose "flannels" — the long, cream trousers that men wear' on the tennis court; Mrs. Pat. Levy chose shorts, with a large Mexican hat and silk shirt; Miss Margery Rutherford's scarlet shorts were a gay splash of color with her sleeveless silk shirt. Mr. Ronnie Nott added a touch of Highland gaiety with tartan shorts. Shorts, sandshoes, plus-fours, sweaters, or any sporting wear was the mode — the lack or conventionality making it one of the happy memories the holiday-makers present will take away with them. The hearty singing of "Auld Lang Syne at 12 o'clock ushered in the New Year. AT PALM BEACH (1930, January 1). The Sun (Sydney, NSW : 1910 - 1954), p. 2 (LAST RACE RESULTS). Retrieved from http://nla.gov.au/nla.news-article226020644
Palm Beach Gow's Refreshment Room WHERE TO VOTE. (1930, October 24). The Sydney Morning Herald (NSW : 1842 - 1954), p. 15. Retrieved from http://nla.gov.au/nla.news-article16724988
A foot on the soil of Australia in 1817 and a structure that may be close to
celebrating
its
centenary in 2017
, despite some parts clearly being modified through the decades and bits added on, has been and remains a focal point of discussion in the Pittwater community at present. A reluctance to see another space associated with so much local memory become another home and placed out of reach has caused a petition to be started, with 1154 signees so far, and more scrutiny of
Application Number: N0508/16
where it is proposed to erect a two storey, 8 bedroom dwelling on the site.
As with all things Palm Beach, when the property most recently changed hands it was for almost $2 million, an amount that would have increased since then - a hundred years on from when blocks at Palm Beach sold for a mere handful of pounds or couldn't be sold at all.
Fine food and even fine scones and coffees, once, were served but all in hospitality know the margins in that industry don't allow for off-seasons and noise complaints closing businesses down. Dreaming of a community space and art gallery, alike that dreamt of for the Pasadena at Church Point, hasn't produced the reality - we may be rich in heritage but remain poor in concrete and glass results when so much is squandered on producing paper plans for community centres and little else.
Concrete and glass to brimming edge are planned for this site - time will shortly tell if anything else will ever happen.
Carl would probably have gone fishing and thought about it for a while...and then....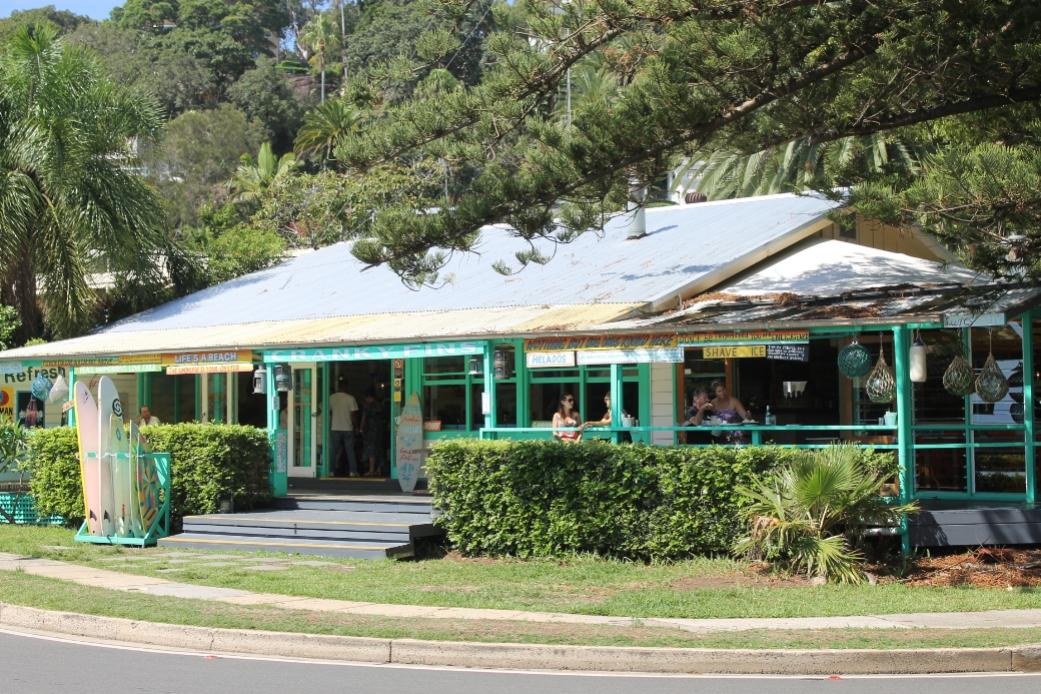 Extras and references
Liquor licence

Granted For

Avalon Beach
In the Metropolitan Licensing Court yesterday, Mr. Wells, S.M., granted a spirit merchant's licence to William James McDonald for his mixed grocery and hardware business at Avalon Beach.
Objections to the granting of the licence were made by the Licensing Inspector and by Mr. A. B. Hollingdale, on behalf of the Newport Hotel, Port Jackson Stores, at Palm Beach, and a licensee at Collaroy, on the ground that the area was already well provided for.
Evidence was given by permanent residents and week-end visitors of the difficulty in getting supplies of liquor.
Among those who gave evidence in support of the application was Thomas Januarius Smith, Wanganella Street. Balgowlah, president of the Board of Fire Commissioners, who said he was a frequent visitor to Avalon Beach. The district was not supplied with liquor and he had failed to get supplies at the Newport Hotel or at Palm Beach.
Two other applications for a spirit merchant's licence were refused by Mr. Wells.
Mrs. Jessie Alice Isabella Robinson applied for a licence in connection with her mixed grocery business in Sydney Road, Balgowlah.
Sgt. Brownette said that a licence had been granted to another applicant in the same area last month.
Holding that an application for a spirit merchant's licence could not be granted in respect to premises which did not exist, Mr. Wells refused an applica-tion made by Hugh Charles Oliver Milne, of Hotham Parade, Artarmon for a licence for premises to be erected in Pittwater Road, Narrabeen. Liquor Licence Granted For Avalon Beach (
1946, November 27
).
The Sydney Morning Herald
(NSW : 1842 - 1954), p. 3. Retrieved from
http://nla.gov.au/nla.news-article18003928
Luxurious Hotel Plan For Avalon
Transfer of the Royal Standard Hotel, Cleveland Street, Redfern to Avalon, where it is proposed to build a tourist hotel, was applied for today. The removal of the licence was applied for conditionally, before the Full Bench of the Licensing Court. It was opposed by the Warringah Municipal Council and several local residents. The application was made on behalf of C. L. Dawe, licensee of the Royal Standard Hotel. Other Palm Beach and Avalon residents supported the move. Plans before the Court are for a £120,000 structure, including a private swimming pool, 36 double rooms. 16 dual purpose rooms (double and single), and staff quarters. The proposed hotel would cater for 160 people, and have a children's- nursery and dining-room. The site selected is on the southern headland, opposite the golf links. Tourist Argument Mrs. H. B. Poison, who owns a property at Avalon, said the erection of an hotel there would eliminate the congested drinking conditions at the Newport Hotel, the only one in the area. Friends in California had written and told her that they would visit Australia if and when a suitable hotel for tourists was available on the coast near Palm Beach.
Mr. Carl Gow, trawler owner of Palm Bench, said: "The nearest hotel is at Newport, and accommodation at guest houses between Newport and Palm Beach is restricted. It is possible to buy beer in dozen lots from the two stores with liquor licences, one at Avalon, and the other at Palm Bench, but you have to be known or you can't get it,"
Luxurious Hotel Plan For Avalon (
1947, April 29
).
The Sun
(Sydney, NSW : 1910 - 1954), p. 3 (LATE FINAL EXTRA). Retrieved from
http://nla.gov.au/nla.news-article228990673
Hotel Plan Opposed At Avalon
A number of Avalon residents yesterday opposed the transfer of a hotel licence from Redfern to Avalon. They claimed that the hotel would disturb the peace of the area, and would attract an undesirable class.
Charles Leslie Dawe applied to the Metropolitan Licensing Board for the conditional removal of the publican's licence of the Royal Standard Hotel, Cleveland Street, Redfern, to Barrenjoey Road, Avalon.
"QUIET DISTRICT"
Among the objections raised by residents were:
Henry Robert Holmes, of Old Barrenjoey Road, Avalon (retired clergyman): The district was quiet and suitable for family life. Campers were of a most respectable type. He had not met one resident in the district in favour of a hotel.
Cecil Leslie Cook, of Avalon Parade, Avalon Beach (exporter): If a hotel was established at Avalon a less desirable type of camper would be attracted to the camping reserve. Road traffic would also become more congested..
DISORDER FEARED
Frederick Fuller: A hotel would lead to drunkenness and disorderliness.
Douglas Bernard Sheather: The district was sufficiently catered for already.
George K. Dunbar (sales manager and a Warringah Shire councillor): Population at Avalon did not warrant a hotel.
Gordon Henry Lobban (motor car salesman and an ex-Serviceman): The only new buildings at Avalon at pre-sent should be new homes.
The further hearing was adjourned till Friday.
Mr. W. Lieberman, of Messrs. Lieberman, and Tobias, appeared for the applicant; Mr. J. E. Cassidy, K.C, instructed by Messrs, Maund and Kelynark for objectors ; and Sergeant J. H. Milne for the police. Hotel Plan Opposed At Avalon (
1947, June 4
).
The Sydney Morning Herald
(NSW : 1842 - 1954), p. 5. Retrieved from
http://nla.gov.au/nla.news-article18028939
A concert; and dramatic entertainment was given in the Brookvale Public School on Thursday evening
. The schoolroom was tastefully, decorated with flowers and ferns. There was a large attendance. The Rev. R. S. Miller, vicar of Manly, occupied the chair, and was supported by the Rev. A. Sailey, missionary curate in charge of the district. The programme was opened by an overture by Mrs. Sailey and Miss Jacobi, which was much appreciated. The next item was a ' See-saw' by the children, who had evidently been well trained, and were under the guidance of Mrs. Sailey. This lady followed with 'The Song That Beached My Heart,' song in a manner that carried her audience with her. 'The Fisherman and His Child' by Mr. Terry, and comic song in character by Mr. Miles were also well received.
After a short interval a short farce, 'The Hotel Keeper,' in which. Messrs. G. Jones, Howlett, and J. Jones took part, followed, and caused some side-splitting mirth
, the characters being well - sustained. The song ' Hauled Back Again/' by. Mr. A. Bagnall, was received with much applause, as was also Mr. Hanson's recitation; 'The Man From Snowy River.' Penny Postage. (
1893, January 14
).
Evening News
(Sydney, NSW : 1869 - 1931), p. 3. Retrieved from
http://nla.gov.au/nla.news-article113734816
Luddenham
We regret to have to record the death of Mr William Howlett, of Luddenham
, the sad event taking place at deceased's late residence, Luddenham, on Saturday last (4th September). The deceased gentleman was one of the grand old brigade of early pioneers, who so staunchly stood by the interior destinies of the country, so to speak, in the rugged formative years, and who, as it were, nurtured the infantile growth of our primary industries. Mr Howlett, who was 83 years of age, was a native of Greendale, and practically lived at Greendale and Luddenham District all his life. He married at 22 years of age, the maiden name of his wife being Miss Agnes Ebbs, who predeceased him 29 years ago. There are nine children left to mourn the loss of a revered and kindly father, viz : William Thomas Howlett, Greendale; Edwin Charles, Camden; James, Sydney; Alfred John, Manly; Henry Neil, Manly; Robert, Luddenham; George, York Estate, Penrith; and Mrs Robertson, Parramatta; and Mrs J Adams, Luddenham. There are 27 grandchildren and 12 great-grand-children. The cause of death was, we understand, senile decay, deceased having reached a very advanced age. The interment took place on Sunday afternoon in St James' Church of England burial ground, Luddeham. There was a large attendance, and Rev W M Holliday conducted the burial service. Luddenham (
1915, September 11
).
Nepean Times
(Penrith, NSW : 1882 - 1962), p. 6. Retrieved from
http://nla.gov.au/nla.news-article86169646
Palm Beach Store - The Beach Frontage
KALEIDOSCOPE Palm Beach Spirit DANCE AT STORE
Just to prove what enthusiasm will do Palm Beach habitues turned out 250 strong in support of, their Life Saving Club dance on Saturday night.
Hessian enclosed the verandahs of the Beach Store against the stares of the curious hundreds unable to obtain admittance, as the invitation tickets were limited
, DESPITE the general hilarity, crowded floor, and holiday spirit, however, the lone policeman who patrolled the neighborhood till midnight had what he termed "quite a restful evening." Even the store was completely empty at five minutes after midnight, the floor being cleared punctually at the stroke of 12. Seldom has frocking been so bizarre or so varied even at Palm Beach. Iii the crowded little store the blare of the saxophone was conspicuous by its absence, or only heard faintly from the rival function at the end of the beach road. A piano provided the music, but the crowded dance floor and the effect of the day's sun and surf made the hundreds of cars parked outside the store a popular rendezvous for the various house parties. One lone man, In full evening dress; dozens of dancers in shorts and shirts; still more of the fair sex in beach pyjamas and "long 'uns," with a smattering of sports frocks, tea gowns and formal evening frocks, all added to the kaleidoscopic frocking. Miss Nora McAuliffe wore a jaunty ensemble of long white creams, a black and white tunic with narrow shoulder straps, a black and white scarf, and a beret to complete the chic effect.
Mrs. pat Levy was tne only advocate of grey "slacks." Miss Nancy Ruthven wore a nautical pair of white shorts rolled up on her legs, and a sailor's blouse, complete with anchor and wide blue collar. Full evening wear was favored by Miss Gretel Bullmore, who wore a very formal gown of heavy black satin, with matching coatee trimmed with flat white fur. Miss Peggy Bullmore wore a dainty tea gown of brown shaded chiffon, and Miss Mary Bullmore wore an afternoon frock of daffodil georgette.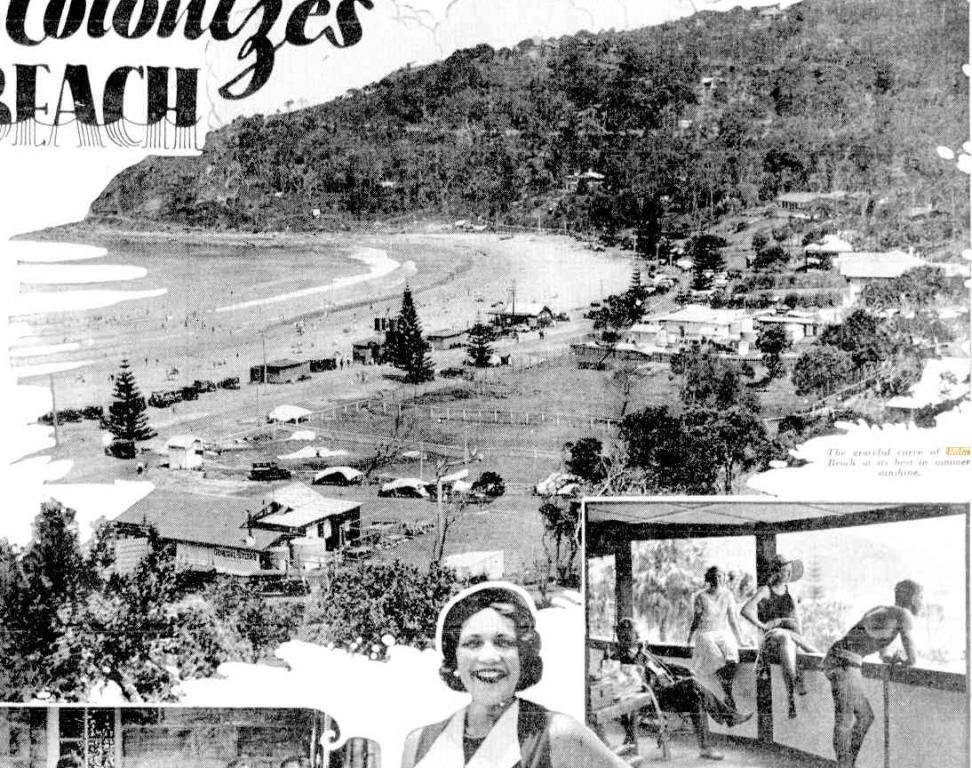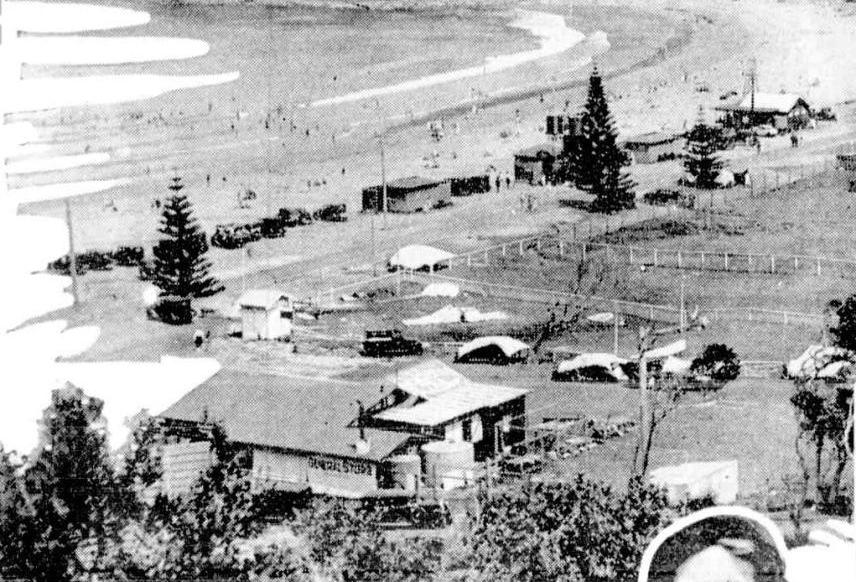 PALM BEACH was en fete yesterday afternoon for the super cocktail party given by the committee of the Palm Beach Life Saving Club in celebration of the acquisition for a club of Mr. Chorley's former home and about two hundred visitors went for the fun. As the Pirates' dance, organised by the club, was held later in the evening at Howlett's store, many of the guests went along in their pirate clothes. The greatest revelry was the order of the day and night, and everyone of the Palm Beach habitues was present. Among the crowd assembled were: Mr. and Mrs. C. P. Curlewis, Mr. and Mrs. Adrian Curlewis, Mr. E. Moser, Miss Moser. . Mr. and Mrs. Warwick Fairfax, Mr. and Mrs. George Campbell, Miss Sheilah Pring, Mr. and Mrs. Graham Pratten, Mrs. Alrema Samuels, Mr. and Mrs. F. B. Langley. Mrs. Byram Mansell, Captain Rex Beale, Mr. and Mrs. Laurie Foster. Mr. and Mrs. Dan Carroll, the Misses Rutherford, Mrs. W. Barnes and the Misses Barnes, Mr. and Mrs. Michael Meyers, Mr. and Mrs. Moss, Mr. and Mrs. John Ralston. Mr. Hagon. Dr. and Mrs. R. M. Mackay, Mr. and Mrs. Percy Spencer. COLORFUL LEAP YEAR CARNIVAL (
1936, February 23
).
The Sun
(Sydney, NSW : 1910 - 1954), p. 36. Retrieved from
http://nla.gov.au/nla.news-article230085108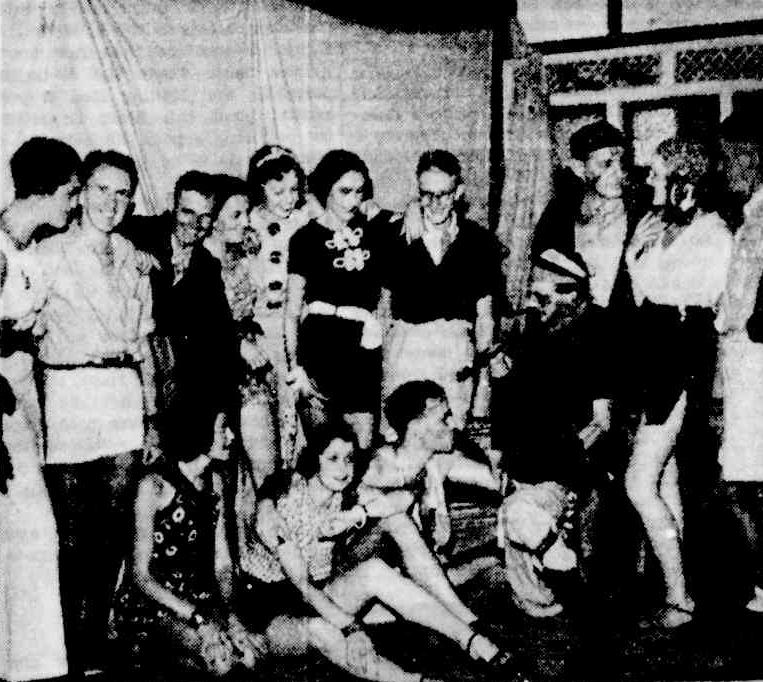 ONE of the cheeriest dances of the season was the Pirates' Dance, staged by members of the Palm Beach Surf Club,
at Howlett's Store, Palm Beach, last Saturday.
Apparently the idea of the correct costume for a pirate is not a universal one, for the dancers displayed a marvellous variety of ideas in their dress. Massive ear-rings, knotted bandanas, and a profusion of blood-curdling scars, half-covered by long, black moustachios and beards, were the chief disguises of the men, but further than that they refused to agree.
Some of them wore full, short skirts of garish cotton cloth; some were in shorts with knee-boots; and others proclaimed by their costume that no pirate wore anything but long, black trousers with black shirts and gaily-coloured scarves round the waist.
Tattooed skull-and-cross-bones across their chests and backs were featured by many of the men, while dozens of bottles of red ink must have been used to achieve the gory stains on daggers, cutlasses, and ragged shirts.
"A piratical maid-of-all-work"-Miss Jean Black.
Mrs. F. R. Gale is captivated by Mr. Colin Gildefs realistic piratical make-up.
Miss Joy Flower looked a very attractive "pirate" lass as she danced with Mr. O. Davis.
FEW WOMEN AS PIRATES.
Very few of the women appeared in full pirate dress, preferring to wear their ordinary shorts or slacks with a bright spotted or striped scarf tied round the waist, with sometimes a matching scarf at the neckline.
Those who did dress the part had brief tattered shorts and torn shirts with bizarre coloured bandanas, and brilliant red and black was used for most of the costumes. Black was used, too, for the hats, with a white skull grinning above crossed bones.
(Top, left.) Commander C. M. E. Gifford and the leader of the orchestra entertain the "pirates" with a concertina song-and-dance. (In circle.) As Mr. Jim Singer swings his cutlass, Miss Marjorie Middleton and Miss Betty Munro express joy and horror respectively. (Above.) A fierce struggle between Mr. Geoffrey Moss and Mr. Des. Carr is watched by Miss Joy Flower and Miss Josephine Powell.
Not so very long ago, dancing in Sydney was looked upon as solely a winter pastime, as none of the men cared to wear their thick dress-suits and career around a dance floor during the hot summer months-and, after all, the girls could hardly have a dance without any male partners.
But since some bright soul had the brilliant idea of holding a "beach dance" to which the guests were bidden to come in shorts and shirts, the vogue for summer dances has been steadily increasing.
At all the popular summer resorts such at Palm Beach, Collaroy, and Terrigal, scarcely a night passes with-out someone entertaining at one of these informal parties.
Women have quickly adapted their fashionable wardrobes to provide for these occasions. In addition to their more useful outfits for day-time wear at the beach, they now appear in the evenings in slacks or shorts of gaily patterned silks with matching shirts or quaint sun-tops.
"Pirate" stories are being exchanged in this group.-From, left to right (standing): Miss Laurie Barnes, Mr. Geoffrey Major, Mr. Len. Randerson, Miss Jean Hosking, Miss Cynthia Butler, Miss Margaret Anderson, Mr. Peter Ruelberg, Mr. Des. Carr, Miss Joy Flower, Mr, O. Davies. Sitting (from left to right): Miss Bobbie Mayo, Miss Josephine Powell, Mr. Bill Bathgate, and Mr. J. Else-Mitchell.
The dance was held to celebrate the acquisition of Mr. Chorley's former home as a new clubhouse for the members
, and they entertained at a cock-tail party there before the dance. It is a two storied house, facing right on to the beach, and has two wide verandahs, which will probably be used for many of the surf club dances next season.
A quaint flight of curved stone steps leads up to the back of the house, where there is a flagged stone porch opening on to the lawns, surrounded by palm trees and natural bush.
Many of those who attended the cocktail party in their beach shorts and shirts were quite un-recognisable when they appeared later at the dance in the pirate disguises. Pirates (
1936, February 27
).
The Sydney Morning Herald
(NSW : 1842 - 1954), p. 12 (Women's Supplement). Retrieved from
http://nla.gov.au/nla.news-article17333452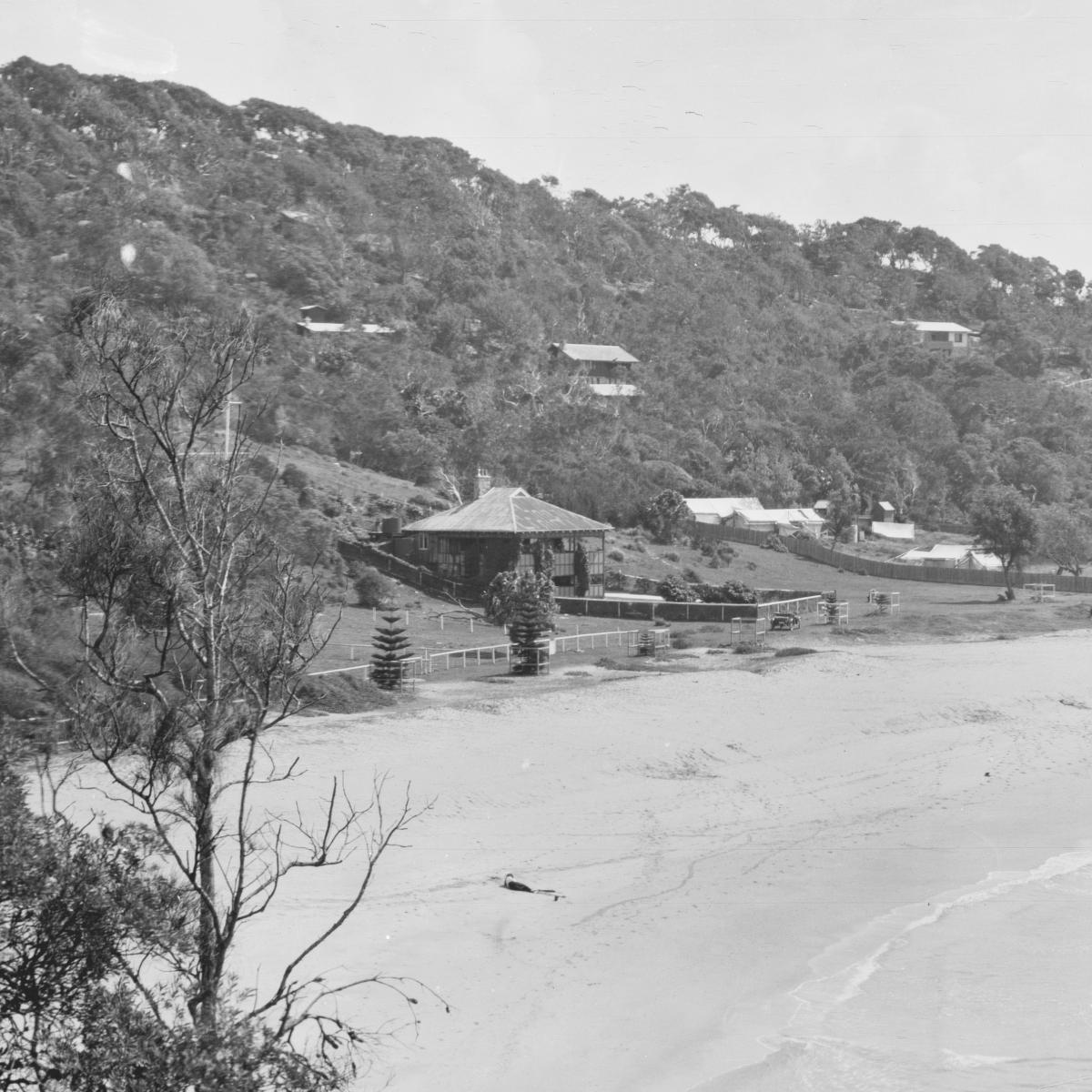 Chorley's - section from panorama - courtesy National Library of Australia
At 7.30 on Monday morning a very enthusiastic crowd of 80 to 100 friends assembled on the wharf at Palm Beach, Barranjoey, to bid farewell to Mr. W. Chorley and Mrs. Chorley and their daughters, of 'Mount Pleasant,' Cheltenham. The family have been staying over the holidays at 'The Rest,' which is their pretty seaside residence facing the ocean, and situated at Palm Beach.
At 'The Rest' friends were right royally entertained, and received the Chorley family's usually abundant hospitality. Croquet tournaments were played, surf parties and plenty of music were indulged In, and altogether the holidays were very delightfully spent. There was great rejoicing when Mr. Chorley's private launch came alongside the wharf, which was overcrowded with sincere friends. The Hon. W. Tyler, of South Australia, made a most humorous speech; and Mr. Chorley responded in his usual happy way, and hoped that they and their friends would all be spared to meet again next Christmas. All joined hands and sang 'Auld lang syne' whilst the launch drew out from the wharf and steamed down the river. PERSONAL PARS. (
1915, January 13
).
The Cumberland Argus and Fruitgrowers Advocate
(Parramatta, NSW : 1888 - 1950), p. 3. Retrieved from
http://nla.gov.au/nla.news-article86103157
Mr William Chorley whose death took place on Monday at Cheltenham was a pioneer of that district where he took up land about 46 years ago and named It Cheltenham after his native town In England. He was also one of the first to build a home at Palm Beach. He was associated with all local enterprises at Cheltenham and was a prominent member of the Congregational Church of which he was a generous supporter for many years the founder and principal of the well known business of W Chorlev and Co Ltd he had been associated with the business life of the city for more than half a century. He was 75 years of age He is survived by two sons and seven daughters… OBITUARY. (
1935, April 24
). The Sydney Morning Herald (NSW : 1842 - 1954), p. 10. Retrieved from
http://nla.gov.au/nla.news-article17152960
ATTRACTIVE SEASIDE RESORT Incomparable Views
With the rocky headland of Barrenjoey standing guard at the northern extremity, the broad bosom of the Pacific swelling lazily on the right, and the beautiful waters of Broken Bay, on the lett, lies Palm Beach, one of the wonder seaside resorts on the New South Wales coast. From the heights of Palm Beach incomparable landscape and seascape views' are to be obtained. In Broken
Bay the many inlets and small islands make a moat charming picture, while the 'Basin' is most popular with yachtsmen. Then there is Careel Bay and Pittwater, affording excellent swimming, boating and fishing facilities, while at Palm Beach itself there is a splendid surfing beach fringed with golden sand. Also, from the heights on Pacific-road, the township of Hawkesbury and Ocean Beach, Woy Woy, are discernible, while Lion Island adds a picturesque touch to the already lavish picture that Nature has painted.
Willmore and Randell,

real estate specialists, are offering a limited number of home sites for sale at Palm Beach, and they should appeal to the city business man who is seeking a block of laud in a marine suburb not too close to the city. It must be remembered that Palm Beach is the last of the ocean beaches within reasonable distance of Sydney, and the completion of the North Shore Bridge will result in quicker transit to that popular resort. These home sites front Florida-road, Pacific-road and Palm Beach-road, and are commodious in size and practically all commanding wonderful views. The selling agents arrange motor inspections by Appointment only, and cars leave their office,. 10 Castlereagh-street, daily. To anyone desiring further particulars Willmore and Randell will forward an illustrated booklet upon application. As an indication of the exclusiveness of the locality, the following list of residents' can be cited: Lady Maitland, A. T. Hordern. Esq., Dr. Gordon Craig, Dr. Goodsell. D. B. Wiltshire, Esq.. Dr. Thring, W. H. Rayner. Esq., G: Mason Allard, Esq.. W. Lipscombe, Esq., Dr. Blaxland,

W. Chorley, Esq

., W. Lewis, Esq., C. P. Curlewis. Esq.. T. Peters. Esq., Dr. Bullmore, Dr. Brown, C. R. Crossman, Esq., E. Gray. Esq., E. R. Moser, Esq., Dr. Brown Craig. PALM BEACH (

1925, October 4

). Sunday Times
(Sydney, NSW : 1895 - 1930), p. 4. Retrieved from
http://nla.gov.au/nla.news-article128163200
Beginning last night at 12 o'clock, and continuing till the sun was in the sky, an invitation dance,
in the Interests of the Palm Beach Life-saving Club, was held at Howlett's Ocean Beach Store.
Innumerable flags, palms, and flowers were used for the decorations, which were carried out on a brilliant scale, and a novel bouffet supper was among the attractions. About 200 guests attended.
SOCIAL [?] PERSONAL. (
1934, January 1
).The Sydney Morning Herald (NSW : 1842 - 1954), p. 3. Retrieved from http://nla.gov.au/nla.news-article17036802
At Palm Beach
Mrs. Laurie Seaman, who always arranges a novel entertainment at her charming Palm Beach home, will leave on Friday with her two sons, Bruce and Laurie, for the seaside. This popular resort will be gay as usual. In addition to private parties, at least two dances nave been arranged by the Life Saving Club, to be held at the Howlett Store, at which the Beer garden" will be an innovation. Mrs. Adrian Curlewis will leave on December 23, for Palm Beach, with her children, Ian and Philippa, and for part of the time will be joined by her mother. Mrs. S. H. Carr. AT HOME (
1935, December 17
).
The Sun
(Sydney, NSW : 1910 - 1954), p. 20 (LATE FINAL EXTRA). Retrieved from
http://nla.gov.au/nla.news-article230181810
Eric Campbells . . . at Palm Beach in Howletts' new house on the hill
.
Betty Tilley, the Ross Arnotts, Bob and Betty Arnott . . . at Collaroy.
Jim Kendalls and two Dalmatians . . . Palm Beach.
SEVERAL buses and about thirty cars will be used to transport 200 returned soldiers from Randwick Graythwaite and Callan Park Hospitals on a days outing on December 12.
This
Christmas party is the last of many entertainments arranged for the Diggers during the year by Mrs A D Mcintosh.

The men will be entertained at lunch at Howletts Store Palm Beach

and
donations by various city firms have bee made towards the refreshment and transport Mrs Mcintosh was recently awarded the Certificate of Meat and gold badge of the Federal Congress of the Returned Sailors and Soldiers Imperial League of Australia in recognition of her work for ex-servicemen. FETE TO HELP ANZAC BUFFET (

1940, December 5

). The Sydney Morning Herald (NSW : 1842 - 1954), p. 16. Retrieved from http://nla.gov.au/nla.news-article17703494
TWO FINED £500 FOR FALSE TAX RETURNS
Fines of £100 plus additional penalties of £400 were imposed today on each of two men who pleaded guilty in Central Summons Court to having furnished a false income tax return.
Fined were: Reginald Augustus Howlett, described by Mr. W. M. Brady (for the Taxation Department) as "the universal provider of Palm Beach," and Patrick Francis Dolan, veterinary surgeon, of Pacific Highway, Chats-wood, Mr. Brady said that Howlett described himself as a storekeeper. "Actually, he conducted a tearoom, car park, newsagency, estate agency, and general store-keeping business," he said. Howlett's return for 1945, which stated gross income at £11,564, was understated by £580, tax evaded being £394, said Mr. Brady. Mr. Lionel Dare (for Howlett) said that Mr. Brady had given a grossly exaggerated and colored hearsay statement. "There is no suggestion of fraud," said Mr. Dare. "Howlett runs a weatherboard shop slung up on the seashore. He and his wife have worked seven days a week for seven years, and he has not had a tea-room since 1941."
Mr. Dare said that during the war Howlett built a house in his wife's name, as he had never paid her wages, but the department had included the rent from the place as part of his income.
Mr. Denton, SM. In fining Howlett, said that there was no suggestion of deliberate misrepresentation on his part, but he …
The Adventures of Carl Gow the Fisherman
Narrow Escape in Rough Sea
A crew of three in the motor schnapper boat Darra had an adventurous journey in rough seas from Palm Beach, Sydney, to the Clarence River. The men-
P. Gonsalves, C. Gow and C. Gilbert
-had a miraculous escape near Smoky Cape. They said the little boat was struggling against heavy seas for five hours on Thursday night without making any headway. Suddenly out of the blackness of the night a steamer with all lights out loomed up a few yards away and swept past the small craft, with only a few feet to spare,. "There was no time to get frightened," said Gonsalves. "It was all over in a few seconds." Narrow Escape in Rough Sea (
1942, October 13
).
Newcastle Morning Herald and Miners' Advocate
(NSW : 1876 - 1954) , p. 2. Retrieved from
http://nla.gov.au/nla.news-article132819229
Seine trawler men operating off Palm Beach this week picked up depth charges in their nets. They swiftly cut the nets and their hauls of fish free. Mr. C. B. Gow, of Palm Beach, said: "There's no doubt about It, they were depth charges. We have men who served in the war in small ships."
Mr. Gow added that fishermen had evidence that surplus and deteriorating ammunition was being dumped too close to the coast. Seine trawlers were picking up ammunition within nine miles of the shore. Ships were expected to take the ammunition out to water so deep that it would not be reached by trawler nets. Sea Yields Explosives (
1946, November 15
).
The Sun
(Sydney, NSW : 1910 - 1954), p. 3 (LATE FINAL EXTRA). Retrieved from
http://nla.gov.au/nla.news-article229541910
Fish Worth £100 Went For Nothing
It won't be hard to guess what's cooking tonight in Belmont-street, Alexandria.
Mr. C. B. Gowe, trawler operator from Palm Beach, gave away more than two tons of fresh whiting, worth £100. In a quarter of an hour, hundreds of people swarmed around Mr. Gowe's truck.
Mr. Gowe said: "Because of the mismanagement at the Fish Markets, I am unable to market this fish. "Rather than dump it at sea, am giving it away. "The price paid to us is sending us broke. The Government is causing chaos in the industry."
Mr. Gowe has links with people in Alexandria-street.
Big Event Mayor of the suburb (Ald. J. J. Collins) thanked Mr. Gowe on behalf of the citizens. One citizen said: "I've got enough fish to last me to Good Friday." Said another: "This is the greatest thing that's happened to Alexandria since they put the main road through." Free Fish At Alexandria (
1947, March 8
).The Sun (Sydney, NSW : 1910 - 1954), p. 1 (STUMPS EDITION). Retrieved from
http://nla.gov.au/nla.news-article228984179
SYDNEY: A Palm Beach fisherman,
Carl Beeston Gow, who omitted to notify the Fisheries Department of a
catch of 716 lb. of prawns

, was fined £5 with £2/18/ costs in the Central Summons Court today.
FISHING BREACH (
1949, December 8
).
Brisbane Telegraph
(Qld. : 1948 - 1954), p. 11 (CITY FINAL). Retrieved from
http://nla.gov.au/nla.news-article216431499
The 38ft. Launch Christina, which reached Newcastle yesterday afternoon after having been missing for two days, was close to disaster off Norah Head.
One anchor failed to hold and she drifted towards the rocks. The launch was running before a strong southerly and the crew ran her under the headland and dropped anchor. The anchor dragged till the launch was within 800yards of the rocks. "It was an anxious time for both of-us," said William Jenkins, of Palm Beach, owner of Christina.
"One anchor had been lost and we were preparing to drop the large main anchor when the hook caught." Christina was running under jury rig towards Newcastle yesterday morning when
Mr. F. Gonsalves, fisherman
,
of Palm Beach
, took her in tow. She reached port yesterday afternoon. The launch left Palm Beach for Newcastle at 7 a.m. on Monday. Jenkins's companion was Barry Hewlett, also of Palm Beach. Jenkins said the timing chain of the magneto broke at 1.30 a.m on Monday, when the launch was off Tuggerah. A spare chain fitted was too large to be of any use.
WILLIAM JENKINS.
There was nothing to do then but rig a jury sail and run before a strong north-easterly back to Palm Beach. The wind held till the launch reached Cape Three Points. a few miles north of Palm Beach. 1tdropped suddenly and was replaced by a southerly which drove the launch north again. Jenkins said he and Hewlett flashed signals night and day. A ship sent back an answering flash but nobody went to their assistance. A plane passed them on Monday night and they flashed Morse signals. The plane dropped low with its landing lights on, but kept on its way. Hewlett returned to Sydney by train yesterday afternoon. He said he would return in a few days to take up prawning off Stockton. LAUNCH SAFE, BUT WAS NEAR ROCKS. (
1950, July 13
).
Newcastle Morning Herald & Miners' Advocate
(NSW : 1876 - 1954) , p. 2. Retrieved from
http://nla.gov.au/nla.news-article135295009
Fisherman Wins Appeal Against Crown.
The Court of Criminal Appeal decided yesterday that it, is not an offence for a professional fisherman to have in his possession fish irrespective of whether he proposed to sell it in the established market or not. The decision arose out of an appeal by Carl Beeston Gow. Gow was convicted by a magistrate under the Fisheries and Oyster Farms Act of having fish for sale which had not been brought to and sold in the district market. The fish was seized and forfeited to the Crown. Gow appealed unsuccessfully to Quarter Sessions. Government inspectors saw Gow's truck in front of a fish shop at Narrabeen. There was a large quantity of fish in the truck, a set of scales, and newspapers.
MEANING OF DECISION. A legal authority said yesterday that the practical effect for fishermen of the Court's decision is that a Fisheries inspector will have to detect a fisherman in the act of disposing of his catch outside the legal market before he can be convicted of an offence. The Chief Justice, in a reserved judgment, said it clearly would be nonsense to suggest that in all cases the mere possession of fish intended to be sold before they had been sold in a market would constitute an offence. Every licensed fisherman obviously intended to earn a livelihood by disposing of his catch by selling it. But as soon as he, took the fish into his boat or' otherwise reduced it into possession then he had it in his possession for sale, not immediately, perhaps, but at some subsequent time. He must then send the fish to the market in order that it might be sold in compliance with the requirements of the Act, and to suggest that the section of the Act was to receive a construction which would make that an offence was clearly absurd. It was clear that no offence was proved against Gow, his Honor said, because, although he announced his intention of selling some of the fish no sale in fact took place. The Chief Justice added: "It may possibly be that there is a gap in the Act, but that must be attributed to the language which the Legislature has used, and the Court cannot remould it." UPHELD The appeal was upheld with costs. Mr. Justice Owen and Mr.Justice Herron, in separate judgments, concurred. [Mr. J. W. Smyth, Q.C.. Mr.G. Carmichael and Mr. A. V. Maxwell (by Bartier, Perry and Purcell) for appellant; Mr. H.A. Henry (by the Crown Solicitor) for the Crown.] Fisherman Wins Appeal Against Crown. (1952, May 3). The Sydney Morning Herald (NSW : 1842 - 1954), p. 4. Retrieved fromhttp://nla.gov.au/nla.news-article18263362
Adelaide Answers Broken Bay SOS.
A man whose 22ftlaunch was drifting help-less on to a reef in Broken Bay near PalmBeach last night received aid when his radio SOS was picked up in Adelaide.
Mr. John Condie, 44, of Station Street, Beverley Park, was returning to Kogarah Bay, where he keeps the launch Pudaloo, when it broke down.
Mr. Condie said last night: "My launch broke down about 5.30 p.m., close inshore, opposite the Barranjoey Lighthouse.
"I was drifting towards a reef where the Maitland was wrecked. The sea was rough and was breaking on the reef.
"Another 100 yards and my launch would have been wrecked," Mr. Condie continued. ' ' !
"Luckily I have a two-way wireless. I tried to contact Sydney radio. While trying to do so I managed to pick up Adelaide radio. '
"Adelaide took the details and contacted Sydney for me."
Sydney water police communicated with a boatshed at Palm Beach, owned by Mr. C. B. Gow
, who sent out a 35ft fishing trawler to rescue the launch. The trawler towed the 'launch into Pittwater, Palm
Beach, at 8.20 p.m. The paddle steamer Maitland ran on the reef on the night of May 5, 1898, and 115 passengers and 11 of the crew were drowned. Adelaide Answers Broken Bay S O S. (

1953, September 14

).The Sydney Morning Herald(NSW : 1842 - 1954), p. 1. Retrieved from http://nla.gov.au/nla.news-article18378339
Palm Beach Link With 1817 and 1917 Set to Disappear in 2017: Beach Road Rendezvous - threads collected by A J Guesdon, 2017.