November 30 - December 6, 2014: Issue 191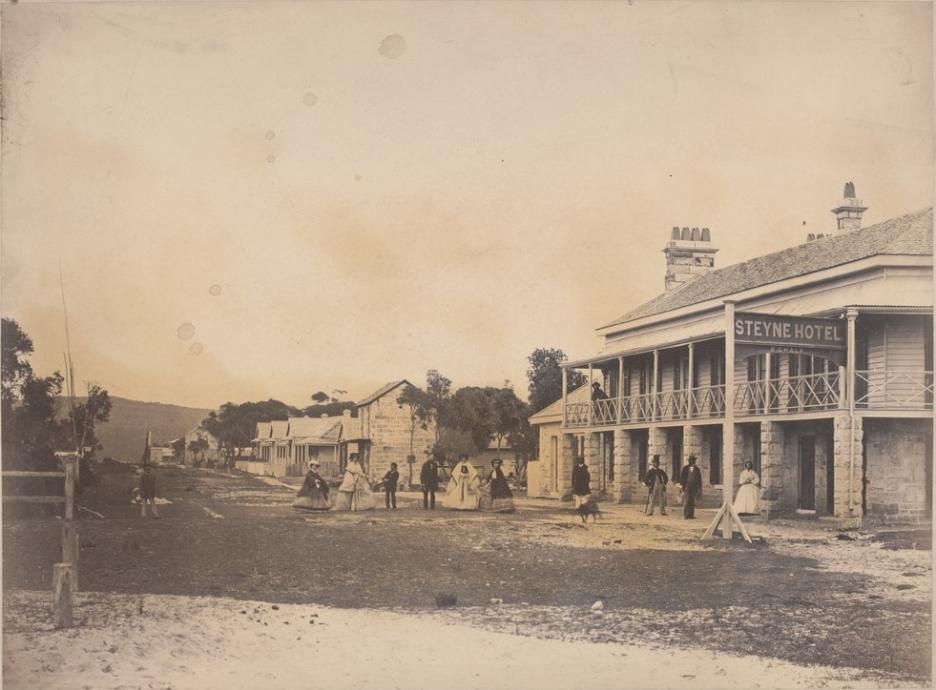 Manly Beach - circa 1860 - courtesy State Library of Victoria - Image No.: H3671.
Maria Louisa Therry
1819/1822 - 1886
In Mona Vale Outrages George Champion OAM relates the history of what became known as 'Mona Vale Farm' and the persecution of any and all who took over the lease on this property, including the The Murder of David Foley as related in an earlier Issue by Shelagh Champion OAM.
As Mr Champion states:
"Mona Vale" continued to be advertised for lease until July 1862. About this time James Therry arrived in the Colony with his family. He was the nephew of the Rev John Joseph Therry, who had substantial land holdings to the north of John Farrell II. James Therry took the lease of "Mona Vale" and renovated the house for his family. However, before they could occupy the residence it was destroyed by fire, on 5 November 1862. Suspicion fell on John Farrell II, as Therry had already had occasion to speak to him about his cattle trespassing on "Mona Vale", whereupon Farrell had said that Mr Therry would not remain on the farm for six months. At the inquest into the fire, however, the jury concluded that "the said premises, situated at Mona Vale, Pitt Water, were wilfully and maliciously set fire to, but the evidence does not clearly show who the guilty party or parties are." According to the Sydney Morning Herald, Therry was then threatened that if he did not leave the district he might expect further injury, not only to his property but to his person.
The Therry family persevered, living in tents and a makeshift hovel. A reporter from the Empire, who visited the remains of the ruined homestead, said he saw standing near what had been the hearth of the burnt dwelling-house, a woman, who, from her manners and conversation, was evidently a lady. A number of young children were also gathered round a small hovel which had been erected on a rising ground beyond.
The lady spoken of was Maria Louisa Therry (nee Barry) born 1819, although some sources state her date of birth was 1822. Her Baptism took place in 1823, her parents being Thomas Barry and Maria (nee Gavin).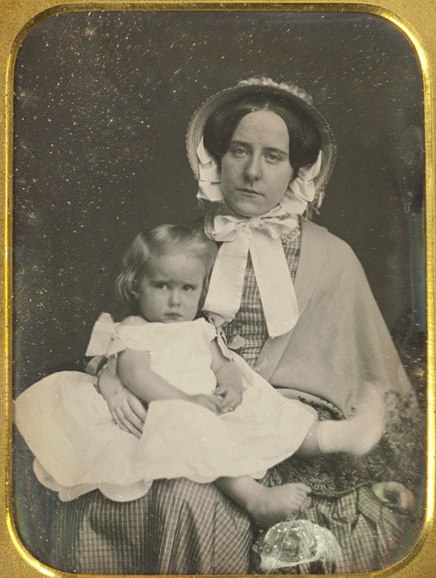 The number of young children Maria Louisa brought to Sydney was eight: Eugene (died aged 84 – born 1853), Edward, James Joseph, Birdie (Frances May), Helena Geraldine, John Nicholas Therry, Maria Elizabeth Josephine, and Gerald Joseph (died aged 9).
Right: 1840 Daguerreotype from New York( not Maria but showing dress of that period)
After corresponding with Father Therry, James Therry, emigrated from Waterford, Ireland with his wife, eight children and a servant, arriving in Melbourne on the Queen of Australia on 12 April 1862, and in Sydney by the Wonga Wonga on 17 April 1862:
Departure.— Within the past few weeks a gentleman who for some years resident amongst us, during which period officially and in the private relations of life, our very esteemed friend endeared himself to all with whom he came in contact, has, with his family, taken his departure for Sydney.The gentleman to whom we allude is James Therry, Esq., late Supervisor of Excise in the city. While discharging the onerous duties attaching to his offiicial position in this city, Mr. Therry's conduct was such is to merit the warm approbation of his superiors, and to give the utmost satisfaction to the traders and general public. After a long career, Mr. Therry retired from the public service on superannuation and, as we have, said, has sailed for another land, where his many friends wish him along and happy career. — Waterford News, January 3.— The gentlemen alluded to in the above paragraph arrived in Sydney a few days ago in the Melbourne steamer, having called there on his way. ASSASSINATION OF A YOUNG IRISHMAN IN FRANCE. (1862, April 26). Freeman's Journal(Sydney, NSW : 1850 - 1932), p. 3. Retrieved from http://nla.gov.au/nla.news-article115760074
The date of the article above is interesting in view of an April 23, 1862 article that relates a visit to Avalon by Father Therry includes information stating the good priest abandoned plans to preach in St Micheal's Cave due to ill health. This had been advertised numerous time prior to the excursion as the 'inaugural' sermon in this cave. An Empire report (The Story of Mona Vale - below) seems to state that James Therry may have been among the excursionists and this is when he first fell in love with Pittwater. See: A Steamer to Pittwater, A Run to Pittwater, A Trip to Pittwater and A Brief Respite - In Pittwater!
Despite Father Therry's extensive land grants at what we now call 'Avalon' the Therry's struck out on their own, taking the lease at Mona Vale Farm. While her husband set to work repairing the house on this property to make it fit for his family, Maria Louisa appears to be a trained housekeeper, who not only found time to look after her children, having brought a nurse with her and being used to employing and managing servants, but also to go into business herself:
TO BE LET, MONA VALE.-This well-known Dairy and Agricultural Farm, at Pittwater, close to Manly Beach, is now offered on Lease in one block, or will be divided in small farms, on clearing leases, for a term of years. The grant is 700 acres ; but a much greater is comprised, forming not only a rich Agricultural and Dairy Farm, with abundance of fine timber, but an extensive and secure horse and cattle run, well watered, within an hour's drive to the steamers at Manly, for the Sydney markets. The homestead consists of about forty acres of paddocks, with farm-house and out-buildings. APPLY F. O'BRIEN, 320, George-street. Advertising (1862, July 10). The Sydney Morning Herald (NSW : 1842 - 1954), p. 2 (The Sydney Morning Herald). Retrieved from http://nla.gov.au/nla.news-article13231223

MRS. J. THERRY begs to inform her friends and the public, that she has opened a new GROCERY ESTABLISHMENT at No. 68, William street, Woolloomooloo, which will be supplied with a choice selection of Teas, Sugars, Spices,Bacon, Hams, Flour, Cheese. Butter, &c, suited for family use. MRS. THERRY hopes by unremitting attention, as well as a strict regard to the interest of those who may kindly favour her with their custom, to merit a share of public patronage. Advertising. (1862, September 17). Freeman's Journal (Sydney, NSW : 1850 - 1932), p. 7. Retrieved from http://nla.gov.au/nla.news-article115760364
MRS. J. THERRY- same as above: Advertising. (1862, November 15). Freeman's Journal (Sydney, NSW : 1850 - 1932), p. 8. Retrieved from http://nla.gov.au/nla.news-article115429062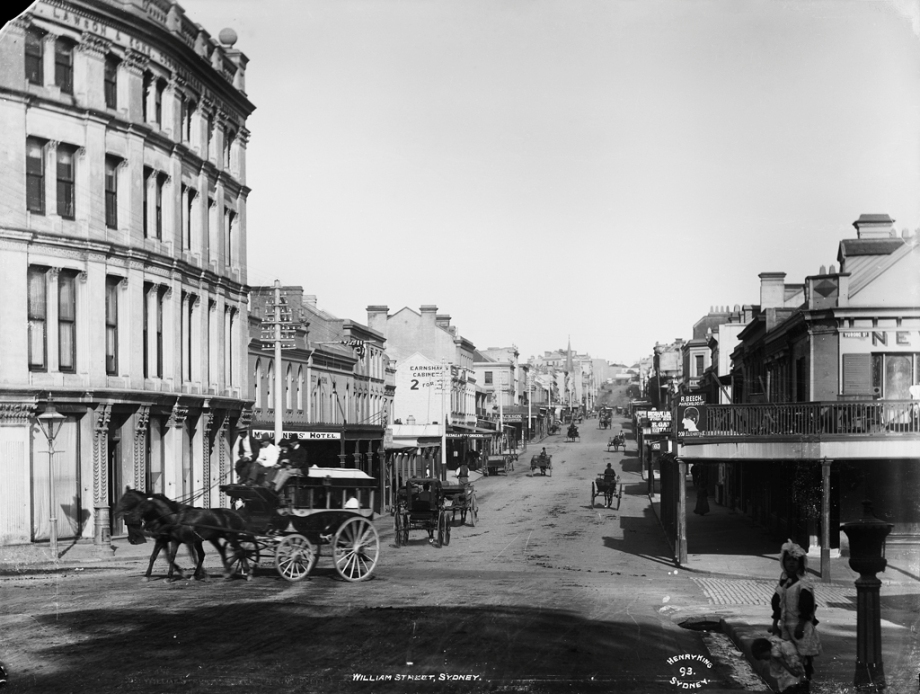 William Street, Sydney, ca. 1889, courtesy Powerhouse Museum
While Louisa worked or managed this business, her husband kept himself busy as well. While a report around the time he took the lease at Mona Vale includes an indication that he may well have had a bit of a temper as he too was fined £1 for striking Barbara Selwyn who may have struck him first during one visit to his Sydney town housed family:
Frederick Selwyn, Barbara his wife, and Janet the daughter, appeared on summons, to answer the information of James Therry, who charged them with having unlawfully assaulted him. He deposed that, about a week since, he was returning home in the dusk of the evening, when some persons at some distance from the road called to him, making use of both abusive and insulting words; not recognising the voices,-it was too dark to distinguish the persons at such a distance-he went toward them, to know why such language was used toward him ; he followed them into a yard at the back of a house, and spoke to them; Mrs. Selwyn was the first to assault him, striking him on the head with something like a glass bottle, the daughter struck him with a crutch, and the male defendant struck him on the arm with a spade; the blow on the head cut him, and he bled from the wound until he was almost insensible. Defendants were each found guilty : Frederick was sontenced to pay a penalty of £3, or to be imprisoned one month, Barbara, to pay £2, or to be imprisoned fourteen days ; and Janet to pay 10s. or to be imprisoned forty-eight hours.. CENTRAL POLICE COURT. (1862, August 13). The Sydney Morning Herald (NSW : 1842 - 1954), p. 5. Retrieved from http://nla.gov.au/nla.news-article13232736
HEIFERS wanted.-From 20 to 100 Heifers wanted to purchase; to be delivered at Sydney. Parramatta or Pitt Water. Apply to JAMES THERRY, 66 William-street. Advertising. (1862, September 16). The Sydney Morning Herald (NSW : 1842 - 1954), p. 1. Retrieved fromhttp://nla.gov.au/nla.news-article13234150
TO BOAT-OWNERS.-Wanted, a 40 or 50-ton BOAT ON HIRE, for the carriage of billet wood from Pittwater to Sydney. Apply to Mr. JAMES THERRY, 66, William-street. Advertising. (1862, October 7). The Sydney Morning Herald(NSW : 1842 - 1954), p. 1. Retrieved from http://nla.gov.au/nla.news-article13235120
Having prepared the premises at Mona Vale, James Therry set off to Sydney Town to collect his family
FIRE AT PITT WATER-INQUEST-The City Coroner, on Saturday last, held an investigation into the cause of this fire, which occurred at Mona Vale, a farm of Captain Darley's the inquiry was concluded on Monday the 1st instant, and from the evidence it appeared that the farm for a long time had been tenantless, and used as a common by one Mr. Farrell, and one or two others. About four months ago the farm was taken by Mr Therry, who prevented the cattle of other people from trespassing, to the wounding of the feelings of his neighbours, who had used the place so long. On the 5th November Mr. Therry was in Sydney, and the farm was in charge of a man named Madden, who went on with the usual work of the place in the morning he came to the kitchen for breakfast, in company with another man, named Turner, and again left for work, leaving everything right, the same at dinner. But between three and four o clock they saw smoke in the direction of the house. Mr Farrell was seen near the house about two o'clock the same day A number of witnesses were examined, but their was no direct evidence to show how the house was set on fire. It was situated at great distance from any other house. The jury returned the following verdict-"We find that the dwelling-house and out-houses at Mona Vale were wilfully and maliciously set fire to on the 5th November, but the evidence does not clearly show who the guilty person or persons may be"-Abridged from S M Herald. SYDNEY NEWS. (1862, December 6). The Maitland Mercury and Hunter River General Advertiser (NSW : 1843 - 1893), p. 7. Retrieved from http://nla.gov.au/nla.news-article18692398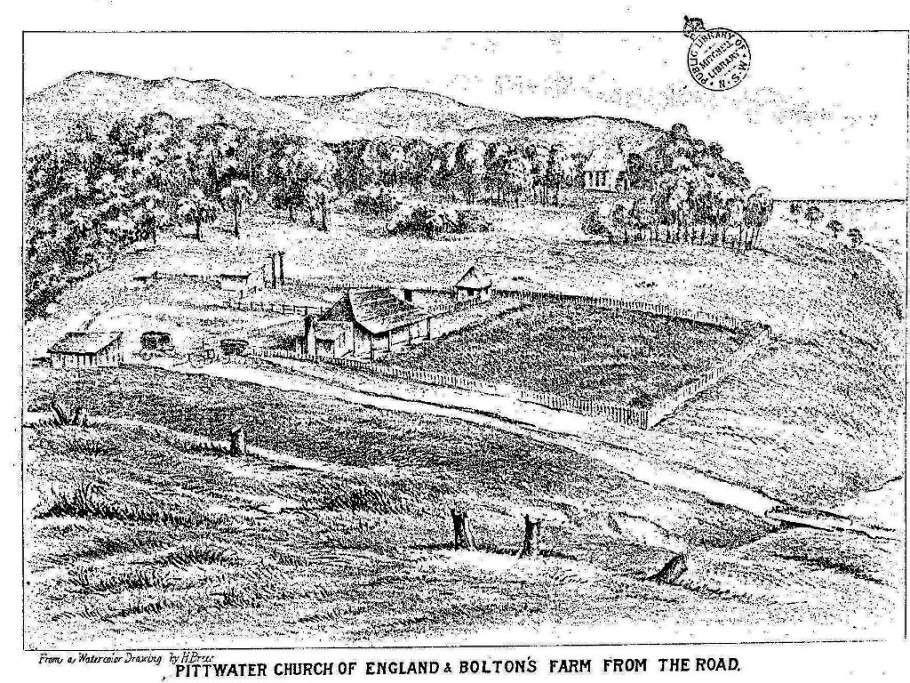 Pittwater Church of England and Bolton's Farm from the Road; illustration from the Pittwater and Hawkesbury Lakes Album. 1880, Courtesy the Mitchell Library
Maria Louisa was still advertising her grocery business ten days after this fire but the destruction of the dwelling house, along with £150 worth of furniture that had been bought to furnish it, and the purchase of cattle to stock the property with, may have caused a reduction in the finances of the Therry's. Louisa, her nurse and her eight children had arrived just in time for a series of events that culminated in the destruction of her husband's whole herd of cattle. The persecution by the Farrell's and the 'mad' Collins of Narrabeen went on from the outset until 1865. These records, while distressing to read through but are also the only place we may hear how Maria Louisa spoke.
Also, as stated by her, she was absent during some of these incidences and her then eighteen year old daughter, Maria Elizabeth Josephine Therry, who was also called to give evidence at the subsequent trials, may have been fulfilling the duties of housekeeper on the farm. In some of the reports of this trial, which went on for almost a year, Maria Elizabeth is said to be the second daughter.
There is also the targeting of Maria by the Farrell's, to discredit her testimony, to cause more distress, more money to be spent on defence. Reports from this time state unremitting rain, and how that affects young children, as well as being accustomed to more suitable surroundings and lodgings, would have caused Maria to find shelter where she could keep her young ones safe, dry and warm :
John Farrell, senior, of Pitt Water farmer, was charged by James Therry, of Mona Vale, Pitt Water, with refusing to pay the sum of three shillings as satisfaction for trespass, committed on the property occupied by complainant, by six head of cattle, the property of defendant, on the 3rd instant. Defendent was ordered to pay 3s., with 6s. 6d, costs of Court; in default of payment, to be imprisoned during twenty-four hours. John Farrell, junior, son of the above named defendant, was charged by the same complainant with unlawfully rescuing fifteen head of cattle, which had been lawfully seized in land of which complainant was the occupier, for the purpose of being impounded. Fined 20s., with 6s. 6d. costs of Court; or, in default of payment, to be imprisoned during three days. WATER POLICE COURT.—TUESDAY. (1863, July 15). Empire(Sydney, NSW : 1850 - 1875), p. 2. Retrieved from http://nla.gov.au/nla.news-article60545153
Maria Louisa Therry, of Mona Vale, Pittwater, was charged with having, on the 30th June last, in the course of an enquiry before this Court into a charge preferred by her husband against Malcolm Turner and one Wright for cutting down a fence, committed wilful and corrupt perjury. In having sworn that Turner and Wright cut down the fence, and also in having sworn that the posts of the fence were split and morticed. Two witnesses were examined as to the swearing of defendant on the occasion when the alleged perjury was said to be committed; but as neither of these nor any other person was present to prove that she had been sworn, the case was dismissed.
John Farrell, of Pittwater, was charged with refusing to pay on demand the sum of 5s. 6d. for-the trespass of his cattle on land occupied by James Therry. The Bench ordered the payment of 4s. WATER POLICE COURT. (1863, July 23). The Sydney Morning Herald (NSW : 1842 - 1954), p. 2. Retrieved from http://nla.gov.au/nla.news-article13081973
Malcolm Turner, remanded from Thursday last on the charge of having, on the 20th August last, with divers others, stolen ten cows, valued at £90, or thereabouts, the property of James Therry, of Pittwater, farmer, was further remanded until Friday, next, at eleven a.m. WATER POLICE COURT.—TUESDAY. (1863, September 9). Empire (Sydney, NSW : 1850 - 1875), p. 5. Retrieved from http://nla.gov.au/nla.news-article60548012

REWARD.-Lost, large grey HORSE, brand near shoulder E over J, from Mr. Therry's estate, Pittwater. Apply 320, George-street. Advertising (1863, November 25). The Sydney Morning Herald (NSW : 1842 - 1954), p. 1. Retrieved from http://nla.gov.au/nla.news-article13091415

James Therry, Maria Louisa Therry, his wife, and Maria Elizabeth Josephine Therry, their daughter, aged eighteen years, deposed that they missed the cattle (milch cows) from their farm on the 20th of August, 1863. The cows, which were valued at £9 each, were quiet cows, and accustomed to the run. On the afternoon of Wednesday, the 20th August, it was noticed by them ... unusual ... that one of the missing cows came running home from the direction of prisoners' farm. On the following day (Friday, August 21) Miss Therry was looking for the tracks of the cattle when the heard the reports of shots fired, which apparently came from thedirection of Farrells. She want to a part of their property nearest Farrell's, when she saw Mrs. Farrell walking with a ...., she thought, near the boundary of their farm. Whilst there I heard four loud reports from sound... fired from the back of prisoner's house. On that morning James Therry, the complainant, was about fifty or sixty yards from Farrell's, watching their movements; and whilst there he saw Malcom Turner mount a horse and ride in the direction of his (Therry's) house, when he returned in half an hour, having had time to go very near to the house. On the following day(Saturday, 22nd) Miss Therry again went In search of the cattle, and on that morning a bull which had been accustomed to go with the cows returned from the direction of Farrells. On that afternoon she saw Mrs. Farrell in a cart coming from the direction of Manly Beach. Malcolm Turner, whom she had seen an hour before going in the direction of Manly, was then returning behind the cart. The evidence of these three witnesses(the Therrys) and of Frank Collins (boatman at Custom's Station), all of whom were looking for the missing cattle, ....had reference to the "tracks," to the effect that footprints of cattle were discovered on the boundary of Farrell's farm, and were tracked in the reverse direction to that in which the cattle had been driven to the Iron Bark Ridges. SECOND COURT. (1864, December 14).The Sydney Morning Herald (NSW : 1842 - 1954), p. 9. Retrieved from http://nla.gov.au/nla.news-article13112344
Maria Louisa Therry,
wife of James Therry, being sworn, deposed: I remember some of our cattle at Pittwater being missed;
I was away from home at the time I returned on the next morning;
I saw the tracks of the cows that wore lost; I afterwards saw one skin stretched on a board at Farrell's In the possession of the constable Sheaves; I believe the skin now product was part of the skin of our cow called Duffey; I saw shape which corresponded to those of the cow Duffey;
CENTRAL CRIMINAL COURT. (
1864, December 30
).
The Sydney Morning Herald
(NSW : 1842 - 1954), p. 5. Retrieved from
http://nla.gov.au/nla.news-article30935258
1964 was also the year
Father Therry
died, leaving
£
50 to James Therry: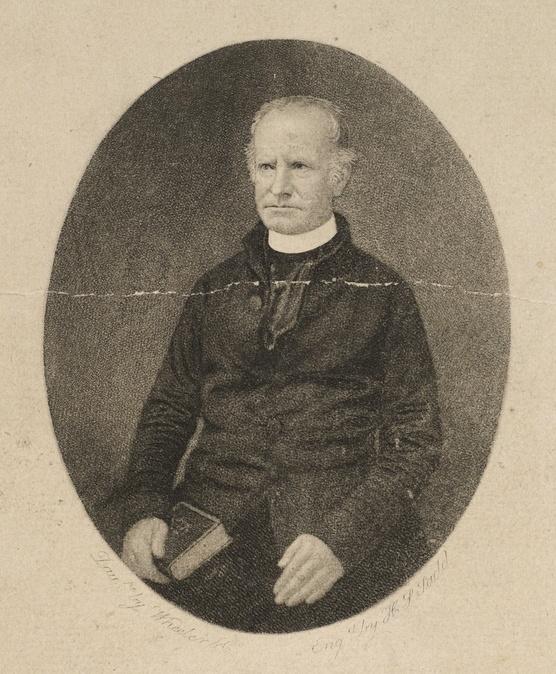 I hereby solemnly declare, with reference to any testamentary documents of mine,
that my brothers James and Stephen Therry, the former of Hobart Town, the latter of Cork, Ireland, and my sister Jane Ann Therry of Hobart Town, are the only relatives to whom I could conscientiously bequeath any portion of my real property, and even to them only such
portion of it as may secure to each of them an annuity of seventy-seven pounds during their natural lives respectively.
To James Therry, late of Waterford, where he filled the office of supervisor of the revenue department, I did and do bequeath the sum of fifty pounds sterling.
John Joseph Therry, A.P.
Balmain, 20th December, 1862.
CODICIL. In the name of our most merciful Lord.
As a codicil to my last will and testament, I wish to certify to
my Executors, who are the Honorable John Hubert Plunkett
Q.C., John O'Sullivan Esq. Manager of the Commercial Bank
Goulburn, Mr. John Vardy, Menangle, Mr. Patrick Joseph
Hogan senior, Balmain, and Mr. John Taylor, commission
agent Parramatta, that it is my wish that they should endeavour
for the benefit of religion, morality, and education, to carry
out or give effect to my intentions with respect to the land
property with which I have been blessed, namely to establish
five villages which are likely to become respectable towns —
the principal one at Pitt Water to be called Josephton ; the next
at Williams River to be called Laurenceton; the next at
George's River to be called Georgeton ; the next at Cattai Creek
to be called Alfredton ; and one at Bong Bong, the last but not
least, Andrewville.
A
s I have not mentioned the name of Mr. James Therry, late of Waterford now of Sydney, in any will of mine as a legatee, as it is only very recently that I have become acquainted with him, I now bequeath to him fifty pounds to be paid to him by my Executors above-named
. And
I hereby confirm my last will and the codicil to it with the exception of the Executorship which is to consist of the above- named gentlemen alone.
John Joseph Therry.
Witness: Maria Hogan.
Patrick Joseph Hogan junior.
James Therry may not have endeared himself to his uncle as, from the same book, in reference to mining for coal at Priests' Flat, Avalon:His nephew recalls, with some indignation, that, although there were many good Irishmen unemployed in Sydney, his uncle employed Germans and Italians at the mine. Many men were engaged, and the expenses mounted high, whilst the existence of coal still remained problematical. After Father Therry's death the trustees continued the work, in the hopes of finding a rich seam.
Marry ann Farrell and John Farrell II were eventually convicted of killing the Therry's cattle and sentenced to 'light labour' in the first case and 'hard labour'.
LAW AND POLICE.
CENTRAL CRIMINAL COURT. Monday. Special Adjourned Sittings. Before the Chief Justice and a mixed jury. CATTLE STEALING.
Mary Ann Farrell was indicted for having, at Pittwater, on the27th June last year, stolen thirteen cows, oxen, and calves, the property of one James Therry. Mr. Holroyd conducted the ease for the Crown. The counsel for the defence was Mr. Isaacs, instructed by Mr. Leary. James Therry (formerly of Pittwater) deposed, that he last saw the cattle — assumed to have been stolen from mm by Mrs Farrell— on the 27th of June last; missed them on that day; on the 1st of July saw Malcolm Turner and Miss Farrell; never sold the cattle, though he made diligent search for them; saw the cattle last in the direction of Farrell's farm. Miss E. J. Therry, daughter of the previous witness, corroborated the evidence of her father as to the disappearance of the cattle alluded to ; saw Mrs. Farrell on the 28th of July in a paddock as if weeding; Baw tracks of cattle in the direction of Farrell' s farm when the cattle were missing some of her father's dogs were poisoned. Eugene Therry, brother of Miss Therry, proved that he had seen Mrs. Farrell at a butcher's at Manly on the 11th of July; Mrs. Farrell had hides with her, which she was handing over to a butcher whose name was Ponton. William S. Sheaves, a lad aged eleven years, corroborated the evidence of the foregoing witness, Mr. F. J. H. Buttrey, a gentleman residing: at Manly Beach, deposed that he had seen Mrs. Farrell and the man Malcolm Turner together on the 29th of June, 1861. Daniel M'Glone, detective constable, deposed that he apprehended the prisoner on the 29th September last; 6hc was arrested on n charge of stealing calves ; witness found a number of bones of animals and pieces of hide buried in a paddock near Farrell's house ; he had found these bones on the 8tli of October. [The bones, &c., were produced in court.] He could not himself say to what animals the bones belonged. Henry Brougham Lee had heard Mr. Farrell say that there would be no peace until the Therrys left the district. Malcolm Turner — formerly in the service of Mr. and Mrs. Farrell — swore positively that Mrs. Farrell told him, circumstantially, that she and her son Johnny had killed thirteen heifers and a young bull. Witness went with Mrs. Farrell to where the slaughtered cattle were lying on the day after Mrs. Farrell told him this; Mrs. Farrell took bones, hides, veal, and butter to Manly on the following day; heard Mrs. Farrell say to Farrell that the had bones and hides belonging to one of Therry's heifers ; buried bones and hides in Farrell's garden by Farrell's orders. Cross-examined at a great length, the witness made a variety of statements which, if true, tended to criminate the prisoner.
Charles Case, a cattle surgeon, deposed that he believed the bones produced to be the bones of young animals of the cow kind ; there were nine pieces of hoof altogether. The Court adjourned at half-past 5 p.m., until 10 o'clock on the following day. Tuesday. Before his Honor the Chief Justice and a mixed jury.
CATTLE STEALING CAJSE. (Continued.) Henry Bell, of Pitt-street, butcher, deposed that the bones of the animals produced in court were those of young animals of the cow kind — principally calves. Daniel M'Glone, recalled, deposed that these bones had been kept separate from all others. Malcolm Turner, recalled, deposed that the place where the calves were found dead was about a quarter of a mile from Farrell's ; Farrell had a stock-yard; had seen Mr. Driver twice at Mr. Cracknell's on the 'Wednesday night ; when witness saw Mr. Driver at Cracknell's he asked what all this meant ; witness, thought he alluded to the cattle; knew Mr. Driver was acting as attorney for the Farrells ; had been examined several times before he saw Driver. Cross-examined at a great length by Mr. Isaacs for the defence, witness still contradicted the conversations alleged by Mr. Driver to have taken place on the Friday evening that Mr. Whitfield was shot, and the particulars of what was slated to have taken place at the second interview at Cracknell's. Re-examined by Mr. Holroyd ; Witness stated that he was committed for trial for perjury last Friday, when Mrs. Farrell and Mrs. Cracknell were witnesses ; Mr. Farrell had been convicted for cattle stealing in one of the cases ; witness then gave evidence against him. Margaret Johnson proved that Malcolm Turner came to her house ; — went over to the Ship Inn with Mrs. Farrell ; — saw Farrell come in a cab, and saw all three leave in a cab together — Farrell pulling the blinds down. Joseph Solomon in the main corroborated the evidence of the last witness. Elizabeth Meacher, of Palmer-street, Sydney, proved that Mr. Heaton and his wife had brought Turner to their house to lodge on the 4th of November. She was paid for the accommodation which was given to Turner. Ann Woods, also of Palmer-street, proved that Malcolm Turner was brought to her house by Mrs. Farrell, and that she was paid by Mrs. Farrell. This closed the case for the Crown.
James Wheeler, a farmer residing at Manly Beach, deposed that he did not think it was possible to judge of the age of an animal from seeing the bones of it some months after death. Witness was shewn all the bones, and said they were of different animals; amongst them was the jaw-bone of a pig. One of the bones — a shoulder blade and leg attached — appeared to be from a heifer eighteen months old ; did not believe that a woman could have slaughtered cattle as the witness Turner stated that Mrs. Farrell did ; a woman with a boy might have driven all the cattle together, but when one of the cattle was killed, the others would certainly have broken away. Mrs. Cracknell, Mr. Crackncll, and Mr. Driver also gave evidence for the defence, the effect of their evidence being directly to contradict and discredit the evidence of Malcolm Turner.
Mr. Holroyd then called Mrs. Therry to prove Mrs. Cracknell had insulted her on the Racecourse in May; also Miss Therry to prove that Mrs. Cracknell had insulted her in January, 1864, at Mona Vale, and Mrs. Woods to prove that Mrs. Cracknell had said they could not get anything out of Turner.
Mr. Isaacs addressed the jury at a great length. He analysed the evidence, and urged that there was no evidence to prove that it was Mrs. Farrell who killed the cattle, except, indeed, the evidence of the man Turner, who was unworthy of credit. Mr. Holroyd replied, combating the arguments for the defence. His Honor summed up, commenting carefully upon the various particulars of evidence for the prosecution and for the defence. The jury retired from the Court to deliberate at eighteen minutes past seven o'clock p.m. On their reappearance in Court, at a quarter to eleven o'clock, they returned a verdict of guilty, but recommended her to mercy on account of her family. The prisoner was remanded for sentence. The Court adjourned at ten minutes to eleven o'clock. Wednesday. Before his Honor the Chief Justice.
SENTENCE. Mary Ann Farrell, convicted on the previous day of cattle-stealing, was brought up for sentence. Being asked whether she had anything to state why sentence should not be passed on her— The prisoner protested her innocence of the crime of which she had been convicted. Never in her life had she ever killed any beast, not even one belonging to her husband. She knew no more of the lost cattle than she had stated in the witness-box at the previous trial. She implored the mercy of the Court on account of her children. His Honor addressed the prisoner. It was not the place of any Judge to entertain any protestation of innocence made under such circumstances as those in which she stood. What she stated might or might not be true, but after a careful trial before an impartial and discriminating jury, the prisoner, although aided by able counsel, had been found guilty. It was quite true that the evidence of Turner— without which the prisoner could not have been convicted — was contradicted by the evidence of Mr. Driver; and that, judging from that evidence, Turner appeared to have foresworn himself in regard to what transpired at the interviews which took place between Mr. Driver and Turner. Those contradictions, however, ' did sot, as it appeared to him and to the jury, do away with the force of the evidence of Turner against the prisoner. The story told by Turner as against her had been told in Court with every appearance of truth. The sentence of the Court was, that the prisoner be imprisoned in Darlinghurst gaol, and kept to light labour, for the space of throe years. The Court rose at twenty-five minutes to twelve. The recognizances of the witnesses in the case of the Queen versus John Farrell were enlarged until Thursday, the 30th of March next. LAW AND POLICE. (
1865, February 11
).
Sydney Mail
(NSW : 1860 - 1871), p. 11. Retrieved from
http://nla.gov.au/nla.news-article166668020
James Therry stayed with his sons on the farm while his womenfolk were moved to Manly, permanently. James Therry had been granted an annuity of
£
100 on his retirement from his position in Ireland to come to the 'land of opportunity'. In May of 1866 the gentleman who had provided him with his cows, Mr O'Brien of Bondi, a renowned dairy man, filed a suit to recover damages or the funds thereof. James Therry may have eventually seen a small dot of justice, but at a subsequent
hearing in February of 1867:
.....at on the whole evidence, there can be no doubt that the insolvent, as the tenant and occupier of Mona Vale Farm, near Pittwater, has been the victim of much misfortune through the wickedness and malice of neighbours, some of whom are now suffering the penalties which the law had at length apportioned to them. No doubt, too, that such misfortunes, which for years fell upon him, have an embittering effect on a man a nature. Nevertheless, although others had done much, wrong to him, that in no way excuses him for improperly acting towards others Now tho insolvent distinctly admitted taking the farm in the middle of 1862 at £100 for a long term of years , and also, " I have not paid any rent for it yet, I now recollect I did pay one quarter's rent, years ago £25 to hand over to Mr Darley, (the superior land-lord) , I have kept the farm from that day to this ".
Afterwards, as an explanation of part of his motives, he said, " I kept the farm until I punished the persons who persecuted me " that accomplished, the insolvent placed unjustifiable terms before a surrender, as " the conditions were that you would give me a release in full from it."
Hence arose the necessity to sue at law, and for a compulsory sequestration, and the landlord obtained possession only through the official assignee surrendering a valueless holding.....
On the next objection (a fraudulent or unjust preference),it is shown by the evidence that
in August, 1864, the insolvent took Margate House, Manly Beach, at a rental of £250,
that at the same time gave a bill of sale over the furniture then supplied for it, and also over all the other articles (numerated in his schedule, save apparel, and which there remained to him from the burners, the horse and cattle stealers, and killers around Mona Vale Farm. Now in his evidence he said,
"I ceased to be solvent after the burning of my house and destruction of my property on the 6th November, 1862 "
Yet whilst the old landlord got nothing, the Margate House landlord received his £250 of which the boarding-house receipts (as described by Mrs. Therry) contributed £150, and the annuity of the insolvent was added.INSOLVENCY COURT. (
1867, February 19
). The Sydney Morning Herald (NSW : 1842 - 1954), p. 2. Retrieved from
http://nla.gov.au/nla.news-article13147736
How much debt did James Therry incur?;
June 13.— James Therry, of Manly Bench.
Liabilities £793 16s. 10d
., of which £113 3s. is secured. Assets, £185. INSOLVENCY NEWS. (1866, June 20).
The Newcastle Chronicle and Hunter River District News
(NSW : 1859 - 1866), p. 3. Retrieved from
http://nla.gov.au/nla.news-article128922613
Maria had become a landlady in 1864 - and a part of the Manly community. Margate House, sometimes called 'cottages' was opposite the original 'maze' installed at the rear of the Pier Hotel. Of note during allthese trials in and out of court is the death of Lavinia Collins on January 27th, 1865 - a few feet from Margate House (see Extras):
MANLY BEACH.-Furnished HOUSE TO LET, large and airy rooms, verandah, &c, with every accommodation.
Apply at Margate House, opposite the Maze.
Advertising. (
1863, February 16
).
The Sydney Morning Herald
(NSW : 1842 - 1954), p. 8. Retrieved from
http://nla.gov.au/nla.news-article13074232
MANLY BEACH.-TO LET, furnished, Margate House. Enquire of W. H. ALDIS, tobacconist, George-street.
Advertising. (
1863, March 2
).
The Sydney Morning Herald
(NSW : 1842 - 1954), p. 8. Retrieved from
http://nla.gov.au/nla.news-article13075043
There were also a few who had gone from Sydney to join in the ceremony. A small portion had been screened off where several young ladies sang the usual parts of a Miss Cantata. During 'the robing the Easter Hymn of 'O filli et filiae'' was sung. After the Gospel the Rev. Dr. Powell preached a very eloquent sermon, taking as his text the fifth and sixth verses from the first chapter of the book of Esdres, beginning, "Then the priests and Levites rose up to build a temple to the Lord."
The reverend gentleman alluded to the universal belief which existed in the human heart of paying honour to a superior Being, as exemplified in the pagan nations who fell down in adoration before moons and stars and other creatures. Sacrifices had been offered up from the creation of the worId……
….in which were kept the manna and the rod of Aaron. David, the man according to God's own heart, planned the building of a mighty temple to the Lord but owing to his transgressions this was reserved for his son Solomon.They had read of the splendour of that temple, and after its destruction by Nabuchodonosor and the profanation of the sacred vessels, when in captivity the Jews refused to sing their songs because they were deprived of their temple. The Rev. preacher next alluded to the temples built under the new dispensation, the humblest of which was far above the magnificent temple of Solomon because it contained the real body and blood of Jesus Christ each time that the sacrifice of the Mass was offered. Dr. Powell then spoke of the attempts made some six years ago to build a church there, which, owing to the few Catholics, could not be carried out. A renewal would now be made and from the zeal already shown be felt sure of success. Mass then proceeded at the termination of which a collection was made, which must have been highly pleasing to Father Powell as showing the earnest zeal of the Catholics of Manly to have a church built.
As the population of that locality increases the want of a place where Catholics can hear Mass becomes each day more apparent. It is the only watering place near Sydney and during the summer months many Catholic families reside there, so that a church would be a great blessing. On these grounds Dr. Powell looks forward to receiving assistance from the Catholics of Sydney as a Catholic Church at Manly Beach will be nearly as great a boon to them as to the residents of that locality.
Purves cottages - Whistler Street, Manly. Margate House was on Whistler Street.
Maria's trails were not over. In 1866 Margate House, owned then by William Henry Aldis, who needed to liquidate some assets to meet some debts, was advertised for sale. Maria had already moved into town prior to this, into premises at Wynyard Square, which was coincidentally named 'Mona':
There are many advertisements for Mrs Therry at Mona House. Another woman also advertised boarding house rooms at Mona House, indicating the property was a fair size:
The move to Wynyard Square and reference to 'healthfully situated' premises are two word glimpses into what Maria and her nurse may have been battling with. Manly was known for having a flea plague around this time. There is also in some records indicate James Therry left Ireland for health reasons. Smallpox, Measles, Scarlet Fever, Typhus, Whooping Cough, Diptheria and 'Consumption', which we now call Tuberculoisis, were all diseases that reached epidemic proportions in Ireland, aided along by The Famine, and many who escaped such appalling conditions by fleeing to other lands such as America and Australia, ultimately brought what they were running from with them.
1867 brought two tragedies to her life, the loss of a beloved son, and the loss of her husband who went as part of a crowd of many to goldfields in Queensland:
There is no indication that James finally had a stroke of luck on the goldfields of Mornish; considering the bad health and trials after coming to New South Wales, a stroke of another kind seems more likely....unless....
As seen above,conflict may have arisen when Mrs. Week's was replaced by Mrs. Pilcher. Maria, taking the name 'Mona' with her, moved:
During the years preceding Edward's death and after it there are reports showing Eugene may have had a bit of a temper and fire in his veins; partly from his mother and his father's, and partly due to his own experiences
Eugene being a carpenter was a boon. Builders were constructing premises left right and centre in Darlinghurst during these decades - the suburb went from being 'wooded' ('hurst' means wooded) with Chinese market gardens, to being the rows of terrace houses still associated with this early suburb of Sydney. These were often then rented out, many furnishing women with the opportunity to provide a livelihood for themselves and keep a roof over their children's heads.
1875 was also the year Maria's last living relatives, and youngest members of Father Therry's family, his brother and sister, passed away:
In 1878 'Mona' House was left for a premises the Therry family would manage:
Everything seemed to go well here for a few years, her sons still lived with her, as did her unmarried daughters. Maria Elizabeth Josephine Therry had married John Arthur Ormsby in 1870, and had six grandchildren for Maria prior to a repeat of what her mother had experienced, being widowed, with a lot of children, at a very young age. While Eugene continued....:
Maria Elizabeth and John Arthur's children were Inez M (born 1872), Gerald (born 1875), Eugene Arran (born 1878), Netteville Arran (born 1879) Antoinette Arran (born 1881) and Pauline Arran (born 1883). Maria Elizabeth seems to have her mother's backbone as she is listed as the leesee of two properties in Pyrmont way after her husband's passing;
Estate George Harris. Josephine Ormsby (lessee) - 196 Bulwarra Road, Pyrmont, Netterville Ormsby, year: 1911 – house and stables; 60 Gipps street, Pyrmont year: 1911 Leesee Josephine Ormsby owner: Peter Bierschenk - 1911. Pyrmont records
Maria's trials seemed to continue somewhat at 'Hosketh';
In 1886 Maria Louisa Therry passed away at Mona House, Glenmore road, Darlinghurst:
Her sons remained in the Glenmore road property, James Joseph mentioning 'gold' again:
While the marriage of her youngest daughter was not one she could attend physically:
Helena Geraldine seems to have taken on the running of the boarding house and is certainly still there 14 years later when the lady who came from Ireland to nurse this large brood passed away: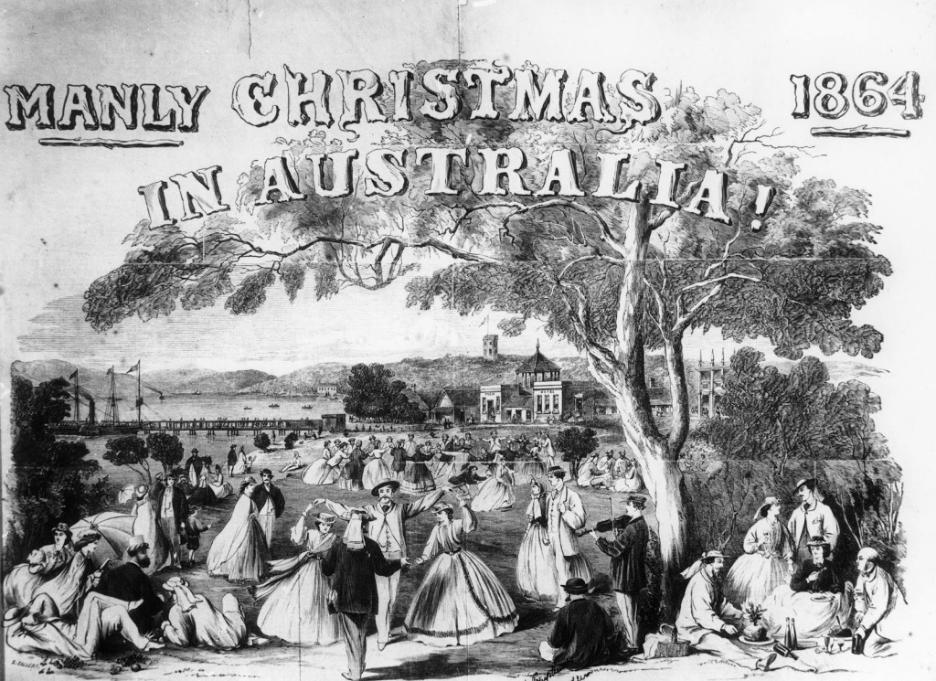 Above from Illustrated Sydney News - 1864 - Below -Manly 1875, courtesy State Library of Victoria. Image No. 3072303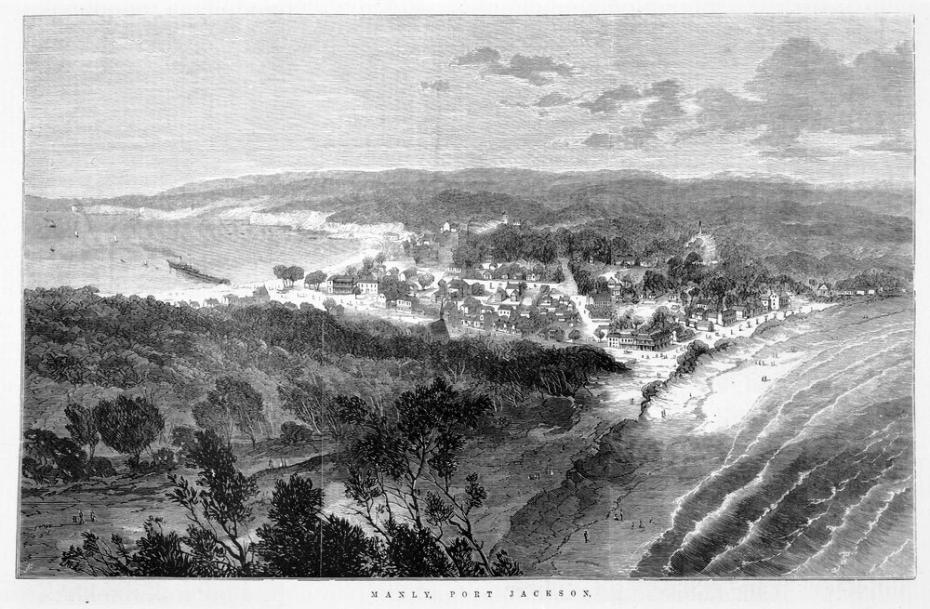 Extras:
THE STORY OF MONA VALE.
[Some of the facts disclosed below are so strange, and the condition of things stated to have prevailed for a long period and even to be yet existing, at Pitt Water, so extraordinary, that the writer thinks it necessary to say that, his information having been derived from investigations made personally on the spot, and confirmed in all essential particulars by official and other documentary evidence, the truth of the statements may be fully relied upon. — ED. Empire.]
EVERY person in the habit of paying the slightest attention to the proceedings in our local criminal courts, must have noticed for seven years past frequently recurring cases involving charges and counter-charges of perjury, cattle-stealing, assaults, and other crimes between the members of certain families residing in the district of Pitt Water. The latest result of these criminal charges is that one of the litigants named Farrell, a man of considerable property, both freehold and personal, is now undergoing a sentence of seven years' hard labour. He was convicted on the 30th December, of the malicious destruction of cattle, the property of a Mr. Therry, his nearest neighbour. The countercharges brought by Farrell, before his conviction, against Mr. Therry and members of his family, were all dismissed by the magistrates before whom they were investigated, and the result clearly proved that they were concoctions of the most base and wicked description. While these charges and counter charges were pending, we thought it necessary to refrain from publishing many facts which had come to our knowledge respecting the persecution and ruin of the Therryfamily, and of previous occupants of the Mona Vale estate, by unprincipled neighbours, during a period extending over nearly a quarter of a century. The story of the misfortunes of the family who are at present tenants of the farm of Mona Vale is a most distressing one, and would, if not confirmed by undoubted testimony, be utterly incredible. But bad as have been the sufferings, and great as have been the wrongs of the Therrys, they have, so far, escaped with their lives, while one, at least, of their predecessors at Mona Vale was foully murdered, in addition to having been persecuted and plundered of his property. The state of things which has prevailed at Pitt Water during the last twenty or twenty-five years has been such, it is to be hoped, as has never before prevailed in a Christian or any other country.
To make the circumstances connected with the wrongs and sufferings of the Therry family intelligible, it is necessary to give something like a twenty five years' history of the locality in which they live. The district called Pitt Water, as most of our readers are probably aware, is a part of the county of Cumberland, situate on the coast between Port Jackson and Broken Bay. It commences about eight miles north of Manly Beach, and extends along the shores of the Pacific for ten or twelve miles to the waters of Broken Bay. The first farms granted to private settlers, after the formation of the settlement at Sydney Cove in 1788, were in this district, and informer times a considerable quantity of land was in cultivation there; but for many years past the farms have been almost exclusively used for grazing and dairy purposes. There are not now above eight or ten families in the whole district, although, when tillage was more extensively pursued, the population was larger.
Near the middle of the Pitt Water district, that is, about a dozen miles from Manly Beach, is situated the estate of Mona Vale, at present in the occupation of Mr. Therry, as tenant of the heirs or trustees of the late Captain Darley. Mr. Therry's nearest neighbours on the south, or Manly Beachside, are a family part of whose members are named Collins and the others Poyner. On the north, or Broken Bay side, his nearest neighbours are the Farrells. It is the head of the latter family who is now undergoing a sentence of hard labour as before mentioned. Poyner, a near relative of the Collinses, and an inmate of their house, not long since finished a sentence of hard labour at Cockatoo for horse-stealing Collins, so far as is now known, has not been convicted of crime in this colony, but he has been for several years at large on recognisances to appear when called upon to answer a charge of murder. It is material to the understanding of what follows that the reader should bear in mind the above facts ; and this is the more desirable
because there are other persons of the name of Collins in the district, who are in no way related to the Collinses above referred to ; and are most respectable people, of irreproachable character. Mr. Therry's immediate neighbours, that is, the Collinses and the Farrells, are persons of considerable wealth. Collins was, many years since, servant to an oldman, the owner of the farm on which he lived. On his mister's death, the old gentleman having no relatives in the colony, Collins came into possession of the whole property.
The farm of Mona Vale, situated, as before stated, between the properties of the Farrellsand the Collinses, contains about a thousand acres of the best land in the district. All but a very small portion is unenclosed, and having been frequently unoccupied, the cattle of the Farrells on one side, and of the Collinses on the other, have been accustomed for many years to graze over nearly its whole extent. The occasional occupants of Mona Vale have invariably had their property stolen or destroyed, and have left the place under the impression, whether rightly or not we do not pretend to say, that the injuries were inflicted on them by their neighbours, in order to drive them from the spot — the depredators thereby securing for themselves the unrestrained enjoyment of a very valuable property.
So far back as 1840, a Mr. Samuel Taylor who had just arrived in the colony, with his wife and family, from England, purchased a farm at the locality in question, adjoining the Mona Vale farm. He immediately commenced to fence and improve it, and built a substantial house at a cost of £350 ; but Mrs. Taylor dying in Sydney just as the house was finished, and before it was occupied, Mr. Taylor, instead of going into farming pursuits himself, determined to let the place. He shortly afterwards secured an eligible
tenant, who was about to take possession, when word was brought that the house and premises had been totally destroyed by fire. In a letter received a few days since from Mr. Taylor, who now resides in the Bathurst district, that gentle-man, in reference to the treatment which he experienced, says: "When it was known that I had let the place, those parties who had the benefit of my ground, and would of course lose the benefit of their cattle grazing there if the tenant had come, rendered the place useless to any one by maliciously firing the dwelling-house ; and the fences having all been destroyed, the place has lain waste ever since ; and Mr. Farrell has had the use and benefit of my land for a number of years."
Soon after Mr. Taylor had abandoned his property, that is in 1843 or the following year, an elderly man named Foley, became the tenant of Mona Vale. Foley had been a warder in the old debtors' prison, in Carters' Barracks, and was afterwards a milkman in Sydney. He was a man of most untiring energy and industry, of great fearlessness of character, and was not likely to allow his property to be destroyed with impunity. His appearance at Mona Vale was the signal for renewed depredations. His fences were destroyed, an attempt was made to fire his house, a fine horse, valued at a hundred pounds, had its throat cut, and some of his cattle were driven away or destroyed. His opinion of some of his neighbours was very freely expressed, and he and his family consequently lived in a chronic state of warfare with those by whom they were surrounded. He had an only son, just approaching manhood, and two daughters a year or two younger. The unfortunate youth was, one day, discovered lying dead in the bush from a gunshot wound. But whether he was killed by accident, or whether he was murdered, has never been satisfactorily ascertained.
All Foley's endeavours to bring the guilty wretches who were constantly destroying his property to justice were, for a long time, in vain. At last, however, in 1849, his house having been plundered, during his absence and that of his family, of almost everything it contained, he procured a search warrant, and on the premises of his neighbour Collins discovered some of the missing articles. Collins was thereupon committed for trial, but allowed bail. The time for the trial had nearly arrived, when one day (the 8th November, 1849), as the old man was returning home, driving his horse and cart, he was waylaid and foully murdered, within a short distance of his farm. He was discovered, a few hours afterwards, quite dead, shot through the heart. The charge had entered at the back and came out at the breast. The murderer had evidently concealed himself, and awaited the approach of his victim, in a lilly-pilly bush by the road side. The police who examined the spot found the bushes arranged so as to form asmall bower, large enough to hide a man. At the entrance, or opening, were the marks of aman having knelt on one knee, as if to take aim, and at a little distance lay the wadding of the gun from which the fatal shot was fired. The coroner's jury returned a verdict of willful murder against Collins and Poyner.
Collins absconded the morning after the murder, but was taken some time afterwards at Pambula, Twofold Bay. His relative Poyner was, however, at once apprehended, and shortly afterwards put upon his trial for the murder. There was strong circumstantial evidence to connect him with the deed, but he was acquitted. Collins when captured was tried for the robbery of the house, but, as Foley, the only man who could give evidence against him, was dead, he was also acquitted. There was no tangible evidence to connect Collins with the murder. The strongest circumstance against him — his absconding immediately after the crime had been committed— was contended to be capable of explanation on the ground of his desire to escape the approaching trial for the robbery of the house. Having been acquitted of the robbery, he was liberated on the charge of murder, on entering into recognisances to appear when called upon. Poyner was some time afterwards convicted of stealing a very valuable horse, the property of Miss Jenkins, the proprietor of another adjoining estate. Having served out his sentence at Cockatoo, he re-appeared two or three years since at his relatives' place at Pitt Water. Since then things have been worse than ever ; and it will give but a faint idea of the terror which at present prevails among the few respectable inhabitants in thatlocality, when it is stated that even the men hardly dare leave their houses alone or unarmed in broad daylight. With females, it is, of course, still worse ; and valuable animals have frequently had to be taken into the dwelling houses at night to prevent their destruction.
After old Mr. Foley's murder, the cattle of his neighbours, Farrell and Collins, again grazed unchecked over the Mona Vale estate. The place since then has been let to several successive tenants; but the results, although not quite so tragical as in his case, have been fully as disastrous in a pecuniary point of view. It would occupy too much space to enter into a detail hereof all that has taken place at Mona Vale during the last fifteen years ; and we will, therefore, proceed to give a short outline of the trials and losses of Mr. Therry, the present tenant.
Mr. James Therry, a relative of the late venerable Father Therry, and also of Judge Therry, arrived in New South Wales, with Mrs. Therry, a family of eight children, and an old and attached servant, by the ship Queen of Australia, about the middle of 1862. Mr. Therry had held a good Government appointment at home, which he left to come to this colony, at the invitation of his relative, the late Father Therry. A few days after his arrival, Mr. Therry went on an excursion to Pitt Water, and while there was charmed with the scenery, fertility, and appearance of the Mona Vale estate, which was then unoccupied. He had resolved to enter into farming pursuits, and thinking, from its proximity to the metropolis, and the advantages it seemed to possess, that Mona Vale would suit his purpose exceedingly well, he soon became its tenant. The house, which was then in a dilapidated state, was soon put into a fit condition for the residence of a respectable family ; the fences were repaired, valuable livestock was purchased, and the necessary farming implements provided. Mr. Therry intended to carry on dairy farming on a large scale, and amongst his stock were about fifty choice milch cows, selected from the best herds in the colony. The house was furnished at a cost of about £150, and Mrs. Therry and her large family were about to occupy it, when Mr. Therry, having gone to Sydney to make arrangements for their removal, found, when he returned to the spot with his wife and children, the place reduced to ashes. The fiendish incendiary had gone to work during his absence, set fire to the place, and totally consumed both the dwelling house and out offices. Nothing was left in which the family could take shelter, and a respectable household of eleven persons, accustomed to every comfort and convenience, was reduced to the necessity of erecting a refuge from the weather, composed of sods, pieces of canvas, and such few odds and ends as had escaped destruction. In this wretched abode they lived for several months — fearing if they left the spot for an hour that their live stock, now their only dependence, would be driven off or destroyed.
The writer of this notice, a short time after the fire, happened to pass through the district. At the remains of the ruined homestead, he saw standing near what had been the hearth of the burnt dwelling-house, a woman, who, from her manners and conversation, was evidently a lady. A number of young children were gathered round a small hovel which had been erected on a rising ground beyond. These persons and their surroundings appeared so singular and so incompatible with each other, as to lead to inquiries, and the result is now before the reader.
At the inquest on the fire, evidence was given which threw strong suspicion upon Farrell as the incendiary ; and the coroner expressed in very plain terms his opinion of his guilt ; but the jury did not think there was sufficient evidence to justify a verdict against him.
The burning of their house was but the beginning of the troubles of the Therry family. Not-withstanding all their watchfulness, a few days afterwards, several of their cattle were found dead. They had been driven into nearly inaccessible gulleys and shot. In a short time three or four others disappeared, and after a long search their carcases were discovered — all bearing marks of gunshot wounds. The next loss was the disappearance of ten milch cows. A few days after this occurrence, as Mr. Therry could discover the carcases of but nine animals, he procured a search warrant and found on Farrell's premises the remains of a recently slaughtered cow. One of the missing cows had been a favourite with the Therry family, from the fact of having a peculiar mark on her coat, which they said resembled the shape of Ireland on the map. They called her Tuffy, and with that clinging recollection of old country associations which people of Irish birth retain in such intensity, the cow, from the circumstance to which we have referred, was treated as a pet, and the peculiarity of the mark frequently referred to. They were accordingly able to identify a part of a hide discovered at Farrell's place as that of the cow in question. Proceedings were thereupon taken against Farrell, and he was committed for trial, but allowed bail. In the mean-time the Therrys, being in daily dread of assassination, had applied for and obtained the protection of an officer of police, who often remained on the premises day and night. Still their cattle were slaughtered, their fences destroyed, and other depredations committed as before. Their whole stock was by this time reduced to seventeen cows and two horses. The weather during the greater part of the time they remained in the hovel they had at first constructed was most unfavourable, and after some months they were enabled to erect a rough building of slabs. They were, by this time all but utterly ruined. The frequent attendances which they had been obliged to give at the Police Court in Sydney, and the cost to which they were put in procuring legal advice and in prosecuting their oppressors, had exhausted all the means at their command, while they were prevented by almost constantly recurring troubles and annoyances from attending to the affairs of the farm, and making the best of the few that were left of their dairy cows.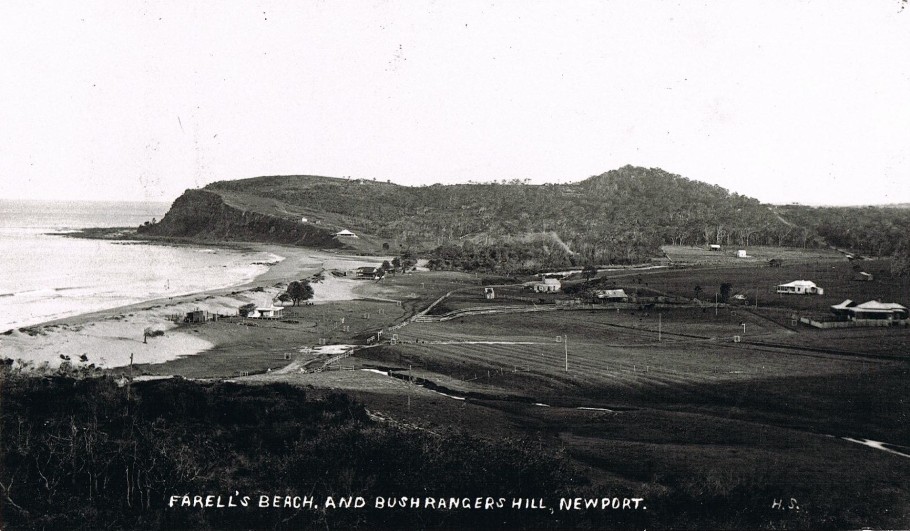 Farrell's Beach and Bushrangers Hill, Newport from Small Picture File, Courtesy Mitchell Library.
In the midst of all their troubles, almost the only friend and relative they had in the country, the Rev. Father Therry, died suddenly. Their landlord, the late Captain Darley, who had taken much interest in their affairs, had died in a similarly sudden manner a short time before. Father Therry's will had been made many years previously to the Therry family coming to the country, and contained no provision for their benefit, although it is probable, if his life had been spared a little longer, that he would have disposed of a part, at least, of his property differently.
Their few well disposed neighbours were almost unanimous in advising the Therry family to leave Mona Vale, in order to save their lives. But Mr. Therry, rendered desperate by his losses and the treatment he had received, determined never to leave the place while there was a chance of obtaining justice against his oppressors.
Mrs. Therry and the female portion of the family, were, however, removed to Manly Beach. The father and four boys, mere children, remained on the spot. With firearms inconstant readiness, the father mostly watched at night and the children by day. Their case had grown so urgent, previous to this, that the Government had thought it necessary to place two constables (one of them a mounted trooper)in their immediate neighbourhood. Still the work of destruction went on, and at last the whole of their remaining milch cows, seventeen in number, were swept off at once ; and so secretly was this effected that their carcases even could not be discovered for a long time.
The well-disposed part of the neighbours —all who had shown the Therry family the slightest sympathy or afforded them the smallest assistance — were likewise placed under the ban of the wretches who had treated them so shamefully. Some of their animals were driven off or destroyed, and they as well as the Therrys lived in a constant state of terror ;seldom venturing out unarmed, and being in dread of having their houses burnt over their heads. They are in this state at the present moment. To their credit, however, be it said, they did not allow a feeling of selfishness to deter them from doing their duty. Though they numbered but five or six families in all, they subscribed one hundred pounds as a reward for the discovery of the perpetrator or perpetrators of the atrocious crimes to which we have above referred. The Government added fifty pounds to the reward of one hundred, offered by the neighbours, and, in addition to the two policemen already on the spot, sent McGlone, the detective officer who had just previously captured Gardiner, with instructions to spare no exertions in detecting the guilty parties and bringing them to justice.
In the meantime, pending these arrangements, Farrell had been brought to trial for stealing and slaughtering Mr. Therry's cow. The evidence of Mrs. and Miss Therry as to the peculiar mark on the hide, "resembling Ireland on the map," was clear and distinct, but Mr. Isaacs, as counsel for the prisoner, contended that even allowing, for the sake of argument, that the piece of hide produced was that of the cow in question, it only proved that Farrell had made a mistake and killed Therry's cow instead of his own. Eleven of the jury were for a conviction, but one stood out, and they were ultimately discharged without arriving at a verdict ; the prisoner being remanded on bail, until the next sitting of the court.
Mr. Therrys live stock had been reduced to two horses when McGlone appeared upon the scene. That officer commenced his investigations very skilfully and cautiously, and did not take any open steps until he had made himself acquainted with the characters, habits, and circumstances of the people of the district.
Farrell's first step on being allowed bail was to institute a prosecution against Mrs. and Miss Therry for perjury, in swearing that the piece of hide found on his premises was that of their cow Tuffy. The animal in question had, it appears, very peculiar horns, one of them being broken and hanging down at the side of her head. Farrell, in his evidence at the Police office, against Mrs. and Miss Therry, produced the head of a bullock which he stated to be that of the one from which the piece of hide sworn to as having belonged to Tuffy was taken. It was evident that, if Farrell's story was true, Mrs. and Miss Therry must have committed perjury, because the horns of the head produced were very different from those described as having belonged to Tuffy. It was noticed when this bullock's head was produced in court by Farrell that he handled it very tenderly. This might be accounted for perhaps from its dirty condition, its appearance being as if it had lain in a mud hole. Some of the hair remained on the head, but its colour could scarcely be ascertained on account of the mud with which it was encrusted. The magistrate, Mr. George Hill, in order to ascertain the real colour of the hair, and perhaps suspecting something wrong from the gingerly way in which Farrell handled the head, ordered it to be taken out and washed. When this was done it was discovered that not only was the colour of the hair different from that of the piece of hide, but that the horns were actually fastened on the head by artificial means ! They were secured in their places by small French nails.
On this discovery, Mrs. and Miss Therry were of course discharged at once. But it may give some idea of the annoyance and expense to which they were put by repeated journeys to Sydney, and in defraying legal and other costs, when we state that the investigations connected with these two cases at the Police Court extended over a month.
Detective McGlone, after a time, discovered a means by which some, at least, of the crimes committed might be brought home to the guilty parties. There had been in the service of Farrell for several years a youth named Malcolm Turner. This young man absconded from Farrell's place shortly after the last of Therry's cattle —that is, the seventeen milch cows — had been destroyed. It was believed that this youth could, if he liked, give such information as would throw considerable light upon the affair. He was discovered residing at Lane Cove, and after some time, agreed to point out to a Mr. McMahon the spot where the remains of the slaughtered animals were to be seen. He said he left Farrell's place because, having a knowledge of the crimes which had been committed, he considered his life in danger while he remained there. He took the person to whom he made this communication at once to the place where the seventeen carcases lay. It was an almost inaccessible gully. He also pointed out, at other places, the carcases of other cattle of Therry's which had been destroyed. His story was that he had been sent with Poyner to drive the seventeen head to where they had been shot. That Poyner had shot all except one or two, which he, Turner, shot at Poyner's command, being under fear of the consequences if he refused. He stated that he had previously assisted Farrell in killing the ten head, of which Tuffy was one, in much the same way as he had afterwards assisted Poyner. He had at first refused, but Farrell having taunted him with cowardice and not being " game," and fearing the consequences to himself if he did not comply, he had at last shot one of them — Farrell shooting the others himself.
With this additional evidence of Turner's Farrell was again placed upon his trial. The case against him was now complete, and after a trial extending over several days, during which a number of very remarkable facts came to light, he was, on the 30th ultimo, convicted and sentenced to seven years' hard labour. Criminal prosecutions were also instituted against Mrs. Farrell, and Poyner, but the cases against them have not yet come before a jury.
Many extraordinary facts in addition to those above related, have come to our knowledge in connection with the Mona Vale crimes, and the persecutions of the Therry family, but as they involve charges in cases where no legal proceedings have been taken, and consequently do not rest upon sworn testimony, we think it advisable not to relate them at present.
Persons who have never visited the district of Pitt Water will probably wonder how such a series of crimes, extending over many years, could have been committed with impunity. It will be difficult for a stranger to the neighbourhood to comprehend how cattle could be killed, or driven away, while their owners were almost constantly on the watch. To those who know the place the matter needs no explanation. The district consists of a series of bold headlands, sandhills, lagoons, and gullies. The country is for the most part covered with thick scrub, and scarcely any of the houses are less than two miles distant from each other. The largest portion of the estates are almost entirely unfenced, and consequently it is impossible to keep cattle always insight, and often difficult to find them when they are almost close at hand.
The district is a very picturesque one. The road, or rather pathway through it, winds about— sometimes on the verge of lofty cliffs, sometimes through deep gullies, where the cabbage-tree and tree fern flourish, sometime over bleak hills and sandy dunes, descending at times to fertile grassy flats, and intercepted at places by pretty lagoons and babbling brooks. One or two of the cottages are pictures of rural taste and neatness. The whole district being nearly surrounded by the waters of Broken Bay on the one side, and those of Port Jackson on the other, and there being no practicable road by which it can be reached from Sydney, either in a vehicle or on horse-back, although within little more than a dozen miles as the crow flies, it has remained for many years almost unknown, and, to a certain extent, shut in from the inhabitants of the rest of the colony. To this circumstance is perhaps to be ascribed the comparative impunity with which crime has been perpetrated, and the little attention the strange facts above related have hitherto received in Sydney. It is hardly necessary to say, after the above disclosures, that there is not and never has been such a thing as a church, chapel, or school-house in the whole district.
The thanks of the community are due to detective McGlone for the energy and sagacity with which he has acted in bringing Farrell to justice. It is to be hoped that the proceedings which have been initiated against others will be prosecuted to a successful issue, if they are guilty —for it is melancholy to know — as we are assured is the case — that the few respectable inhabitants at Pitt Water are still living in constant fear not only of the destruction of their property but of their lives. Mr. Therry and his boys still stick to their hut, although all their property is destroyed, determined not to budge while one of the gang remains unconvicted. THE STORY OF MONA VALE. (1865, January 20). Empire(Sydney, NSW : 1850 - 1875), p. 5. Retrieved from http://nla.gov.au/nla.news-article60564465
TO THE EDITOR OF THE EMPIRE.
Sir, — Having read with much interest your " Story of Mona Vale" may I bring before your notice, or rather the notice of the public, one party to whom the inhabitants of Pitt Water are much indebted — I mean Constable John Sheaves, of the Manly district. To him we are indebted for the first discovery of the piece of cowhide, being a portion of the hide of one of my cows, for which Farrell was prosecuted in 1863, and to whose sterling honesty and unshrinking perseverance in the discharge of his duty, by bringing every legal means to bear upon the suppression of crime, too much praise cannot be bestowed.
If an honest man and a faithful servant can add efficiency to a government department, the police authorities may be proud of Mr. Sheaves.
I have the honor to be, Sir,
Your obedient servant,
JAMES THERRY.
[In connexion with what appeared in the Empire respecting Mona Vale, we take this opportunity of stating that we have been requested by a relative of the late Mr. Foley to say that he occupied the estate in question many years earlier than the date we mentioned, and that, although he was for a short time a constable, he accepted that position only that he might be the better able to protect his property, and deal with the lawless characters in his neighbourhood. — Ed. Empire.] TO THE EDITOR OF THE EMPIRE. (1865, January 25). Empire(Sydney, NSW : 1850 - 1875), p. 5. Retrieved from http://nla.gov.au/nla.news-article60564744
WATER POLICE COURT.-FRIDAY
BEFORE Messrs.- J. Williams E. Raper, and N. D. Stenhouse.
CATTLE STEALING.
Frank Poiner, under remand, was charged with stealing on or about the 8th July, 1864, fourteen cows and three calves, the property of James Therry. JohnFarrell, Thomas Collins, Mary Anne Farrell, and Lavinia Collins, were charged with feloniously harbouring the said Frank Poiner, on or about the 8th July 1864.
Detective Daniel McGlone deposed that on Thursday, the 29th September, he apprehended the prisoners under warrant, at Pitt Water. Lavinia Collins said that she knew nothing about the charge, that she was perfectly innocent. The others made no reply. He arrested the Collinses and Poiner on Collins' premises, He made a search, and in the sitting-room, or kitchen, found two guns (produced) hung up with three others, the two guns appeared to be loaded and capped. He also found a large knife close to a bed, in which Collins said Poiner had slept. In a drawer, in the same room, he found two bullets, produced. He took the last named prisoners to the police station, Pitt Water, where he found Farrell and his wife. He then arrested them. He brought all the prisoners to Sydney. He produced parts of hides bearing brands; heads, horns, legs, and portions of tails of cattle, and portions of hides bearing bullet holes; a side of a cow with a bullet hole, a portion of hair off the head of a dead cow, an ear from the head of the same cow, and a piece of hide from the neck of a cow.
He found the horn produced near the bed said to be Poiner's
.
From information received on the 14th September, he went upon that day to a portion of bush land about a mile from Collins' place, and saw eleven or twelve cows lying dead. On the 16th September he took Mr. Therry, his wife, and daughter to the spot, and found that there were then fourteen cows dead and two in addition to the others that he had seen. On Sunday morning, the second of this month, he took Mr. Therry, Miss Therry, and mounted constable Pike to near the same place, and found two other dead cows.
The cattle seen by him on the 14th September were in a state of decomposition ;brands and bullet holes were on the hides of some of
them. The witness here ,described at some length thebrands and marks on the portions of the hides, horns,and ears of the cattle produced. The, ground on whichwitness found the cattle was high and on a flat declin- ing towards Collins's house. It was about three miles from Mr. Therry's farm.
Cross-examined by Mr. Dalley: He thought that the nearest of the dead cattle was about one mile from Collins' house and four or five miles from Farrell's house. He went down to Pitt Water, arriving there on the 12th July, and remained at Therry's until the 17th.
About the 21st July he went from Sydney to Pitt Water, and went to the house of Miss Jenkins, about one mile from Therry's. He occasionally visited Sydney, Manly Beach, and other places. By Mr. Roberts: He had extracted the charges from the guns, and in the smallerone he found that the charge consisted of powder and mixed shot. The other gun was charged with powder and a wire cattridge.
Malcolm Turner deposed that be was nineteen years of age, and was in Farrell's service thirteen years off and on. He left his service about eleven or twelve weeks ago. He knew Mr. James Therry who lived at Pitt Water. During the last two years he had been absent from Farrell's employ about seven months. Therry's place was situated between Farrell and Collins' places.He had seen cattle on Therry's farm about twelve weeks ago. They were cows and heifers. He had seen some of them killed during the last two years within a couple of miles of Therry's farm. He had a couple of bulls, some cows, and heifers shot. Poiner shot them. None of the other prisoners were then present. He shot them between 9 and 10 o-clock in the morning. During the last twelve or thirteen weeks Poiner, to witness's knowledge, shot seventeen head of cattle. He took the gun from Collins's house. The shorter of the two guns produced was used by him. There was no conversation between Collins and Poiner as to the reason he took down the gun. Poiner took the long gun from Collins's house and loaded it. He gave it to witness, telling him that be expected be would use it. Poiner was living at Collins's house. After Poiner gave him the gun they shot the cattle. They were in Collins's yard, and they drove them about two miles to the place where they were shot. They were taken into Collins's yard the previous night. Collins asked Poiner if he had the two fat ones, and he said no. Poiner told witness to fire, and he fired at one of the cattle which was galloping past witness wounded. It took about an hour and a half to shoot them all. When they left Collins' house, they took some powder, bullets, and caps with them. There were sixteen head of cattle, consisting of cows, heifers, and a couple of young bulls, killed. He was in Farrell's service at the time.
Poiner and Lavinia Collins came to Farrell's for him between nine and ten o'clock on the night preceding the shooting of the cattle. Mrs. Farrell was at home at the time.Mrs. Collins said that Therry had some of their cattle impounded in his yard, and she asked for a witness to go with Poiner to release them. Farrell was not then at home;he was at Manly Beach. Mrs. Collins went on horseback and Poiner walked. He remained at Farrell's for an hour, and had something to eat with some tea and rum. Poiner and witness left Farrell's and went over to Therry's. Witness went on a pony. Poiner went into the bush about two hundred yards from Therry's house, brought out the short gun produced, and two single barrelled pistols. He left Farrell's about nine o'clock, and Poiner asked witness ifhe knew what they were going for. He said to release the cattle, Poiner said yes, the right way. He said that the cattle he wanted were at the Lemon Trees, at the bottom of Therry's paddocks.
They went down there and found seventeen head of cattle. Poiner did not show witness any cattle impounded. It was a starlight night. He said that he would expect witness to help and drive the cattle. They drove them along Narrabeen to Collins' yard-about two miles' distance. They got the cattle there about one or two o'clock in the morning ; put them into the yard, and then went into the house. Collins was there and asked Poiner how many he had got. Poiner replied, seventeen. Poiner and witness lay down that night in the front room. Mrs. Collins came home on horseback. Shortly after witness woke on the Saturday morning, Poiner handed him the gun. He saw Collins before they started and he asked if they had got the two fat ones. Poiner said, no ; and Collins said, ' Drop two or three near the waterholes." Poiner replied, " All right" Two or three were shot above the waterholes, and the remainder were shot as they went along. Poiner had a long knife (produced), with which he cut the throats and hamstrings of some of the cattle. Poiner went after a white cow which witness believed he shot, because he heard Collins tell Poiner after they returned that he had " popped that off well."
It was about ten or eleven o'clock when he returned to Collins's for breaskfast, and remained during the day. He then asked Poiner why he did not cut the cow's throat, so that they might have had it for beef. Witness went to Farrell's about nine or ten o'clock at night. He saw Mrs. Farrell, who said " how did you get on ?" He replied "right enough," and went to bed. On the following (Sunday) morning when Poiner was coming towards the house, Mrs. Farrell told him to go out and cut some wood. After cutting the wood he returned to the house and saw Poiner there, Farrell had not returned. Mrs. Farrell told him to get the pony and go to Manly Beach. Poiner went with witness for about twenty yards, when witness galloped away from him. He did not like being in his company when he saw that he (Poiner) had pistols. He was frightened of him. When he got to Manly he saw Farrell, who asked " how did you get on." Witness replied," right enough," and Farrell began to laugh. He asked where they had taken the cattle. Witness described the place, and Farrell remarked "I have never been there." He also asked how many they had got, and witness said seventeen. On the same day, Mrs. Farrell came to Manly Beach in a cart, driving herself. She said to witness, "do you know what you've done ?" He understood her to refer to the cattle. About three or four days afterwards, Mrs. Collins, Mrs. Farrell, and Farrel had a conversation at Farrell's house. Mrs. Collins said that the meat in some of the beasts was quite black. Mrs.Farrell said that that was nothing, salt would take it out. One of the cattle was a brown poley cow with a white star on the forehead,
and one of the best in point of condition. There was also a red-coloured cow, strawberry-coloured cow, and some were branded.
Since he left Farrell's service he had shown the remains to William M'Mahon, about three weeks ago. On the afternoon of the Friday, witness was at Manly Beach, and when he was leaving Farrell told him that if anyone came for him he should go with him. When Mrs. Collins asked Mrs. Farrell at night if she would let witness go with Poiner, Mrs.Farrell said, " Oh, yes, or course.' He rode from Manly Beach to Farrell's, and Mrs Farrell told him not to take the saddle off the pony, as it was too hot. He did not take the saddle off, but took the pony when she told him, and went out to the Lemon Trees. He left Farrell's service in consequence of having had some words with him about M'Mahon. Some of the cattle were short-horns, and well bred. One of the heads produced by the last witness appeared to be the head of the strawberry-coloured cow shot with the others.
Cross.examined by Mr. Dalley : He first left Farrell's service about five years ago. Farrell fed and clothed him. He first went to live with William M'Mahon about three years ago. He employed sawyers at Lane Cove. About a fortnight after the cattle were shot witness left Farrell's service, and he went to live with Owen M'Mahon. He knew that Farrell and M'Mahon had quarrelled, and that Farrell was taking proceedings against him. About seven weeks ago he had a conversation with William M'Mahon about the shooting of the cattle, and went with him about six weeks ago to Pitt Water, to show him where the cattle were lying. Some time before this he had been in James Therry's employ for about a couple of months, and when he rode down to Pitt Water he told one or two persons that he had not received his wages from Therry. William M'Mahon had told him that a person offered to give him £5 if he could find those cattle dead or alive, and offered witness the £5 if he could show him the cattle. He offered the £5 about a week before witness spoke to him about the cattle. William M'Mahon was the first person who spoke to him about the cattle. Five or six of the cattle had been shot before he fired. He fired with intent to kill. He fired being in fear of Poiner.
James Therry and Maria Louisa Therry identified the cattle shot as the property of James Therry.
Several witnesses ware called for the defence: Prisoners were committed for trial.
MANLY BEACH.
Notwithstanding the attractions of the Review in the Domain, and the numerous other inviting points of interest offered to those who ever enjoy the return of her Majesty's birthday, Manly Beach did not fail to draw to its favourite retreats a large proportion of the outpouring population of the city. Still the steamers were not so crowded as heretofore, and the trips to and fro were performed with a comparatively large degree of comfort,-this being due, in a great measure, to the excellent arrangements of the H. R. N. S. N. Company, who placed two of their fine ocean steamships (the City of Newcastle and the Paterson) upon this line. These two vessels plied during the day so as to bring up returning parties before nightfall and the Williams was then put on to convey back those who remained later.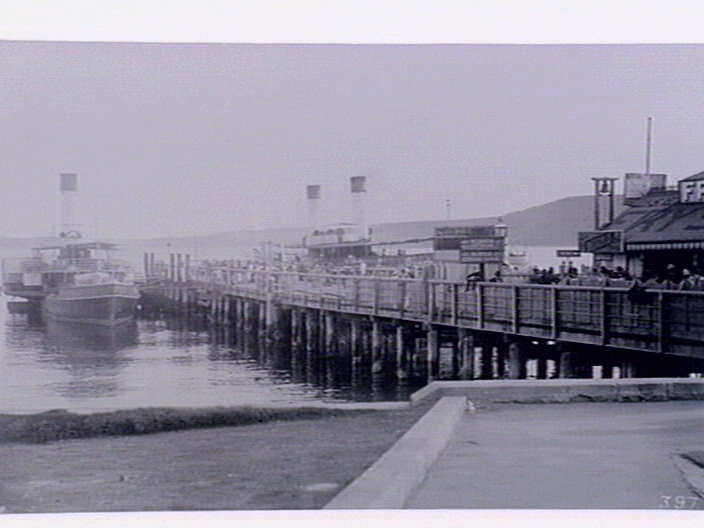 Steamboat pier at Manly circa 1887, image No.:
a17135, courtesy State LIbrary of NSW.
Many hundreds visited this romantic place on Saturday, appearances suggesting that they were deter-mined to be social, cheerful, or jolly under any credit-able circumstances. In small bands they explored the verdant recesses of the surrounding bush, or sauntered o'er the beach to take a sniff of the briny ; some sought amusement in the frolicsome sallies or stubborn caprices of Jerusalem ponies, and others laughed at the stupid exhibitions their fellows made of themselves in the labyrinths of the maze. The Fairy Bower still had charms for a certain class of visitors After freely roaming over the wide expanse, and breathing the cool fresh air which braced up the nerves to fiddle-string tension, and created a desire in the alimentary organs like that said to be peculiar to a hunter, small knots or parties settled down socially to partake of the portable refreshments at their command, cosily picnicing in the most picturesque nooks in the fern-strewed bush or upon the ocean-beaten shore. Common observation on numerous occasions induces the conviction that those who most enjoy Manly-for there are always many visitors who, puffing a cigar or meerschaum, lounge about the hotels and find some diversion in quizzing the various couples or parties that pass, or in watching the different nodes of enjoyment by others-are those who partake of the activity around them, and join in cheering intercourse and Spirit-stirring joviality. For who among the least hearty or most fastidious in gastronomies, could ramble through the grounds, climb the cliff, or scramble among the rocks, for a few hours in such invigorating weather as that of Saturday, and not sit down with a few friends in some sheltered recess, and discuss even a-ham or beef sandwich end a moderate potation of XXX or bohea, with a zest that almost doubles the enjoyment, whilst in the same degree strengthening physical humanity, and rendering bilious acidity of temper an impossibility. The Manly Beach excursionists were, no doubt, the more numerous of any that left the city, though the aquatic trips to other localities were more than ordinarily numerous, und must have diverted many w ho almost habitually visit the Beach on festival days.
No untoward event that we are aware of occurred to cast the slightest shade over the enjoyment of the holiday at Manly, and the return was made with as much comfort as the trip thereto.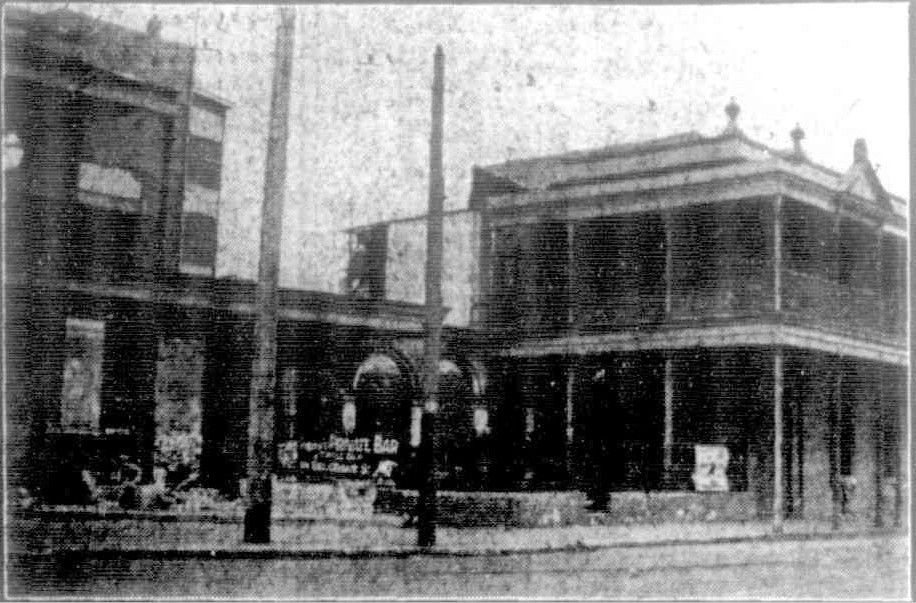 A MANLY LANDMARK.— This picture show, the old Pier Hotel at Manly
, opposite the wharf. It is now demolished so that a more elaborate structure can be erected. WALKING-STICKS FOR DOG-LOVERS [?] THE GRAFTON DISTRICT. (
1924, January 7
).
Evening News
(Sydney, NSW : 1869 - 1931), p. 10. Retrieved from
http://nla.gov.au/nla.news-article119199200
CORONER'S INQUEST AT MANLY BEACH.
An inquest on the body of Mrs. Lavinia Maria Collins, who had been found dead at a late hour on Friday night, was held on Saturday at the Pier Hotel, Manly Beach. The following was the evidence adduced :—
Thomas Collins, the first witness examined, deposed : I have been living in the Pitt Water district for thirty-two years. I am a farmer, and live seven or eight miles from Manly Beach. The deceased,Lavinia Maria Collins, aged thirty-nine years, was my wife ; she was a native of Cornwall, England. I have been married to her since she was eighteen years of age. She always transacted my business. We had breakfast about nine o'clock on Friday morning, after which she started for Manly Beach. She went with potatoes, cabbage, and butter, in a cart drawn by one horse. She could drive, and the horse was a quiet animal, four years old. I expected her home about dark — a Mrs.Wright accompanied her. She was a sober woman, and all the liquor she would take was a glass of ale. Poyner went to meet deceased; he is her uncle, and onthe best of terms with her. Poyner came home this morning quite wet, and asked for a dry shirt. He said deceased was dangerously wounded at ManlyBeach. She had often told me she was frightened to go along the road. I did not believe it. She was once, some years ago, molested on the road. I am satisfied that her uncle would not injure her. When I pressedhim to tell me, he said my wife was dead, and he did not wish to tell me so before. From what I saw Ishould say the dray was overturned by coming in contact with a stump.
By a juror: About four years ago the dray was overturned, and my wife was injured.
Margaret Frazer, wife of David Frazer, stonemason, living near the Camera Tower, Manly Beach, de-posed : A road from the beach to the Pitt Waterroad passes our house. About half-past seven o'clock on Friday evening, deceased came to my place in a cart,and delivered some butter and potatoes. She did not get out of the cart, but from her manner I was led to believe that she was under the influence of drink. I gave her a cup of tea. She stopped about five minutes,and then started the horse at a trot. She was seated in the bottom of the cart, and could see what was in front of her. I was speaking to her until she wentabout twenty yards from my place. She said she was not frightened to go on the road. "When I last saw her the cart was in the centre of the bush-track.About half-past 11 o'clock, her uncle, Frank Poyner came to my place for a light, saying that Mrs. Collins was nearly dead. He said she was lying on the road ; that the dray had turned over. My husband accompaniedhim to where she was lying. Poyner is in Collins'employ, and is a middle-aged man. I have seen deceased under the influence of drink previous to Friday.I am satisfied that no person touched or interfered with her.
By a juror : I thought deceased was too fresh from drink to go home on Friday evening. I did not ask her to stop at my place. My husband works in a forge close to our place, and the noise he made while working until half-past eight would prevent my hearing any noise in the neighbourhood.
By Coroner : It was a dark night, and she was not near-sighted. My husband said the dray was not resting
on deceased.
Francis Poyner, on oath, said : I am 42 years of age, a native of England, and have been 32 years in the colony. I am a single man, and have been 15 or 16 years living with the Collins's, off and on, as a servant. I was deceased's uncle. Between nine and ten o'clock on Friday morning, I took her, accompanied by a Mrs. Wright, across the lagoon. About dusk I crossed the lagoon again to meet her. Finding she was not there, I went along the road, asis my custom, to meet her. I did not meet her, and came right into Manly Beach, and met two men — I think I know them — sitting by Mr.George Smith's fence. They asked me who I was. Imade no reply, and one said, "Is your name Cooper."I made no reply, but passed on. I know Cooper ; he lives at Pitt Water. I reached Cook's public-house about half-past eleven, knocked, and inquired about deceased. Mrs. Cook said she had gone home hours ago, and Mr. Cook said that she went towards Frazer's. I went there, and not seeing the cart, I proceeded along the road, and heard the horse whining. When I reached him I found him standing harnessed to the dray, which was overturned, and is now in the same position. I went round the dray and found deceased lying on the ground in the same position as the body is now. Finding her body cold, and that she did not speak, I went back to Frazer's, got a light, returned with Frazer, and then saw that deceased was dead. There was a great deal of blood about her head.The horse was attached to the shafts by one chain only,and the belly band. The straddle was a new one, and the strap passing through it was undone. I saw blood on the left rump of the horse. He is very quiet, and was never shod. I left Manly Beach at daylight. I was on horseback, and it was raining. I told Collins he was wanted at Manly Beach, as his wife was injured.I did not like to tell him that she was dead. He got annoyed at me, and I was obliged to tell him. I never saw deceased the worse for liquor. I have seen her
take a glass or two of ale.
By the Coroner : I have gone along the road before,fearing something would happen to her. From what I have seen, I believe the dray was overturned by the wheel coming in contact with the stump on the side of the road. If the wheel came in contact with a stump,the horse, unless frightened, would stop. The stump in question is at the corner of the road. The piece of chain produced is like part of the chain of the harness. One of the links is broken. Mrs. Collins told me that she feared somebody would hurt her on the road. She was not on good terms with Miss Jenkins.
By a juror : The horse's head was under the shaft, and the collar turned upside down. By Coroner : The horse's hind legs were towards deceased ; her head was towards the dray ; the shafts towards the stump. I traced the track of the wheel to the stump, on the top of which there were marks of grazing. Marks of the same kind were on the butt of a tree next to the stump.The ground under the wheel is not torn up ; the soil is sandy, and the marks may have been obliterated by the rain. I saw large nailed shoe marks on the sand.Constable Sheaves was called immediately, and I showed him the marks which led to the body.From what I saw, I thought there had been a scuffle there ; there were marks showing that the horse had stepped about. I saw some blood on the iron on the shafts near the top where the chains are fastened.I saw no blood on the ground under the shaft.
Margaret King, aged 14 years, in Mrs. Fraser's service, deposed to handing deceased a cup of tea. I got up on the cart, and I smelled ale upon her. I saw her vomit up something. She knew what she was doing, but was not in a fit state to take the horse home that night.
Senior-sergeant Steel deposed: The case was reported at 4 o'clock on Saturday morning. I came down with detectives Lyons and Elliott and made every inquiry. We visited the spot, and the cart was turned round. I found that the portion of the shaft with blood on it came directly over where deceased's head was resting on the ground. I also found that the wheel track and marks on the stump and tree corresponded with the wheel-tire. There is no doubt that the wheel passed over the stump and butt, capsizing the dray, which was slewed round to the left by the horse leaning in the position described. I found two portemonnaies in deceased's pocket, one containing memos, and the other 23s. 3d. On removing the body, I found a black straw hat smeared with blood directly under the head. I do believe the upsetting of the dray was the cause of her death, and I am led to believe that she was under the influence of drink
at the time.
William H. Cook, deposed : I keep the Manly Beach Hotel. Deceased frequented my house. She drank in moderation. Her drink was ale. On Friday evening she had three glasses of ale at my place, from four to seven o'clock. She treated people, and was only a little merry when she left, the time near seven o'clock. She took half a pint of rum with her. Frazer's house is about a quarter of a mile from my place. About 11 o'clock Poyner called, and I directed him to go to Frazer's.
By Coroner : As it was late I asked deceased to stop at my place. She declined, saying Poyner would meet her on the road. She has left my house at all hours.The rum was in a small ale bottle.
Jane Grey, deposed : I keep a shop next to the Pier Hotel. Deceased left me some butter on Friday evening. I never saw her so much under the influence of drink as she then was.
Constable Lamont deposed : I found the bottle produced containing rum, in a bag where the occurrence happened.
William H. Cook recalled, deposed : The bottle containing the rum produced, is like the one I gave
deceased.
Myles Egan, a duly qualified medical practitioner deposed : I made a post mortem examination of the
body of deceased. There was a large scalp wound on the left side of the head. Going to the skull there
was an extensive fracture of the parietal and temporal bones, and I believe such injury was the cause of death.The injury was most likely caused by the iron bolt on the shaft of the dray, on which there was blood and hair. The injury was not inflicted with a sharp instrument. Death was probably instantaneous.
The jury returned the following verdict : "We find that the deceased, Lavinia Maria Collins, aged 39 years,died from injuries received accidentally, by the upsetting of a dray, on the evening of the 27th instant." CORONER'S INQUEST AT MANLY BEACH. (
1865, January 30
).
Empire
(Sydney, NSW : 1850 - 1875), p. 5. Retrieved from
http://nla.gov.au/nla.news-article60564901
MR. FRANCIS O'BRIEN.
The death occurred on Thursday atthe residence of his son, Grassmere-road, Lindfield, of Francis O'Brien. M.A., eldest son of the late Francis O'Brien, of the Homestead, Bondi, and grandson of the late Edward Smith Hall. Mr. O'Brien, who was 82 years of age, was born in Sydney, and was closely identified with Bondi. His father was the proprietor of Bondi Beach, until its resumption. Mr.O'Brien was one of the first full graduates of Sydney University. He left a widow and two sons.
The funeral took place privately yesterday at Waverley Cemetery, the chief mourners being Messrs. F. and Oscar H. O'Brien, sons, and L. Curlewis, nephew. Amongst others who attended were Messrs. J.R. Baker, T. Smith, and C. Isbell. MR. FRANCIS O'BRIEN. (
1922, June 24
).
The Sydney Morning Herald
(NSW : 1842 - 1954), p. 14. Retrieved from
http://nla.gov.au/nla.news-article16009438
LATE MR. F. O'BRIEN S WILL.
CLAIM AGAINST THE TRUSTEES
The hearing of the suit of Homfray versus O'Brien and others, trustees of the will of the late Francis O'Brien, senr:, of Bondfi, was concluded before the Chief Judge in Equity (Mr.Justice A. H. Simpson) this morning.The case was one in which Rose Fairlie Homfray claimed that under the will of Francis O'Brien she was entitled to an annuity of £100 out of the net proceeds of his estate, and the use of a cottage at Bondi, known as 'Arcadia,'so long as she remained single and paid the taxes in connection with the cottage, which she was also to keep in repair. She alleged that the trustees had not paid her the annuity, in respect of which there were arrears amounting to £300 due to her, and that the cottage had been sold under a mortgage given by the deceased to the English, Scottish, and Australian Chartered Bank. The defendants denied that the plaintiff had fulfilled certain conditions set out in the will, and that there had been no net income in the testator's estate since his death. His Honor reserved his decision.
LATE MR. F. O'BRIEN'S WILL. (
1910, April 21
).
Evening News
(Sydney, NSW : 1869 - 1931), p. 3. Retrieved from http://nla.gov.au/nla.news-article115240509
MR. F. O'BRIEN
The death has occurred in the Tumharumba District Hospital, after 60 years' residence in the district, of Mr. Francis O'Brien, at the age of about 90 years.Mr. O'Brien was born in Ireland, and coming to Australia with his wife in 1878, he obtained employment at Bondi, that district being then a big dairying estate. For a year he worked there, delivering milk to the town of Sydney.
He then went to Tumbarumba, where he and his wife established their permanent home. He worked for some years on the old Pilot Mine at Meragle, and then followed the lure of the gold at Hiaadra for a time. He later took up farming. Mr. O'Brien is survived by his wife, two sons and six daughters. They are James (Tumbarumba) and Francis (Sydney): Mesdames c. Mitchell (Cassie), R. Bentley (Emma), S.A. Stanley (Alice), M. Butler (Maggie),ail of Sydney; F. Longhurst (Nellie),of Tumbarumba, and A. Reid (Annie),of Wagga. There are also severalgrandchildren. Mr. O'Brien also leaves three brothers, Patrick and Henry, both of Tumbarumba, and John, in America.Two sisters, who resided in America, are deceased, and another brother, Dennis, died in Tumbarumba about 40 years ago. The burial took plaoe in
the Catholic portion of the Tumbarumba cemetery.
MR. F. O'BRIEN. (
1939, May 16
).
Daily Advertiser
(Wagga Wagga, NSW : 1911 - 1954), p. 2. Retrieved from
http://nla.gov.au/nla.news-article145374918
DISTRESSING OCCURRENCE AT BONDI.-Yesterday morning two brothers-Thomas Clancy (17), and Charles Clancy(15), left their home, Edward-street, off South Head Road, on a fishing excursion to Bondi. Another youth, named O'Connor, who had promised to go with them, declined at the time they started, but subsequently changed his mind, and went out by bus soon after, having arrived at the spot where they had been in the habit of fishing he looked about for the lads, and high up on the rocks he found wool coats which the Clancys had on when he last saw them, also two neckties, a pair of boots, a pair of socks, and some fishing tackle. It was customary with them to take off some portion of their clothing, and leave it on some high place out of the reach of the spray of the breakers, and then to descend some distance down onto a large table rock so that O'Connor did not think much of seeing the clothing where he found it. He descended the rocks, but found the lads were no-where to be found, although he searched in all directions. On inquiring of some men fishing at a distance, they told him that they had seen the lads undressing; and one of them a quarter of an hour afterwards thought he heard a scream or shout, and looked round but could see no-one, so took no further notice of it. The alarm was give and every place thoroughly searched, but upon a ........hour last night no tidings of the youths had been heard. It is supposed that having got on to the rock on which they were accustomed to stand, a wave must have broken over it and washed them away; this supposition is strengthened by the fact that the breakers were dashing over the rock when O'Connor arrived. One of the men who was fishing some distance away stated that he saw a boot floating on the water. The eldest of the youths-Thomas Clancy-has been engaged at the Government Printing Office for some time. T
he place where the above occurrence took place is a little to the left of Bondi, near to Mr. Francis O'Brien's residence. The Sydney Morning Herald.
(
1866, July 2
). The Sydney Morning Herald (NSW : 1842 - 1954), p. 4. Retrieved from
http://nla.gov.au/nla.news-article28612047
ALDIS, Hannah (Mrs. W. H. PALMER)
Pianist (pupil of Boulanger)
Born Sydney, 1839
Died Sydney, 25 November 1912, aged 73
Summary: Two published prints were dedicated to her, Miska Hauser's impromptu Australian Flowers in December 1856, and the Rosalind Schottische, "dedicated to Miss Aldis by the composer Douglas Callen" in 1859.
Obituary: The death took place on Monday at her residence, Ocean street, Woollahra, of Mrs. Hannah Hay Palmer, at the age of 73 years. Mrs Palmer was a native of Sydney. Her father was Mr. W. H. Aldis, a merchant of this city in the early days. Old colonists will recollect Mrs. Palmer as a lady of high musical talent. There is a link connecting her with Chopin. She was a pupil of Boulanger, and he, in turn, was a pupil of the great composer. Miss Aldis was a brilliant pianist, and when a girl of 14 she gained distinction by her playing at the opening of the Sydney University. For many years Miss Aldis (afterwards Mrs. Palmer) took part in the leading concerts of Sydney, and was a prominent figure in the musical world […] Her daughter is Miss Gertrude Palmer, who is a well-known solo pianist and accompanist […].
References:
"REVIEW", The Sydney Morning Herald (24 December 1856), 5: http://nla.gov.au/nla.news-article12990464; "SYDNEY PHILHARMONIC SOCIETY", The Sydney Morning Herald (18 April 1857), 4: http://nla.gov.au/nla.news-article12994343; "MARRIAGES", Empire (24 November 1863), 1: http://nla.gov.au/nla.news-article60552052; "MRS. W. H. PALMER'S CONCERT", The Sydney Morning Herald (1 May 1869), 4: http://nla.gov.au/nla.news-article13181296; "Mrs. Palmer's concert", The Sydney Morning Herald (23 October 1884), 10: http://nla.gov.au/nla.news-article13583148; "THE METROPOLITAN LIEDERTAFEL", The Sydney Morning Herald (29 August1884), 8: http://nla.gov.au/nla.news-article13569075; "DEATHS", The Sydney Morning Herald (26 November 1912), 8: http://nla.gov.au/nla.news-article15378407; "PERSONAL", The Sydney Morning Herald (27 November 1912), 18:http://nla.gov.au/nla.news-article15378528
Associations: Daughter of W. H. Aldis; pupil of Edward Boulanger; wife of W. H. Palmer; mother of Gertrude Palmer
ALDIS, William Henry
Amateur vocalist
Born ? UK, 1805
Active Sydney, 1828-1867
Died Sydney, 21 January 1872, aged 67 years
Summary: By May 1828 William Aldis was collector or monies for The Sydney Gazette, later for The Sydney Herald, and afterward town collector. "Mr. Aldis" appeared a glee singer with Maria Taylor and Conrad Knowles in George Gordonovitch's concert in January 1835, and took over Gordonovitch's tobacco business in 1837. He was one of the principal vocalists in Deane's concert in May 1836, and in Wallace's oratorio at St. Mary's in September. He sold tickets for Deane's concert in 1842, though later was in business for while in Brisbane. He was a friend of Ludwig Leichhardt, and, by Leichhardt's own accound, the first to recognise the explorer on his unexpected return to Sydney in 1846. Aldis was honorary treasurer of the Sydney Philharmonic Society in 1860 and the Sydney Vocal Harmonic Society in 1861. He was declared insolvent in 1867, and died in 1872 "an old and much respected colonist". His daughter Hannah Aldis (Mrs. W. H. Palmer) (above) and granddaughter (Miss Gertrude Palmer) were both professional musicians.
Leichhardt 1846 (Argus 1865): An intelligent, much-liked tobacco merchant, named Aldis, had assisted me when I started before most friendly and strongly, and he was the first whom I met when I landed. When he had recollected me (and this took a pretty long time) he gave vent to his feelings in such a glorifying welcome that I did not know what to think of it. And when he accompanied me to Lynd's house, and called out to everybody in the street. "There is Leichardt, whom we buried long ago, about whom we sang songs of death; he comes from Port Essington, and has conquered the wilderness."
References:
[Advertisement], The Sydney Gazette (14 May 1828), 1: http://nla.gov.au/nla.news-article2190392; "MR. GORDONOVITCH'S CONCERT", The Sydney Gazette (22 January 1835), 2: http://nla.gov.au/nla.news-article2197118; "CONCERT",The Australian (23 January 1835), 2: http://nla.gov.au/nla.news-article42009914; [Advertisement], The Sydney Herald (12 May 1836), 3: http://nla.gov.au/nla.news-article28654818; [News], The Sydney Gazette (14 March 1837), 3: http://nla.gov.au/nla.news-article2209888; [Advertisement], Australasian Chronicle (10 September 1842), 3: http://nla.gov.au/nla.news-article31737126; [Advertisement], The Sydney Morning Herald (14 December 1861), 1: http://nla.gov.au/nla.news-article13057346; "LEICHHARDT'S LAST HOME CORRESPONDENCE", The Argus (13 September 1865), 5: http://nla.gov.au/nla.news-article5769161; "DIED", The Sydney Morning Herald (27 January 1872), 1: http://nla.gov.au/nla.news-article13251414
Bibliography: William Henry Aldis, DAAO
Associations: Father of Hannah Aldis (Mrs. W. H. Palmer), grandfather of Gertrude Palmer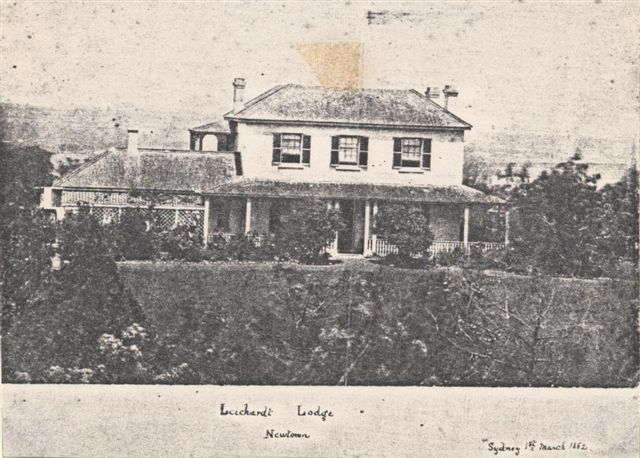 Plate 2. 'Leichhardt Lodge', Newtown. Built by W. H. Aldis and named after his friend, the explorer Leichhardt. Stephen Campbell Brown lived for some years in this house.
Matriarchs of Pittwater I - Maria Louisa Therry - threads collected and collated by A J Guesdon, 2014.