September 10 - 16, 2017: Issue 329

Early Pittwater Surfers: Avalon Beach I
1956: The Carnival That Introduced The Malibu Surfboard And Being Able To Surf Across A Wave Face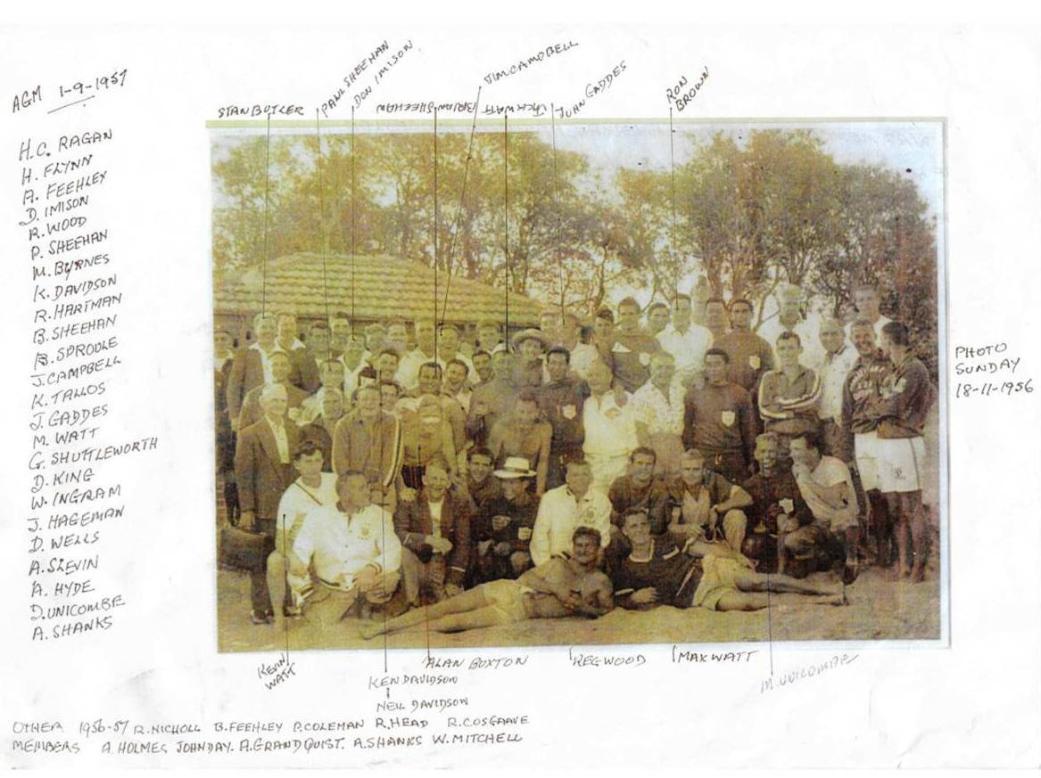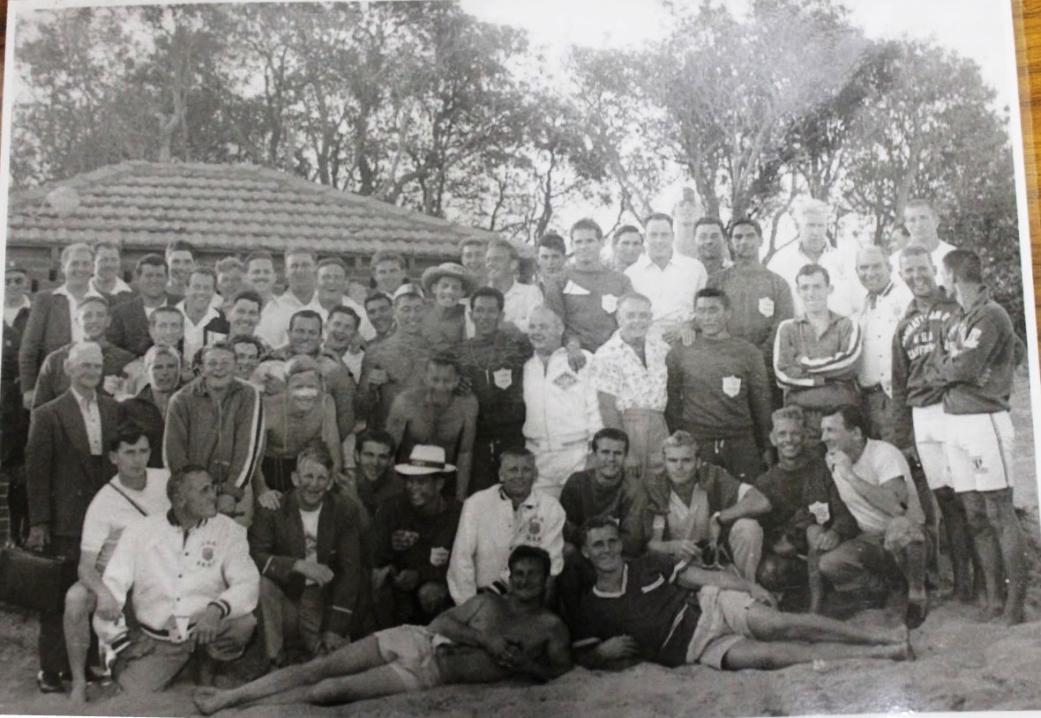 The post-Carnival photograph of Avalon Beach SLSC members and visitors. Courtesy ABHS.
In Autumn 2014 Pittwater Online News ran a report on the
Arrival Of The Mal - 1956 Surf Boards
, the
Avalon Beach Historical Society Meeting where Speakers David Lyall and Bob Head, Mr. Lyall a member of Bilgola SLSC in 1956 while Bob was a member at Avalon Beach SLSC, shared their accounts of witnessing American surfers being able to ride a surfboard across a wave, something not done here before. David then began making such boards, while Bob organised running the first Malibu contest in Australia on a 'short board' - 'short' in comparison to the 16 foot long toothpicks that could only go in a straight line and became history, overnight.
Last year the
indefatigable Roger Sayers, who fortunately has retired in time to take up full time historical research, sent in the following:
The first significant public demonstration in Australia of modern malibu surfing took place here at Avalon Beach on Sunday 18 November 1956. Its far reaching effects revolutionised the sport of surfing and Australian beach culture.
After competing in a surf carnival organised by Avalon Beach Surf Life Saving Club, American lifeguards here to take part in the 1956 Melbourne Olympics surf carnival, went surfing on their surfboards and carved their way across the waves off South Avalon.
They paddled their boards out in front of the rocks at South Avalon and we all laughed thinking they'd get smashed on the rocks. Everyone was amazed when they turned their boards and rode across the face of the wave in front of the rocks. Surfboard riding from then on was totally different.(the late Max Watt Life Member Avalon Beach SLSC)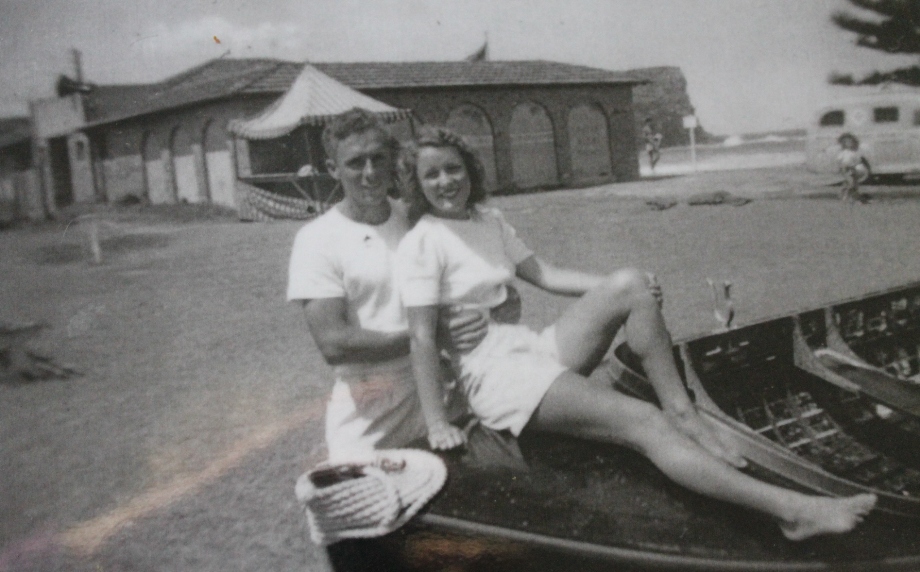 Max and Norma Watt - behind is Southern end of Avalon Beach SLSC in early 1950's - photo courtesy Norma.
The era of the 'toothpick' hollow boards ended on that day and that of the modern malibu, the forerunner of today's surfboards had begun. From that day on surfing changed to become whatever it is on the day you are reading this.
Fittingly the first Australian Malibu Surfboard Riding Championship was also held at Avalon Beach on 27-28 May 1961, organised by Bob Head President Avalon Boardriding Club and Life Member Avalon Beach SLSC.
- Roger Sayers
A copy of the
Avalon News
held by the Avalon Beach Historical Society reported the competition was originally planned for one day but had to be altered to two days due the degree of support it received from surfers.
"The only exclusion is that no 'long-boards' will be permitted.
Following the competition a report was published in the Manly-Warringah News:
"The decision to hold the event so late in the year was bold but the response from all over Australia showed that it was a sound one.
Applications were received from over 200 people, including 14 girls.
"The championships were judged on skill and the task of the judges was not an easy one.
The highlight of many thrills and spills was the performance put up by three youngsters in the sub-junior event.
"In the words of the judges, these lads were able to teach many of the older board riders a thing or two. They were Bob Young of Collaroy, Rodney Sumpter of Avalon Beach and Robert Brown of Cronulla.
Popular singer and TV artist Col Joye presented the valuable silver cups
"
Bob Young is better known as Nat Young, who won the second world surfing championship in 1966, while Rod Sumpter and Bobby Brown are also well-known in the develoment of excellence in Australian surfing.
Beth Jackman won the women's event, making her the first women to win a surfboard riding contest at Avalon Beach.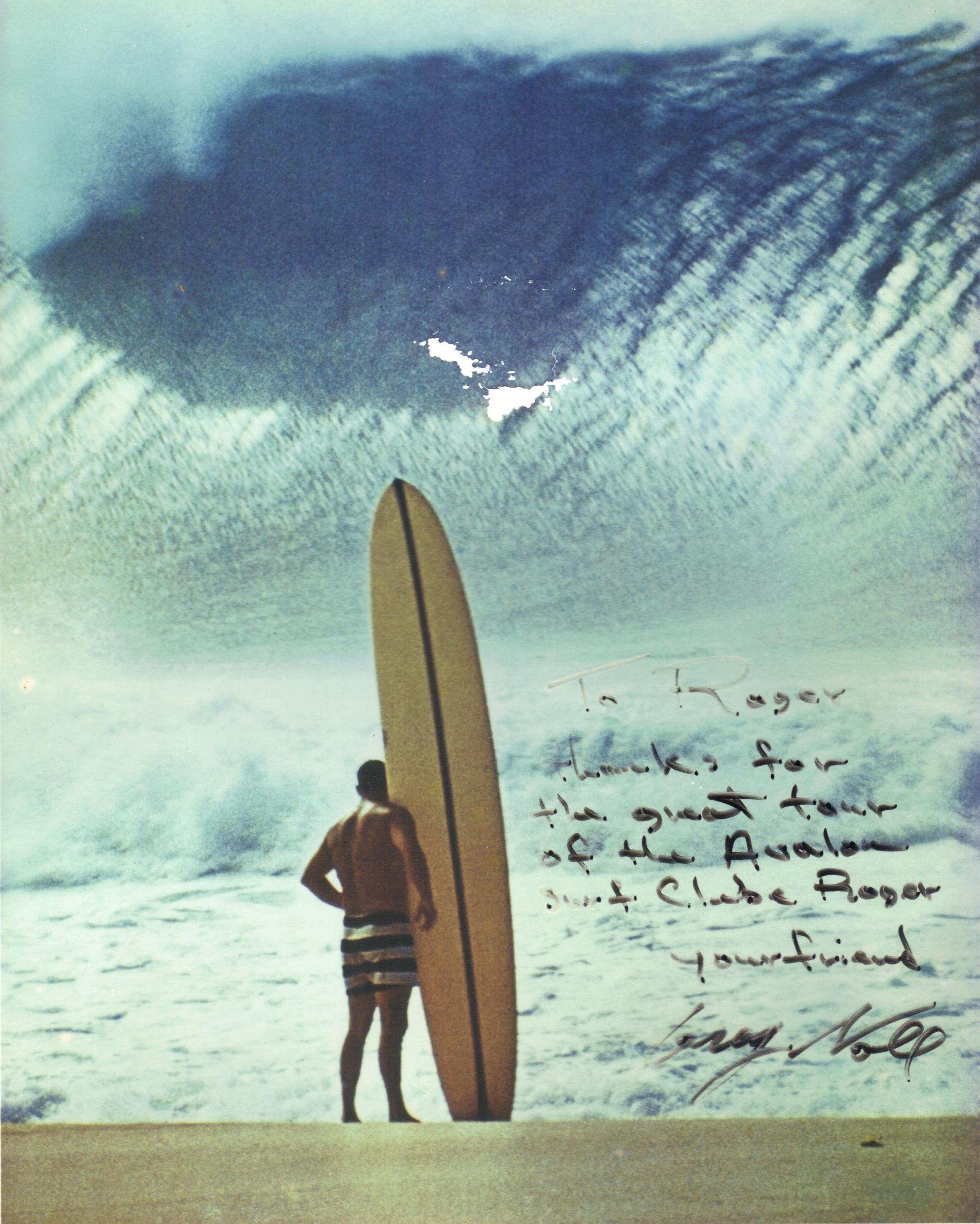 Greg Noll R Sayers Avalon Beach Surf Club 1998 - Greg Noll, standing on the beach at Pipeline - this image was shot by John Severson (founder ofSurfer Magazine) on the original Big Wednesday of 1964. Yes, he went out.
Roger, along with other community advocates, was seeking to celebrate the
60th Anniversary of the day locals
witnessed visiting Americans ride across the waves on Malibu surfboards by having a plaque
acknowledging
the feat installed at Avalon Beach for the
benefit
of those who visit and those who are the next generation and wish to know more about where they're standing and where they came from.
Greg Noll did revisit Australia last year in time for the
November 18th 2016 celebrations held at Cronulla, where the visitors had been the day before, Saturday November 17th, 1956.
Their
visit was time to coincide with the 1956
Melbourne
Olympics with then President of SLSA, Adrian Curlewis ensuring the spread of the Australian Surf Life Saving methods was before all eyes.
We'll make a new Games' splash
It's a lucky thing for Olympic Games organisers they are not holding events on Sundays.
Because on the two Sundays during the Games they would strike the toughest opposition, as far as a gate attraction is concerned, down Torquay way.
The opposition - 3,000 bronzed bodies, competing at Torquay in the international and Australian surf life-saving carnivals.
There is little doubt the Torquay carnivals will be one of the finest displays of the Games outside recognised Games events.
There will be 70 teams from all over Australia, and 70 overseas competitors from Ceylon, South Africa, New Zealand, and Hawaii.
And the surf carnival they put on for the Queen at Bondi, Sydney, will be a "pup" compared with this one.
There will be 60 teams alone in the march past, which is as colorful as the Trooping of the Color at Buckingham Palace, on a background of surf and sand.
Boat race
There are 60 entries in the open surf boat race, 40 in the junior event, and 300 competitors in the open surf race.
Then, just to pack in the thrills, there arc 170 entries in the surf ski event and 200 in the surf board title.
These are two carnivals that should be "musts" for everyone in striking distance of the 58 miles to Torquay on November 25 and December 2. We'll make a new Games' splash (
1956, September 14
).
The Argus
(Melbourne, Vic. : 1848 - 1957), p. 22. Retrieved from
http://nla.gov.au/nla.news-article84386433
President of the Surf Life-saving Association of Australia (Judge Adrian Curlewis), has announced that a team of American life-savers will come to Australia next month. The team will represent the Surf Lifesaving Association of U.S.A. which was formed only last month
.
The Americans will compete in international surf carnivals at Torquay, Melbourne, and at Collaroy and Maroubra in Sydney in December. They will compete against teams from Australia, Hawaii, New Zealand, South Africa and Ceylon. Judge Curlewis said the formation of an American Surf Association now made it possible for Australian surf teams to visit America in the future. Judge Curlewis said the formation of the American Surf Lifesaving Association and the coming visit of the American team were the direct results of the support the managing director of Ampol Petroleum Ltd. (Mr. W. G. Walkley), had given to surf lifesaving.
"Without a gift of £2000 from Mr. Walkley, the S.L.S.A. would not be able to stage the coming international carnivals," .Judge Curlewis said. "Before Mr. Walkley made his magnificent gift, the S.L. S.A. would sought help from every council in Australia, but could raise only £1000.
In addition, Mr. Walkley sent Mr. Arthur Fatkyn, Queensland S.LSA. official, to Honolulu to prepare an Hawaiian team for the international carnivals, "Last month, Mr. Parkyn went to California, and his visit led to the formation of an American Surf Lifesaving Association among sportsmen who surf on Californian beaches.
This is something the Surf Lifesaving Association of Australia has been striving for for many years. As a gesture to Mr. Walkley's efforts to foster international surf lifesaving, the American Association appointed him their patron."
Judge Curlewis said that after surf lifesaving became established in Australia, the movement spread first to New Zealand and then to South Africa and Ceylon.
"The Hawaiian Surf Lifesaving Association was formed in 1953 after the visit of an Australian surf team to Honolulu,"
he said. "Last year the Surf Lifesaving Association of Great Britain was formed with six clubs in Cornwall and Blackpool. "Now as a result of the formation of the American Association, we look forward eagerly to the day when an Australian team can visit California. "This has been the goal of many Australian surf enthusiasts for many years.
Judge Curlewis said entries for the international carnival had closed when word reached him this week of the formation of the American Association.
"Naturally we are delighted to extend an invitation to the Americans," he said. "We expect a team of 10 or 12 to come to Australia.
"The voluntary officers of the US.A. now have a lot of work ahead of them arranging transport, accommodation, equipment and training of the Americans." SURF LIFE SAVING (
1956, October 24
).
The Biz
(Fairfield, NSW : 1928 - 1972), p. 27. Retrieved from
http://nla.gov.au/nla.news-article189250302
Twelve American and 10 Hawaiian lifesavers will arrive In Sydney on Tuesday, the advance guard of an international surf invasion.
HAWAIIAN SURFERS. (
1956, November 15
).
The Central Queensland Herald
(Rockhampton, Qld. : 1930 - 1956), p. 16. Retrieved from
http://nla.gov.au/nla.news-article79270839
1956 Surf Carnival At Avalon Beach Recollections Of Reg Wood - Held On Sunday, 18th Of November.
Surf Carnivals in our time, were a gathering of wide eyed youngsters , full of life, ready to try themselves against whatever "Huey," the mystical god of the sea, could throw at them.
The Clubs from Warriewood to North Palm Beach were banded, by the Association together in a group. It was the practice that during the season each of these Clubs would have a Surf carnival, restricted to Mona Vale, Newport, Bilgola, Avalon, Whale Beach, Palm Beach and North Palm Beach.
They were good days. The events started at midday, and you could compete in any and every event, It was at carnivals like this that one could learn the technique of pretending to move your craft back when the judge thought you had edged in front of the line.
The beauty of these carnivals was that regardless how good you were you could still compete, you knew someone had to come last, so what the hell. Every Club, when it was their turn had to put on an afternoon tea and this ranged from Palm Beach putting on a Keg to North Palm Beach, who had a caravan Park of supporters who put on a terrific spread of cakes and sandwiches.
Naturally North Palm Beach was our favourite carnival. Not only did they put on a terrific afternoon tea but we had a chance of meeting the girls from the caravan park who generally helped at the afternoon tea. Incidentally, we had a terrific Ladies committee, consisting of wives and girlfriends of the members and we generally put on a goad spread ourselves.
We started to win a few restricted carnivals. The boat crew was training well in the old boat on Sydney harbor, the ski and board boys were coming up with wins and places in the carnivals, our swimmers knew they would have to contend with a strong contender from Whale Beach, "Hal" Bailey I think his name was, a bloody strong swimmer. "Craney" was swimming extra laps in Garden Island Dry Dock to beat him and Douglas Wells, "Guts," the King of the Kids was strengthening his right arm for the pillow fight and our beach event lads were doing all right in flags but finding it hard to beat 'Horsey" Harrison from Newport in the sprint. The R & R was a mixture of Ski, Boat and Beach competitors so the R & R Squad comprised of whoever wasn't competing when the R & R was on.
Flush with confidence, when we heard that the Yanks and Hawaiian's were coming out, we applied to run this Carnival, content to put all our effort in running the carnival and forgo the chance of competing because we had been winning a few carnivals the association took a chance and bugger me, we got it.
What a job, over and over we went over who would do what, what was needed, where we would unload the water craft, where to park the trailers, which members would look after this section. Then the incidentals, "Craney" (
Doug Crane
) came good with Flags from all nations that he borrowed from Garden island. "Chera" had a talk with his Dad, a big nob policeman, re road control, another lad had contacts with the ambulance, gee, and a lot of favours were called in. The yacht Cub came good with a cruiser to help with water and I believe the Water Police dropped by for a while. It is marvellous how when you chop a difficult job into bits, it becomes manageable.
I remember we had several meals in the Nan King Chinese restaurant in the Haymarket, where we went over our preparations, item by item, even in the case of emergency, how we were going to get a patient through the anticipated Crowd to the ambulance.
Sunday December 18th, 1956
What a day it was. Bloody beautiful, sun shining, good surf. Hawaiians, Americans and Aussie competitor.,, and what a crowd of spectators, our advertising had paid off. Girls that we had been trying to get to come to our beach turned up, but we were to bloody busy to say more than "Hello" and back to our allotted job. What a bummer.
It was at this Surf Carnival that we were first introduced to the short plastic surf board. I think it was an American who first tried out his board in the surf.
All eyes were on him as he entered the surf, waiting for him to be knocked off his board, but he negotiated the surf not too bad and the crowd waited for him to catch a wave.
"No bloody good in our surf" was the general consensus, then up came a wave…
"Go for it" went up the cry and he did, but Huey wasn't happy and the poor Yank was on a dumper. Down he went and up he came with his board in two bits.
"Told you they were no bloody good" were the bulk of comments around us from the crowd and as usual, there is always one, "How the hell would you know"; Geez trouble I thought, but the pair were content with glaring at each other.
Looking at two different shape surf boards there is good points in both, we have the long racing surf board, fast and in the hands of an expert, able to handle big seas.
But I digress.
Back to the Carnival. As you can imagine in a race the small boards were slower than the long boards but they handled the surf better, when paddling out. The big plus for the small board was the manner in which the short board could travel across the face of the wave, something the long board has trouble with.
The general consensus was "No bloody good here Mate, they can't handle the big seas". How wrong were we?
A carnival would not be a carnival without a few hiccups. The flags for the public were in the middle of the beach and only a small corridor between the competitors and the public. One of the Boat captains had a god complex and bugger me, caught a wave and took his boat that close to the swimming area that his oars, that were in the drag position, had they been rowing would have been inside the flags. I forgot myself and abused the hell out of him, saying he only had to veer slightly and he would have collected the swimmers,
"Not with me sweeping", he said.
Just when things might develop, the carnival referee came down and told the sweep it was dangerous thing he had done and if he did not walk the boat up to the boat area he would not let them compete. You meet all sorts in a Surf Club.
Well, that's about it everything went well, the clean up, putting the gear away was a drag, everyone was tired and some of the boys had broken off to start the Barbecue, but we were content.
The barbecue was a thank you for the boys for working, not competing in the carnival. To ensure we had good meat, Harry Usher, himself a butcher, had brought meat up from Sydney in duffle bags and the best cuts, naturally, were put aside for the surf Club boys that were still putting gear away.
One member only competed in the carnival, you will never guess who it was, and he went in the ski race and won it.
It was strange, the next morning, to see getting on the bus for Wynyard, a surfer with the long shorts that was a trademark of the American surfers with a short board under his arm. He must have enjoyed himself.
A photo was taken of competitors, officials and Club members. Yours truly is laying down in the front with Max watt and on the right hand side, kneeling down in front of two American surfers you will note Norman May in a white t-shirt, remembered for his cry of "Gold, Gold, Gold" at the Olympics."
Post our running of this Norman Godden wrote from New Zealand adding in:
"We saw the making of surfing history that day with the Americans. After the competition was over late in the afternoon, the Americans took out their boards and their bodyboards. The waves were quite big and they simply zipped across them, leaving all of us with gaping mouths. A long board guy, Windshuttle, tried to show that the long, hollow board was just as good. It wasn't. He caught the wave in the old traditional style and came off.
The show that the Americans put on that afternoon was amazing. One of them was Tommy Zhan from Hawaii who later starred in a couple of films.
Sydney took to the new boards, with Northern Beaches, Gordon Woods making them from moulded ply (beautiful craftmanship) and a bit later, Roger Keiran making them from foam blanks. My Brother and I bought one of the first Wood's boards.
I now live in NZ but still think of that memorable day at Avalon."
Regards
Norman Godden
The Sydney Morning Herald reported:
US Surfers Show New Technique. (Avalon)
Nearly 20,000 went to Avalon for the surf life saving carnival in which lifesavers from United States, Hawaii and New Zealand competed against Sydney clubs.
The American surfers, standing sideways on small 10ft. boards and moving at high speed, received a warm reception from the crowd.
One of the American surfers, Ted Levine (Tad Devine) had the opportunity to demonstrate his country's rescue technique in a genuine emergency.
Instead of the Australian belt and reel, he used a "torpedo buoy'.
Thousands Throng Beaches: Many Saved.
S
ydney Morning Herald.
Monday 19 November, 1956.

Page 3.
The visiting Hawaiian surfers will sell their seven lightweight surfboards, which created a sensation at Avalon last Sunday, after their farewell appearance at Collaroy on December 9.
The boards, which are made from balsa reinforced with two two long strips of redwood and coated with a thick layer of fibre-glass, weigh 26lb.
The lightest racing boards in Sydney, made from 1/2 inch plywood weigh from 33 to 23 lb.
The Hawaiian boards, which have been used at Waikiki Beach for seven or eight years,
can be made in less than a week.
They are eight feet long, compared with the average Australian length of 16 feet, but are about five inches wider than the local board's 20-21 inches.
Three hundred people saw the Hawaiians give an exhibition of board riding after a special carnival at Avalon in a big surf last Sunday.
Unlike Australian boardriders, the Hawaiians stood on the middle of their balsa boards, even when heavy white water from the broken waves swept around their feet.
Harry Shaffer, captain of the Hawaiian squad, said last night of the boards : "There is no question of selling out to the highest bidder.
"We plan to give our boards to the fellows we consider to be the real enthusiasts at only a token cost."
Surfers To Sell Boards. (
Wednesday 21 November, 1956.

Page 15)
S
ydney Morning Herald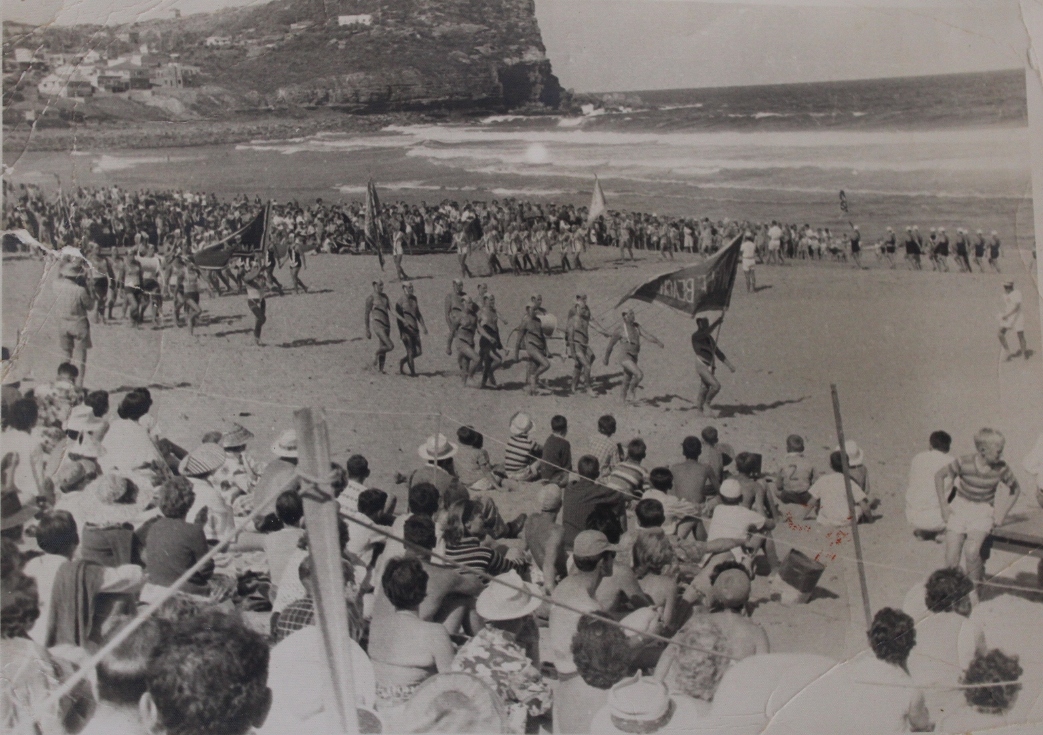 Avalon Beach SLSC Carnival Sunday, 18th Of November, 1956 - March Past - Whale Beach, NSW, Australia leads visiting American team (courtesy
Beryl and Don Imison
)
Teams of 12 American and 10 Hawaiian lifesavers have arrived in Sydney to compete in International surf carnivals in Melbourne and Sydney in the next month. They will be the first lifesavers from America or Hawaii to compete in surf carnivals in Australia.
The Americana and Hawaiians will appear at international surf carnivals at Torquay Victoria on November 25 and December 3,
and at Maroubra and Collaroy, in Sydney, on December 8 and 9.
They will compete against teams from south Africa, Ceylon. New Zealand and Australia and the belt champion of England.
Their first appearances in Australia were at carnivals at Cronulla and Avalon.
The visit of the American and Hawaiian teams was made possible by the sponsorship of the managing director of Ampol Petroleum Ltd. (Mr. W. G. Walkley). With the exception of their captain, 45-year-old Herb Barthels, their ages range from 18 to 24. They are a team of young giants. The baby of the team is 18-year-old Roger Jensen, of Malibu beach, who is 6ft. 5 ins. tall and weighs 190 lbs. Their appearance in the march past at the international carnivals should cause a sensation, because they will wear the most striking three, colour parade costumes ever seen on an Australian beach. The trunks of the costumes will be a vivid red, the midriff white and the torso and shoulder straps a rich blue. On the upper front of the costumes will be the letters 'U.S.A' in red and white and two white stars. On the back of the costumes, against the blue background, will be five white stars.
Magnificent march past costumes have also been made to New South Wales for the Hawaiian team. Because the Americans are professional lifeguards, at the international carnivals they will compete only in events where life saving equipment is used. OVERSEAS LIFESAVERS (
1956, November 21
).
The Biz
(Fairfield, NSW : 1928 - 1972), p. 17. Retrieved from
http://nla.gov.au/nla.news-article189246779
THEY CAME FROM EVERYWHERE FOR OUR GREATEST DAY.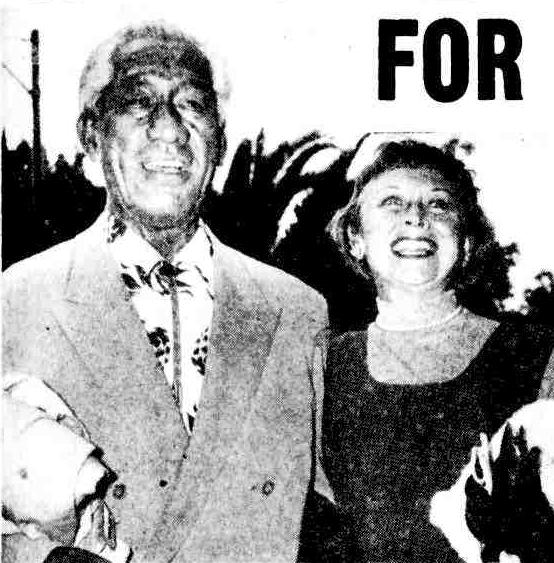 Their 8000 mile trip just failed.
Duke of Hawaii smiles his way in.
Beaming their delight, Hawaii's top personality, Duke P. Kahanamóku, and his wife (above)step smartly to their seats at the Games opening yesterday.
A former Olympic Gold Medallist in the swimming ranks, Duke was a great friend-and opponent- of the late Sir Frank Beaurepaire, who did so much towards winning Melbourne the XVI Olympiad.

ILLUSTRATED.

THEY CAME FROM EVERYWHERE FOR OUR GREATEST DAY. (

1956, November 23

). The Argus (Melbourne, Vic. : 1848 - 1957), p. 9. Retrieved from http://nla.gov.au/nla.news-article71767378
World surf stars thrill crowd
Tall, bronzed life-savers in their brightly colored uniforms, slowly and majestically marched across the sands of Torquay yesterday and 1 70,000 people cheered one of the most spectacular scenes of our Olympic Games Carnival.
Thirty-five teams representing the U.S., Hawaii, Ceylon, South Africa, New Zealand, Great Britain, and local and interstate surf life saving clubs-competed in the international surf carnival.
From 10 a.m. to 4 p.m. the events continued non-stop. As the crowds increased, they packed the beach, then the headland - soon cars took over the golf course.
And then the tide turned, and coming inshore, started nibbling the golden beach away.
The colorful march past was put forward an hour to 1 p.m. - and even then there was hardly enough beach left for the 35 bronzed and youthful teams to march on.
Wearing colorful costumes of blue tops with white stars, a white centre band, and scarlet trunks, the U.S. team brought cheers from the huge crowd.
But the more experienced New Zealanders won the international march past, with Ceylon second, and South Africa third.
White-haired Duke Kahanamouku, sheriff of Hawaii and former dual Olympic swimming champion, sat among the carnival crowd with Australian "Boy" Charlton, another former Olympian.
"It's great," the Duke said, "the sight of surf always thrills me."
But for once the Torquay surf was rather tame, no boats were upended and the small waves were hard to catch.
The Americans caused a surprise when they appeared with their version of surf boards.
Very narrow, and made of light fibre glass, they proved a lot faster than the normal Australian board.
Astounded
And our reel-and-line method of surf rescue astounded them!
The American idea is to carry a coil of nylon line into the surf and play it out as they swim to the patient. They wear no belt attached to a reel, as we do here.
Judge Adrian Curlewis, Australian Surf Life- Saving Association president, said the international Olympic carnival had brought about an exchange of ideas - the Americans were going to try our reel-and-line method, and we would experiment with their torpedo line.
Judge Curlewis added that an international advisory surf committee would now be formed.
Hawaii won the International beach relay from South Africa and the U.S. Tom Zahn, of Hawaii, won the board race from Mike Bright, of U.S., and G. Williams, of Western Australia.
New South Wales won the interstate rescue and resuscitation from Queensland and Western Australia. Jim Fountain, of Victoria, won the senior interstate belt race from R. Hounslow, of Western Australia, and R. Reid, of South Australia. The Americans claim
the Australian reel and line is cumbersome, and that the "torpedo" would halve rescue time. The nylon line is in a rubber buoy fastened under the patient's arms.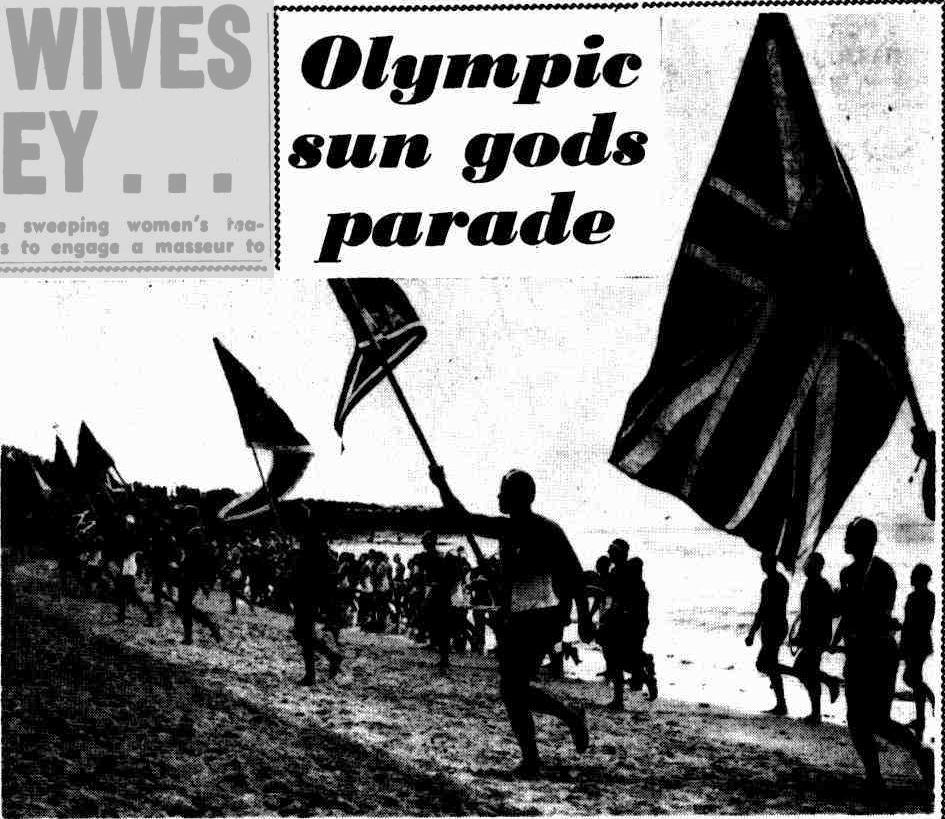 Tall, bronzed lifesavers march up the beach during the colorful International March Past at Torquay yesterday.
Incidentally:
Australia Wins

International Surf Carnival
Brilliant performances by Sydney surf star, Barry Lumsdaine, to-day featured Australia's win in the international surf test at Collaroy.
Australian won four of the 10 events to-day to total 44 ½ points.
Lumsdaine narrowly won the surf race and 20 minutes later brilliantly won the medley surf race.
He proved himself Australia's most versatile surfer.
Australia had led New Zealand by only a halfpoint after the first series at Maroubra yesterday.
New Zealand won only the teams surf race to-day to finish second with 35 points.
South Africa gained 26 ½ points and the United States and Hawaii each 24.
Australia's other wins were in the R. and R. and the surf board race.
The Australian team drilled and swam splendidly to defeat New Zealand in the R. and R. and showed great improvement on their effort yesterday.Australia Wins International Surf Carnival (
1956, December 10
).
The Canberra Times
(ACT : 1926 - 1995), p. 9. Retrieved from
http://nla.gov.au/nla.news-article91229525
An earlier carnival at Collaroy during 1956 from the magazine that would give many insights into surfing during the coming decades also lends a slight poignancy to a scene and idea that was
seeking to highlight the great work of surf lifesaving in conjunction with the Melbourne Olympics and brought with it a giant wave of a surfing change that would also run parallel with greater change
:
A SURF CARNIVAL is our choice for the first picture in this new series of scenes shouting aspects of Australian life.
This summer marks the beginning
of the surf lifesavers 50th year of voluntary service to the public. Since 1907 they have saved 96.000 people. In the 198 clubs of the Surf Life-Saving Association of Australia there are now 8699 members, who pay an annual fee of 10/- for the privilege of saving life. Clubs which have adopted Australian methods are flourishing in Great Britain, South Africa, New Zealand, Ceylon, and Hawaii. Staff photographer Clive Thompson took this picture at the end of a march past at Collaroy, N.S.W.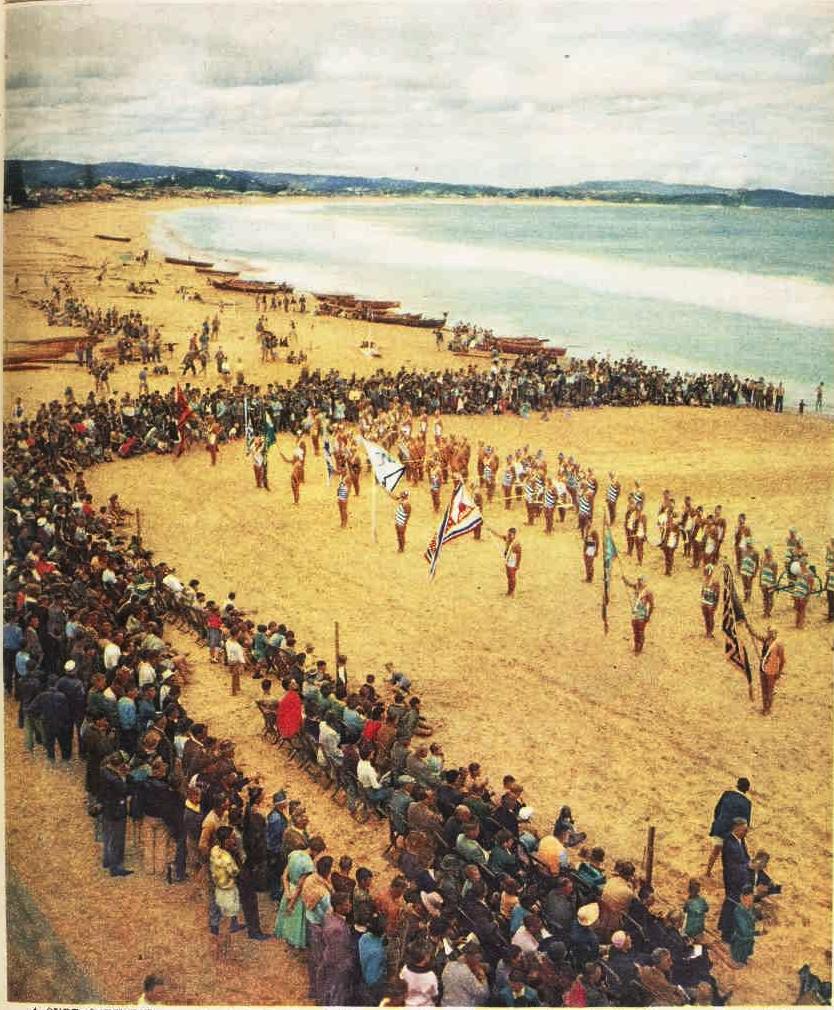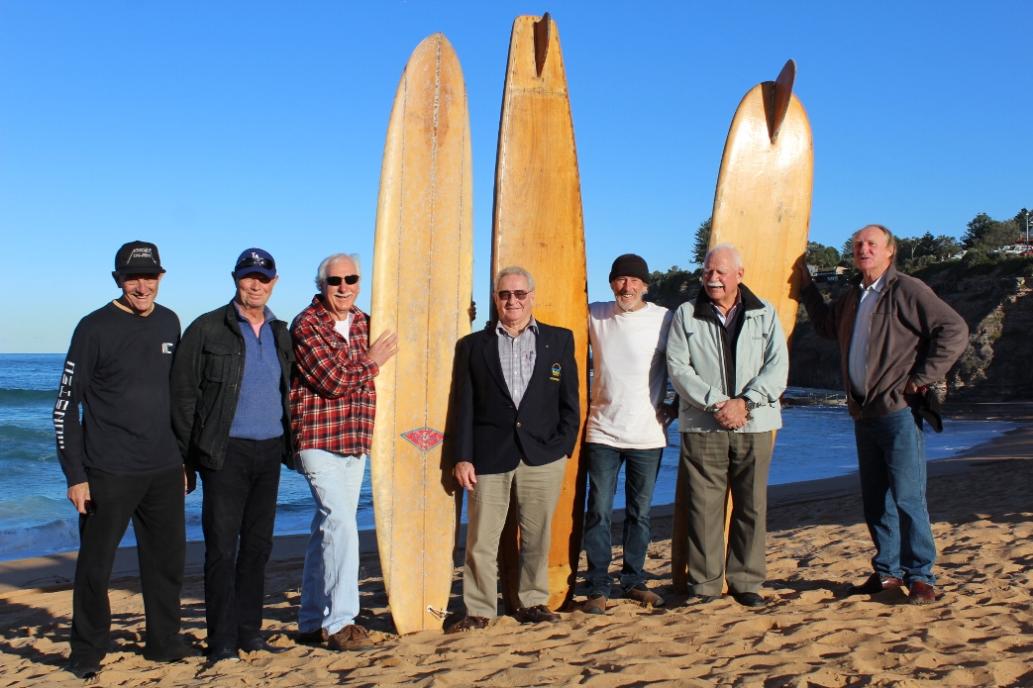 July 2016: Left to right: Geoff Searl, Kevin Dennis, Roger Sayers, David Lyall, Robbi Luscombe-Newman, Bob Head, Alex McTaggart
The timber board Robbi is holding is from the original design that David Lyall talked about in a past article,
The Arrival of the Mal – 1956 Surfboards
Alex McTaggart found it on a clean up in the early 70s in Gladstone street, Newport and knew it needed to be 'kept'!
Roger has his Mick Dooley Mal in this picture.
By leaving behind balsa-wood surfboards after a 1956-57 visit to Sydney, a Hawaiian surf team helped to add a new expression - hot doggin' - to Australian beaches.
IN LINE on South Bondi Beach are members of the South Bondi Board Club. From left are Scott Dillon, "Bluey" Mayes, Andy Cochran, Rod Cartlidge, Barry Ross, and Des Price. Some wear long pants, and have foam rubber built into the knees, to protect their legs, especially when paddling their surfboards out to catch a wave.
HOT doggin' is manoeuvring a surfboard at high speed,
The Hawaiian boards were 20lb. lighter and 6ft. shorter than the type then used in Australia.
On a big wave they could reach speeds of more than 50 miles an hour - 20 miles an hour faster than Australian boards.
Thrilling to the pace of the balsa surfboards, Sydney swimmers went on to try other materials, using new lighter synthetics for greater speed and easier handling.
Hot doggin' now provides thrills for 500 surfers in Sydney alone.
To cater for them, the Surf Life Saving Association is to add a surfboard-riding contest to carnival progammes.
In surfboard riders' jargon the event will be a hot dog meet. It will differ from surf board races. Contestants will be judged on ability in riding the waves, not on paddling power.
Three experts will judge each event for style, daring and "walking the plank' walking as far as 8ft. to the front of the board for speed, or to the back for fast turning.
Instead of riding the waves straight to the beach, contestants will move in all directions, do reverse turns, trying to out hot dog each other.
Because of the popularity of hot dog meets on Hawaiian and Californian beaches, action films of expert board-riders are big business in the United States.
Two Californian surfboard manufacturers recently spent nearly £3000 on photographic equipment and paid all expenses for three of California's best surfers to go to Hawaii for a three-month film-making trip.
Brilliant surfer Bud Browne, of Honolulu, financed a trip around the world with two ex-citing 50-minute films taken on
Hawaiian beaches.
On this trip Browne realised an ambition - to surf in the choppy, cold water of the Bay of Biscay.
Hollywood is to make a film with a surfboard theme, based on an American best-seller, "Gidget," written by Californian journalist Frederick Kohler.
Introduced to a number of surfboard riders by his daughter, Mr. Kohler liked their philosophy and jargon. He called his book "Gidget," meaning girl midget, the surfers' nickname for his daughter.
BELOW: Barry Ross shows the expert balance needed for good hot doggin'. Barry and other members of the South Bondi Board Club keep their surfboards in a shed on the beach. Color pictures are by staff photographer Ernie Nutt.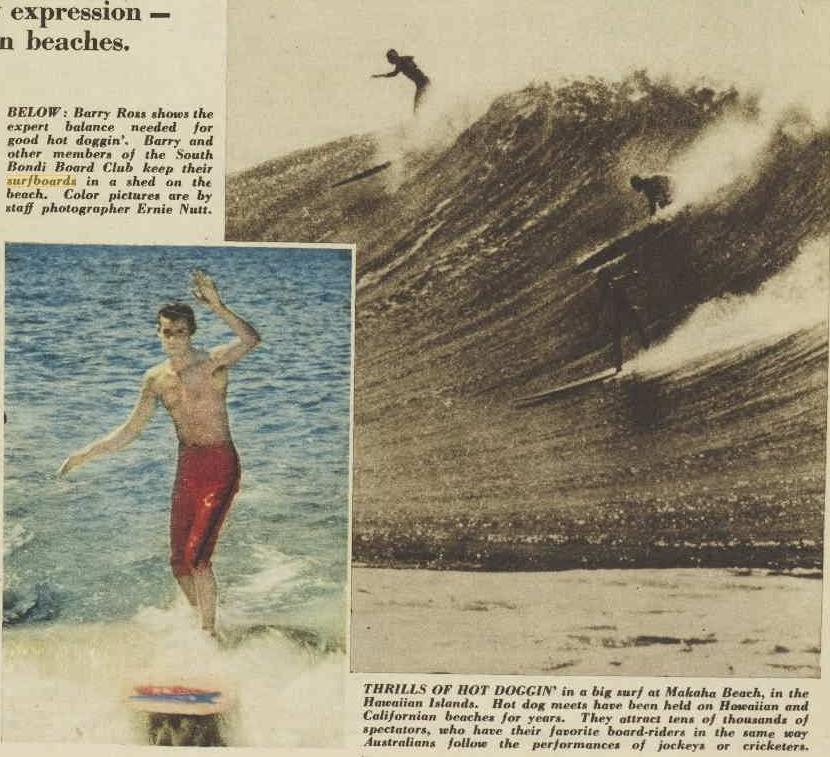 THRILLS OF HOT DOGGIN' in a big surf at Makaha Beach, in the Hawaiian Islands. Hot dog meets have been held on Hawaiian and Californian beaches for years. They attract tens of thousands of spectators, who have their favorite board-riders in the same way Australians follow the performances of jockeys or cricketers.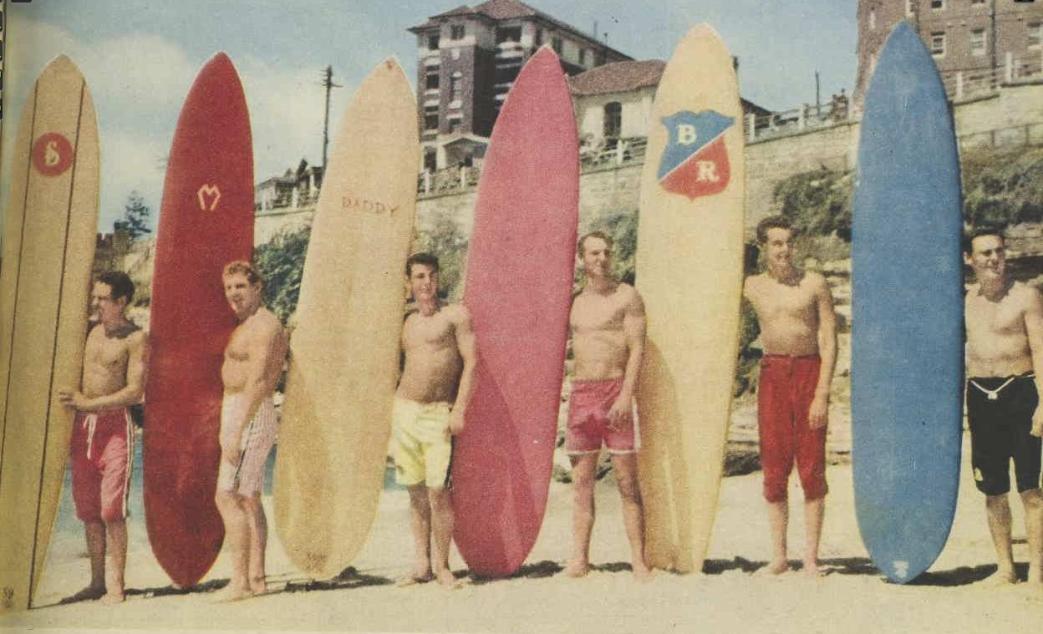 IN LINE on South Bondi Beach are members of the South Bondi Board Club. From left are Scott Dillon, "Bluey" Mayes, Andy Cochran, Rod Cartlidge, Barry Ross, and Des Price. Some wear long pants, and have foam rubber built into the knees, to protect their legs, especially when paddling their surfboards out to catch a wave.
References And Extras
1. TROVE - National Library of Australia

We are passing on for the benefit of other intending holiday makers information about making a surf board, asked for by J. S. Hoskins, Ballarat. The simplest kind of surf board is a flat piece of timber, about 5 feet 6 inches long, 2 feet wide and an inch in thickness. One end of the board is rounded off to a blunt point, as shown in the sketch. This type of board is best made in one piece, as any screwed or glued joints are liable to scratch the surfer, or may come apart with the rough treatment the board gets. Any light wood is suitable for the board.
HAWAIIAN SURF TEAM CHOSEN
TEAM to represent Australia in the Pacific surf carnival at Honolulu in July was chosen last night by the \ Surf Life Saving Association.
It Is:—
RESCUE AND RESUSCITATION
H. Doerner (Bondi)
A. Fitzgerald (Wollongong).
L. McKay (North Cronulla).
H; Scott (Newcastle).
G. Emery (Queensland).
W. Furey (North Steyne).
BOAT CREW.
F. Davis (Manly), sweep.
J. B. Harkness (Mona Vale).
R. A. Dickson (Mona Vale).
W. A. Mackney (Mona Vale).
F. Braund (Palm Beach).
The team will leave Sydney on June 23. . Captain - Instructor Is Mr. J. Cameron. He was manager of the Australian surf team for New Zealand In 1937. For 12 years he was chief Instructor at North Narrabeen and for 10 years captain of the YM.C.A. Swimming Club.Wal Wal Mackney, who has already represented Australia at rowing and Rugby Union, Is a popular selection. Australia's outstanding surf swimmer, Rothe Bassingthwaite, was one of the surprise omissions. . Fitzgerald Is the Australian champion. Bill Furey was one of the most consistent performers In surf races last season, filling a minor place at practically every start. ' Surprise was expressed lost night at the selection of Dickson for the surf boat crew. . .... It was stated that had had no experience In surf-boat races. Frank Davis Is a Manly first grade Rugby Union footballer. For a time it seemed that the tour would not eventuate, because the amateur status of some swimmers may have been Infringed in competitions with professionals. The Amateur swimming Union, however, approved of the tour. It agreed that baths swimming would Do conducted as In Australia. There Is a possibility that champion swimmer Robin Biddulph and his trainer, Harry Hay, will accompany the team. _ . . It was hoped to match Biddulph with the American star, Frank Flannsan. Matches may be arranged with Kiyoshi Nakama, who hails from Hawaii. Surf-board contests will be held as well as surf and baths events. A surf boat and life-saving equipment have already been sent to Honolulu. HAWAIIAN SURF TEAM CHOSEN (
1939, May 16
).
Daily News
(Sydney, NSW : 1938 - 1940), p. 8. Retrieved from
http://nla.gov.au/nla.news-article236283281
Palm Beach Prepares For Almost Adam-less Eden
A bumper season Is expected this year at Palm Beach, even though numbers on the exclusive stretch of sand in front of the Pacific Club will J be depleted by many sun-tanned "handsomes ' who
have joined up for service.
THE affiliated clubs of the Surf Life Saving Association have contributed 1300 members to the Navy, the Army and the Air Force and the Palm Beach list has supplied its quota.
The popular president of the Palm Beach S.L.S. Club, Captain Adrian Curlewis, whose name has been associated with the Beach for many years, is now with the A.I.F.
It sounds like an almost Adam-less Eden, but Palm Beach Eves are not prone to moping. They are putting on their glad rags just the same, and setting up their house (logs as protectors. Life will not be as pleasantly indolent as in previous summers. The Red Cross branch is very active and all residents and regulars are members. At the branch's meeting on Wednesday members decided to hold a stall in Martin-place on December 6, selling all types of beach wear. Mine. Piat and Mitti Lee Brown, whose mother, Mrs. Scotty Allan, has that lovely pink rough cast house, The Cabin, on Pacific-road, will be mannequins.
Whale Beach and Avalon Red Cross branches are collaborating.
MRS. ALAN COPE-LAND and Mrs. K. F. Coles had a big idea of turning the Coles' lovely new home overlooking the beach into a home for evacuated British children and forming a committee to look after them; but the scheme has not yet been accepted.
Mrs. Alan Copeland has turned a serious mind, too, to vegetable growing, and on the scorched soil of the beach slopes has a fine crop of spinach, peas, beans, rock melons, and strawberries coming on. "
She is an attractive figure at work in the garden in her little-girl cotton frocks which have set quite a fashion at the Beach. The Beach rules out housecoats this year and ...
Bookings are Tilling so rapidly this year, it looks as though the Beach is being sought as a haven. The Warwick Fairfaxes have taken Boanbong, the Mackay house on the front, for the summer. Mrs. Stanley Edwards has taken Palm Corner and will go down next month for the Christmas season. The Edgerton Tacombs have taken Far End, which used lo tic The Cornci- House. Mrs. John Laidley Dowling is > taking a house-party down. Captain and Mrs. Claude Healy are sharing with Mr. and Mrs. Tom Vincent.
'there'll he a housewarming among the Christmas celebrations if the Lionel Dares' new house right on the beach is finished in time. It is to be attractively simple and practical, like all the houses at the Beach, and completion is promised for December 20. The Jim Normoyles hope to build, too . . . and for the past few weeks Mrs. Normoyle has used up all her petrol coupons looking for suitable blocks of land. J|t
Winter Palm Beachers, MRS. IAN DODDS and WIMPIE, have Mrs. Laurie Ingram's house.
MRS. MAXWELL HINDER has taken with ease to the simple life in her new home at the Beach.
Smart Beacher, and regular all the year round surfer, MRS. EDGERTON JACOMB in a new season's outfit of marine striped silk shorts and slack blouse.
MRS. FRED CHENHALL, whose husband, has left for overseas with the A.I.F., is Beaching with her sister, Mrs. Hinder.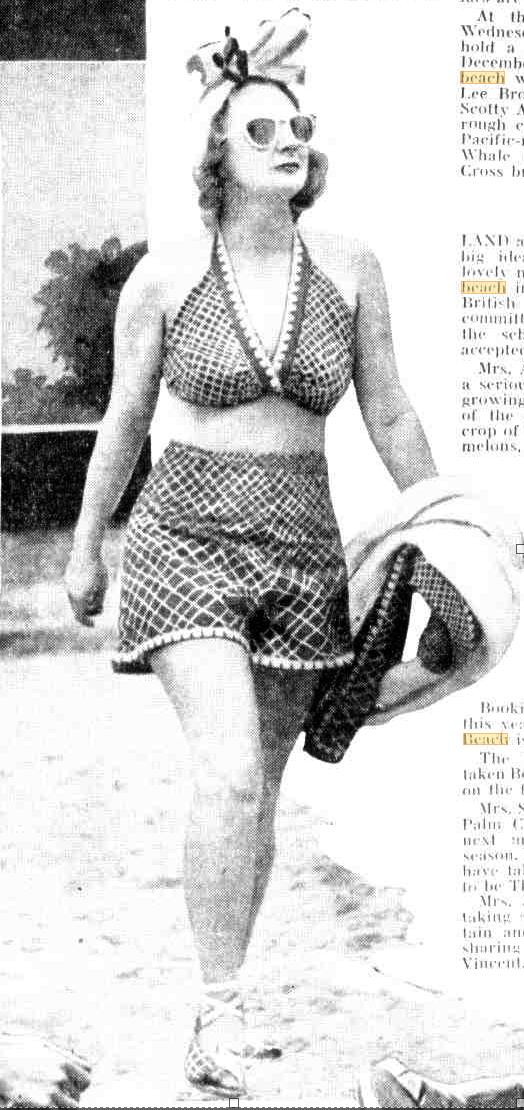 MRS. JIM NORMOYLE'S Palm Beach wardrobe includes this suit of Bahama print that has just arrived for her from New York, the color . . . similar to Indian Red . . was designed for the Duchess of Windsor's brunette color-
Youthful glamor in a hooded frock, PAT FITZGERALD, who has already started her season at the Beach.
MRS. MARION MORFEE who is staying down at Whale Beach with Mrs. Bubble Cohen.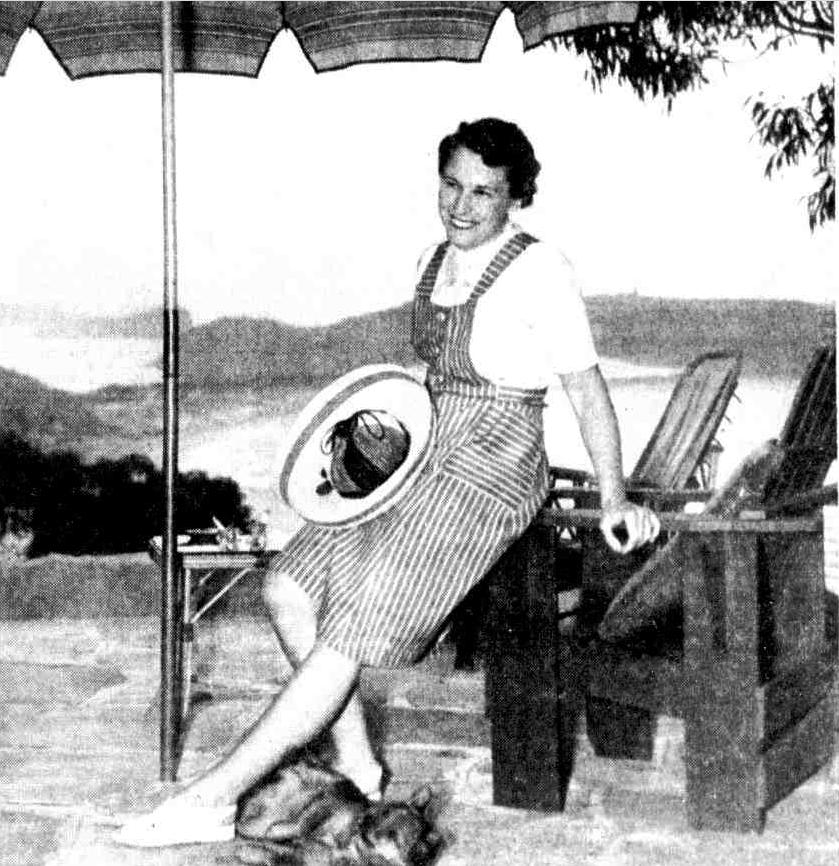 MRS. ALAN COPELAND on the terrace of "Strayleaves," Palm Beach, now her permanent home
. . . with her canine,' GEORGIE. She has gone in for pert little girl frocks for beach wear this year.
Left: It's the life all right . . . MRS. BUBBIE COHEN, who has taken Mrs. Douglas Doyle's house at Whale Beach for the summer.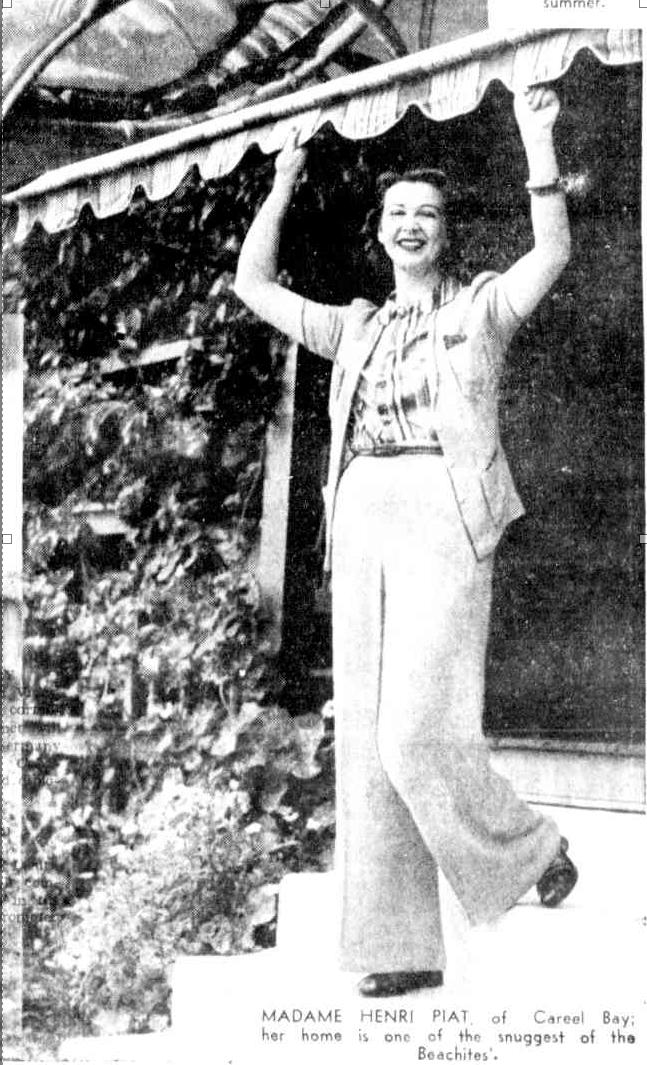 MADAME HENRI PIAT, of Careel Bay;" her home is one of the snuggest- 'of the Beachites'.
Maroubra Surf Life-Saving Club has decided to conduct a "surf-board pageant" to introduce the new style of beach entertainment agreed to by the Surf Life-Saving Association.
It will be the first event of its kind in Australia, and follows the style of American beach entertainment.
The club's publicity officer, Mr. Roy Arkins, said last night that the "pageant" would he held on a Sunday afternoon, probably early in December.
Main idea of the function is to introduce surf-board racing to Australians. SURF BOARD PAGEANT (
1945, September 21
).
The Sydney Morning Herald
(NSW : 1842 - 1954), p. 8. Retrieved from
http://nla.gov.au/nla.news-article17953893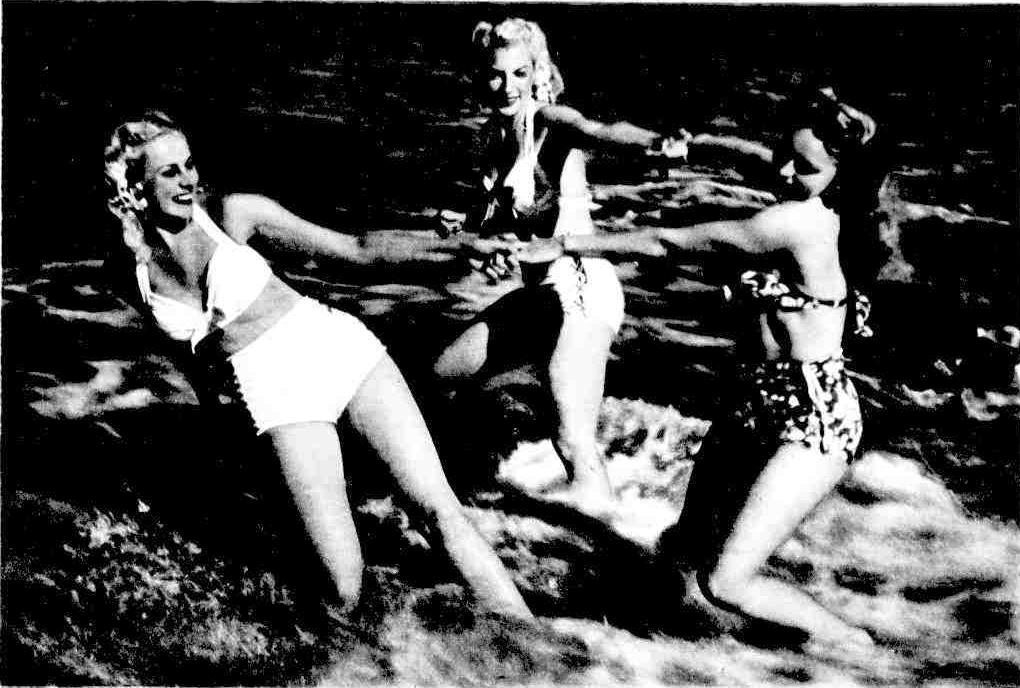 THESE BEACH BEAUTIES, at Avalon, are models Patti Morgan, Joan Bell and Beryl Lawes. Their swimsuits came from a factory which made RAAF parachutes during the war.
The Beautiful Coastline North of Manly
The view is
looking south from the Serpentine-road at Avalon, and shows the succession of bold headlands towards Manly. Newport Beach is in the right-centre.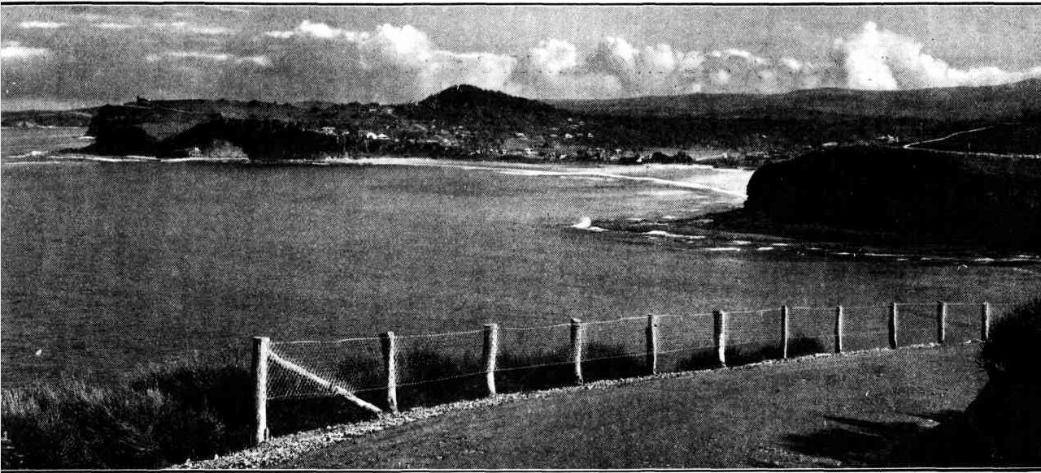 Early Pittwater Surfers: Avalon Beach I - 1956: The Carnival That Introduced The Malibu Surfboard And Being Able To Surf Across A Wave Face - from and by Reg Wood, Roger Sayers, Geoff Searl, Bob Head, David Lyall,

Kevin Dennis and A J Guesdon - 1956 to 2017!