July 17 - 23, 2016: Issue 272
Community seeks to acknowledge Historic Groundbreaking Contributions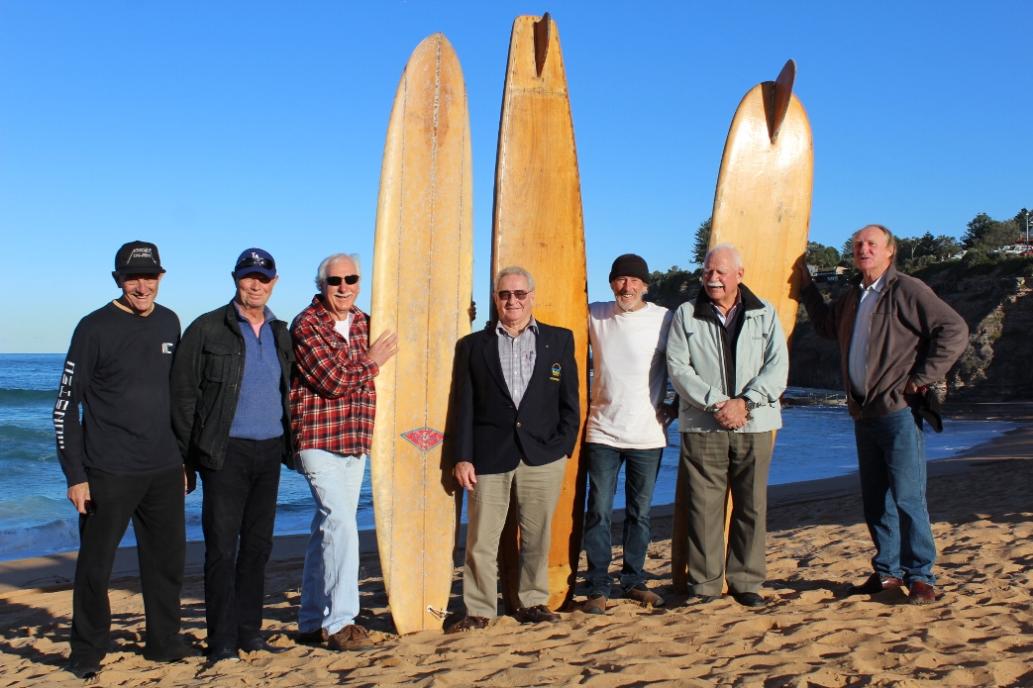 Left to right: Geoff Searl, Kevin Dennis, Roger Sayers, David Lyall, Robbi Luscombe-Newman, Bob Head, Alex McTaggart
The timber board Robbi is holding is from the original design that David Lyall talked about in a past article,
The Arrival of the Mal – 1956 Surfboards
Alex McTaggart found it on a clean up in the early 70s in Gladstone street, Newport and knew it needed to be 'kept'!
Roger has his Mick Dooley Mal in this picture.
AVALON.
Pearling waves that cream milk-white,
Sun-drenched sands and skies of blue
Linger in my memory
Avalon, my heart's with you!
DOROTHEA DOWLING
.
AVALON. (
1935, May 4
).
The Sydney Morning Herald
(NSW : 1842 - 1954), , p. 11. Retrieved from
http://nla.gov.au/nla.news-article17151649
On November 18th this year the 60th Anniversary of the day locals witnessed visiting Americans ride across the waves on Malibu surfboards will arise over the southern end of the Avalon Beach horizon.

Similarly, and also in November, the first trial of an inflatable rescue boat (IRB) for surf rescues took place at Avalon Beach on the second day of that month in 1969. The idea to use IRBs for surf rescue purposes was that of Warren Mitchell OAM of Avalon Beach Surf Life Saving Club.
The first IRB surf rescue occurred in the following month when Warren and John Fuller rescued eight children caught in a rip in the centre of Avalon Beach.
'Given the great air of uncertainty that had surrounded the concept, I was just a little happy to find the bloody thing worked! We worked against great odds. It was a team effort by Avalon Beach Surf Life Saving Club.' - Warren Mitchell OAM.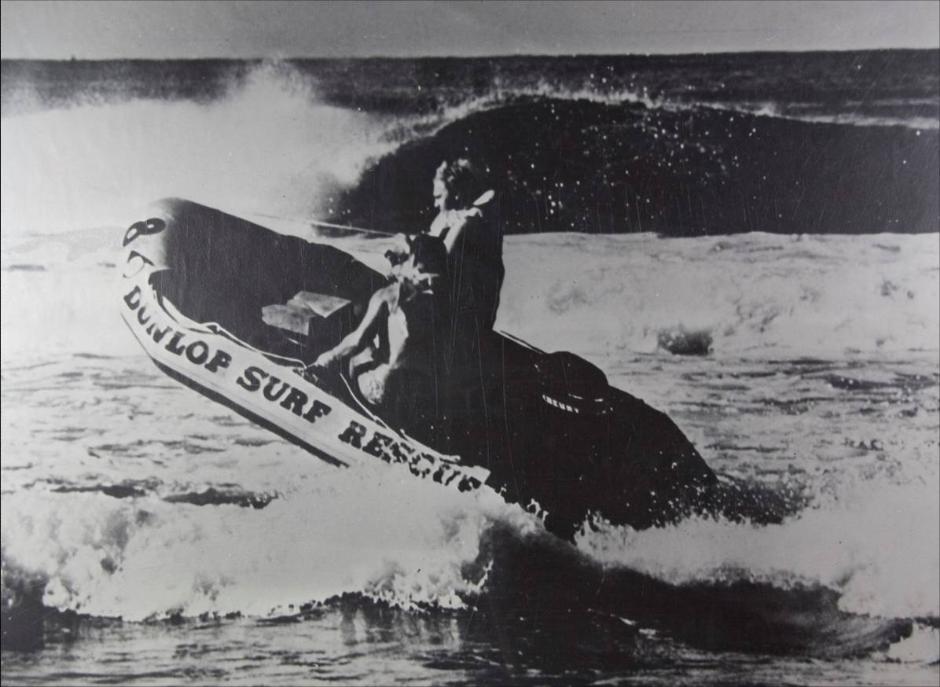 The first surf rescue IRB trial: Avalon Beach, 2 November 1969. Driver: Warren Mitchell, OAM, Life Member, Avalon Beach SLSC. Crew: Don Mitchell, Life Member, Avalon Beach SLSC - See Issue 231: The Quiet Revolution - Or Making Waves? by Rogers Sayers

"Numerous improvements to the original IRB were developed by Warren. IRBs proved themselves to be faster, more efficient and safer for rescues than the traditional belt line and reel, or oared surfboats.

Warren's pioneering work here at Avalon Beach revolutionised surf life saving methods and paved the way for other innovations for surf lifesavers to save lives. Over 200,000 people rescued by SLSA IRBs around Australia and many more around the world can thank Warren for persevering with his original idea. " Roger said this week.

A few years ago Kevin Dennis began discussing with locals an idea to place a plaque at Avalon Beach to honour the contribution of the Malibu surfboard exhibition so visitors could be informed of what had occurred where they stand, much along the lines of plaques found in numerous places around Australia where something historically significant has happened.
Roger Sayers, a Life Member of Avalon Beach SLSC, put forward a proposal that a second plaque honouring Warren Mitchell's contribution to Surf Life Saving would also enhance and further the knowledge of visitor and resident alike.
Those who witnessed the visiting surfers can attest to that also being a day or revolution.
'They paddled their boards out in front of the rocks at South Avalon and we all laughed thinking they'd get smashed on the rocks. Everyone was amazed when they turned their boards and rode across the face of the wave in front of the rocks. Surfboard riding from then on was totally different.' - the late Max Watt, Life Member Avalon Beach SLSC.
Bilgola SLSC David Lyall, who was also there that day, and designed and built the first Malibus here, explained this week,
"Prior to that the surfboard, used as a piece of rescue equipment, went out and would come back in, in one straight line. These men could ride across the waves – the manoeuvrability, water length of the board and speed of that board changed everything.
This happened after the Avalon Beach SLSC carnival the visitors had participated in that day – normally we'd all head off to the Newport Hotel for a few post-carnival beers but this day everyone stayed and watched – everyone was amazed."
How long were the 'toothpick' versions of surfboards? - at least this long and longer: SALE, 15ft. SURF BOARD. as new, best, offer. Pascoe . "Smart St.,'. Fairfield. Advertising (1957, December 18). The Biz (Fairfield, NSW : 1928 - 1972), p. 21. Retrieved from http://nla.gov.au/nla.news-article189935603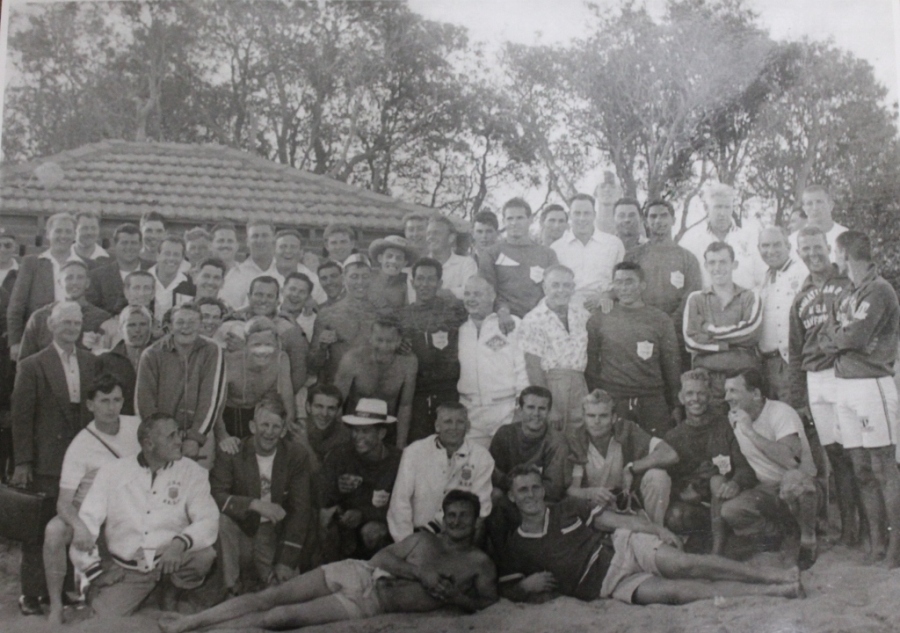 The post-Carnival photograph of Avalon Beach SLSC members and their American visitors. Courtesy ABHS.
Mr. Lyall immediately began designing then building this new kind of surf board with fellow Bilgola SLSC member Doug Jackson.

"A quick look at the shape and dimensions of the visitors boards and it was off to the Jackson Furniture Factory at Newtown after work on the Monday.
After a few experiments, and by working each afternoon after work, two boards were ready for the weekend. These boards were launched at Bilgola and were described by one journalist – Ross Renwick, the founder and mainstay of Billy Blue and a past long-time resident of Avalon as "Looked like and floated like a door."
The boards were a hollow construction of timber sides, ply frames, plywood top and bottom, timber fin and proved to be a great success. The interest was so great that both boards were sold on the Sunday afternoon at a more than appreciative price.
So back to the factory for Model No 2!!
Soon other boards started appearing from the manufacturers of long boards and skis – Gordon Woods, Bill Wallace, Joe Larkin, all legendary surf board makers, all of the same hollow design.
The design by Jackson and Lyall was modified and each production was tested at the weekends at Bilgola and raised the constant call of "Can I have a lend?" or "How about a go?" from other club members.
It was at this stage the name 'Okanui' was given to these particular boards – "out the back" (waiting for the right wave) and I am sure it was Ross Renwick that first used the name.
By now the demand for the boards was so great that Doug and I decided to produce kits – all the timbers and ply cut to size ready for home enthusiasts to prepare, assemble and finish.
This work and the construction of finished boards used up most of the spare time of Doug and myself, with of course the weekends kept free for wave riding. I do recall that two of the kits were successfully assembled by locals – John Wilson, whose wife Alannah may recall the drama of construction, and Tony Clune.
I am also pleased to see that we have one of these kit boards here through the research of Geoff Searl, John Stone and the kind participation of Robbi Luscombe-Newman." See Issue 152: The Arrival of the Mal – 1956 Surfboards by David Lyall and Bob Head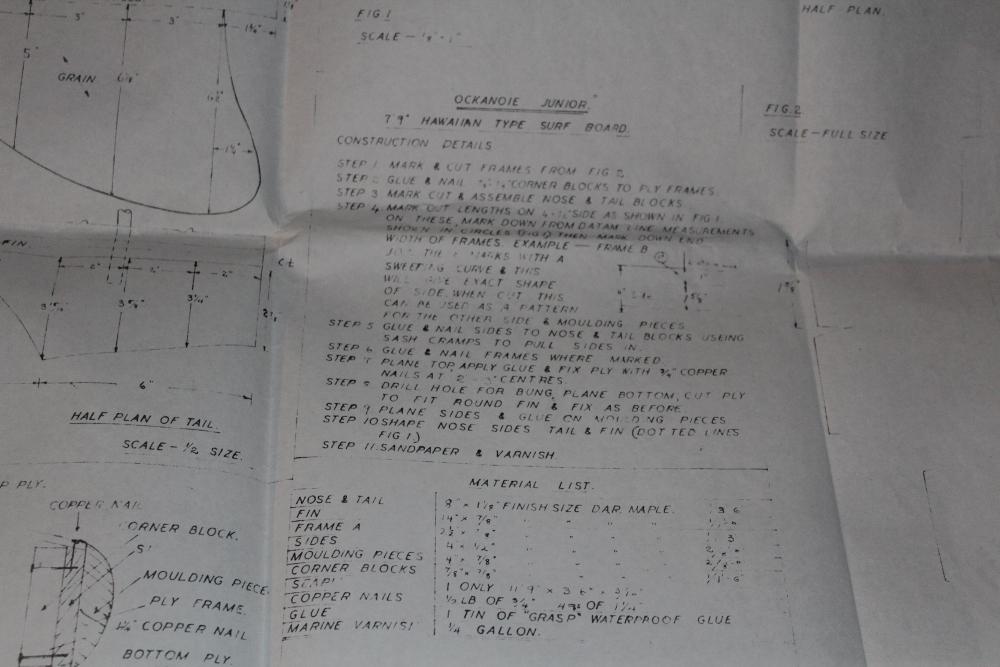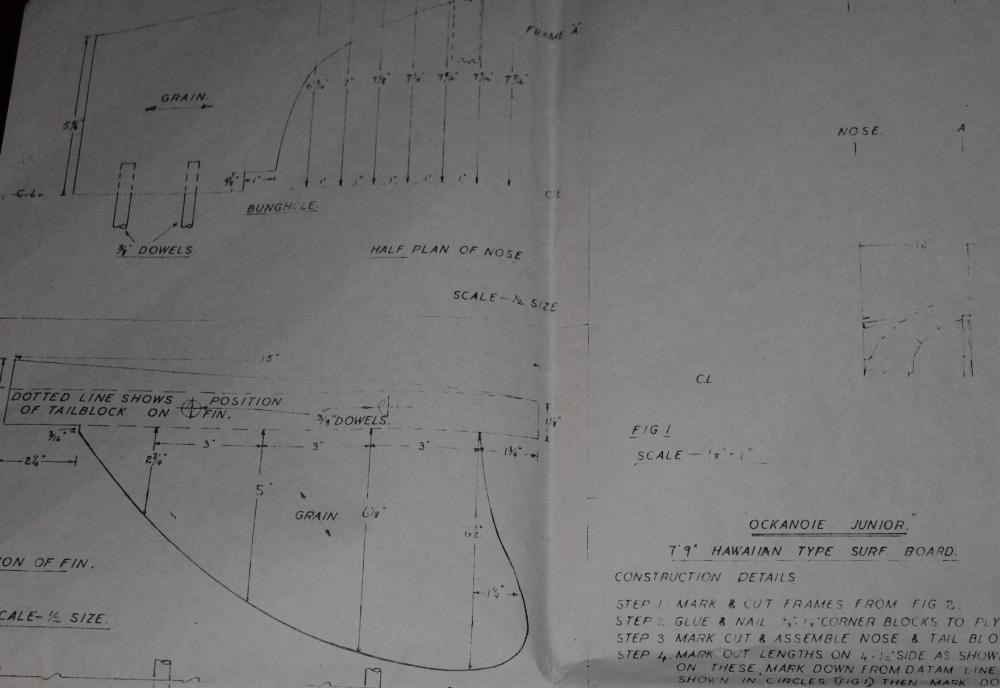 The drawings for David's 'Okanui' - courtesy David Lyall
Fittingly the first Australian Malibu Surfboard Riding Championship was also held at Avalon Beach on 27-28 May 1961, organised by Bob Head, President Avalon Boardriding Club and Life Member Avalon Beach SLSC.
Alex McTaggart, too young to witness the display, outlined some of what this innovation brought to the Northern Beaches, apart from the obvious evolutions we see of recent decades such as World Champion surfers, a clothing industry based in surf culture, a lifestyle and way of being that connects people with Nature and good health.
"I was at a NASA event in 1998 when John Haymes, club president, showed up with Greg Knoll one of the Californians who told the story of his 1956 visit.
From there I researched what I could. In all of the club and branch annual reports it was clear that the visit had little effect on the SLS movement but of course a monumental cultural shift on beach culture.
Interestingly in the Dee Why annual report of 1962 the president remarked that clubs needed to do more to attract "surfers".
In November 2006, for the 50th anniversary, Kevin Dennis and I held a function at the Avalon surf club where we presented the information collected and invited participants to tell their stories before it was lost.
We wrote to all clubs who attended the Olympics or Sydney carnivals inviting them."
Alex also explained another key point that should go in the permanent records that can be attributed to the Mal revolution and Avalon Beach:
"There is a house in Harley road called the Sphinx once owned by the Sumpters, an English family with sons David [MEX ] and Rodney [Goofer]. Mr Sumpter was the secretary of Avalon surf club and in about 1962, tired of the disharmony between surfers and the club, he called for a meeting at the Sphinx followed by a meeting at the surf club where the Australian surfing movement was formed, later called the 'Australian Surfing Association'.
Mr Sumpter went back to England and John Haymes purchased the house."
Certainly something worth acknowledging, celebrating and making others aware of, isn't it…??
This aim to inform the general public and honour the contributions is supported by NASA, the Avalon Beach Historical Society and Avalon Beach SLSC as well as other local proponents of the iconic Mal as a great way to enjoy your waves.
Roger Sayers began discussions with Council and received positive feedback for the idea prior to recent changes.
Roger would like to hear from residents what they think of the proposal of plaques being installed at the place where these events happened, whether for or against. Please email him at: rogersayers1@gmail.com

More soon!
A few extras
SURF LIFE-SAVING - Australian associationPresident of the Surf Life-saving Association of Australia (Judge Adrian Curlewis), has announced that a team of American life-savers will come to Australia next month.
The team will represent the Surf Lifesaving Association of U.S.A. which was formed only last month.
The Americans will compete in international surf carnivals at Torquay, Melbourne, and at Collaroy and Maroubra in Sydney in December. They will compete against teams from Australia, Hawaii, New Zealand, South Africa and Ceylon. Judge Curlewis said the formation of an American Surf Association now made it possible for Australian surf teams to visit America in the future. Judge Curlewis said the formation of the American Surf Lifesaving Association and the coming visit of the American team were the direct results of the support the managing director of Ampol Petroleum Ltd. (Mr. W G. Walkley), had given to surf lifesaving. "Without a gift of £2000 from Mr. Walkley, the S.L.S.A. would not be able to stage the coming international carnivals," Judge Curlewis said. "Before Mr. Walkley made his magnanimous contribution, the S.L.S.A. sought help from every council in Australia, but could raise only £1000. In addition, Mr. Walkley sent Mr. Arthur Fatkyn, Queensland S.L.S.A. official, to Honolulu to prepare an Hawaiian team for the international carnivals, "Last month, Mr. Parkyn went to California, and his visit led to the formation of an American Surf Lifesaving Association among sportsmen who surf on Californian beaches. This is something the Surf Lifesaving Association of Australia has been striving for for many years. As a gesture to Mr. Walkley's efforts to foster international surf lifesaving, the American Association appointed him their patron."
Judge Curlewis said that after surf lifesaving became established in Australia, the movement spread first to New Zealand and then to South Africa and Ceylon. "The Hawaiian Surf Lifesaving Association was formed in 1953 after the visit of an Australian surf team to Honolulu," he said. "Last year the Surf Lifesaving Association of Great Britain was formed with clubs in Cornwall and Blackpool.
"Now as a result of the formation of the American Association, we look forward eagerly to the day when an Australian team can visit California. "This has been the goal of many Australian surf enthusiasts for many years.
Judge Curlewis said entries for toe international carnival had closed when word reached him this week of the formation of the American Association.
"Naturally we are delighted to extend an invitation to the Americans," he said. "We expect a team of 10 or 12 to come to Australia.
"The voluntary officers now have a lot of work ahead of them arranging transport, accommodation, equipment and training of the Americans."
SURF LIFE SAVING (
1956, October 24
).
The Biz
(Fairfield, NSW : 1928 - 1972), p. 27. Retrieved from
http://nla.gov.au/nla.news-article189250302
OVERSEAS LIFESAVERSTeams of 12 American and 10 Hawaiian lifesavers have arrived in Sydney
to compete in international surf carnivals in Melbourne and Sydney in the next month. They will be the first lifesavers from America or Hawaii to compete in surf carnivals In Australia.
The Americana and Hawaiians will appear at international surf carnivals at Torquay, Victoria on November 25 and December 3, and at Maroubra and Collaroy, in Sydney, on December 8 and 9. They will compete against teams from South Africa, Ceylon. New Zealand and Australia and Die belt champion of England.
Their first appearances in Australia were at carnivals at Cronulla and Avalon.
The visit of the American and Hawaiian teams was made possible by the sponsorship of the managing director of Ampol Petroleum Ltd. (Mr. W. G. Walkley).
With the exception of their captain, 45-year-old Herb Barthels, their ages range from 18 to 24. They are a team of young giants.
The baby of the team is 18-year-old Roger Jensen, of Malibu beach
, who is 6ft. 5 ins. tall and weighs 190 lbs. Their appearance in the march past at the international carnivals should cause a sensation, because they will wear the most striking three colour parade costumes ever seen on an Australian beach. The trunks of the costumes will be a vivid red, the midriff white and the torso and shoulder straps a rich blue. On the upper front of the costume there will be the letters 'U.S.A.' in red and white and two white stars. On the back of the costumes, against the blue background, -will be five white stars.
Magnificent march past costumes have also been made in New South Wales for the Hawaiian team.
Because the Americans are professional lifeguards, at the international carnivals they will compete only in events where life saving equipment is used
. OVERSEAS LIFESAVERS (
1956, November 21
).
The Biz
(Fairfield, NSW : 1928 - 1972), p. 17. Retrieved from
http://nla.gov.au/nla.news-article189246779
Life-Savers In Red, White, BlueSYDNEY, November 16. American life-savers will appear at the Cronulla surf carnival tomorrow
in the most striking march-past costumes ever seen on an Australian beach.
They will wear costumes of red, white and blue with seven white stars and the letters "USA." superimposed on the blue upper section of the costume.
The Americans and the Hawaiians, who will also take part In the carnival tomorrow, will go to Melbourne next week for International carnivals on November 25 and December 2. Life-Savers In Red, White, Blue (
1956, November 22
).
The Central Queensland Herald
(Rockhampton, Qld. : 1930 - 1956), , p. 29. Retrieved from
http://nla.gov.au/nla.news-article79271077
World surf stars thrill crowd
By JUDY JOY DAVIES
Tall, bronzed life-savers in their brightly colored uniforms, slowly and majestically marched across the sands of Torquay yesterday and 170,000 people cheered one of the most spectacular scenes of our Olympic Games Carnival. Thirty-five teams representing the U.S.A, Hawaii, Ceylon, South Africa, New Zealand, Great Britain, and local and interstate surf life saving clubs-competed in the international surf carnival.
From 10 a.m. to 4 p.m. the events continued non-stop. As the crowds increased, they packed the beach, then the headland - soon cars took over the golf course. And then the tide turned, and coming inshore, started nibbling the golden beach away. The colorful march past was put forward an hour to 1 p.m. - and even then there was hardly enough beach left for the 35 bronzed and youthful teams to march on.
Wearing colorful costumes of blue tops with white stars, a white centre band, and scarlet trunks, the U.S. team brought cheers from the huge crowd.
But the more experienced New Zealanders won the international march past, with Ceylon second, and South Africa third.
White-haired Duke Kahanamouku, sheriff of Hawaii and former dual Olympic swimming champion, sat among the carnival crowd with Australian "Boy" Charlton, another former Olympian.
"It's great," the Duke said, "the sight of surf always thrills mc."
But for once the Torquay surf was rather tame, no boats were upended and the small waves were hard to catch.
The Americans caused a surprise when they appeared with their version of surf boards. Very narrow, and made of light fibre glass, they proved a lot faster than the normal Australian board.
Astounded
And our reel-and-line method of surf rescue astounded them!
The American idea is to carry a coil of nylon line into the surf and play it out as they swim to the patient. They wear no belt attached to a reel, as we do here.
Judge Adrian Curlewiss, Australian Surf Life Saving Association president, said the international Olympic carnival had brought about an exchange of ideas - the Americans were going to try our reel-and-line method, and we would experiment with their torpedo line.
Judge Curlewis added that an international advisory surf committee would now be formed.
Hawaii won the International beach relay from South Africa and the U.S. A.
Tom Zahn, of Hawaii, won the board race from Mike Bright, of U.S.A
, and G. Williams, of Western Australia.
New South Wales won the interstate rescue and resuscitation from Queensland and Western Australia. Jim Fountain, of Victoria, won the senior interstate belt race from R. Hounslow, of Western Australia, and R. Reid, of South Australia.
The Americans claim the Australian reel and line is cumbersome, and that the "torpedo" would halve rescue time. The nylon line is in a rubber buoy fastened under the patient's arms. World surf stars thrill crowd (
1956, November 26
).
The Argus
(Melbourne, Vic. : 1848 - 1957), p. 9. Retrieved from
http://nla.gov.au/nla.news-article7176801
3
Any second now there is going to be a big splash as Stewart Stabling topples from his surf board into the water at Lorne. But Stewart won't mind, even if the water is a little cold - because the falls are all part of the sport of surf riding.
FAMILY RESCUED WITH SURF BOARD
HONOLULU, Friday (A. A.P.Reuter): Small boats and surf-boards were used yesterday in the speedy rescue of a Tasmanian family after their yacht, Solquest, struck a reef off the Honolulu residential area in early morning darkness.
Mr. and Mrs. Lynn . Staples, and their two children were Los Angeles bound from Hobart when the yacht went aground. Its fate is doubtful. FAMILY RESCUED WITH SURF BOARD (
1957, November 9
).
The Canberra Times
(ACT : 1926 - 1995), , p. 16. Retrieved from
http://nla.gov.au/nla.news-article91242210
If you think the legends pictured atop this page are laughing at something, you'd be right - this happened two seconds before the top frame: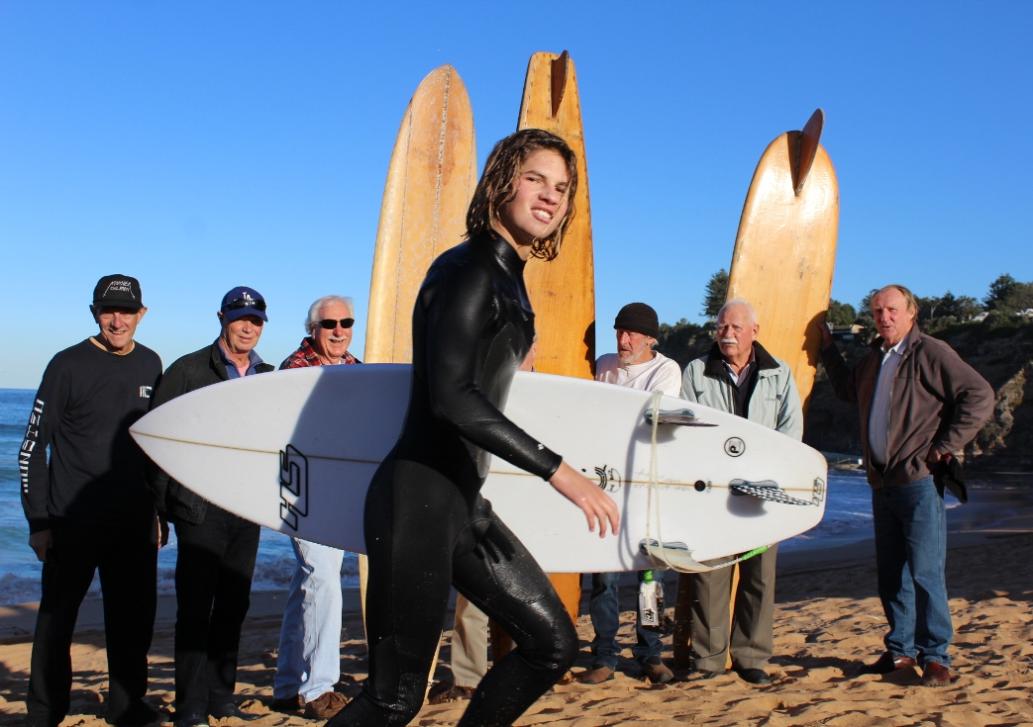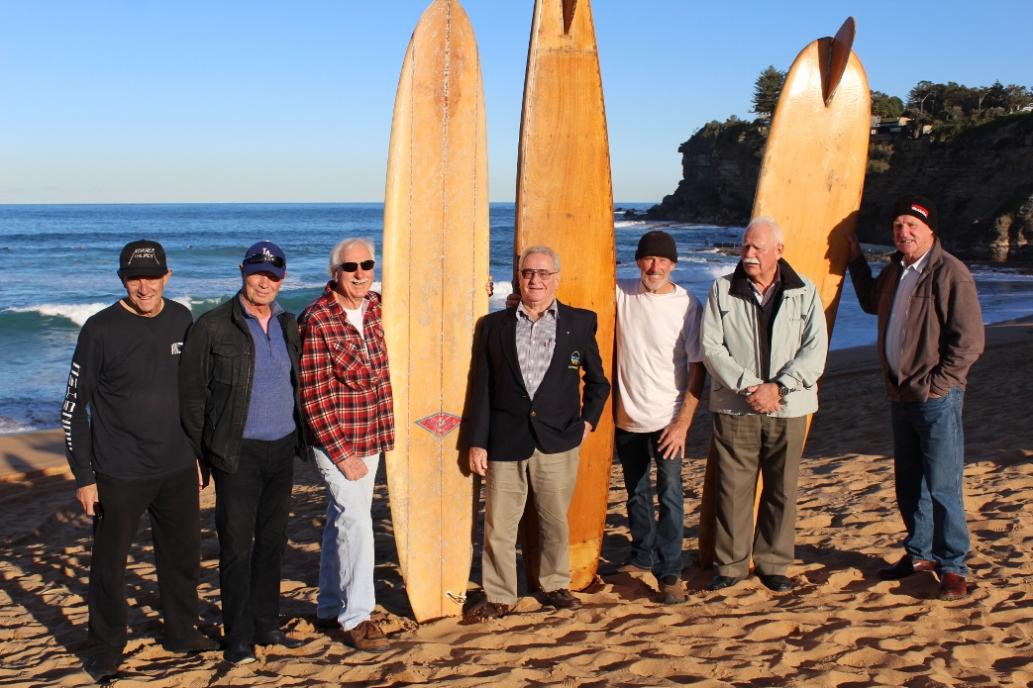 Behind Geoff, Kevin, Roger, David, Robbi, Bob and Alex is where it all happened - November 18, 1956 and November 2nd, 1969.
Historical
insights courtesy Roger Sayers, Geoff Searl, David Lyall, Alex McTaggart, Kevin Dennis, Max Watt, Bob Head and Robbi Luscombe-Newman
Report and 2016 Pictures,
A J Guesdon.