May 20 - 26, 2018: Issue 360
Front Page Issue 360: Pittwater Residents Present Demerger Petition To Office Of Local Government: Tumbarumba Experience Likely To Repeated And Met Again And Again

Avalon Youth Hub: The Door Is OPEN

Pittwater Demerger Proposal Handed to NSW Govt on Amalgamation Anniversary - from Protect Pittwater Association

Inaugural World Bee Day - May 20th 2018: Local Knowledge Available on Native Bees and the Northern Beaches Beekeepers Club - World Bee Day was declared by the UN General Assembly in December last year to raise awareness of the importance of bees and apicultural products; which is pretty much everything we eat. The First World Bee Day will be celebrated around the world on May 20th and in Australia with Canberra hosting some great events which are sure to spread nation wide in coming years. Slovenia proposed the celebration of World Bee Day in the month of May, when bees in the northern hemisphere are most active – here such activity takes place during September although you can do things right now to ensure a future for our bees.
Have Wings? Can Do The Club Marine Pittwater To Paradise Regatta by Lisa Ratcliff

Aquatics: New Zealand Has Its Own Population Of Blue Whales: new study finds
Pictures: Sydney Wildlife's Waratah Park Rehabilitation Centre: 5 Years in the Making (A Celebration) by Joan Reid, Volunteer Macropod co-ordinator
Reinstated Sydney Noumea Race draws fleet of 24 by Lisa Ratcliff

Reflections by George Repin: STROMBOLI
Park Bench Philosopher: Stargazing Live - A Guinness World Record Attempt On Wednesday May 23rd + CSIRO's Parkes Telescope's New 'Bionic Ear' Hears More Of The Universe

DIY Ideas Winter Mould & Mildew Inside Your home: How to Keep Air and Surfaces Healthier

Food: Honey, Honey: Inaugural World Bee Day - Honey Cake Recipes Around the World
Profile: David Henry Lyall PSM ESMM FAIB - David Lyall has been investing in the Pittwater community for decades. He's an extraordinary individual whose works would fill volumes. Not that he'd ever let you know. His input into Bilgola SLSC, Avalon Sailing Club, Marine Rescue NSW and the NSW Rural Fire Service spans the changes and challenges these organisations went through.

He loves local History, he loves building beautiful things with wood, he loves sailing, his wife and three sons - but not in that order.
He was seconded to Pittwater Council when that was formed and is rightly proud of the achievements, such as the MLAK key, that came out of a two year old local government organisation.
This is a clear case of still waters running deep: thank you sir for allowing us to share a small part of a rather large record.
History:
Sarah A. Biddy Lewis and Martha Catherine Benns -
The
2018 National NAIDOC Theme is: Because of her, we can!
NAIDOC Week 2018 will celebrate the invaluable contributions that Aboriginal and Torres Strait Islander women have made – and continue to make - to our communities, our families, our rich history and to our nation. As Sorry Day 2018 by the ASG MWP runs next Sunday, details below, a tribute to two wonderful local Matriarch runs again this Issue for those why may have missed it previously - and illustrates the generations of children of these mothers are still here and turning the tide towards more and more healing
The Aboriginal support Group Manly Warringah Pittwater (ASG-MWP) Commemorates National Sorry Day 2018
Sorry Day this year will be at Mona Vale Memorial Hall as the Elanora Scout Hall at Narrabeen is undergoing repair.
National Sorry Day is an Australia-wide observance which gives people the chance to come together and share the steps towards healing for the Stolen
Generations, their families and communities.
Start time 2.00pm till 6.00pm
Welcome to Country – Smoking ceremony and a one minute
silence for the Stolen Generation.
A reading from Auntie Nancy Wood's short book of poetry Nobody's Child.
Guest speaker talk about the Stolen Generation.
All afternoon a free sausage BBQ and afternoon tea will be available.




Singing by local Aboriginal Sisters.




Free Kids painting – paint your own boomerang or do Colouring in and take it home with you.




Basket weaving with Karleen Green.




Aboriginal Dancers with the young children joining in dancing and playing the clap sticks, having fun.




Two local Didge players.




Aboriginal artefacts on display – things that have never been on display before.




For the young ones, a gift bag from ASG.



Come and join us and share the steps towards healing for the
Stolen Generations
, their families and
communities.
Pittwater Offshore Newsletter Update 20/5/2018
click on Logo:

To contact Julian: editor@scotlandisland.org.au
BHS: Call Out To All Ex Students!
We are going to hold an exhibition in the lead up to the Golden Ball in September.
Do you have anything we could use for an exhibition in the lead up to the Golden Ball? Things like old school uniforms, school magazines, images, medals or trophies. Fun things that will take people back.
Do you have, or know others who might have items like this? We would return them after the exhibition.
15 June – The Barrenjoey Night Market
. There will be food stalls, market stalls, little rides and games. Centre stage will present some of Barrenjoey's finest musicians from past and present. To end the evening there will be fireworks. this is a family-friendly event. More information will appear
here
.
29 September – The Golden Ball
All ex students and staff are invited to the Golden Ball. Plans are being finalised and tickets will go on sale in Term 2. Keep your eye
here
for more information as it comes to hand.
If you wish to keep informed about the festivities please go to the
Alumni page
and register your interest.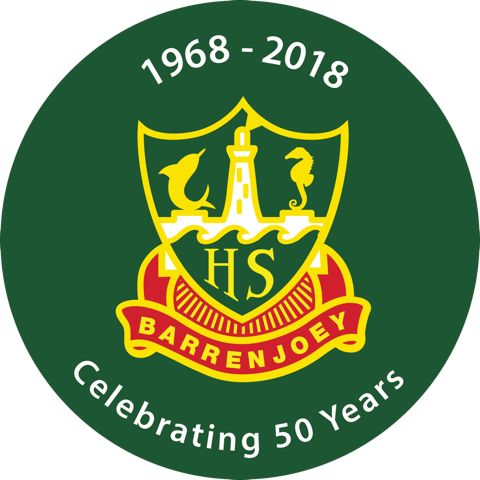 Mermaids Of Palm Beach Commence B To B Bash 2018 Fundraising
The Mermaids will be
holding their annual Currawong Day on Thursday May 31st
with all the usual fun and games and Beryl's famous sausage rolls – which were also a hit at this year's garden party.
Guests at the recent Brees Cottage Garden Party were entertained by the Celtic By-The-Sea Music Group, and joined in some Celtic ring dancing, had a Maypole, a wonderful afternoon tea in glorious gardens, along with some fun with Lucky Dips. There were Books for sale, assorted Bric-a-Brac and garden cuttings – all to raise funds for Variety, The Children's Charity.
The 2018 B to B Bash will be Beryl's 20th Australian Variety Bash, which, at 85 years young, is not a bad effort – in fact it's outstanding.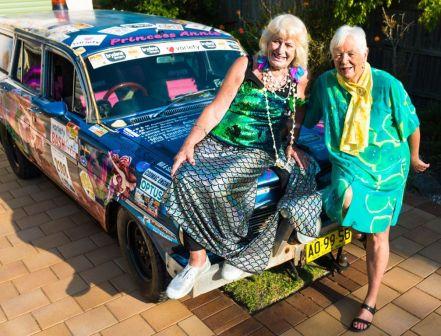 Beryl and Beverly at Brees Garden Party - photo by Michael Mannington
Dog Race Inspiration For Pittwater Artists Trail Winter Exhibition 2018
Cindy Goode has completed some wonderful new works in recent weeks which feature that bastion of community fun - the Christmas Eve Scotland Island dog race. The series will be on display at the Pittwater Artists Trail Winter Exhibition 2018.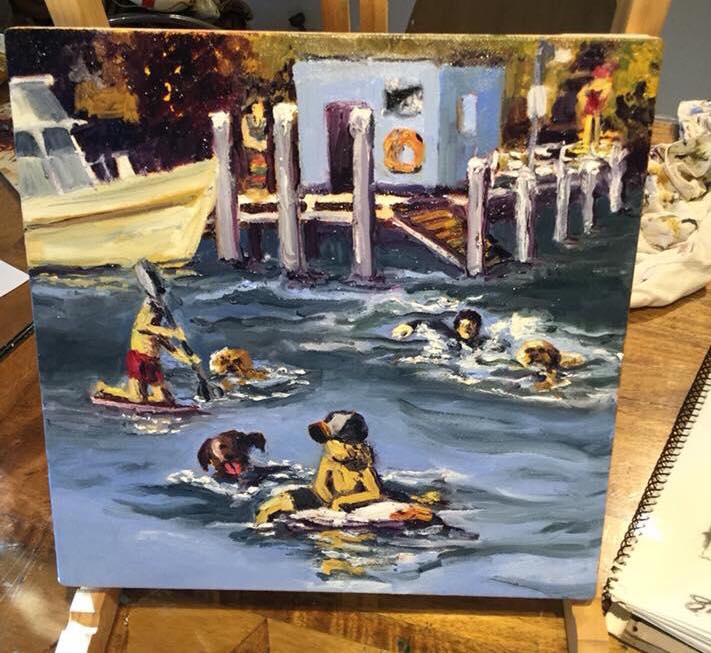 The first event on the new Pittwater artists Trail Calendar, the group exhibition will be held on the June long weekend (9-11), at the Newport Community Centre.

Update On The Ingleside Planned Precinct
May 11, 2018: From NSW Dept. of Planning
We have reviewed the submissions and feedback received on the draft Land Use and Infrastructure Implementation Strategy, which was exhibited from December 2016 to February 2017, and are working through the next phase of the planning process. A summary of the submissions received and our responses is available
here
.
In response to issues raised by the community and to comply with the draft Planning for Bushfire Protection Policy 2017, a Bushfire Risk Assessment is being prepared. We have also undertaken other additional technical work including:
traffic and transport modelling, especially around Mona Vale Road




planning for infrastructure provision




water cycle management and flooding assessment




assessment of environmental impacts including additional surveys, for example around biodiversity across the precinct and along the proposed ecological corridors.



We are working with Northern Beaches Council and other Government agencies throughout this process.
A draft
Local Character Statement
(LCS) is also being prepared to define the existing character of the area and capture the community's values and aspirations. The draft LCS will be based on the extensive community consultation undertaken to date and will be an essential reference guide for the Department to use in finalising the draft plan for Ingleside.
More opportunities to have your say
There will be more opportunities for the community to provide feedback.
The revised Precinct Plan, draft Local Character Statement and supporting documents will open for public comment when they are released later in 2018, and the Department will have a range of ways available for you to have your say.
More information
Call us on 1300 305 695
Throw In Your Line! Apply For Gone Fishing Day Grants
The fourth annual NSW Gone Fishing Day will be held in just six months' time and recreational fishing clubs and organisations are being encouraged to apply for grants to host fishing activities on October 14.
NSW Department of Primary Industries (DPI) Coordinator Community Programs, Dee Payne, said applications for
grants of up to $2,000 are now open until July 16.
"Gone Fishing Day celebrates our love of fishing in NSW and encourages everyone to get out on the water and enjoy this healthy outdoors activity," Ms Payne said.
"It doesn't matter if you haven't fished before or if you're the keenest of anglers, Gone Fishing Day is for everyone."
Applications for activities such as casting and fishing workshops, information sessions and fish habitat restoration will be considered.
"
Grants of up to $2,000 are now available for recreational fishing clubs, organisations and community groups to run fishing events
as part of the Day. The money can be spent on event items such as fishing gear, bait, food and drinks and equipment hire," Ms Payne said.
"This year we also have the option to apply for a package of fishing gear and giveaways as an alternative to a funding grant."
Clubs or organisations can also apply to carry out fish habitat restoration activities including replanting or weeding their local waterway or creek banks.
DPI-staffed major events for the Day will once again be scheduled at six locations across the state.
"We know there are around 850,000 people that love wetting a line each year in NSW and we hope this state-wide day will promote fishing as a vital part of our lifestyle to even more local residents and communities," Ms Payne said.
"The more fishing activities we can hold across the state, the greater the opportunity to spark an interest that may become a lifetime of recreational fishing enjoyment. I urge all clubs to get involved and apply for a Gone Fishing Day grant before July 16."
Entries Now Open For Northern Beaches Art Prize
Fancy yourself as the next Brett Whitely or maybe Picasso? Now is your chance to make your artistic talents known to the wider world.
Northern Beaches Council is calling for artists to enter the annual Northern Beaches Art Prize.
With more than $24,000 in prizes on offer, it is the region's most prestigious art competition.
Northern Beaches General Manager Planning, Place & Community David Kerr said the competition provides an excellent opportunity for artists to showcase their talents.
"It's very important we foster and nurture arts and culture at the local level," he said.
The Northern Beaches Art Prize (formerly Warringah Art Prize) began in 1955 and is open to all Australian residents as young as 10.
The competition has four main categories; General, Small Sculpture, Waste to Art, and Youth.
Mona Vale sculptor Suzanne Davey won last year's Art Prize in the sculpture category.
She said winning the prize boosted her artistic efforts after several years of creating, experimenting and developing her ideas.
"It was really affirming and shows that hard work, application and focus does pay. It gave me a feeling of validation and that I was on the right path; the journey continues."
Entries open on Tuesday 1 May and close on Sunday 24 June
and
can be completed online
through the Northern Beaches Council website.
The competition's entries will be on display at the Creative Space in North Curl Curl from 10 August to 19 August for General and Small Sculpture, and 24 August to 2 September for Youth and Waste to Art.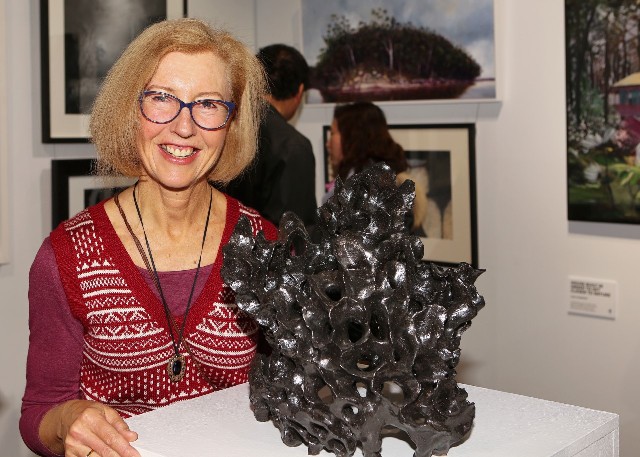 Suzanne Davey - Gathering Shadows (award winner)

Pet of the Week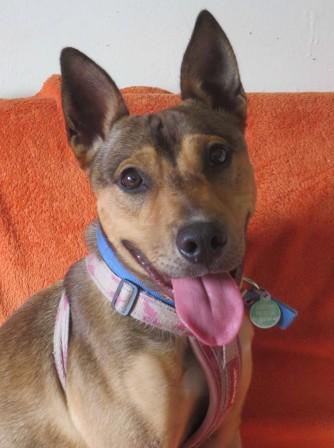 AGE/SEX: 18 months / M
BREED: Kelpie X
Gideon is a friendly active boy who loves people interaction. He is very excited to go for a walk and walks at a good pace. He prefers to jog and run! He also enjoys cuddles, belly rubs and being patted. He would suit an active family with 8+yo children. He has a short coat and weighs 16.5kg. He comes desexed, C5 vaccinated, heartworm free and microchipped. Also included for the love and health of our dogs is a free Health and Wellness Voucher with our DR Vet. His adoption cost is $400.
Expressions Of Interest - Membership Of NSW Health Boards
​The NSW Government is inviting applications from people interested in becoming a member of a Local Health District or Specialty Network Board. Members will be expected to actively contribute to the effective governance of these significant public sector organisations which provide a broad range of health services to the NSW community.
Boards are responsible for overseeing an effective governance and risk management framework for the district or network, setting its strategic directions, ensuring high standards of professional and ethical conduct are maintained, involving providers and the community in decisions that affect them, monitoring the service delivery and financial performance of the district or network against its targets and holding the chief executive accountable for their performance.
As part of a mid-term appointment process, vacancies exist for positions on each Local Health District Board and the Sydney Children's Hospitals Network Board. Individuals should demonstrate the capacity to represent the interest of consumers of health services and the local community served by a district or the network, and indicate any affiliations with universities, clinical schools or research centres, as well as skills and experience in one or more of the following areas:
corporate governance;




health management / health administration;




business / financial management / public administration;




clinical practice / provision of health services to patients;




expertise, knowledge or experience in relation to Aboriginal health;




understanding of local community issues;




understanding of or experience in primary health care.



To apply, individuals need to complete an Expression of Interest indicating their skills and experience relevant to the role of a Member of a governing Board and provide a current Curriculum Vitae.
An information package, Expression of Interest application form and the advertisement are available from the Information panel on the right of this page.
The deadline for submissions is
Friday 25 May 2018
The Pittwater Special Rate Improvement Plan
Re: Draft Delivery Program
Page 66
Could Readers contacting this news service regarding the details not shown of the planned expenditure under this plan, while pointing it is available it is under the Manly Environmental Levy, please contact the Northern Beaches Council or make a submission by next Sunday - link provided below - requesting that document include those details.
P 66: Special Rate: Improvement Program - Former
Pittwater Local Government Area
In June 2011 IPART approved the former Pittwater Council's application for a special rate.
This resulted in an increase in rates over three years (2011-2014) and generating approximately $39 million in funds for infrastructure works and environmental programs over a 10 year period.
A Community Contract was established to ensure accountability and transparency. The rate is levied and spent on the basis of the Community Contract's following principles:
• Upgrade and retrofit infrastructure through carefully targeted, high priority 'on ground works'
• Schedule of projects to be incorporated into Pittwater Council's Annual Delivery Program
• Funding derived from the SRV will be distributed across the program of works over the 10 year period
• The Pittwater SRV will also support 'seed' funding within the works program
• Funding proportions may vary from year to year to achieve economic efficiency through the pooling of funds
• Reporting to be undertaken to ensure transparency
Draft Delivery Program: Community Feedback Sought
The Northern Beaches Council draft Delivery Program is now available for the community to ask questions and provide feedback. The document is available online at
HERE
until Sunday 27 May.
ASG-MWP Commemorates National Sorry Day
Sorry Day this year will be at Mona Vale Memorial Hall as the Elanora Scout Hall at Narrabeen is undergoing repair.
National Sorry Day is an Australia-wide observance which gives people the chance to come together and share the steps towards healing for the Stolen
Generations, their families and communities.
Start time 2.00pm till 6.00pm
Welcome to Country – Smoking ceremony and a one minute
silence for the Stolen Generation.
A reading from Auntie Nancy Wood's short book of poetry Nobody's Child.
Guest speaker talk about the Stolen Generation.
All afternoon a free sausage BBQ and afternoon tea will be available.




Singing by local Aboriginal Sisters.




Free Kids painting – paint your own boomerang or do Colouring in and take it home with you.




Basket weaving with Karleen Green.




Aboriginal Dancers with the young children joining in dancing and playing the clap sticks, having fun.




Two local Didge players.




Aboriginal artefacts on display – things that have never been on display before.




For the young ones, a gift bag from ASG.



Come and join us and share the steps towards healing for the
Stolen Generations
, their families and
communities.
Return And Earn Is At Pittwater RSL
Drink container litter makes up 44% of the volume of all litter in the state and costs more than $162 million to manage.
Return you empty bottles and cans to earn your 10c for every eligible container returned for recycling.
Eligible containers include:
- Drinks cans
- Glass bottles for beer, cider or soft drinks
- Plastic bottles for water, soft drinks or flavoured milk
- Single serve sized drinks cartons
(Wine and spirit bottles and casks, plain milk bottles and bottles for cordial or fruit juice are not eligible).
The returned containers are collected from us and then sorted for recycling.
You have three options of what to do with your refunds:
- Use the myTOMRA app (for iOS or Android) to deposit the funds straight into a PayPal account
- Donate to one of four charity partners (currently Cancer Council, Vinnies, Planet Ark or Surf Life Saving NSW)
- Take a voucher to redeem or spend at Woolworths
The Annual General Meeting of Pittwater RSL will be held on Sunday 27th May at 10am in the Club's Auditorium.

Applications Open For Community Building Partnership Program
Member for Pittwater Rob Stokes is encouraging local community and sporting groups to apply for funds under the NSW Government's 2018 Community Building Partnership Program.
As part of this year's program $330,000 will be distributed to community-led infrastructure projects in Pittwater.
Almost 50 local projects have been supported by this program since 2011. This includes the expansion of the Northern Beaches Indoor Sports Centre at Warriewood, playground improvements at Narrabeen Community Kindergarten, walkway improvements on Scotland Island, Marine Rescue's upgraded wharf at Cottage Point, Pittwater High School's security fence upgrade, improvements to local surf clubs, construction of a walkway alongside Mona Vale Golf Club, Narrabeen Sports High School's synthetic playing field, accessibility improvements at Currawong and the upcoming construction of a new community performance space at Barrenjoey High School.
"This is a great opportunity to kick start community-led projects that will provide wide-reaching benefits," Rob Stokes said today.
"There are dozens of local projects that have benefited from this program over recent years and I'm looking forward to this continuing.
"Many local groups undertake extensive fundraising - but simply need a bit more funding to enable their projects to proceed.
"Projects that will provide long-term infrastructure improvements and are supported by leveraged funds have been particularly successful in recent rounds.
"
Applications for this year's program are now open and will be accepted until 5pm on 15 June.
717 School Bus Along Whale Beach Road: Changes Coming
To parents of students using the 717 bus route from Palm Beach along Whale Beach Road: the bus is mostly late in the mornings due to being unable to move freely along this road.
The bus drivers have been just as frustrated by this, as they regularly have to stop their bus and knock on doors to ask people to move the vehicles blocking the way- see e.g. in pic below.
In the afternoons the bus is full which shows there are definitely children/families wanting to use it, they just don't want to be late to school in the mornings.
HOWEVER, changes are coming!
New parking signs will be up in "the next week or so" which means this bus should arrive at its scheduled time of 9:06 am at school.
If this is of interest to people, please could you pass on to those affected. Students using the school bus ultimately means less cars in Avalon.
Once the signs have gone up, allowing a clear run for the drivers this service will meet its timetable. Then hopefully families/youngsters can feel more confident about getting to school on time.
This 717 morning bus service is at the critical point of "USE IT OR LOSE IT" for the next 6 months or so - even though there are valid reasons why families haven't used it.
To this end, please make sure your child uses their opal card so data collection at Transport for NSW headquarters reflects accurately the volume of students using this service.
Old Barrenjoey Rd near Avalon Primary, Avalon 15:37
Avalon Community Library, Old Barrenjoey Rd,
Avalon
15:39
Coonanga Rd near Tasman Rd, Avalon 08:39 15:44
Whale Beach Rd near Surf Rd, Whale Beach 08:48 15:53
Avalon Pde at Old Barrenjoey Rd, Avalon 09:04 16:09
Avalon Public School, Bellevue Ave, Avalon 09:06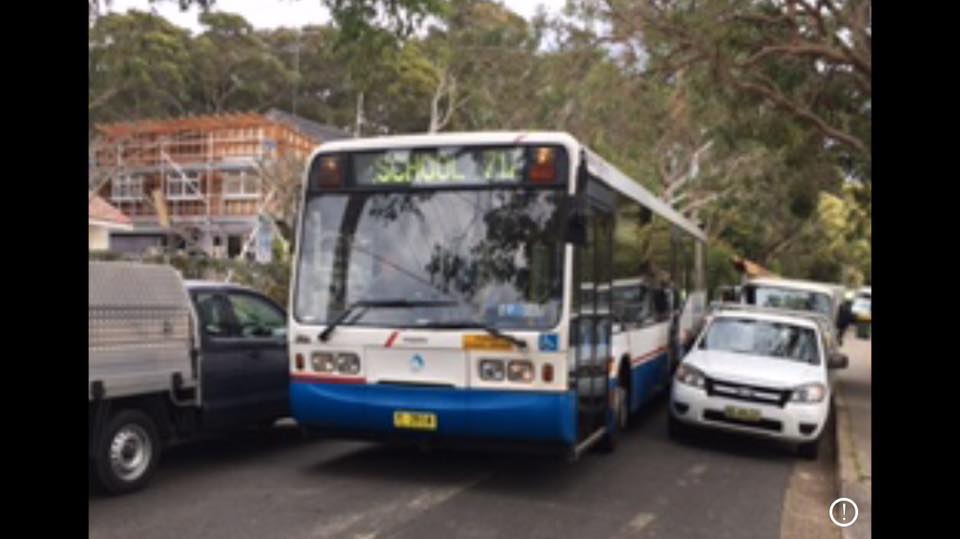 News/Photo courtesy Emily Ashton
Design Guide For Heritage - Have Your Say
May 18, 2018: NSW Office of Environment and Heritage
The Heritage Council of NSW has released a draft design guide intended to make it easier to manage heritage design works.
Heritage Council of NSW chair, Stephen Davies said the guide provides heritage industry professionals, heritage owners, urban planners and developers with up to date advice on managing heritage design works.
The draft guide was released at the NSW Heritage Forum at the University of Technology, Sydney today.
"This Design Guide for Heritage has been created to help those who own, regulate, oversee or are working to develop heritage items," Mr Davies said.
"It will help them understand how to protect the heritage and context of heritage projects, while ensuring an ongoing commitment to good design.
"It will encourage anyone working with heritage items and places to carefully and appropriately use good design.
"This will ensure any new work protects heritage significance and safeguards the character and experience of historic places.
"This guide puts our state's heritage squarely at the forefront of thinking, planning and designing," he said.
This publication is part of the NSW Government Architect's 'Better Placed' suite of documents, which was developed to provide over-arching design policy for NSW.
The partnership with the Office of the Government Architect NSW was intended to ensure best practice outcomes for industry and communities.
The draft Design Guide for Heritage is now on public exhibition so community members and industry stakeholders can have their say on what it should include to ensure heritage is protected for future generations.
Submissions close Friday 17 August 2018.
Mushrooming: The Deadly Risk Of A Popular Autumn Pastime
After a recent cluster of poisonings, NSW Health is urging people not to eat potentially deadly mushrooms picked in the field.
NSW Health's Director of the Environmental Health, Dr Benjamin Scalley, cautioned people against eating wild mushrooms after 38 poisoning hospitalisations this year, including 14 children, were reported to the NSW Poisons Information Centre.
"In Autumn alone, prime mushroom-growing season, there have been 27 poisoning hospitalisations so far, ten of them children.
"Unidentified mushrooms picked in the wild can make you very ill and could be lethal, so people should only eat shop-bought mushrooms," Dr Scalley said.
"Cooler, wetter weather is making good growing conditions for wild mushrooms. But it is difficult for most people to recognise edible from poisonous mushrooms.
"Eating poisonous mushrooms can cause severe abdominal pains, nausea, vomiting, diarrhoea, sweating, confusion and hallucinations. Some varieties of mushrooms can be fatal causing severe kidney and liver damage."
Dr Scalley said cooking or boiling wild mushrooms does not make them safe to eat, so it is best to avoid eating wild mushrooms unless they have been bought from a shop.
Jared Brown, Head of the Poisons Information, said in Australia there are some poisonous wild mushrooms that look similar to edible wild mushrooms found in Asia or Europe.
"There are many mushroom species growing in the wild including the Death Cap mushroom (Amanita phalloides), for example, which can cause serious poisoning, and potentially fatal organ damage," Mr Brown said.
"There is no reliable way to identify mushrooms picked in the wild. Their appearance can often change at different stages of its growth, and can look similar to edible mushroom species, making it very difficult, even for an expert, to differentiate."
"We strongly advise that people do not pick or consume wild mushrooms at all. It is simply not worth the risk."
Between 2014-17, there have been 281 hospitalisations from mushroom poisoning in NSW and ACT, with the Poisons Information Centre receiving 893 calls from people eating wild mushrooms in the same period.
Anyone who ingests wild mushrooms should contact the Poisons Information Centre (13 11 26) immediately, even if they are completely well as symptoms can be delayed in onset and early treatment is vital.
In an emergency, people should call 000 for an ambulance or seek medical treatment through their doctor or local hospital emergency department.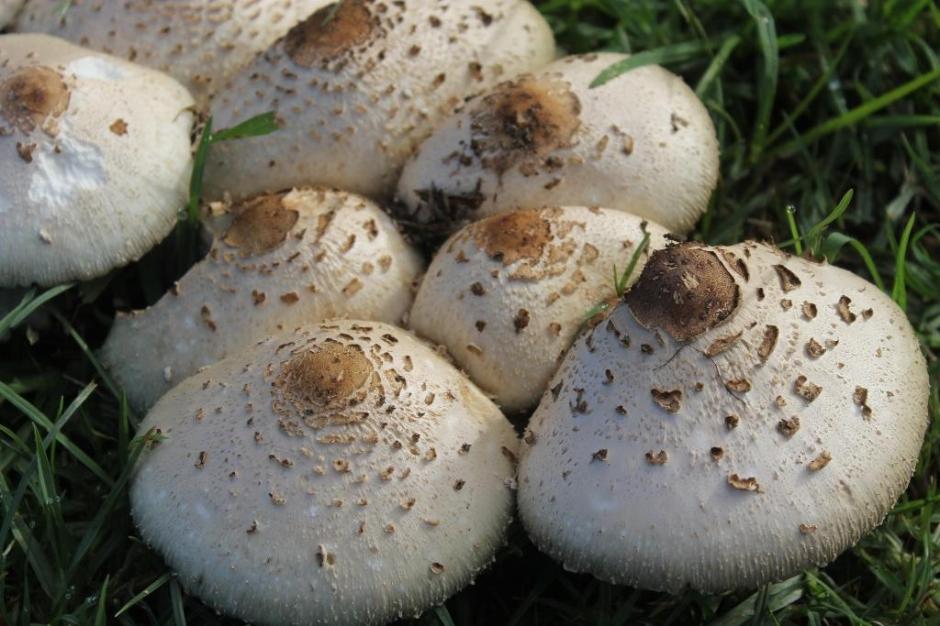 Vivid Sydney At Taronga Zoo Special Event Clearways
Fri 25 May 2018 - Sat 16 Jun 2018
Traffic arrangements:
Special event clearways - Show details
Advice:
Use public transport
Check signage
Public transport: Plenty of transport services will run to get you to Vivid Sydney at Taronga Zoo. Plan your trip at transportnsw.info.
Other Info: Celebrating its 10th anniversary Vivid Sydney returns to light up Taronga Zoo for 3 ticketed sessions at 5:30pm, 6:30pm and 7:30pm. Last entries at 8:30pm and the Zoo closes at 9:30pm.
No planned road closures will be in place around the Zoo however there will be strict parking restrictions.
Special event clearway parking restrictions will be in effect on Friday, Saturday and Sunday nights from 5pm to 10pm on sections Bradleys Head Rd and Athol Wharf Rd between Taronga Zoo Wharf and Whiting Beach Rd.
Clearways are no parking zones and apply even for local residents and permit holders. Check signs carefully as vehicles left in clearways will be towed and a fee applies.
NSW Launches School Curriculum Review
Sunday, 13 May 2018: Media release
The NSW Government has launched the first comprehensive review of the entire school curriculum since 1989 to ensure our education system is preparing students for the challenges and opportunities of the 21st century.
Premier Gladys Berejiklian and Education Minister Rob Stokes announced a review of the NSW school curriculum from Kindergarten to Year 12.
"The world has changed rapidly since the last comprehensive review in 1989 and we must ensure the curriculum is as strong as it can be," Ms Berejiklian said.
"We want to ensure our students have every opportunity with the skills needed for the jobs of the future. This includes a greater focus on the basics including English, maths and the sciences."
Mr Stokes said the review would implement findings of David Gonski's latest report into Australian school education.
"Our review puts David Gonski's report into practice and will tailor the national education reform agenda to the NSW context," Mr Stokes said.
"Several recent national reports on improving educational outcomes call for curriculum review, and we are keen to ensure that these reports are answered by real action.
"This is a once in a generation chance to examine, declutter, and improve the NSW curriculum to make it simpler to understand and to teach."
The curriculum review also supports the premise that while the goals and values of education remain eternal, the methods of achieving these outcomes have dramatically changed, particularly with the development of information technology over the past 30 years.
The review will therefore examine the role of new technologies and teaching methods in delivering the curriculum.
The Minister said it is essential that the review draws on the expertise of teachers and ensures the curriculum continues to support them in the important work they do.
Another core component will be ensuring that Australian perspectives are included throughout the curriculum. This will include maintaining a strong emphasis on Australian literature, scientific discoveries and key events that have shaped our history.
"For Australia to continue to mature, we must first have pride in what has made us great," Mr Stokes said.
"We are a proud pioneering nation. The tyranny of distance once meant we had to invent, improvise, and do things for ourselves. A by-product of this isolation was innovation and the cultivation of incredible minds. It is time to look at how we can best support students to develop that mindset and those skills in the complex modern world."
The NSW Education Standards Authority will engage Professor Geoff Masters, CEO of the Australian Council for Educational Research to lead the review.
Professor Masters was supportive of the broad directions of the Gonski report and said the NSW Curriculum Review will need to focus strongly on implementation issues and look for ways it can be decluttered and simplified.
"This review is a timely opportunity to demonstrate how the national reform agenda can be successfully tailored to the specific needs and context of high performing state education system. This is how Commonwealth/State collaboration should work," Professor Masters said.
Mona Vale Hospital Auxiliary 2018 Stalls
May
18th: Stall, Foyer Mona Vale Hospital 9am to 3pm
Baking, knitting, sewing, books
June
2nd: Stall, Pittwater Place, Mona Vale 9am to 3pm
Sewing, knitting, craft, books
9th: Bunnings, Narrabeen 8am to 3pm
Sausage Sizzle
15th: Stall, Foyer Mona Vale Hospital 9am to 3pm
Baking, knitting, sewing, books
The Imminent Threat To Newport And Avalon…
The congestion. All the new apartments. Traffic jams, even between Newport and Mona Vale.
Not to mention the shemozzle at Narrabeen bridge. And now the B Line is about to turn
Newport Beach into a bus depot. The simple answer is:
The B Line must terminate at Mona Vale
Didn't we all come here, kilometres away from the city, for the trees, the blue sea and the
beach? Well, you might say, it's only a bus service but, the threat to our way of life this
represents is really serious. Consider these four reasons why the B Line termination at Newport,
or Avalon or Palm Beach, would wreck the character and amenity of the far north peninsula:
B Line buses are large. Creating a massive roundabout at Newport for these buses

means removing trees, widening roads and making an ugly mess of the beach area of

Newport. With queues of diesel buses, congestion would be terrible, for the people of

Newport and all places further north.

If the B Line were to go further, negotiating the bends at Bilgola and the Avalon

Kamakaze roundabout would be absolute chaos. Particularly congestion at Avalon shops

would be unacceptable.

The government's stated intention is for increased density. Extending the B Line to

Newport invites further development north of Mona Vale. We've all noticed the huge

increase in congestion between the northern suburbs and Mona Vale.

If termination is at Newport, the beach parking would be forever filled up. Newport would

become a parking station, its beach, its ambiance and its character destroyed.
Bus services north of Mona Vale must be improved
The service is now decidedly worse with the introduction of the B Line. Such is the way all this
has been organised, it seems the E88 is now faster from Mona Vale to the city than the B Line.
In some cases, yes , it would be necessary to change at Mona Vale if you are city bound, but
everything is a trade-off. If we want to keep the far peninsula as a liveable place, to retain its
character and to hold on to a community we all love, the B Line must terminate at Mona Vale.
At
the same time, we must have an improved bus service for the far north peninsula. Make no
mistake, the government will make a roundabout at Newport unless we make ourselves heard.
We'll be talking to the community on the corner of Robertson
road and Barrenjoey road on Saturday mornings from 10.00
to 1.00.

Please come and see us. We would welcome your
suggestions as to how to counter this threat.
Friends of Newport Community Group.
NB: The authors do not represent that the contents are complete, current and free from error and accept no liability.
Pittwater Community Groups:
May 13 - 19, 2018: Issue 359
May 6 -12, 2018: Issue 358
April 29 - May 5, 2018: Issue 357