May 13 - 19, 2018: Issue 359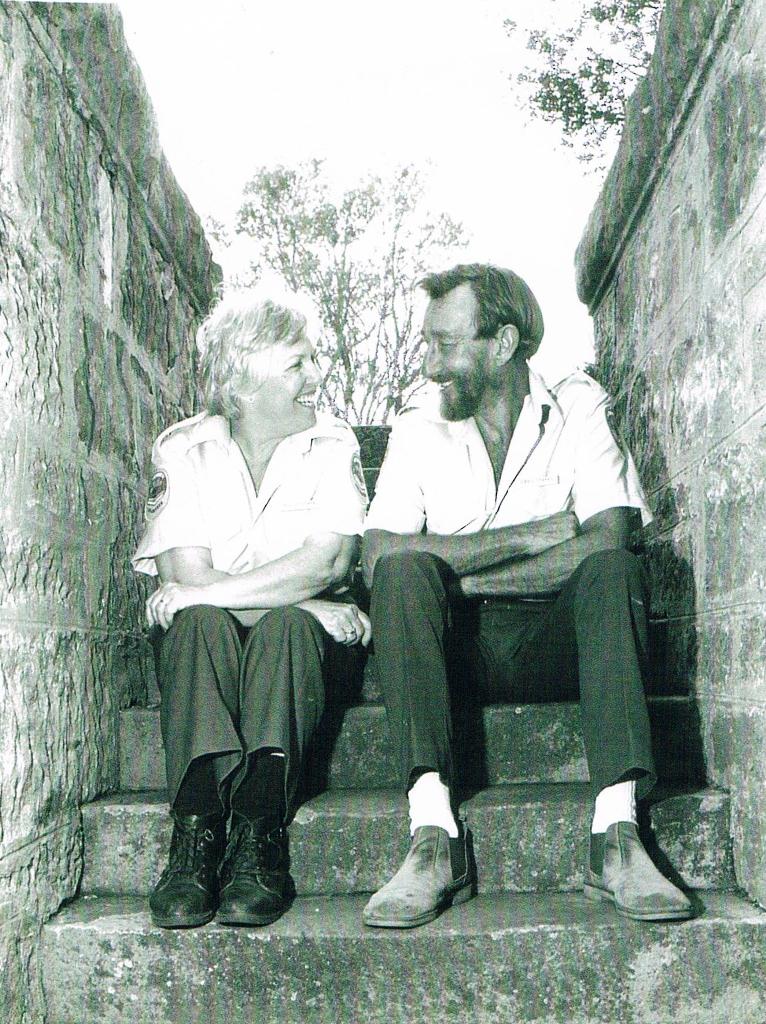 Bridget and Jervis Sparks - The Chase Alive Program.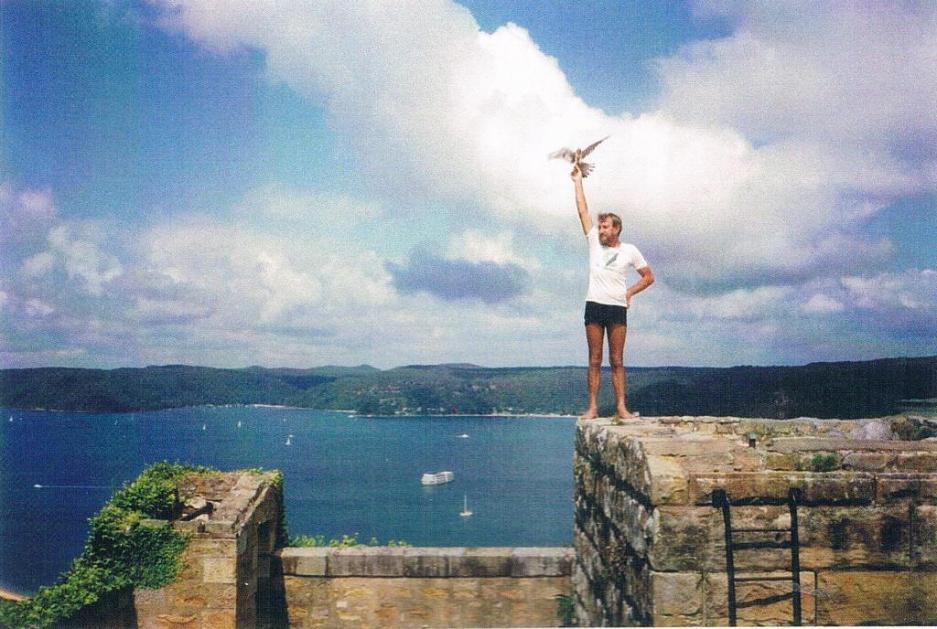 Jervis and one of his Whistling Kites.
Jervis Sparks: A Tribute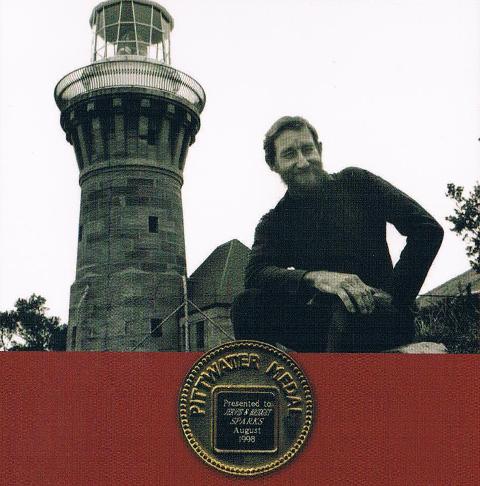 On April the 27th, 2018 a Memorial and Tribute was held for Jervis Sparks at Barrenjoey Lighthouse.

Jervis was the lighthouse keeper for the Barrenjoey Head Lighthouse for decades, restoring the then derelict keepers cottages to how thye had once been. Jennifer Kinsella, along with Jervis' widow Bridget, organised the memorial in his honour.
Murray (Geo) and others are mates from the Sumatra job some 40 years ago, they have remained friends all these years. Some came to the GATHERING at Maleny in December
The National Parks & Wildlife people were MOST helpful, particularly Col Brown who made at least 4 trips up and down the hill with those unable to walk. I'd also like to thank Rachel from the same service, who went above and beyond too.
There were around 60 people present, including many local residents with connections to the Sparks, Jim Macken and Geoff Searl among them.
I will return next year to officially turn over the Log Books to the Mona Vale Library, will keep in touch.
I loved it when John Black referred to Jervis in passing, as a pirate. He was very much out of the ordinary. A real challenge to live with.
Love Bridget.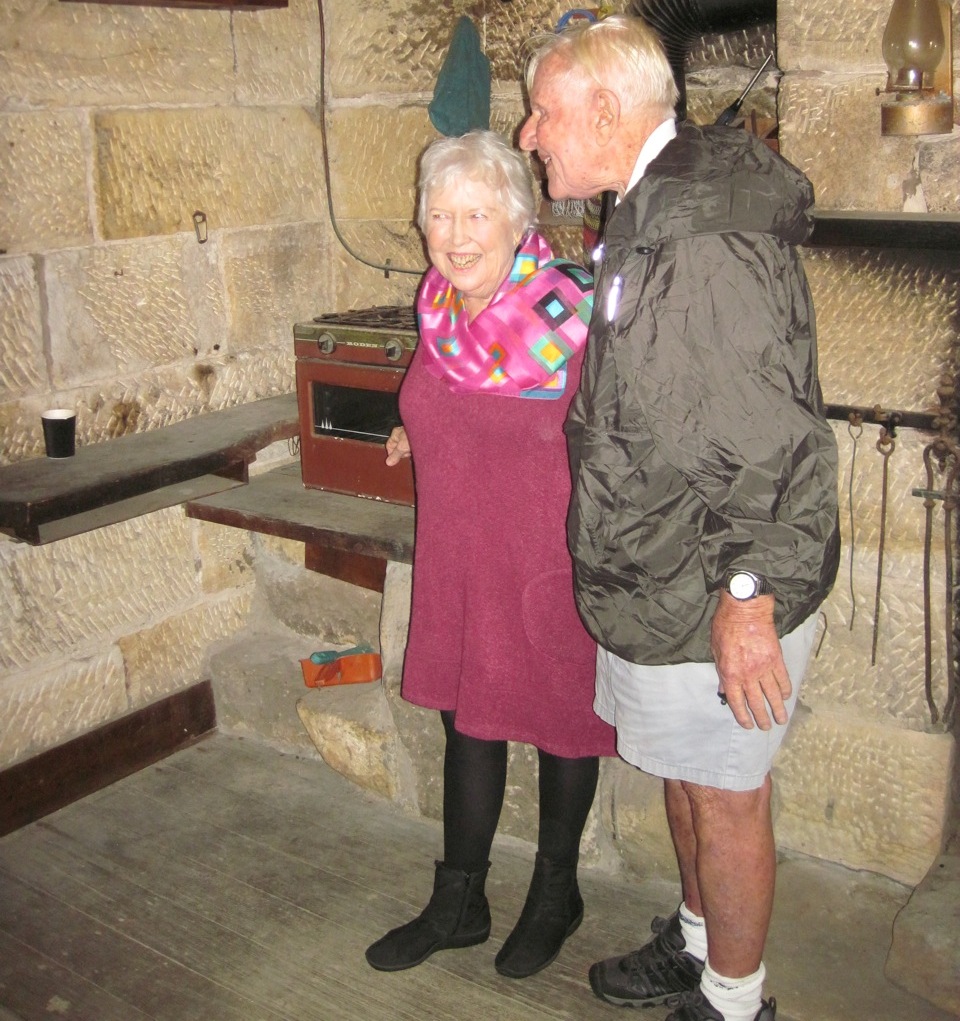 Bridget Sparks and Jim Macken - photo by Geoff Searl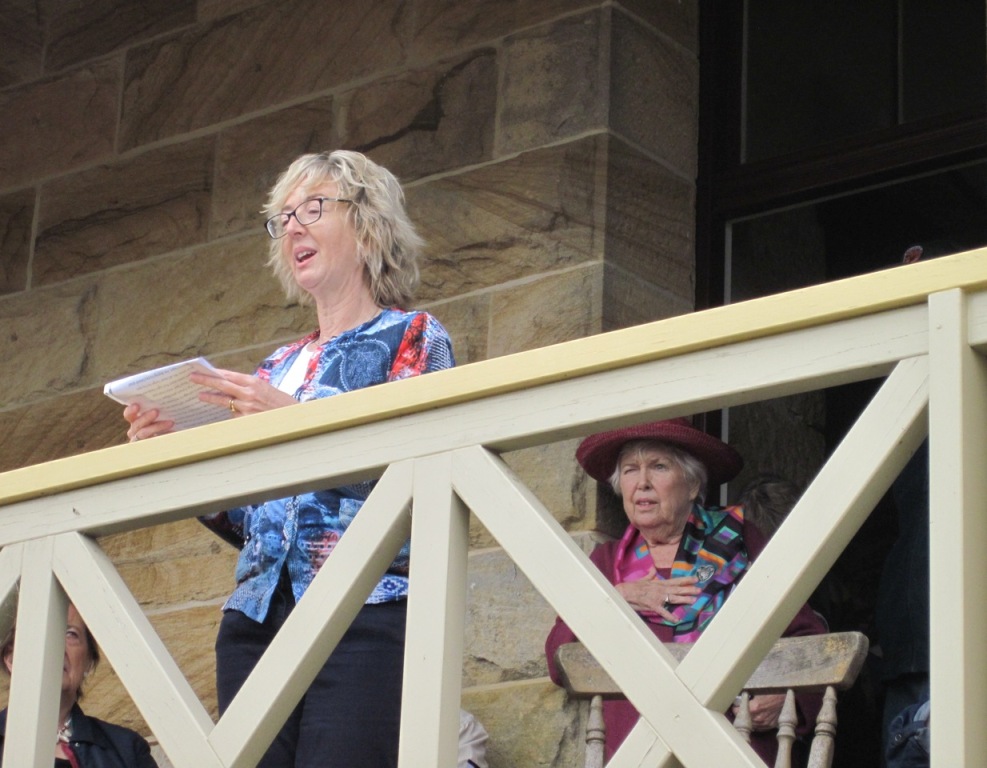 This is 'Jen' (Jennifer Kinsella) also one of the 'lighthouse girls' - photo by Geoff Searl

NB: Jervis sent the editor of Pittwater Online News through his Archaeological and Nature Walk studies a few years back - with a request to make these available - so the work will now continue converting those hundreds of pages into a digital format and will shortly be available here, online. His Profile is still available here.
The Memorial Tribute program was:
Welcome – Bridget, Speakers; Valasi (Jervis' sister), Nephews & Other Family Members, Jervis' Personal Friends, Chase Alive Volunteers, Friends, Toast by Judy Engall.
Overview of the day from Murray, Jervis' friend from Sumatra projects
All went very well, a gathering of some 60 people were present by the time Bridget asked the front door to be closed to potentially uninvited visitors at the headland. The ceremony took place along the back verandah, which those of you who have visited know overlooks the back work shed and wash/ shower, toilet room, and well pump. The light tower and the senior keepers house which has been converted to a museum, were open on the day.

Bridget led the eulogies with detail of how they met and her eloping with Jervis. Some history of Jervis's travels and numerous overseas jobs was given and their time at the lighthouse, volunteering for Chase Alive, the local headland historic society etc, her entertaining parties etc . Jervis' nephew elaborated on Jervis' youth in PNG, and then boarding in Southport Qld. and his early travels pre Bridget.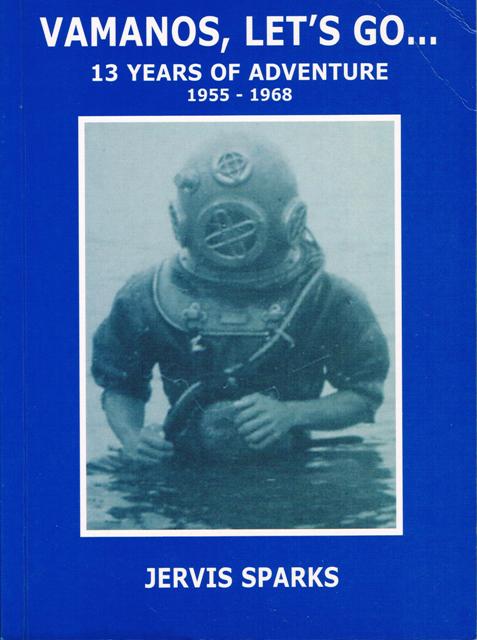 A Chase Alive member, John Black, best described Jervis' spirit and enthusiasm for the history, environment, nature of the lighthouse and headland as "a passion". He also went on to say how Jerv was the nearest person he had met to a genuine "pirate". I would have to agree, all he had to do was to put a patch over his genuine blind eye and get a macaw /parrot, and with his scraggly beard, there you had it , a pirate. I digress. Then I set the scene of the Sumatran project and the various expats in various roles, and the special nature this project was for many of us, the long term friendships and reunions, and I gave the various Sumatran tributes which received a few positive comments after. Cannot expect more than that. Bridget appreciated the tributes. Nora, Bridget's sister, gave some stories from her side of the family. The music of Born Free was played during the closing of Tributes.
We then walked down the Smugglers Track while others less able accepted rides in the National Park rangers vehicle down to the beach. About 20 people including us, followed on with a late lunch at Dunes, a restaurant near the surf beach, east of the golf course.
FYI, while the road up to the headland / lighthouse is no longer the rugged adventurous 4wd track it once was, the National Parks have done a great job with the stonework, in keeping with that of the headland, and apparently at great expense as the massive stone blocks for the road were helicoptered in. Also paths around the headland have been tastefully restored and improved, and necessary for the approx 3000 people a week that now hike up the hill. Jervis' Cottage and the one next door are just shells effectively at present.
Gregory Mac Donald - also a geo, was there. Murray
Jervis - Philippa Alford (one of the three 'Lighthouse Girls')
Jervis, where does one begin. I would like at this point to acknowledge Bridget, without her our experiences at the Lighthouse would have been very different. They were a team, who were like a father and mother to me at times.
Jervis and I shared many interests. We researched the Barrenjoey Lighthouse log book together at Manly library, shared life in Palm Beach, enjoyment of walking everywhere, the joy in living, the importance of documenting our lives and he taught me about the bird life on the hill. Though I didn't share his love of a beer or wine on the back veranda, my preferred drink was Lighthouse water.
Jervis always had time for a chat, as long as you followed him whilst he did his chores - cleaning lamps, pumping water, checking the rain gauge and temperatures, brewing his beer etc., depending on what time and the day of the week it was. Or maybe it was watching the boats, people and animal life passing through Pittwater which was another favourite past time, everything was always recorded in detail in his log books.
There are so many memories from here I could go on. However I know we all have them and can hold them dear to our own hearts.
Jervis always took an interest in other people's lives, he wasn't judgmental, he was a very caring person whom I, and I am sure I am speaking for many others who feel the same way, will miss him dearly.
Dearest Bridget thank you for giving us all the opportunity to come back to where most of our relationships all started at Cottage 2 Barrenjoey Lighthouse Palm Beach. How privileged am I and my family to have been touched by Jervis and Bridget's generosity, I will never forget Jervis.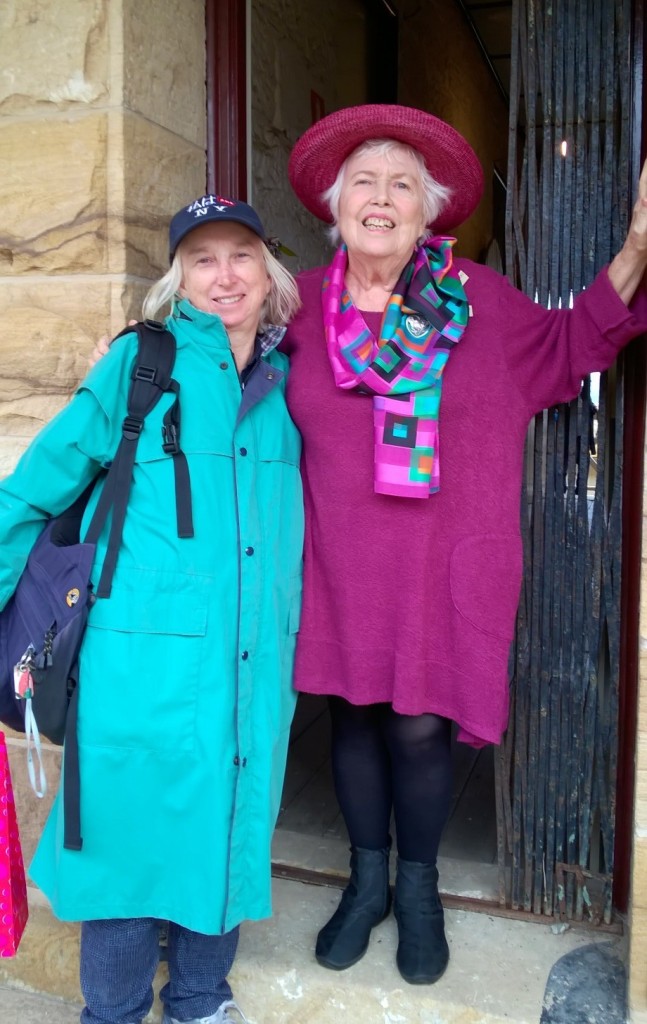 Bridget and Philippa 'Pip' - photo by Geoff Searl

Jervis Sparks - John Black, Chase Alive team member

I first met Jervis about 30 years ago. If I recall correctly a cousin of mine was a frequent visitor to the headland as she had a holiday house at Palm Beach, and she mentioned to him at one time that my great grandfather had been Coast Waiter here, including during the lighthouse construction, and that I had a collection of photographs and some paintings from this time. Jervis was writing Tales from Barranjoey and of course was keen to source all material that he could from this era.
I remember him coming to our house at St Ives. I didn't know quite what to make of him at first, this energetic man with his curly beard and moustache, impish smile and a bright twinkle in his eye. But it didn't take long to realise here was someone with a deep passion for Barranjoey and a determination to see that our icon guarding the northern extremity of Sydney should be properly documented, recognised and preserved. I've had a strong connection with Barranjoey ever since I learnt that my ancestors lived here and so we had an immediate common bond which developed into friendship.
Jervis used quite a number of my photographs in this first book and I wish to say how much I appreciated the way he acknowledged his sources of material by meticulously listing them in the credits at the back of the book. He also included a few tales about my ancestors, tales I had not heard before, not all of which are flattering and the one about the Great Wallaby Hunt would definitely not be PC today. But that was a different era and it was the way it was.
My wife Fran and I met Bridget somewhat later, when we were invited to one of those memorable gatherings they held at this cottage. The Sparks had a wide range of friends so the parties were always great fun and we were always impressed by the way you catered for so many up here Bridget, without electricity and running water, the food was always plentiful and delicious. The two of you were the pioneers of the lighthouse tours, and being part of the second intake for Chase Alive you led the way for the establishment of the regular tours that we have today. Chase Alive owes much to you both.
Of course restoring the cottage to reflect how life was lived in the late 1880's was all part of how Jervis immersed himself in the era and helped him relate to the subjects of his books. He and Bridget knew more than anyone else how Barranjoey looked and felt through the seasons and the days and nights. Jervis was a genuine environmentalist, he loved the sounds of nature and he enjoyed life to the full with his work taking him to all corners of the globe. His motto was "be positive" and perhaps that attitude gave him passion for everything he did, especially his passion for Barranjoey which will now live on through his writings. Jervis, we miss you and you won't be forgotten.
Jervis - Jonathan and Jane King
Jonathan and Jane King remember the exciting adventurer Jervis Sparks with great admiration and affection. He lived in a world of his own where the life was full of wonderful possibilities from jumping alone from a helicopter into the remote jungles of New Guinea to search for minerals to restoring the Barranjoey Light House and Light House Keepers cottage to its former glory - preserving it for future generations. His legacy includes his 'Boys Own' style traditional adventure books about that Light House and other great yarns. We will never forget his big open generous heart, him sharing his excitement about historical stories and kindly throwing open his Light House Keepers cottage door to us often inviting us to stay in the magi atmosphere he and Bridget had created up there on Barranjoey headland. Australia has lost a unique icon and we will never see his likes again because the Almighty has thrown out that mould.
SPARKS Jervis
October 31st, 2017. Aged 84 years
Loving husband of Bridget. Twin of the late Vernon Sparks and brother of Valasi Hey.
Late of Maleny, QLD and formerly for 30 years at Cottage 2, Barrenjoey Lighthouse, Palm Beach.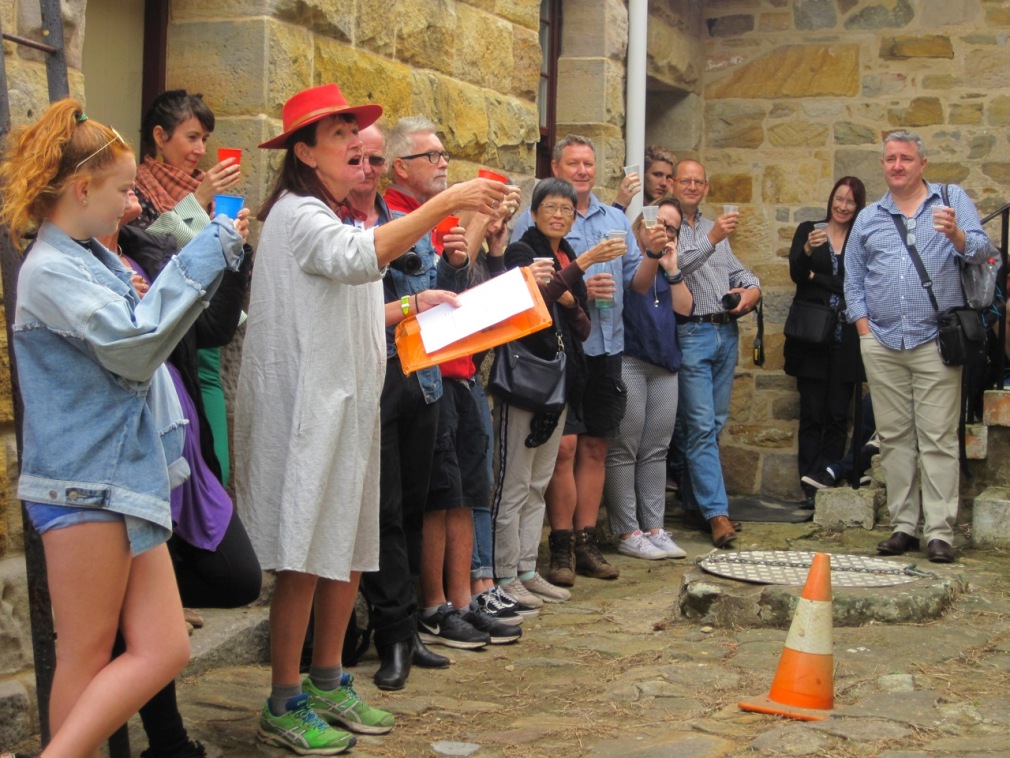 Judy Engall, one of the 3 'lighthouse girls' proposing the toast to the mighty Jervis - photo by Geoff Searl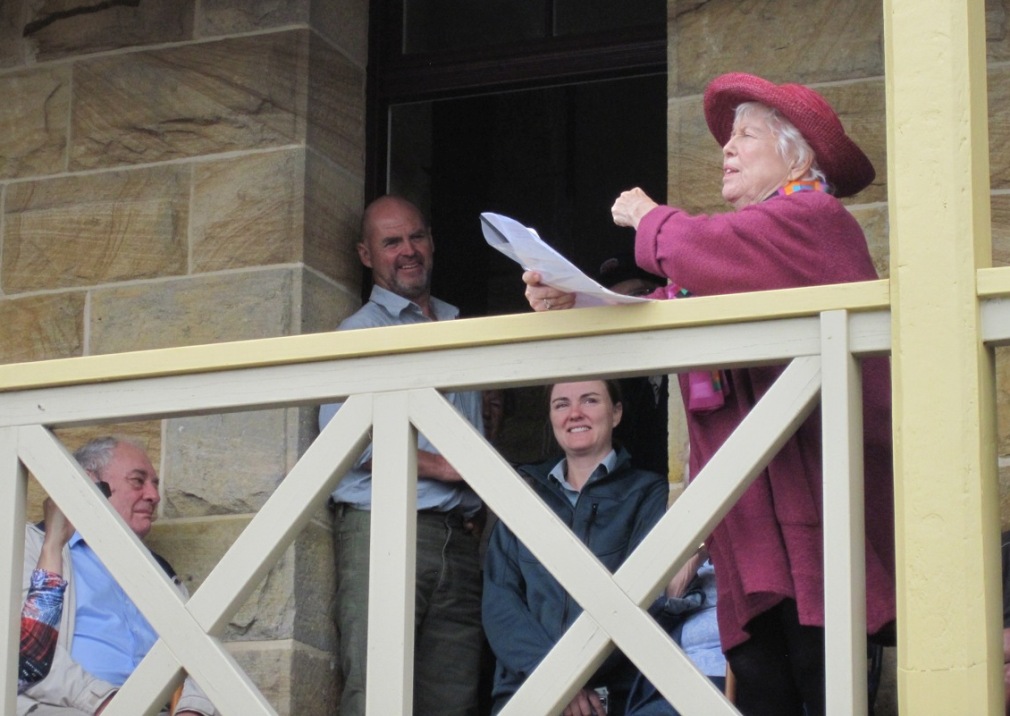 The wonderful Bridget sparks - photo by Geoff Searl