May 27 - June 2, 2018: Issue 361
Hot Contenders Entered For 28th Australian Women's Keelboat Regatta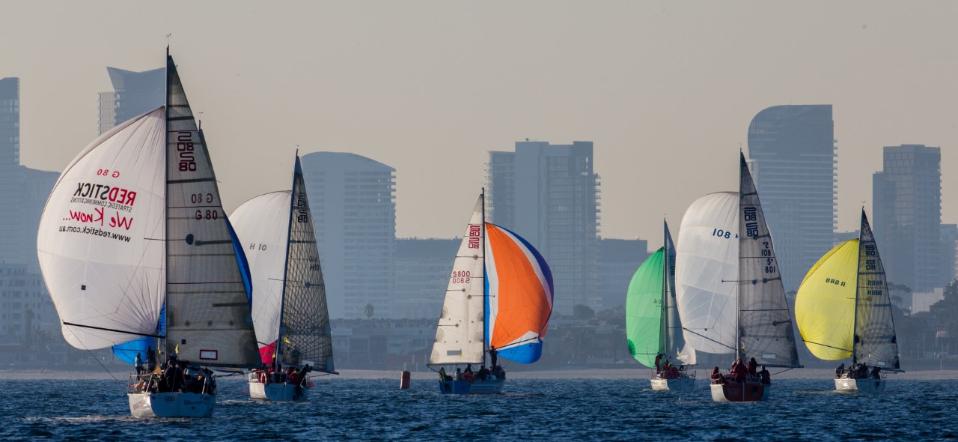 Close sailing downwind at last year's AWKR - Bruno Cocozza photo.
Hot contenders entered for 28th Australian Women's Keelboat Regatta
Twenty-one entries representing Victoria, Queensland, South Australia, NSW, Western Australia and the Northern Territory have already been received by Royal Melbourne Yacht Squadron (RMYS) for the 28th Australian Women's Keelboat Regatta (AWKR) to be held from 9-11 June, 2018, and open to entries from Australia and overseas.

Among the 15 Victorian skippers signed on so far (including some from RMYS), is Monica Jones, who skippered Jungle Juice to IRC and EHC second and AMS third last year.
Jones' crew includes local, Kristen Buckland: "I'm sailing on the Adam's 10 Salamander III, skippered by Monica. We just got a first in IRC and AMS, as well as second in PHS in the Port Phillip Women's Championship Series, so we should hopefully do well," she says.
"Monica owns the boat and sails it regularly, plus we have a great team in terms of personality and skillset, which will make winter sailing more bearable!"
Among the NSW entries is a crew headed by Claire Heenan, who will skipper the Adams 10 Jungle Juice. Heenan was crowned the 2011 (Open) and 2012 (Women's) Laser 4.7 Masters Champion and more recently raced the 2015 (second in Division) and 2017 Sydney Hobarts, crewing with family members on Olympian David Forbes' Merlin.
Although yet to enter, Elyse Guevara-Rattray and Kat Wotherspoon (NSW), are primed for round two after sailing the Melges 32, EnvyUs, to AMS Division 1 victory in 2017. In early May, Guevara won the Adams 10 component of the inaugural Middle Harbour Yacht Club Women's Regatta, in which Heenan placed fourth. Several entrants from last year are already entered and others are expected too.
Jenny Simondson and her crew will travel nearly 4,000 kilometres from Darwin to compete with the S80 Mood Indigo, while another S80 crew, headed by Sandy Anderson, will make the 3000km trek from Perth to sail Imaginer. Anderson is the only woman ever to win the prestigious Prince Philip Cup (the Australian championship for International Dragon class), which she did in 2006 with Solveig.
More recently, she finished second in 2017 to Gordon Ingate, a multiple Price Philip Cup, national and state Dragon title holder and former America's Cup skipper. Among other feats, in January Anderson finished second at the Dragon Nationals in Victoria in the lead-up to the next Prince Philip Cup – and she is a dab hand at match racing too, so will be a force to be reckoned with.
"We are on track to see more than 10 S80's at our event," says AWKR sailing co-ordinator. Allicia Rae. "The S80 Association is a great supporter, and with so many entered, if six or more sail in their one-design configuration, they will be eligible for their own class trophy."
Two races per day are planned over the three days of the regatta and those planning on entering IRC and AMS classes must hold valid rating certificates.
In advance of the AWKR, a series of lectures, sponsored by AMS Yacht Racing, has again been organised by the host club. Crews have already profited from Blake Anderson's (Doyle Sails) Downwind Trim class last week. Last Wednesday, Darren Eger held a session on the Basic Rules of Racing, today Carol Fox's 'Confident Communication for Peak Performance was held and finally, Gavin Dagley's 'Strategy: The No Brainer Race' will be held on May 30.
For the benefit of interstate competitors, these lectures continue to be live streamed on the AWKR Facebook page at: www.facebook.com/AustralianWomensKeelboatRegatta
Raffles are run during the lecture series, briefing night (8 June) and regatta. Proceeds go to Sailors with Disabilities (SWD). This highly successful Australia-wide group is a not-for-profit organisation that encourages people with a disability or those in difficult circumstances, to see things in a new way. SWD disabled sailors shattered the Around Australia race record in July 2003, which they still hold today. They are also regulars in the Sydney Hobart, winning PHS class in the fatal 1998 race.
Entries for the AWKR, founded by a past RMYS Commodore and past Regatta entrant Gai Clough, close at 1700 hours on Friday 1 June 2018. However, late entries may be accepted at the discretion of the event's Sailing Coordinator.
Enter online where Notice of Race and Sailing Instructions can also be found: www.awkr.com.au
Follow the regatta on our social media channels
Facebook: www.facebook.com/AustralianWomensKeelboatRegatta
Instagram: www.instagram.com/awkr.rmys
Twitter: @awkr1 https://twitter.com/awkr1
By Di Pearson/AWKR media