May 27 - June 2, 2018: Issue 361
Newport Teenager a Finalist in Young Archie Competition 2018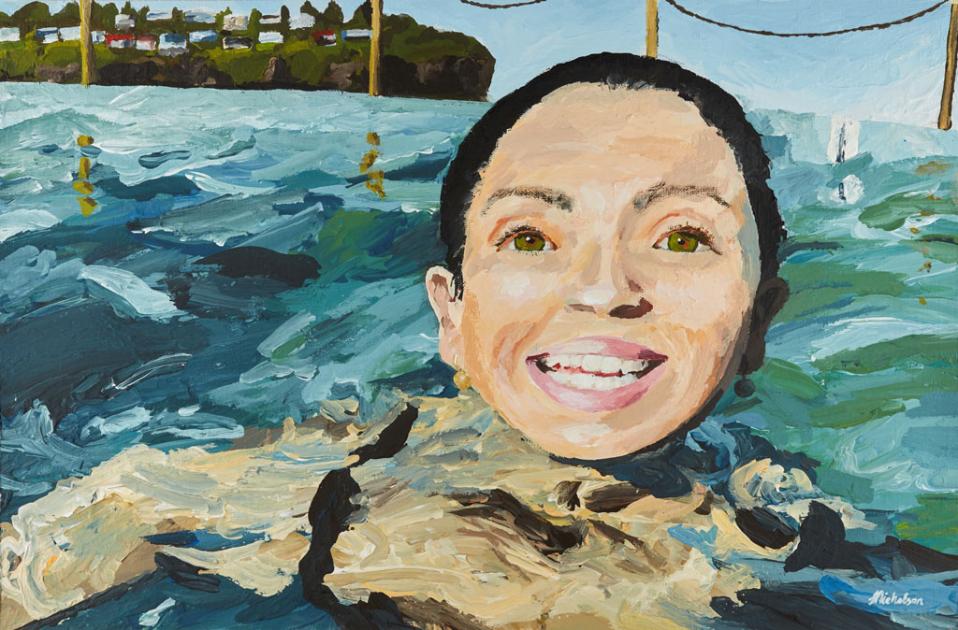 'Happy Days' by Lily Nicholson
Finalists for the Young Archie competition were announced on May 3rd and among them is 16 year old Newport artist Lily Nicholson in the 16-18 year olds for her 'Happy Days'.

Lily's Artist's Statement
My mum beams when she's happy. I love the way her green eyes sparkle and her cheeks glow. Her goofy laugh and childish sense of humour make people smile. I admire my mum because she's so selfless. She tries hard every day to help other people, often putting them before herself. I'm most happy when I see my mum happy, because she so deserves it. At the beach on a hot summer's day is where my mum is completely in her element, where you can see her joie de vivre. I wanted to showcase that in my piece.
The Young Archie exhibition at the Art Gallery of NSW runs from 12 May to 9 September 2018, possibly followed by a tour.
One winner will be chosen in each category. The Winners will be announced on the 28th of July 2018
The Five finalists from each category are exhibited at the Gallery. On the Gallery website you can view all Finalists with those who have received Honourable Mentions. Visit: www.artgallery.nsw.gov.au/prizes/young-archie/2018
Artworks that received an honourable mention are displayed at the SH Ervin Gallery in the Rocks alongside the Salon des Refusés.
Held earlier in the year than previously, the sixth Young Archie competition attracted more than 1400 entries: 34% in the 5-8 year category, 38% in 9-12 year, 20% in 13-15 year and 8% in 16-18 year. Of the total, 72% were from girls.

Prizes
Each of the four winners will receive: a cash prize of $100 from ANZ, an art hamper from S&S valued at at least $150, a family pass to a paid exhibition at the Gallery (valued at at least $40), and an Archibald 18 catalogue (valued at $16) – total prize value is $306.
Each of the remaining 16 finalists will receive: an art pack from S&S valued at at least $25 and an Archibald 18 catalogue (valued at $16) – total prize value $41.
Judging
The theme is a portrait of a person who is special to the entrant, who is known to the entrant and who plays a significant role in their life.
Entries to the 2018 competition will be judged by artist Abdul Abdullah as guest judge and Victoria Collings, Art Gallery of NSW community engagement manager, according to the following criteria: the relevance of the submitted artwork to the theme, as decided by the judges; artistic interpretation of the theme, as decided by the judges; originality of the submission.
Good luck Lily – it's a wonderful artwork which certainly captures your mum's joie de vivre!