April 15 - 28, 2018: Issue 356
Bilgola SLSC Salutes Bruce Robertson's 76 Years Of Service:
Lifesaving Legend And Australia's Oldest Active Member Hangs Up His Patrol Cap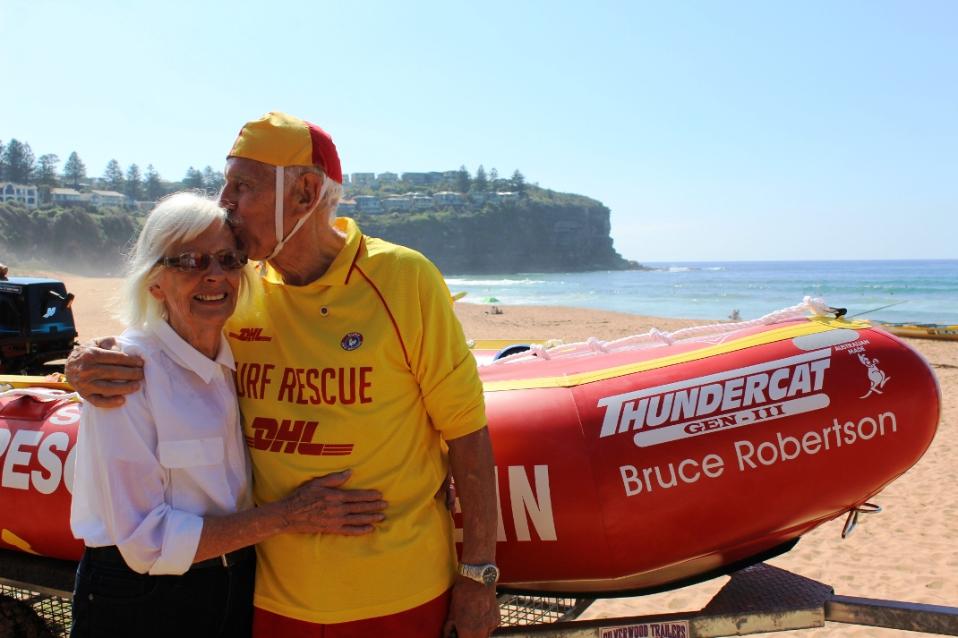 Gladys and Bruce Robertson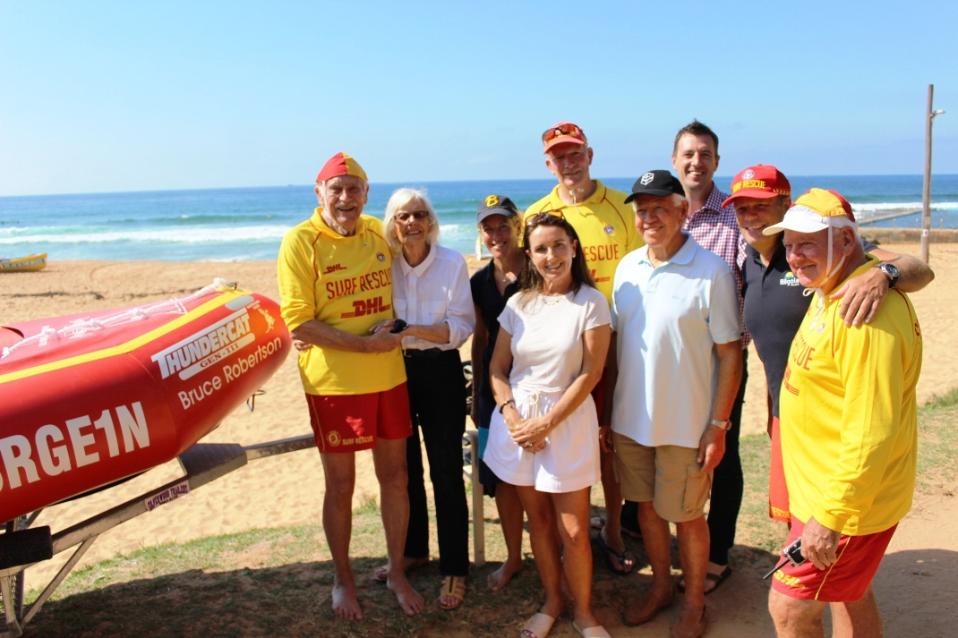 Beachgoers at Bilgola on Sydney's Northern Beaches on Sunday (April 8th) were fortunate enough to be part of history as Australia's oldest active lifesaver bade farewell to his patrol for the final time.
Bruce Robertson OAM was just 12 years old when he pulled on the famous red and yellow cap for the first time at Mona Vale, and 76 years later he takes it off after a lifetime devoted to the service of not only his local community but of Sydney as a whole.
The Sydney beaches that Robertson began patrolling in the pre-war years were very different to today.
For a start, in 1942, there was a genuine fear that Australia would be invaded.
To protect against the enemy, barbed wire and concrete bollards were a constant site on beaches across Sydney, and he spent a fair amount of time dealing with injuries from that than any incident that happened in the surf.
''The beach was full of barbed wire fencing and concrete bollards because of threat of a Japanese invasion,'' he said.
''Our patrol time was taken up with repairing people who had been hurt by the barbed wire.''
Due to a shortage of men in the area, a young Robertson was pressed into service much earlier than otherwise would have been the case and was a willing participant in the scheme to achieve their bronze before they were legally allowed to do so. A
t 14, he did the Bronze Medallion with mate Rod Taylor.
The pair had to fudge their ages on the paperwork as they were too young to officially get their medallion.
While he was living in Roseville as a kid, he met up with Rod Taylor at a newsagency in the city and the pair decided to join a surf club.
Rod Taylor lived in Lidcombe. The pair decided to join Mona Vale SLSC and they started patrolling in 1942.
''There was petrol rationing in those days because of World War II which meant you couldn't travel by car,'' Bruce recalled.
''We'd leave the city about midday on a Saturday and catch a bus over there (Mona Vale). We'd stay overnight. There were about 14 of us and we'd sleep on a big wrestling mat.''
That friend would go onto a brilliant career on the silver screen becoming familiar to audiences around the world as the actor Rod Taylor.
''He always wanted to better himself coming from Lidcombe and he certainly did when he made it in Hollywood,'' Bruce said.
When Bruce started rowing surf boats at Mona Vale as a second stroke, he had Syd Fischer as a sweep.
Bruce says he found Bilgola Beach by chance.
''Being off the road I never knew it was there,'' he said.
Once he discovered it, he said to himself: ''This is heaven.''
It is also where he met his wife Gladys on the beach and so he now had two loves.
''From then on I was a Bilgola man the rest of my life,'' he said.
"I love Bilgola!" he said during his speech on Sunday.
Bruce rowed surf boats for a couple more seasons but became more interested in paddling a surf ski. ''I won a club championship here,'' he said proudly.
''But being on patrol was just something different. You could come here and it (the surf) was always different. Calm one day and monstrous the next. It was always a challenge,'' he said.
When asked the secret to keeping so fit, Bruce replied: ''I have exercised every day of my life and have always been watchful of my diet.''
Later in life, Bruce would become the chairman of Taronga Zoo.
He was also the co-chair of the Botanic Gardens and was instrumental in creating the coastal walkways that line our coast. "Giving back" was an ethos he followed all his life.
He was the managing director of Royal Doulton and a senior executive at Hardie Grant Books – where he one year saw the most number of books ever published in a single year in Australia.
When not patrolling the beach, Bruce was a president of and also played rugby for Gordon as a Grade until he was 80 years old, something he commenced when much younger playing at Duntroon.
Another highlight was performing in front of Queen Elizabeth II at Bondi Beach during her visit in 1954.
Bruce was Bilgola standard bearer in the march past at the famous Bondi carnival of 1954.
Years later as chair of Taronga Zoo he would get much closer to the monarch when he sat directly behind her on a bus as they drove around Western Plains Zoo in Dubbo.
On his final day as a patrolling lifesaver, Bilgola SLSC members came together to recognise him in a special way by launching an inflatable rescue boat (IRB) named in his honour.
"Bruce has been patrolling at Bilgola SLSC since 1950 to present day. He always attends patrol when rostered and even in the last year when he had his driver's licence repealed, he used to catch the bus from the City to Bilgola to patrol, and lately, his sons have been bringing him to patrol." Dennis O'Toole, Bruce's Patrol Captain and Life Member said on Sunday.

SLSA President, Graham Ford AM presented Bruce with a medallion in recognition of his service to International Lifesaving as well as his 70 year SLSA service pin.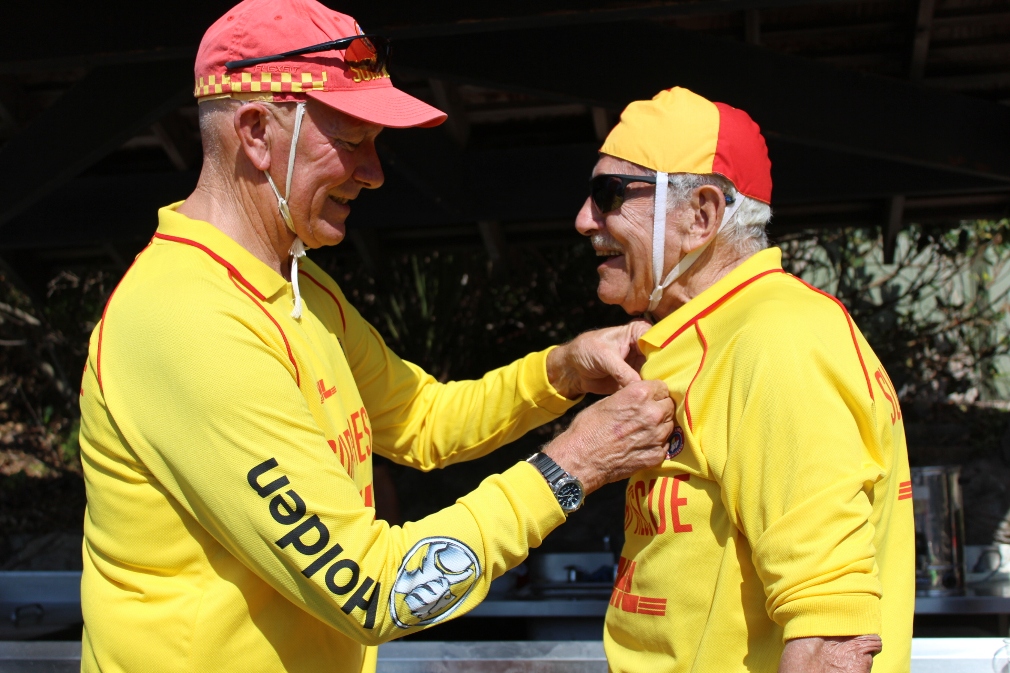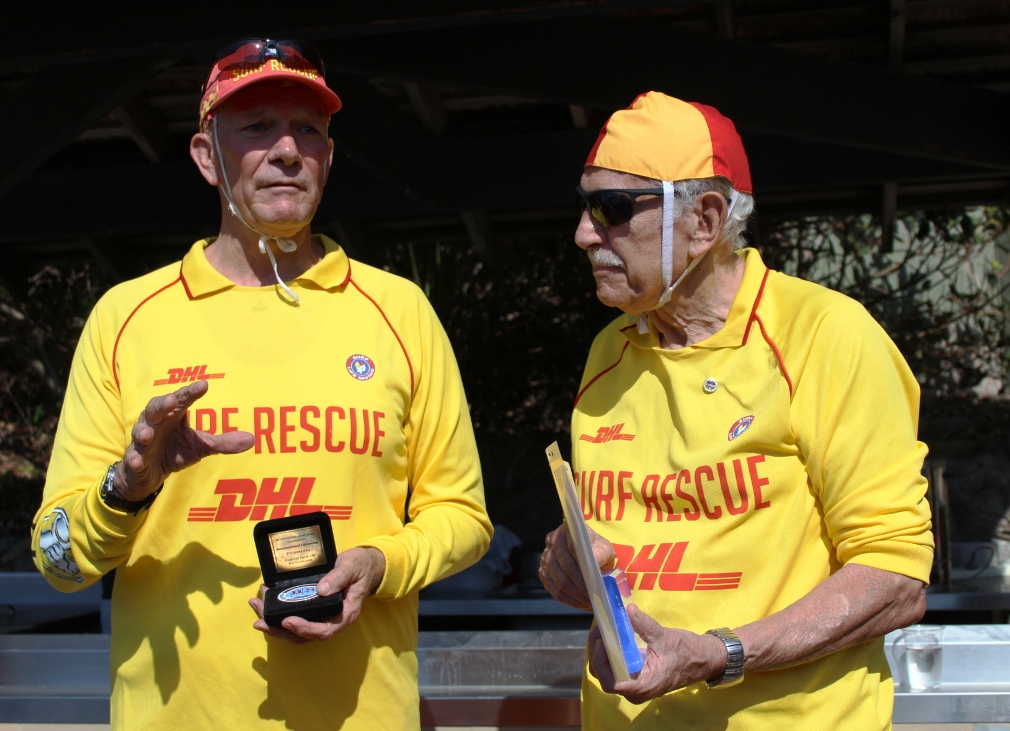 'I'm here today to present Bruce with his 70 year Certificate and Pin, which isn't enough as he has served for longer than that, but I'll look into that. I do know someone in Surf Life Saving though and I think we'll look into getting that changed now so we can have a Certificate and Pin for 75 years and above Service." Mr. Ford said
"What an extraordinary contribution to the Surf Life Saving movement and in particular to this club you have made Bruce, this is an amazing achievement.
"As volunteers, we don't get paid for what we do – we do it because we love it. We make a living by what we get, but we make a life by what we give, and what you have given to this community, to this club and to Surf Life Saving deserves recognition.
"One of the other roles I have is President of the International Lifesaving Federation of which Surf Life Saving Australia is a member. We have 130 countries within which we have 133 million members.
"To put that into context, in Surf Life Saving Australia we have 169 thousand members and lifesavers; Germany has 1.1 million, Italy has 860 thousand.
"What we do here in Australia is take a leadership role in preventing drowning; some of these strategies have recently become a part of the World Health Organisations'; we are leading the way and drive to prevent drowning globally.
"What Bruce does out here on Patrol does make a difference because in doing this we are preventing drownings and when we have to we go out and rescue people.
"We have rescued 10 and a half thousand people in the last 12 months on the Australian coasts which I think is an amazing achievement for Surf Life Saving.
"So Bruce, this is my President's Medal for International Lifesaving which we have inscribed on the back with these words;
'Bruce Robertson, for 75 years of dedicated community service for Surf Life saving Australia'.
Bruce then spoke a few words of thanks:
"I do this because I love it. When you love something you give everything you possibly can to it, and that's what has happened to me.
If there's been any sacrifice then it has been my family who have made this and in our instance they have been really supportive of me coming down here all this time, my sons even driving me down here and staying for the duration of my patrol in recent times.
Bilgola is one of Nature's most beautiful spots. I have been fortunate during my working life to have travelled the world, and when I have done this I took the opportunity to look at beaches elsewhere and have never struck anything better than Bilgola.
I love you Bilgola; I will say that here and now in testimony; this place is in me all the time and that will never change.
It's been a pleasure to be here all this time. I thank Dennis for all his tolerance during the years – he has always been a great Patrol Captain and I must express my sincere thanks to him for giving me all the support I've needed.
The same goes across the board in this club – here you don't do something because it has to be done, you do it because you love doing it.
As has been mentioned, when I first got involved in Surf Life Saving I commenced at Mona Vale during WWII. I had always loved this beach but a club hadn't started yet and I had to wait, hoping something would happen.
When we first began there were only seven houses along here and in four of those houses were some wonderful people who said "we'll make our own club."
And they did and this has gone on to be something that works so well.
A function like this makes me realise how much I have received back. Years ago I won a State medal in rowing but what I have received here today must top that.
Thank you all very much."
President of Bilgola SLSC Romilly Madew, also presented Bruce with the 2016/17 Presidents Awards for service to the club.
"We really couldn't do what we do here at Bilgola SLSC without our older members and Life Members, they really are the backbone of the club." Romilly said at the presentations.

"Celebrating Bruce's nearly 76 years in surf lifesaving was a wonderful way to reflect on the impact he has had both at our club, Bilgola SLSC but also the wider SLS community. His experience and knowledge has been shared with generations of lifesavers. He also has a wonderful style and calming nature which is so important on patrols and during challenging rescues,"
"Seeing his smile when we launched the IRB named after him, then watching him out in the IRB and coming into shore was a joy. He was so thrilled and overwhelmed."
Surf Life Saving NSW, Surf Life Saving Australia, all at Bilgola SLSC and all who visit that beautiful beach congratulates Mr Bruce Robertson OAM and thank him for his years of dedicated service.
Bruce will run as Pittwater Online News' Profile of the week on Sunday April 29th, the close of the Patrol season marked by his last Patrol season at Bilgola - although he will still be visiti
ng Bilgola - just try and stop him!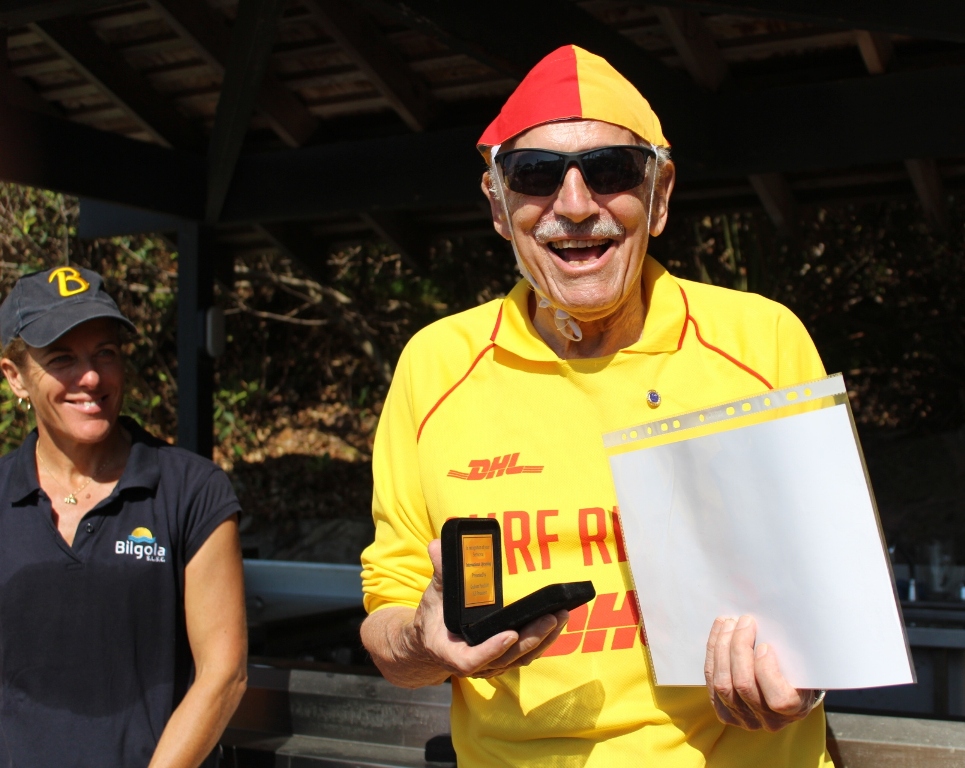 President of Bilgola SLSC Romilly Madew and a delighted Bruce

Robertson

OAM