April 15 - 28, 2018: Issue 356
Creative Creatures Film Festival 2018 Wows Big Audience With Big Ideas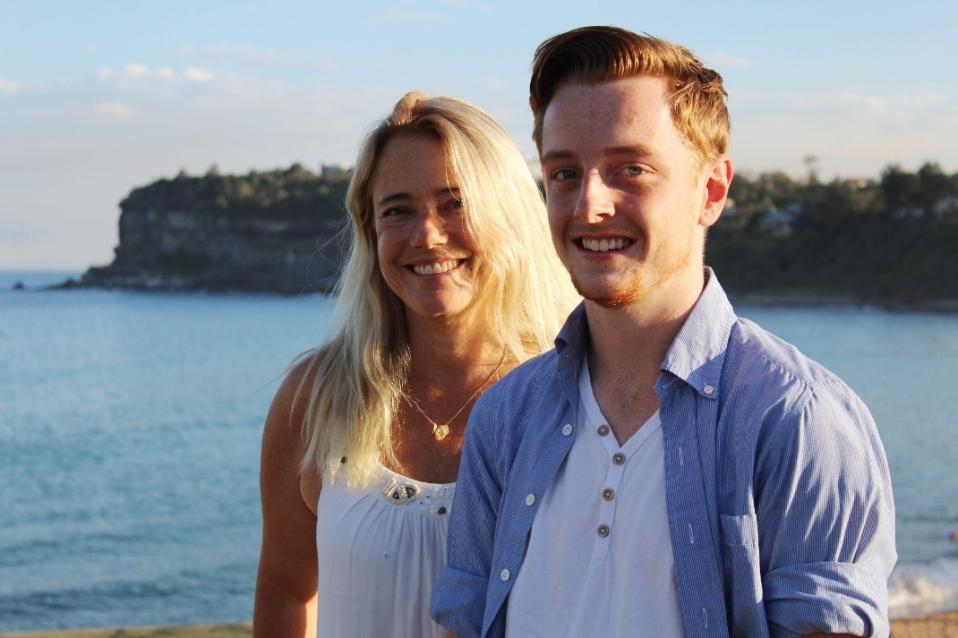 Katy Youn and Jackson Baker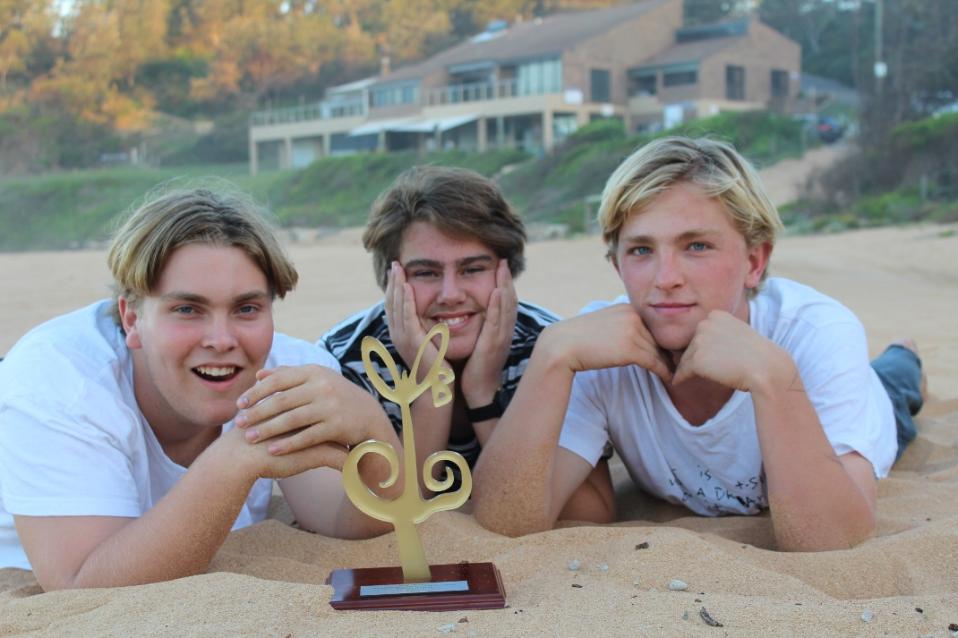 L to r:
Niam Melville,
Rowan Mitchell and
Euan Harris.
Euan Harris, Rowan Mitchell and Niam Melville took out the Gold 1st Prize WillBe award for the under 16's films at the 2018 Creative Creatures Film Festival for their The Parable of Kurt and Vince.
Rowan, a grandson of thespian Warren Mitchell (a.k.a Alf Garnett in Till Death Us Do Part) and son of northern beaches actor Daniel Mitchell (The Ensemble Theatre, The Merchant of Venice (1980), Water Rats (1996)), says he loved doing the project;
"Acting may be in the blood or dna…" the 15 year old said, "with my grandfather and my father, who works in the industry still, I've grown up around it and love it."
The creative drive in this trio may stem from kindergarten, where they first met, and persists despite the boys now attending two different local schools, Pittwater High and St Augustine's College.
It's not their first venture into film either.
Katy Young is the lady who created the
Creative Creatures Film Festival, which this year had to feature or refer to Red Shoes.
Why are people enjoying the Creative Creatures film Festival so much each year?
Katy: " I think because it's an urban combination between Tropfest and the Oscars where they don't have to travel and don't have to get too dressed up. People can attend and takes their shoes off, relax, and enjoy the festival – the music, the great food, and ultimately, the great films. It's good fun and set close to home."
You have raised money for Lifeline this year, with 10% of ticket sales going to this local organisation – why Lifeline?
"I wanted to align with a local charity and Avalon has had some local issues in the last year so I thought they were a good choice to give something back. Th
e CCFF has raised $1300.00 for Lifeline.
I also did a limited edition calendar this year and 10% of that also went to Lifeline. This featured the great work of local artist Julie Nicholson, and we'd like to do this again for the 2019 Festival as well.
Next years CCFF will include a competition for Best Original Music and Movie Poster?
Yes, it will. The theme for next year is 'BIG' – so an image or reference to 'BIG' – this could be an image or something that happens in the film, such as a BIG mistake, or a BIG thinker, BIG bum, BIG shoe, anything!
This was the 5th Creative Creatures Film Festival – why do you think its popularity continues to grow?
"Well, apart from being close, it's encouraging creativity in what is a creative community. There are children whose parents work in a creative industry and have access to people who can help them, and they want to have a go.
There's also a whole package here; it's outdoors, at the back of the Bowlo where everyone relaxes, and it's just a lovely thing to do.
People love film, and they love their kids, so it's a natural next step."
The Creative Creatures Film Festival has had some outstanding industry judges over the years, and the 2018 version was no different with Stephan Elliott and Rebel Penfold-Russell OAM
(Director of Swinging Safari and Director/Producer team of Adventures of Priscilla Queen of the Desert), Actor
Christian Byers,
who recently starred as Stevie Right in the TV series Friday on My Mind,
Lucy Durack, a
Singer, Actor, Dancer in the current stage production of The Wizard of Oz, as well as
Allison Meadows,
Casting Director, Mullinars Casting and
Logie Award winning local Actor
Peter Phelps.
For Rebel Penfold-Russell - The Parable of Kurt and Vince was her 'personal favourite' and had all the 'elements that make a great film' and 'so much heart'.

The Director was Euan Harris, who a few months back picked up another prize in the 2017 Augshorts Film Festival Junior Art Film Winner Year 9 – for Aged Truth
"The title for my film is called "aged truth" and it's about the duality of old and new. I used images from my camera normally without any major adjustments to represent the "new" footage and I used footage from the same camera with major adjustments and overlays to create a vintage Super 8 feel which represents the "old" footage."
Augshorts aims to showcase the work of St Augustine's students to as wide an audience as possible. The school encourages filmmakers to get out there and start making short films for the festival. Augshorts is about great stories, told well. Films can focus on a theme of their choice but had to include the 2017 Augshorts Signature Item(AST) of Truth.

Pittwater Online caught up with Euan this week:
Where did the idea come from?
"I just made it up. It was an idea that resonated with me. I bounced it off Niam and we three worked it out from that.
This isn't your first film, is it?
"No; I've made around 7 or 8 other films now.
Do you think you will go on and make more films?
"Yes, I love it. It's definitely what I want to do. I'm always on the computer looking at other movies and Directors and learning all I can.
Did you Edit this one?
"Yes, I Edited it as well. That took around a month all up – that's a long process perfecting what we had."
There are actually two Mitchell sons appearing in
The Parable of Kurt and Vince,
Lewis and Rowan,
although Lewis only appears briefly. Lewis, along with
Max Bibby, Max and Daniel Mitchell (dad) made such a great film they took out the Bronze WillBe for
Flying High
. So, lots of Mitchells involved in this year's CCFF!
We had a quick chat with Rowan;
Where did the idea for the film come from?
"It was Euan's idea. He usually thinks up the ideas for our films. He basically cast it off me and Niam as we look a little alike; one big solidly built one and one smaller solidly built one.'
How long did it take to do?
"Around four solid days of filming."
Did you enjoy doing this?
"Yeah, we had so much fun doing it, it was a great time, especially because it was just us three. We're going to see the new Wes Anderson film, which inspired a lot of this film in some ways.
We're such great mates, we've known each other since kindergarten, so it was great to hang out and do this together. They now go to St. Augustine's and I'm at Pittwater, so it gave us an opportunity to do something together again."
Are you going to make more?
"Yeah, heaps more I hope. I've already started writing a script for a new one."
Have you worked in any of the other projects you boys have put together?
"Yes, we did
Memestal Asylum
, which is a film about Memes, which some of oldies may not understand but the young ones will. We entered that in the 24/7 Film Festival.
We thought it was a really fun film and enjoyed making it; you have to make it in 24 hours so we were up all night making it; great fun.
We also made a film called
Seth
a couple of years back which got 3rd in the Creative Creatures Film Festival. That was a pretty easy film, probably not the best storyline, but it was shot really nicely - the cinematography was really good."
Have you always liked film and photography ?
"Yes, I've always loved it. I've always loved acting really. I think I get that from my grandfather and its comes from my father as well.
Who are you grandfather and dad?
My grandfather is Warren Mitchell, probably best remembered her as Alf Garnett, and my dad is Danny Mitchell, he's often in shows at the Ensemble Theatre and has worked in film too. So I've kind of grown up at the Ensemble Theatre and have always wanted to be an actor. It may sound silly to be following in my dad's footsteps, and I may not end up being an actor, but I love it. I think it's in the blood, certainly in my blood.
I've always enjoyed just making films; for school projects for instance. I think it was in year 4 that Euan and I made our first film together, and it's just carried on since then.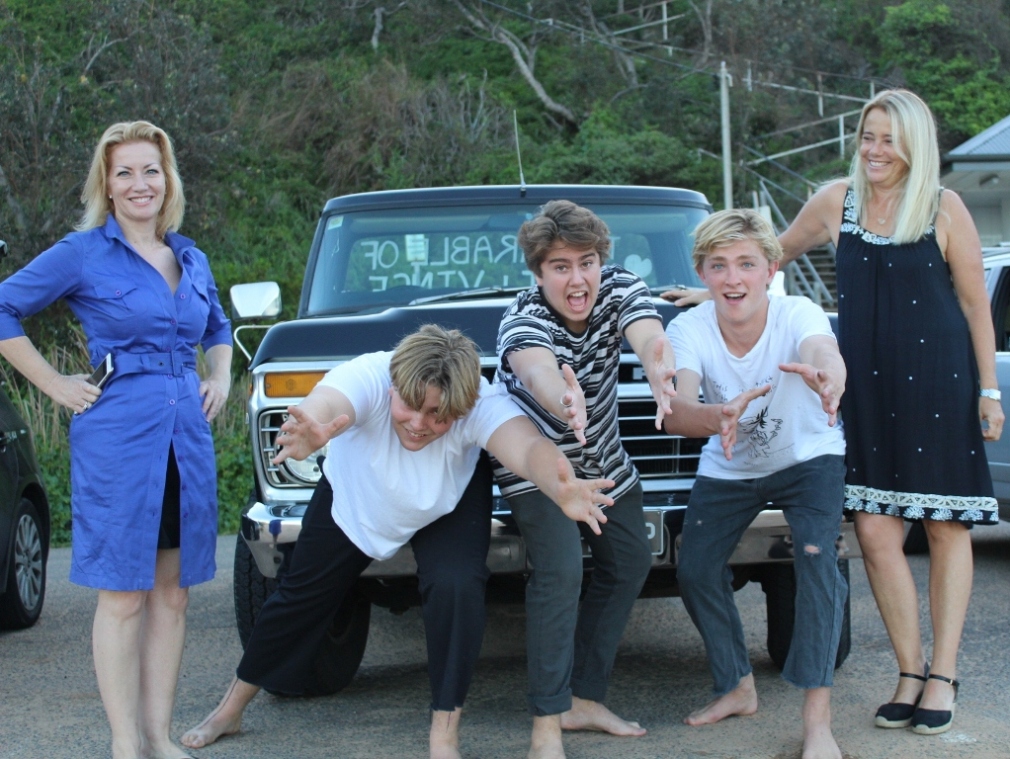 Tah-Dah!
The U16's winner:
THE PARABLE OF KURT AND VINCE
The other big winner this year was Jackson Baker for Revive. Currently doing Education at UNSW, Jackson applied a little of the 'Lifelong Learning' credo in his work which owes a little inspiration to the 2005 film Sin City, as he learned to use the Premier Pro program as part of his work.

Part of his winnings goes as a 'fee' to actor Ryan MacDonald who plays 'James' in the stylish three minute odyssey, while Sophie Downs plays the only other character.
Jackson also created the music, which bodes well for him if he enters next year as the Creative Creatures Film festival #6, which must include a reference or image referring to 'BIG', will also have prizes for the Best Original Music Score and Best Movie Poster.
A few words with Jackson:
Where did the idea for Revive come from?
"I'm not sure really. As soon as I heard about the red shoes element that had be included I immediately wanted a mustang in there. Luckily my girlfriend worked with someone who happened to have one who helped us out.
I then thought about 'how can I make this stand out?' and thought about the saturation – Sin City kind of effect, which is colour with the black and white in the background. I Learnt how to use Premier Pro so I could do this and got to work.
What's the best thing about getting involved in an urban Film festival such as the Creative Creatures one?
"I think the best part is being able to get involved in the film culture at a local level. This one has such a rich culture, something you normally don't find unless it's in a higher grade film festival or something that is too big.
All the films were so entertaining, which is the prime thing you must aim for, and I think this proves that you don't need a huge budget or set or staff to make something that's really inspiring.
Has this inspired you to make more then?
Definitely. I have plans to enter again next year.
Is this your first film?
I entered in the first ever year of the Creative Creatures Film Festival, which was just a skateboarding video with my friends. I have entered since then so this is my first super-serious attempt.
So, you have grown up, in some ways, with the Creative Creatures Film Festival?
Yes, definitely.
Will this inspire you to take further steps into a film-making career?
"I hadn't really thought about that. I'm currently doing Education at UNSW so that remains my life plan at present, so we'll see where that goes.
The 16+ 2018 Winner:
Katy Young is still confirming dates for the 2019 Creative Creatures Film Festival but spoke about adjusting things so those whose children like to come along can get home a bit earlier next year as this began as and and remains a family friendly event.
In the meantime for all those creators out there time has come to think BIG!
Peoples Choice Awards 2018
From 100 voters in a crowd of 1,500
UNDER 16
Gold – Avalon Black Mirror
Silver – Uber Driver
Bronze – Saturate
OVER 16
Gold – The Applicant
Silver – Revive
Bronze – Fomo/Bangalley/Carmine
Gold, Silver and Bronze winners highlighted below
Winners – 16+ years
GOLD WILLBE WINNERS
"Revive" 2018
Winners – Under 16 years
"The Parable Of Kurt and Vince"
For those wondering where the 'WillBe' springs from: make sure you book a place to come and see the real thing in 2019!
Creative Creatures Film Festival opening titles 2015 - "Avalon Then"
Report and photos by A J Guesdon, 2018.