May 27 - June 2, 2018: Issue 361
National Reconciliation Week 2018 + NAIDOC Week 2018: Local Events, Commemorations And Celebrations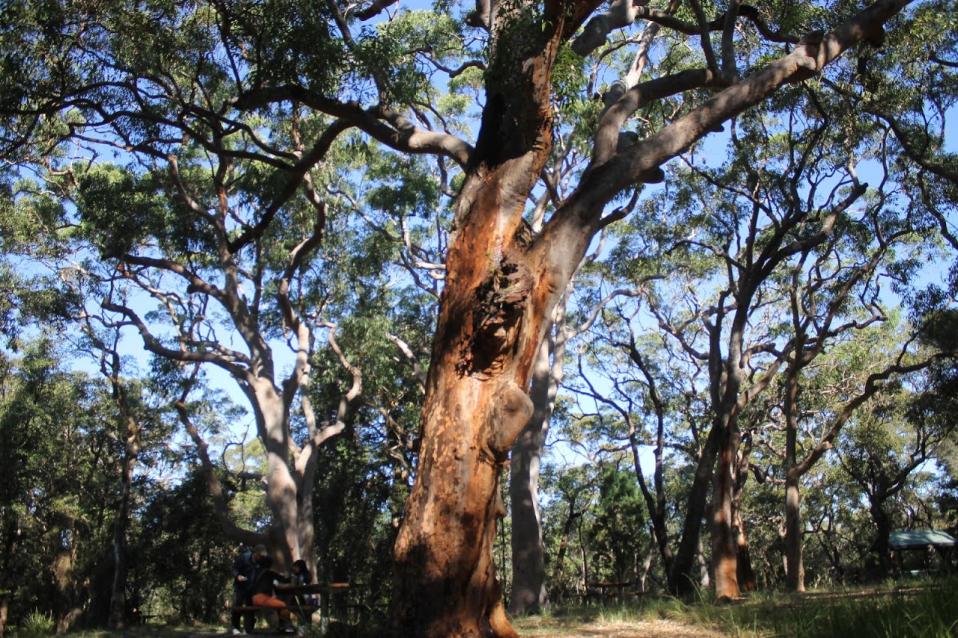 National Reconciliation Week

27th May – 3rd June
Don't Keep History a Mystery

This year during National Reconciliation Week, Reconciliation Australia invites all Australians to learn more about Aboriginal and Torres Strait Islander cultures and histories, to share that knowledge and help us grow as a nation.
"Don't Keep History A Mystery: Learn. Share. Grow" explores history hidden just beneath the surface, ready and waiting to be uncovered. This National Reconciliation Week learn more about the Australian story.
These dates commemorate two significant milestones in the reconciliation journey— the successful 1967 referendum, and the High Court Mabo decision respectively.
The anniversary of the 1967 Referendum (27 May) marks the start of NRW each year. The 1967 referendum altered the Australian Constitution in a momentous way, with more than 90 per cent of Australian voters choosing 'Yes' to count.

National Reconciliation Week (NRW) is a time for all Australians to learn about our shared histories, cultures, and achievements, and to explore how each of us can contribute to achieving reconciliation in Australia as we move forward, creating a nation strengthened by respectful relationships.
Reconciliation must live in the hearts, minds and actions of all Australians as we move forward, creating a nation strengthened by respectful relationships between the wider Australian community, and Aboriginal and Torres Strait Islander peoples.

Aboriginal Support Group
Manly Warringah Pittwater
Activities 2018
Commemorate National Sorry Day
Sunday May 27th, 2018
A time for all Australians to reflect on the profound grief and trauma experienced by Aboriginal and Torres Strait Islander people, particularly members of the Stolen Generation. It is also an opportunity to celebrate their strength and resilience, and to reaffirm our shared commitment to healing and reconciliation.
Come and join us: Starting 2.00pm – 6.00pm
Free BBQ and afternoon tea
Welcome to Country and Smoking Ceremony.




Then one-minute silence in memory of the Stolen Generation.




Sing along or just listen to local Aboriginal sisters singing.




Scott Romain and Matt James playing Didgeridoo. Deadly.




Local Aboriginal Dancers - they will teach the kids some dancing.



A reading from Aunty Nancy's book of poems "Nobody's Child".


A talk about the Stolen Generation experience.




Get weaving with Karleen Green.




Display of Aboriginal artefacts, some that have never been seen before.




Boomerang painting, colouring in for the small kids.




Then the kids show us what they have made at the end of the day.




A small gift from ASG-MWP for all the children.



Mona Vale Memorial Hall.
1606 Pittwater Rd, Mona Vale
FREE EVENT
Singing up Country: Rockafellas

Sunday May 27th, 2018
Start time: 4.30pm – 7.00pm
St Anthony in the Fields Church
46 Myoora Rd, Terrey Hills
A night of Entertainment with Aboriginal Dancers, music by Michael Birk, The Black Turtles and Uncle Johnny Nicol.
Sausage Sizzle and soups. $30 p/p - concession $20
Booking Essential: www.trybooking.com/evenr?eid=357890. find out more, Email annelayon@gmail.com
Aboriginal Foods with Jess Sinnott

Thursday 31st May
Free event: 7:15pm – 9:00pm
Hosted by Permaculture Northern beaches
Nelson Heather Community Centre
5 Jacksons Road, North Narrabeen
Jess Sinnott will talk about traditional bush plants and their uses as food and medicine. She will also bring along a few delicious dishes for us to sample that use traditional ingredients!
Jess is an owner and educator from the indigenous company Koori Kinnections which runs catering and educational programs for people of all ages: from bush food cooking classes to school incursions, guided bush walks, resource talks, weaving workshops and more.
Jess Sinnott is a Yuin and Wailwan woman who has gained a wealth of knowledge about Aboriginal culture, history, and heritage from her family, community and co-workers.
Entry is by donation, all welcome! More details: p.n.b@hotmail.com
Bushwalk in the Narrabeen Lagoon Catchment

Saturday 2nd June
Free Event: 12am - 2pm
Meet at 27 Morgan Rd, Oxford Falls.
A great exploration especially for children. See impressive rock carvings of astronomy and totems at Moon Rock, a culturally significant NSW Heritage Aboriginal Place in high bushland with ocean views. Then walk a small loop track back.
Allow 2 hrs. BYO lunch, water & hat.
Bookings or more details: Conny Harris 0432 643 295
Walk the Basin Track
with Uncle Laurie Bimson
Monday 25th June
Start Time: 10am – 1pm
Fee $20 Max 30
West Head Rd, Ku-Ring-Gai Chase National Park
At the site you will be told stories of times long gone by. There will be explanations as to how the rock carvings were used as school rooms for Aboriginal children. Bring your camera as the view from West Head is amazing!
Booking Essential: www.GuringaiTours.com.au
Aboriginal Support Group

Manly Warringah Pittwater
Together we can make a difference!
When you join us - just $25 per year
You will help with:
• Aboriginal Education
• The protection of Indigenous Culture and Heritage
• Information Nights with guest speakers, films and discussion
For more information please visit: www.asgmwp.net

A Thousand Journeys converge on Manly
After almost 20 years, a special exhibition of late 20th century paintings by some of Australia's most celebrated Aboriginal artists returns to the Manly Art Gallery & Museum.
The paintings are drawn from a collection by renowned Aboriginal art collector, Helen Read.
Many of the 60 paintings on canvas and bark were first exhibited in the late nineties around Australia. They are now back in Sydney, supplemented by works from an expanded range of artists.
Manly Art Gallery & Museum Senior Curator Katherine Roberts said most of the paintings were collected in the early nineties when the artists were little known and before Aboriginal art began to flourish in art galleries around the world.
"We are delighted to have this exceptional exhibition back at the Manly Art Gallery & Museum. The paintings from remote areas of Australia are not normally on display unless you visit a State gallery," she said.
Underpinned by the interlinked themes of travel and discovery, the exhibition provides a guide to the abundant, diverse and distinct forms of Aboriginal art from Australia's north and north-western regions.
Helen Read explains;
"The collection of paintings is a form of diary. I have chosen each work which I believe truly reflects the 'DNA' of the artist, as well as the place, time and events during that specific period in Aboriginal art history.
"While I regard each painting as belonging on the world stage, they also represent so evocatively the time I spent with each artist which was so precious and important to me."
The exhibition is part of the Gai-mariagal Festival, formerly the Guringai Festival, which is a celebration of indigenous heritage and culture in the Northern Sydney region.
The theme of the festival – celebrating the role and influence of women in indigenous culture - is reflected in the exhibition which includes a larger number of paintings from female artists than the original exhibition.
Initially trained in fine art, Helen Read began gaining an appreciation of Aboriginal art while working as a midwife and pilot for the Pintupi Homelands Health Service in the Gibson Desert.
Read established an art tour company, connecting remote art centres with collectors and dealers and introducing influential people to Aboriginal communities. Her aim was to contribute to a better collective understanding of Aboriginal Australia.
The tours gave rise to Read's personal collection, now a significant cultural chronicle of contemporary Aboriginal art.
When the exhibition first toured in 1998, the individual works offered an insight into ancient landscapes and spiritually-laden terrain not widely seen or understood by the wider population at the time.
In the 20 years since, Aboriginal art has taken pride of place in State and national galleries and there have been new awards and festivals established for Aboriginal and Torres Strait islanders.
"Within this context, the current showing of A Thousand Journeys gives pause for thought on the shifting status of Indigenous Australian art in the nation's recent past. It is now a vibrant expression of a dynamic and contemporary visual culture," Ms Roberts said.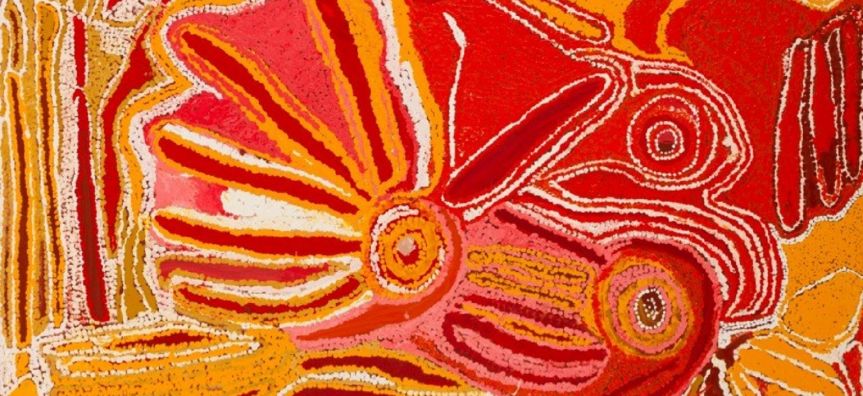 Eubena Nampitjin, 'untitled'.

For details, visit the gallery website or call Manly Art Gallery & Museum on 9976 1418.
Exhibition dates: Friday 25 May - Sunday 8 July 2018
Official opening: Friday 25 May, 6 - 8pm by Professor Dame Marie Bashir AD CVO, former Governor of New South Wales. There will be an Acknowledgement of Country by Susan Moylan-Coombs, co-chair of the Gai-mariagal Festival
Special talk: Sunday 27 May, 3 – 4pm. Join Helen Read for afternoon tea and a walk through the exhibition.
2018 National NAIDOC Theme: Because Of Her, We Can!
NAIDOC Week 2018 will celebrate the invaluable contributions that Aboriginal and Torres Strait Islander women have made – and continue to make - to our communities, our families, our rich history and to our nation.
Under the theme - Because of her, we can! - NAIDOC Week 2018 will be held nationally from Sunday 8 July and continue through to Sunday 15 July.
As pillars of our society, Aboriginal and Torres Strait Islander women have played – and continue to play - active and significant roles at the community, local, state and national levels.
As leaders, trailblazers, politicians, activists and social change advocates, Aboriginal and Torres Strait Islander women fought and continue to fight, for justice, equal rights, our rights to country, for law and justice, access to education, employment and to maintain and celebrate our culture, language, music and art.
They continue to influence as doctors, lawyers, teachers, electricians, chefs, nurses, architects, rangers, emergency and defence personnel, writers, volunteers, chief executive officers, actors, singer songwriters, journalists, entrepreneurs, media personalities, board members, accountants, academics, sporting icons and Olympians, the list goes on.
They are our mothers, our elders, our grandmothers, our aunties, our sisters and our daughters.
Sadly, Indigenous women's role in our cultural, social and political survival has often been invisible, unsung or diminished.
For at least 65,000 years, Aboriginal and Torres Strait Islander women have carried our dreaming stories, songlines, languages and knowledge that have kept our culture strong and enriched us as the oldest continuing culture on the planet.
Aboriginal and Torres Strait Islander women were there at first contact.
They were there at the Torres Strait Pearlers strike in 1936, the Day of Mourning in 1938, the 1939 Cummeragunja Walk-Off, at the 1946 Pilbara pastoral workers' strike, the 1965 Freedom Rides, the Wave Hill walk off in 1966, on the front line of the Aboriginal Tent Embassy in 1972 and at the drafting of the Uluru Statement.
They have marched, protested and spoken at demonstrations and national gatherings for the proper recognition of our rights and calling for national reform and justice.
Our women were heavily involved in the campaign for the 1967 Referendum and also put up their hands to represent their people at the establishment of national advocacy and representative bodies from the National Aboriginal Congress (NAC) to ATSIC to Land Councils and onto the National Congress for Australia's First Peoples.
They often did so while caring for our families, maintaining our homes and breaking down cultural and institutionalised barriers and gender stereotypes.
Our women did so because they demanded a better life, greater opportunities and - in many cases equal rights - for our children, our families and our people.
They were pioneering women like Barangaroo, Truganini, Gladys Elphick, Fannie Cochrane-Smith, Evelyn Scott, Pearl Gibbs, Oodgeroo Noonuccal, Celuia Mapo Salee, Thancoupie, Justine Saunders, Gladys Nicholls, Flo Kennedy, Essie Coffey, Isabel Coe, Emily Kame Kngwarreye, Eleanor Harding, Mum Shirl, Ellie Gaffney and Gladys Tybingoompa.
Today, they are trailblazers like Joyce Clague, Yalmay Yunupingu, Evonne Goolagong Cawley, Nova Peris, Carol Martin, Elizabeth Morgan, Barbara Shaw, Rose Richards, Vonda Malone, Margaret Valadian, Lowitja O'Donoghue, June Oscar, Pat O'Shane, Pat Anderson Jill Milroy, Banduk Marika, Linda Burney and Rosalie Kunoth-Monks – to name but a few.
Their achievements, their voice, their unwavering passion give us strength and have empowered past generations and paved the way for generations to come.
Because of her, we can!

Gai-mariagal Festival 2018
Acknowledgment
We acknowledge the Traditional Custodians of the land, the Gai-mariagal peoples on whose land we now stand. We pay our respects to the Elders past and present.
Sorry Business
We would like to acknowledge the passing and contributions of those members of the local community who are no longer with us to celebrate the Gai-mariagal Festival.
The Gai-mariagal Festival
The Gai-mariagal Festival (formerly the Guringai Festival) was founded in 2001 and aims to raise awareness of Aboriginal and Torres Strait Islander people living in the Northern Sydney region.
The festival usually starts on Sorry Day, 26 May and goes through the end of NAIDOC Week, the second week in July each year. The festival involves Councils and numerous reconciliation and community groups. Events include workshops, art exhibitions, performances, films, talks and more.
Australian designer Tim Moriarty created the cover image for the 2018 Gai-mariagal Festival.
It is inspired by the land the waterways of the Northern Beaches.
Welcome
Welcome to another year of celebrating First Australian culture and heritage in the Northern Sydney region.
2018 marks a major turning point in the Festival's 17 year history. The name change signifies recognition of the traditional custodians and a newfound understanding of the land we all live in. It's also a process of renewal and rebirth of the Festival.
Because of her, we can! is this year's festival theme aligning with the NAIDOC week theme.
As pillars of our society, First Nations women have played – and continue to play – active and significant roles at community, local, state and national levels.
As leaders, trailblazers, politicians, activists and social change advocates, women fought and continue to fight for justice, equal rights, our rights to country, for law and justice, access to education, employment and to maintain and celebrate our culture, language, music and art.
Once again we have a long list of activities that commemorate, celebrate and create spaces and places for those important conversations to be had. We invite you to come along. Attend a concert, film screening, art exhibition, bush walk, or any of the other great events on offer, all of which have been created for you and yours to enjoy.
Susan Moylan-Coombs, Caroline Glass-Pattison and Sue Pinckham
Co-Chairs, Ga-mariagal Festival Committee

Tim Moriarty's Cover design

Wetland Wonderland Walk

Sun 24 June, 10am - 12pm
14 Jacksons Rd, Warriewood
Join this tour to discover how Aboriginal people used these places and experience this unique environment. The walk will reveal wetlands, waterfalls, amazing bird life and bush food. Guided by Karen from the Aboriginal Heritage Office, you may see evidence of Aboriginal life and could be lucky enough to discover the remains of ancient camp sites. The walk will take over 2 hours. BYO lunch to have along the way. Bookings essential.
Cost: Free
RSVP: Friday 22 June
Enquiries: Jillian Macintyre 9924 2913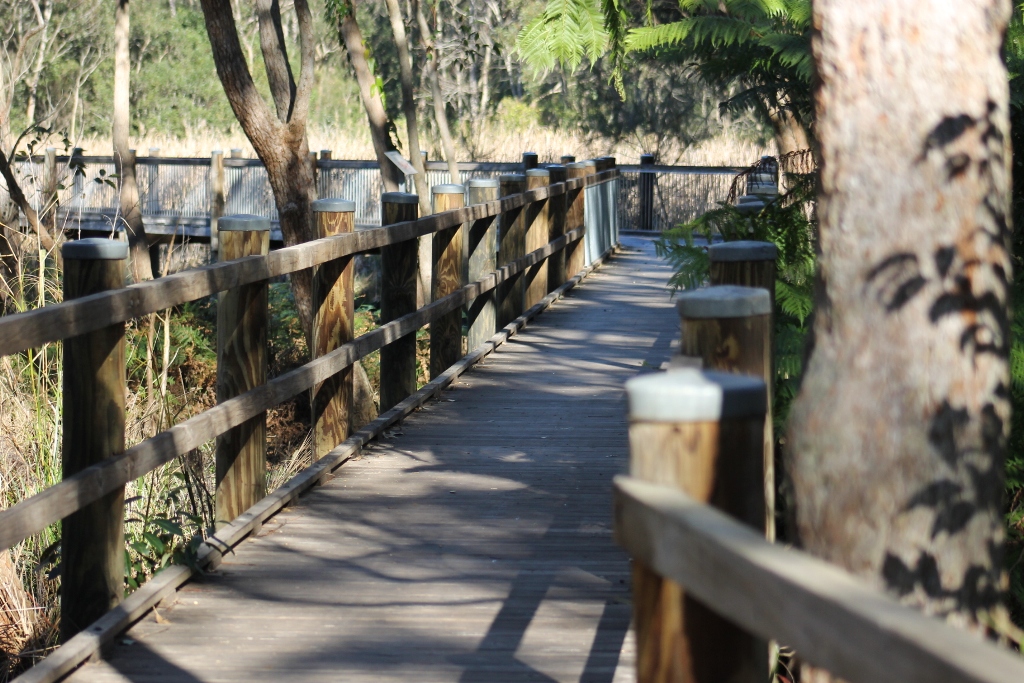 Peninsula Community of Schools Art Show

Opens Thursday 21 June, Warriewood Square
Artworks created by the students from Kindergarten to Year 12 students attending the 13 state primary and secondary schools on the Northern Beaches, from Cromer PS up to Avalon. The collection is based on the 2018 theme from NAIDOC Week celebrating Aboriginal culture on the Northern Beaches. The exhibition opening is on Thursday 21 June from 5 – 7.30pm. and runs until June 30th
Cost: Free
Enquiries: Michelle Flaskas 9918 8811, michelle.flaskas@det.nsw.edu.au
or Germaine Oris 9913 4444 - peninsulacommunityofschools.schools.nsw.edu.au
ASG–MWP Information Night
Monday July 9 7.30pm - 9pm
Guest Speaker Ian Jacobs talking about aboriginal rock carvings a local Aboriginal man. Mona Vale Memorial Hall, 1606 Pittwater Rd. Free event – All welcome
Elsewhere and close by
Bloodlines and Coastlines Exhibition

Fri 06 July, 9am - 5pm
InTransit Art Space
An exhibition of ceramics and works on paper created by Bradfield Senior College students and artist Jess Birk which celebrates ancestry, place and the legacy of Barangaroo; a courageous and powerful Cammeraygal woman. This project was made possible through a partnership between artist Jess Birk, Bradfield Senior College, the 2018 Gai-mariagal Festival and North Sydney Council. InTransit Art Space is open Mon – Fri, 9am – 5pm.
Cost: Free
Enquiries: 9936 8192, Email: artsandculture@northsydney.nsw.gov.au
Website: northsydney.nsw.gov.au
Because of her, we can! A Mosman High School Gai-mariagal Festival Exhibition

Mon 09 July,
Mosman Art Gallery
A series of silk-screen posters produced by Mosman High School students inspired by Russian Constructivism and Feminist posters. The students are a group of 15 specially selected young artists aged between 12 and 13. The students have the deepest respect for the traditional Indigenous people of the land both past and present, and enjoy the opportunity to celebrate NAIDOC Week at the Mosman Art Gallery.
Cost: Free
Enquiries: Jane Gillespie 9978 4186. Email: j.gillespie@mosman.nsw.gov.au
Website: mosmanartgallery.org.au
Animals of the Dreaming: Taronga Zoomobile visit

Sat 14 July, 10 - 11am
Lane Cove Plaza
To celebrate NAIDOC Week, the Taronga Zoomobile will be visiting Lane Cove Plaza. Hear stories and songs about Mother Nature and her animals as told by highly respected Aboriginal Elder Col Hardy. Plus meet a number of amazing native animals, each with their own very special character! Proudly presented by Lane Cove Council.
Cost: Free
Enquiries: 9911 3596, email: cultural@lanecove.nsw.gov.au
Website: lanecove.nsw.gov.au/festivals
For the Full program please visit: gai-mariagal-festival.com.au/all-events