April 29 - May 5, 2018: Issue 357
NSW Junior Lifesavers Of The Year Named: 2018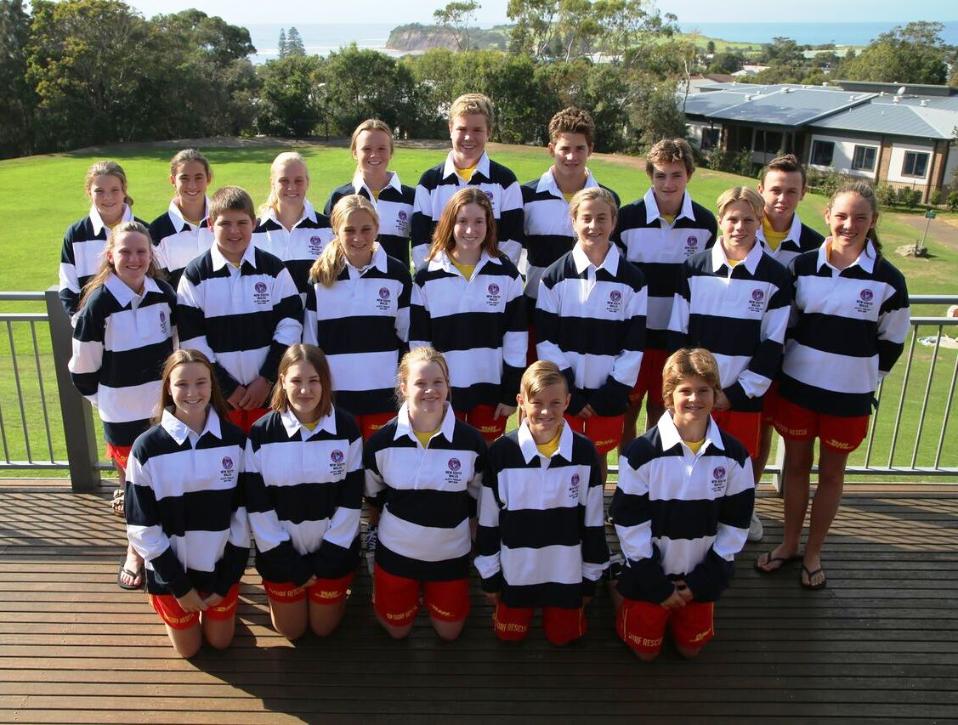 2018 Junior Lifesaver of the Year Finalists - photo courtesy SLS NSW
NSW Junior Lifesavers Of The Year Named
Friday 20 April 2018 - by Surf Life Saving NSW
It's been a memorable week for two young lifesavers who have capped off their Nipper careers in impressive style by winning the Junior Lifesaver of the Year award (JLOTY) which was announced in Sydney on Thursday.
Sophie Burns (Elouera SLSC) and Oscar Crowe (MacMasters Beach SLSC) were awarded the prestigious prize after impressing the judging panel during this week's development program at the Collaroy Learning Centre on Sydney's Northern Beaches.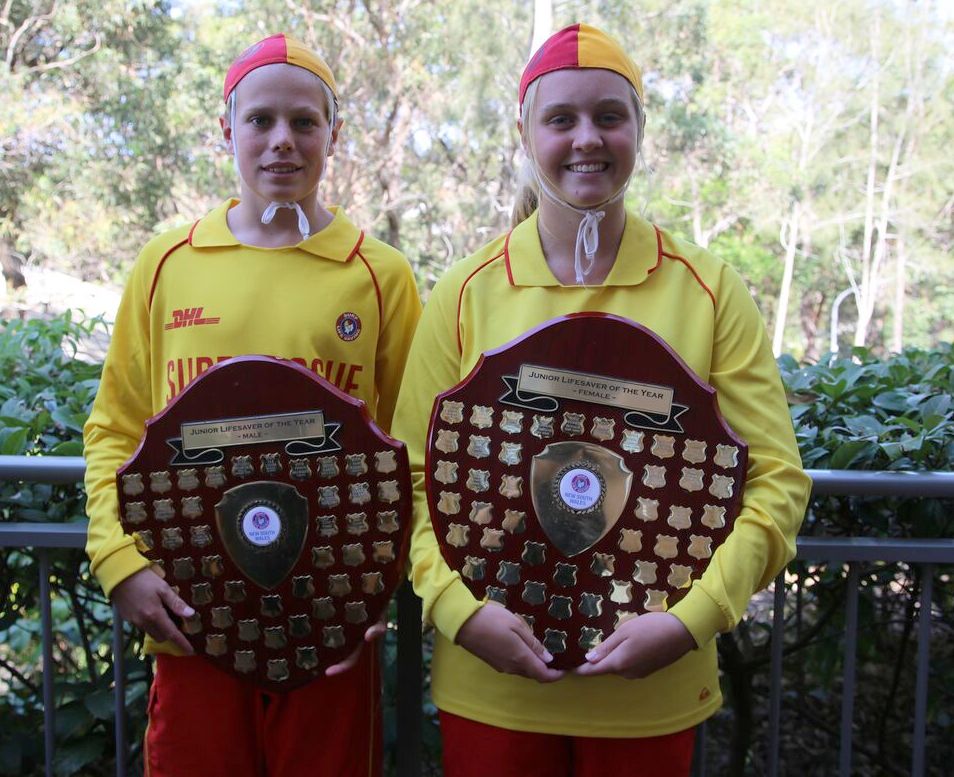 Oscar Crowe (MacMasters Beach SLSC) and Sophie Burns (Elouera SLSC)

The duo were among the twenty-two finalists from the eleven branches in NSW invited to take part in the annual leadership and development program which brings together outstanding young surf lifesavers in their final year of nippers.
"I feel really proud to have this honour because it means I am representing as a youth leader all junior lifesavers in NSW and all the Nippers as well," Sophie Burns said shortly after her win.
The Elouera teenager who has been involved in surf lifesaving since she was 6-years-old has come a long way since those early beach days where her parents had to drag her to nippers kicking and screaming.
"I'm so glad I stuck with it as it's been so worthwhile. My goal now is to give youth a voice. I would like to make them known and to speak out and have their opinions heard," she said.
Oscar Crowe has been involved in the movement since he was in the Under 6 Age Group, and believes lifesaving has had a positive impact on his life.
"It's given me a way to help the community and I have met so many friends through it including at this week's development program," he said.
The Central Coast teenager has already set his sight on his next dream within surf lifesaving.
"I currently hold my SRC and I want to obtain my Bronze Medallion. Eventually I would like to move on and get my Silver Medallion as an IRB and jet ski driver. When I am old enough I'd like to get my gold medallion as well and eventually become a patrol captain."
Both Sophie and Oscar will be honoured in front of the wider movement as part of the annual Surf Life Saving NSW Awards of Excellence ceremony to be held in August.

It wasn't just the program participants who benefited from this development opportunity.
Each year young facilitators from surf clubs are encouraged to apply and exercise their leadership skills by acting as mentors to participants.
Jade Heber (Ocean Beach) was one of those selected in 2018 and she found one particular session a real highlight.
"For me the highlight of the program was the One Wave wellness component as mental health has an important part in surf life saving .
"What is really important is that it's no longer as stigmatised as it was in the past and I think that the kids really took it on board. They really engaged with the topic and it made them think about how to look after themselves not only on the beach but in their personal lives as well so it was a really great session," she said.
The annual Junior Lifesaver of the Year program (JLOTY) and Youth Opportunity Makers Workshop (YOM) ran concurrently with over 50 teenagers aged 13-17 from the 11 branches participating in the 4-day program.

Throughout the week they had an opportunity to develop their skills and knowledge and also had the opportunity to see firsthand the diverse paths that lifesaving can take you.
The emphasis of both the JLOTY and YOM programs is very much on developing leaders of the future with many of the tasks designed to help unlock this latent potential.
The YOM program is the premiere development and networking program of its type for young lifesavers aged 15-17.
2018 Junior Lifesaver of the Year Finalists

Jack Breen (Lennox Head-Alstonville SLSC)




Paris Brailsford (Yamba SLSC)




Tobias Fluechter (Woolgoolga SLS)




Grace McCormack (Coffs Harbour SLSC)




Lecke Frost (Port Macquarie SLSC)




Sophie Oakeshott (Port Macquarie SLSC)




Matthew Pieschel (Crowdy Head SLSC)




Abby Mulligan (Cape Hawke SLSC)




Flynn Wallace-Smith (Caves Beach SLSC)




Lanah Van Dyke (Redhead SLSC)




Oscar Crowe (MacMasters Beach SLSC)




Jade Crook (Shelly Beach SLSC)




Douglas Carroll (South Curl Curl SLSC)




Caoimhe Daly (Freshwater SLSC)




Riley Porteous (Wanda SLSC)




Sophie Burns (Elouera SLSC)




Sean Ritter (Scarborough-Wombarra SLSC)




Ava Rushton (Helensburgh-Stanwell Park SLSC)




Jayden Wells (Shellharbour SLSC)




Torah Boyton (Shellharbour SLSC)




Callum Elliot (Broulee Surfers SLSC)




Ava Weymans (Moruya SLSC)



Program Facilitators
Dilan Houston




Jade Heber




Shannon Fox




Morgan Clarke




Patrick Mullan




Maddison McLeod



2018 Youth Opportunity Makers Participants

Cerys Cousins (MacMasters Beach SLSC)

Mackenzie Squires (Ocean Beach SLSC)

Jasmine Rybie (Ocean Beach SLSC)

Lachlan Smith (North Entrance SLSC)

Penelope Lovett (Salt SLSC)

Matilda Shirley (Byron Bay SLSC)

Lily Murphy (Lennox Head-Alstonville SLSC)

Liam Worling (Ballina Lighthouse & Lismore SLSC)

Hayden Beaver (Batemans Bay SLSC)

Matthew Goddard (Broulee Surfers SLSC)

Annabelle Smith (Broulee Surfers SLSC)

Makayla Gay (Caves Beach SLSC)

Meghan Fox (Thirroul SLSC)

Kaitlin Hearne (Wollongong City SLSC)

Xanthia Hughes (Crowdy Head SLSC)

Brandon Wallace (Crowdy Head SLSC)

Grace Kuhnell (Wauchope-Bonny Hills SLSC)

Tara Slattery (Tacking Point SLSC)

Holly Foster (Sawtell SLSC)

Joel Ruttiman (Woolgoolga SLSC)

Ethan Striegher (Woolgoolga SLSC)

Kai Richards (Shellharbour SLSC)

Ethan Rowles (Shellharbour SLSC)

Holly De Young (Wanda SLSC)

Elijah Messina (Maroubra SLSC)

Abby Vaughan (Bondi Surf Bathers SLSC)

Henry McGilchrist (Avalon SLSC)

Lucille Moore (Bilgola SLSC)

Grace Seaglove (Mona Vale SLSC)

Elliott Prasad (Narrabeen SLSC)
Program Facilitators
Jake McDonald

Zoe Heiniger

Jordan Smith

Michael Bonnici

Lucy Ellis

Nathan de Rooy
JLOTY vist SLSNSW Headquarters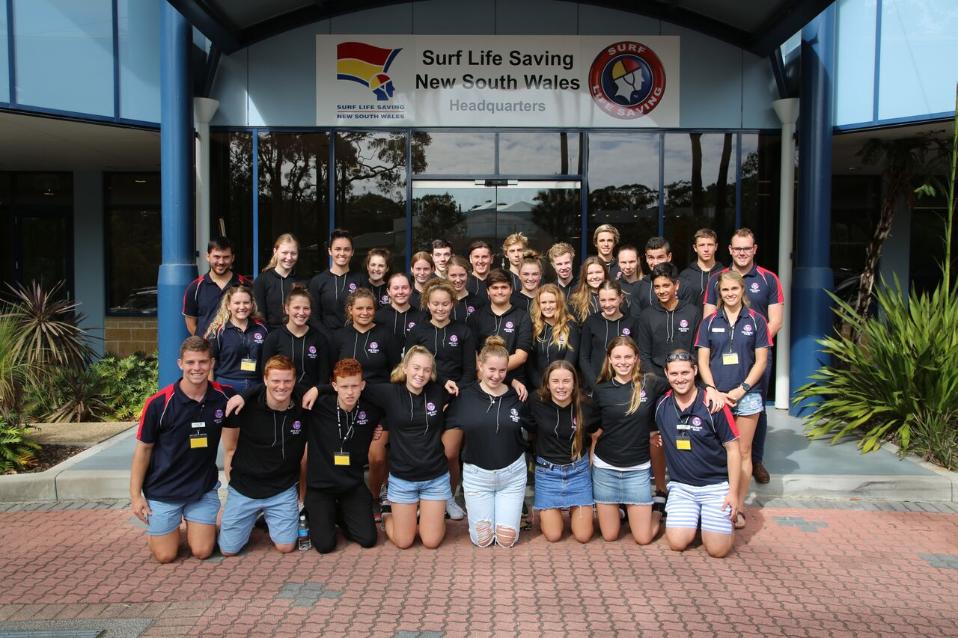 YOM visit SLSNSW Headquarters - photo courtesy SLS NSW