April 29 - May 5, 2018: Issue 357
Ingleside RFS: Last Two Weeks Of April 2018 - The
Heathcote-Holsworthy fire, Hazard Reductions and
Breathing Apparatus Operator Skills Training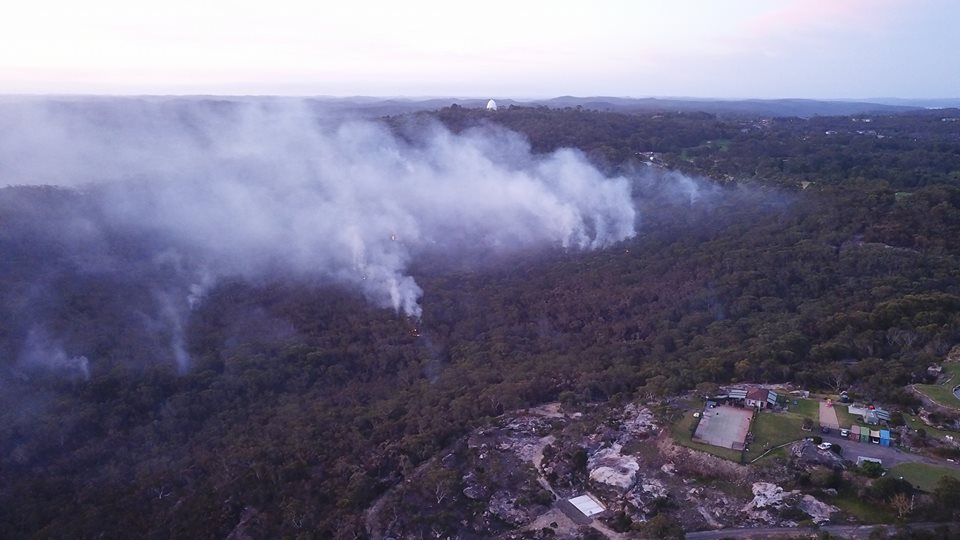 The Hazard Reduction burn in Ingleside NSWRFS area - aerial photos taken just after 5pm Monday, April 23rd, 2018. This is monitored by the NPWS and local RFS Brigades.
Ingleside RFS: Last Two Weeks of April 2018
While many of us were heading off or relaxing at home at the commencement of the Autumn School Holidays on April 14th our local NSW RFS Volunteers were heading south to fight the Heathcote-Holsworthy fire on the other side of Sydney.
Images taken by Ingleside RFS volunteer Joshua Grainger at the Heathcote fire on Saturday night have been shared on Facebook 2800 times while a video showing what it's like to be amongst a bushfire has been watched over 100 thousand times on the social media platform and published nationwide by a variety of newspapers and television channels.
The Ingleside Captain since March 2016 is Brad Kelly who took over from Sean McLoughlin. Sean is a Deputy Group Captain. The DGC role is a district level role outside of Ingleside Brigade, although Sean is still a member of Ingleside.
Strike Team Leader, Ingleside member and DGC Sean McLoughlin said he remembers the fire being "fierce, hot, fast and smoky".
Captain McLoughlin was leading five Bushfire Tankers from the Northern Beaches RFS District to assist at Heathcote Road. The Strike Team from Warringah / Pittwater Headquarters Rural Fire Brigade included Belrose Rural Fire Brigade, Tumbledown Dick Rural Fire Brigade, Terrey Hills Rural Fire Brigade, Coal & Candle Rural Fire Brigade and two Ingleside crews and two Ingleside Strike Team Leaders.
"The fire was intense and with the huge wall of flame coming at us, we could not stop it and had to look after ourselves and our fire trucks from the flames and the heat," DGC McLoughlin said.
"The fire jumped over the road into the bush behind us, we tried to stop it, but it took off East towards Menai. With the flames so intense, our trucks had to drive out of the area to safety."
The intensity of the flames was worrying considering it is not peak bushfire season.
"In my 27 years as an RFS volunteer, (and taking into account) we are not even in the Bush Fire Danger period, it is very unusual to see fire activity this intense in April," he said.
"Even with years of training, a fire front approaching at that speed and intensity gives you nerves. You rely on your training to look after yourself, each other and your fire truck." Captain McLoughlin said to reporters after the event.
See what it's like trying to stop an angry bushfire!!! - Footage from the frontline on Saturday night at the Heathcote Holsworthy fire.
Some close calls by many RFS & Fire Rescue NSW firefighters as they attempted to stop it crossing Heathcote Rd and heading to the Menai area. Unfortunately the fire was too intense.
Footage is from our Ingleside NSWRFS volunteers. Most of the video is where the two Ingleside crews were and the two Ingleside Strike Team Leaders on Saturday night along Heathcote Rd.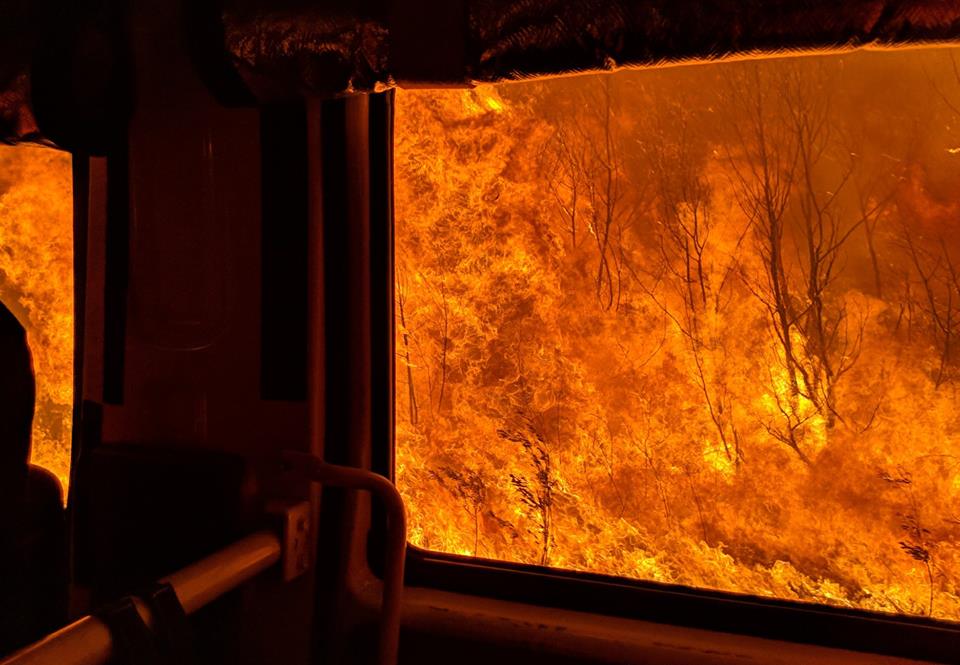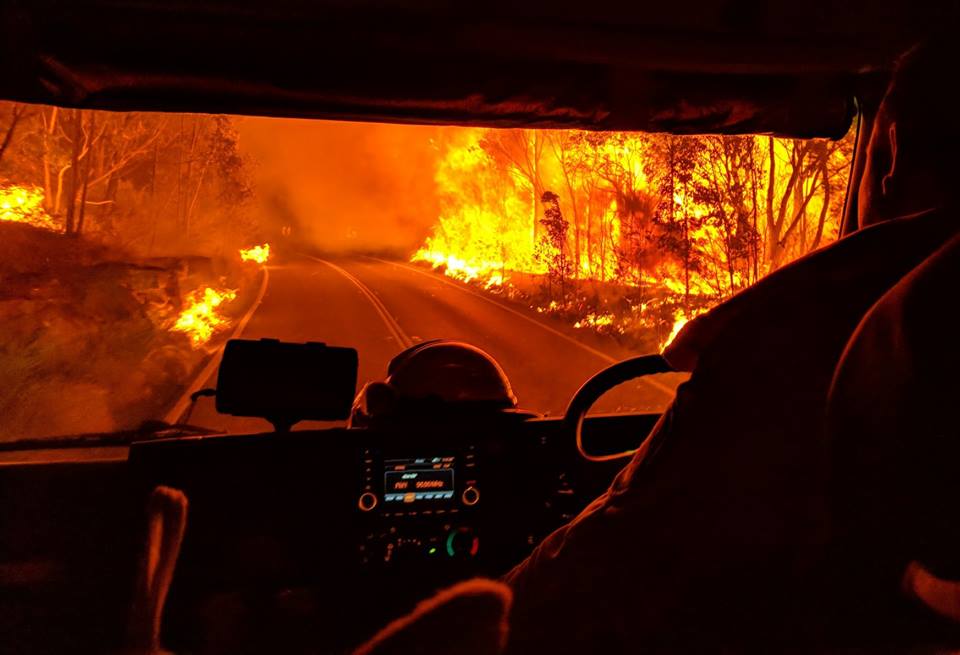 Two images by Ingleside RFS volunteer Joshua Grainger at the Heathcote fire on Saturday night, April 14th.
This is not the first time the Ingleside RFS Brigade have put their outstanding training and acumen to work. In 2015 members were recipients of the 2015 were among 21 NSW Rural Fire Service (NSW RFS) members and 17 units presented awards by Minister for Emergency Services David Elliott MP as part of St Florian's Day 2015 Awards for their response to the fuel tanker accident on Mona Vale road.

It should also be part of any record that the NSW RFS Northern Beaches Catering Brigade was part of the fight back too - 600 sandwiches were made by members, packed in eskies and driven 67 km to the Holsworthy fires to be delivered to the hungry firefighters.
The Heathcote fire was under control three days after it began, saving 888 homes. The blaze blackened nearly 4000ha near the Holsworthy range and Barden Ridge.
The following weekend the Ingleside NSWRFS Volunteers commenced hazard reduction burns on the Cowan Trail. The Hazard Reduction, scheduled for Sunday 15th of April was postponed due to over 10 fire trucks being out of the district at the Heathcote Bushfire and a number of volunteers still in the field.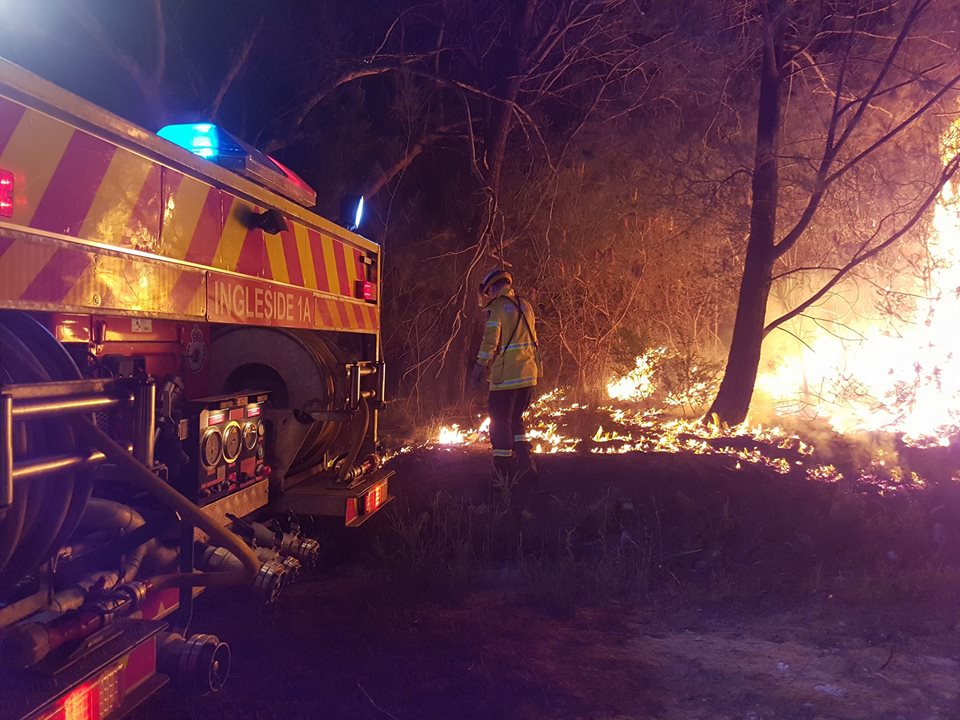 Pictures of Cowan hazard reduction by Ingleside RFS members, DC Laura & FF Ryan.
On Friday night Scotland Island Rural Fire Brigade had members working on the 360 hectare Cowan Trail hazard reduction burn until midnight. On Saturday night Scotland Island Rural Fire Brigade had fire boat crew at Bobbin Head monitoring the Cowan Trail through until Sunday night. On Saturday night Scotland Island Rural Fire Brigade also had an emergency response by fire Boat from Scotland Island to Apple Tree Bay. On Sunday Scotland Island Rural Fire Brigade had members working on the 104 hectare Caleyi Trail hazard reduction.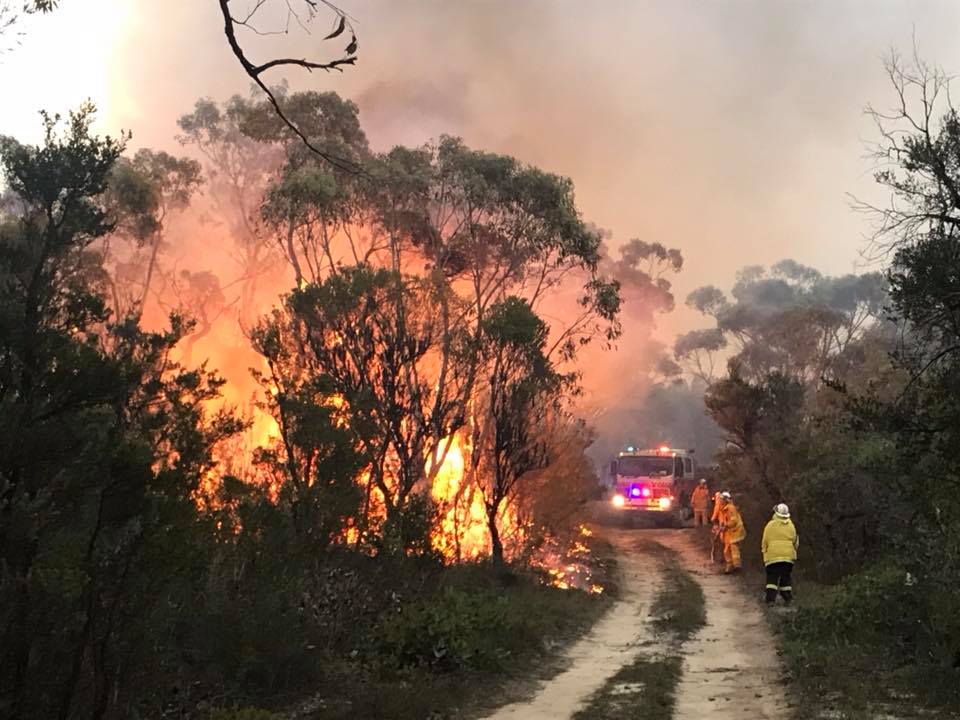 Cowan and Caleyi Track - photo by Scotland Island Rural Fire Brigade

On Sunday April 22nd the 104Ha Burn that had been scheduled, weather permitting, for the weekend before was commenced. The area West of Elanora Heights, South of Sydney Bahai Temple and Ingleside area formed the hazard reduction area. There were about 25+ RFS vehicles moving in the area with over 100 fire fighters on site. The crews were also out patrolling the Cowan Trail Burn from last night in the Duffys Forest area.
The RFS Volunteer Crews doing this work posted on their social media pages a request, per Lynleigh Grieg, for residents to keep and eye out for any local native animals that may be seen to be distressed by the hazard reduction burns and to call Sydney Wildlife should any be seen.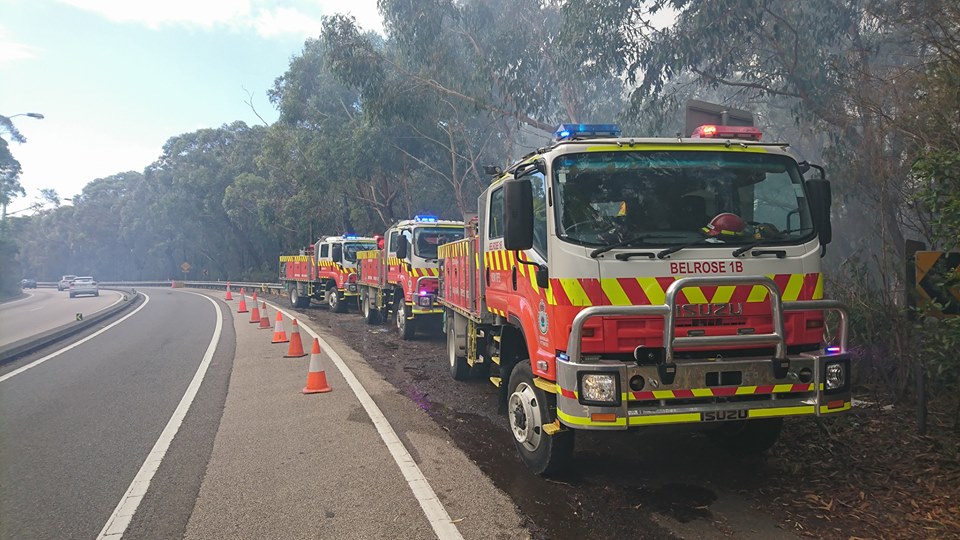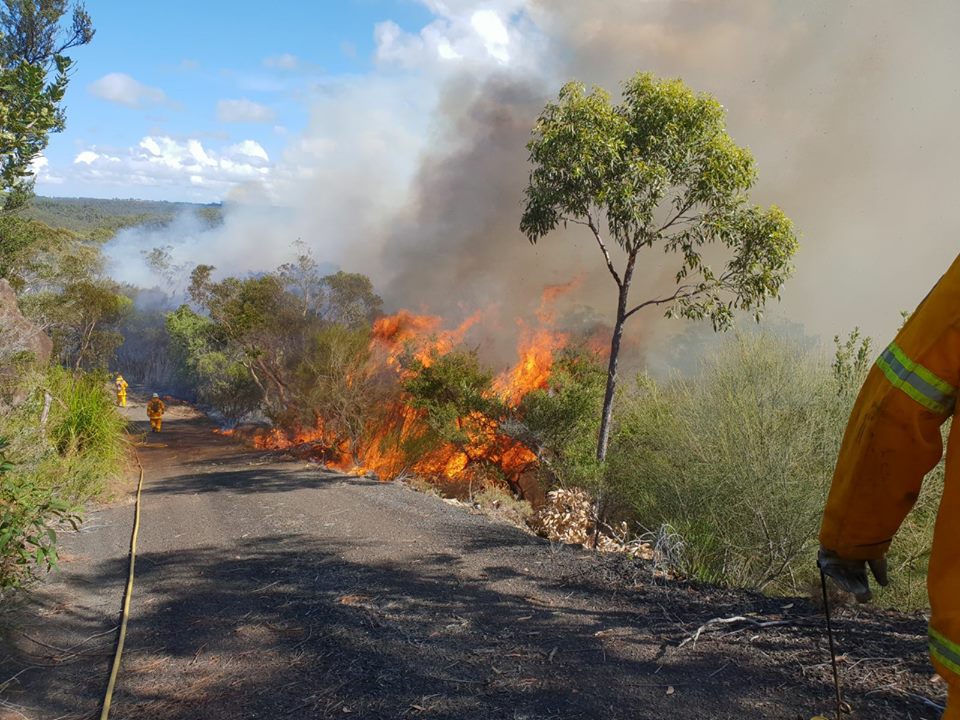 Some pictures of Sunday April 22nd Hazard reduction by Ingleside RFS members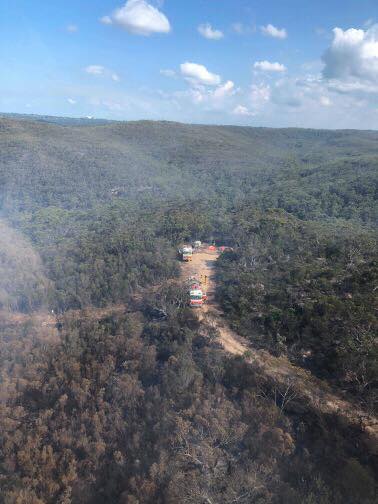 April 25th: Coal & Candle 1B with Terrey 1 (foreground) on the Caleyi track checking on fire activity after Sunday's hazard reduction. Photo taken from Firebird 291 during one of its runs.

The Hazard Reduction Notice also contains information for those who may suffer from asthma:
Hazard Reductions
Hazard reduction is just one way of preparing for bush fires – it doesn't remove the threat of fire, and it doesn't remove the need for you and your family to be prepared.
There are different types of hazard reduction including controlled burning, mechanical clearing like slashing undergrowth, or even reducing the ground fuel by hand.
You can see a list of planned hazard reduction burns below. This list may change at short notice depending on the weather at the time.
If there is a hazard reduction burn planned for your area, take the following steps:
Keep doors and windows closed to prevent smoke entering homes




Keep outdoor furniture under cover to prevent ember burns




Retract pool covers to prevent ember damage




Remove washing from clotheslines




Ensure pets have a protected area




Vehicles must slow down, keep windows up, turn headlights on




Sightseers must keep away from burns for their own safety



If you have asthma or a lung condition, reduce outdoor activities if smoke levels are high and if shortness of breath or coughing develops, take your reliever medicine or seek medical advice
For health information relating to smoke from bush fires and hazard reduction burning, visit the NSW Health website or the Asthma Foundation.
As a survivor of the 1967 South Hobart fires in Tasmania (just), and with asthma sufferers in the family, please appreciate that closing your windows during these efforts to keep you, your family and home safe are infinitely better than what else can and has occurred.
That Black Day still revisits in dreams – decades on. You never forget how black air can be or what the roar of a firestorm sounds like.
The February 7th, 1967 'Black Tuesday' fire killed 64 people, injured 900, made 7,500 homeless and saw tens of thousands of hectares of beautiful Tasmania burnt.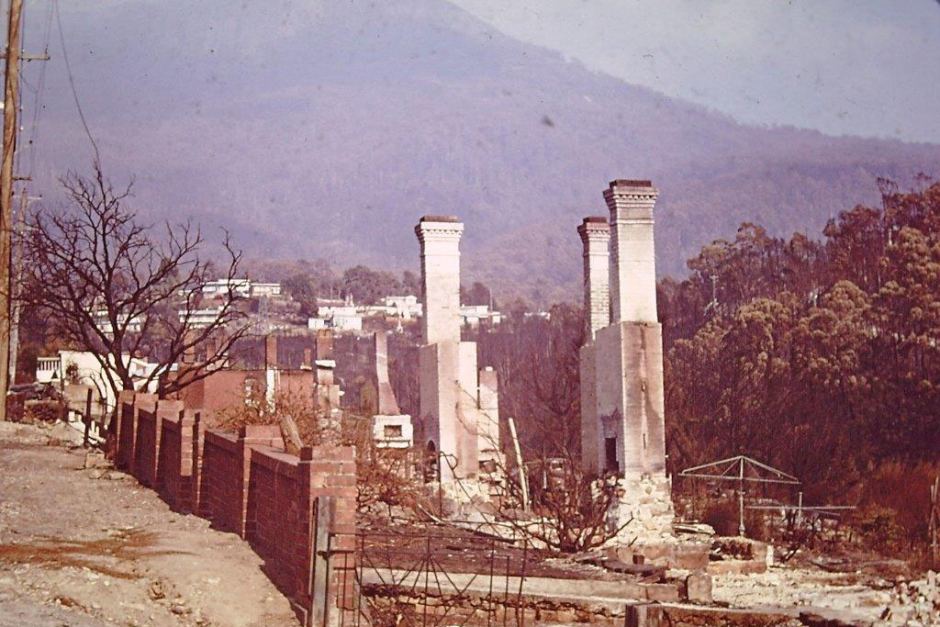 This row of chimneys is all that remained of these houses in South Hobart. Photo courtesy Harley Stanton
Last weekend's burn was successful reducing the vegetation levels for properties in the Elanora Heights and Ingleside area in case of future Bushfires.
On Thursday this week, April 26th, Ingleside Rural Fire Brigade members brushed up on their RFS Breathing Apparatus Operator skills at the Ingleside NSWRFS monthly training night.
"Our lungs aren't superhuman, so we need compressed air in cylinders to breath inside toxic environments such as structure fires. We can also use our Thermal Imaging Camera (TIC) to help see and navigate through smoky environments."
Bear in mind these outstanding individuals are Volunteers.
Ingleside Rural Fire Brigade members volunteer their time as part of the New South Wales (NSW) Rural Fire Service to assist in protection of the communities of the Northern Beaches Council area of Sydney.
They assist with Bush Fire Suppression and Prevention, Vehicle accidents and fires, Structural Fires and other operational incidents. They also provide Bushfire Safety, Education and Awareness to our community.
Ingleside RFS respond to a variety of situations and generally respond to about 100 operational incidents each year including: Bush/Grass Fires, Structure Fires, Vehicles Accidents, Vehicle Fires, Horse Rescues, Storm Damage, Automatic Fire Alarm Calls mostly within the Ingleside area. They also assist other brigades throughout the state with incidents from flooding to major bush fires. In 2017 the Brigade responded to 110 incident calls.
Ingleside also assists with other emergency services including: NSW Police Force, Ambulance Service NSW, Fire Rescue NSW and the NSW State Emergency Service.
Ingleside Rural Fire Brigade started their first Community Fire Unit (CFU) for residents in 2016 with a group of 13 Ingleside RFS - CFU volunteers.
Community Fire Units or CFU's are members of the local community who join the NSW Rural Fire Service and are provided with the skills, knowledge, confidence and awareness to assist in protecting your home and homes of your neighbours from bush fires.
CFU members are trained in Bush Fire Survival Plans and Fire Danger Ratings, Bush Fire behaviour and CFU equipment and are assessed in Safety and Teamwork. The course and assessment takes one (1) day. After that you will need to attend two 3 hour training sessions per year to keep your skills and knowledge fresh.
Upon completion of your one (1) days training you will be issued with Personal Protective Clothing (the 'blue uniform') including; pants, jacket, helmet, boots, goggles and gloves.
Find out more here: www.inglesiderfs.org.au
Photos courtesy Ingelside RFS Brigade, report by A J Guesdon.