May 13 - 19, 2018: Issue 359

Taramatta Park, Mona Vale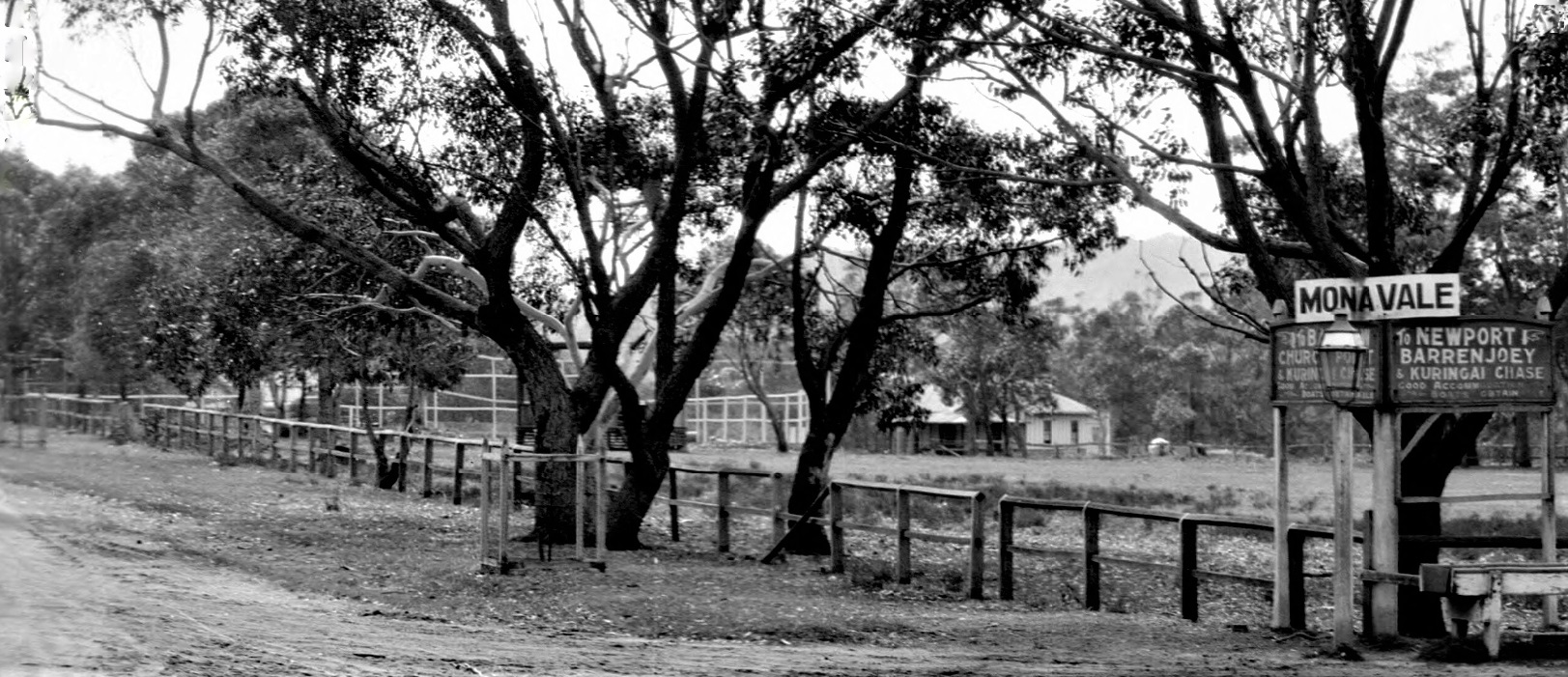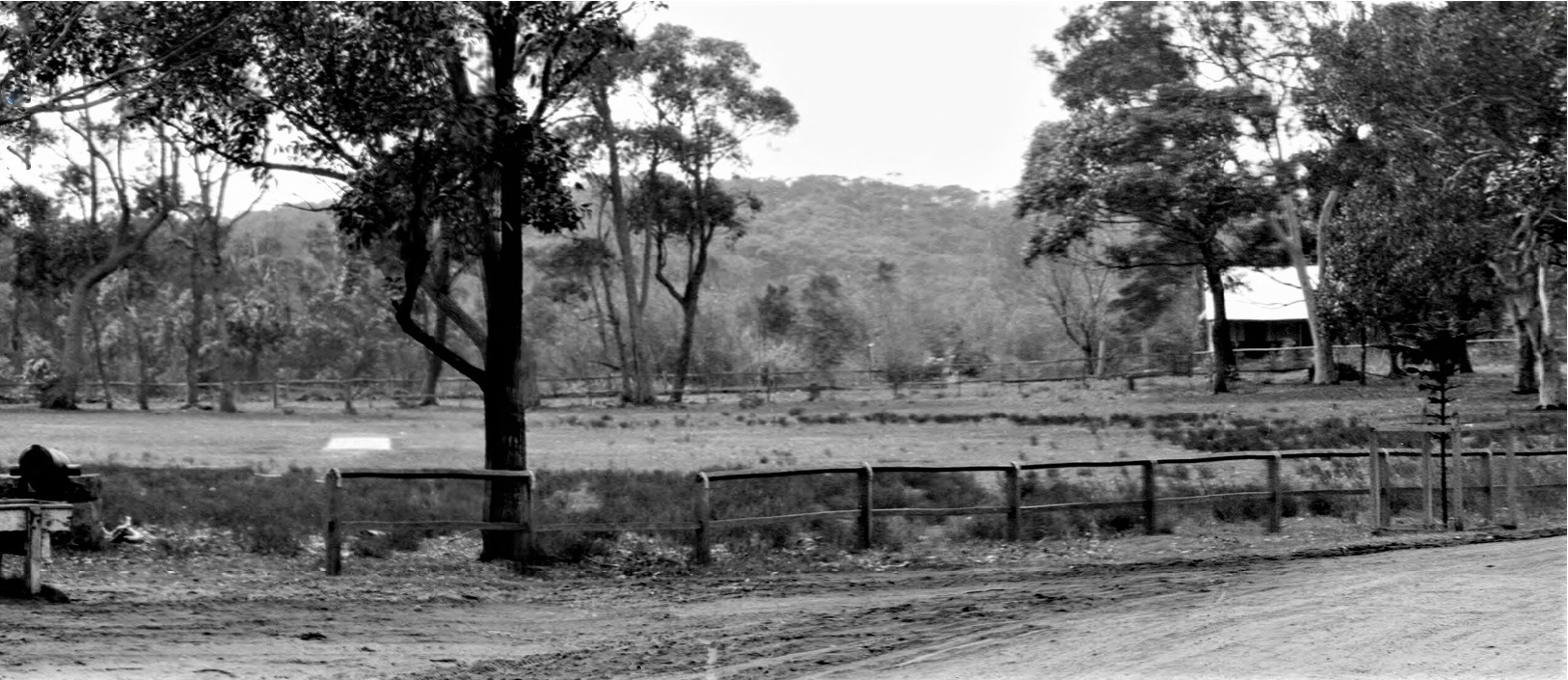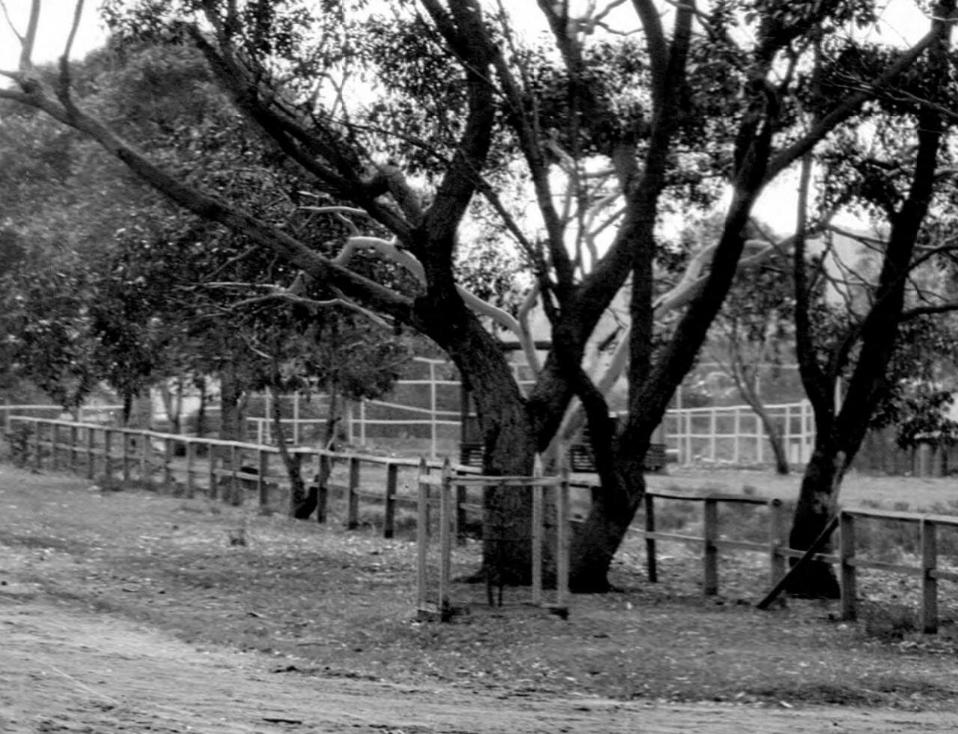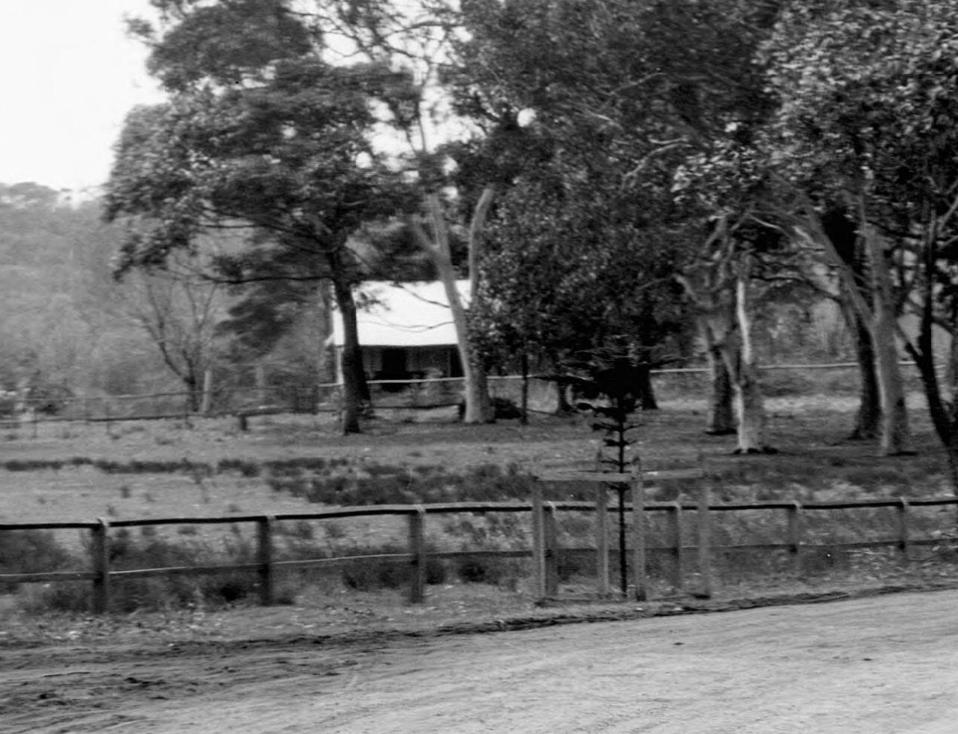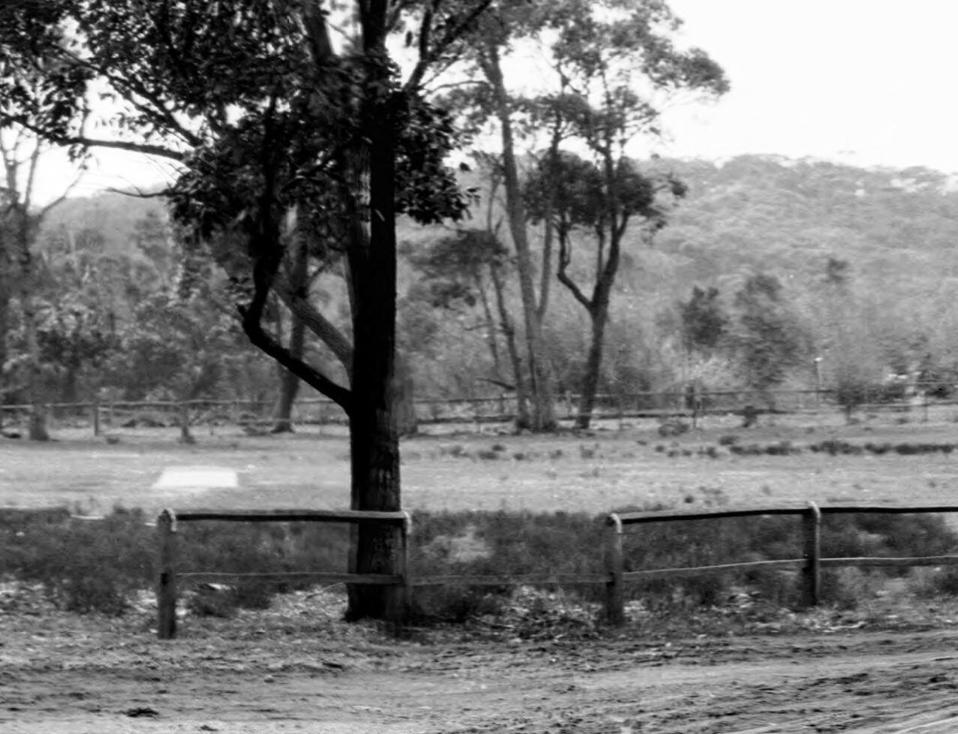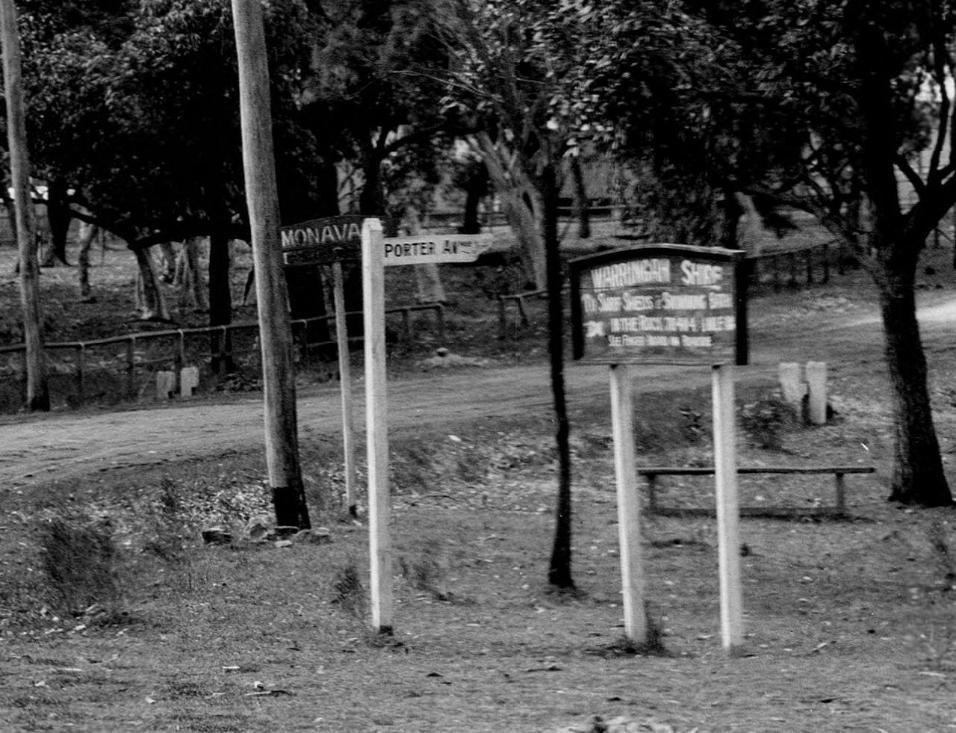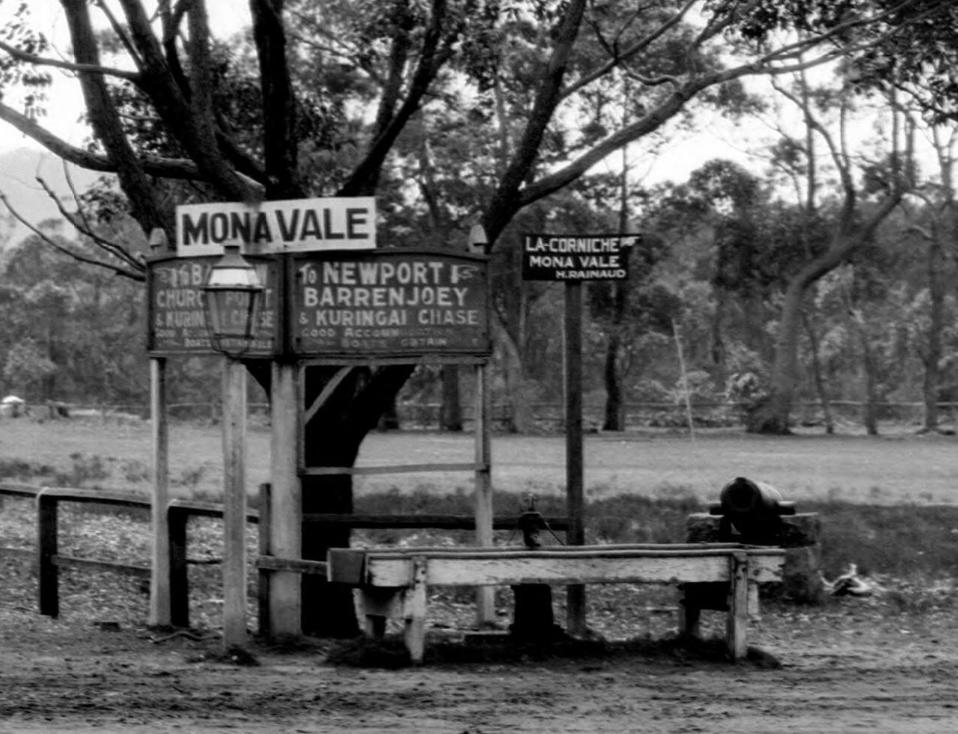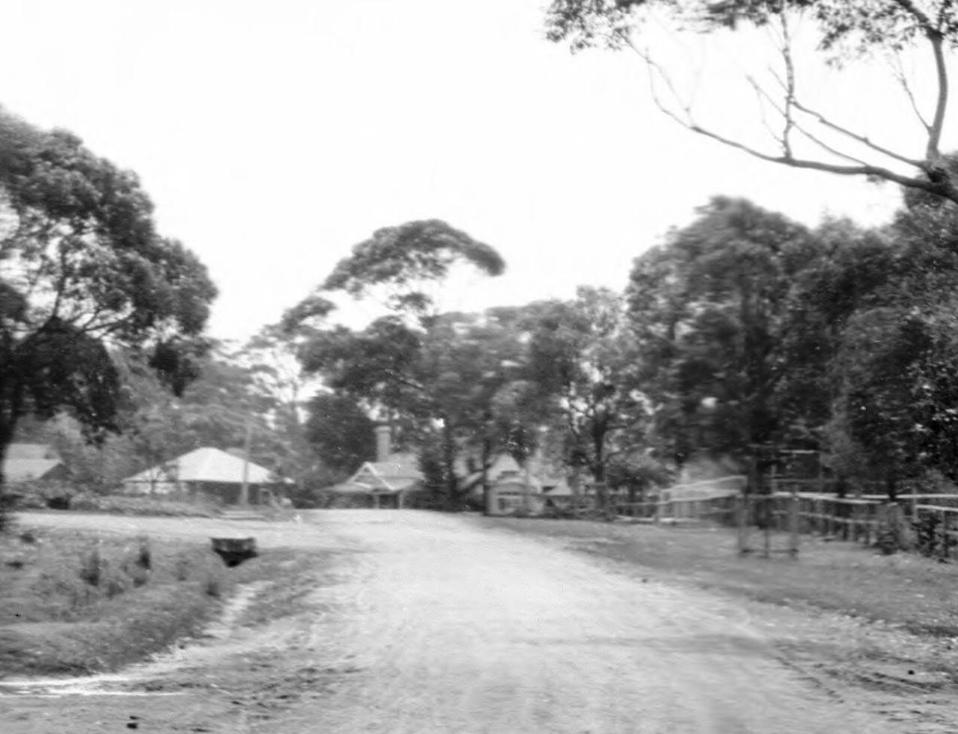 Above Panorama of Mona Vale, New South Wales, ca. 1917 - 1930 [picture] / EB Studios
National Library of Australia PIC P865/125 circa between 1917 and 1930]
and sections from made larger to show detail and location of cricket pitch and tennis courts.
Retrieved from
http://nla.gov.au/nla.obj-162044299
_____________________________________________________________________________________________________________________________________________________
Taramatta was the 4 hectare and 1 rood reserve we now call 'Village Park' in Mona Vale, only it's not 4 hectares in size any longer and doesn't have a horse trough, a tennis court or cricket pitch and isn't the scene of many a community gala event prior to a dance at Booth's Hall.
Formally opened in 1905, amid gay celebrations, the building of fencing etc. was overseen by the patriarch of the Stringer family, who lived in what is now Park street, Mona Vale. The missing telling insights have now been made available through the NLA's TROVE digitisation of the Mosman Mail (1898-1906) which included many a Pittwater report of then soon after its launch from one named 'Turrimetta'.
The Mosman Mail was edited and published in the Trafalgar (square) building at Mosman by James McBlain. The scant few pages, mostly advertisements outside of Pictorial features, grew out of:

In July, 1898, when the first number of the MOSMAN MAIL appeared, Mosman was a very different place to what it is to-day. The Borough Council then met in that wooden building near the Strand. The lower room, now a furniture store, was used for public meetings of various kinds and the upstairs room as the Council Chamber.
The BAZAAR, the forerunner of the MAIL, in its first number, published on October 1st, 1897,
contained the following sentence : "The new Town Hall will be a noble acquisition.'' The word "noble" was in italics because the Mayor, Alderman Jno. Noble, was then fighting hard for a better building. He was bitterly opposed by many of the aldermen, but he deserves the credit for the purchase of the site of the present Town Halt. In number R of the BAZAAR was also the following sentence:— " Wanted in Mosman, a Dramatic Club!" . or perhaps the readiest way of giving the present population of Mosman an idea of the main features of the growth of its institutions, etc., would be' to quote here and there even at random, from the BAZAAR and MAIL. We shall proceed to do so, taking the sentence or paragraph that strikes us most in each occasional number we turn up. ...
Tarametta Park or also spelled 'Turamulla park' – Park Street Mona Vale (as per Sands 1926 Directory), also used in naming
Turimetta Beach / Head, is believed to be a local Aboriginal clan or family name. In this area, the suffix "etta" was part of a family names.
Also spelled Turrametta - other sources state the meaning of the word is associated with 'a beautiful place'.
in Pittwater Reserves: The Green Ways; Mona Vale's Village Greens A Map Of The Historic Crown Lands Ethos Realised, records colated show land set aside in 1860 was formerly gazetted in 1870.
This 1886 Land map indicates previous names for this 'Recreation Area' and that 86 acres and 83 acres were set aside on February 8th 1870 and it was envisioned people would go camping in a black swamp! Perhaps there were plenty of cow pats about, good for keeping mosquitoes at bay by burning the dried ones prior to the invention of insecticides. Interestingly, Mona Vale Beach was called 'Bongin Reach' on this chart: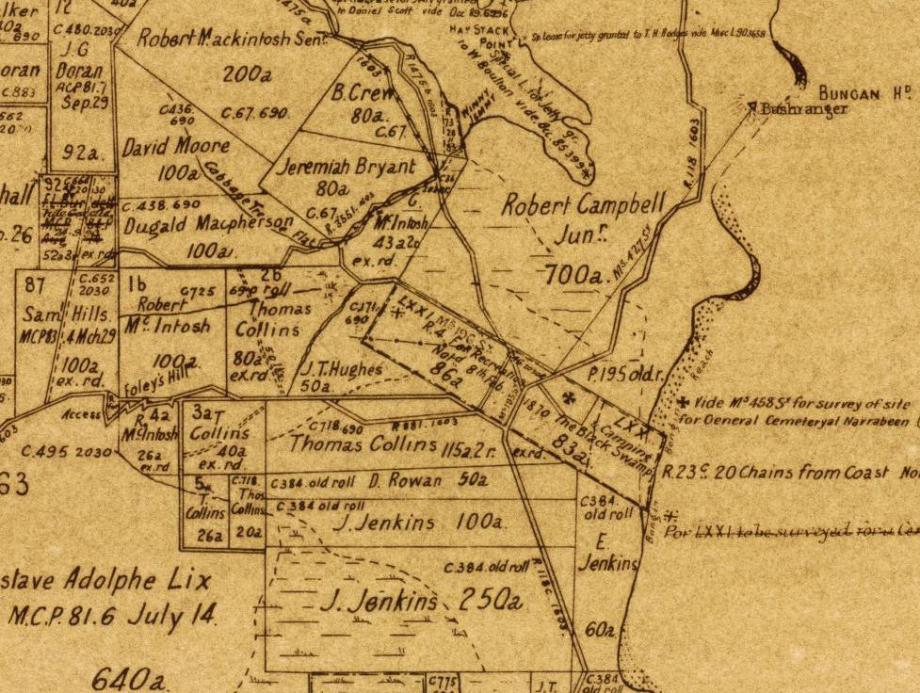 Parish of Narrabeen, County of Cumberland [cartographic material] : Metropolitan Land District, Eastern Division N.S.W. 1886. MAPG8971.G46 svar (Copy 1). Courtesy National Library of Australia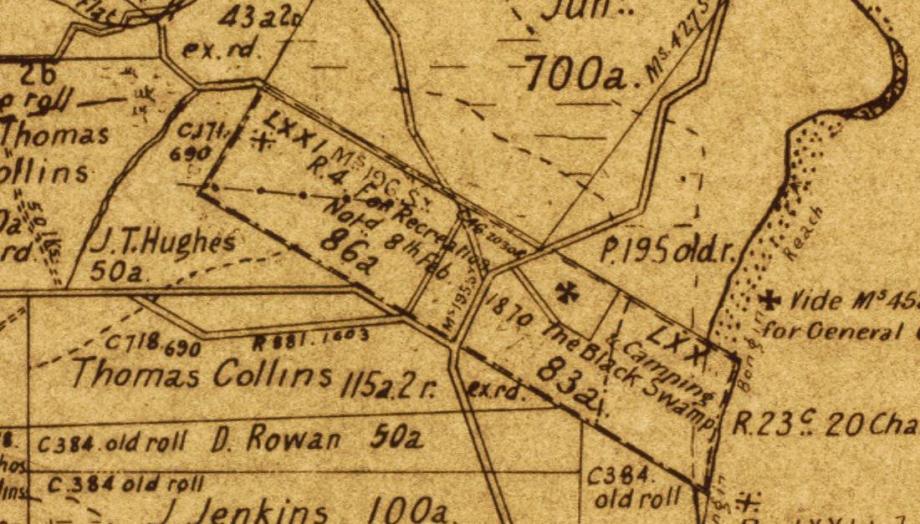 The Gazette Notice:
Department of Lands,
Sydney, 8th February, 1870.
HIS Excellency the Governor, with the advice of the Executive Council, directs it to be notified, that in pursuance of the provisions of the 4th section of the Crown Lands Alienation Act of 1861, the land specified in the Schedule appended hereto shall be reserved from sale for Recreation and for Camping.
WILLIAM FORSTER.
No.4 County of Cumberland, parish of Narrabeen, at Pitt Water, 180 acres: Commencing on the sea-coast at the north-eastern corner of E. Jenkins' 60 acres ; and bounded thence on the south-west by the north-eastern boundaries of that land, D. Rowan's 50 acres, Thomas Collins' 115 acres 2 roods, and J. T. Hughes' 50 acres, being in all a line bearing north 60 degrees west 93 chains; on the north-west by (lie south-eastern boundary-line of J. T. Hughes' 50 acres aforesaid, bearing north 30 degrees east 19 chains to the margin of Winnererremy Swamp ; thence by the margin of that swamp northerly about 4 chains; on the north-east by a line (dividing it from Robt. Campbell's 700 acres grant) bearing south 60 degrees east 85 chains 20 links to the sea-coast; and on the east by the sea-coast southerly, to the point of commencement. Government Gazette Notices (1870, February 8). New South Wales Government Gazette (Sydney, NSW : 1832 - 1900), p. 306. Retrieved from http://nla.gov.au/nla.news-article223285883
This item would tend to make people believe that the village of Turimetta and surrounds were not populated, that nothing ever happened. Within a decade it would seem there were a lot more people visibly enjoying themselves and living locally with what we today call Mona vale's Village Green, of Village Park, at the core of all that social activity - most of it sport orientated:
Turimetta township
is situated about a mile from Bay View, on the road to Manly, and fronting the ocean beach. It cannot boast of many inhabitants as yet, but
Mr. E. Doublet
, of Sydney, has a promising young orchard in the vicinity.
The Rock Lily Hotel
is also here,
Mr Leon Houreux
proprietor, and to which there is attached a neat flower garden and orchard.
Mr. Henry Ball
,
Rosebank
, and
Mr. J. Shaw
, are both fruitgrowers of this neighborhood.
Manly to Broken Bay. (
1893, November 11
).
Australian Town and Country Journal
(NSW : 1870 - 1907), p. 19. Retrieved from
http://nla.gov.au/nla.news-article71191632
Although the maps above show land had been set aside decades prior to this Notice, for camping and recreation, this officially marks the start of a green common ground park for the village;
Sydney, 1st December, 1900.
RESERVE FROM SALE FOR PUBLIC RECREATION.
HIS Excellency the Lieutenant-Governor, with the advice of the Executive Council, directs it to be notified that, in pursuance of the provisions of the 101st section of the Crown Lands Act of 1884, the land hereunder described shall be reserved from sale pending determination of the portion to be set apart ( for public recreation, and is hereby reserved accordingly.
T. H. HASSALL.
EASTERN DIVISION.
Metropolitan Land District.
No. 31,827. County of Cumberland, parish of Narrabeen,
village of Turrimetta, containing an area of about 4 acres 1 rood.
The Crown Lands within the following boundaries:
Commencing-at the intersection of the north-western side of Bilgola street with the north-eastern side of Pittwater-street; and bounded thence by the latter street north-westerly to its intersection with the north-eastern prolongation of the south-eastern side of Bungan-street; thence by the said prolongation northeasterly to Mona-street, and by that street south-easterly about 11 chains 10 links ; thence by a line southerly about 1 chain to Bilgola-street before mentioned; and thence by that street south-westerly, to the point of commencement
,—
as shown on plan catalogued Turrimetta 1.
RESERVE FROM SALE FOR PUBLIC RECREATION. (
1900, December 1
).
New South Wales Government Gazette
(Sydney, NSW : 1832 - 1900), p. 9373. Retrieved from
http://nla.gov.au/nla.news-article222826409
Bilgola Street
runs along the path of what we now call 'Barrenjoey road'. the name may have come from the direction the road was going. similarly what we now call 'Mona vale road' was once called 'Lane cove road due to it being the road (track!) that led to or from Lane Cove while what is now known as pittwater Road where it runs out to Bayview and Church Point was once known as 'Bay View' road.
This section from an earlier 1891 cartographic map of the Village of Turimetta shows the streets names - Mona Street (later Park Street) originally just being shown on some sales maps as 'Government road';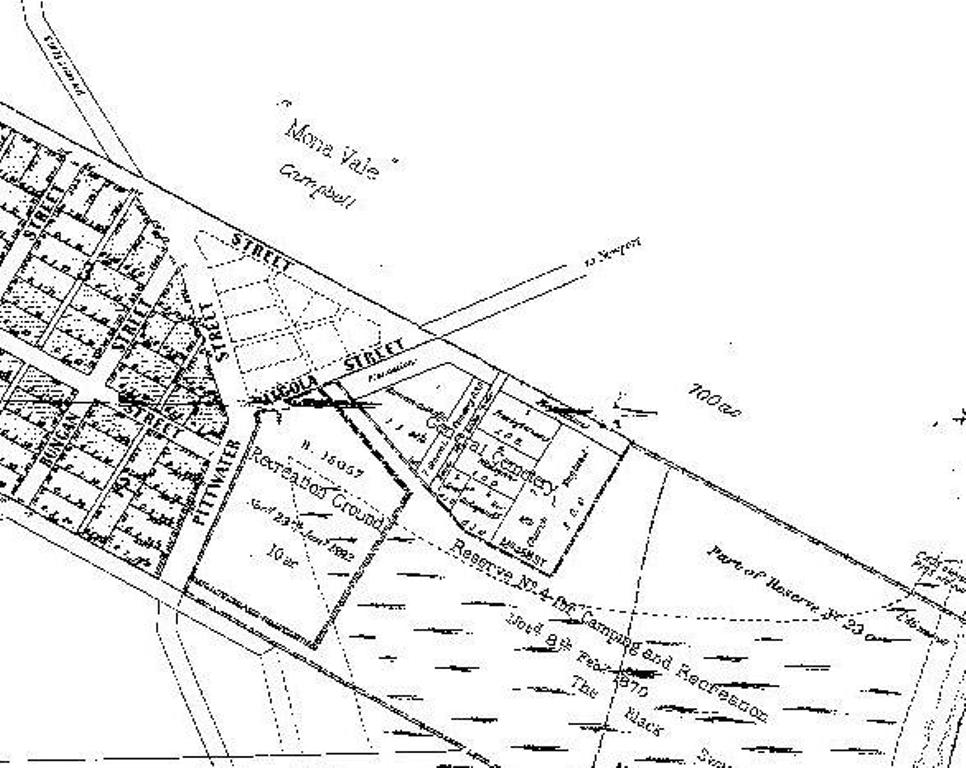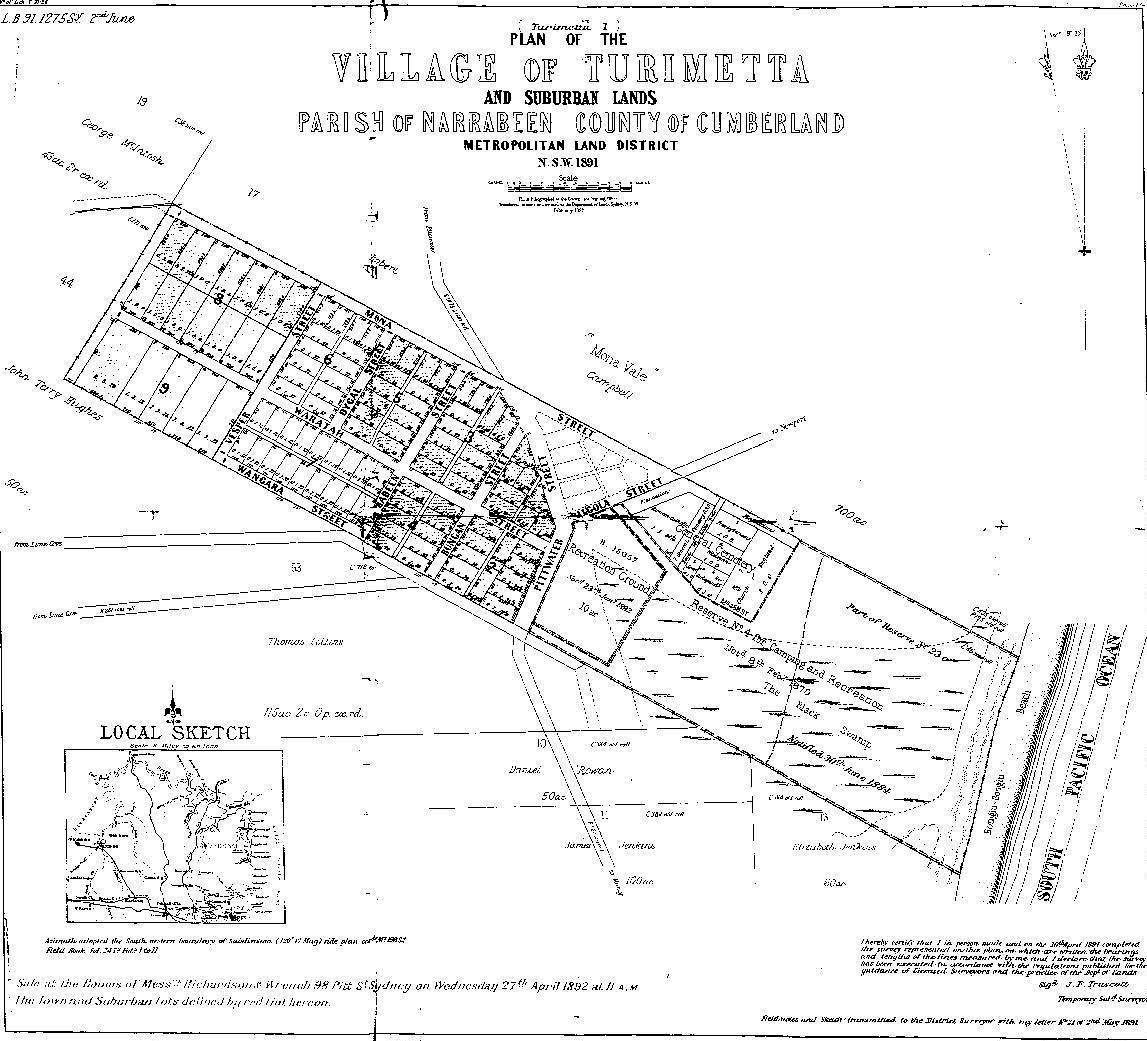 Sales plan of the village of Turimetta, now part of Mona Vale, bounded by Mona Street, Waratah Street, Wangara Street, Vesper Street, Dygal Street, Narrabeen Street, Bungan Street, Pittwater Street and Bilgola Street.
" ... J.F. Truscott, temporary sald. surveyor."
In upper left margin: No. of lith. T.91.38.
"L.B.91.1275Sy. 2nd June." 1891 - courtesy National Library of
Australia
.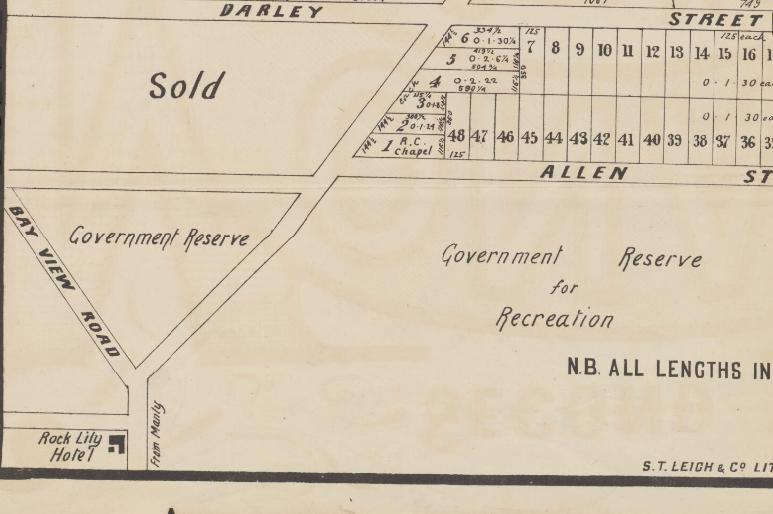 George Pile, Swyny, and Company report having sold at their auction sale of Crown lands yesterday: Lots 8 and 9, section 3,. village of Turrimetta, at .£16 per lot
;. lots 4, 5, 6, section 8, village of Turrimetta, at £12 10s per lot; lots 2 and 12, section 8, village of Turrimetta, at .£12 per lot; … Total amount, .£161 Property Sales. (
1893, August 29
).
Evening News
(Sydney, NSW : 1869 - 1931), p. 3. Retrieved from
http://nla.gov.au/nla.news-article113721345
THE PROPERTY MARKET.
A Government sale of land at Pittwater is announced by order of the Minister for Lands. Mr. E. V. Broughton will offer at his rooms, on Thursday next, at 11.39 a.m.,
65 magnificent marine villa sites, in the village of Turrimetta, on the main road from Manly to Pittwater, and adjoining the celebrated Rock Lily Hotel. The areas range from half-acre to nearly 3 acres, and the upset prices from £6 to £22 per lot.
The terms are 25 per cent, deposit, and the balance in three equal monthly instalments, with interest at the rate of 5 per cent, per annum. From the inquiry that has been manifested, it is expected that the whole of the estate will be cleared at the auction sale. On Anniversary Day a representative will be on the ground to point out the lots for sale. The access is by steamer to Manly, and thence by coach to Rock Lily. THE PROPERTY MARKET. (
1897, January 25
).
The Daily Telegraph
(Sydney, NSW : 1883 - 1930), p. 7. Retrieved from
http://nla.gov.au/nla.news-article238409067
Sydney, 2nd August, 1902.
IT is hereby notified, for public information, that in accordance with the provision of the Public Trusts Act, 1897, His Excellency the Governor, with the advice of the Executive Council, has been pleased to approve of the appointment of the undermentioned gentleman as an
additional trustee of reserve No. 31,827 at Turrimetta, county of Cumberland, parish of Narrabeen, area about 4 acres 1 rood, notified 1st December, 1900, for Public Recreation, namely :—
[Ms. 1902-5,912 Ind.] W. P. CRICK. Government Gazette Appointments and Employment (
1902, August 2
).
Government Gazette of the State of New South Wales
(Sydney, NSW : 1901 - 2001), p. 5575. Retrieved from
http://nla.gov.au/nla.news-article226398468
As you pass the
public school at Newport
you see ahead of you the attractive facade and grounds of the Newport Hotel. There are lawns in front, shaded by widely branching trees, under which there are usually some children playing in care of their nurses. The view from the back is exceedingly fine, taking in the romantic Pittwater, with its surrounding heights mirrored in the glassy surface. Boats are kept for hire, and there are other fishing facilities, and a hall for dancing and concerts.
The road branches to the right at the hotel, and passing the post office (nearly opposite) takes you first to the boarding house called "The Bungalow," a fine stately place, reached by broad steps and beautified' by gardens. Nearly opposite " The Bungalow " is Mr. J. F. Barrett's stores. Mr, Barrett is also THE NEWSAGENT, and takes an active interest in everything that concerns the district. Orders left with him for theMosman Mail will receive prompt attention.
Farther on you come to the stylish
boarding house kept by Miss Scott
. This has been a well known establishment and popular for many years. There is everything here to make the summer visitor happy—as far as he can be made happy by fine Scenery, grand lawns, with shade, good cooking, and good society. Newport gives something to think about to a PROGRESS ASSOCIATION, of which Mr. MacGregor is honorary secretary, and it is expected that in a few years the unique claims of the place as a holiday resort will be more generally known and appreciated. A great many go there now on Saturdays and Sundays, cyclists by the hundred fly up and down the road from Manly, and the boat " Woy Woy " visits it once a month on a tour of those magnificent and most romantic inlets of the Pacific called Pittwater and Brisbane Water. But there is a desire and every reason for further progress.
From Manly to Newport and back on the EXCELLENT LINE OF COACHES, run by C. H. Massey and Co., of Manly, can be done nicely in a day from the city. The first coach leaves Manly at 9.45 or 10 a.m. If you stop at Narrabeen you will have there live hours for dinner, shooting, fishing, bathing, and seeing the sights.
Image No.: c071420012 from Album Box 05: Glass negatives of Sydney regions, including Clovelly, Coogee, and Manly ca 1890-1910 by William Joseph Macpherson
Courtesy Mitchell Library, State Library of New South Wales
- and cropped enlargement from.
At every point almost a grand vista is presented. Just this side of Newport and to the left on coining back you witness a vast expanse of THE PACIFIC OCEAN, which comes up nearly to your feet. The horizon is generally clear, but occasionally wears a lengthy fringe of clouds. Away off to the north as I looked there was a little wing of white, which might have belonged to a seagull, but presently a ripple of smoke appeared trailing from it, and I knew it was a small steamer. Just in front a larger one was plainly visible, ploughing its way steadily up the coast. Farther off towards the meeting line of sea and sky were a number of tiny jets and clouds of smoke from invisible ocean travellers. To the southwards a great corrugated point of rocky land juts out into the sea, the rocks rising bluff and steep out of the boisterous and high flashing surf, which surges around, looking at an instant's glance like a huge and spotless sheet just thrown off stupendous bed. High on this land rises a flagstaff, and behind the staff are some trees and a tine paddock. This is a beautiful scene, and I pity those who cannot see it as I did.
Coming still further on the return journey we arrive again at MONA VALE.
A notice in the fine shops there informs us that there is to be a display by the local athletic club, of which Mr. James Booth is honorary secretary, Mr. Paul, honorary treasurer, Mr. S. A. Hewett, captain, and Mr. Bradburn, president.
THE PARK at Mona Vale is opposite the Mona Vale Stores. The athletic club has leased a portion of it for a tennis court and cricket pitch, and on Saturday afternoons there is generally a good game or two.
The park is invested in trustees, for whom Mr. Stringer is secretary
. Our parliamentary representative for Warringah,
Mr. E. W. Quirk, is working to get a grant of money to fence it in completely.
I have now introduced to the readers of the Mosman Mail most of the interesting features of the coach route from Manly to Narrabeen and Newport. Next week I purpose describing a trip up the coast to Gosford on the S.S. "Woy Woy," which I trust will prove equally interesting.
IT is hereby notified, for public information, that, in accordance with the provisions of the Public Trusts Act, 1897, His Excellency the Governor, with the advice of the Executive Council, has been pleased to approve of the appointment of
the undermentioned gentlemen as Trustees respectively of the portions of land hereinafter particularised
, namely:—
Reserve No. 31,827 at Turrimetta, county of Cumberland, parish of Narrabeen, area 4 acres 1 rood, notified 1st December, 1900, for Public Recreation :—
Ellison Wentworth Quirk, Esquire, M.L.A. (in lieu of P. T. Taylor, Esquire, resigned).
[Ms. 1904 4,205 Ind.] JOHN KIDD. Government Gazette Appointments and Employment (
1904, May 28
).
Government Gazette of the State of New South Wales
(Sydney, NSW : 1901 - 2001), p. 4406. Retrieved from
http://nla.gov.au/nla.news-article226409414
In the Spring of 1905, on Saturday September 23rd, where we can read children attended classes on Saturdays (?!) the park was officially opened:
Opening of the Tarameta Park.
On Saturday last the Park at the junction of the Newport and Bay View roads was opened by an enthusiastic gathering of local residents, the proceedings being led by Mr. Dugald Thomson, M.H.R., Dr. R. Arthur, M.L.A.. and Mr. E. Quirk, Mayor of Manly.
Mr. Quirk occupied the chair, and spoke in favor of the immigration of trees and shrubs, which he said were desirable immigrants, along with agricultural laborers.
Mr. Stringer referred in kindly terms to the efforts made by the local people in connection with the park. During a recess the children of the public and private schools of the district engaged in dumbell exercises most gracefully and rhythmically, to the joy of their parents and friends.
Refreshments were very liberally provided and freely partaken of, and much good nature prevailed. Excellent music was provided by the band. Prizes were given to the children who won at races. The young people were delighted with the lollies provided, and the elder ones regaled themselves with the ham sandwiches and stimulating liquids.
Twenty trees were planted by Mr. Dugald Thomson, Dr. Arthur, and Messrs. Quirk, P. T. Taylor, Thos. Wattson and others.
Dancing followed until 12 o'clock in Booth's Hall, Bay View.
Among the speakers of the day was Mr. Waterhouse, who said it was astonishing to see how much had been done in a few years in the locality, and how much the residents had done in making and improving the park.
Mr. Morrison, public schoolmaster, was complimented for the excellence of his pupils' performances, and the private school teachers were also lauded highly, especially Miss Stringer, whose happy young folks won hearty and oft-repeated applause.
The proceedings terminated as pleasantly as they began, Messrs. Greig, Morland, Wattson, and in fact everybody, voting unanimously in favor of the grand success of the opening of the Park.
Attention is directed to the advertisement of Mr. Miles, postmaster and storekeeper at Brookvale. Among his many good things he supplies the MOSMAN MAIL. Now is the time for the local residents to subscribe, as a new era of, prosperity is opening up for the district. We shall be pleased to publish all the news they send in of local happenings, and correspondence on public questions affecting them.
Mr. Bagnall, of Brookvale, has recovered to a considerable extent from his recent illness, but is still weak. It will take him longer to get over the loss of his son, seven weeks ago, which has grieved him very much.
Madame Boutin, of the Narrabeen Hotel, reports improving business. Mrs. E. Pope, successor to Mrs. J Thompson, of the Bridge Cottage boarding-house and picnickers' resort at Narrabeen Lakes, has made many improvements in the place, and everything is very -nice and comfortable. There is good fishing there, and she sets up an excellent dinner. See advertisement for rates. It is an ideal spot in which to spend a day or two.
Will Miss D.D. please send in the reports she promised of local society events?
They will be highly appreciated, and promptly published.
Mr. Brock, of
"The Oaks," Mona Vale
, has been very busy of late. Proposed military fortifications at West Head are engaging the attention of residents, most of whom, we are informed, would prefer them to be at Barranjoey, which to our view also seems the better of the two. ' Barranjoey commands an immense area of seascape, and batteries there could defy the Baltic and Japanese fleets combined. That great cave there would stow away enough gunpowder to crumble up an army.
That well-known and genial gentleman, Denny Morland, of Newport, is still vigorous and active. If intending tourists who read this will consult with him he will put them in the way of thoroughly enjoying an outing.
Mr. Reid, of Manly, who is the vital power of the proposed Manly-Rock Lily motor omnibus system, has had considerable difficulty in making the arrangements, but with true Scotch stick-to-it-iveness has almost completed: them. It will probably be December before the first motor ' bus runs from Manly to Rock Lily. It will not be so large as one that is to come a month or so later. " Pittwater Progress. (
1905, September 30 - Saturday
).
The Mosman Mail
(NSW : 1898 - 1906), p. 6. Retrieved from
http://nla.gov.au/nla.news-article247011690
In 1893 the village of Turimetta (Mona Vale) was described as not having a large population - however, subsequent other articles that appeared in the Mosman Mail seem to indicate there was enough people living in, near or around the area to warrant the formation of a cricket team, a tennis club and the filling of 'Booth's Hall', sometimes listed as being at Mona Vale, at other times referred to being situated at Bay View.
In September 1902 James Booth opened a hall for dancing parties at Mona Vale on the corner of Darley street and Pittwater road (then Bay View road) - thus the sometimes 'Bay View' sometimes 'Mona Vale' address given. The opening night was a gay affair, people coming from miles away and all directions in coaches and by foot.
A
sample of Mosman Mail articles some of them perhaps courtesy of 'Miss D.D.' (perhaps the Miss
D. Douglass referred to in below social paragraph about who was wearing what at
Trafalgar
Day 1904)
- or at least by someone going by the pen-name of 'Turrimetta', show that although this was a mainly rural place with attractions for respite for visitors, there was also a fair amount going on:
The Women's Liberal League established a branch at Manly on Wednesday, May 27, with Mrs. Pooley as president.
The residents of the Pittwater district have been busily engaged in raising funds for the Manly Cottage Hospital, by collecting by means of boxes, the ladies working assiduously. A concert took place in the Mona Vale Hall, granted by Mr. Booth, free of charge
, when a long programme was gone through. The net proceeds of these efforts amounted to £18 Is., 5d. which was forwarded to the hospital. Warringah Notes (
1903, June 6
).
The Mosman Mail
(NSW : 1898 - 1906), p. 2. Retrieved from
http://nla.gov.au/nla.news-article247005786
There was a large attendance at the usual fortnightly social held at Mr. Booth's Hall, Mona Vale, Pittwater
. Many ladies and gentlemen were there from both Manly and Mosman, and the evening's dancing to good music and a splendid floor was keenly enjoyed. Among the ladies were many noticeable pretty dresses, which lent color and animation to the gathering. Dancing was kept up till about 1.30 a.m., when a return home was made, the guests being well pleased with the attention and hospitality shown them by the proprietor of the hall. Refreshments were provided during the evening by the ladies and were much
appreciated.
On Saturday last a Lawn Tennis match was played between Clubs representing Mona Vale, (Pittwater) and Narrabeen, and this being the first contest of its kind in the district excitement ran high.
The Club's lawn at Mona Vale was gaily decorated with flags, etc. and, the weather being perfect
, a most enjoyable afternoon was spent by all, there being a large attendance, especially of ladies, the latter's many coloured and beautiful dresses making a lovely setting against the pretty shrubs and trees around the well kept lawn. Mr. E. W. Quirk, M.L.A.,(with whom came Mrs. Quirk), satisfactorily disposed of the duties of umpire.
.
The following are the results.—
MIXED DOUBLES.—Mr. Harington and Miss Arter beat Mr. Jackson and Miss Thompson by 6 games to 3. Mr. Morris and Miss A Stringer beat Mr. West and Mrs. Twight by 6 games to 0. Mr. Austin and Mrs. Bradburn beat Mr. Carradice and Mrs. Carradice by 6 games to 1. Mr. Hewitt and Miss Jackson were beaten by Mr. Hincliffe and Mrs. Hincliffe by 6 games to 5.
GENTLEMEN' DOUBLES.—Harington and Austin beat Jackson and Hincliffe by 6 games to 1. Morris and Hewitt were beaten by West and Carradice by 6 games to 1.
LADIES DOUBLES.—Miss Arter and Mrs. Bradburn were beaten by Thompson and Mrs. Carradice by 6 games to 4. Miss A. Stringer and Miss Jackson beat Mrs. Twight and Mrs. Hincliffe by 6 games to 2.
GENTLEMEN'S SINGLES.—Harington beat Jackson by 6 games to 3. Austin beat Hincliffe by 6 games to 2. Morris beat West by 6 games to 3, Hewitt beat Carradice by 6 games to 5.
LADIES' SINGLES.—Miss Thompson beat Miss Arter by 6 games to 4. Mrs. Bradburn beat Mrs. Carridice by 6 games to 0. Mrs. Twight beat Miss Stringer by 6 games to 4. Miss Jackson beat Mrs Hincliffe by 6 games to 5.
The number of games played being Mona Vale 87, Narrabeen 65, Mona Vale thus winning by 32 games. A return match is to be played at Narrabeen on Saturday nex
t (10th inst.)
What places the above in context as there was beginning to be a 'boom' in women's sports - girls were taking up cricket, they were playing tennis and in costumes that didn't change much, despite 'fashions' coming in from overseas with a shorter just below the knee skirt and tunic top, until after WWI. An example;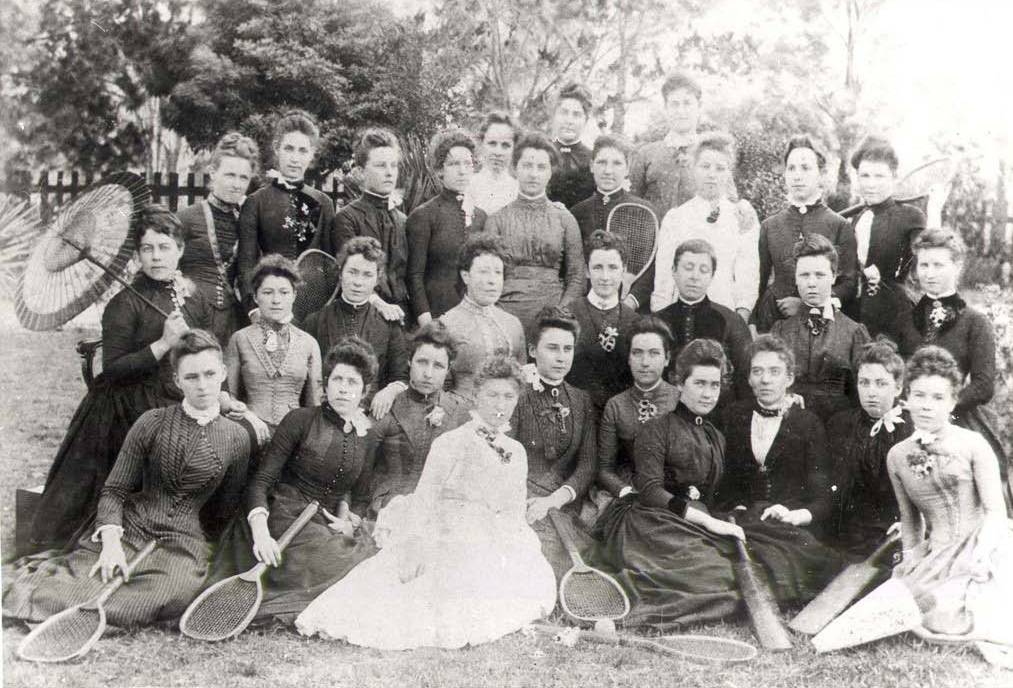 Women cricket and tennis teams in 1890, photo G3_224_0005, courtesy University of Sydney Archives.

MONA VALE.
A very pleasant social was tendered by Mr. W. Hunter to the local residents of Mona Vale recently at Booth's Hall. About 20 visitors from Manly arrived early in a four-horse drag, and these, together with the local guests, nicely filled the hall, which was gaily decorated for the occasion. The floor being in good order, dancing was kept up until about 1.30 a.m. During the evening, refreshments, full and plenty, were served and much appreciated. All concerned returning home thoroughly well pleased and loud in praise of Mr. Hunter's hospitality.
WHAT WE HEAR AT MONA VALE.
That a lively scene occurred at the dance at Booth's Hall. That Mr. J. Dargan of Manly met with a painful accident whilst loading wood a billet slipped, cutting off the ends of two fingers. He was kindly attended to Messrs. Harrington and L. Houreux, and sent home. That a well known gentleman of Mona Vale struck a snag at Newport the other day.
That a fancy dress cricket match was played recently at Sheeler's Flat. Some of the costumes were very funny, especially 'Little Eva," "Black Gin," and the double man. Mr. D. Scott, of the "Fairy Studios," Pitt Street, took one or two groups.
That Mr. S. Stringer, the energetic secretary of the Park trustees, has received a substantial sum through Mr. Quirk for fencing and clearing. He has worked very hard to get matters into working order.
On Saturday evening a tea meeting and entertainment was held in Booth's Hall, Bayview, in aid of the Church of England Building Fund
. The Committee have already £126 in hand, and Saturday's gathering will add considerably to that amount, so that the new church will soon become an accomplished fact. The tea tables were laden with all sorts of good things, and the little hall presented a very animated appearance. When all had partaken of the tasty things provided the tables were cleared for the second part of the evening's amusement. This opened with an overture by Mrs. Tolhurst (piano) and Mr. G. Allpress (violin). " A Fancy Fair," being a study in white and gold, was given by Frank and Kathleen Tolhurst, and they also gave a musical comedietta, "Pierrot and Pierrette," Mrs. Tolhurst and Mr. Allpress gave some excellent renderings during the evening, among them being "Dreaming (duet). "The Double Eagle"
(overture), Violets(duet), and " Pickaninny Christening" (overture) Alec Patison sang "Egypt" and "Britannia's Navy.
Mr. H. P. Brodie, who is the districts popular catochist, sang "After ' B Song " and " I trust you still." Mr. Brodie's energy and untiring efforts to further God's work in this district is meeting with success every where, and now that Bayview has secured sufficient or nearly so to build a new Church an effort will shortly be made to start and build one at Newport.
Too much praise cannot be bestowed on Miss Codrington, Hon. Secretary, Mr. H. Ball, Hon. Treas.,
and the ladies and gentlemen who assisted them in making the gathering so gigantically successful.
Trafalgar Day was kept up at Bay View by a cricket match between the Mona Vale and French's Forest teams. Mona Vale won by 57 runs. At night a cricket social was held at Mr. Booth's hall, Bay View.
The concert was very good and the programme consisted of many comic and other songs by Mr. Perry and Mr. Stockwell of Sydney. Miss Amy Maclean sang "Won't you buy my pretty Sowers ?" and Mrs. Hinchcliffe a coon song. Then the concert concluded with a farce entitled " The Dark Town Park" by some of the young members of the district. When the concert was over some of the young people cleared the hall and danced till midnight.
There were about 30 couples, present and among the ladies' dresses I noticed the following:
Mesdames Byles,
black voile with cream lace;
Douglass
, black cloth and lace and spray of red roses;
Hinchcliffe
,' black voile , and cream yoke ;
Misses R. Johnson
, white muslin and buttercup;
D. Douglass
, cream muslin and cardinal ribbons;
A. Stringer,
grey voile;
N. Stringer
, dark blue voile; and white lace; M. M'Lean, black skirt and white silk blouse;
E., Devlin
black voile skirt and cream cashmere blouse.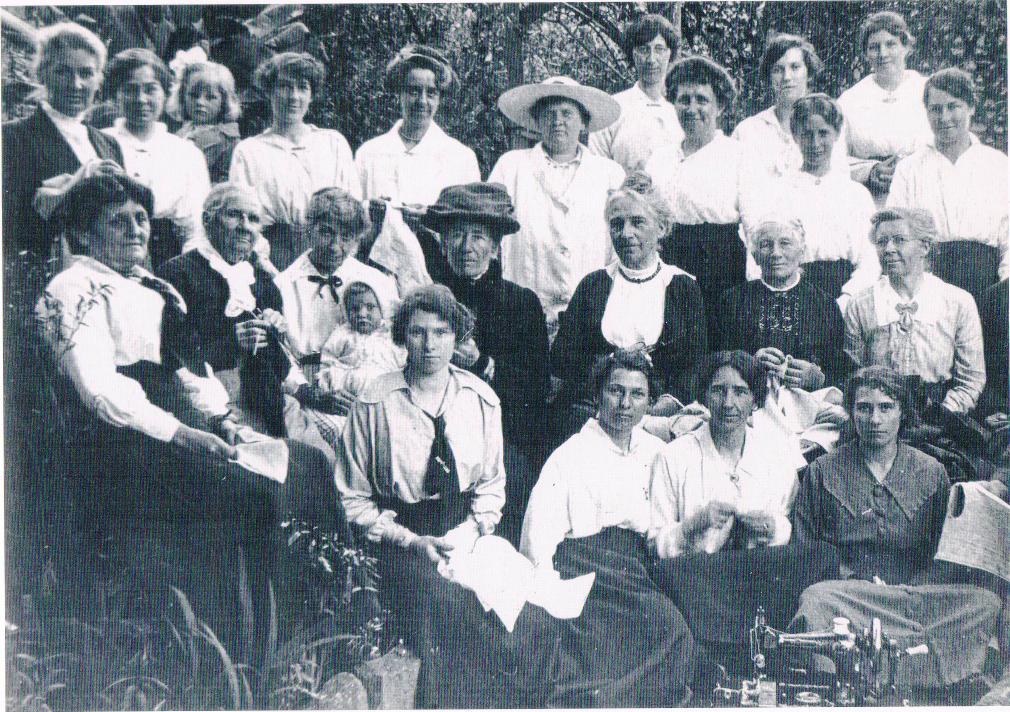 Bay View- Mona Vale sewing group (Maybanke Anderson fifth from left in middle row), circa 1910 - source Wesley Gardens and available in Pittwater Local History unit at Mona Vale Library.
Concert and Social at Newport.
A grand concert and social was held in the Newport Hall, Newport, on Saturday, July 7th, under the patronage of the Prince Alfred Yacht Club, in aid of the Manly Cottage Hospital Fund.
The night being beautifully fine and bright added to the charm and assisted in drawing a large audience to the hall, which was beautifully decorated with flags, ferns, and bushes in profusion. The stage was most tastefully
decorated, the P.A.Y. colours
standing out quite conspicuously among the ferns and palms, with the footlights brightly burning, giving it quite a fairylike appearance.
The ascctylene gas, kindly lent by Mr. J. Booth of Bay View
, made everything inside as bright as the clear silver moon did outside. The concert commenced with an overture by Miss Murray, followed by a tenor solo (' My Pretty Jane") by Mr. Stuart Greig, which he sang with great feeling and very pretty effect, followed on later with " My Sweetheart when a Boy," for which he received a well merited encore. Miss Murray quite captivated the audience with the rendering of "The Pearl of Sweet Ceylon," and for an encore chose " Sweet Sixteen," with which she was equally successful. Her second song, " Auona," was greatly appreciated ; the enunciation was perfect, the tones of her beautifully rich voice telling out with great effect.
Signor Troopsi sang ""The Silver Cup," with telling effect, and in the second part, the great baritone chose " A son of Mars, which he sang with great dash and vigor. Miss Griffiths, who possesses a rich soprano, was in excellent voice. Her rendering of " A May Morning," was sun? with much taste, for which she was deservedly encored. Her second item, "The Birds go North Again," proved equally successful, aud for an encore she sang "The American Girl," from the "Gay Parisienne, (Tres- Bonne).
Dr. Magrazza tickled the audience with a very funny dialogue, but his rendition of " A Chinese Quarrel proved highly successful ; in fact, had 'the Doctor been dressed in Oriental costume, be would have passed well for a Chinee. Dr. Magrazza is a past master of the Chinese language. Mrs. Greig sang " Swallows " in a very pleasing manner, but her rich contralto voice was beard with telling effect in her second item, " Dearie," which suited her voice admirably.
Mr. Norman H. Murray was in excellent voice; his rendition of "The Gallants of England'' showed his rich baritone voice to perfection, substituting for an encore "The Village Blacksmith," which he rendered with much feeling and great taste. Mr. A. S. Gerber sang in good style " Out on the Deep," and in the second part contributed I'll conquer or die." Needless to say be conquered. A duet, "The Sailor Sighs," sung by Mr. and Mrs. Greig with much expression and excellent time, brought to a very successful close one of the best concerts that have been given in Newport for many months. "
Much praise is due to Mr. Norman H. Murray, who acted as musical director, for the great trouble be took in organising the concert. Mrs. Stuart Greig acted as accompanist, and Mr. Stewart Greig was the honorary secretary and treasurer. Miss Murray most ably accompanied for the dance which was kept up with great eclat till midnight
Last Saturday afternoon I got the offer of a free ride to
Rock Lily
. The cart would pick me up at the E. S. and A. Bank and put me down anywhere I liked. It was very convenient, and so I accepted the offer—partly on account of the pleasant company who were going. Of course I had to walk up the hill opposite the Spit. The new path makes the journey easy. When we got to Brookvale we found that Mr. Bagnall was not at home, and Mr. Miles the postmaster was very busy—so we went on our way rejoicing. At Narrabeen Mrs. McLean, postmistress, was busy as usual. She is always industrious. I wonder if she ever rests. Madame Boutin was just as pleasant as usual—which is saying a great deal. And onward we went. At Rocklily Mr. Houreux proved himself as fully up to his name and title as ever. Of course you know that houreux is French for happy well, the spelling is slightly different in the first syllable, mais n'importe.
In the Rock Lily hotel that evening several gentlemen conversed and arranged with reference to next Saturday's (28) entertainment in Booth's Hall for the benefit of the Church of England Building Fund.
It was decided to make a great success of the affair. All present promised to do their utmost to make the show a great occasion. Sunday morning I went out to see a new estate. I am not giving the name of the owner. The last time I did so he didn't like it so I will this time keep it to myself,—just to punish him. But he's all right. Of course you know whom I mean.
Then I went to Newport.
At dinner at the Newport Hotel that day there were 122 guests. And Mr. Greig, the proprietor, said there ought to have been 40.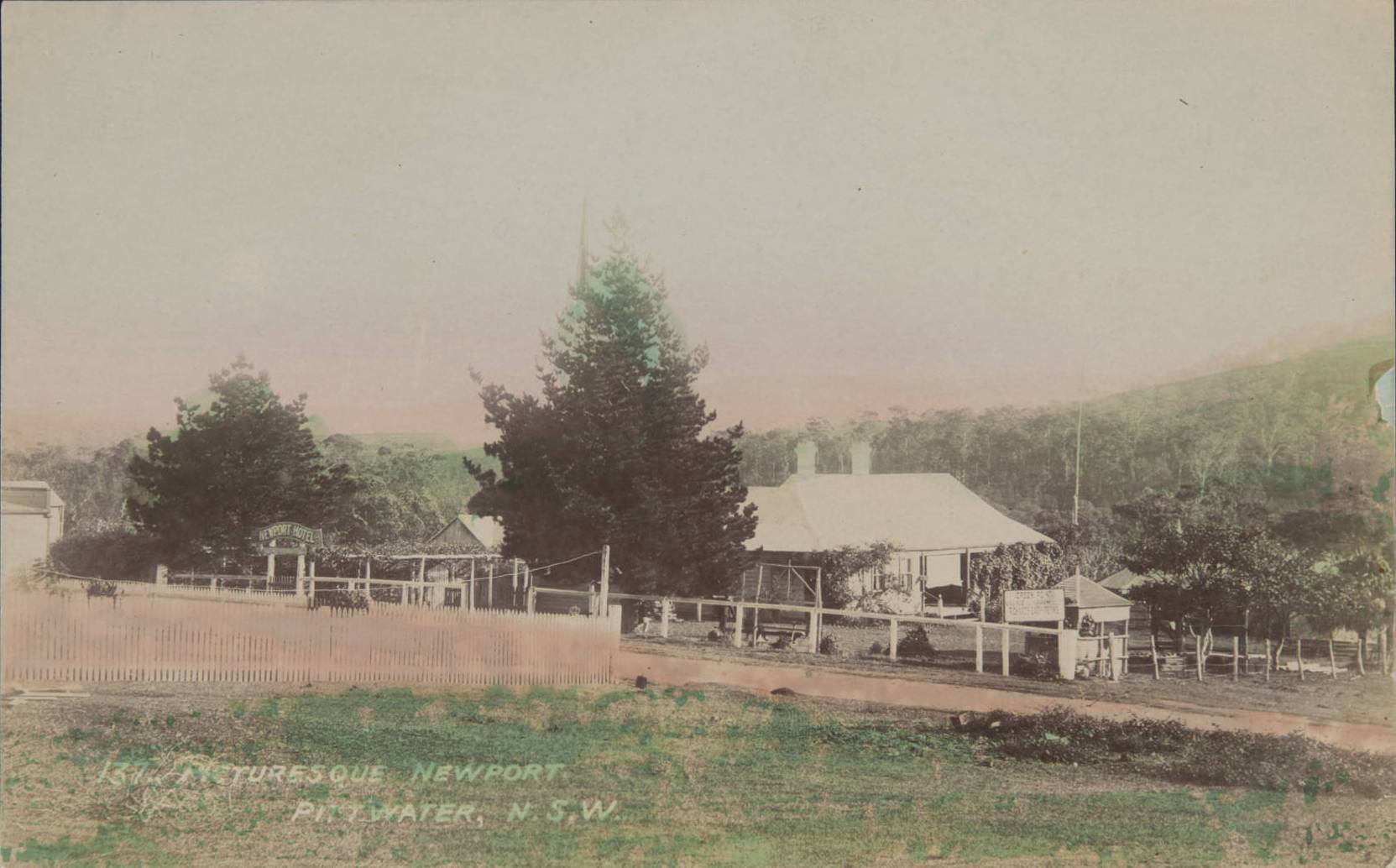 Newport Hotel circa 1910 - courtesy national Museum of
Australia
, part of the
Josef Lebovic Gallery collection no. 1 - coloured postcard
The afternoon coach back had me for a passenger. It was beautiful weather. I saw that good old standby Mr. W. Bagnall as we Of course you know he was the pioneer of Manly. We say " the,"—for so we are in formed. He built a lot of It, and still owns a good bit. We have heard—please don't tell, as it is secret, — that several gentlemen have recently tried to buy his Manly properties." For many years he ran the Aquarium, Hotel in the Corso. What a Change has taken place in Manly since the new liquor law came into force. I do not mean to say that the hotels ever sold drink on Sunday.' But now the whole town is as tight as a pistol. Waiters and housemaids stand at the doors of some of the hotels and when anyone wants to go in they say,-— " You can't come in here.*-However, all's well that ends well, and we cannot find fault with anyone for keeping the law. But I am afraid Dr. Arthur, whom I respect and like, will have to fight hard to keep his end up at the next election. And yet he may be quite right.
………..
By the Elite Variety Company of Mosman.
Last Saturday afternoon a specially engaged vehicle conveyed from Mosman to Rock Lily the young men of the Elite Variety Company, where they gave a highly successful entertainment
for the benefit of the local Church of England building fund
. The trip was a pleasant one and their reception by the local committee hearty and genial. The performance gave great enjoyment to as large an audience as Booth's Hall could contain, and was pronounced by the residents to be one of the best they had ever had. The following members of the company were warmly encored :— Messrs. T. Plows, A. Slavin, E. Bellis, E. Mackenzie, F. Pike, E. Foster, D. Hellmrich, J. Smith, and Mr. Mat Fitzgerald accompanied in his usual excellent manner. On the close of the entertainment the company adjourned for the night to Mr. Plows', in the morning they visited the beautiful grounds of Mr. G. S. Brock, and they returned to Mosman in the afternoon. Mr. J. T. Caves was business manager. The thanks of the company are tendered Mr. Harington, of Rock Lily, for his kindly services in making arrangements there, also Mr. J. Parkinson, of Trafalgar Square, Mossman for his valuable assistance.
The first St John's Anglican Church was a small weatherboard structure built in 1871
overlooking Mona Vale Beach on some land given by Mr Edward Darley in Bongan Bongan
Beach. Because its community was gradually leaving the area, in 1888 the church was
moved to a new site in Bayview on the present golf course. It was placed on wheels and
moved by bullocks. Some of the Pittwater pioneers were buried alongside the former church
ground and the headstones disappeared after the church was moved away.
In 1906-7, after 35 years of service, the old weatherboard Church, in a very bad state of
decay, was demolished and completely rebuilt in its current location. A new stone church with
a temporary east end was built in Pittwater Road nearer the village of Turimetta (Mona Vale) on the present site and was opened for worship on the 4th of February 1907.
Pittwater Council Mona Vale Heritage Inventory, Study Number B71 - 16/07/2014.
Sydney, 27th October, 1909.
PROPOSED ALTERATION OF DESIGN OF THE VILLAGE OF TURRIMETTA.
IT is hereby notified, for public information, that, at the expiration of three months from this date, it is intended, under the provisions of section 107 of the Crown Lands Act of 1884, and section 57 of the Crown Lands Act of 1895,
to alter the design of the village of Turrimetta by extending the village boundaries and curtailing the suburban boundaries.
Lithographs showing the proposed alteration may be inspected at the Department of Lands, Sydney.
[Ms. 1903-16,195] S. W. MOORE. PROPOSED ALTERATION OF DESIGN OF THE VILLAGE OF TURRIMETTA. (
1909, November 10
).
Government Gazette of the State of New South Wales
(Sydney, NSW : 1901 - 2001), p. 6129. Retrieved from
http://nla.gov.au/nla.news-article226590572
Sydney, 23rd February, 1910.
EXTENSION TO VILLAGE LANDS AT TURRIMETTA
IT is Hereby notified that, in pursuance of the provisions of the 101st section of the Crown Lands Act of 1884,
the following portions of Crown Lands are declared to be set apart as the site for extension to village lands at Turrimetta.
S. W. MOORE.
County of Cumberland, parish of Narrabeen,
at the village of Turrimetta, area 12 acres 2 roods 26 perches:
Commencing on the south-western boundary of Robert Campbell's grant of 700 acres, at its intersection with the south-eastern side of Bilgola-street, being the road from Manly to Newport; and bounded thence by that street south-westerly 7 chains 3/10 links to the northernmost corner of reserve 15,057 for public recreation; thence by the north-east boundary of that reserve and its prolongation south-easterly in all, being a line bearing south 38 degrees 22 minutes east 11 chains 51 links ; thence by lines bearing south (30 degrees 21 minutes east 5 chains 47 links and north 29 degrees 30 minutes east 10 chains link to the south-western boundary of Robert Campbell's grant of 700 acres aforesaid ; and thence by that boundary bearing north-westerly 12 chains links, to the point of commencement, as partly measured and shown on plan catalogued Ms. 1,738 Sy.
Note. So much of the Proclamation of 23rd January, 1802, describing the boundaries of the suburban lands attached to the village of Turimetta, is hereby revoked.
THE Warringah Shire Council has decided to give consideration to the question of converting the old cemetery site on the Newport road, Turrimetta into a recreation reserve. The reserve adjoining is swampy, and its addition would permit of golf links, etc, being constructed.
PARK FOR MONA VALE. (
1912, September 3
).
The Sydney Morning Herald
(NSW : 1842 - 1954), p. 12. Retrieved from
http://nla.gov.au/nla.news-article15332349
WARRINGAH SHIRE COUNCIL
The president's minute.
At the last meeting of the Warringah Shire Council, the president (Cr. Quirk) submitted his annual minute. The finances of the shire were in a very sound condition, the total income amounting to £8391, as against £5552 for the previous year. As the outlook was most promising, the current year would probably give a corresponding increase. Surf bathing was one of the shires principal assets, and the pastime had received every attention from the council, accommodation being established at Newport and Narrabeen during the year. Towards the expenditure on the new enclosures the Government department had contributed £ for £, while the local residents subscribed one-third of the amount.
The roads throughout the shire had been improved considerably. The principal amount spent was on Gordon-road, viz., £500. That thoroughfare was being made trafficable for the purpose of providing a new and direct route to the seaside for northern suburbs residents.
An excellent business transaction resulted in the handing over of the whole of the Newport beach frontage— about six acres— to the shire. The transfer was effected through the payment of £150 by the Lands Department.
The extension of the tram to Brookvale was most satisfactory, and made all the more pleasing by reason of the Minister's promise for an ultimate extension to Narrabeen. During the year 130 new dwellings had been erected within the area.
Turimetta Reserve had been improved,
and a splendid site secured for the Brookvale Park. Oueenscliff and Freshwater had been lighted for the first time, the water supply of those places being also carried out by means of mains from Manly. The health of the shire was good, not one case of infectious disease having occurred during the year. Cr. Quirk hoped for the continued success of the council under the new presidency of Cr. Ralston. WARRINGAH SHIRE COUNCIL (
1911, March 1
).
The Daily Telegraph
(Sydney, NSW : 1883 - 1930), p. 13. Retrieved from
http://nla.gov.au/nla.news-article238718474
A petition, signed by sixty residents, was presented to the Warringah Shire Council at its last meeting.
The object was to draw attention to the drainage of Mona Vale. The Black Swamp is nothing more than a pool of stagnant water the greater part of the year, and when not under water It considered a menace to health by reason of the amount of decaying vegetable matter washed Into it during every storm
. It was
suggested that a drain be made from Warriewood and Newport roads to the ocean, via Bayview.
If this were done a considerable portion of good residential and agricultural ground would be opened up. The matter is to have consideration. MONA VALE DRAINAGE. (
1913, June 18
).
Evening News
(Sydney, NSW : 1869 - 1931), p. 10. Retrieved from
http://nla.gov.au/nla.news-article113364399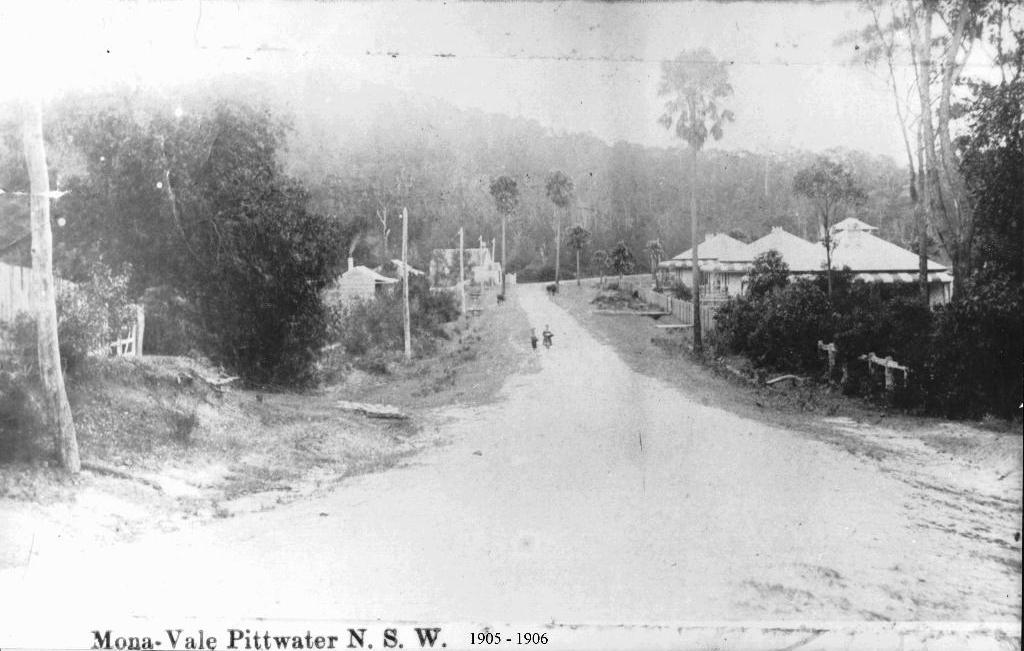 Mona Vale circa 1905 - looking towards Bayview. Mona Street runs off to the bottom right of this picture. To the left is St John's Church of England, which was moved in 1906-1907.
References And Extras
147 p
Cemetery At Turrimetta (Beeby Park)
Good Sports: Mona Vale - Newport Connections
Glenroy
Taramatta Park, Mona Vale - threads collected and collated by A J Guesdon, 2018