April 29 - May 5, 2018: Issue 357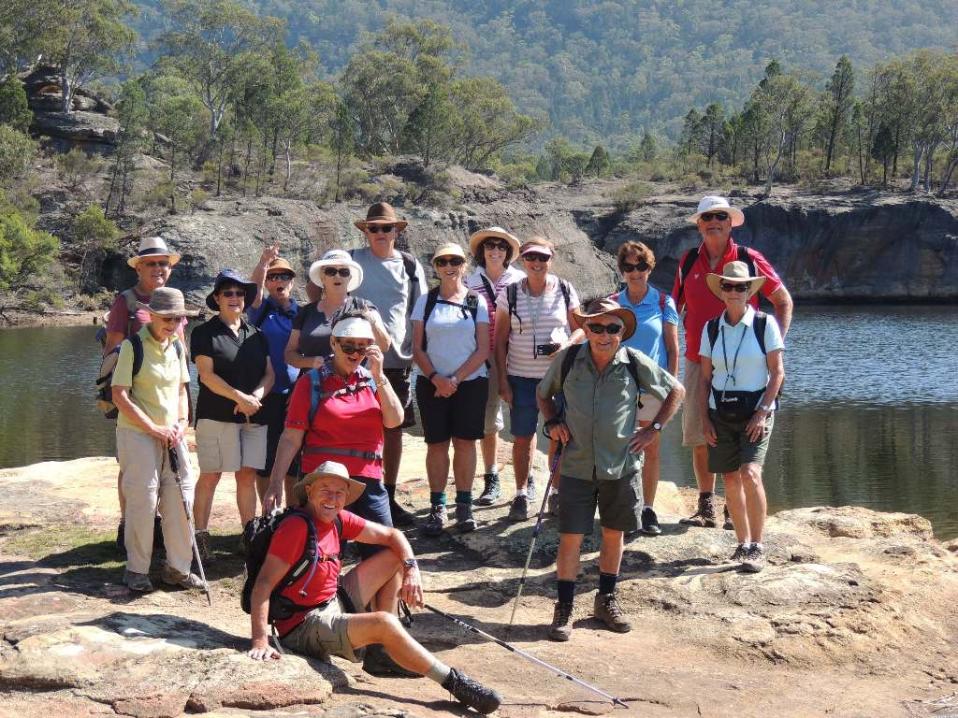 Narrabeen Bushwalkers at Dunn's Swamp, Mudgee 2018
Mudgee Rambling
by Robyn McWilliam
Mudgee, a four-hour drive from Sydney, is best known for its wineries. After a visit five years ago, the Narrabeen bushwalkers decide to explore the walks in this vicinity again.
Our first jaunt is east along Lue Road then Bylong Road to Ferntree Gully. From above, gum trees flood the valley. The Gully walk is around a two-hour circuit initially past conglomerate rock with its smooth, rounded pebbles. A late spell of heat in autumn sees us head off, boots thumping, in 30 degrees Celsius. Communing with nature in isolation feels good for the soul; away from the busyness of the city and traffic noise.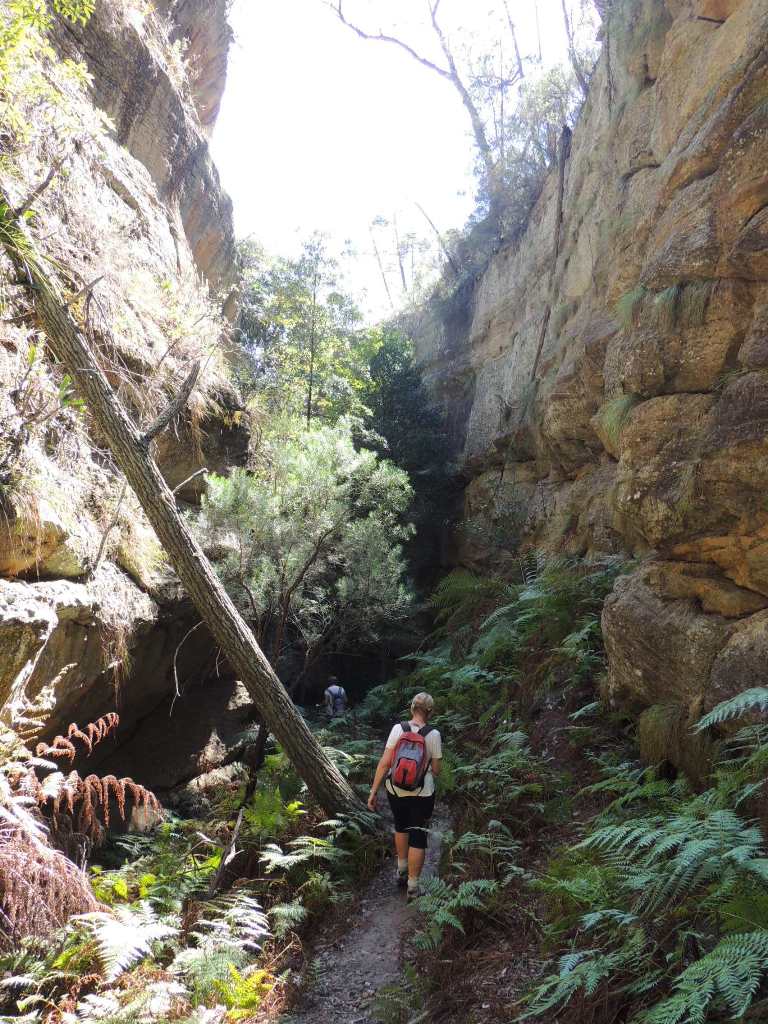 Into Ferntree Gully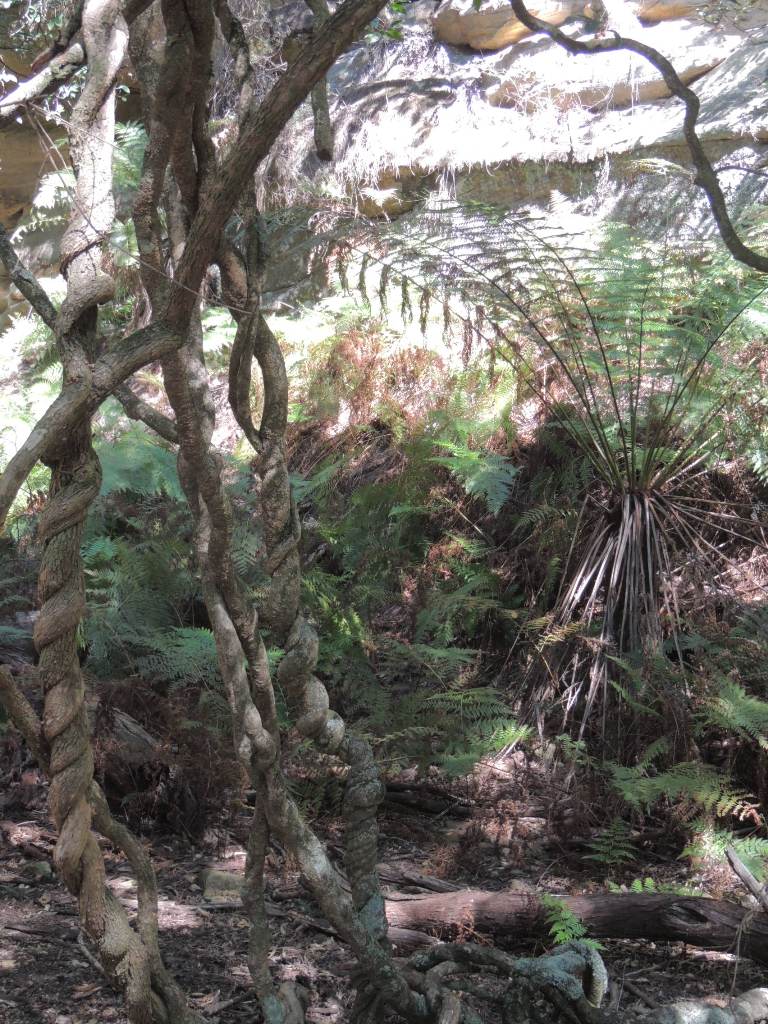 Nature's macrame

Banded sandstone cliffs predominate in the first section. As we descend, the path is flanked by an endless variety of ferns. Tangles of lianas and vines, nature's macramé, crowd the rocky shelves. Down 100 timber-formed steps into the lower gully, tree ferns abound. The air is cool as mist, an escape from the heat. After our walk we drive to Rylstone for Yum Cha, a delicious assortment of dumplings and goji berry tea.
Another day we head south towards Hill End and fossick in the Golden Gully. Eyes avidly searching for the glint of gold, we wander this dug-out creek bed. An ochre arch of rock spans above us against a cobalt sky. A cave is a haven from the heat. Then we move on to the Hill End Heritage Centre where gold-rush days are on display.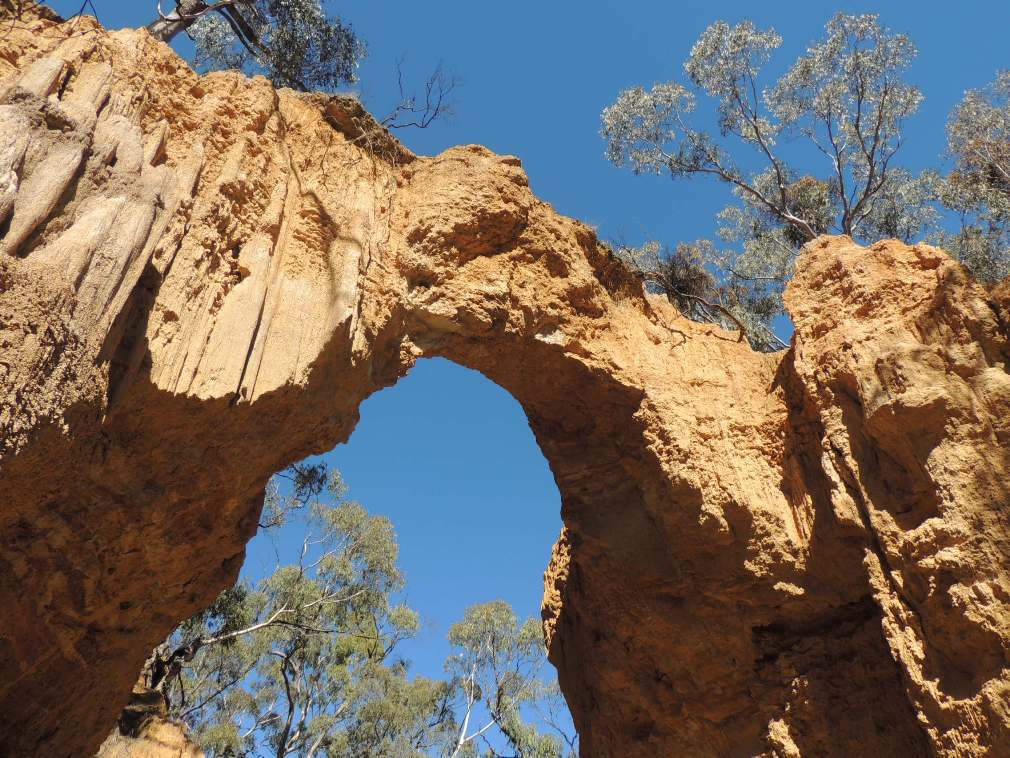 Arch in Golden Gully

Dunns Swamp, our next destination, is east of Rylstone on the western edge of Wollemi National Park. The Weir Walk and Long Cave Circuit is 4.5 km. The Kandos Weir was established in the 1920s when the Cudgegong River was dammed. The track traces along shiny water, eucalypts reflected in its surface. Further along, native cypress pines, a brighter green, are dotted amongst the pagoda rocks. Massive stone overhangs provide shade.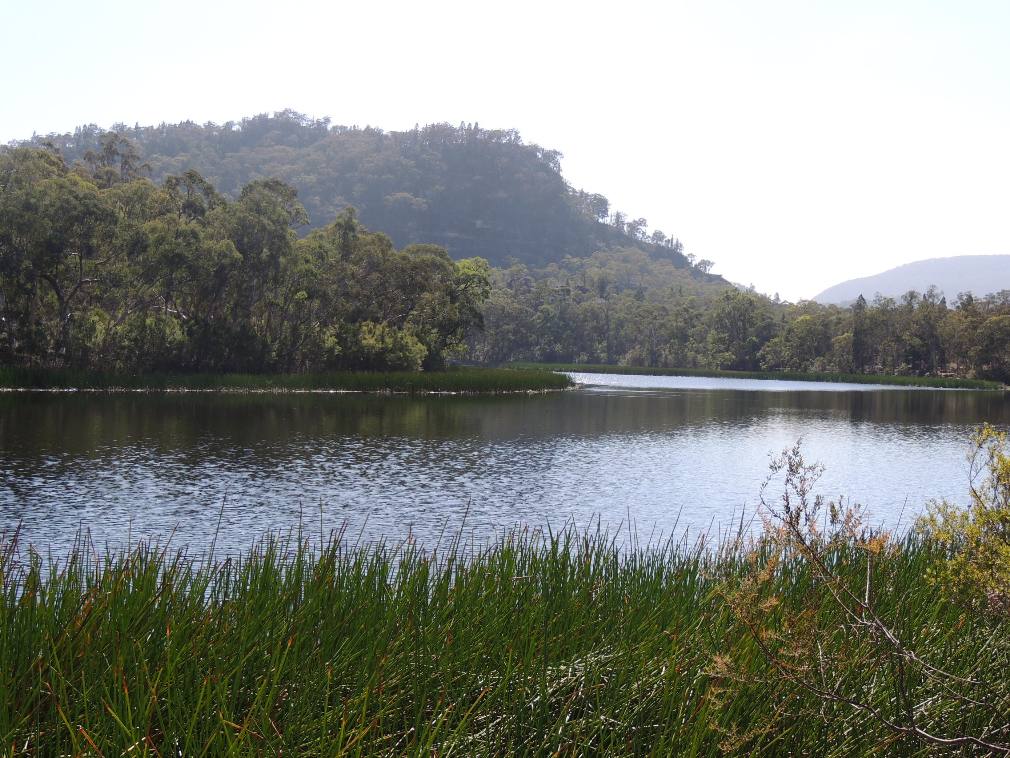 Dunn's Swamp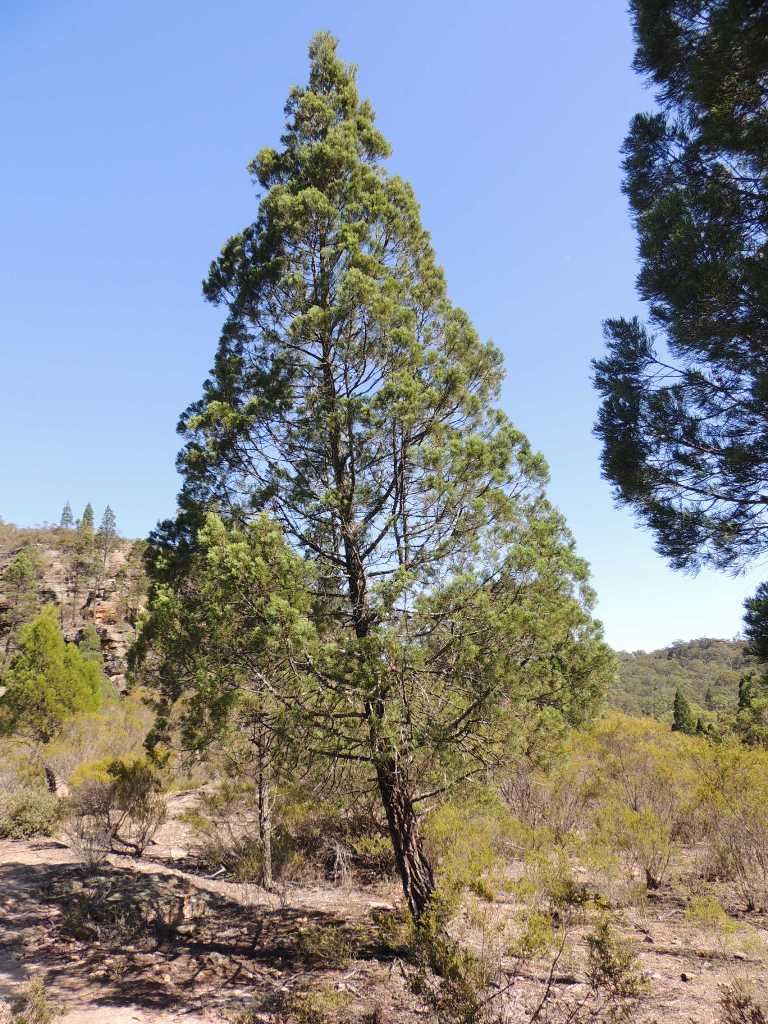 Native cypress pine

On our second last day we drive 50 km north of Mudgee on Ulan Road for a return visit to The Drip. This is an enormous stone wall rearing above surrounding bush. Masses of lichen, mosses and ferns cling to its surface, kept alive by seeping water. We meet Phyllis Setchell, who is spearheading the campaign to save this area under threat from nearby coal mining.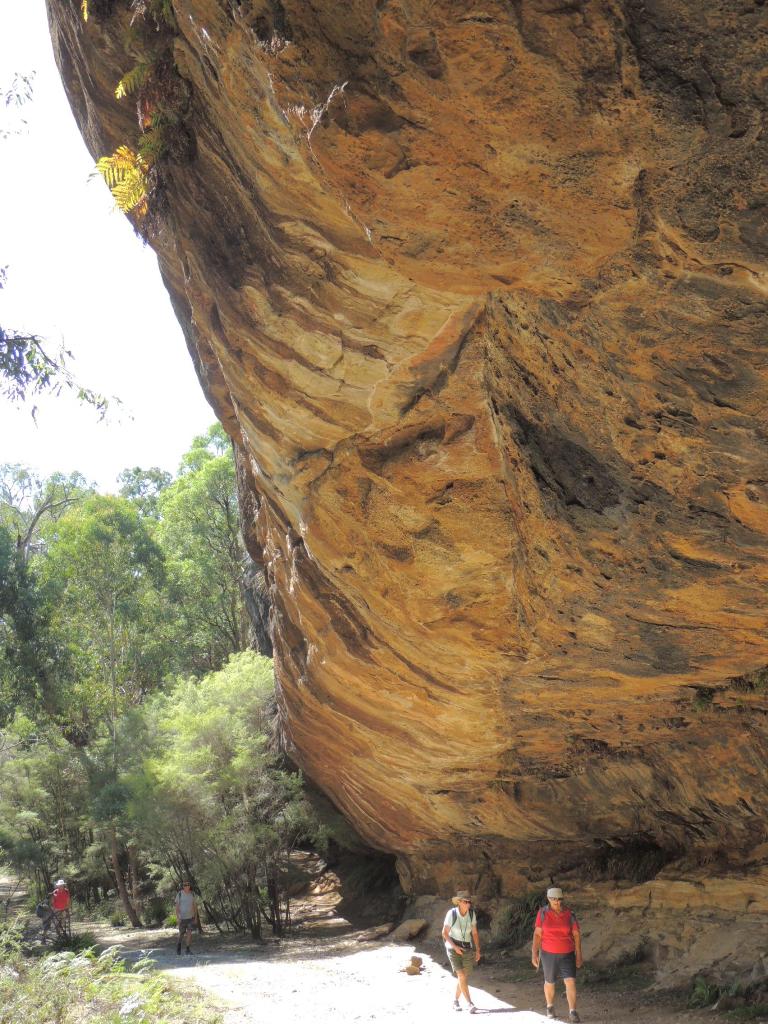 Rock overhead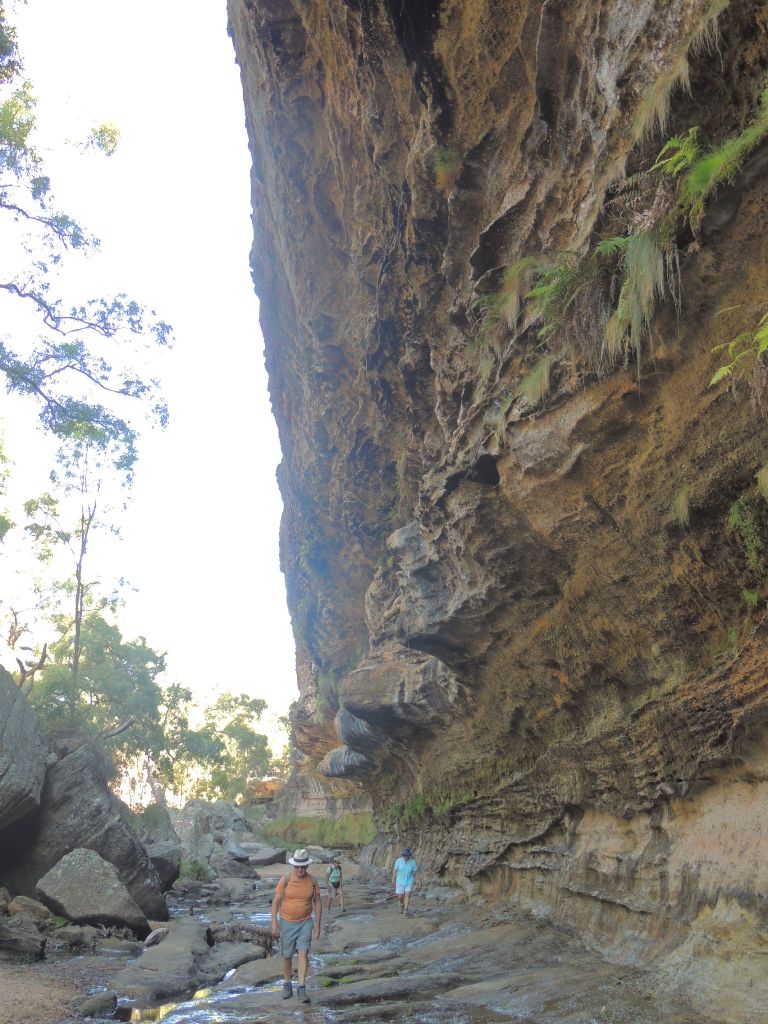 The Drip

A well-trod path flanks the rocky overhangs of the Goulburn River gorge. Leafy Twig-rush sprouts in tussocks from cliff bases. The chirruping of small birds might be rock warblers. Lingering in this pristine place of peacefulness is a treat.
On the sandy river bed one of our fellows had a run-in with a wombat determined not to have its photo taken. He ended up on his back fending off the animal with a walking pole. A re-enactment took place back at drinkies in the caravan park to much hilarity.
After days of trekking amazing landscapes, we lunch at a winery, sharing platters, camaraderie and a glass of rosé.
Absorbing the magic of Mudgee and its environs, our group of bushwalkers head back to Sydney. What natural wonders will we seek out for next year?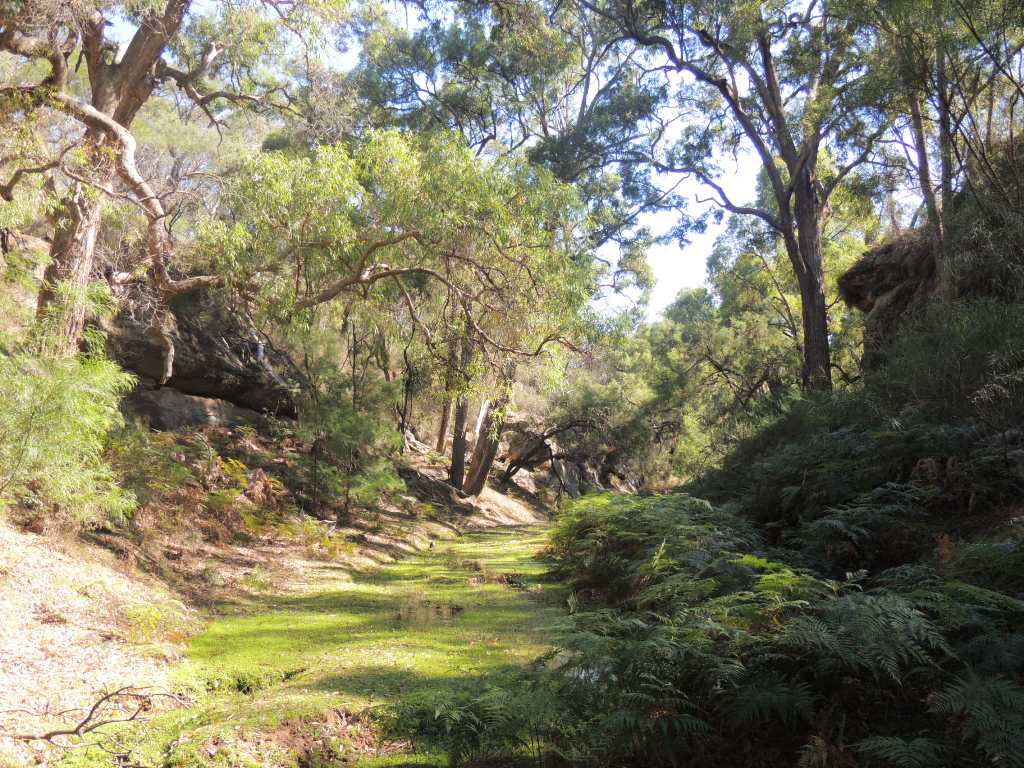 Report and photographs by Robyn McWilliam, 2018