Community News: February 2018
February 18 - 24, 2018: Issue 348
Front Page Issue 348: Avalon Beach Avocados Win Their Trans Tasman Test Debut + NSW Wins the Surf Boat Interstates + More

Tumbarumba Delivers Valentine's Day Divorce Proposal To State Government: Pittwater locals joined a rally this week supporting Tumbarumba residents who came to the big smoke to deliver a proposal to the NSW Government demanding a council demerger

Spotted On Pittwater: Michelle Lee's Different World's Canoe: This Lady is Getting Ready To Row Solo Across The Atlantic - Fundraiser at The Quays Marina, Bayview on March 24th

By The Left Veterans Initiative: Younger And Female Veterans Have Served Too - Avalon Beach ANZAC Day March 2018; Sub-Branch encouraging all female Veterans to March With Us

Church Point Carpark Reserved Parking Space Scheme: EOI's Now Open + we've included some Stage of Works News and Photos for younger Readers who may have an interest in Civil Engineering

Pictures: 2018 Surf Life Saving Sydney Northern Beaches Branch Championships Results for Surf Boats and Masters
Aquatics: Tiny Membrane Makes Sydney Harbour "Drinkable": New Graphair Technology Has Potential To Save Lives Worldwide - from CSIRO
DIY Ideas: Late Summer and Early Autumn Projects: A Shed For All Storage Solutions + Garden Tasks + Keeping Our Waterways Clean

Coastal Connection Key To Conservation: Connecting the Chinese community with the coast was the theme behind an interactive rock pool walk at Long Reef Aquatic Reserve recently

Change As Good As A Holiday For Young Lifesavers: City to Country and Country to City Exchange Program - Hamish Christie (Long Reef SLSC), selected to represent NSW at the Annual Lifeguard Exchange in New Zealand next month - from Surf Life Saving NSW

Park Bench Philosopher City Of Sydney Chinese New Year's Celebrations: Lunar Lanterns At Circular Quay And Community Performances CNY Festival Runs Until March 4th, 2018 - photos courtesy Selena Griffith and City of Sydney Council

Avalon Quilters 2018 Exhibition Of Members Work and AMDF Raffle Quilt Touches Stars: Friday 9th and Saturday 10th of March: 9 a.m. to 5 p.m., in Avalon Uniting Church Hall
Profile: Willi Michalski – Master Potter For the past 30 years master ceramicist, Willi Michalski, has been creating one-off pieces in his Church Point studio. He began in Wollongong decades ago being taught by renowned Australian Artists Ivan and Patricia Englund in 1961 and has recently been honoured by Wollongong Council for his contribution to that city.
Artist of the Month: February 2018 - Willi Michalski – Master Potter
For the past 30 years master ceramicist, Willi Michalski, has been creating one-off pieces in his Church Point studio. Willi has spent decades researching and refining his technique for glaze-on-glaze decoration and, gas reduction firing, with resounding success. Over the years he has developed his own unique style, often creating generously sized pieces, with immediately identifiable sculptural forms.
Pittwater Offshore Newsletter Update 7/2/2018
click on Logo:

To contact Julian: editor@scotlandisland.org.au
Newport Residents Association February Meeting

The next meeting of the
Newport Residents Association will be held on Tuesday 20th February 2018 at the Newport Community Centre, The Boulevard Newport at 7 pm.
We have a break during the month of January however if any matter arises that you wish us to follow up before our next meeting please just contact a committee member or use the
'Contact Facility' here.
Should you wish to send an apology for the next meeting please complete and use the 'Contact Us' facility.
All community members are encouraged and are most welcome to attend.
RFS Updates: Summer 2017-18
Warringah / Pittwater RFB's have responded to numerous events in recent months, among activities and education undertaken in the off season and lead into bushfire season.
Friends Of Narrabeen Lagoon Catchment February 2018 Forum

Protecting Powerful Owls
Coastal Environment Centre
Pelican Path, Lake Park Road, Narrabeen
Georgia Cameron
has been
involved in action to protect the
habitat of powerful owls.
Michael Bianchino
is the
photographer for the book they
co-published about Mikey, the
Powerful Owlet.
Georgia Cameron and Michael Bianchino
will tell about the struggle to protect
habitat in Byles Creek Valley where Mikey,
the Powerful Owlet, fledged.
They have co-authored two children's books
about Mikey, the Powerful Owlet and
friends, to engage people in the cause.
Michael and Georgia host a radio program on local
community radio station Triple H 100.1FM called "The
Half Hour Hoot" featuring environmental issues.
Entry is free but we ask for a donation to cover expenses.
Avalon Quilters 2018 Exhibition Of Members Work
Friday 9th and Saturday 10th of March 2018
Proceeds to Australian Mitochondrial Disease Foundation
"Touching Stars" is a 1930's Vintage Quilt, material purchased in the U.S. and hand quilting done by members using traditional quilting patterns and YLI thread – tickets for the 2018 Raffle Quilt ($2 each or 3 for $5) may be bought at Avalon Fabrics and Craft (4/24 Avalon Parade, Avalon Beach) or Cottage Quilts (Building 4, Quattro Corporate, 4 Daydream Street, Warriewood ) or at Patchwork on Pittwater (1 Mona Vale Rd, Mona Vale) – or from Avalon Quilters (Thursday in Avalon Uniting Church) or at the 2018 Exhibition of Members Work.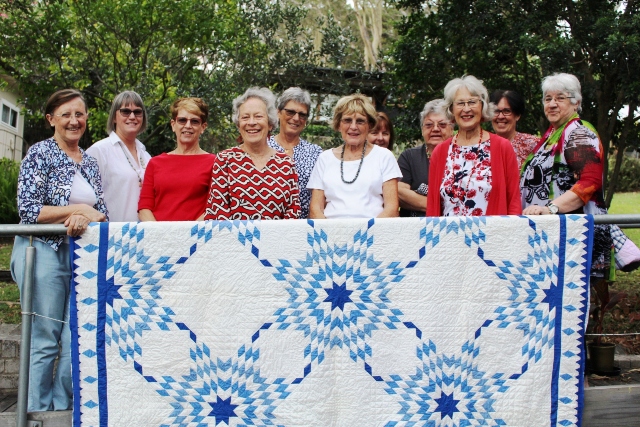 Avalon Quilters members with their raffle quilt
"Touching Stars"
(Queen size)
Pittwater Online also spoke to the Avalon Quilters about some of the wonderful works you will see here – all done by members, some Traditional and Modern takes on Quilts and Quilting, with close to 100 quilts on exhibit this year. One of these has been made into a pattern by member Marilyn and may be purchased at the 2018 Exhibition for $10. This also forms what will be the 2019 Raffle Quilt from the 1800's – with some reproduced 1860's fabrics. These were sourced from Dr. Annette Gero, one of Australia's and the world's leading quilt historians who generously sold some to the Avalon Quilters.
Find out more in:
Pet of the Week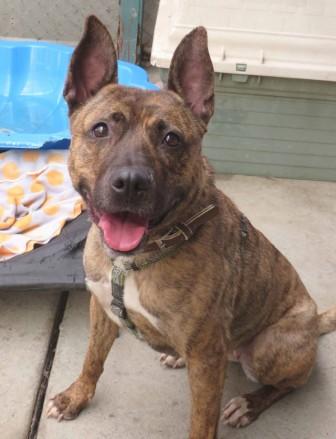 AGE/SEX: 4 years / F
BREED: Staffy X
Maple is a sweet affectionate girl who loves people. She walks nicely on loose lead, ignoring cars and dogs. She walks at a good pace and likes to jog. She loves cuddles and pats and can be picked by strangers. She was been walked with families with older children. She has a smooth coat and weighs 24.1kg. She comes desexed, C5 vaccinated, heartworm free and microchipped. Also included for the love and health of our dogs is a free Health and Wellness Voucher with our DR Vet. Her adoption cost is $450.
B-Line Updates February:
Mona Vale And
Warriewood
WARRIEWOOD CONSTRUCTION UPDATE
In Warriewood, the installation of northbound and southbound bus stops along Pittwater Road is mostly
complete, including new commuter seating and Passenger Information Displays.
In February, work will continue to widen the access road from Pittwater Road into the car park, in preparation for the
installation of a signalised intersection. Utilities work will
also continue throughout February and landscaping work
will commence around the commuter car park site.
In February, work will include:
construction of the car park facade,

concrete columns, lift, stairwell and the new

amenities block. Temporary toilets will

remain in place as work continues on the

amenities block

installation of overhead and underground utilities,

including water main relocation

landscaping which may include

vegetation trimming and removal

finishing work to northbound and

southbound bus stops on Pittwater Road

asphalting, line marking and continued work on new

traffic signals

footpath work
Work will occur at the sites located on the map during
standard construction hours:
7am to 6pm, Monday to Friday




8am to 1pm on Saturday



Some work is required to be carried out at night for the
safety of workers, pedestrians and road users and to
minimise traffic impacts. Site set up activities will start
from 7pm.
Construction work is scheduled from 9pm and will
continue to 6am, up to five nights a week work will take
place generally Sunday to Thursday nights.
Please check the B-Line website for more up to date
information about night work
MONA VALE CONSTRUCTION UPDATE
Construction work is near completion at the new commuter
car park at Mona Vale. The car park is now open and will
remain open throughout February as minor finishing work is
completed.
Road work will also continue through February, as well as
works to complete footpaths and medians
In February, road work will include:
traffic island adjustments at the intersections of

Pittwater Road and Barrenjoey Road, and Park

Street, Golf Avenue and Barrenjoey Road, including

drainage and traffic signal work

asphalting works on Pittwater and Barrenjoey Roads

installation of new kerb

Beeby Reserve car park modifications including

service installation, pavement work and sign

installation

bus stop completion work

car park access control work
TRAFFIC AND PARKING CHANGES
Approximately 8 parking spaces may be temporarily
unavailable in the car park to accommodate the car park
finishing works. The car park will also be closed during
February overnight and signage will be displayed with
dates and times.
Temporary fencing, traffic control, and signs will be in
place for the safety of motorists and pedestrians. Please
be careful around sites and follow the direction of traffic
controls and temporary signs
(Available 24/7 for project enquiries and complaints)
For the latest traffic updates
Phone: 132 701
Download: Live Traffic NSW App
For more information about the B-Line project,
Aboriginal Cultural Heritage Legislation
The Office of Environment & Heritage is changing the way Aboriginal cultural heritage is conserved and managed in NSW and is seeking feedback on the proposed new system.
The Office of Environment & Heritage is seeking community input on a proposed new system for managing and conserving Aboriginal cultural heritage.
This involves changing the law for conserving and managing Aboriginal cultural heritage and includes the draft Aboriginal cultural heritage legislation. This will form the cornerstone of a new legal framework that will, over time, also include new regulations, policies and guidelines.
There will be a series of information sessions, workshops and webinars from September to February 2018 to explain the proposed new system and to seek feedback.
There are five ways you can provide your feedback:
Phone: 131 555
Mail: NSW Office of Environment and Heritage
PO Box A290
Sydney South NSW 1232
Have your say by 2 March 2018.
Phone: 131 555
Northern Beaches Walking Plan: Input Sought
Council are developing a footpath plan which will guide the delivery of their future footpath program. They're seeking your help to identify missing links within the existing footpath network and where new ones are required.
Use the interactive map or comment form to provide information on where you would like us to consider a footpath for inclusion in the Northern Beaches Walking Plan.
Identify gaps and new footpath considerations via the
mapping tool
Community workshops will be held during February and March 2018, with at least one in all of the newly created wards.
Details of these workshops will be available soon. You can register your interest in a workshop near you via an
online comment form
.
Further information contact Michelle Carter on 9970 1196.
Comments close Sunday 4 March 2018
Navigation Restriction - Hawkesbury River Railway Bridge
Hawkesbury River Railway Bridge, Hawkesbury River
SPAN 2 CLOSURE – BRIDGE MAINTENANCE WORKS
Thursday 1 February 2018 to Wednesday 28 February 2018
(Marine Safety Act 1998 s.12)
Vessel operators are advised that due to maintenance works on pier two of the rail bridge across the Hawkesbury River (south of Cogra Point), navigation through span 2 will be restricted and an exclusion zone will be established approximately 50 metres upstream and downstream of the Hawkesbury River Railway Bridge from Thursday 1 February 2018 to Wednesday 28 February 2018.
The exclusion zone will be marked by lit yellow buoys and signage and unauthorised vessels are prohibited from operating within the exclusion zone.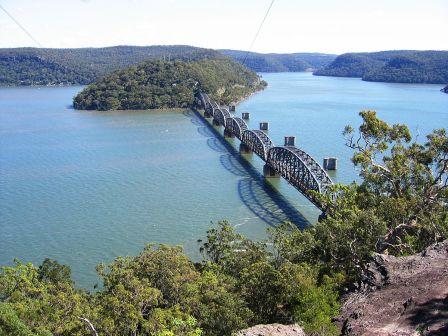 Vessel operators are advised to exercise extreme caution when navigating in the vicinity of the works and to pay particular attention to work vessels and buoyed off areas. This navigation warning remains in place for the duration of the works.
Roads and Maritime advises:
Vessels are required to maintain a safe distance and speed from the works and operators are reminded that the production of wash which impacts unreasonably on the works is an offence (Marine Safety Regulation 2016 – clause 11(2) - Maximum Penalty $5,500.00)

Persons within the vicinity of the works must comply with any directions given by a Boating Safety Officer or Police Officer in relation to the works or to marine safety. Failure to comply with any such direction is an offence (Marine Safety Act 1998, s.15A - Maximum Penalty $3,300.00).
Roads & Maritime Services Boating Map – 9B
For further information concerning this Navigation Restriction, please contact the Roads and Maritime info line on 13 12 36 or Sydney Trains Customer Service 131 500.
Spotted On Pittwater: Michelle Lee's Different World's Canoe
Of all the vessels you see plying their ways on the estuary, this one, caught by Regina Renfree of Palm Beach Sailing Club whole capturing Day 2 of the NSW Hobie State Titles on Pittwater last Sunday, must have caused a bit of 'what the?'.
Michelle Lee was on a visit to
The Quays Marina at Bayview
to raise awareness of a challenge she is undertaking, commencing December 2018 - the Talisker Whiskey Atlantic Challenge, one of the world's toughest nautical challenges, and the ultimate test in mental and physical strength and endurance. This Challenge is a 2900 nautical mile (5371km) ocean row will start from La Gomera, Canary Islands and finish 60-90 days later in English Harbour, Antigua.
Michelle will be one of the solo rowers that make up about 30 crews - comprising of solo's, pairs or fours. The race is professionally organised and fully supported with strict rules and regulations with mandatory courses to give you the best chance of completing this mammoth challenge safely.
The Ocean Rowing boats are specifically designed with self righting and self draining abilities. Michelle's boat has been built from scratch and is of full carbon fibre. It has all of the latest safety and navigational equipment on board and able to sustain her for the duration of the row.
Michelle is the current world record holding for the one million metre row. She beat the previous record by 10 hours and 29 mins.
Michelle has an impressive history of athletic achievements and has proven time and again her ability to push beyond her boundaries, to take on bigger and bigger challenges, to go through the gruelling training required to prepare for them, and to succeed. All of these challenges have required not only top physical fitness, but a mastery over her emotional and mental states.
In 1996, Michelle did a 9-day trek covering 160km to the peak of the Annapurna Circuit, through the Himalayas hiking a 14kg pack the whole time.
In 2012, she trekked the 96km Kokoda Trail in Papua New Guinea, completing the ruggedly relentless trek of constant undulations, in just 5 days – a trek normally only able to be done in 9 to 12 days. Again all the while carrying a fully loaded backpack.
For fun she has done many Mini-Triathlons, long distance ocean swims, parasailing and white water rafting. Throw in weekly 40-60km cycling, along with 14-18km runs, and you know the lady is taking this challenge seriously.
If she gets through Michelle will be Australia's first female to row solo across the Atlantic ocean.
Michelle can't focus on getting across the line without some help though - she's looking for sponsors and even donations.
Follow her journey on
Facebook
OR: let's help get this Australian lady closer to where she wants to go -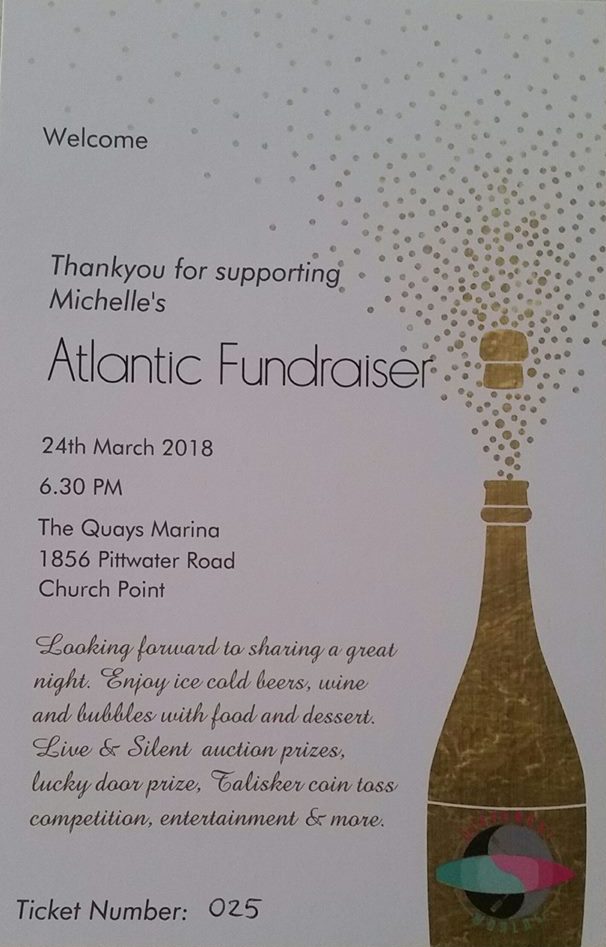 Opportunity For Offshore Residents To Secure Long Term Parking At Church Point: EOI's Now Open
February 16, 2018: NBC Media Release
Northern Beaches Council will open a new carpark at Church Point in late March and applications are now open for offshore residents to secure a long-term reserved parking space.
The two level carpark located on McCarrs Creek Road will allocate 68 reserved parking spaces on the top level of the carpark to eligible residents through a ballot system for a two year term.
The lower level will be a Pay and Display carpark for the community and visitors to the area and will also be available for Church Point Permit holders overnight.
General Manager Environment and Infrastructure Ben Taylor said the reserved spaces will be issued via an Expression of Interest consisting of up to four rounds.
"Demand for parking is a challenge at many locations across the Northern Beaches and Church Point has been particularly difficult for both local residents and those who live offshore," Mr Taylor said.
"Too often we hear stories of offshore residents coming home and spending hours trying to park, having to walk kilometres to their car, or even giving up and staying with friends nearby.
"Onshore residents are also impacted by the huge demand for limited spaces.
"Access to this new carpark, along with the car parking spaces at Church Point Reserve and Bothams Beach, will provide additional parking options for offshore residents and help to alleviate parking issues in the area, in particular for those wishing to park overnight.
"After several years of consultation with the local community it is exciting to be offering some certainty to local residents."
First round applications open on Saturday 17 February with priority given to permanent offshore property owners who reside at Scotland Island, Elvina Bay, Lovett Bay, Morning Bay and Douglas Estate who are existing holders of a Church Point parking permit.
The ballot will be selected from the eligible applications at random by a system under the supervision of the Northern Beaches Office of Integrity and Complaints Resolution.
If not exhausted in the first round ballot, three additional rounds will be conducted until all are allocated. A waiting list will be created if demand exceeds the allocation.
Cost to secure a reserved spot for a two-year term is $4,939 per year and paid quarterly.
Applications will close on Sunday 4 March with the first round of notifications being communicated to residents in the week commencing 12 March 2018.
The costs for the reserved spaces together with Pay and Display on the lower level are contributing to the cost of the carpark. Eligible residents can submit an EOI now at northernbeaches.nsw.gov.au
How to Apply

Or download and complete the PDF form and submit via:
- Email: parkingoperations@northernbeaches.nsw.gov.au
- Post: Northern Beaches Council, 725 Pittwater Road, Dee Why, NSW, 2099
- Deliver in person: to one of our customer service locations
Funds Available To Support Active Kids
Member for Pittwater Rob Stokes is reminding parents to take advantage of the NSW Government's Active Kids rebate when registering their children for sport programs this year.
The NSW Government will contribute $100 for every school-aged child towards the cost of sports registration or fees for physical activities such as swimming, dance and athletics.
Over $200 million has been allocated towards the scheme over the next four years.
"Pittwater is a recreational hub and we're really fortunate to have excellent sporting clubs and organisations catering to a wide range of interests and abilities," Rob Stokes said today.
"We want all kids to have the opportunity to experience the thrill and health benefits of organised sport.
"I'm delighted the NSW Government is helping to alleviate the financial pressure on parents who are hoping to get their children involved in some form of active sport.
"The rebate is able to be claimed throughout the year – so parents have the flexibility of using it for either summer or winter sports," Rob Stokes said.
Parents can register online with Service NSW to receive their $100 voucher to provide to their approved sport or physical activity club.

BYRA NEWS
NS14 State Championships At BYRA Easter 2018
Friday 30 March to Monday 2 April.
Entry closes 1 March 2018 for those wishing to order shirts.
Monday 2 April is a reserve DAY for if the scheduled races have not been completed by Sunday.
Saturday social function is a spit roast at BYRA being organized by the Association.
The NS14 is an Australian designed sailing dinghy, intended for competitive family sailing. It has a simple rig, is light enough to be lifted from a trailer into the water by 3 persons of average strength, requires only reasonable fitness to sail, and is affordable by the private sailor.
Peter Loft Marathon Race 2018: May 6th Fundraiser
BYRA's annual Peter Loft Marathon Race takes place annually on the first Sunday in May. This is a great event and sailors from all clubs are welcome. All race fees benefit the Peter Loft Foundation.
This year the

Peter Loft Marathon Race Will take place on May 6th from 8am to 4pm
Peter Loft, a talented young sailor and member of BYRA was tragically killed in a plane accident in 1990. He appears on BYRA's honour board multiple times. In the 1986-87 season, Peter was the Manly Junior National Champion. The following season Peter switched to the 420 and proceeded to become the 420 National Champion that year and the next.
In Peter's honour, the Peter Loft Foundation was set up to help young sailors compete in national and international sailing regattas. Since the 1990s the marathon race has become an institution on Pittwater, and thousands of dollars have been passed on to the foundation.
One of the most popular aspects of the race is the Le Mans start. Competitors line up on the beach beside the clubhouse and, on the dropping of the BYRA flag, sprint to their boats to begin. Clearly this gives the less-old sailors an advantage, but history shows that experience soon wins out.
After the race, please join us for prize-giving and a barbeque dinner on the BYRA deck. Refreshments will also be available.
The Bayview Yacht Racing Association
(BYRA) is a sailing club based on Pittwater. We specialise in dinghy sailing and offer learn to sail courses and racing for Lasers, Spirals, Flying Elevens, Manly Juniors, Optimists and other classes. We also offer twilight racing on Pittwater for keel boats.

Environmental Restoration And Rehabilitation Grants
February 6th, 2018: NSW O&H
The Restoration and Rehabilitation grants program is now open to
applications, and will close on Monday, 26 March 2018
To assist in the ongoing sustainable management and stewardship of significant environmental assets and services in NSW.
Individual grants of up to $100,000 with a total of $2,000,000 for community organisations and $2,000,000 for government entities.
Community groups and organisations, incorporated associations, non-profit organisations, non-commercial cooperatives, Trusts and government entities.
Register Now For Lending Rights
February 14, 2018: Australian Government Dept. of Communications and the Arts
Are you an author, creator or publisher who has released a book in the last five years? You may be eligible for lending rights.
The public and educational lending right schemes compensate Australian creators and publishers for lost income through the free use of books in Australian public and educational lending libraries.
Payment is based on the estimated number of the specific book held in public and/or educational lending libraries.
You can now easily make and track your claims using our online portal. Make sure you register now for the 2018/19 program year, as title claims need to be lodged by 31 March 2018.
For more information on eligibility and how to register and submit a claim see the
Lending Rights page
.
Consultation On Online Copyright Infringement
February 13, 2018: Australian Government Dept. of Communication and the Arts
We are seeking views on the effectiveness and efficiency of Australia's online copyright infringement amendment.
This review supports the Government's commitment to review the operation of the online infringement amendment after it came into effect on 27 June 2015.
As part of our consultation round, we will meet with stakeholder groups affected by the amendment, including peak bodies and their members, to discuss their experiences and views.
Submissions close on 16 March at 5.00 pm (AEST).
Wildlife Wins!
Sydney Wildlife were thrilled and honoured to be the recipients of the Community Event of the Year Award at the Australia Day Awards for our inaugural 'Go Wild Gala'!!!
It's wonderful to know that the community is behind our pioneering project, as well as our Councillors and our esteemed Mayor, Michael Regan.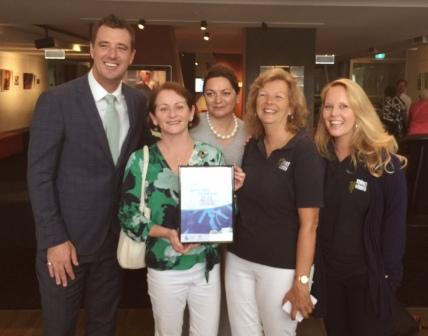 Mayor Michael Regan with Kirstie (one of the lovely award nominators), Sydney Wildlife Treasurer - Diane Jenner, Joan Reid and Lynleigh Greig - 2 of the 'Go Wild Gala' committee members.
Not all the committee members could attend the Awards Ceremony but here they all are at a lunch meeting prior to the Gala. Joan, Lynleigh, Lisa, Nicole, Laurie and Ali.
We would like to say a gigantic thank you to all the wonderful people who nominated our event and to the adjudication panel for selecting our event as the winner. We were extremely honoured to listen to Mayor Regan speak highly of our volunteers and to have him present the award to us, along with the Hon. Brad Hazzard and Australia Day Ambassador Peter Wynn.
The Award Ceremony took place on Australia Day 2018 at the Glen St Theatre. There were 6 award categories:
Citizen of the Year
Senior Citizen of the Year
Young Citizen of the Year
Sportsperson of the Year
Community Event of the Year
Outstanding Community Service Award.
Sydney Wildlife's "Go Wild Gala" won in the category of Community Event of the Year. The gala was held to raise funds to purchase and equip a much-needed Mobile Wildlife Clinic.
The Gala came together as a result of hard work and dedication from many of our volunteers. Our committee consisted of 5 members initially, but when Ali moved back to Bermuda a month before the event, we were down to 4 members - Lisa, Joan, Laurie and myself. Nicole was an honorary member of the committee who spent hours sending out emails and letters to companies asking for donations for our Auction. She also spent 6 months filming and producing an emotive video that was aired on the night, showcasing what we do for wildlife and why we need the mobile clinic. The video can be viewed here:
t took about 6 months to organise the Gala and the amount of community involvement was astounding! Two of our committee members - Lisa and Laurie - weren't actually members of Sydney Wildlife yet but they gave freely of their time and talents. Lisa was a demon in her quest to obtain as many prizes for the Auction as humanly possible! She even managed to get her friends from Levendi Jewellers to donate an exquisite white gold and diamond necklace - the Levendi Kiss - as our raffle prize. And Laurie did all our graphic design work and printing free of charge.
On the night of the Gala we had assistance from the wonderful Jeannie at the venue (the Cardinal's Palace in Manly) as well as a large group of students at the ICMS who were in charge of decor, general event coordination and the food for the evening. Our MC for the evening, Jason Morrison - Head of 7 News - got the night off to a fun and interesting start and he introduced our first entertainer for the evening.
The beautiful soprano, Phoebe-Celeste Humphreys, of Opera Australia gave freely of her talent and that of her accompanying musicians to open proceedings with her captivating voice. Later we were treated to a wonderful performance by Arthur Murray dancers - Jace and Melissa - who also donated their time for the event.
We had celebrities, councillors, volunteers, executives, media representatives and people from all walks of the community in attendance. We even had Animal Planet's Snake Boss (Julia Baker) and Johny Bagpipes who flew down from Queensland to do our Auction for us!
Guests arriving at the Cardinal's Palace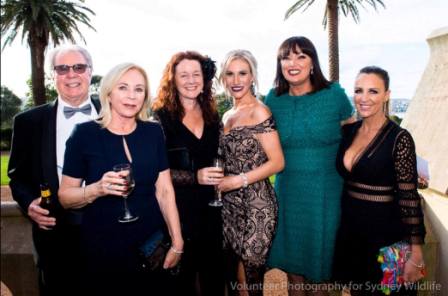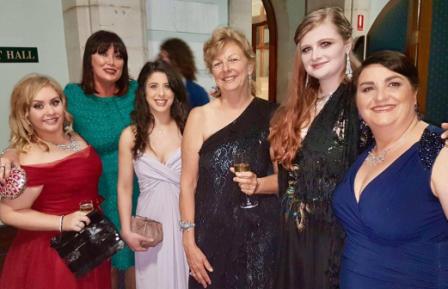 The entire event was captured on camera by the sensational Michael Mannington of Volunteer Photography whose images were a wonderful collage of memories of our first-ever Go Wild Gala!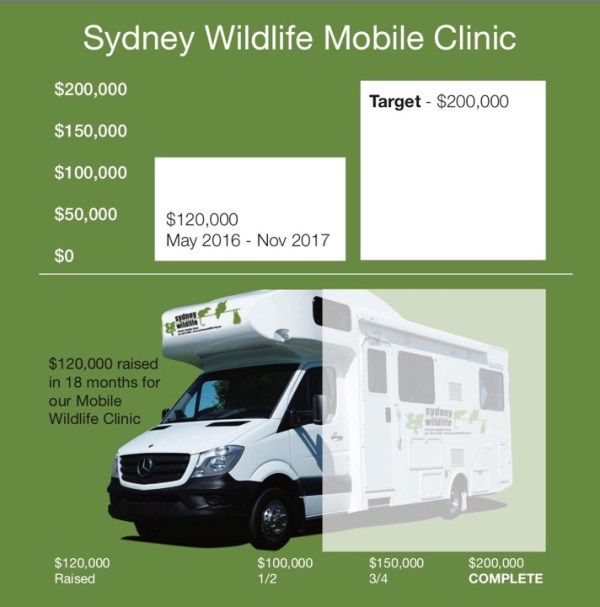 Residents Want 'Welcome To Pittwater' Sign Returned
Pittwater Online has been contacted by a number of residents this week expressing their dismay that the 'Welcome to Pittwater' sign as you come along Wakehurst Parkway has disappeared.
Although many of the former Pittwater Council logos are disappearing or being scrubbed out from the names of wharves, obviously to be replaced by the new 'design', readers have expressed this cheery sign made them many feel welcomed and gave those returning home a boost after a long day.
As Pittwater is now a Ward, with different boundaries, the wish expressed is that such a sign may be returned and placed where the new lines mark Pittwater's circumference so that good cheer may continue.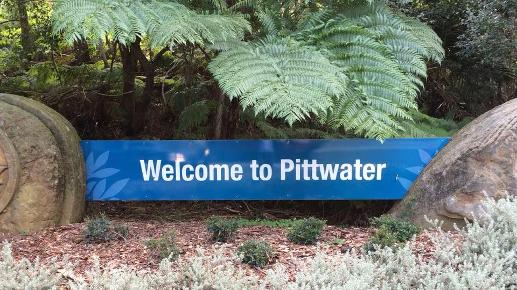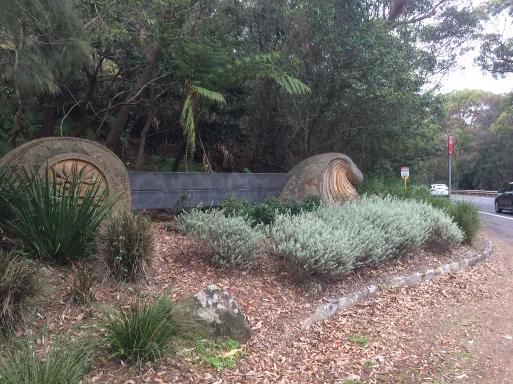 Mona Vale Hospital Auxiliary 2018 Stalls
March

3rd: Stall, Pittwater Place, Mona Vale 9am to 3pm
Sewing, knitting, craft, books
16th: Stall, Foyer Mona Vale Hospital 9am to 3pm
Baking, knitting, sewing, books
17th: Bunnings, Narrabeen 8am to 3pm
Sausage Sizzle
April
7th: Stall, Pittwater Place, Mona Vale 9am to 3pm
Sewing, knitting, craft, books
14th: Bunnings, Narrabeen 8am to 3pm
Sausage Sizzle
20th: Stall, Foyer Mona Vale Hospital 9am to 3pm
Baking, knitting, sewing, books
May
5th: Stall, Pittwater Place, Mona Vale 9am to 3pm
Sewing, knitting, sewing, books
5th: Bunnings, Narrabeen 8am to 3pm
Sausage Sizzle
11th: Stall: Outside ANZ Bank, Avalon 8am to 4pm
Knitting, sewing, craft, jam

18th: Stall, Foyer Mona Vale Hospital 9am to 3pm
Baking, knitting, sewing, books
June
2nd: Stall, Pittwater Place, Mona Vale 9am to 3pm
Sewing, knitting, craft, books
9th: Bunnings, Narrabeen 8am to 3pm
Sausage Sizzle
15th: Stall, Foyer Mona Vale Hospital 9am to 3pm
Baking, knitting, sewing, books
Amon Community Grants Fund - Round 1
In September last year, I was privileged to be elected as a Liberal Party endorsed Councillor to serve the people of Narrabeen Ward on Northern Beaches Council.
In my brief time on Council, I have been struck by the generosity and effectiveness of our community groups. As a way of giving back, I am establishing the Amon Community Grants Fund by donating a part of my Councillor pay.
Round 1 of the program includes a total of $5,000 and is now open for applications. Grants are between $200 to $500 for any community group to help with projects or the purchase of items which benefit our community.
As I am a Councillor for Narrabeen Ward, priority will be given to groups with a connection to that Ward. A connection might be that your group is based in Narrabeen Ward, does work in the Ward, or one of your members lives in the Ward. However, the application process is very brief so please apply by clicking below. All applications will be assessed by an independent community panel.
Applications close on 28 February 2018 - apply today!
Rory Amon.
Pittwater Artists Trail 2018
Now's the time to apply to join the Pittwater Artists Trail for 2018/19. If you're an artist living on the Northern Beaches and have a studio in the Pittwater area get in touch. Details on our website:
The Pittwater Artists Trail is an alliance of artists who collectively open their studios to the public on two weekends each year creating a Trail for art lovers.
Visitors can engage with the artists, see how they work and what inspires them, buy beautiful, original artworks or perhaps enrol in one of the courses offered by a number of artists on the Trail.
Next open weekend is March 10 and 11, 2018.
All studios are open from 10am - 5pm.

Boating facilities upgrade: Two New Pontoons Proposed for Rowland Reserve Bayview
Council are proposing to install additional boat access facilities for the northern and southern boat ramps at Rowland Reserve, Bayview.
The proposal for two new access pontoons is being facilitated to provide recreational boat users with a safe and more efficient means of embarking and disembarking water craft about the existing boat ramps.
View the plans
Have your say
Register for updates on the project
In writing marked 'Boating Facilities Upgrade - Rowland Reserve' addressed to: Northern Beaches Council, Civic Centre, 725 Pittwater Rd, Dee Why.
Comments close Sunday 18 February
Frequently Asked Questions - From Council's webpage
Will I be able to launch a boat from land during the works?
Yes, one ramp will be available during construction.
Will access along the foreshore change or be restricted?

A small area at each ramp will be fenced off for safety reasons during construction, but otherwise access along the foreshore will be maintained as existing.
Will parking be affected during or after the works?
A small area for site materials and waste storage will be established adjacent to the boat ramps within the carpark area during construction. This area will be fenced off and unavailable to the public during construction.
The site materials and waste storage area will have minimal impact on the available carparking or associated vehicle lanes.
Will the works affect the navigation of the surrounding waterways?

The proposed new pontoons will extend approximately 23 metres from the lowest astronomical tide mark into the waterway and will incorporate new lighting which will improve navigation about the existing boat ramps.
The impact of the proposal will be minimal with regard to navigation.
Will the proposal affect Marine Rescue operations?

Access to the Pittwater from Rowland Reserve will be maintained for Marine Rescue operations.
How will the proposal affect commercial uses such as barge and salvage operations?

Access to the Northern Boat Ramp will be maintained for commercial operators with minor interruptions during piling works.
Will any marine vegetation be disturbed as a result of the works?

No seagrass species such as Zostera or Posidonia* were found within the Aquatic Survey area. Marine pest Caulerpa Taxifolia was found to be located within the survey area. Management procedures have been prepared to minimise the risk of spreading the pest algae Caulerpa Taxifolia to other parts of Pittwater. A small area of marine algae Sargassum will likely be disturbed near the Southern boat ramp. Additional vertical surface area will be created as a result of the works, which would support fringing algae species. *Refer the Aquatic Ecology Survey Report for details of local sea grasses.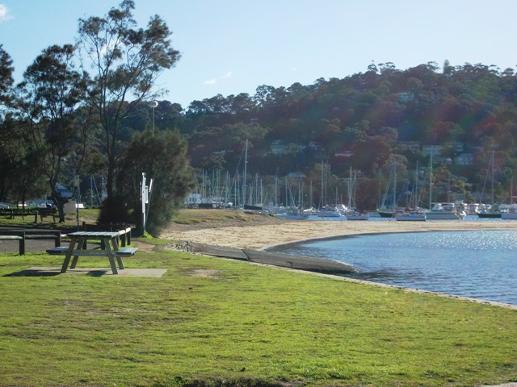 Petition: Save Ingleside From Over-Development
PROPOSED INGLESIDE DEVELOPMENT
We the undersigned, write in connection with the above proposal and wish to object strongly and respectfully to the development of the area in the proposed manner.
Ingleside is a dispersed settlement where development proposals should be considered very carefully: infilling could ruin the character of the area but estate development will not only overwhelm it but also overwhelm the vast majority of residents living from Narrabeen to Palm Beach who will travel through or near Ingleside every day.
Naturally, we understand that the State Government has a determined growth strategy. However, the overwhelming increase in immediate population and thoroughfare traffic will have a devastating effect upon the existing population who live here and contribute to Sydney as a city and as a defined demographic already.
Pressure for the development in the region is considerable, mainly for housing city commuters, but has been successfully resisted for more than 30 years for the same reasons as now. The infrastructure was not in place and as can be seen by the impact of development in Warriewood, remains at an unsupportive level. The reasons for rejecting those schemes also included the inadequacy of the minor roads apart from Mona Vale Road to accommodate even small increases in traffic.
Reference is made to the over one thousand comments on the supporting website, mostly by residents of Pittwater external to the immediate area of Ingleside who have failed to have a voice but as your constituents have equal right to be represented as bearing the impact of the development.
With the above in mind, we request that the development be reviewed to take into account the residents of Pittwater, whom you represent. Rather than telling them why it will be good for them, consider the voice of the residents and understand why it will be bad for them.
February 11 - 17, 2018: Issue 347
February 4 - 10, 2018: Issue 346