February 25 - March 3, 2018: Issue 349
Marcus Blackmore Enters Latest Buy In Sydney Harbour Regatta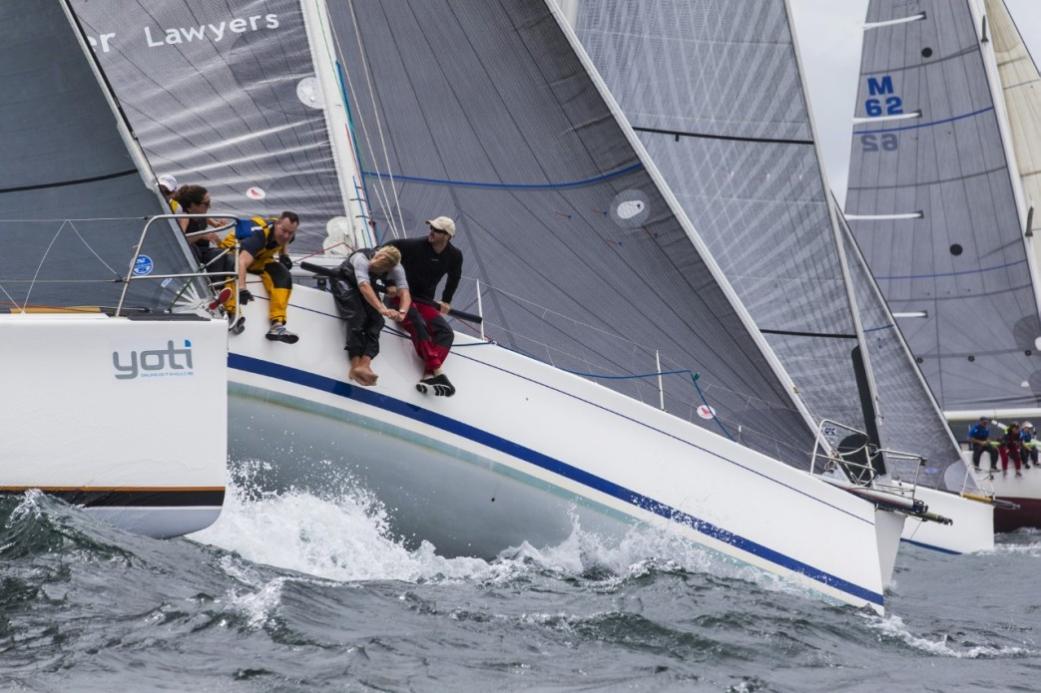 Photo: Close quarters in the Sydney 38 start - by Andrea Francolini MHYC
Marcus Blackmore enters latest buy in Sydney Harbour Regatta
Middle Harbour Yacht Club's Sydney Harbour Regatta has already attracted a wide variety of boats across its many classes and divisions, but the Club has extended its entry deadline to midnight on Monday 26 February, allowing those who are still returning from holidays and major interstate events more time to enter.
Entry and Notice of Race for the 13th running of the popular regatta, to be held over the weekend of 3-4 March, are available online.
Marcus Blackmore will debut his latest 'Hooligan' at the Regatta, ready to take on other competitors in the Open Class (IRC and ORCi).
A staunch and vocal supporter of sailing across many classes and over many decades, the health supplements leader recently purchased Azzurra out of Argentina. Launched in 2015, the Botin Partners designed boat arrived in Australia with glowing references, including winning the 2017 TP52 Super Series.
"We've made modifications to the keel in New Zealand, the boat's been repainted and the mast goes in this week. We have a good boat – but it's about crew and sails as well," Blackmore said.
"The Sydney Harbour Regatta will be our first run, so we're looking forward to it and particularly to seeing how we go against other TP52's," ended Blackmore, who won New Zealand's Millennium Cup in January with his SW82, Ammonite – on Australia Day no less.
His main TP52 opposition will come from Paul Clitheroe's 'chameleon' TP52, Balance, which these days also races as Quest under the captaincy of Bob Steel.
As Quest, when originally owned by Steel, it won the 2008 Rolex Sydney Hobart, before Clitheroe bought and renamed it Balance and won the 2015 race. In December, it finished the Hobart second as Quest. It is the boat to beat. Rumour has it that Brenton Fischer will also enter his grandfather Syd's TP52, Ragamuffin, which has a rich history too.
Joining the Yngling keel boat class in holding its NSW Championship at the Sydney Harbour Regatta is the Sydney 38 One Design class. Australian class president, Peter Byford and co-owner David Hudson were in early with Conspiracy. The two have sailed and won together for 30 odd years and are expecting a strong field of contenders for the title.
"There's a strong fleet in Lake Macquarie, which will be represented by Austral and Challenge," says David Hudson, who will skipper Conspiracy at the Regatta. "The core of the class is active at Pittwater where entries have come from Risk, Zen and ourselves. There is also the possibility of two from the CYCA.
"We just sailed the Pittwater Regatta - Conspiracy won the Sydney One-Design component, but each boat had a win – it's a very competitive fleet. These one design regattas are very important to maintain the integrity of the class; it reinforces the value of the class and the boats, so we look forward to a strong fleet for the NSW Championship," Hudson ended.
The Super 12 class was created to attract an eclectic mix of trendy one-design boats to race against each other outside of their class events. It is working a treat. Among entries to-date are MC38s Easy Tiger VI, Lazy Dog and Lightspeed, the distinct Shaw 11 Metre carbon canting Little Nico and Victoire, the latest in Carkeek 40's.
Farr 30s, Hick 30s, Far East 28s and for those who love sailing on the edge, the Flying Tigers, are among a strong fleet of Super 30s, while a comprehensive range of yachts have entered the Performance Spinnaker divisions, from Jonathan Low's Jones 39, Arch Rival to Ian Quarrie's Northshore 38 Ebony, to a regular in the event, Mike Gallagher's Jeanneau 409, Galan.
Chris Thorpe's 'boat with attitude', Miss Minx, will also be on that start line. Thorpe claims: "Miss Minx is a stunning Hanse 505 with an incredibly sexy battle flag. She is a three year-old filly. When not drinking martinis at the beach, she lives in Middle Harbour close to the MHYC."
Furthermore, Thorpe says, "Miss Minx has really good looking crew and a couple of bouncing cheerleaders - and is looking forward to racing at the Sydney Harbour Regatta."
The official prize giving cocktail party will be held at MHYC on the Monday evening, 5 March, allowing all placegetters and competitors a chance to be there with their crews.
This event would not be possible without the continued assistance of: the Cruising Yacht Club of Australia, Manly Yacht Club, RANSA, Royal Prince Alfred Yacht Club, Royal Sydney Yacht Squadron, Royal Prince Edward Yacht Club, Sydney Amateur Sailing Club and the Sydney Flying Squadron.
Thanks go to sponsors: Air New Zealand, Abell Point Marina, Helly Hansen, Sydney City Marine, Robert Oatley Wines and Mercure Resort Hunter Valley Gardens for their continued support.
Enter on line now at: www.shr.mhyc.com.au
By Di Pearson, MHYC media