February 25 - March 3, 2018: Issue 349
2018
Interstate Surfboat Championships, Trans-Tasman Test and Navy ASRL Open: Results, Winners Snaps and Wraps

NSW BOAT CREWS TASTE VICTORY
From Surf Life Saving NSW
Surfboat crews from NSW clubs have proven again that they have what it takes to be the best after taking out the Interstate Surfboat Championship at Elouera SLSC on 16 February.
The dominant North Cronulla SLSC fielded three of the selected crews, with the remainder of the representative team hailing from Bulli, Palm Beach, Avalon Beach, Newport and Queenscliff.
Conditions were challenging and it came down to the wire with NSW and Queensland locked on equal points after a comprehensive win in the Relay final saw NSW claw its way back into contention. A countback decided the title in the end and the jubilant Blues crews congratulated the other states on a fiercely fought battle in testing surf and strong winds.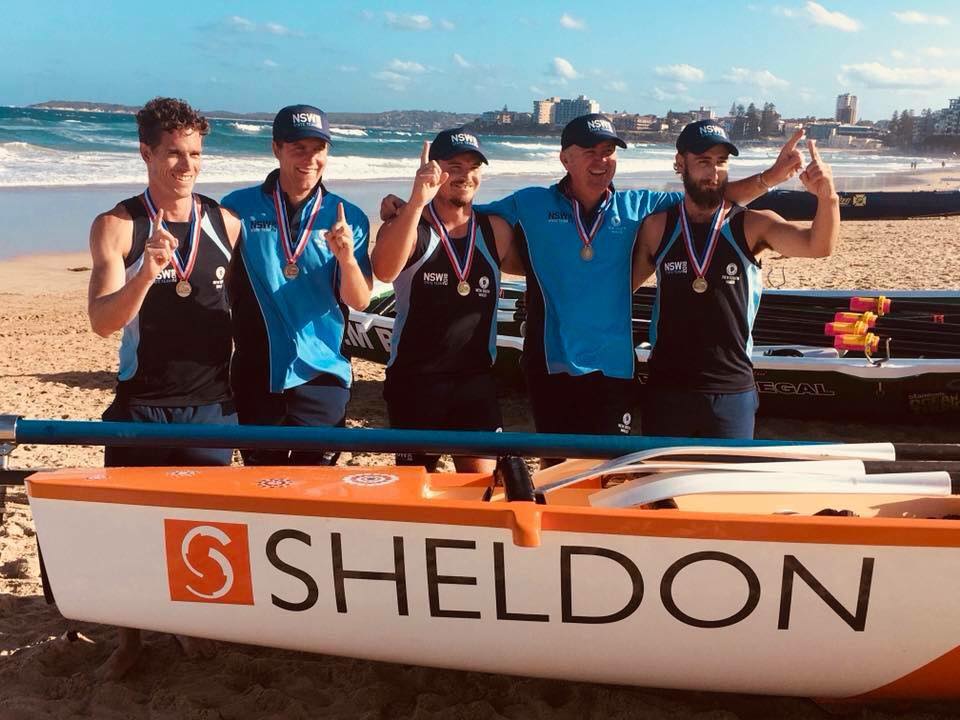 Robert Emerson, with his crew, the Neport SLSC Sea Cucumbers, selected as the male reserve crew for NSW, who won their race - photo courtesy Julie Hegarty

The following day in the battle of the ditch against the Kiwis, the Aussies were victorious for the sixth consecutive year in the Trans Tasman Surfboat Challenge. With all four of the Australian representative crews hailing from NSW clubs, the depth of talent among our rowers and boat sweeps was highlighted to great effect. The Australian Team comprised Open Men and Women from Sth Curl Curl and Elouera and U23 Development crews from Nth Cronulla and Avalon Beach.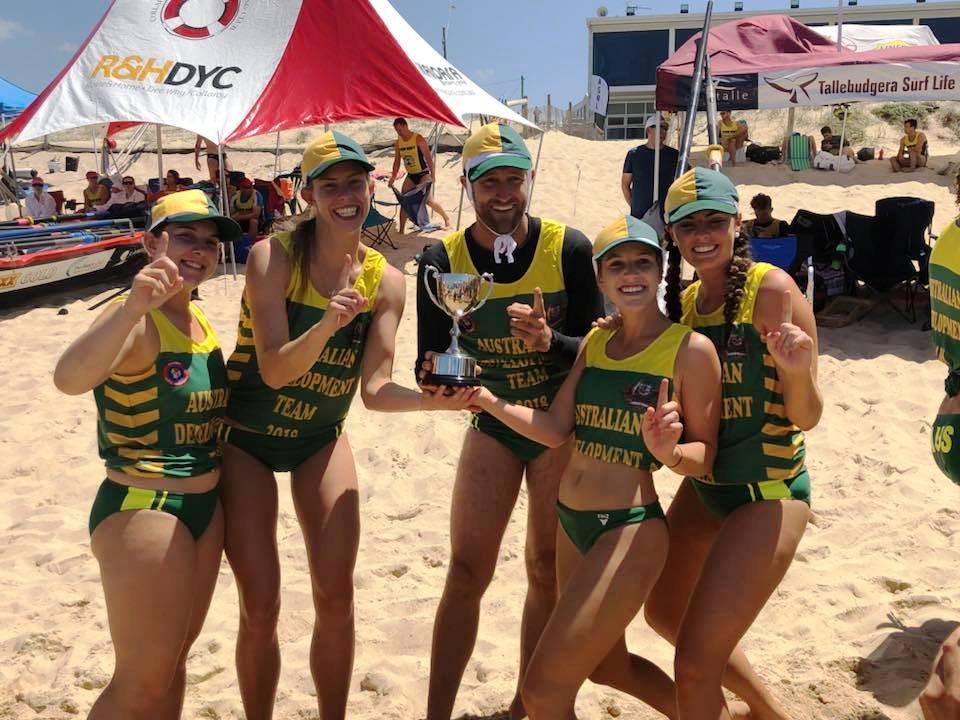 Avalon Beach SLSC's Avocados - U23 Women - Sweep Nathan Wellings, Bow Ellie Di Biagio, 2nd Bow Lauren Petersen, 2nd Stroke Chloe Scott, Stroke Amelia Barber. Photo courtesy Avalon Beach SLSC.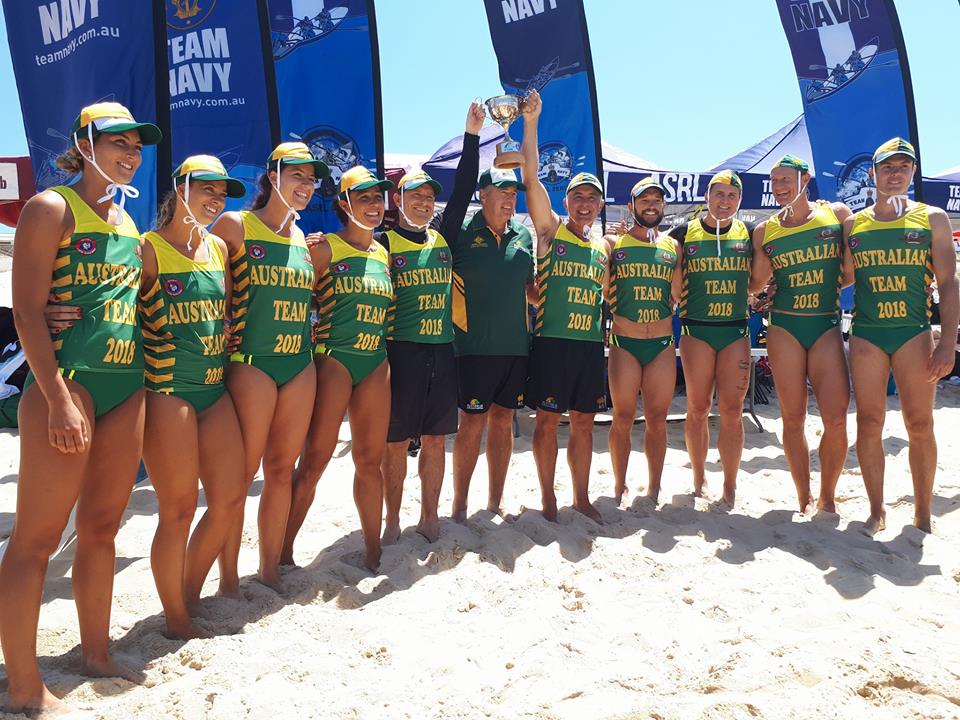 South Curl Curl Open Men's Boat Crew ; Mike Egan, Jordan Thurlow, Chris Hughes and Trent Rogers, sweep Rob Lowery.
NSW and Australian Surfboat Team Manager Greg Heard said it was great to see both representative teams come together to defend their titles.
"What an amazing couple of days it's been with NSW continuing their success of recent years," said Greg Heard.
"The way both teams worked together and supported each other in the weeks leading up to the event and on race day is a credit to each of the crews involved. Congratulations and thanks to all the rowers and their sweeps for such a dominate display of surfboat competition."
2018 Interstate Surf Boat Championships Results
1st - NSW
2nd - QLD
3rd - SA
4th - WA
5th - VIC
6th - TAS
NSW Surfboat Interstate Team Announced
Wednesday 7 February 2018

With a strong win in last year's event, the NSW Team will be pushing hard to go back-to-back at this years Interstate Surfboat Championships.
North Cronulla makes up three of the crews alongside Bulli's dominant Open Men and Palm Beach's Open Women, Avalon Beach Reserve Women, Newport Reserve Men and Queenscliff's U19 Women.
Its business as usual for Bulli Gelcon, Palm Beach Patriots and North Cronulla Funky crews who have been selected for their third consecutive year to represent NSW proving that consistency is key, especially with the point score selection carnivals held.
Greg Heard (Queenscliff) will be managing the team again this year along side Assistant Team Manager Lachlan Payne (Gerringong).
"The athletes are excited to be pulling on the sky blue cap to continue the recent successes of the NSW surf boat team," said Mr Heard.
The Interstate Surfboat Championships kicked off on Friday 16 February 2018 at Elouera SLSC, Sydney with all 8 divisions.
Shane Geloven, Sweep
Dean Roberts, Stroke
Heath Mercer, 2nd Stroke
Ben Lowe, 2nd Bow
Fraser Worthington, Bow
Open Women - Palm Beach Patriots
Peter Spence, Sweep
Verity Boulton, Stroke
Lucy Day, 2nd Stroke
Paparangi Hipango, 2nd Bow
Elly Reynolds, Bow
Reserve Men - Newport Sea Cucumbers
Rob Emerson, Sweep
Thomas Howes, Stroke
Tim Gunns, 2nd Stroke
Scott Quin, 2nd Bow
Tom Holland, Bow
Reserve Women - Avalon Beach Bandits
Peter Carter, Sweep
Ash Norman, Stroke
Rachel Strong, 2nd Stroke
Rebecca Elliott, 2nd Bow
Ellie Mackay, Bow
U23 Men - North Cronulla Funky
Mark McDonald, Sweep
Jackson Ford, Stroke
Tom Mailey, 2nd Stroke
Matt Workman, 2nd Bow
Matt Hammond, Bow
U23 Women - North Cronulla Micks Juggernaughts
Michael Hawkins, Sweep
Maddi McKinnery, Stroke
Layne Holloway, 2nd Stroke
Libby Holloway, 2nd Bow
Lauren Chadwick, Bow
U19 Men - North Cronulla Young Guns
Michael Hawkins, Sweep
Hugo Langton, Stroke
Ben Jessop, 2nd Stroke
Logan Barling, 2nd Bow
Will Fleming, Bow
U19 Women - Queenscliff Red Rockets
Damien Daley, Sweep
Sophie Berry, Stroke
Camryn Scott, 2nd Stroke
Willow Doyle, 2nd Bow
Lucy McIntyre, Bow
Julia Altenburger, Stroke
ASRL Open 2018 Debrief
Newsletter - February 2018
We said we would't run from surf and we didn't BUT boy what a weekend and that is due to many people holding hands and working hard to keep everything rolling along.
Our Referee Tamara Brawn and Sectionals Peter van Duren and Bobo White lead a great team of Officials who to the last one we owe a huge vote of thanks. The girls and ladies in the Bunker doing the draws didn't see the sun for 3 days which is an amazing effort and the pressure they are under has to be witnessed to understand.
Our Water Safety IRB Crews led by Peter Burst were tireless and the Safety Response Team led by Joel Wiseman did a great job in the way they monitored and communicated during the three days.
The
Elouera
Surf Club and their band of workers didn't stop for the duration. The Sutherland Shire Council and Staff were wonderful to work with and the Shire Lifeguards, you are a great team of professionals. Not just in the way you assisted us in decision making but your rescue skill out on the water is first class.
So after such a great event in some serious surf we can confidently say we have reset the guidelines for our future competition to remain and continue to operate in surf. The objective was always how do we stay and play and not run away. Its true to say that at times the decisions were well debated but always the first part of the process was we want to stay so what safety steps do we need to put in place so the crews can continue racing. The sectional teams mentioned above along with the ASRL reps formed the Carnival Safety Committee and at the end of each discussion we reached the unanimous decision that it was safe to continue so thanks to all concerned for that.
The elephant in the room has to be mentioned in any discussion around the decision to stay or go and that is the crews themselves and how they are managing and controlling the racing boats. The bigger percentage of sweeps were doing a great job in the big surf and it isn't intended to be smart but some of us as sweeps do need to sharpen up our decisions about when to push into a wall of water or when to get the rowers out of their seats on large waves. The bottom line to each and every decision the Carnival Safety Committee have to make will always include the number and type of incident so to a very large extent we the sweeps and crews hold the event destiny in our own hands.
The ASRL once again stand ready to organise and support further sweep coaching courses and discussions in each region of Australia as we continue to look towards improvement. Sometimes talking to different experienced sweeps can open the door of knowledge so we throw this out to the various State bodies to gauge the interest.
Our giant steps in Technology took another at this carnival with all our Printers now set up right in the arena and Announcers and Course judges areas so no running 20 copies of the draw all over the beach which cuts a lot of down time.
The draw system itself is constantly being improved to remove any of the remaining bugs but we all have to accept that like everything we are doing it is being done by volunteers in their free time so some patience is required but we are getting close.
The Finish Line Cameras were again operating, unfortunately every time a boat takes out the judges stand as well as dunking the judges it drops $3500 dollars worth of camera and transmitter equipment into the surf so this is a WIP as we look at new technology for all the time. Two took a swim over the weekend.
We Live Stream and for a big part of the three days this was tracking well and receiving lots of positive comments for our Stream and commentary team led by Aaron Tannahill and Les Herstik. Unfortunately on Sunday as the crowd grew with the presence of more and more Mobile Phones both the Telstra and Optus Bandwidth we were using started to fail us. It couldn't be fixed on the day but is another lesson learn't for next time. All the key events including all the Finals are in the process of being edited into packages to then go onto the ASRL YouTube and Facebook pages so they will live on forever.
To the disappointed Live Stream viewers we can only apologise for issues outside our direct control but ask that we all remember it is the ASRL that started this 3 or 4 years ago and we will work on it until we have all the bugs ironed out. To do one day using a fully Professional of Live Stream Team would cost us $50 or $60,000 so to do three days with friendly operators for a fraction of that cost we need to measure the expectation against result and we have done pretty well.
The Interstate and Test Series were stand out events within the program and the Finals with Sth Curl Curl U19 boys catching an absolute monster will live on in memories forever.
Elouera Navy ASRL Open 2018 will be that Bancoora moment for many of our new rowers to talk about just like the oldies have of Bancoora in 1977 for the next 40 years.
Well done to you all for your attendance, contribution, respect and outstanding behaviour over the whole three days. Not one complaint to the Sutherland Shire Council for interference to Traffic flow, Noise or behaviour unbecoming.
Well done to the Elouera Surf Club you have once again lifted the bar and made this event so memorable in so many ways.
ASRLCommittee
Navy ASRL Open 2018 Results
Under 19 Female

1st - Noosa Heads Drongos
2nd - McMasters Beachs
3rd - Noosa Heads Turkeys
U19 Male
1st - Queenscliff Steaks
2nd - Avoca Style
3rd - Cronulla Spinny
U19 male - 1st - Queenscliff Steaks
U23 Female
1st - North Cronulla Juggernauts
2nd - Newport WhipRays
3rd - Avoca Beach JOTOs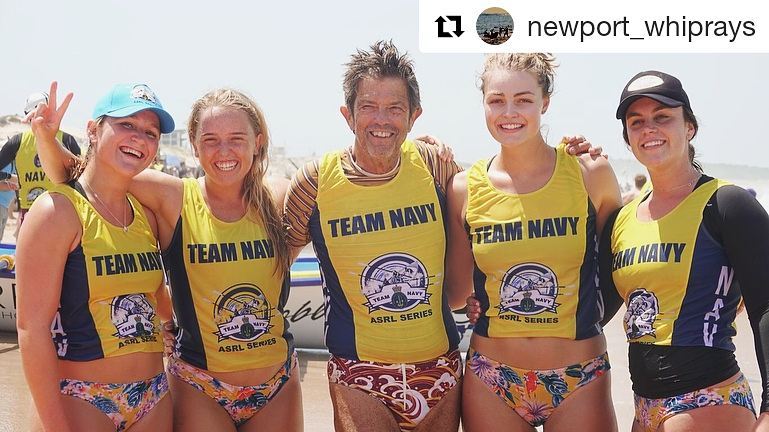 U23 - 2nd - Newport WhipRays
U23 Male
1st - Palm Beach Paperclips
2nd - North Cronulla Purds
3rd - South Curl Curl Lamps
Reserve Female
1st - Palm Beach QLD Vixens
2nd - North Cottesloe Jeffs
3rd - Cronulla Wildcats
Reserve Male
1st - Avalon Beach A
2nd - Maroochydore Force
3rd - Palm Beach NSW Project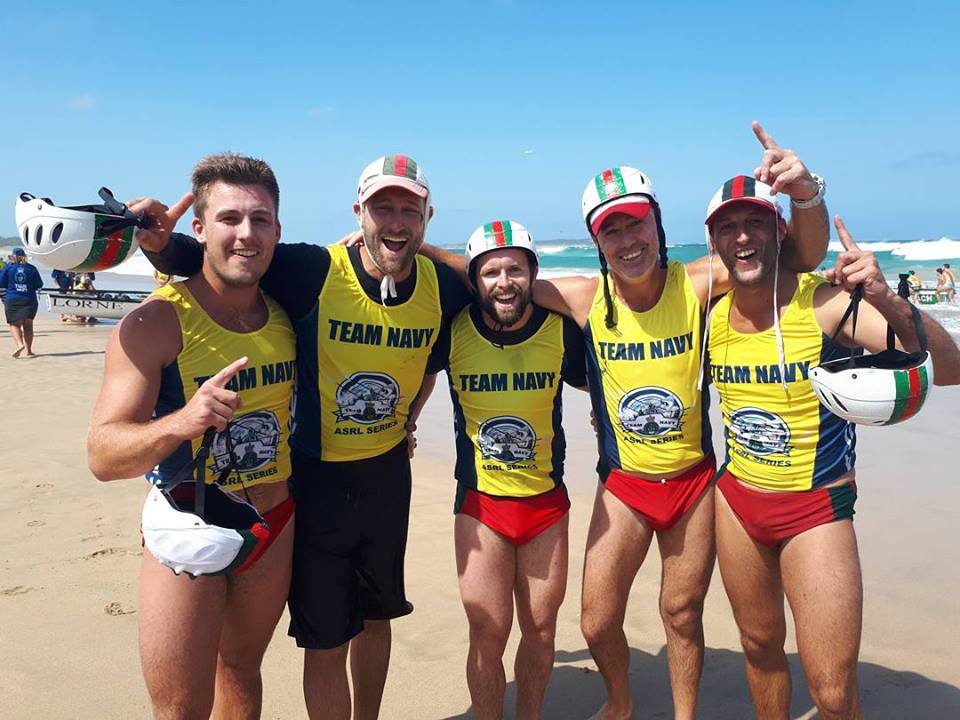 Reserve Male 1st - Avalon Beach A
Open Female
1st - North Cronulla Bluey
2nd - Lorne Edge
3rd - Palm Beach Patriots
Open Male
1st - Bulli Gelcon
2nd - Avoca J Crew
3rd - Sth Curl Curl Deathriders
MASTERS 160 Male

1 North Cronulla Purds
2 Mordialloc Ecoli
3 City of Perth City Black
4 Broulee Surfers Mixed Grill
5 Manly Ferry
6 Wanda A
MASTERS 160 Female
1 North Cronulla Foms
2 Avalon Beach DBs
MASTERS 180 Male
1 Currumbin Crusaders
2 Alexandra Headland Fireballs
3 North Cronulla Usual Suspects
4 Wanda A
5 Williamstown Wet n' wedged
6 Redhead
7 Port Kembla
MASTERS 180 Female
1 Batemans Bay Phoenix
MASTERS 200 Male
1 North Cronulla Trax
2 Windang Outcasts
3 Somerton The Originals
4 Kempsey Front Halves
5 North Cronulla Koros
6 Avalon Beach Clownshow
MASTERS 200 Female
1 Avalon Beach Antiques
2 Warriwood Rustys
3 Avoca Beach Zulus
MASTERS 220s Mixed
1 Noosa Heads A
2 St Kilda Angry Dogs
MASTERS 240s Mixed
1 Burnie Gold Masters
2 North Steyne Pacemakers
3 Kempsey Junior Clydesdales
4 Bulli Workers
5 Anglesea drifters
MASTERS 260s Mixed
1 Coolum Beach Survivors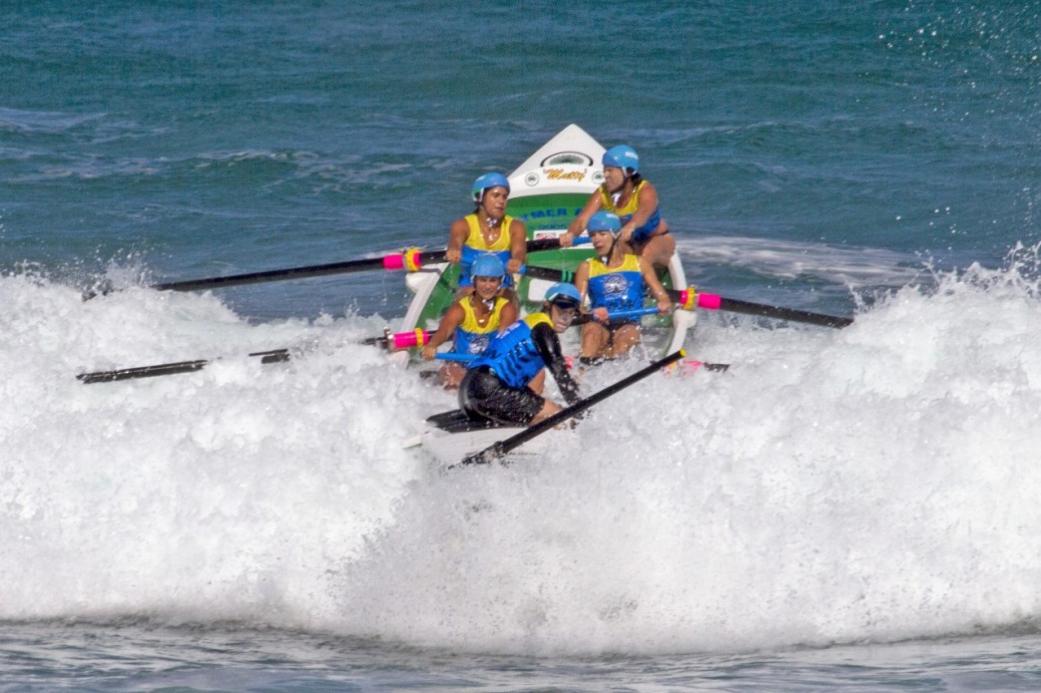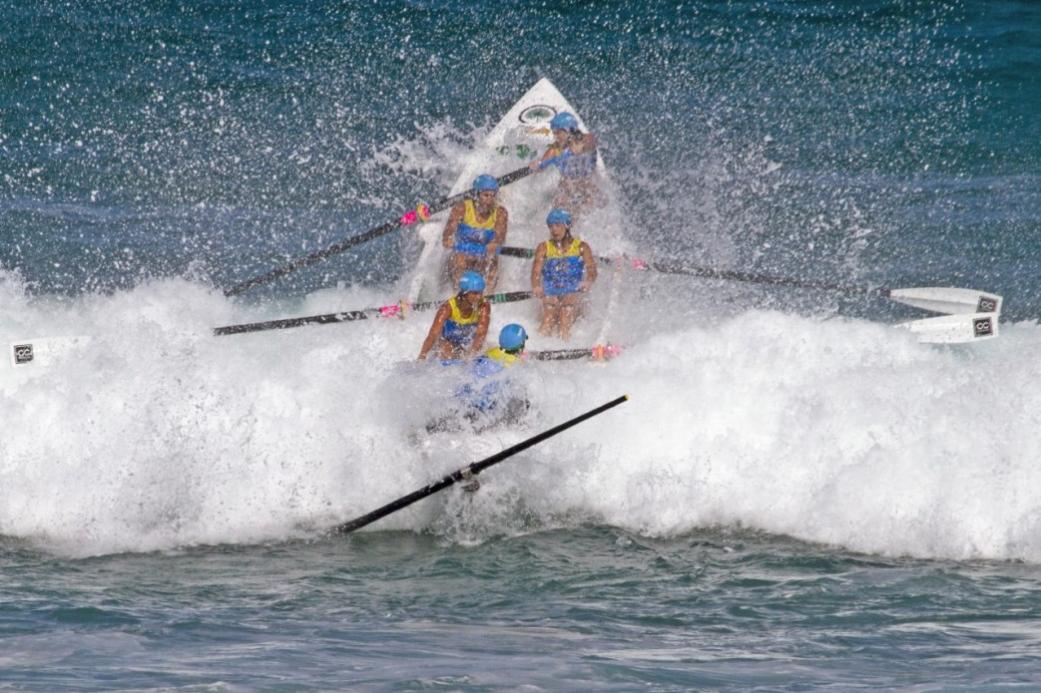 Reports by Surf Life Saving NSW and Navy ASRL. Photos by Avalon Beach SLSC,
Surf Life Saving NSW,
Navy ASRL, Julie Hegarty and Bill Sheridan, 2018