February 11 - 17, 2018: Issue 347
significant pollution incident at Beacon Hill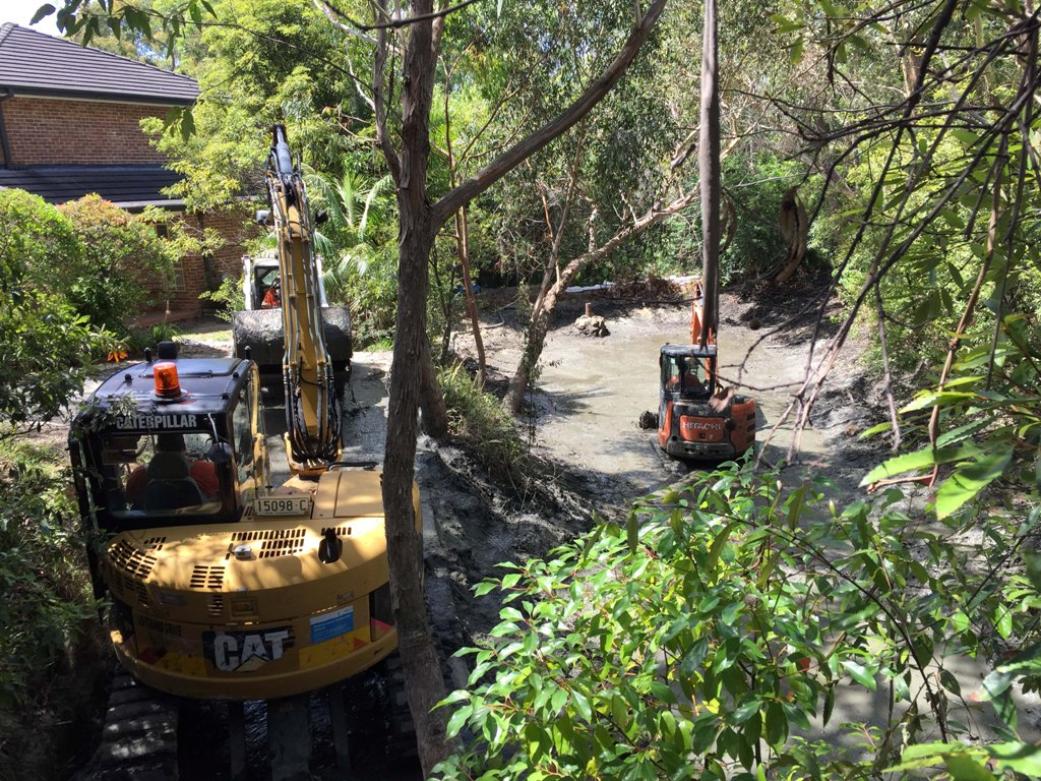 Excavators and bobcats cleaning the polluted area - photo supplied.
significant pollution incident at Beacon Hill
The Northern Beaches Council has tackled a significant pollution incident at Beacon Hill, with crews cleaning up a toxic substance before it made its way into South Creek and Narrabeen Lagoon.
Mayor Michael Regan said the incident had resulted in serious impacts to local environment and wildlife after a stormwater detention basin captured around 200,000 litres of contaminated water in a holding pond near Endeavour Drive.
"The thoughtless actions of one or more people have killed most of the aquatic life within the area, and cost the community around $150,000 in clean-up costs, as well as hundreds of hours of staff time dealing with this situation.
"The only survivors were three native eastern long-necked turtles that were rescued and relocated by Council staff.
"This is one of the biggest pollution incidents we've had to deal with as Northern Beaches Council. It happened on Christmas Eve and we're still dealing with the after-effects.
"Fortunately, the prompt response of Council officers contained the pollution in the pond, but the impact was so bad the only way to remove it was to drain and dig out the entire pond, and that's a huge job.
"We've had to organise a number of waste water tankers, excavators and dump trucks, at considerable expense," Mayor Regan said on Thursday this week.
Along with emptying the contaminated water, crews have also removed around 60 tonnes of sediment as a result of the incident.
Illegally disposing of chemicals can drastically affect our natural areas and harm our local wildlife. Visit northernbeaches.nsw.gov.au and search hazardous waste for more information and to learn about correct disposal procedures.
"Quite apart from the environmental impact, the cost of this clean-up is substantial, and that's money which could have been spent providing community services and other benefits. It's really frustrating," Mayor Regan said.
Council's Environmental Compliance team is investigating the source of the pollution, and anyone with information is asked to contact Council on 1300 434 434.
Keeping our Waterways Clean
In your Garden
Put leaves and grass clippings into compost or onto garden as mulch




Cover piles of soil, sand or mulch




Build barriers around your garden beds to contain the soil




Use organic fertilisers




Have your sewer checked




Install rainwater tanks and/or systems to divert roof water directly to gardens.



When you Maintain your Car

Use a service station car washing bay or a car wash that recycles water




Wash your car on lawn and pour any leftover soapy water onto the lawn




Regularly service your car



When you Paint and Renovate

When you use water-based paint, clean up over soil




Keep oil-based paint, turps and solvents clear of gutters and drains




Reuse turps once paint has settled




Allow unwanted paint to dry out, then take tins to a chemical cleanup event or licensed landfill




Don't hose sand or gravel, or wash out cement mixers or barrows, so waste flows into street gutters




Don't leave piles of sand or gravel uncovered where it can wash or blow into gutters



Industrial Sites

Clean up wind-blown litter




Store and dispose of oil and waste water correctly




Clean out your grease trap regularly



Construction Sites

When building, landscaping or renovating, always use appropriate sediment and erosion




Store chemicals in a properly maintained and operated bunded and covered storage area




Keep adequately stocked spill kits on hand and make sure staff know how to use them




Never, ever hose chemical spills down the drain