February 18 - 24, 2018: Issue 348
Church Point Carpark Reserved Parking Space Scheme now open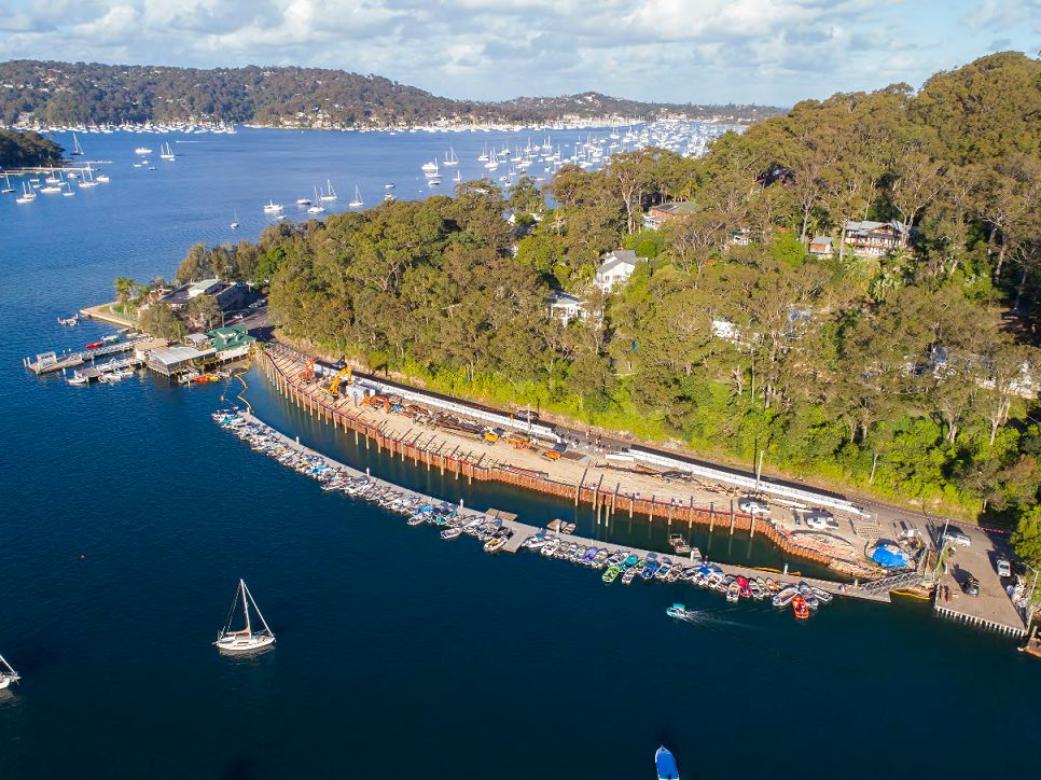 Ward Civil and Environmental Engineering Drone photo - seawall installation
Opportunity for offshore residents to secure long term parking at Church Point: EOI's now open
February 16, 2018: NBC Media Release
Northern Beaches Council will open a new carpark at Church Point in late March and applications are now open for offshore residents to secure a long-term reserved parking space.
The two level carpark located on McCarrs Creek Road will allocate 68 reserved parking spaces on the top level of the carpark to eligible residents through a ballot system for a two year term.
The lower level will be a Pay and Display carpark for the community and visitors to the area and will also be available for Church Point Permit holders overnight.
General Manager Environment and Infrastructure Ben Taylor said the reserved spaces will be issued via an Expression of Interest consisting of up to four rounds.
"Demand for parking is a challenge at many locations across the Northern Beaches and Church Point has been particularly difficult for both local residents and those who live offshore," Mr Taylor said.
"Too often we hear stories of offshore residents coming home and spending hours trying to park, having to walk kilometres to their car, or even giving up and staying with friends nearby.
"Onshore residents are also impacted by the huge demand for limited spaces.
"Access to this new carpark, along with the car parking spaces at Church Point Reserve and Bothams Beach, will provide additional parking options for offshore residents and help to alleviate parking issues in the area, in particular for those wishing to park overnight.
"After several years of consultation with the local community it is exciting to be offering some certainty to local residents."
First round applications open on Saturday 17 February with priority given to permanent offshore property owners who reside at Scotland Island, Elvina Bay, Lovett Bay, Morning Bay and Douglas Estate who are existing holders of a Church Point parking permit.
The ballot will be selected from the eligible applications at random by a system under the supervision of the Northern Beaches Office of Integrity and Complaints Resolution.
If not exhausted in the first round ballot, three additional rounds will be conducted until all are allocated. A waiting list will be created if demand exceeds the allocation.
Cost to secure a reserved spot for a two-year term is $4,939 per year and paid quarterly.
Applications will close on Sunday 4 March with the first round of notifications being communicated to residents in the week commencing 12 March 2018.
The costs for the reserved spaces together with Pay and Display on the lower level are contributing to the cost of the carpark. Eligible residents can submit an EOI now at northernbeaches.nsw.gov.au
How to Apply

Or download and complete the PDF form and submit via:
- Email: parkingoperations@northernbeaches.nsw.gov.au
- Post: Northern Beaches Council, 725 Pittwater Road, Dee Why, NSW, 2099
- Deliver in person: to one of our customer service locations
Church Point Carpark Overview
The $10 million project will deliver the following improvements to the area:
New car park with 120 new parking spots




New seawall with suspended timber pedestrian boardwalk (forming part of the recently upgraded commuter wharf)




Realignment of McCarrs Creek Road between the Commuter Wharf and Rostrevor Reserve




Improved landscaping and aesthetics



This project addresses a number of concerns that were identified in the Church Point Plan of Management and associated Masterplan, and comes after extensive consultation with the community.
Specialist civil engineers—Ward Civil and Environmental Engineering — have coordinated the design and construction of the project, which took approximately 18 months to complete
The project has taken place in a number of stages: Pre Construction, Stage 1 and Stage 2.
Pre-construction
Work to date has included:
Site preparations including geotechnical ground investigations




Temporary wharf (Rostrevor Reserve) installed to offset commuter boat parking




Final design concepts




Local residents and businesses liaison




Aesthetics Advisory Committee meetings to discuss landscaping and car park façade



Stage 1
July 2016 – April 2017
Works include the construction of the new sea wall, reclamation works and construction of the new main road and walkway as well as initial service relocations.
Detailed works include:
Site establishment including environmental controls, temporary services and establishment of temporary pedestrian, boating and traffic arrangements.




Temporary works for piling rig




Piling works for new sea wall




Removal of temporary piling platform and reclamation works by means of imported material placement – during this period there will be increased truck movements into and out of the site under controlled conditions.




Service relocations




New road alignment and walkway construction.




Existing commuter wharf adjustments



The stage 1 works was expected to be completed by April 2017, weather permitting.
Stage 2
Works include the construction of the new multi-level 120 space car park and finishing works including services and final landscaping.
Detailed works include:
Site establishment, clearing and demolition of existing infrastructure.




Filling works




Service relocations




Piling works for car park




Construction of multilevel car park including access and service provisions and tie-ins to new road alignment




Façade treatments to new car park




Final landscaping of site extents




Contractor disestablishment and remediation works



The Stage 2 works is expected to be completed by December 2017, weather permitting.
______________________________
About
Ward Civil and Environmental Engineering
Founded by the late Peter Ward in 1973, Ward is a multi-disciplined and full-service civil & environmental engineering contractor. With a history of over 40 years, we are proud of our culture, our commitment to safety and the service that we provide to our clients. With offices in Sydney and Newcastle and a workforce in excess of 150, we pride ourselves on the technical capabilities of our experienced construction staff.
The capabilities that Ward offers to its clients are varied and comprehensive, including all aspects of excavation, civil engineering construction and remediation. We pride ourselves on providing our diverse client base with beginning-to-end solutions. We work in harmony with our clients, providing a tailored service and value-add solutions that nurture the most complex projects to completion on time and on budget.
We are renowned for the emphasis we place on the environment and the safety of all people on our sites.
Overview:
In 2009 Pittwater Council adopted a comprehensive Plan of Management and associated Masterplan for Church Point. The main concern identified was the lack of car parking at Church Point. A number of options were considered and extensive community consultation carried out to ensure the best use of the space was achieved. At the Council meeting on 16 December 2013 Council resolved that (Option 2) a single deck car park with 120 spaces is to be adopted as the car park design for Precinct 1 at Church Point.
Scope of works:
Pittwater Council has engaged Ward to carry out the upgrade of the existing facilities at Church Point. Construction of new seawall and reclamation of land will consist of the following works to undertake this upgrade:
Realignment of McCarrs Creek Road between the Church Point Ferry Wharf and Rosstrevor Reserve




Provision of a single deck car park which will provide a total of 120 additional car spaces




A new pedestrian walkway
Church Point Upgrade running with the tide
October 24, 2016
The foreshore at Church Point, in Sydney's Northern Beaches, is looking quite different these days, with works progressing on the first stage of the project. These include reclaiming some land to construct an embankment which will double as a piling platform for a new seawall and enable the re-alignment of McCarrs Creek Road. Much of the initial construction of the platform is carried out around the tides. This makes for an interesting lunch break commute for the plant drivers, who sometimes have to be ferried from their machine to dry land by the Ward tender, skippered here by our Site Engineer, Sam Kassir.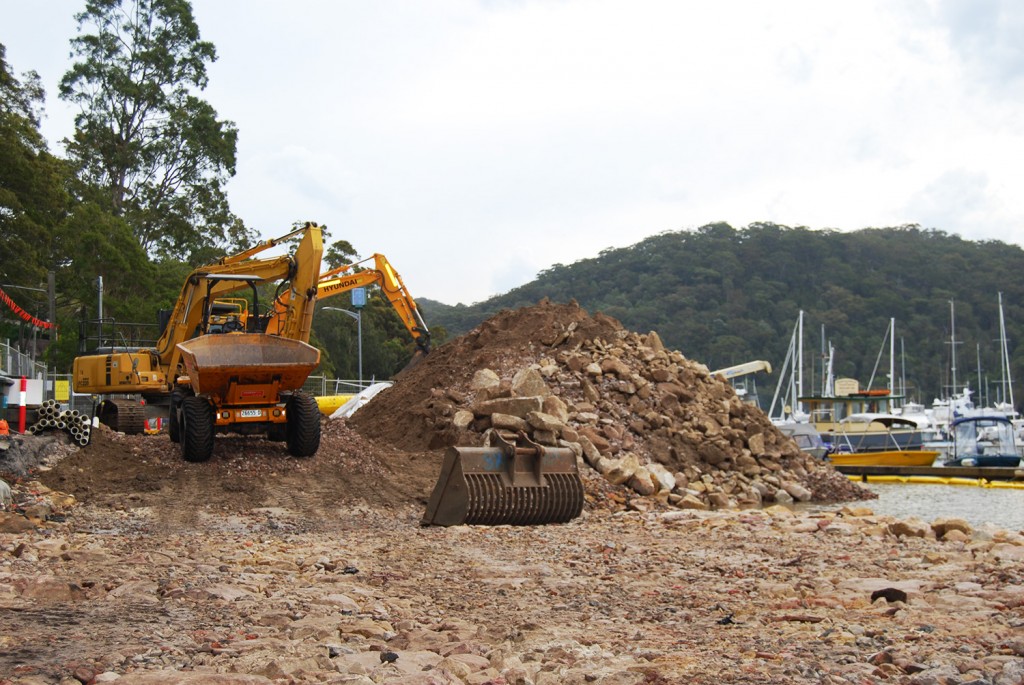 Smooth sailing for the seawall construction!

January 3rd, 2017: Ward Update
It has been smooth sailing for the team working on the McCarrs Creek Road Upgrade project at Church Point. After running a tight ship, the team was able to complete the sheet piling installation for the sea wall, well before their set deadline. We're happy to report that the early completion of this milestone has minimised the noise pollution for the surrounding neighbourhoods.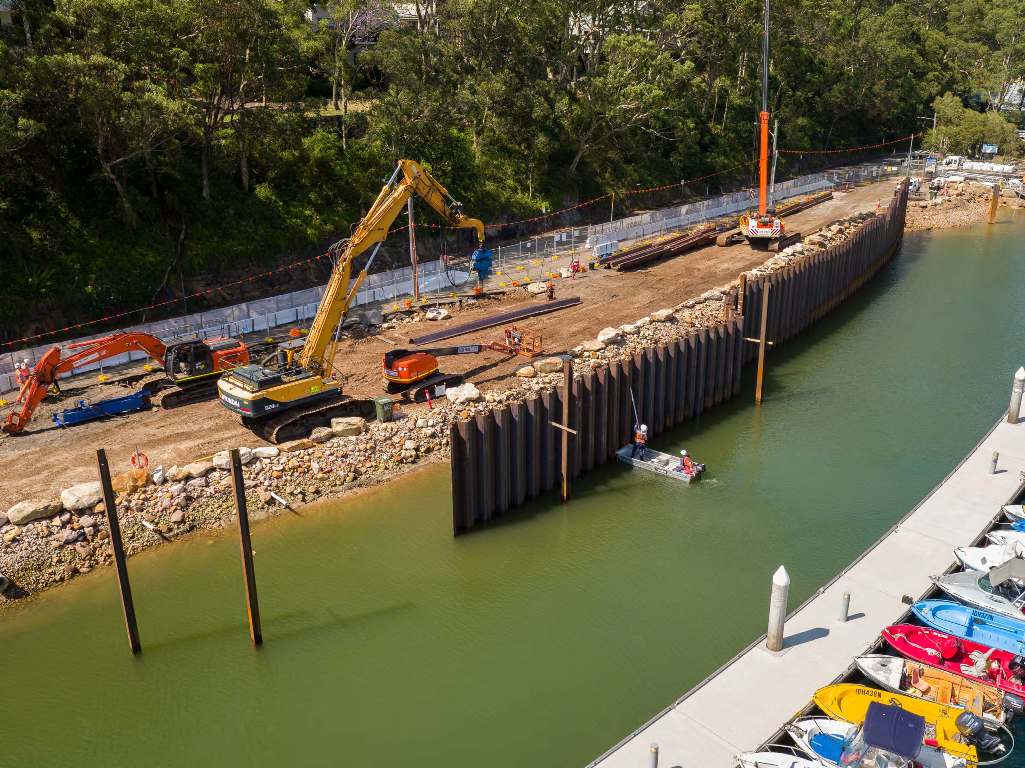 Ward Civil and Environmental Engineering Drone photo - seawall installation
Project Updates - January, March and April 2017
BY NBC
In accordance with Section 99 of the Rural Fire Act 1997, The Rural Fire Service NSW has granted the contractors at Church Point (Ward Civil) an exemption from any total fire ban that may be declared between now and 31 March 2017 in order to continue with the Church Point upgrade work. (see Exemption attached).
The current work on site includes the construction of the seawall where the fire risk is low as it is mostly undertaken over water.
Necessary safety precautions will be put in place should hotworks be undertaken.
The exemption is subject to the condition that adequate fire fighting equipment is immediately available at the work site.
On Monday 13 March, we will be relocating the access ramp/gangway to the commuter wharf while construction continues on the sea wall. This new temporary access arrangement is as indicated in the purple area on the plan of the works below.
Between 9am to 3pm on Monday 13 March, there will be no access to the existing ramp/gangway. Between these hours, contract contractor Ward Civil will provide a small boat and transport people from the commuter wharf to the smaller commuter mooring provisions wharf behind Rostrevor Reserve.
We ask, where possible, that you avoid using the commuter wharf between 9am to 3pm on that day.
Wharf users should allow additional time to access the commuter wharf on Monday 13 March when the relocation occurs.
Boats tied up at the commuter wharf will be not be affected by the work to the gangway.
The temporary access will be in place for three weeks and will be slightly steeper than usual access.
On 3 April when the ramp is moved back, there will be no access again between 9am and 3pm. Wharf users are reminded to allow additional time to access the commuter wharf on this day also.
12 April 2017
Work has progressed well on the Church Point Wharf Upgrade, and we thank commuters for their patience during the temporary wharf relocation over the past month. The installation of ground anchors was completed earlier this month and the construction of the sea wall is nearing completion with excess sheet pile lengths being cut and a concrete capping beam being constructed on top of the seawall.
Next stages
After Easter, we'll commence work to construct the new timber boardwalk on the seaward side of the seawall. This will involve installing timber piles – resulting in some short-term noise impacts for local residents. We thank residents for their understanding during the construction of this important infrastructure project.
Based on current program the seawall, boardwalk and road realignment works are estimated to be completed late August 2017.
Once traffic is shifted onto the new road alignment the works to construct the new carpark will commence.
November 3rd, 2017 Update:
The past week has seen significant progression across several Ward projects. Starting with Church Point, the commuter wharf is now open to the public, constructed through a combination of floating pontoons and fixed platform units. Additional access to the marina has also been provided through the installation of a boat ramp. Project Manager Jack Cahill and his team have been outstanding throughout all stages of the project and are deserving of high praise for their continued efforts. Photos of the project's development are available on our Instagram profile thanks to the work of Aiden Cunningham at LuXlusive.
Other project developments are as follows:
At our Warriewood site, the McPherson Street bridge has been installed, linking the western and eastern sides of the project.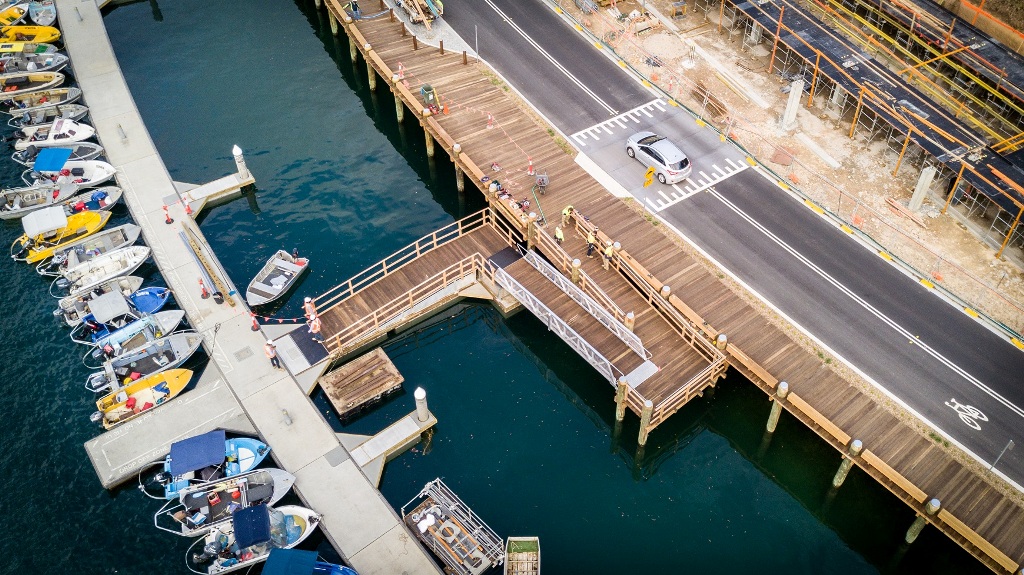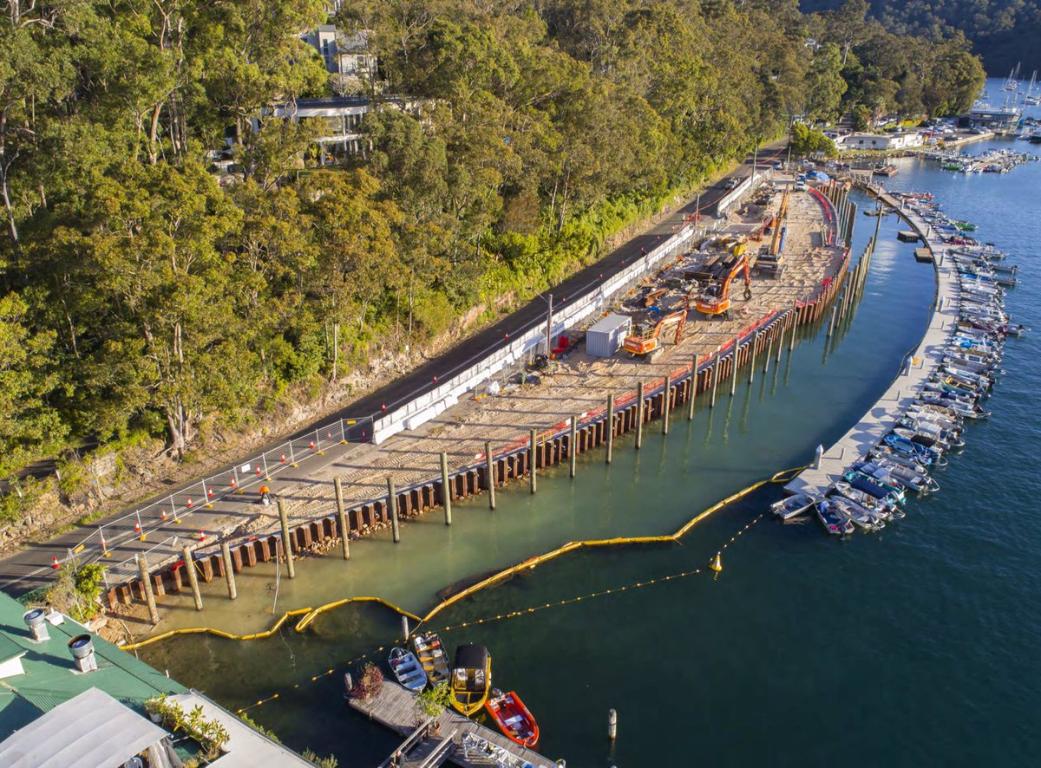 Ward Civil and Environmental Engineering Drone photo - seawall installation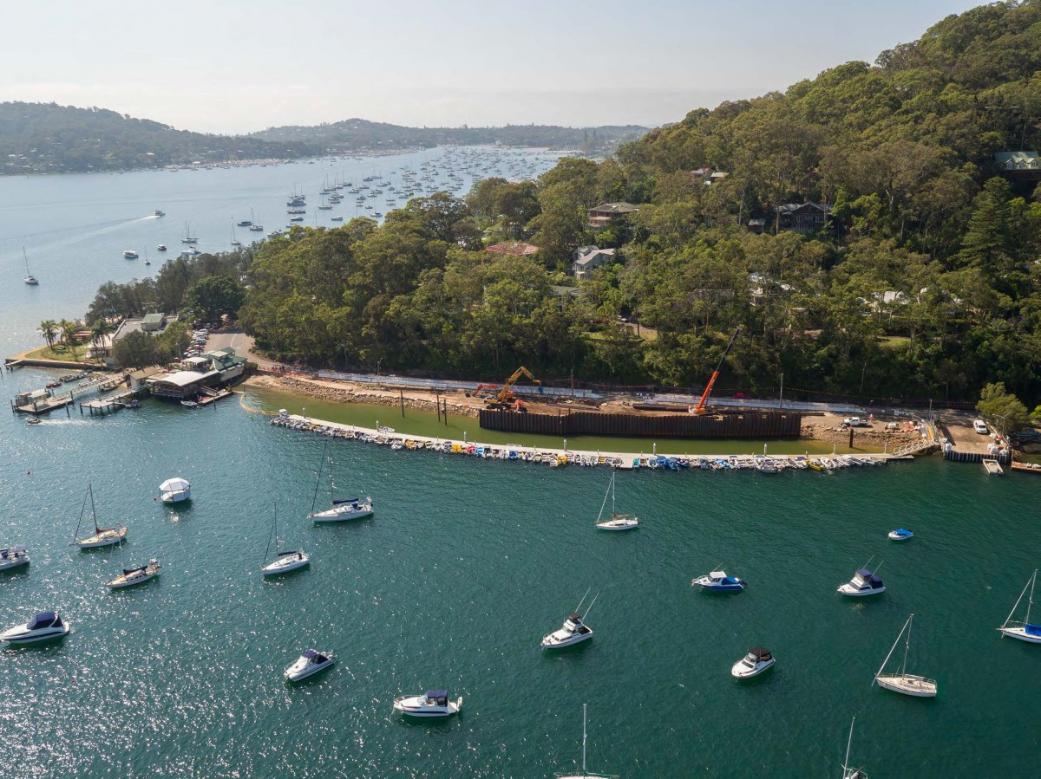 Ward Civil and Environmental Engineering Drone photo - seawall installation