February 4 - 10, 2018: Issue 346
Local Sailors Excell at
2018 World Cup Series Miami: More Medals for Olympians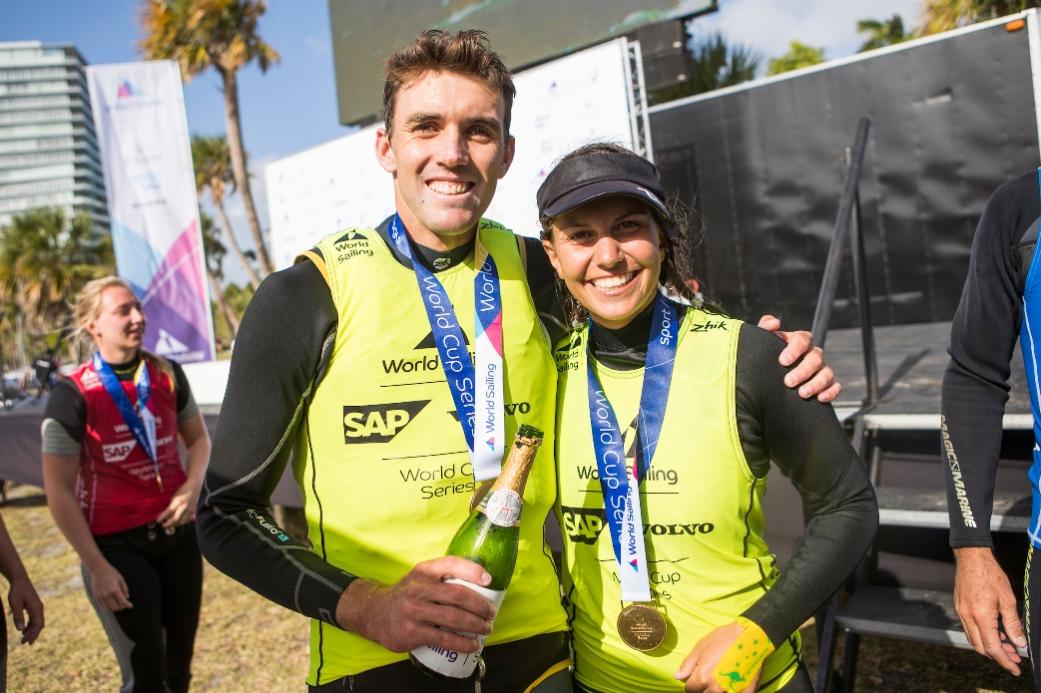 2018 World Cup Series Miami -
Nacra 17,
Jason Waterhouse
and
Lisa Darmanin have a positive 2018 start
- photo © Tomas Moya/Sailing Energy/World Sailing
Australia sent a small but strong team to the 2018 World Cup Series Miami, USA with sailors many have seen flying over the waters of Pittwater among the team.
Rio Olympics gold medallist Tom Burton headed the Laser contingent, which also features Australia's 2017 Laser World Championship bronze medallist Matt Wearn and former Laser Radial Youth World Champion Finn Alexander. Rio silver medallists in the Nacra 17, Jason Waterhouse and Lisa Darmanin, were first to arrive in Miami to prepare and were be joined in the class by Olympic hopefuls, Tayla Rietman and Lachlan White.
Talented duo Natasha Bryant and Annie Wilmot, the 2017 Australian Sailing female sailors of the year, arrived in Miami early in January 2018 and spent two days rigging up their chartered boat before competing in local warm up regattas. The girls had won the Australian 49erFX Nationals in QLD, finishing up their 2017 with a bang;

"We are so proud of what we have achieved so far in the FX as we've only been in the boat for 10 months and have taken a podium spot in almost all of the regattas we have raced in. Thank you to everyone for all your support and we can't wait for what 2018 brings! Happy New Year Everyone!"
Their goal for this year is to get recognised in Australia as the main contenders for the 2020 Olympics. To achieve this they have to qualify and gain rankings in international regattas in order too not only advance themselves but to help Australia gain a place in the 2020 Olympics. The early arrival in Miami meant they could 'test the waters' locally.

"It was really helpful for us to learn about the weather conditions and get back into the swing of racing," they said via email.
"We've had mixed wind strengths from all different directions over the last 12 days. We're feeling confident that we've used our time here well and are ready to take on whatever conditions Miami presents this coming week.
"There are many of the top teams from around the world here so, just like any regatta we do, we're going to try our best, learn as much as we can and see how we go against some of the top teams."
Tash and Annie were the 2016 Youth World Champions in the 29er but elected to move into the 49er instead of defend their title. The transition has been challenging but they believe they are on the right trajectory.
"Since changing from the 29er the standard of the fleet is much higher," they said.
"The top teams have set the bar high but we're ready to put in the hard yards to reach their standard and beyond.
"We are still on a huge learning curve, but are feeling more and more at home in the boat every time we sail. We are really excited to get as much racing experience as we can in this year, starting with our first World Cup event in Miami."
27 Olympic medallists as well as World and Continental Champions registered to compete in Miami, including five medallists from Rio 2016. 543 sailors from 50 nations raced in Biscayne Bay. As the only North American regatta to be included in the World Cup Series, the regatta is a mainstay on the winter circuit for sailors campaigning for the next Olympic Games. Competitors in the 49er, 49er FX, RS:X, and Nacra were to have five days of fleet racing from Tuesday, January 23 to Friday, January 26 with medal races on Saturday, January 27- and Sunday 28th - 28th and 29th Australian time.
The 2018 World Cup Series Miami was the 29th running of the event. Regatta Headquarters were located at the City of Miami's Regatta Park, in Coconut Grove, Miami, Fla. Additional hosts for the event included the US Sailing Center Miami (a U.S. Olympic Training Site) and Coconut Grove Sailing Club. These sailing organizations host classes onshore, as well as help run the on-the-water racing. The Coral Reef Yacht Club hosted the Opening and Closing Ceremonies.
Round one of Sailing's 2018 World Cup Series was held at Kaiyoh Yacht Harbor, Gamagori, Japan in October 2017. The third leg of Sailing's 2018 World Cup Series will be held in Hyères, France, this April 22-29, and the Final at Marseille, France, June 3-10, 2018.
All of the fleets enjoyed big winds on the third day of competition in Miami as a north eastern breeze brought 17-20 knots ensuring plenty of high flying action in the Nacra 17 and the remaining nine Olympic events.
"Rio 2016 silver medalists Jason Waterhouse and Lisa Darmanin (AUS) have done their homework when it comes to the lifting foils that were introduced to the class less than a year ago. Whether in near-drifting conditions on the opening two days or the full-on breeze on the third, they have been extremely hard to beat, winning five races and posting just one finish outside the top four." World Sailing reported.

"Today was great, quite fresh, which is tricky on a foiling boat," said Waterhouse. "We scored a three, two, one but we threw away a few points in the first race due an equipment malfunction, which was quite disappointing."
With a 17-point lead, Waterhouse and Darmanin have a few points to burn. And, he added, there is an upside to the malfunction.
"We are trialing a lot of new systems and we had an issue where something got caught and we couldn't get the spinnaker up," he said. "We are actually pleased that happened because we can learn from it. Imagine if that happened at the World Championships or the Olympics."
While the results indicate Waterhouse and Darmanin have a solid handle on sailing the foiling catamaran at the edges of the acceptable wind range, both acknowledge this is no time to get complacent with what is essentially a new class, even though the platform, with a traditional daggerboard and rudder, was used at Rio 2016.
"The reach from the offset to the finish is definitely quite gnarly," Darmanin said. "Being a new class, we are all still learning to find the best way to get across the death angle. You can never know what can happen, but we try our best to stay safe but race at the same time, it isn't easy."
On day four winds averaging nearly 30 miles per hour, with gusts close to 40, ripped across the bay and all sailing was cancelled.
"We had some hope because yesterday the forecast indicated that the wind strength would drop at midday but it didn't," said Antonio Gonzalez de la Madrid (ESP), World Sailing's Technical Delegate for the regatta.
"Instead it increased and the average was above 25 knots. In the afternoon the average wind strength was 27 to 28 knots and gusting up to 35 knots.
"World Sailing's Race Management policies prioritise fairness and safety when conducting races. The policies recommend not starting a race when the wind is above 25 knots and this is reduced to 22 knots for the 49er, 49erFX and Nacra 17 when the sea state is rough.
"It was not safe to go sailing today and it would have resulted in a lot of broken equipment and it's not good for the sailors to have this problem before the Medal Races."
For five of the fleets competing this week-the Nacra 17, 49er, 49erFX and Men's and Women's RS:X-today marked the end of the full-fleet portion of the regatta. The top 10 in the overall standings going into the day will advance to tomorrow's double-points Medal Race, which will decide the overall podium positions.
Tash and Annie did their best in challenging conditions but with with day four cancelled they missed the medal race by a small 3 points.
"Racing in this fleet of experienced sailors has taught us many things, highlighted some weaknesses that we will go home now and work on but it has also shown us that we do have some major strengths in a variety of conditions! We cannot wait now to get home and get back to training after a big few months away racing!
"We'll tick off as many things as we can before our next trip to Europe in the end of March!
"Thank you to our supporters, family and friends, sponsors and coach for all the guidance and help you've given us along the way so far! We hope everyone's had a great start to 2018, can't wait to see what the rest of this year brings!!!" they posted on their Bryant Wilmot Sailing page on Monday (January 29th, 2018).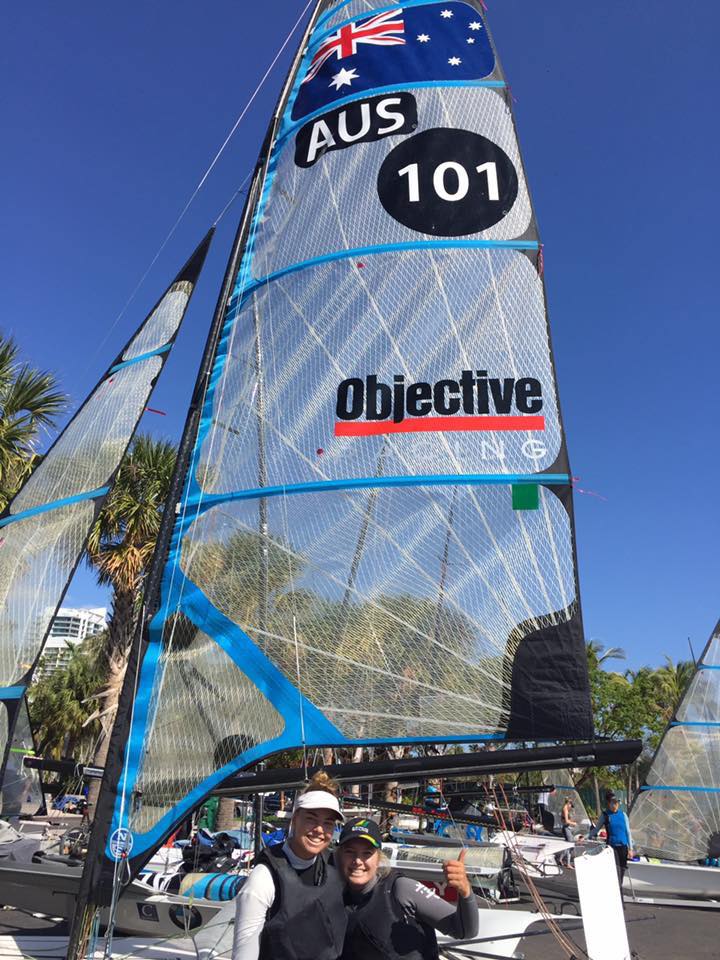 Tash and Annie in Miami

Lisa Darmanin and skipper Jason Waterhouse (AUS) started the Medal race with a 19-point lead, which meant they only needed to finish the race to ensure the gold medal. Instead they added one more victory to their scorecard, showing exceptional control in challenging conditions.
"We're from Australia," said Darmanin, a 2016 Rio silver medalist, "so we love the breeze."
The win meant Olympic silver medallists Jason Waterhouse and Lisa Darmanin have set the foundation for a big 2018 after capturing gold in the Nacra 17 class at the World Cup Series in Miami. The cousins held their nerve against the world elite, asserting dominance over Rio gold medallists Argentina's Santiago Lange and Cecilia Carranza Saroli to win the series by a sizeable 23 points.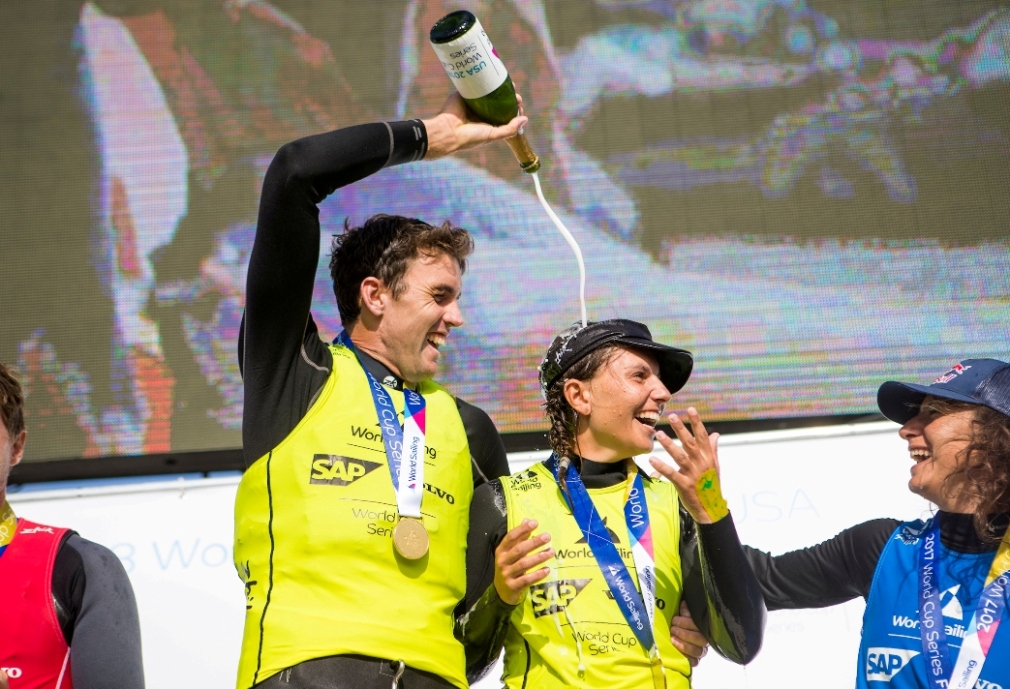 2018 World Cup Series Miami - Champagne Christening for Lisa from cousin Jason - photo © Tomas Moya/Sailing Energy/World Sailing

Laser sailor Tom Burton had the gold medal locked up courtesy of a 30-point advantage, and decided to use the Medal Race, Monday January 29th Australian time, to work on his starts. All evidence to the contrary-including two race wins and eighth top-seven finishes in this event-Burton wasn't quite satisfied with his ability to get off the line.
He'll need a little more work as he pulled the trigger just a hair early and was recalled OCS by the race committee. Without anything to gain or lose, Burton was content to follow the fleet around the track, finishing ninth and still winning the class by 17 points.

Burton's sparring partner in the Laser, Matt Wearn, recovered from a slow start to the regatta to roar into fifth place – including winning the medal race - in the powerful 70-boat fleet.

"It's been a tough week and I'm stoked to win here in Miami - especially before the medal race," Burton said.
"I set a small goal for the medal race and didn't really execute that at all well, so that's a mistake learnt today and luckily I was in the position to be able to do that."
A good start for 2018 for all these Australian sailors and a great example of how good the programs and support is through local Pittwater Sailing Clubs.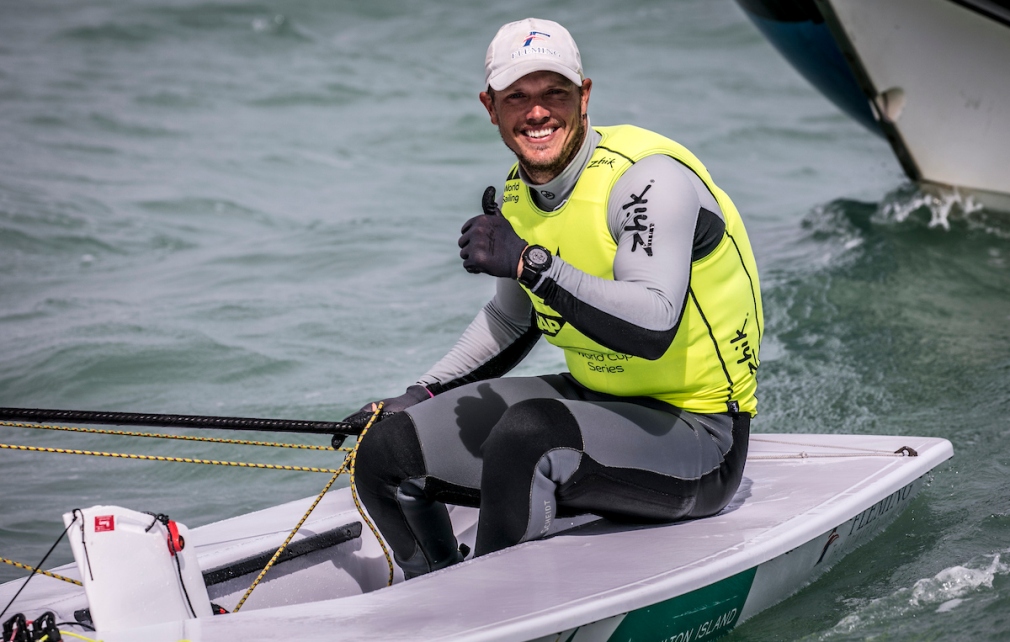 2018 World Cup Series Miami - Tom Burton thumbs up - photo © Richard Langdon/Sailing Energy/World Sailing

LASER
Tom Burton – 4, (34), 2, 7, 6, 6, 1, 6, 1, 18 – 1st
Matt Wearn – 27, 11, 9, (28), 3, 9, 9, 5, 4, 2 – 5th
Finn Alexander – 26, 17, 51, 53, 37, 46, 37, 36 (54) – 42nd
NACRA 17
Waterhouse/Darmanin – 1, 4, (12), 1, 1, 1, 3, 2, 1, 1 – 1st
Rietman/White – 14, 17, 15, 7, 17, 12, 12, 11, (18) – 18th
49erFX
Bryant/Wilmot – 13, 8, 12, 6, 12, 13, (22) – 12th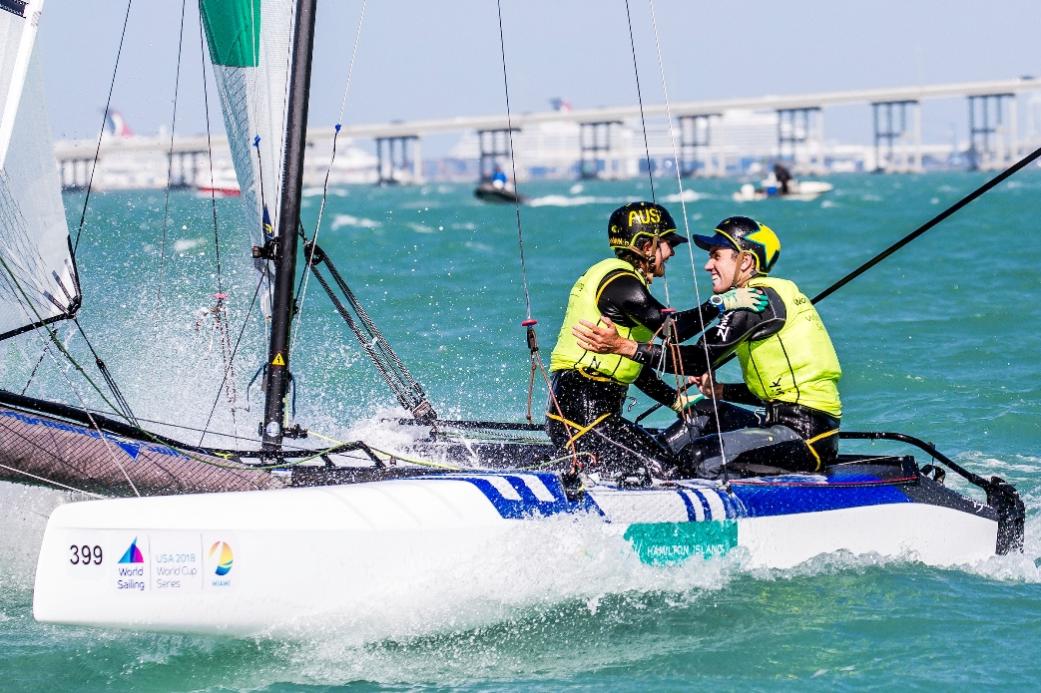 2018 World Cup Series Miami - That wining moent - photo © Jesus Renedo /Sailing Energy/World Sailing2018 World Cup Series Miami