February 11 - 17, 2018: Issue 347
Warringah Pittwater District
RFS Brigades Volunteers: A Busy Spring and Summer serving the Community over 2017/2018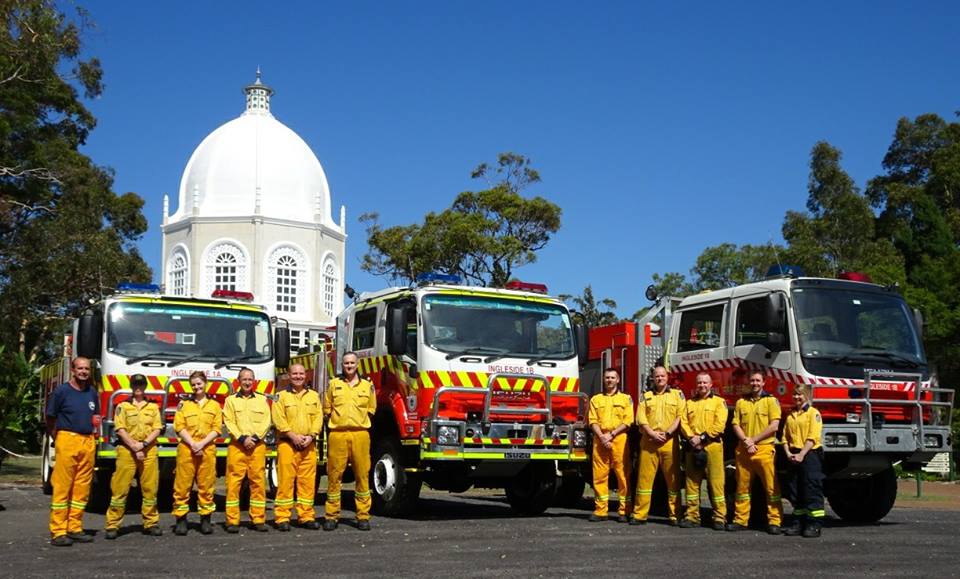 Ingleside RFB, December 16, 2017: Middle: Welcoming our new tanker - photo courtesy Ingleside RFB
Over the past few months
Warringah Pittwater District
RFS Brigades have been putting in the hard yards looking after residents here and further afield.
On Thursday evening, while most of us slept, Ingleside NSWRFS attended Kimbriki Tip in Ingleside about 11.30pm for a General Waste fire about 3000m² in size. The RFS were on site until 2.45am. 7 heavy tankers from five volunteer Brigades were in attendance with RFS crews using Breathing Apparatus in the toxic smoke.
The fire was on the Western edge of the tip in general waste and RFS crews were required to use an excavator to break up the waste. Two Ingleside RFS volunteers were the Incident Controllers for the duration of the fire.
The fire continued to smoulder into the morning and was left with Kimbriki Tip to further manage with heavy machinery.
On October 30th 2017 Ingleside RFS, along with other volunteer RFS Brigades extinguished a mattress pile fire at Kimbriki Tip. That fire put a lot of black smoke into the Terrey Hills area, with RFS crews advising residents to to keep their windows and doors shut.
Kimbriki Tip has also been used for training for local RFS crews. In June 2016 Ingleside RFS volunteers led car Fire and vehicle accident training at Kimbriki for 18 Village Fire Fighters training on the course. Crews were taught to extinguish the fires safely and effectively.
Brigades in attendance for Thursday's fire:
Terrey Hills Rural Fire Brigade
Warringah / Pittwater Headquarters Rural Fire Brigade
Tumbledown Dick Rural Fire Brigade
Belrose Rural Fire Brigade
Ingleside Rural Fire Brigade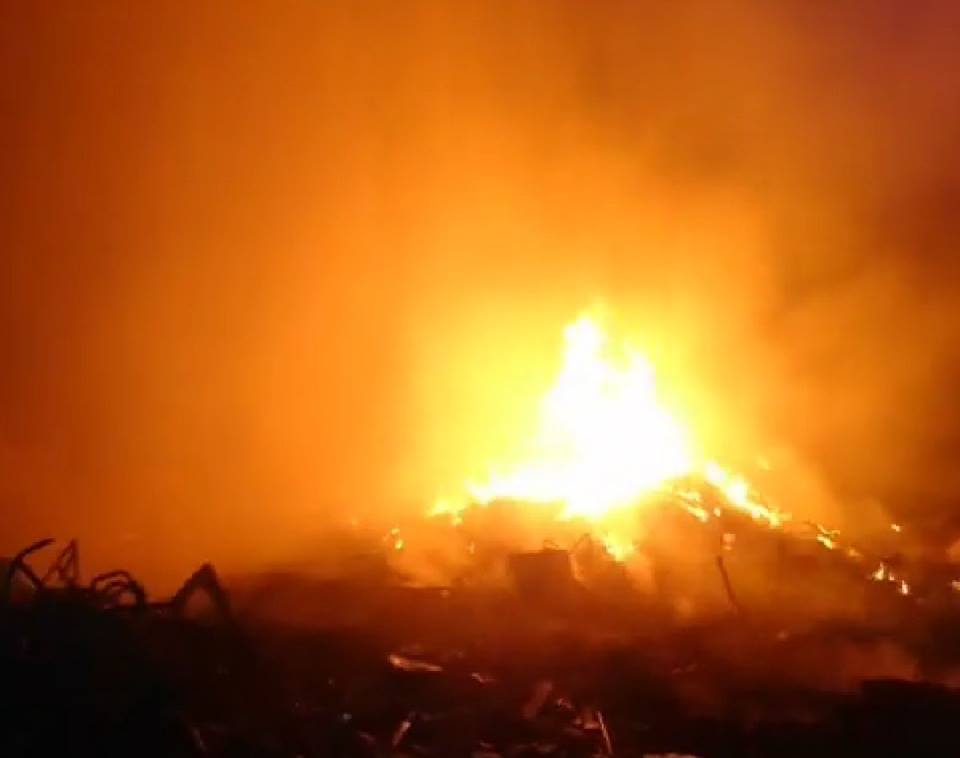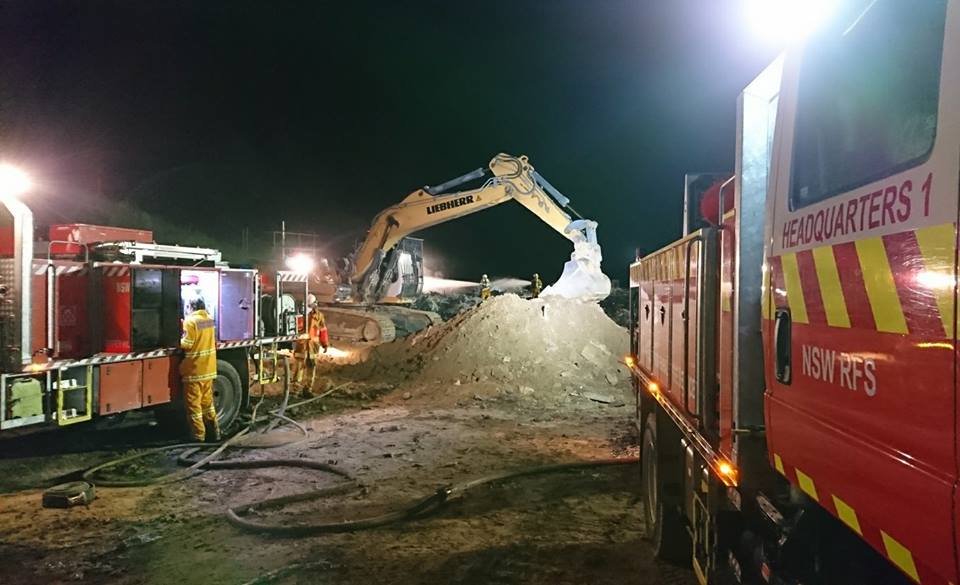 Kimbriki Tip Fire - Feb., 2018 - photos courtesy Ingleside RFB
At midnight on Saturday January 20th, Warringah Pittwater RFS crews were activated as part of a Northern Beaches Rural Fire District strike team to assist NSW Rural Fire Service Sutherland Shire with a large bushfire burning within the Royal National Park in Sydney's South.
The strike team included members from these brigades:
Terrey Hills Rural Fire Brigade, Scotland Island Rural Fire Brigade, Ingleside Rural Fire Brigade, Beacon Hill Rural Fire Brigade and Coal & Candle Rural Fire Brigade. An indication of just what one of these Brigade's contributed:
Ingleside RFB's stats:
1 Ingleside RFS Tanker
1 Strike Team Leader
3 Strike Teams
12 Ingleside RFS Volunteers
140 volunteer hours.
All crews worked tirelessly until mid morning to put a back burn in, which assisted in containing the fire.
Warringah Bulk Water Alpha was also deployed with two members to the Singleton area for three days to assist with the ongoing fire situation in the area. Scotland Island RFB
members went to Singleton working as part of a Northern Beaches Strike Team. The fire had a 45 kilometre perimeter and burnt over 4000 hectares.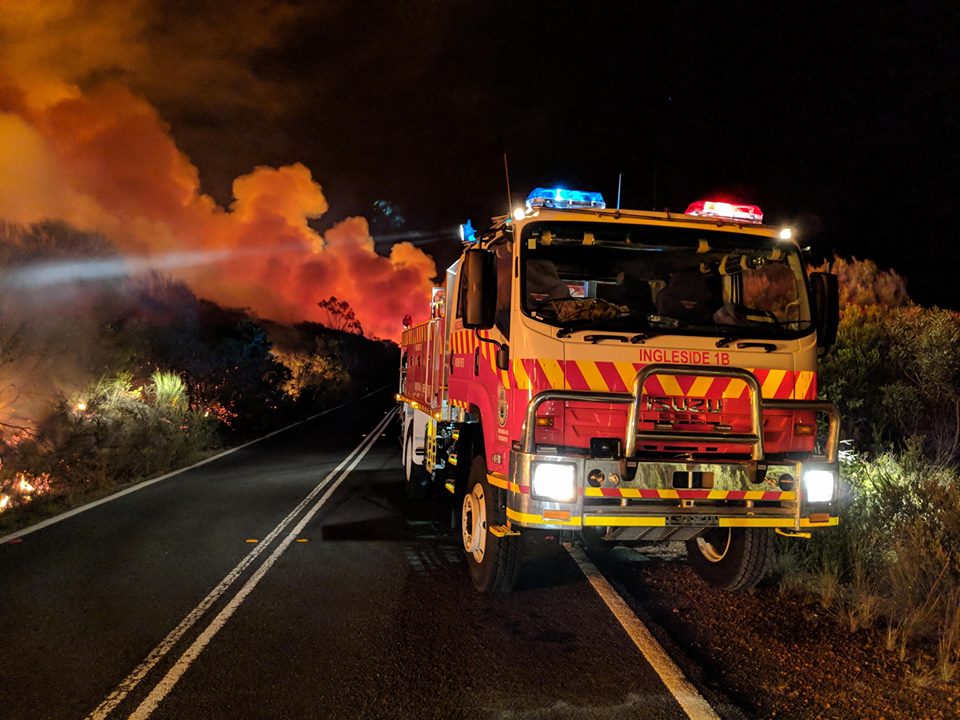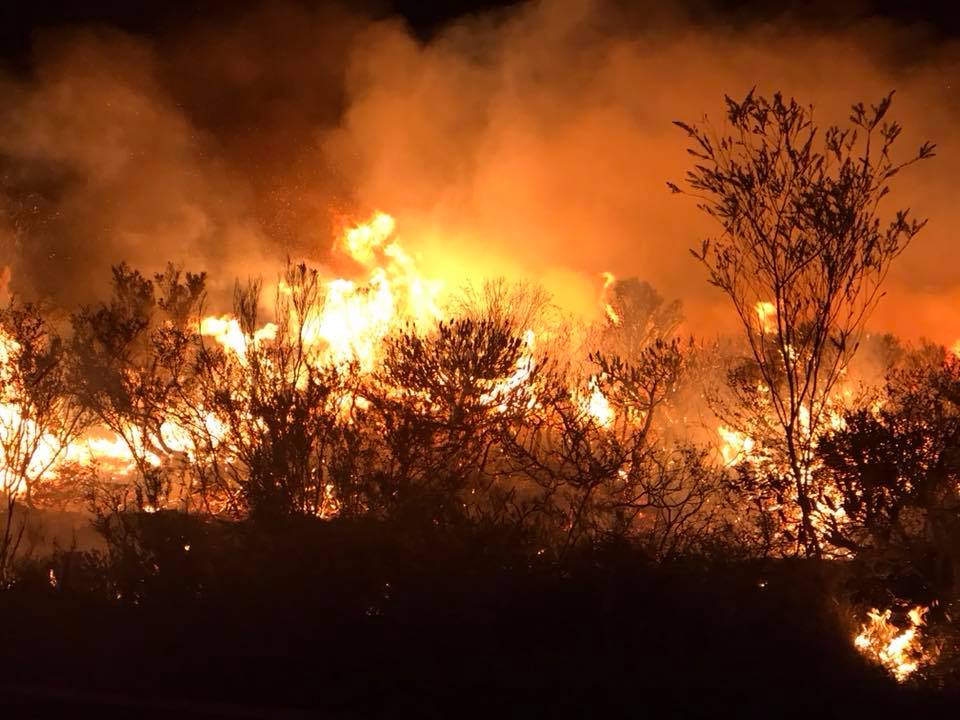 Royal National Park Fire, Jan., 2018 - photos courtesy Ingleside RFB and Scotland Island RFB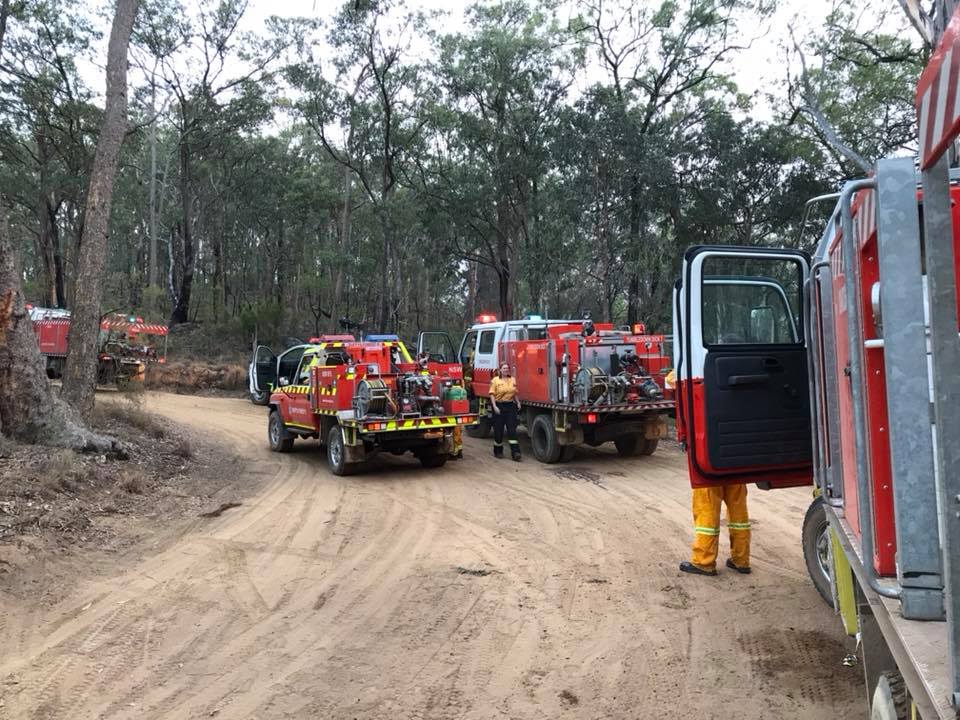 Scotland Island Rural Fire Brigade among brigades at Singleton - photo courtesy
Scotland Island Rural Fire Brigade
The Warringah Pittwater Rural Fire Brigades have conducted hazard reductions throughout Spring, checked fire trails were clear, responded to vehicle accidents on Mona Vale road and McCarrs creek road as well as cleaned up oil spills at these, cleared storm damage like large branches that have fallen on homes and roads, and responded to numerous Fire Alarms.
All brigades have attended or hosted numerous community events over the Spring-Summer of 2017-2018.
Coal and Candle was present at the Newport Australia Day 2018 breakfast to educate the public about fire hazards as well as show them what is in a fire truck, an event they have been involved in for years, while Ingleside volunteers, again assisted Whale Beach SLSC with their successful Big Swim 2018 with close to 2000 participants this year. The Ingleside RFS provided volunteers to manage car parking at Careel Bay, Palm Beach and Whale Beach from 730-2pm at this year's Big Swim. Ingleside has assisted with this event for over 10 years.
In December
Tumbledown Dick Rural Fire Brigade
was helping Santa make a visit to Collaroy Surf Club at their annual end of year wrap up. Santa LOVES the RFB's in the Warringah Pittwater District and seems to visit each in turn during the Christmas season.
These are just three examples
of community events that form part of each brigades' annual calendar.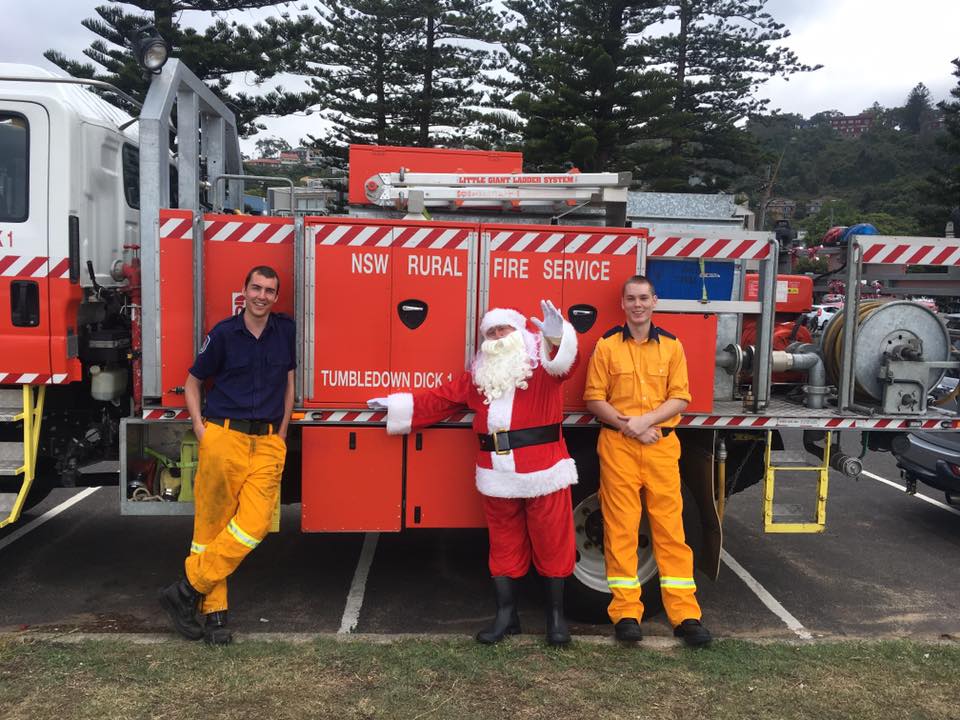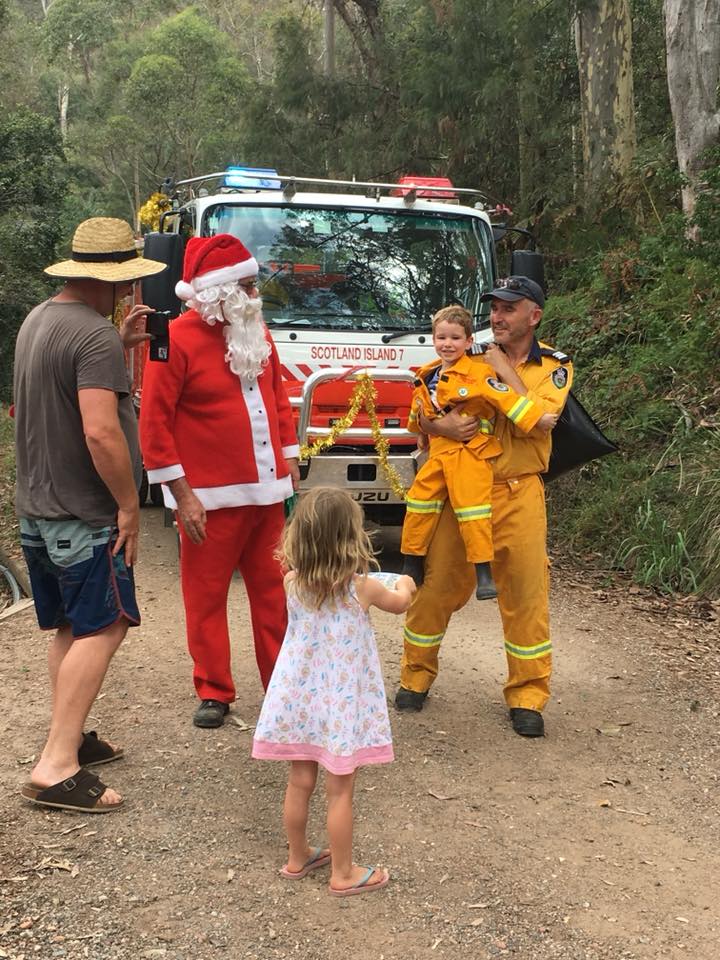 Santa loves the
Warringah Pittwater District RFS - Tumbledown
Dick Rural Fire Brigade and Scotland Island
Rural Fire Brigade - photos courtesy named RFB's
Warringah Pittwater District RFB volunteers also provide community education in everything ranging from their annual Open Days to
familiarisation
with local hazards and equipment as we headed into bushfire season.
During December and January Scotland Island RFB conducted very successful series of resident briefings at the Scotland Island Community Fire Unit cabinets.
Today, Sunday February 11th, they are holding Community Fire Unit Training. The course will give residents the skills and knowledge to prepare and protect their homes and assist the Brigade in the event of fire.
Key topics to be covered include:
Working safely,
Preparing your property,
Bushfire behaviour,
Fire fighting equipment and operations
More information about the Community Fire Unit is available on their web site here:
www.sirfb.org.au/cfu
During the cooler months the units combine in on-water training sessions.
The Brigades involved are Ingleside Rural Fire Brigade, Scotland Island Rural Fire, West Pittwater Rural Fire Brigade, Tumbledown Dick Rural Fire Brigade, Terrey Hills Rural Fire Brigade, Davidson Rural Fire Brigade, Coal & Candle Rural Fire Brigade, Warringah / Pittwater Headquarters Rural Fire Brigade, Belrose Rural Fire Brigade, Beacon Hill Rural Fire Brigade, Duffys Forest Rural Fire Brigade, Mackerel‬ Beach Brigade, ‪Coasters‬ Retreat Brigade, Warringah-Pittwater ‪Catering‬ and Warringah Pittwater RFS Communications Brigade.
The vital part our local Rural Fire Brigade volunteers play in keeping the community safe has countless examples over decades. The excellence provided to members through training means we have skilled individuals who can use what they have learned in the community outside of when they are serving with their RFB.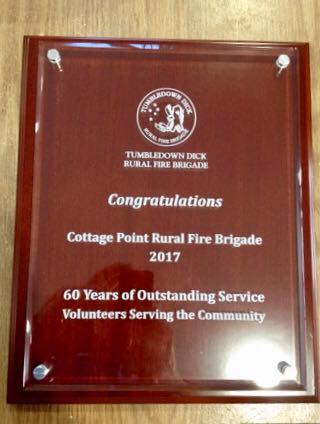 The
longevity of the local Rural Fire Service as a vital component in our community is also demonstrated through Long Service Awards for volunteer members and for brigades. In December 2017
Tumbledown Dick Rural Fire Brigade made a visit to Cottage Point Rural Fire Brigade to present a commemorative plaque from Tumble to Cottage Point RFB recognising the 60 years of community service Cottage Point RFB have provided to the community. A great achievement.
In November 2017 Terrey Hills Rural Fire Brigade three medals for Long Service were awarded at their General Meeting, by FCO 4 George Sheppard.
Rhys Williams received his RFS Long Service medal for over 10 years service.
Rachel Wildman received her RFS Long Service clasp for over 20 years of service.
Chris Walsh received his National Medal Long Service clasp for over 25 years of service.
They can't do it without the equipment and support though. On December 16th 2017
Ingleside NSWRFS welcomed a new 2017 Isuzu Category 1 Tanker worth about $300,000 into their Brigade. It has now become their primary response vehicle for all types of incidents including; Vehicle Accidents/Fires, Structural Fires & Bushfires.
How do they fund it?
"The NSW Government, Fire Levy and Northern Beaches Council residents. So we say 'Thank You' for supporting us.
This tanker replaces our older 2005 tanker which will go to a country Brigade in NSW. Our new Fire Truck is now fully operational with the call sign 'Ingleside 1 Bravo'...
We continue with our new truck, plus secondary Isuzu Tanker & Toyota Hilux Ute, along with over 50 active volunteer fire fighters. Thanks to our volunteers who gave up their time today to change over all equipment from the Old to New trucks.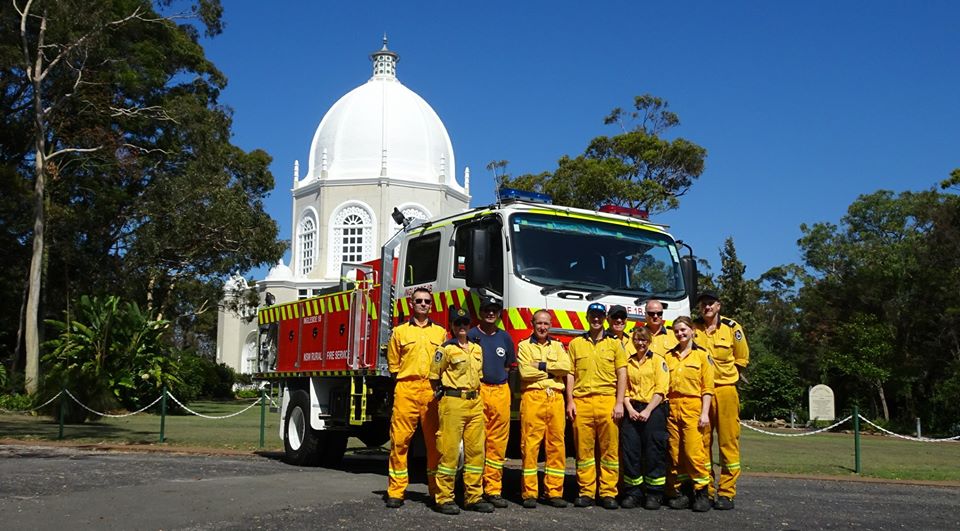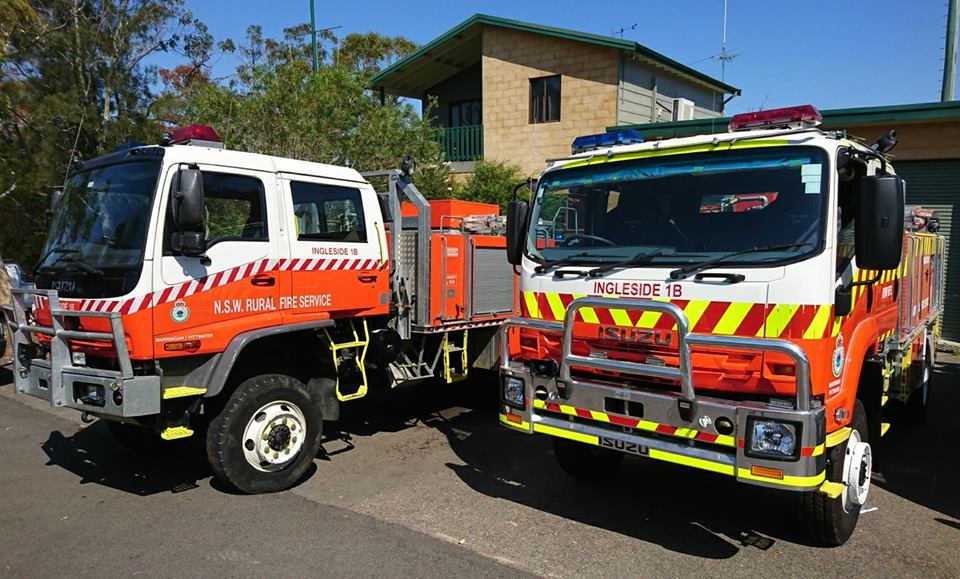 Photos taken at the Sydney Bahai House of Worship, Ingleside and Ingleside Fire Station, courtesy Ingleside RFB
As we head into the last month of Summer, traditionally a dangerous time as it's still hot and the bush can be dried out or fuel has accumulated around the home or in your gutters because everyone has been out enjoying the estuary, green
reserves
and beach, let's all doff our caps to those who have worked so hard and will continue to, as volunteers, to keep safe our community.
The Warringah Pittwater District has approximately 1,200 volunteers that provide service to the community through effective Operations, Risk Management, Community Safety, Education, Learning and Development activities, through various roles of Firefighting, Communications, Catering, Logistics, Aviation, Fire Investigation, Cadets and many more areas.