February 11 - 17, 2018: Issue 347
Avalon Beach SLSC Launches a New Surf Boat - The Roland Luke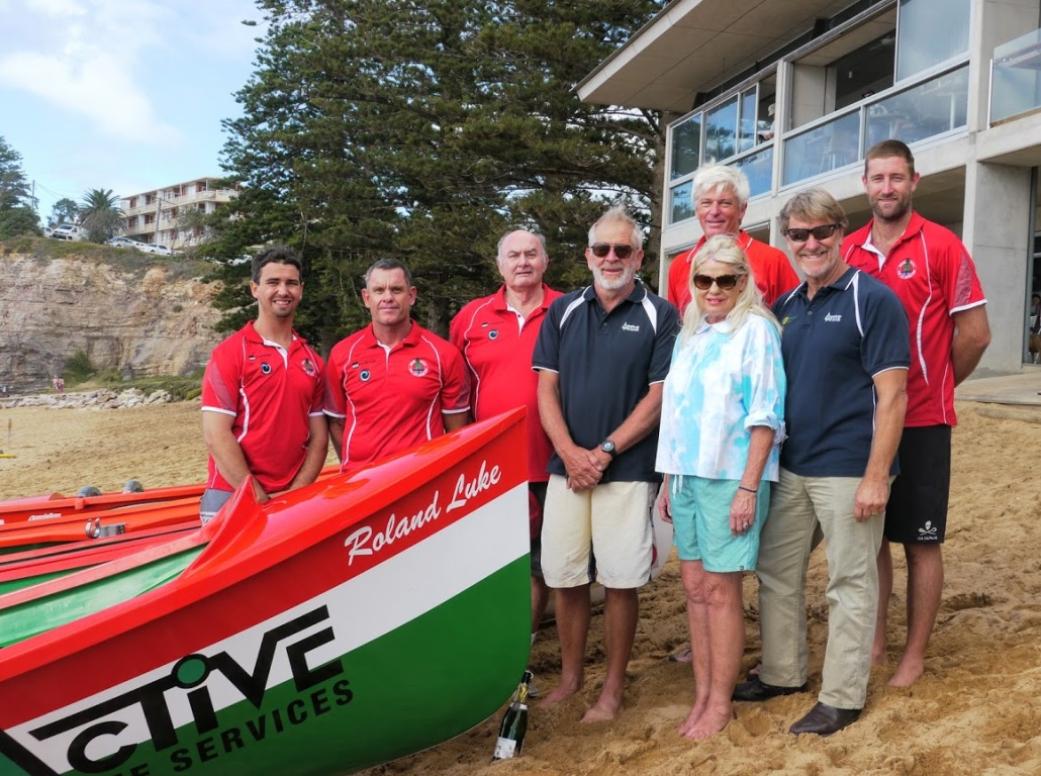 On Sunday February 4th Avalon Beach SLSC christened and launched their newest surfboat.
Named
to honour Life Member and Competition Manager Roland Luke, who is also active in many other parts of our community,
particularly
Avalon Soccer club, where he has been setting up the fields for training and game days for decades, the new boat is a welcome addition to the surf club's equipment.
"A huge thank you to our major sponsors Active Tree Services who have made the purchase of this new boat possible. Mark and Joanne Wilcocks, founders of Active Tree Services and John Tolmie, General Manager, were there for the christening." Richard Cole, President of Avalon Beach SLSC said last Sunday.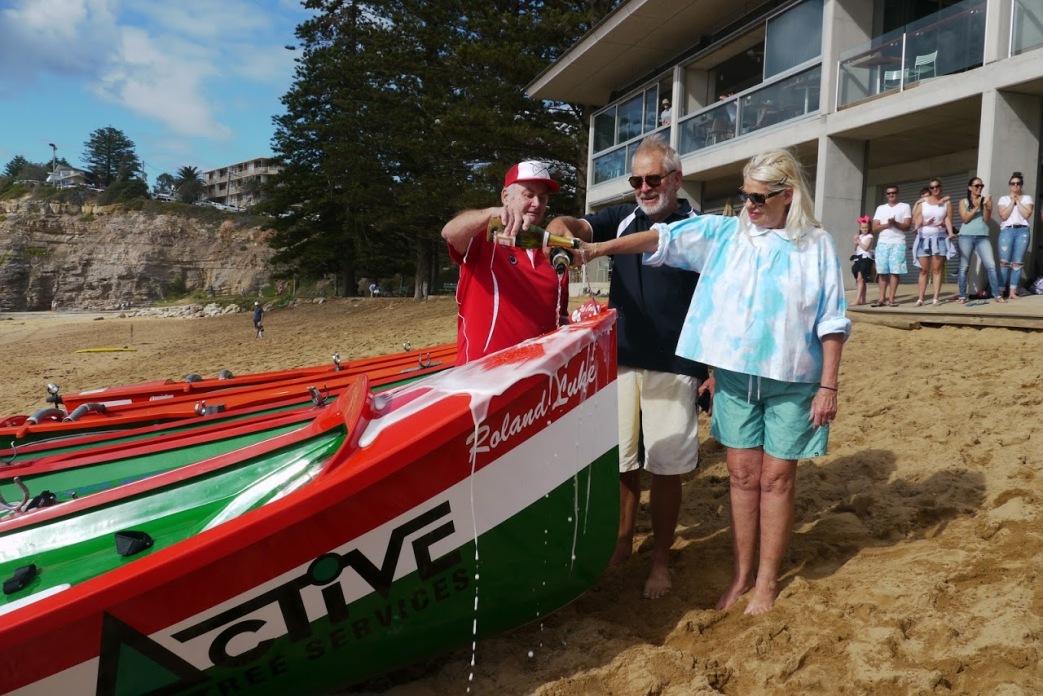 Mark and Joanne Wilcocks and Roland Luke christening Avalon Beach SLSC's new boat
Avalon Beach SLSC now has 15 surf boat crews. On Wednesday February 7th one of these was named to represent NSW in the Interstate
Competition
which begins on
Friday 16 February 2018 at Elouera SLSC. Avalon's
Reserve Women, the Avalon Beach Bandits;
Peter Carter, Sweep
Ash Norman, Stroke,
Rachel Strong, 2nd Stroke,
Rebecca Elliott, 2nd Bow and
Ellie Mackay, Bow will contest the other states Reserves teams.
On Saturday February 17th another Avalon Beach SLSC surf boat crew, the
U23 Women (Development Team); Sweep Nathan Wellings, Bow Ellie Di Biagio, 2nd Bow Lauren Petersen, 2nd Stroke Chloe Scott, Stroke Amelia Barber will represent Australia in the Trans Tasman Test against New Zealand's chosen U23 Women, the
Orewa Aces.
The Interstate Races and Team Navy ASRL Open, running from Friday to Sunday, will be live-streamed this year.
Details here
Excerpts from the address given by
Richard Cole, President of Avalon Beach SLSC, last Sunday:
This is the second surf boat the Club has bought in 3 years, which is a big investment for any Club. This commitment demonstrates a number of things:
• It demonstrates that the Club is in great shape. We are in a good financial position, we are confident of our future, and we are happy to support our members and surf sports teams.
• It demonstrates that the Club and our Boaties have the support of our community, and in particular the support of our amazing sponsors, who we can't thank enough. Success breeds success, and I am not surprised at all to see this team attract strong support.
• It demonstrates that we have great leaders in our surf boat team, such as Rick Millar, Pete Carter, Nathan Wellings, Nick Sampson and Matt Mayall.
• It demonstrates that our team is getting great results, from the Pinkies and the Antiques at the last World Championships, to our representative teams the Avocados and the Bandits this year, and our amazing results across the board in the Branch pointscore with a current top three placing in every division.
• It demonstrates that we have a surf boat team with extraordinary spirit and commitment. It's no wonder that the team has seen fantastic growth over the past couple of years, to a record number of 14 crews this year.
• It demonstrates that our Boaties really are the heart and soul of this Club, and on behalf of the Board of Management, I would like to say how pleased we are to be able to support you, and how proud we are of your achievements and the way that the Boaties have stepped up to really be integral with everything that we do at Avalon Beach. I know that we are the envy of many other Clubs.
• So to every member of our surf boat team, I hope this new boat helps you get the results you deserve. I know that every member of the Club will join me in wishing you all the best for the rest of the season. It is amazing to see so many crews going over to Perth for the Aussies. Whether you win or don't quite get there on the day, I know that each one of you, and the team as a whole, will make us proud.
Pittwater Online News spoke to Roland Luke, and after congratulations, asked if he had any idea what was afoot:
"It came as a surprise. I've seen quite a few boats named after the years, all for members involved in the boat crews, Sweeps and Boat Captains.
"I was expecting it to go to one of those associated with the Boat Division, someone like Nathan Wellings who has been doing so much for the crews as a Sweep the last few seasons. He rowed with my son years ago.
"I'm very honoured, and feel very humbled by it.
We then got to talking surfboats names - and the lovely old wooden clinkers so many surf life saving clubs keep because of the workmanship in them and the history that goes with them.
"I remember one launched named for Active Tree Services. Another was named Bill McDonald, after the gentleman who had the shop in Avalon years ago – we still have that one, a wooden one, given by that gentleman to the club.
Roland is also back over the Careel Bay playing fields enjoying all the upgrades the council has been installing there this week; new fence posts and railings have gone in out along the turn into the soccer fields and a much higher fence has been installed alongside field 2 where so many balls have been lost into the mangroves and then floated out on the tide into Careel Bay.
Yesterday, Saturday February 10th, he was working as a volunteer official at the Surf Life Saving Sydney Northern Beaches Surf Boat Branch Championships - where else ?!
Our thanks to Warren Young OAM for the excellent photographs!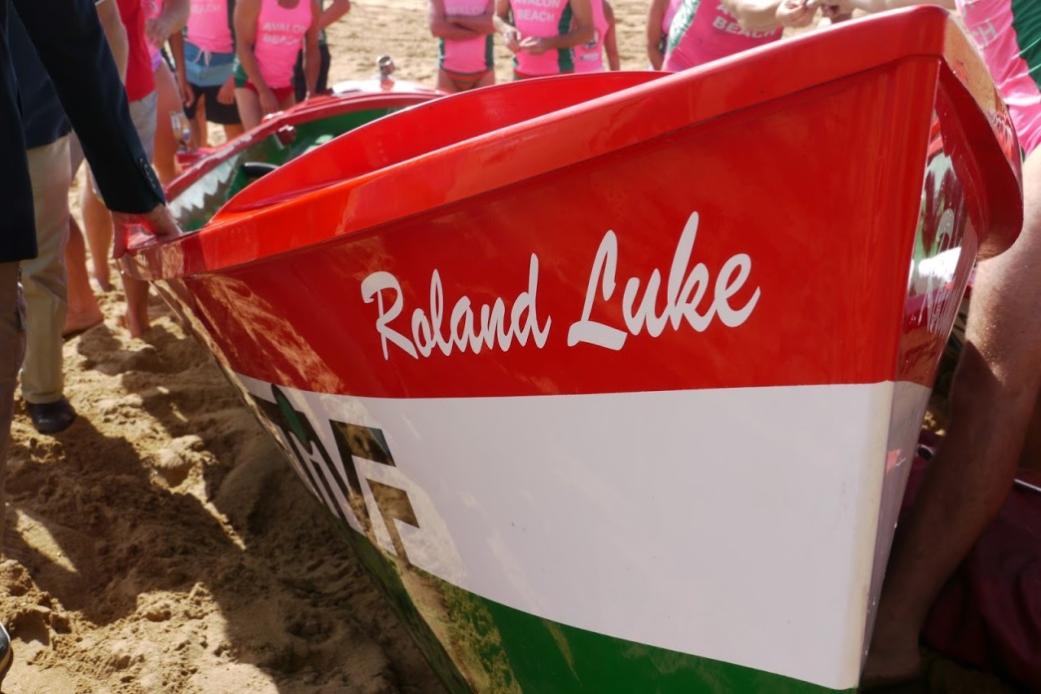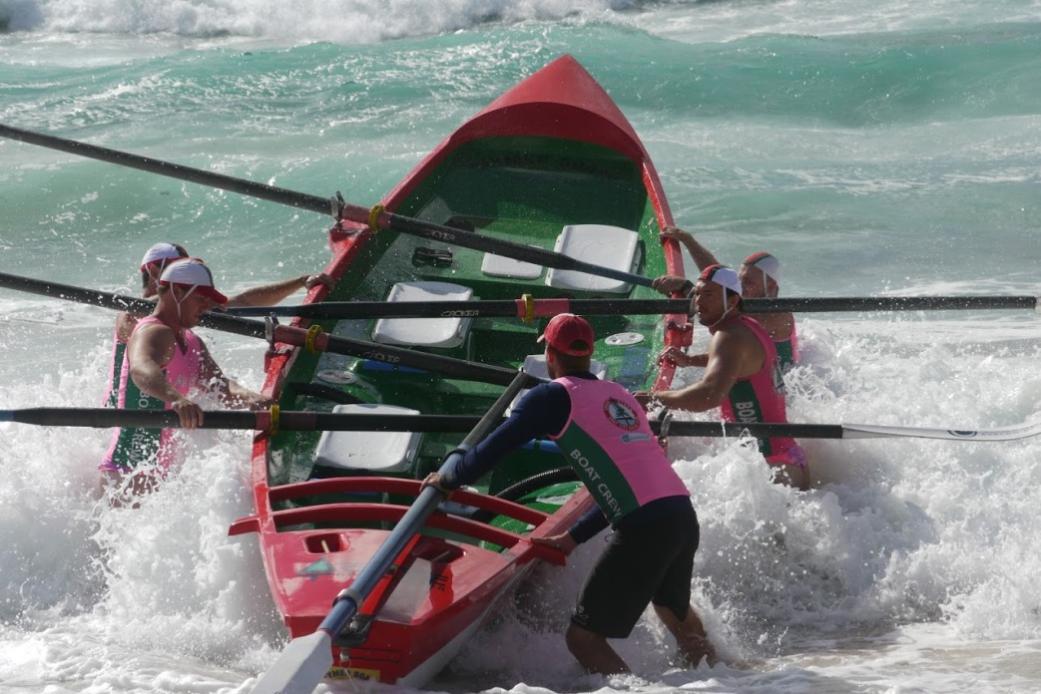 The Roland Luke - Out for first wave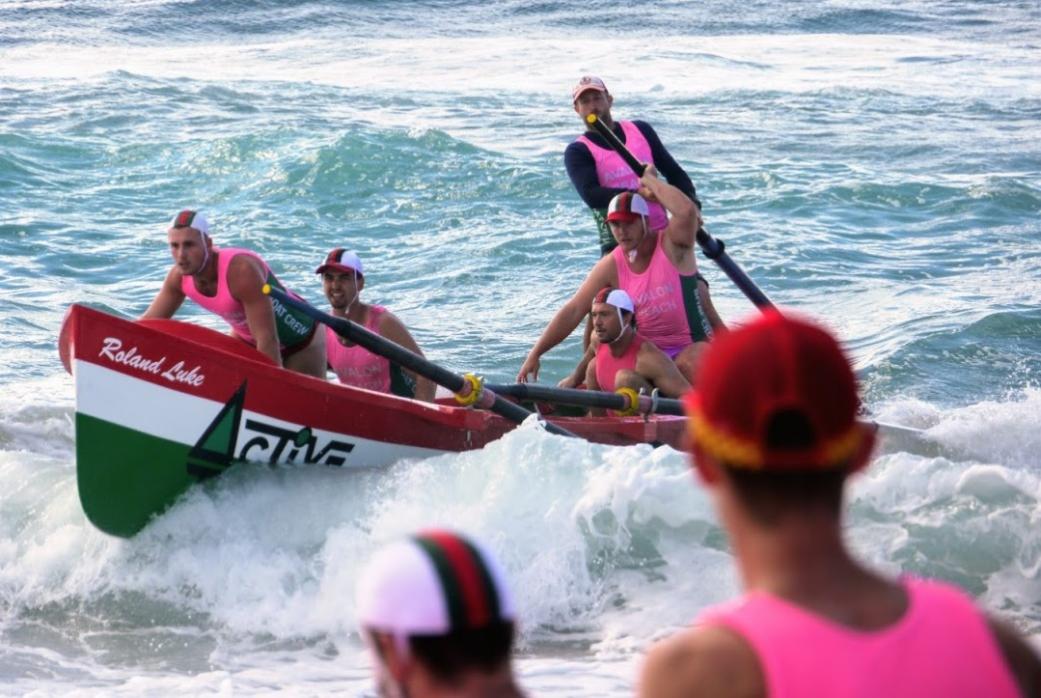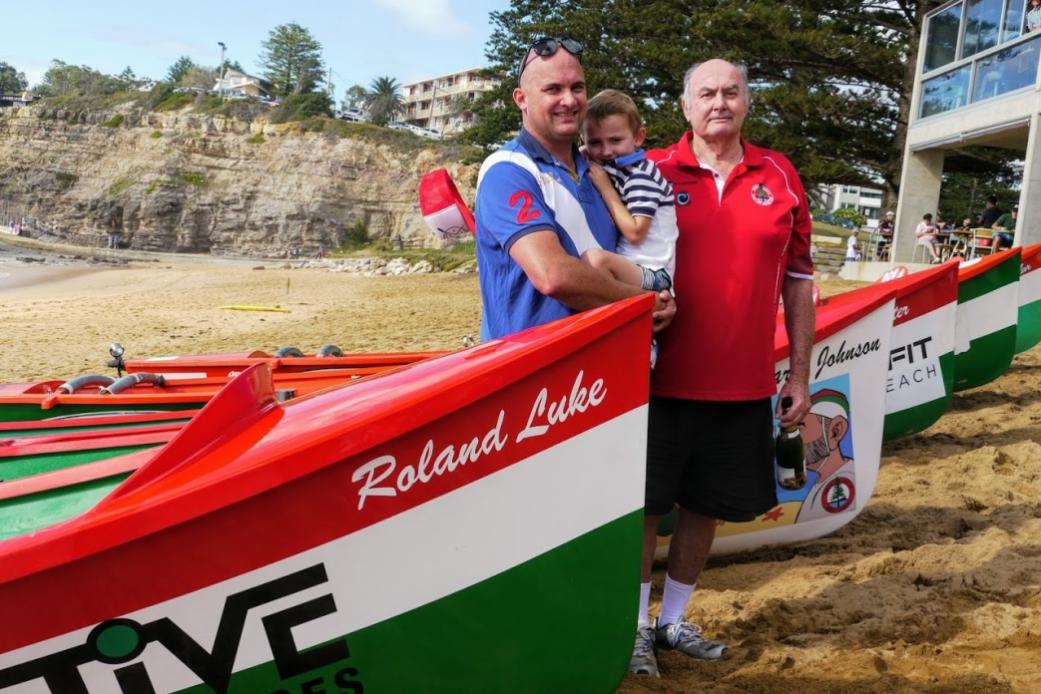 Three Generations of the Luke family on the Avalon Beach sand.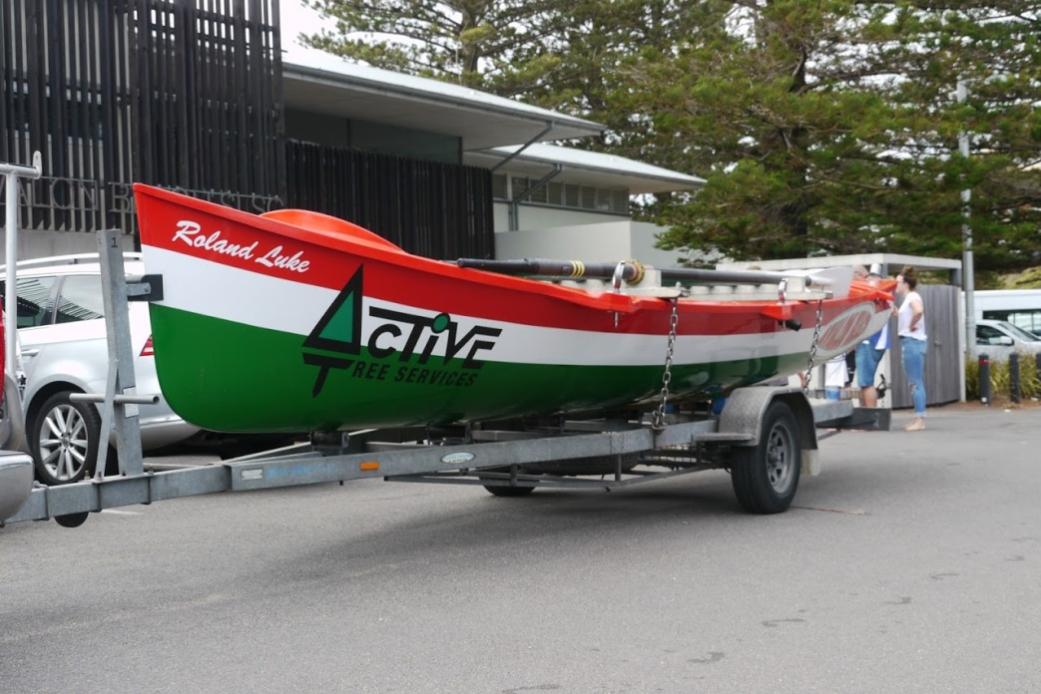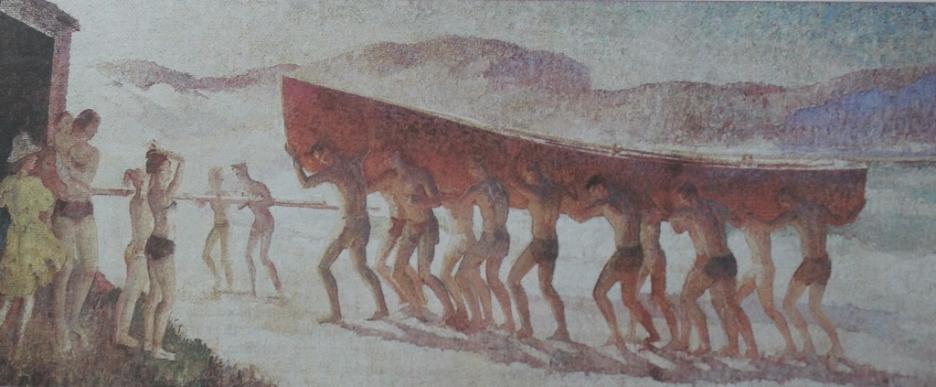 'Operation Centipede' by Arthur Murch - picture courtesy Norma Watt - painted for Avalon Beach SLSC members - boat crew putting surfboat away.