February 11 - 17, 2018: Issue 347
Clare Costanzo WINS Hardy Cup 2018:
First Female Skipper - First All Female Team to Take out prestigious Match Racing Event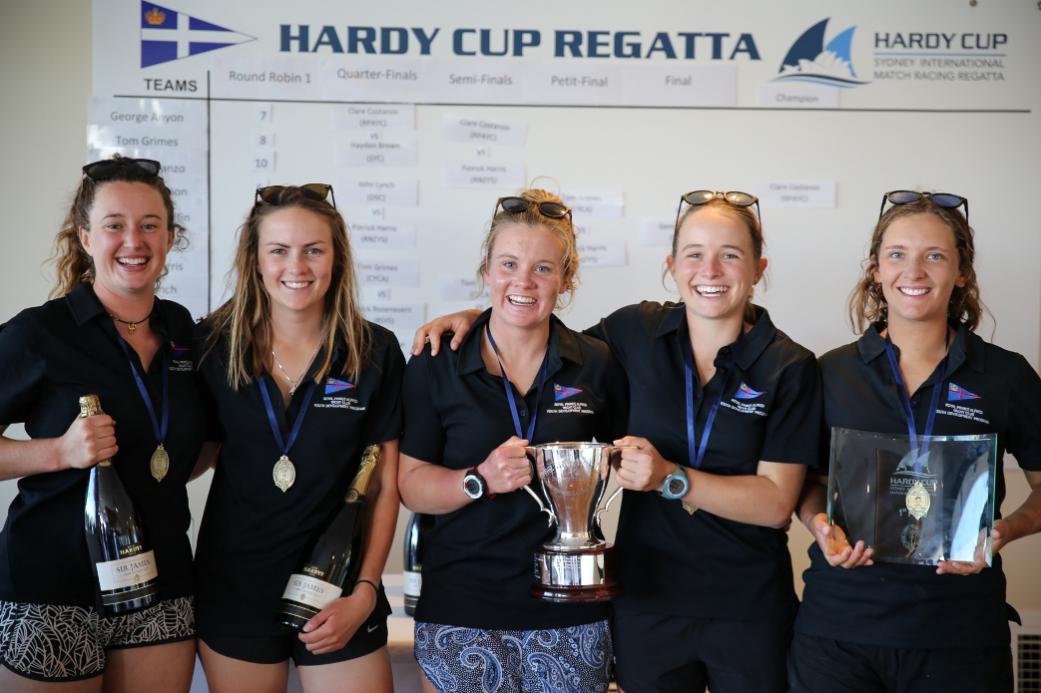 RPAYC's Clare Costanzo and her team of Jess Angus, Ruby Scholten, Celia Willison and Hannah Lanz. Photo by Darcie Cottington, Darcie C Photography
Clare Costanzo and her team of Jess Angus, Ruby Scholten, Celia Willison and Hannah Lanz have won the 2018 Hardy Cup!

This is a historic win as not only has Clare become the first female skipper to get her name on the trophy, in addition the team is also the first all female team to do so since since its inauguration in 2001.
The Royal Prince Alfred Yacht Club (RPAYC) was represented by two teams at the Hardy Cup 2018 this week, both skippered by the Costanzo sisters Clare and Juliet.
On Clare's team was Jess Angus, Ruby Scholten, Celia Willison and Hannah Lanz. On Juliet's team was James Farquharson, Annalise Scholten, Sam Thomas and Rachel Bower.
Hosted by the Royal Sydney Yacht Squadron, and considered one of Australia's most prestigious match racing events, the Hardy Cup, is an Under 25 World Sailing Grade 3 International Event. The Hardy Cup was donated by Sir James Hardy (Event Patron), the America's Cup, World Champion and Olympic Yachtsman, and prominent RSYS member to promote the match racing helming skills and tactical skills of young sailors.
Last year Clare Costanzo and her Royal Prince Alfred Yacht Club teammates finished bridesmaids at the same event. On Thursday February 8, 2018 the RPAYC's five-strong youth team beat George Anyon's Royal New Zealand Yacht Squadron team 3-0 in the finals, sailed in 20+ knot nor'easters off the host club at Kirribilli.
In doing so Costanzo broke an 18-year run of gun male skippers taking out the grade 3 youth event, and with an all-female crew.
Costanzo, Jess Angus, Hannah Lanz, Ruby Scholten and Celia Willison celebrated with a swim and some champagne then official photos before three of the five dashed to the airport for a 7.30pm flight to New Zealand, where training for the final youth match racing regatta in the series of three begins today, Friday 9 February.
"We'll have to celebrate our win at the end of the next regatta, the Nespresso Cup," the 21-year-old winning skipper said from the airport, flanked by Angus and Lanz and a change of teammates for New Zealand's premier youth match racing event.
"We were aiming for a podium finish; to win is amazing. The results are a credit to the crew, we won by out-sailing the boys in terms of our crew work. On the last morning we said to our coach Tom (Spithill), 'where's our motivational speech?' and he said, 'you don't need it!' A big thank you to Tom, who never stopped believing in us, and the RSYS race management team," Costanzo added.
The 2017 Australian Sailing Coach of the Year Tom Spithill spent the week on-water supporting his two RPAYC crews, the other helmed by Clare's younger sister Juliet. On Friday morning, February 9th, he woke up in Auckland where he will coach and mentor two different teams fielded by his club for the Nespresso Youth International Match Racing Cup, February 9 - 13.
"The result is huge for women in sport. This team proved how competitive they are both in terms of their match racing tactics and boat handling skills on the Elliotts," the proud coach said of the ground-breaking Hardy Cup victory.
Second was George Anyon (RNZYS) and third was Tom Grimes (CYCA).
RSYS Commodore Richard Chapman summarised: "The Hardy Cup sits at the end of the youth match racing summer calendar so the teams are well-practised and we've been privileged to watch first-rate competition all week. In Thursday's finals we witnessed some of the best and closest match racing we have ever seen.
"It's been an excellent regatta for top youth sailors like Clare and George Anyon, but also for the less-experienced skippers such as Hayden Brown from Sandringham and the RNZYS's Patrick Harris, who made it through to the semi-finals and pushed Clare all the way.
"It's wonderful to see match racing return to favour; it's a terrific discipline for both young sailors learning their craft and also the sailing stars of tomorrow who have America's Cup ambitions," the Commodore added.
The four-day schedule of round-robin racing whittled down to four finalists was completed under the guidance of race officer Ian Kingsford Smith and his on-water team in consistent Sydney summer conditions. Morning winds were generally too light for racing to commence, then the NE sea breeze arrived at lunchtime and built to 18 knots over the course of most afternoons, stronger on the last day.
Very noticeable to RSYS organisers was the camaraderie between the teams from NZ, interstate and around Sydney, and the respect shown to Costanzo and her team throughout the series.
The RSYS's next major event is the Etchells NSW Championship which will play out February 16-18 on Sydney Harbour.
Hardy Cup information and results at www.rsys.com.au/sailing/hardy-cup
On Facebook: www.facebook.com/hardycup
Instagram www.instagram.com/rsys1862
Article by Lisa Ratcliff, On Course Communications, Photos by Darcie Cottington, Darcie C Photography, Video by Mike McLoughlin, Mike McLoughlin Moments
Overview of the Hardy Cup 2018
Hardy Cup Day 1
Twleve teams took to the waters just off the RSYS clubhouse on the 5th of February. They represent: Royal Freshwater Yacht Club, Royal New Zealand Yacht Squadron, Royal Port Nicholson Yacht Club, Sandringham Yacht Club, Darwin Sailing Club, RPAYC, CYCA and RSYS.
A number of spectators gathered on the Junior lawn for a clear view of the events unfolding in front of the Clubhouse whilst Event Patron Sir James Hardy observed the action from his boat Nerida.
On Day 1 Clare and team suffered their first and only loss of the day in their first race, with Tom Grimes (CYCA) getting the better of them off the line, and the girls struggling to read the wind as the sea breeze tried to stabilise. It was onwards and upwards from their as they won the next 6 races, placing them in 2nd place overall after day 1.
Juliet and team had a promising day, considering this is Juliet's first time helming at a Youth Match Racing regatta. Juliet managed to start well and was getting around the track in good shape.
"All our Matches were really close, and I was really impressed with our team dynamics. Being my first regatta, their were a lot of mistakes...however I hope to learn from these mistakes, and try not to repeat them!" said an excited Juliet Costanzo. Juliet was sitting on three points, with wins against the CYCA, RFBYC, and RSYS.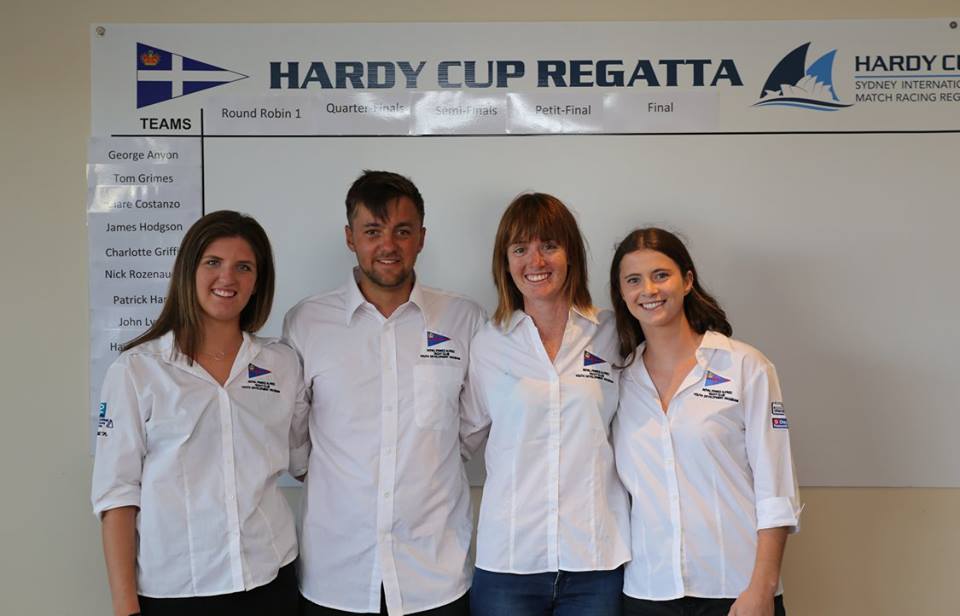 Hardy Cup 2018 - Juliet Costanzo crew, -1!

Hardy Cup Day 2
Tuesday 6 February saw completion of the Round Robin stage, and it was Clare Costanzo's ladies team from the Royal Prince Alfred Yacht Club who took an unbeaten run today to finish top of the leader board with a 10–1 score.
The teams lead by John Lynch (DSC) and Tom Grimes (CYCA) fill the remaining podium spots, both with a score of 8–3, but with Lynch taking the tie-break and 2nd place. The RSYS team helmed by Nick Rozenauers are through to the quarter finals which will be held tomorrow, 7 February. The top eight will be paired off into a first to three wins knock-out, followed by play-offs for 5th to 12th places overall.
Juliet Costanzo finished in 10 overall, again winning 3 races. A great first hitout for the RPAYC skipper-sailor.
Hardy Cup Day 3
Competitors enjoyed an excellent day on the water today, 7 February, with the first of the knock-out rounds.
George Anyon's team (RNZYS) continued to find their form, the only team to make it through to the semi finals 3–0. The teams skippered by Clare Costanzo (RPAYC) and Tom Grimes (CYCA) both went through 3–1, while the match between John Lynch (DSC) and Patrick Harris (RNZYS) was a real thriller with five races. After Harris took the first race, Lynch won the next two putting them on match point. Lynch took a "must win" match to draw level, two apiece, and then went on to take the final deciding match to go through to the semis 3–2. Incredibly close racing!
The Semis and Finals will be held tomorrow, Thursday 8 February.
Hardy Cup Day 4

The Semis are done: it's Tom Grimes CYCA vs Patrick Harris RNZYS in the Petit and George Anyon RNZYS vs Clare Costanzo RPAYC in the Finals!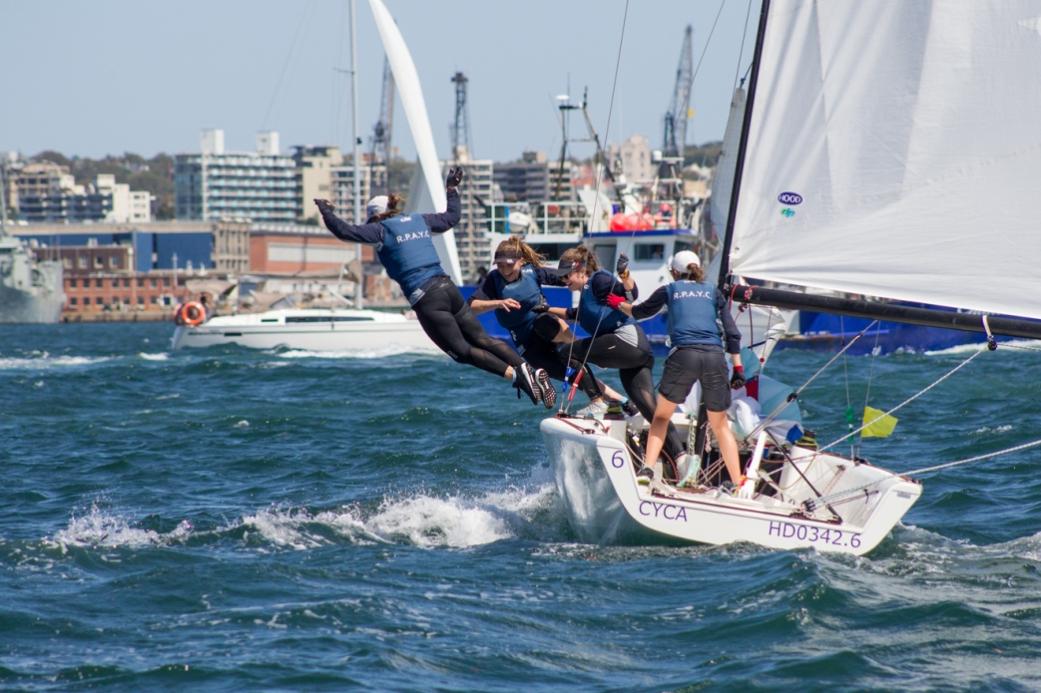 Victory Swim - Photo by Darcie Cottington, Darcie C Photography