February 11 - 17, 2018: Issue 347
Sailors With DisAbilities To Help Disengaged And Disabled Youth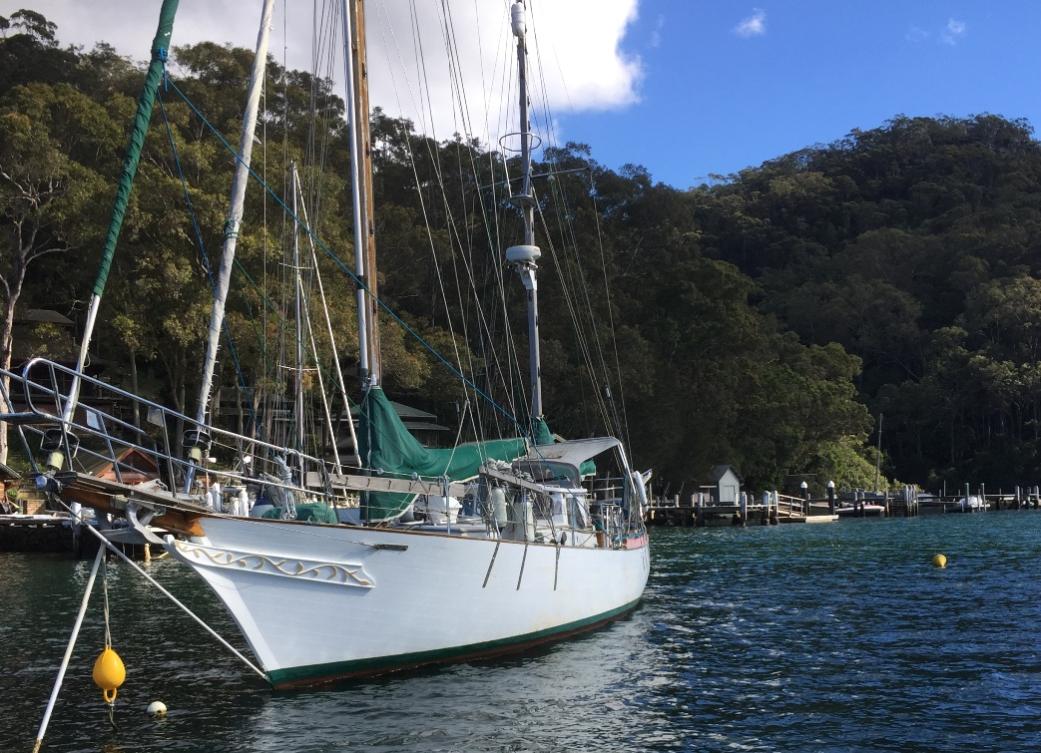 The 53 foot Herreshoff - SWD photo
Sailors With DisAbilities to help disengaged and disabled youth
February 6th, 2018

Sailors With DisAbilities (SWD) has launched its latest project 'Wright of Passage' – involving a wooden boat and getting disengaged and disabled young people back on their feet – and it is supported by the Oatley family, who have given the group space at their Woolwich Dock for this massive undertaking.
This unique opportunity came knocking when a 53 foot timber Herreshoff ketch, dating back to the sixties, was donated to SWD.
"While the boat is principally sound, it needs some work to be seaworthy, which entails many trade and professional skills to bring it up to a satisfactory standard," says David Pescud. The head of SWD and the brainchild for this initiative is grateful for the boat and for industry support, particularly the Woolwich Dock facility and the Oatley's (of Wild Oats fame) enabling the program, to come to fruition.
"The location at Woolwich historical dock will assist in raising the profile of this project," adds Pescud, who has come up with this novel and ideal way of bring the boat up to scratch. The boat is already at Woolwich, stripped out with its mast removed in preparation to be surveyed this week.
The aim of 'Wright of Passage' is to provide young people with skills for employment in the marine and allied industries. The first program would include carpentry, shipwright and general boat maintenance. It is a broad scope with principle goal being youth employment.
Meadowbank TAFE will deliver the formal accredited training for 'Wright of Passage', which will later include electrical, mechanical, rigging and sail making. The team from Yachtworxs will supervise the boat work, supported by on-water training with SWD, the highly successful program founded by Pescud in 1994 which continues today.
"It is paramount that all these trade skills are embraced by a simultaneous mentoring, emotional support and life skills programs," Pescud explains.
The project has a multi-pronged purpose including: experience that learning can be fun; giving young people skills and effecting behavioural change; create an optimistic framework where young people can come together for training; develop interpersonal skills; receive an understanding of what the expectations are for their life post school; build confidence and self-esteem – all relevant to obtaining employment.
With a deadline of 15 November 2018, when sea trails will commence, those who take part in the project will prepare their boat and sail it to Hobart for entry into the Wooden Boat Festival, which runs from 8-11 February 2019.
The ketch will be crewed by young people who have undertaken the 'Wright of Passage' program since its inception - and young people with a disability - under the supervision of a management team.
"Showing the boat at the Wooden Boat Festival will enable them to have total ownership of the project and proudly talk about their achievement," Pescud says.
After the Wooden Boat Festival the boat will stay in Tasmania as a vehicle for the annual schools 'Winds of Joy' program, which operates from Hobart for two months carrying the SWD and partners' flag.
Apply now to be in the program
The first TAFE intake is 19 February, so interested parties should apply now. The focus is on teenagers, but anyone up to 30 can apply. Any young person interested should contact us regardless of the timeline.
Volunteer
Volunteers with a passion to share this dream and to engage and co-work with these young people are needed to support the project and to mentor the participants. Ideally, volunteers would have some trade/specialist skills. However, they will not be limited or defined by their skills - people with the right attitude can drive a paint brush and use sandpaper!
Volunteers will work at Woolwich dock. They will need to join SWD as a member ($25 covers insurance) and have a current NSW 'volunteer working with children' clearance. The program will run Monday to Friday between 8am-4.30pm.
Donations – including boat products
Donations to SWD are tax deductible. Boat products are also needed.
"We need all sorts of boat stuff," says David Pescud. "I reckon there's nothing we wouldn't be able to use. And of course we will acknowledge donations from suppliers - with options of pennants, website mentions, honour board," he says.
All enquiries should be directed to Sailors with disABILITIES: info@sailorswithdisabilities.com or phone mobile: 0421 725 170 or visit: D'Albora Marina- Suite 12/1B New Beach Road, Darling Point, Sydney NSW 2027
Further information, to apply or volunteer: www.sailorswithdisabilities.com/news or www.sailorswithdisabilities.com/news/28103/exciting-youth-opportunity
By Di Pearson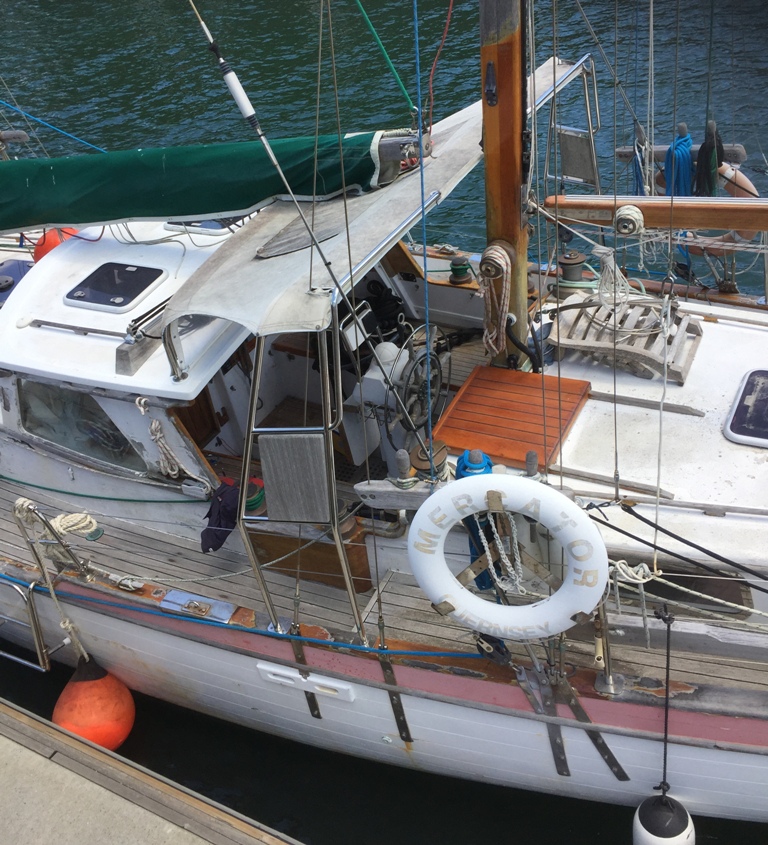 The old Herreshoff 53' ready to be lifted onto the hardstand at Woolwich Dock - SWD photo