June 3 - 9, 2018: Issue 362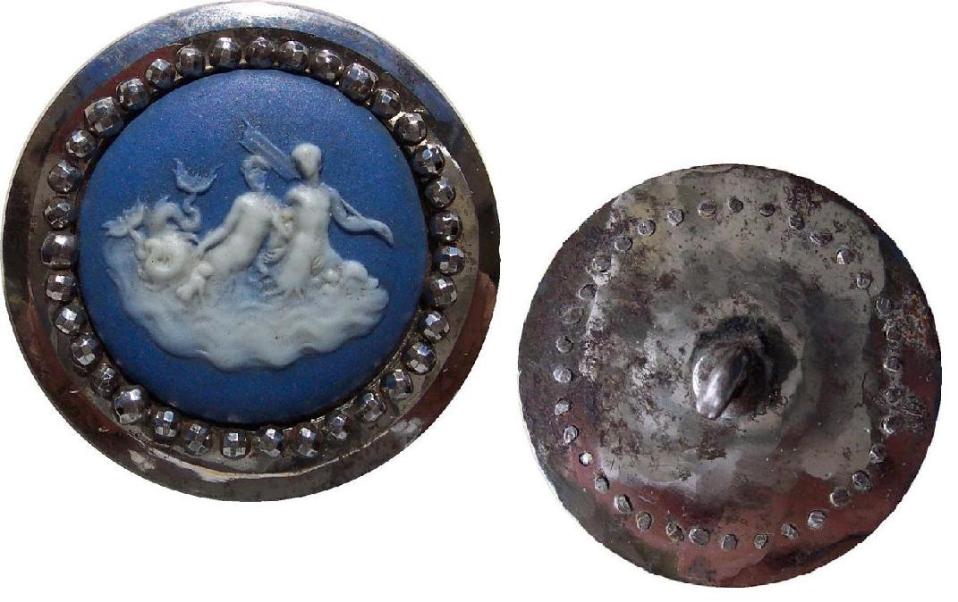 Wedgwood button with Boulton cut steels, depicting a mermaid & family, England, circa 1760. Actual diameter: just over 32mm. Photo courtesy Northeast Regional Button Association
Collecting Buttons
Button collecting varies widely. In its most informal manifestation, a button collection may simply be the household button container, where buttons are stored for future use on clothing or for crafts. At the other end of the spectrum is the competitive collector.
Some museums and art galleries hold culturally, historically, politically, and/or artistically significant buttons in their collections. The Victoria & Albert Museum has many buttons, particularly in its jewellery collection, as does the Smithsonian Institution.
Button collectors take simple, utilitarian objects taken for granted by millions of people each day and group them into delightful displays that make you stop and think.
A button collection might bring back childhood memories. Some folks put together extra special groupings of buttons for scouting uniforms or children's clothing. Whimsical shapes like bunnies, puppies, and apples stir fond recollections as well.
Some buttons, such as those from the uniforms of military, police officers, and other civil servants, remind us how much those individuals have impacted so many lives over the decades. These are revered collectibles.
Then there are those who have a penchant for textiles or sewing, and buttons serve as a natural extension of those interests.
Collectors of Bakelite, painted porcelain, and Jasperware find buttons made of these materials go right along with their other interesting displays of collectibles. So it's really up to you - perhaps you want a whole collection centred around buttons with cats on them, or dogs - or perhaps you want something historic.
This great blog, Australian Buttons, shares features on Australian buttons - well worth a peruse if you want to see how the humble button has evolved here - and how fashions have changed, or changed back again!
We also have, in Australia, the
Victorian Button Club
and also the
Ephemera
Society of Australia. There's also a great shop in Newtown, Sydney, called
All Buttons Great and Small
- well worth checking out.
In America there is the
National Button
Society or there's the U.K.'sBritish Button Society - these websites offer great information and prove this can be a serious collecting hobby you can begin just by looking at what you have around the house or visiting those Opportunity Shops and seeing what's available there for a few dollars, or cents.
What makes a button collectible
Technically, even the old jar of old shirt buttons holds some collector value. There may be someone out there trying to see just how many different shirt button variations they can come up with.
The majority of the buttons avid collectors seek, though, have some special qualities.
Many
collectors look for buttons reflecting different styles to document history
. The way buttons were manufactured 200 years ago certainly differs from today's techniques. Clothing buttons were made from hand-cut glass, molded clay, and hand-decorated porcelain in the past, among other materials contrasts starkly with the machine molded plastic buttons we find on most contemporary garments.
"Famous potters and silversmiths of [the 18th] century fashioned buttons with the same beauty as their vases and jewelry," said Sally C. Luscomb in The Collector's Encyclopedia of Buttons (Schiffer Books).
One of the earliest forms of buttons were the Satsumas, ceramic buttons from Japan. Named for a historic ceramics center on the southernmost island of Japan, Satsumas were first made in the 17th century by Korean potters. These antique buttons were often painted in extraordinary detail, depicting miniature scenes from Japanese life and the natural world. The buttons didn't appear in the West until the mid-19th century, which is one reason why Satsumas from the 1800s, and even the early 1900s, are highly collectible.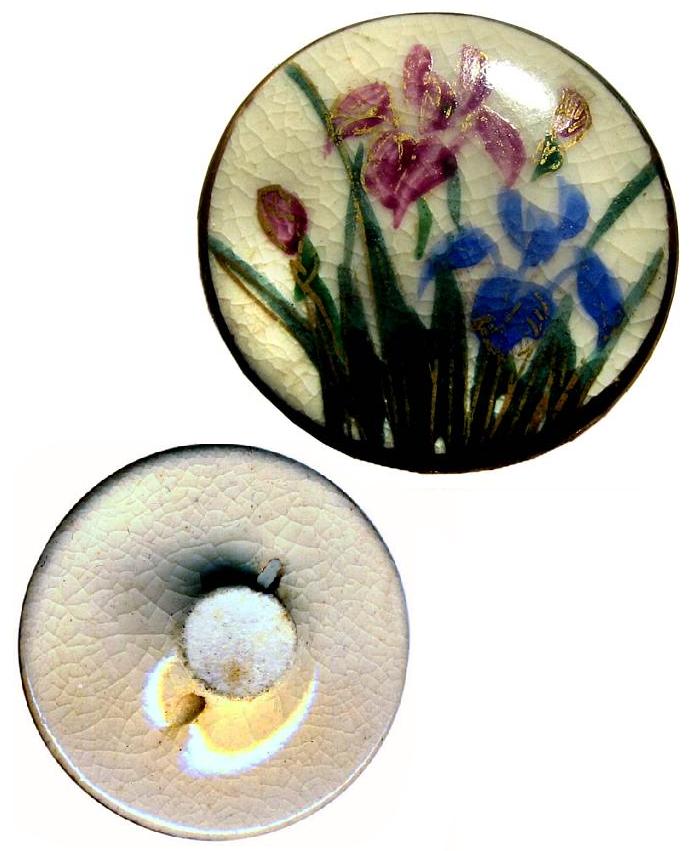 Satsuma iris button (self-shanked), showing front and back - photo courtesy Peach State Button Club

Brass picture buttons from the Victorian era are also collectible. These charming discs were stamped with images taken from everything from operas to children's books. Other picture buttons took their cues from nature (flora and fauna), the sciences (stars and moons), or mythology (cupids and fairies). [2.]
Black glass buttons from the Victorian era came next. When the Queen's husband, Prince Albert, died in 1861, the monarch took to wearing black for decades. Much of England mourned with her, prompting a rise in the popularity of black clothing and jewelry. At first, black buttons were made out of jet, a fossilized coal found near Whitby, England. But jet was very expensive, so black glass was used as a replacement.
Another theme in button collecting is portraits, which look like miniature works of art. Finely crafted and expertly painted buttons are more desirable than those decorated amateurishly or with decals.
Some button collections are made up of a few of this and a few of that, basically whatever the owner finds to be appealing. By and large, buttons in odd shapes and sizes, comprised of unusual materials, or of an unusual origin can be the most appealing to avid collectors, and hold the most value. Have a look at this
Art Deco collection
that went on exhibition in New Zealand a few years ago.
Buttons can be made of Celluloid, Bakelite, Wood, Brass, Silver, Lucite, Vegetable Ivory, Glass, China, Mother of Pearl Shell, Bone, Enamel or be Fabric Covered.
Two Antique Arts & Crafts Movement Champlevé Enamel Buttons, Peacock Colours - these are
Cymric buttons
A button's value to collectors
In general, clothing button prices can range from a few cents to a few hundred dollars each.
Only rare examples in excellent condition bring high dollar values though and these are usually those that are following one theme.
For example, buttons from uniforms in certain conflicts might interest button collectors, but there are collectors of military memorabilia that will pay several hundred dollars apiece to own certain examples as well. These buttons are usually made of metal and some are located with metal detectors and dug from the dirt in battlefields. Rare rubber (also known as vulcanite) examples from 1800s uniforms also surface from time to time.
Buttons gleaned from clothing worn by celebrities or sports stars can also be quite valuable if the provenance is verifiable. Buying a piece of clothing in poor condition at auction might not be such a bad proposition if it contains a number of buttons and scraps of fabric that can be salvaged along with them.
These can be sold individually to collectors who would relish owning a little piece of pop culture or sports history. [3.]
Out of the ordinary examples can also be valuable.
Embellishments like hand painting and enameling on antique French or Victorian buttons can lead them to be worth $200 or more. In 2014
a Civil War Republic Of Texas Confederate Navy Uniform Button Military sold for $2,075.00 while another Pre Civil War Diplomatic Button fetched $825.88 on ebay!
Military buttons are in a class by themselves, with categories for flat buttons made of lead or pewter, two-part convex buttons, and buttons produced for officers.
You won't run across these types of buttons often, but it is worth becoming familiar with the high-end examples so you will know what to look for among all those virtually worthless shirt buttons you may have to dig through to find them.
A good way to learn more about what you're looking out for, or looking at, is to invest in one of the many books available on the subject.
In general terms there are "Old" buttons (pre-1918), and "Modern/Vintage" ones (post-1918).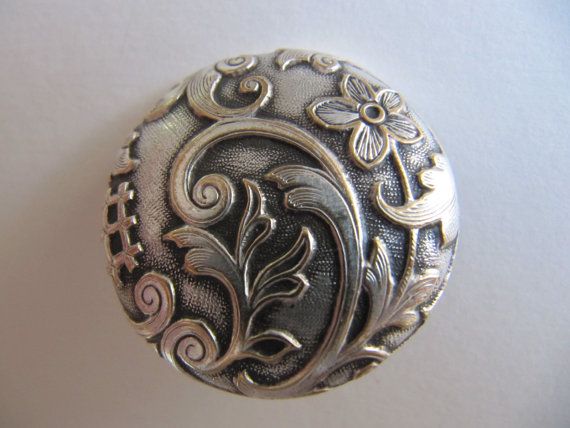 Vintage French silver button, Art Nouveau, A.P. & Cie Paris, 32 mm, antique collectibles buttons from France, jewelry component
Where you find old buttons
A side benefit of button collecting comes with being able to find them everywhere. From garage sales to flea markets and textile shows, buttons abound. Sometimes they are neatly organised, other times they are in a heap big enough to dig through for hours. That is part of the fun of collecting.
Often thrift stores will end up with vintage garments and uniforms holding great buttons. As a matter of integrity, many collectors feel it is best to pilfer buttons only from garments with little or no life left in them. A complete garment will offer more history than just the buttons alone, so keeping them together as long as possible makes sense from a preservation perspective.
It's nice, however, when you do find a worse for wear garment that offers a complete set of matched buttons. Sometimes this allows collectors to add one interesting button to their own collection and share others through trading or selling.
You can also visit button collecting shows and meet others interested in the hobby in the process of adding to your collection.
These are usually put on by button collecting societies and clubs so they will feature some of the best and most interesting buttons available in the secondary marketplace.
Either way, all those lovely colours and kinds make this an inexpensive way to begin a collection of your own that has more treasure than trash - and well worth keeping for the stories they tell.
References

Buttons and button-like objects used as ornaments or seals rather than fasteners have been discovered in the Indus Valley Civilization during its Kot Yaman phase (c. 2800–2600 BC) as well as Bronze Age sites in China (c. 2000–1500 BC), and Ancient Rome.
Buttons made from seashell were used in the Indus Valley Civilization for ornamental purposes by 2000 BC. Some buttons were carved into geometric shapes and had holes pierced into them so that they could be attached to clothing with thread. Ian McNeil (1990) holds that: "The button, in fact, was originally used more as an ornament than as a fastening, the earliest known being found at Mohenjo-daro in the Indus Valley. It is made of a curved shell and about 5000 years old."
Functional buttons with buttonholes for fastening or closing clothes appeared first in Germany in the 13th century. They soon became widespread with the rise of snug-fitting garments in 13th- and 14th-century Europe.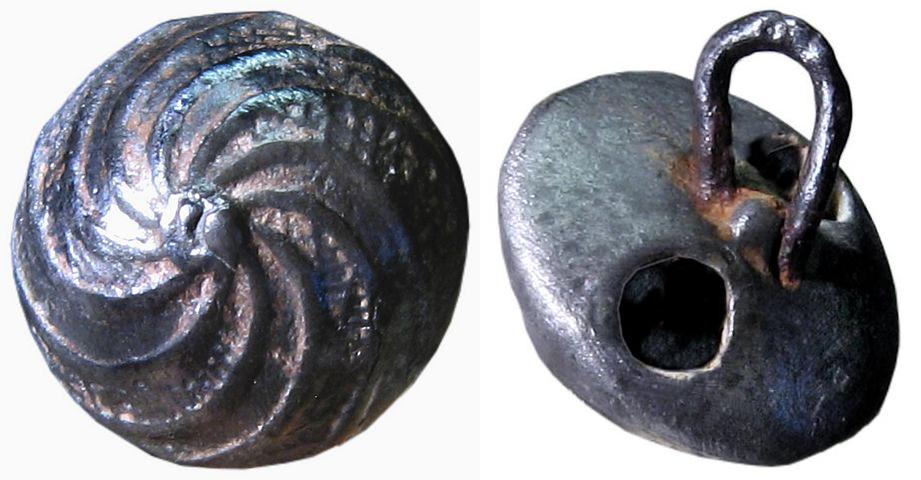 Spanish metal button circa 1650-1675, 12mm diameter. Photo courtesy Peach State Button Club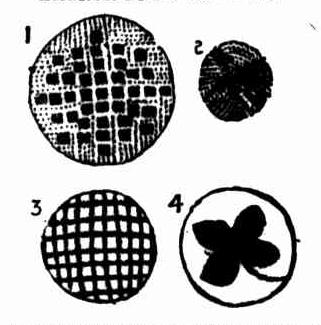 Embroidered buttons are the very latest and daintiest of dress accessories. They are quickly worked, and will make a charming present for the 'something new' to be worn on the first day of the year. AH sorts of materials are used for the background of these buttons, silk, satin, or linen, according to the fabric of the dress they are to adorn. They arc not of the dress material, but of appropriate texture. The embroidery Is In silk or linen floss. The design Is stamped upon the material, and the embroidery is completed, after which the pieces are mounted on wooden button moulds. These moulds are sold by drapers In England, but may not yet be obtainable here, but flat linen buttons, or rounded smooth ones, could be used. The edges of the material could be drawn tightly together at the back of the button and secured with thread, and the unnecessary material cut away. Designs No. 1 and 2 are cross stitches on canvas, carried out In green silk. No. S Is a blue linen background, worked in rich brown conching stitch, the brown forming tiny squares, which are caught at the Intersection with gold thread. Care must be taken to see that the stitches are at the same angle, and of equal size. The remaining button is a four-leaved clover, In green, upon white satin, the stalk curving to the edge. Violets, single daisies, or butter-cups also look well.
EMBROIDERED BUTTONS. (
1905, January 7
).
The Inverell Times
(NSW : 1899 - 1954), p. 3. Retrieved from
http://nla.gov.au/nla.news-article184679803
These are prominent accessories on a fashionable gown, but must be chosen with great care, for they are so much en evidence that they are apt to mar the whole aspect of the toilette. Many are effective accessories; some of the most costly and handsome are cabochons. Directoire coats cannot well be worn without them, and on these, exquisite jewelled specimens find a place. The Nouveau art, enamelled on metal, are singularly appropriate to the hopsacking stuffs, which are a loading idea. In the new woollen, especially, as is often the case, when they exhibit many colours commingled. Nothing, however, looks better than paste, rhinestones and crystals. We are favouring embroideries of many kinds, and the metal buttons have, In some cases, been made to imitate
them. We are always falling back on old modes, and buttons are no exception, such .as those covered with silk, with figured devices in velvet upon them. We still use stones set In silver rims, especially turquoise. Many of the leading houses employ the painted Dresden buttons, which always give a light Watteau-like touch. Pearl buttons are greatly Improved by coloured centres, and the ivory ones for "tailor-mades" are tufted at the back.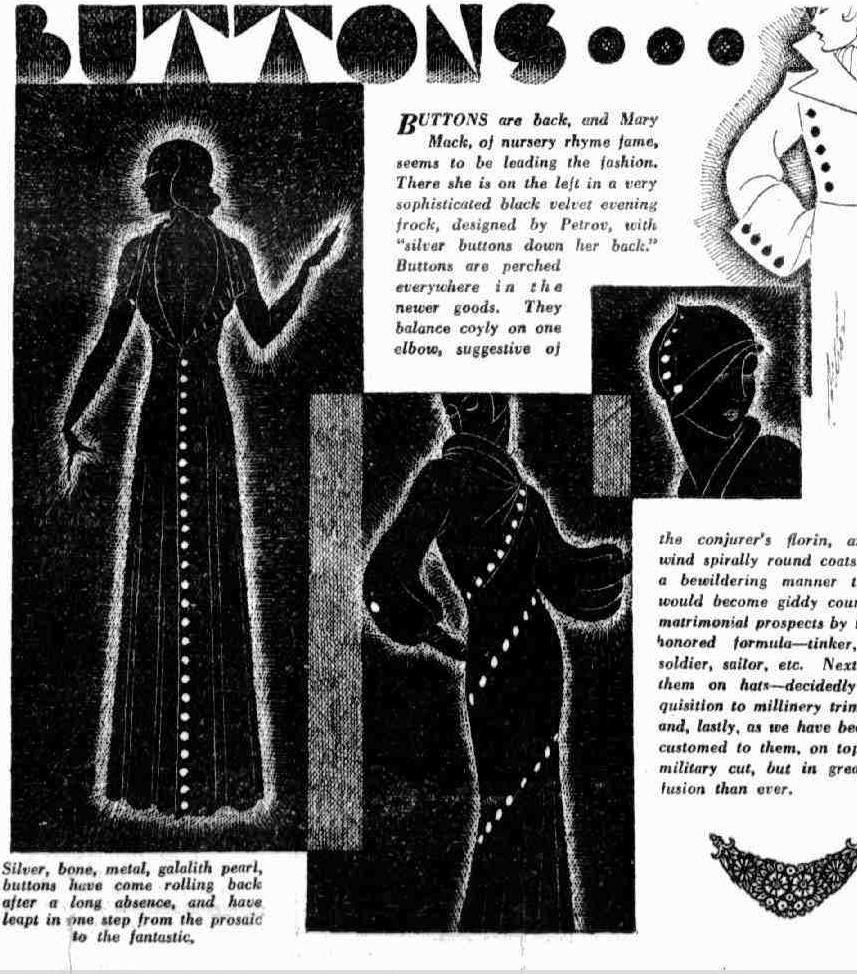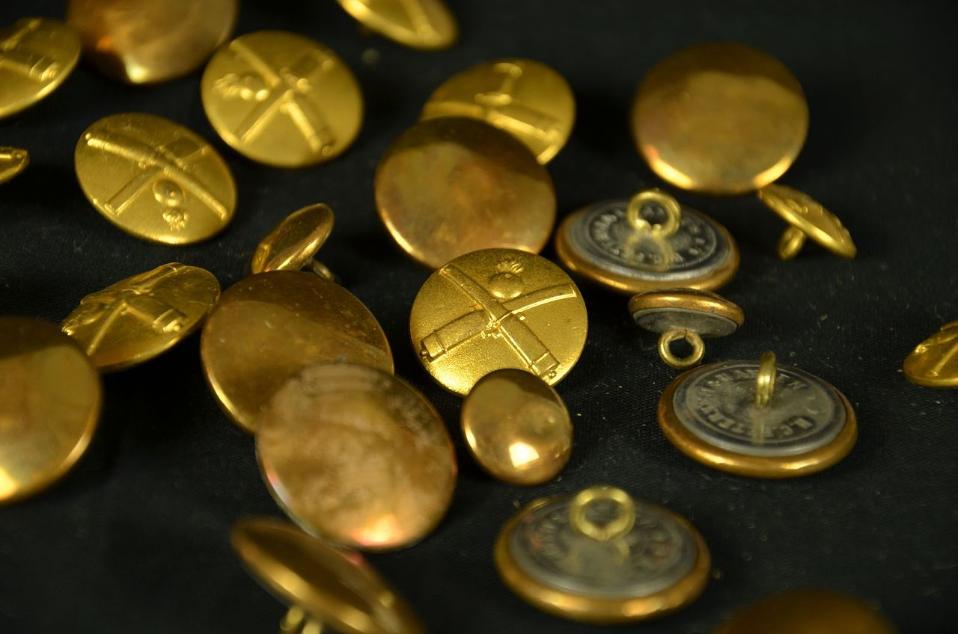 Collecting Buttons - A J Guesdon, 2018