October 21 -27, 2012: Issue 81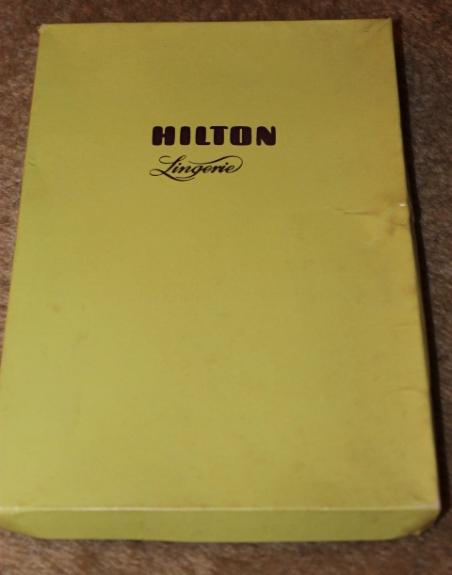 Many women did all of their own sewing and patterns and fabrics for these were readily available. To left is a pattern from the 1940's for slips and below one from the 1950's.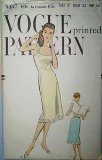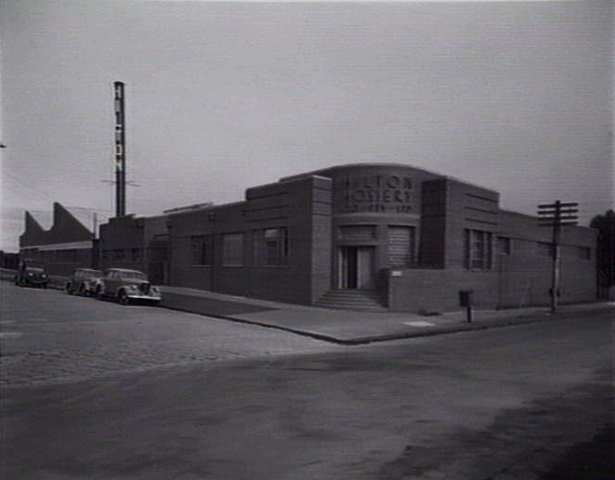 Hilton Hosiery, 291 Albion St., Brunswick. Victoria. Date of creation: [ca. 1940-ca. 1949] Image No: a19349. Courtesy State Library of Victoria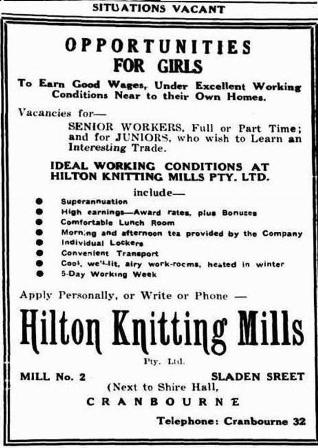 Advertising. (1947, October 30). Standard (Frankston, Vic. : 1939 - 1949), p. 15. Retrieved from http://nla.gov.au/nla.news-article73598854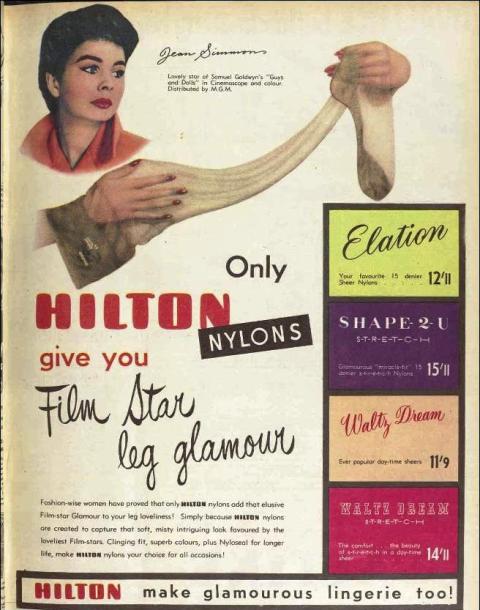 Jean Simmons Hilton Advertising: Advertising. (1956, April 18). The Australian Women's Weekly(1933 - 1982), p. 31. Retrieved from http://nla.gov.au/nla.news-article51776122
Jean Merilyn Simmons, OBE (January 31, 1929 – January 22, 2010) was an English actress who appeared predominantly in films, beginning with those films made in Great Britain during and after World War II. Known as one of J. Arthur Rank's 'well-spoken young starlets', she began making films in Hollywood from 1950. Jean Simmons was married and divorced twice; marrying English actor Stewart Granger in Tucson, Arizona, on 20 December, 1950 and making several films with him. In 1956 she and Granger became U.S. citizens; they divorced in 1960. On 1 November, 1960, she married director Richard Brooks; they divorced in 1977. She had two daughters, Tracy Granger and Kate Brooks, their names bearing witness to Simmons' friendship with Spencer Tracy and Katharine Hepburn. The 1955 movie Guys and Dolls in which she played Sergeant Sarah Brown of the Salvation Army won her a Golden Globe for Best Musical/Comedy Actress and saw her nominated for a BAFTA (British Academy of Film and Television Arts) for Best Actress was very popular in Australia. This wasn't her only 'appearance' in Australia; Jean Simmons portrayed Fiona Cleary, Cleary family matriarch, in the 1983 mini-series, The Thorn Birds and won an Emmy Award for her role.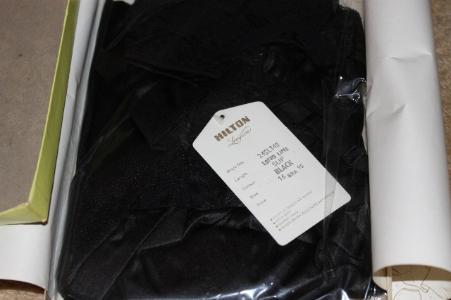 Copyright Pittwater Online News, 2012. All Rights Reserved.
Hilton Lingerie - Slips
Once upon a time everyone wore a slip under their dress to ensure a smooth finish or to protect a wearer against rough materials that may scratch sensitive skin or to prevent underwear being seen through dress fabrics. Nowadays these slips, so pretty and intricate in design with beautiful lace inserts are worn by themselves as the dress, not what goes under it by our younger women. Slips are still used nowadays for a sleek, seamless flow beneath a lovely dress and add confidence for their wearer.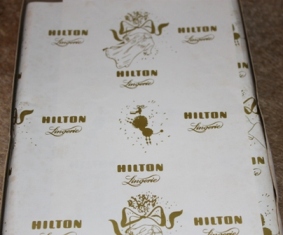 This week we look at one of these from the early 1970's when such items were sold in nice boxes and came in 'long line', 'half slips' (waist to hem version for skirts) and 'mini slips' which would have been popular when the 'mini' came into fashion. This 'bra slip' in long line is a slip that combines a bra top with slip and were popular from the 1950s and 1960s on. Made in Australia by Hilton Hosiery, a company formed in 1936 by Len G Smith that previously were very successful in nylons or hosiery and held 18% of the Australian market, this undergarment represents the latest advances in technology at that time.

Hilton Hosiery began as Hilton Knitting Mills and went on a campaign of acquiring many other hosiery and lingerie makers:
Hilton Hosiery a public company Hilton Hosiery Ltd Is being registered as a public company, with £500,000 nominal capital, divided into 100.000 ordinary 20/ shares and 1,600,000 ordinary 5/ shares. The company was formed to acquire all the 75,583 20/ fully paid ordinary shares in Hilton Knitting Mills Pty Ltd (formed in 1936), and all the 66,825 20/ fully- paid ordinary shares in Mignon Hosiery Pty Ltd (formed in 1934). Shareholders in the subsidiaries will be allotted 5/fully paid ordinary shares in Hilton Hosiery Ltd in proportion of 533 for each 100 20/ fully paids in Hilton Knitting, and 422 for each 100 20/ fully paids in Mignon. This will make issued capital of holding company £171,320,divided into 685,280' 5/ shares. Directors will be: R.. P. Carver, T. A.Kelly, J. Kellett, A. H. Angliss. J. S. Campbell. L. G. Smith, and A. Taylor. Mr L. G. Smith, previously managing director of Hilton Knitting, will act in similar capacity for holding company. No new capital is to be issued, but directors intend to apply for listing on Change. Hilton Hosiery a public company. (1947, June 5). The Argus(Melbourne, Vic. : 1848 - 1956), p. 12. Retrieved from http://nla.gov.au/nla.news-article22430996
LADDERS (NYLON) SHEER BAD LUCK: HAD luck causes the greatest number of nylon stocking 'casualties,' but greater care by women could save them. A man claimed this yesterday. He is one of Australia's most knowledgeable hosiery men— Mr. Len Smith, managing director of an Australian stocking manufacturing firm, who is visiting Brisbane from Melbourne. 'There is no knowledge yet, or any immediate prospect, of a ladder-proof stocking,' he said. 'But a newly developed process called nyloseal has been proved to make stockings more resistant to snags.' Mr. Smith, how 48, founded Hilton Hosiery Ltd. in 1936. Today the firm claims to make 18 per cent of all hosiery made by Australia's 23 manufacturers. LADDERS (NYLON) SHEER BAD LUCK. (1952, June 19).The Courier-Mail (Brisbane, Qld. : 1933 - 1954), p. 3. Retrieved from http://nla.gov.au/nla.news-article50299130

This Australian company entered the Lingerie market in Australia in 1955 and by August 1955 were post ¼ million pounds profit:
Hilton enters lingerie. Hilton Hosiery Ltd. has entered the lingerie field through a newly acquired subsidiary, Little Lady Lingerie Pty. Ltd. Hilton planned to expand the women's lingerie section of the new company this year, Mr. L. G. Smith, Hilton's chairman, said yesterday. The company was bought for 70,000 Hilton ordinary 5/ shares. This is the second hosiery company to look to the lingerie field for further expansion. One purpose of the recent Holeproof - A.K.M. merger is to develop lingerie production. Hilton enters lingerie. (1955, March 4). The Argus (Melbourne, Vic. : 1848 - 1956), p. 10. Retrieved from http://nla.gov.au/nla.news-article71636581
Hilton Hosiery record £¼mil.: The Argus (Melbourne, Vic. : 1848 - 1956) Saturday 20 August 1955 p 10 Article; Hilton Hosiery record £¿mil. HILTON HOSIERY LTD. and subsidiaries earned record consolidated profit of £250,575 in the year to June 30, compared pared with £243,762 in 1953-54. Directors yesterday declared a Anal ordinary dividend of 6d. a share, making a steady 1/, or 20%, for the year.
Hilton buys Charmaine: The Argus (Melbourne, Vic. : 1848 - 1956) Wednesday 9 May 1956 p 12 Article. Hilton buys Charmaine Hilton Hosiery Ltd. has bought a controlling interest in Charmaine Holdings Pty. Ltd. Purchase consideration has been satisfied by cash and the issue of 62,000 Hilton 5/ ordinary shares. Hilton will apply for listing of these shares on the stock exchange. Hilton buys Yoffa: The Argus (Melbourne, Vic. : 1848 - 1956) Saturday 1 December 1956 p 18 Article. Hilton buys Yoffa Hilton Hosiery Ltd. has succeeded in its bid for Yoffa Hosiery Ltd. Hilton will pay 154,996 ordinary 5/ shares for Yoffa, and these rank equally with existing ordinaries
Some sources state lingerie evolved in ancient Egypt around 3000 B.C. The term 'lingerie' is from French, circa 1850, and derives from the French word linge, "washables"—as in faire le linge, "do the laundry"—and ultimately from lin for washable linen, the fabric from which European undergarments were made before the general introduction of cotton from Egypt.
From Wikipedia: Lady Duff-Gordon of Lucile was a pioneer in developing lingerie that freed women from more restrictive corsets. Through the first half of the 20th century, women wore underwear for three primary reasons: to alter their outward shape (first with corsets and later with girdles or bras), for hygienic reasons, or for modesty. Before the invention ofcrinoline, women's underwear was often very large and bulky. During the late 19th century, corsets became smaller, less bulky and constricting, and were gradually supplanted by the brassiere, first patented in the 20th century by Mary Phelps Jacob. When the First World War broke out, women found themselves filling in men's work roles, creating a demand for more practical undergarments. Manufacturers began to use lighter and more breathable fabrics.
As the 20th century progressed, underwear became smaller and more form fitting. In the 1960s, lingerie manufacturers such asFrederick's of Hollywood begin to glamorize lingerie. The lingerie industry expanded in the 21st century with designs that doubled as outerwear. The French refer to this as 'dessous-dessus' which basically means innerwear as outerwear.
According to the Vintage Fashion Guild Slips were the successors to the Edwardian princess line petticoat and the chemise or camisole. From the late 1910s to early 1920s, the slip was a lightweight undergarment worn over the foundation garment or bra and pants and made from silk, cotton, taffeta or satin. They were usually made with narrow straps and covering the body from the bust to the fashionable hem length and in matching colours for sheer dresses to provide modesty. Basic tones of white, beige and black with lace trim were most common although more brilliant colours and patterns have evolved with our fabrics and suits our tastes. In the 1920s the fit is tubular and loose, and the slip is rarely trimmed. In the 1930s, slips were often bias cut and usually plain in appearance.
By the 1940s and 1950s the bust is defined and more likely to be trimmed with a variety of lace and fabric techniques. In the 1940s the length is shorter as needed and the fit smoother, although often in bright prints. During this era rayon, nylon, and tricot were added to the fabrics used.
The slip dress is simply a dress that follows the lines of the slip but is made in fabrics and weights to be worn as an outer garment. The half-slip is a waist to hem version of the slip, often with lace trim, slits for walking and an elastic waist. Hem width varies according to fashion. The half-slip is worn with a camisole or bra.
Vintage slips can be picked up from Opportunity shops for a few dollars. Vintage versions still in their box are harder to come by and for fashion museums or displays are sought after as they point to the evolution of manufacturing and fashions in Australia.
References:
Lingerie. (2012, October 3). In Wikipedia, The Free Encyclopaedia. Retrieved fromhttp://en.wikipedia.org/w/index.php?title=Lingerie&oldid=515753801
Williamson, Liz. University of Sydney. Capturing the Landscape : Textiles for the Australian Fashion Industry" (2010). Textile Society of America Symposium Proceedings. Paper 61. Retrieved fromHERE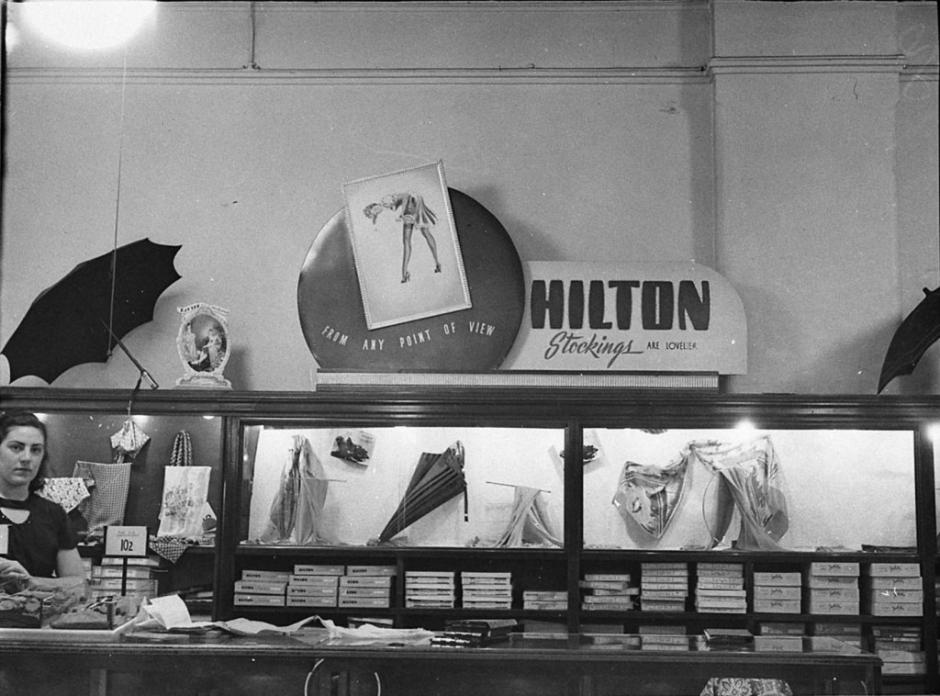 Hilton hosiery display. Date of Work 2/4/1948. Home and Away – hood_ 32249. General Note: Taken for Mr Guille, General Display Co. Courtesy State Library of N.S.W.