February 26 - March 4, 2017: Issue 302

Dicken's The Old Curiosity Shop - A Copy Bought From The Old Curiosity Shop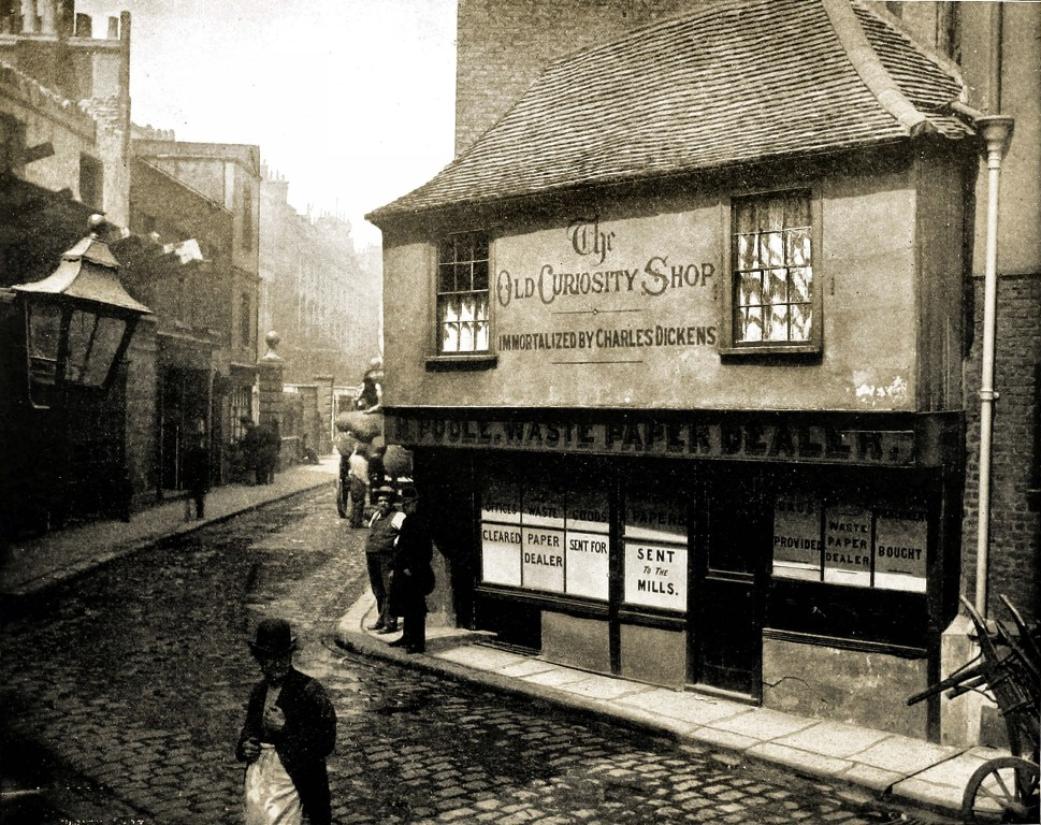 The Old Curiosity Shop, London circa 1892
This 1953 edition of Charles's Dicken's
The Old Curiosity Shop
was purchased from the shop of the same name in 1957. It has some value due to its being bought from the place which changed its name to captilise on the novel released, in book form, in 1842. Due to its origin collectors value it more than similar editions not bought from this shop. The inside has an insert stating it was 'Purchased at the Old Curiosity Shop' as does the certificate tucked inside.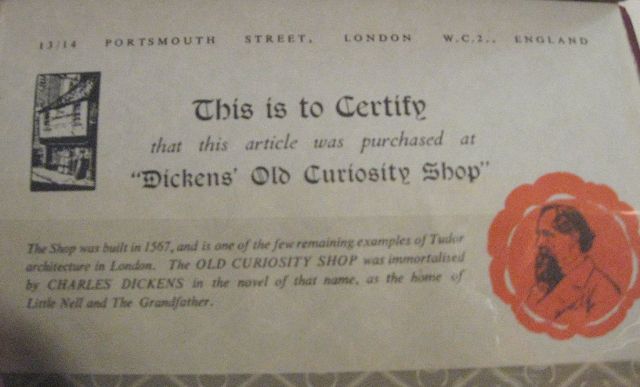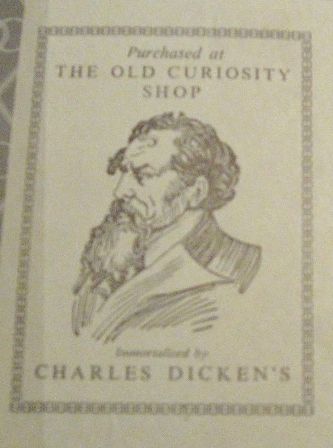 Of course this is nothing compared to the prices First Editions, verifiable ones, Mr. Dicken's works will command - a recent offer of this same work for sale beginning in one version at one hundred thousand and another's asking price being close to a quarter of a million dollars Australian.
Situated at 13-14 Portsmouth street, in Holborn London, an area and shop Dickens is said to have frequented and visited, including this shop prior to its name change, the modest timber-framed building would have long since been demolished if not for its literary fame and association.
Those who know state the structure was built in 1567 with wood from old sailing ships, was a dairy in King Charles II reign on an estate given to one of his mistresses, was a waste paper merchant in the Victorian era until around 1900, an Antique shop and since 1992 an upmarket shoe shop. The 'shop' has survived the Great Fire of 1666, The Blitz of WWII and the all too modern developers and is now protected under a heritage preservation order.
Today it is a minute's walk from the Royal Opera House, The Lyceum Theatre, Duchess Theatre and New London Theatre, among other places of note.
Our copy, bought by a family member and handed on, also illustrates how many fans Mr. Dickens has through succeeding generations and how often people will walk the streets of London trying to find and dwell in the places described throughout his wonderful stories.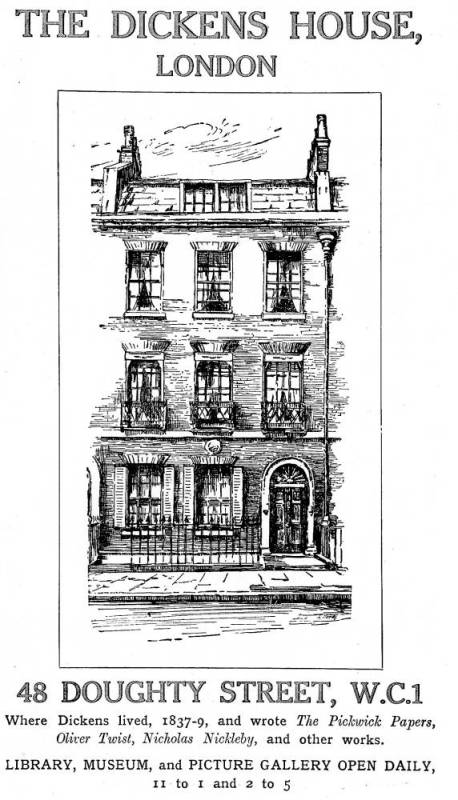 In fact books have been written for people who wish to visit and explore where the author once trod as p[art of their modern-day 'tour' and even a
Dickens Museum
that has opened at 48 Doughty St, London, another former residence of Mr. Dickens, where he is said to have resided from a few months prior to Queen Victoria ascending the throne in 1837.
Here Charles wrote Oliver Twist, Pickwick Papers and Nicholas Nickleby and where he and wife Catherine were blessed with the first three of ten children!
In December, 1839, Charles Dickens moved into 1 Devonshire Terrace, near Regent's Park, London, on which he had a twelve year lease. It was here the tale of Little Nell and her grandfather was written.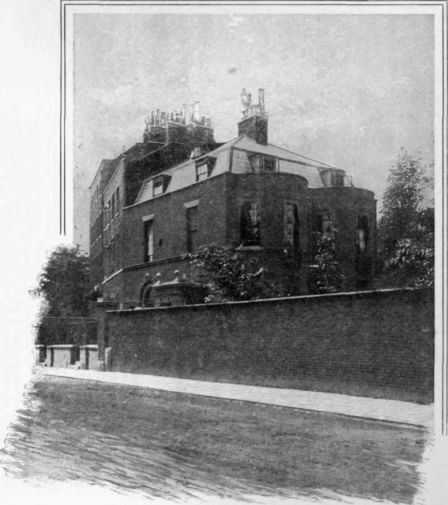 The Old Curiosity Shop was the fourth novel of Charles Dickens. The novel was published in installments in his periodical "Master Humphrey's Clock", the first installment being printed in April of 1840 and the last in February of 1841. The story was so popualr some artciles record that New York readers stormed the wharf when the steamer carrying the final installment arrived to find out the fate of 'poor Nell'.

The Old Curiosity Shop tells the story of Nell Trent, an attractive and virtuous young girl of "not quite fourteen" who is an orphan, and lives with her maternal grandfather (whose name is never revealed) in his shop of odds and ends. Her grandfather loves her dearly, but Nell lives a lonely existence with almost no friends her own age. Her only friend is Kit, an honest boy employed at the shop, whom she is teaching to write.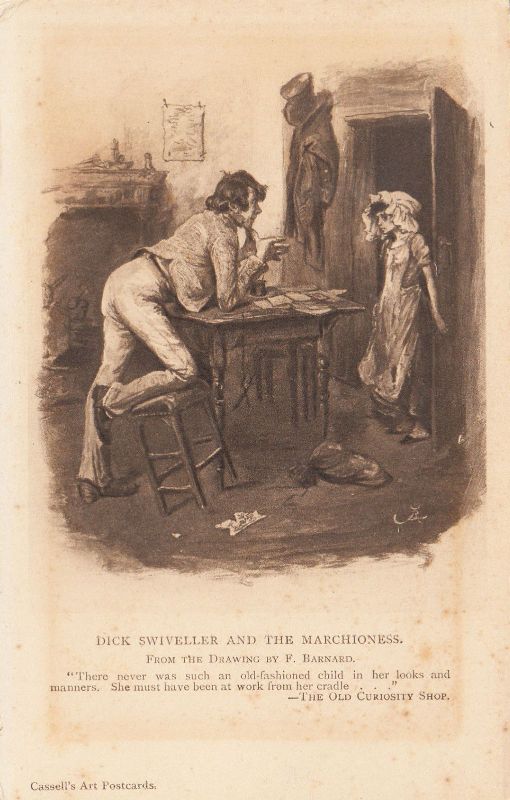 Obsessed with ensuring that Nell does not die in poverty as her parents did, her grandfather attempts to provide Nell with a good inheritance through gambling at cards. His nocturnal games are a secret to Nell, but he borrows heavily from the evil Daniel Quilp, a malicious, grotesquely deformed, hunchbacked dwarf moneylender. In the end Nell's grandfather gambles away what little money they have, and Quilp seizes the opportunity to take possession of the shop and evict Nell and her grandfather. Her grandfather suffers a breakdown that leaves him bereft of his wits, and Nell takes him away to the Midlands of England, to live as beggars.
Convinced that the old man has stored up a large and prosperous fortune for Nell, her wastrel older brother, Frederick, convinces the good-natured but easily led Dick Swiveller to help him track Nell down, so that Swiveller can marry Nell and share her supposed inheritance with Frederick. They join forces with Quilp, who knows full well that there is no fortune, but sadistically chooses to 'help' them to enjoy the misery it will inflict on all concerned.
Quilp begins to try to track Nell down, but the fugitives are not easily discovered. To keep Dick Swiveller under his eye, Quilp arranges for him to be taken as a clerk by Quilp's lawyer, Mr. Brass. At the Brass firm, Dick befriends the mistreated maidservant and nicknames her 'the Marchioness'. Nell, having fallen in with a number of characters, some villainous and some kind, succeeds in leading her grandfather to safety in a far-off village (identified by Dickens as Tong, Shropshire), but this comes at a considerable cost to Nell's health.
Running alongside these happenings is what is happening to Kit. He, having lost his job at the curiosity shop, has found new employment with the kind Mr and Mrs Garland. Here he is contacted by a mysterious 'single gentleman' who is looking for news of Nell and her grandfather. The 'single gentleman' and Kit's mother go after them unsuccessfully, and encounter Quilp, who is also hunting for the runaways. Quilp forms a grudge against Kit and has him framed as a thief. Kit
is sentenced to transportation.
However, Dick Swiveller proves Kit's innocence with the help of his friend the Marchioness. Quilp is hunted down and dies trying to escape his pursuers. At the same time, a coincidence leads Mr Garland to knowledge of Nell's whereabouts, and he, Kit, and the single gentleman (who turns out to be the younger brother of Nell's grandfather) go to find her. Sadly, by the time they arrive, Nell has died as a result of her arduous journey. Her grandfather, already mentally infirm, refuses to admit she is dead and sits every day by her grave waiting for her to come back until, a few months later, he dies himself.
Like all writers whose works stand the test of time, The Old Curiosity Shop's characters had souls to their author and were influenced by and hold small threads of what he was experiencing; some records state that as he was writing it he felt as though he were experiencing the death of one of his children. It also brought back painful memories of the death of his sister-in-law, Mary Hogarth.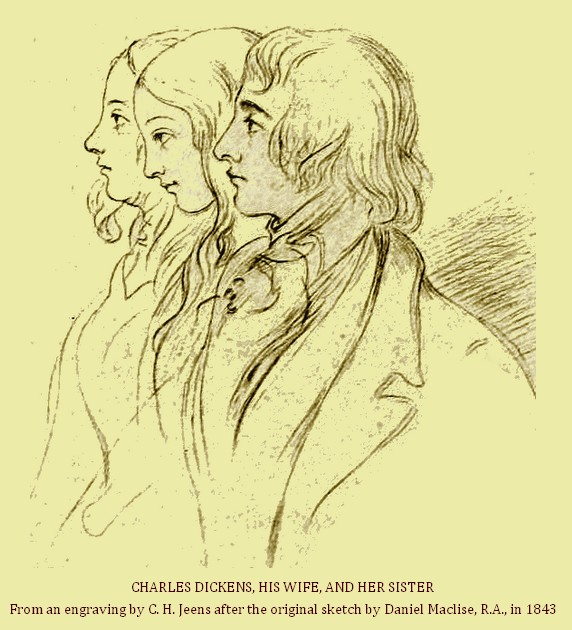 Charles Dickens, his wife, and her sister - from
Charles Dickens
by G.K. CHESTERTON AND F.G. KITTON, WITH NUMEROUS ILLUSTRATIONS. First published by Hodder and Stoughton, London, 1903 Digitised and available online
HERE
The original of this pencil drawing by Daniel Maclise, R.A. which was executed in 1843, a few years after the marriage of Dickens, is now in the South Kensington Museum. It was engraved by C. H. Jeens and dated by error 1842. "Never did a touch so light carry with it more truth of observation," wrote Forster. "The likenesses of all are excellent...Nothing ever done of Dickens himself has conveyed more vividly his look and bearing at this yet youthful time. He is in his most pleasing aspect; flattered if you will; but nothing that is known to me gives a general impression so lifelike and true of the then frank, eager, handsome face."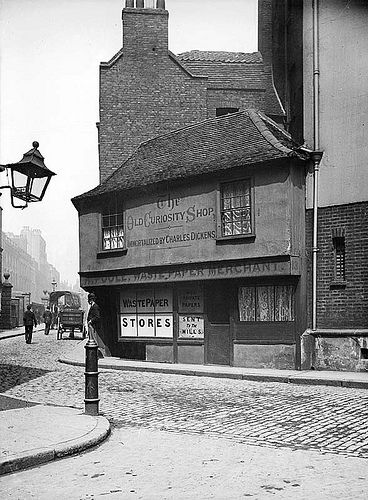 In 1837 Mary Hogarth, then a pretty seventeen year old, resided with her sister Catherine and Catherine's husband, Charles Dickens. Mary was a favorite with the couple and like a little sister to Charles.
On the evening of May 6th Mary went with the couple to the St. James Theatre. The group returned late in the evening and Mary retired for the night. Shortly after that she was found to be ill, and despite her doctor's care, passed away in Dickens's arms on May 7th.
He had her tombstone inscribed with these words, "Young, beautiful, and good, God in his mercy numbered her with His angels at the early age of seventeen."
Dickens wrote to his friend, John Forster, about Little Nell's death, "Old wounds bleed afresh when I think of this sad story."
Australia has a lasting connection with Dickens of course. Two of his sons 'transported' themselves here to become permanent Australians -
Alfred D'Orsay Tennyson Dickens,
born at 1 Devonshire Terrace
(1845-1912) who left England when 20 and came to Australia. He married the "Belle of Melbourne", Jessie Devlin. Jessie died in a carriage accident four years later leaving Alfred alone with their two girls. After his father's death Alfred gave lectures on his father's life and work.
Here also became home to
Edward Bulwer Lytton Dickens (1852-1902) – nicknamed 'Plorn' who left England to join his brother Alfred in Australia in 1868. Edward became a Member of Parliament in New South Wales.
Many records state Charles, their father, encouraged them to migrate here as he saw Australia as a 'land of opportunity'.
As with all old books, First Editions or those bought at places that add sentimental or financial value to the work, certificates, conferring with those whose field of expertise this is should you be looking to collect something for an investment, or doing lots and lots of research will stop you being the prey of the unscrupulous who were there in ancient Rome and the BC times of Egypt, and feature throughout many a Dicken's novel as surely as they lurk to refute the bounds of good taste and good conduct even today.
Ours, of course, is something that will be passed to another generation, along with the wonderful anecdotes that accompany the day one of us visited this shop and bought this book...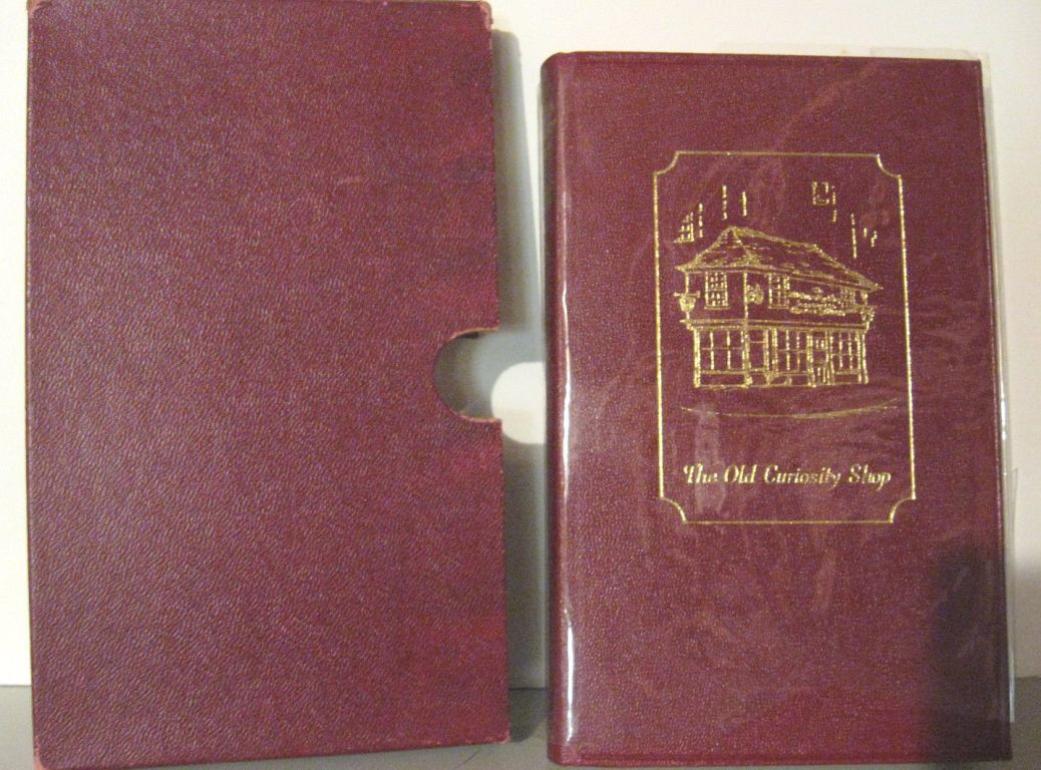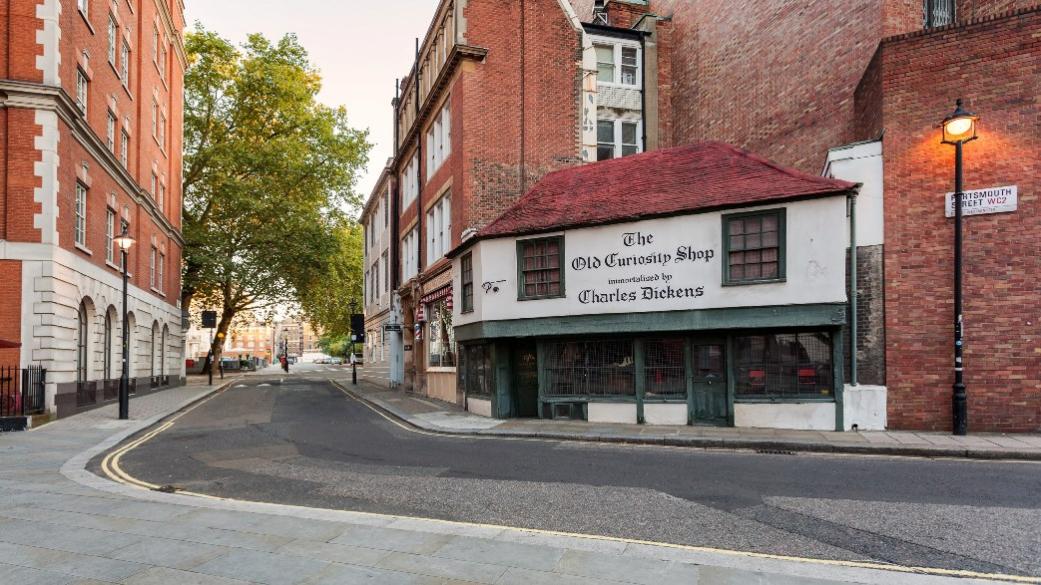 The Old Curiosity Shop London photo by and courtesy of George Johnson, taken in 2015
Dicken's The Old Curiosity Shop - A Copy Bought From The Old Curiosity Shop by A J Guesdon, 2016.
Search Pittwater Online News: