May 27 - June 2, 2012: Issue 60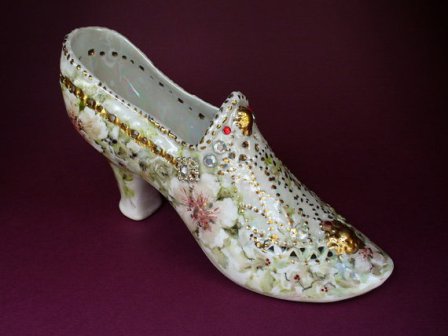 Floral Porcelain Slipper: Beautiful, hand-painted, pale pink blooms adorn this lovely porcelain slipper, as well as, 24k gold and opal luster. The top of this slipper is accented with crystals. Length: 6 1/2 inches Height: 3 1/2 inches ($55)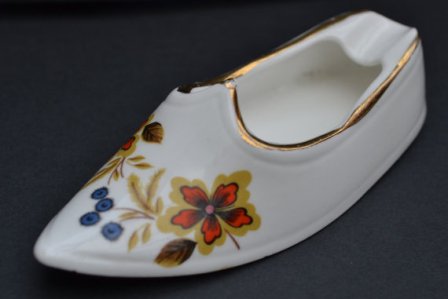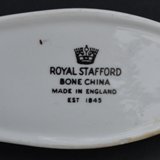 Vintage Porcelain Shoe Ladies' Ashtray Royal Stafford: If you were a lady smoker, you might have used an ashtray like this - a delicate little slipper with floral transfer decoration and gilding. Very feminine! Made by Royal Stafford. Measures just over 3.5 inches heel to toe.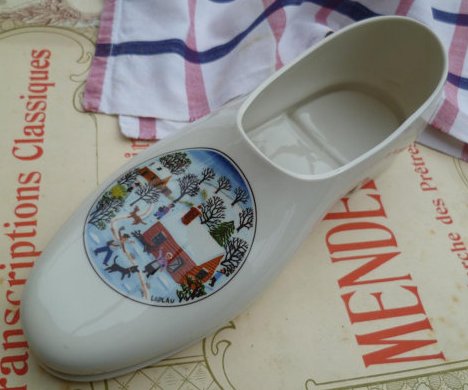 Villeroy & Boch Naif Christmas Clog Shoe Slipper Centerpiece in Fine Porcelain. Villeroy and Boch porcelain it is of the highest quality with excellent attention to detail and a finely glazed finish. The Naif pattern was Created by the artist Laplau in 1979 and has been hugely popular ever since, this particular piece is from the Christmas Variation. 8 3/4" long x 3 1/4" wide ($20.)
Porcelain Slippers
One for the girls this week. Cinderalla slippers, ballet slippers and those adorned with flowers to denote messages, such as Forget-me Nots, have been collected by girls since porcelain, and all its uses, came into being. In Victorian times these items were called "whimsies" because they served no useful purpose other then to display preferences of owners for colour and type or the quality and skill of the artists who created them. Later versions were used as bud vases, ring stoerers or even ashtrays when smoking was considered sophisticated and elegant and needed apparatus to match. Although not particularly useful they are made to be a delight to the eye, can decorate Christmas trees and as collectors items, can begin at a few dollars and range up to a few hundred dollars. Rarer and unmarked or unchipped pieces will bring higher prices.
The porcelain identification markings help collectors differentiate original lines of collectible porcelain from imitations and mass-produced wares using similar techniques. These marks also denote the age of a particular piece of porcelain as well as the country and even city of its original manufacture.
One example is Meissen porcelain, which was the rage in Europe between 1710 and 1756. The company used a number of different porcelain identification markings until 1731, and collectors keep a close eye out for those rarer pre-1731 pieces. An example of a Meissen porcelain slipper is this white and blue here which is only fetching around $25.00 at present due to one being chipped.
Markings also differentiate the manufacturer of a particular piece of porcelain and the company or artist who decorated it. Manufacturers usually placed their mark underneath the glaze to ensure that it would be clearly visible in the finished product. Decorating artists, by necessity, placed theirs on top of the glaze to credit their work. One such example is Haviland china, which carries a "Haviland France" notation underneath the glaze to indicate that its location of origin are the porcelain works in that part of France. When a "Limoges" notation is added to the top of the glaze, it denotes the identity of the decorator. The Antique China Porcelain Collectibles site features a large number of porcelain identification markings that introduce the hobbyist to the fine points of the individual signs and symbols. Experts in this field make a career out of identifying the genuine or faked pieces.
The examples shown here are from a range of seller sites such as antiques auctions and Etsy should you or your little girl decide this is a hobby that appeals. Buying porcelain slippers online, if you are seeking older antique versions for investment as much as fun, should only be pursued with accredited dealers.
Further; Antique China and Porcelain marks: http://antique-china-porcelain-collectibles.com/porcelain_mark.htm