May 31 - June 6, 2015: Issue 216
Deep Down Among the Coral
By Christopher Corr
A Limited Edition Print in Celebration of the 75th anniversary of QANTAS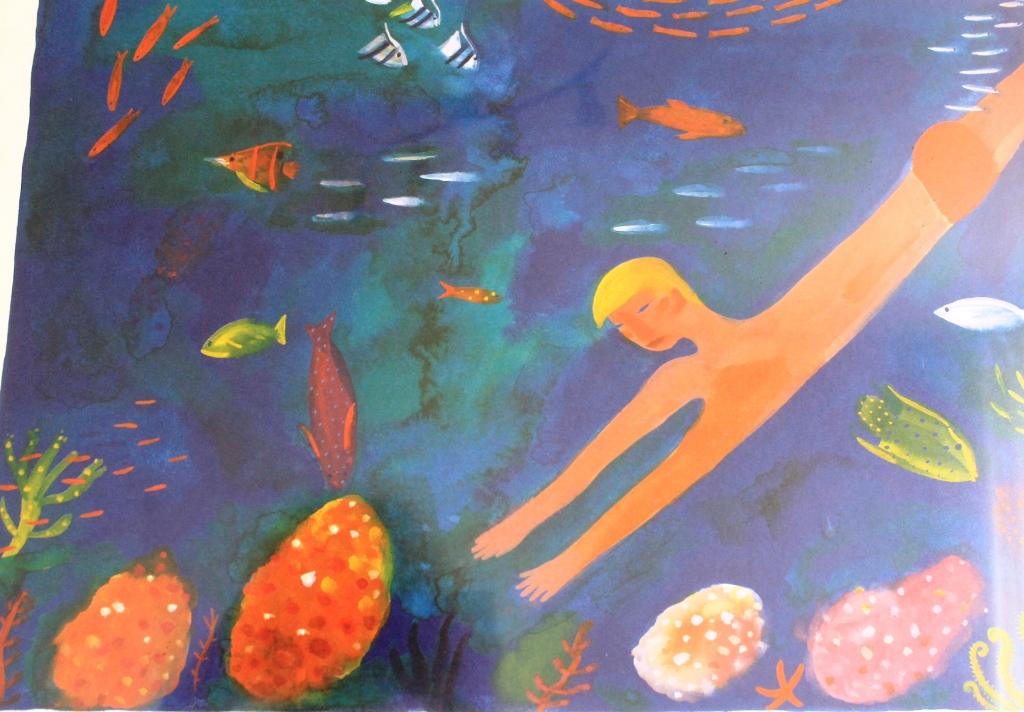 Above: Print version of 'Deep Down Among the Coral' by Christopher Corr - 1995 - a limited edition print in celebration of the seventy fifth anniversary of Qantas Airways - No 20 of 150.
Below: Artists Christopher Corr's original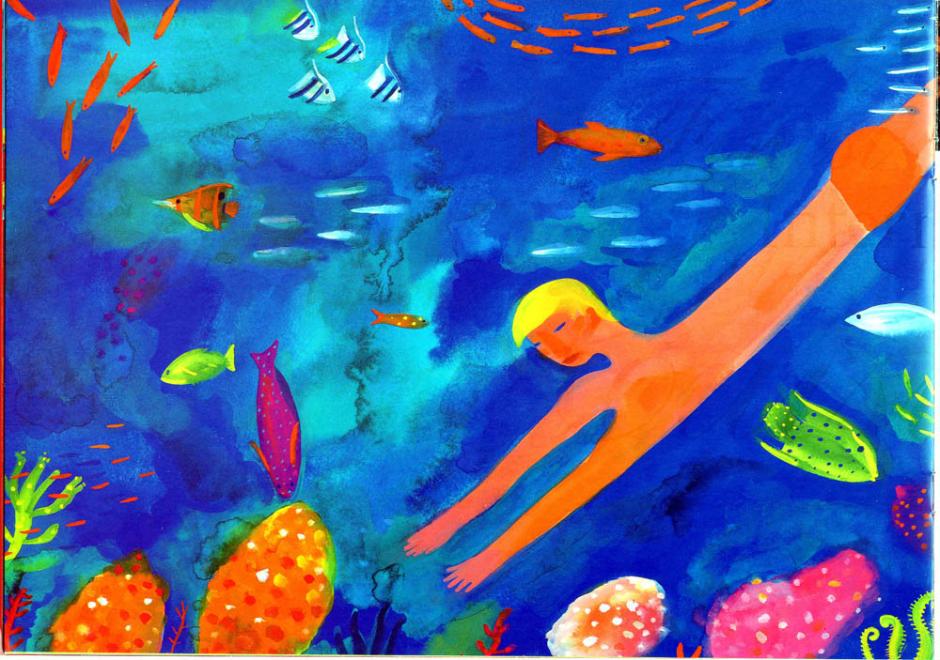 Deep Down Among the Coral - By Christopher Corr
A Limited Edition Print in Celebration of the seventy fifth anniversary of QANTAS Airways
While visiting deep downtown Bondi recently, pointing out the islands midstream of the harbour from a penthouse view - "that's Pinchgut" (who?!) - "that's Shark" (what?!) a print on said brother's wall drew our attention because the islands discussions wasn't going as well as it could and also because it is just delightful - a childlike, dreamlike representation of Australia in vivid colours.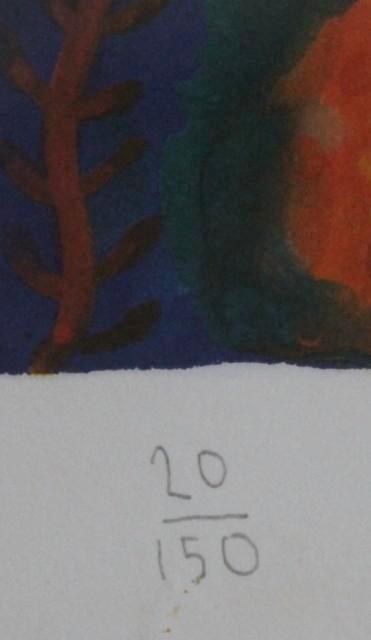 Closer inspection showed it was a numbered limited edition print and associated with Australia's older flying service - QANTAS - and signed by the creator - Christopher Corr.
'What's it mean - what's it all about? - can you find out for us..?.' so we did.
The gentleman creator was emailed, and, as delightful as his creations, supplied us with some insights on where these came from. It turns out 'Deep Down Among the Coral' is one of a series;
" I worked on a campaign to celebrate the Qantas 75th anniversary and created a set of prints to show the variety of Australia's land and water too [ as in the coral reef].
I've travelled around Australia 3 times now, I'm British and based in London but I love the Australian landscape and flora and fauna.
Some great Australian painters inspired me too, like Fred Williams and Sidney Nolan."
"There are 5 in the set and I'll attach them here. I live and work in London but still travel a lot for work inspiration.
The Qantas project was a great one for me. I travelled [on Qantas] twice around the world visiting places where they fly to and also around Australia too.
In the prints I wanted to give a broad and diverse view of Australia. I'll attach some more images of other places I've painted and a few more Australian images."
Since 1982 Chris Corr has regularly exhibited in London with shows at the Festival Hall, the Museum of London, the Royal College of Art, the Hayward Gallery, the Curwen Gallery, Thumb Gallery, and most recently at the Berkeley Square Gallery. His work has also featured on television in BBC programmes - "A China Scrapbook" and "Welcome to India". The pictures painted in India which formed the basis of the BBC film were recently published in a book.
Chris studied graphics at Manchester Polytechnic [1973-77, BA hons] and was awarded a Leverhulme Travelling Scholarship to the USA in 1979. He returned to complete a masters at the Royal College of Art where he won the RCA Drawing Prize. Since graduating from the RCA in 1980 he has taught as a visiting lecturer at several art schools: Cambridge, Camberwell, the Royal College of Art, Goldsmiths College, UCLA summer schools, Central St Martins from 1983-1998.
He has work at the Museum of London, Leeds City Gallery, BBC, Qantas Airlines, Moscow Norodny Bank, Chelsea & Westminster Health Authority, Transport for London and several private collections.
Commissions range from book jackets, posters, the World Aids Day 1996 campaign, artist for Qantas, artist for Windstar Cruises.
Don't Spill the Milk was shortlisted for the 2014 UKLA Book Award.
Christopher Corr was born in Camden Town, London. He has had dozens of one-man shows since 1983, mainly influenced by his extensive travels, at the Curwen, Berkeley Square, and Rowley Galleries but he's also exhibited widely in the U.S.A. and Europe. His work has been awarded many times including the Chelsea Arts Club Graphics Prize, the Lloyd Bank Printmaking scholarship, the D&AD Silver Award and the Association Of Illustrators Silver Award for his work on A Suitable Boy. He won the Print Magazine (USA) award for Design Excellence for Windstar Cruises brochures. Christopher has worked on numerous commissions including a Royal Mail millennium stamp about the UN Peace-keeping Force in Bosnia.
In 1995 and until 1997 he was artist for Qantas and produced paintings, posters and prints. He has also painted posters and cards and other materials for London Transport, National Aids Trust, Body Shop, Habitat and Ikea, UNICEF, and the metro in 3 Chinese cities.
More recently he's been working on children's books for Andersen Press, including The Goggle-Eyed Goats and Don't Spill The Milk and a series of children's travel guides for Lonely Planet called 'Not For Parents'. He has just completed 3 prints for The Shard.
You can purchase some of the Original Published Artworks from 'Don't Spill the Milk': 'Penda picked a path across the uppy, downy dunes' - From the book 'Don't Spill the Milk!' published by Andersen Press in 2013 - Media used: Gouache, Original Published Artwork
Unmounted- Dimensions: 705 x 320 mm: £695.00
'Penda took a ride in a stinky fishing boat.' - From the book 'Don't Spill the Milk!' published by Andersen Press in 2013, Media used: Gouache - Original Published Artwork Framed The dimensions given below include the frame. The actual illustration is 705mm x 320mm.
Dimensions: 900 x 510 mm: £845.00
These are spectacular, the book wonderful, and what many would deem an investment in yourself as much as great works for your walls.
Most recently Mr Corr has brought his talents to another new work:
Deep in the Woods
THURSDAY, MARCH 19, 2015
Christopher Corr illustrates the folk tale 'Deep in the Woods' with Frances Lincoln Children's Books.
The Russian story edited by Jenny Broom will be heading to the Bologna Children's Book Fair at the end of March and will be published later this year. This is Christopher's first book with Frances Lincoln and one which he has filled with colour and joy...and printed with a fluorescent red to give it extra zing! Find out more by visiting:
www.illustrationweb.com/au/artists/ChristopherCorr
Those that Mr. Corr sent us are much brighter than those that we've found as the Limited Edition prints, showing how an original will always be much more faithful to the artist's vision and perception and what they were trying to communicate. They also show how luminescent our landscape is, vitality you don't see unless you visit these places yourself. They're a wonderful tribute to Australia herself.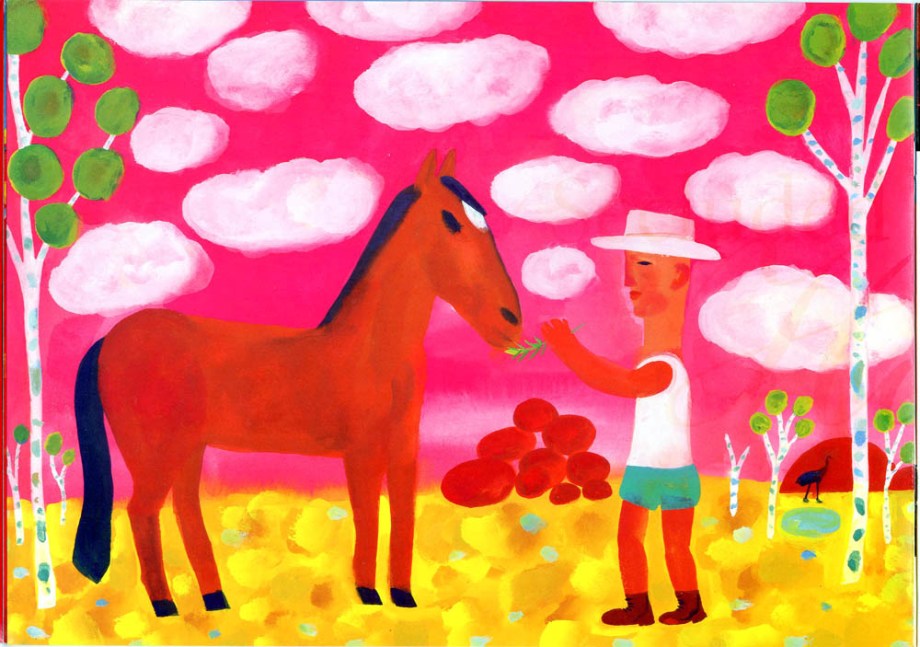 The Original - 'Australian Landscape'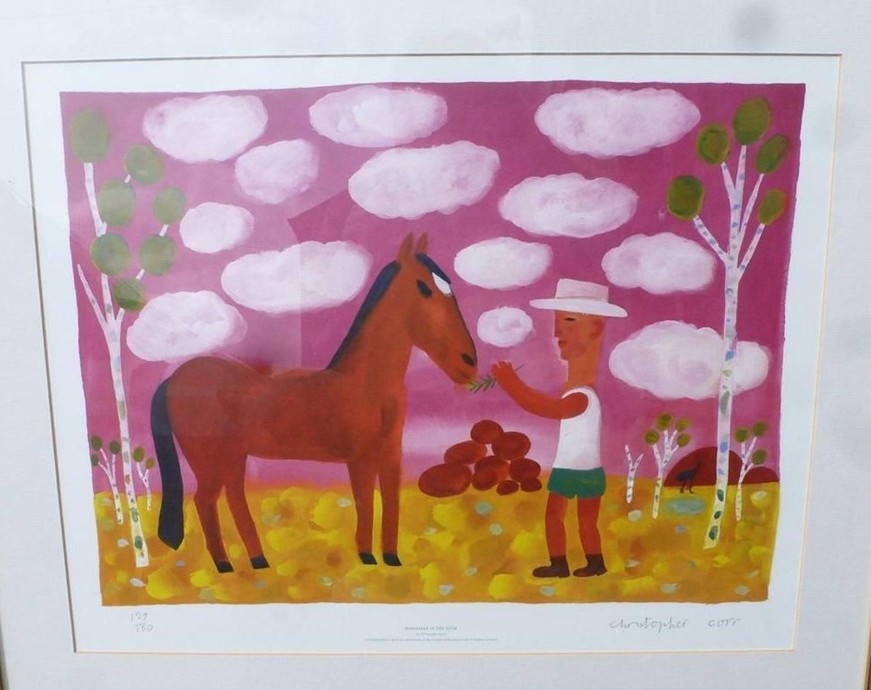 The Print -
'Horseman in the Bush'
Of QANTAS in 1995-1996
75 Years of Growth - QANTAS CELEBRATES its 75th anniversary this year.
The company was established by private investors at Winton, Queensland, and registered in Brisbane on 16 November 1920.Qantas takes its name from the original registered title, Queensland and Northern Territory Aerial Services Limited. The head office moved to Longreach in 1921, Brisbane in 1930 and Sydney"its current location, in 1938.
From humble beginnings, Qantas has grown into a major international and domestic airline. International Air Transport Association comparisons for the 1994 calendar year (issued in mid-1995) show that Qantas is the world's 11th largest airline and the second largest in the Asia-Pacific region in terms of revenue passenger kilometres (RPKs).
The Qantas jet fleet consists of 92 Boeing and Airbus aircraft. A further 45 aircraft are operated by four regional subsidiaries (Total Group fleet: 137 aircraft at November 1995).The Group carries over 16 million passengers a year and serves 92 destinations, 52 in Australia and 40 in 25 other countries. It employs approximately 29,000 people world wide.
Aerial joyriding
The company began its operations with joyrides and air taxi work. Regular scheduled airmail and passenger services began on November 2, 1922 when the inaugural service carried Australia's first official airmail from Charleville to Cloncurry in rural Queensland. The journey of 923 kilometres took two days with an overnight stop at Longreach. Passenger ticket No. was issued to 84-years-old Alexander Kennedy, a pioneer of western Queensland.
Qantas was conceived by two World War I Australian Flying Corps officers, Lieutenant Hudson Fysh and Lieutenant Paul McGinness. In 1919 they were engaged to carry out a survey to find suitable landing grounds for a Great Britain-Australia air race. After completing the gruelling survey in a Model T Ford, they were convinced that air travel was the ideal alternative for crossing sparsely populated country where
roads were almost non-existent. They envisaged their aircraft linking Brisbane and Darwin, with railheads at Charleville, Blackall, Longreach, Winton and Cloncurry.
Although McGinness pursued other interests after several years, Fysh, later Sir Hudson, remained with the company for 46 years. He was knighted in 1953 and retired as Chairman in 1966.
Historic development
Qantas has played a key role in the development of Australian and international aviation. In 1928 it operated the first flying doctor service for the Reverend John Flynn's Australian Inland Mission. In 1931 Qantas made its first link with Imperial Airways (a British Airways forerunner) when it carried mail to Darwin as part of an experimental Australia-UK service. The year 1934 saw the formation of Qantas Empire Airways Limited, with Imperial Airways holding 50 per cent. The two airlines began regular Australia-UK services in December 1934; initially carrying only mail.
A Qantas aircraft flew overseas for the first time in February 1935 when a DH86 operated the Brisbane to Singapore section of the service and the first Qantas overseas passenger left Brisbane for Singapore in April 1935.
Four-engine Shorts "Empire" flying boats brought new levels of luxury and comfort to the Australia-UK service in 1938.
Valuable war effort
During World War II, from 1939 to 1945,Qantas maintained vital air links, flew supply drops at treetop level in New Guinea (now Papua New Guinea) and established the "Double Sunrise" non-stop flights across the Indian ocean with Catalina flying boats operating in complete radio silence.
By the end of the war, company engineers had serviced 298 aircraft, over 2800 aircraft engines, and more than 24 300 instruments for the allied forces. Their reputation for workmanship ensured that the label "overhauled by Qantas" was much sought after.
Postwar expansion
The company expanded rapidly after the war. In 1947 the Australian Government purchased the shares held by Imperial Airways, which had become BOAC, together with all remaining shares. That year Qantas took delivery of its first pressurised long-range Lockheed Constellation which went into service on the "Kangaroo" route to London in December. Services to Japan on behalf of the Royal Australian Air Force began in 1948 and the company inaugurated its own commercial services in 1950. Qantas added Hong Kong to its network in 1949 and South Africa in 1952.
USA and the World
Qantas began flying to San Francisco and Vancouver in 1954, and in 1956 carried the Olympic flame from Athens to Darwin as part of its journey to the Melbourne Olympics. Round-the-world services with Super Constellations began in 1958. Qantas entered the jet age in 1959, taking delivery of the first Boeing 707 owned by a non-US airline.
The 1960s saw a rapid expansion. In 1967,the name changed to Qantas Airways Limited and the company ordered the advanced B model of the Boeing 747 which went into service in 1971.The first Qantas Longreach series Boeing 747-400, delivered in August 1989, set a world distance record for a commercial jet when it flew London-Sydney nonstop, a record which stood until 1993.
The Australian story
Australian Airlines , purchased by Qantas in 1992, helped to pioneer domestic commercial aviation in its own right Beginning as Trans-Australia Airlines, the company flew its first passengers from Melbourne to Sydney in a Douglas DC3 in September 1946.TAA took over. Qantas' domestic passenger services and flying doctor network in 1949, enabling Qantas to concentrate on its overseas services. TAA introduced the turboprop Vickers Viscount to trunk routes in 1954, jet services in 1964 with the Boeing 727, and gave the domestic market wide body airliners and business class when it introduced the Airbus A300 in 1981. In August I986.TAA became Australian Airlines with a new focus on customer service and the business market.
Privatisation
The domestic airline industry was deregulated in October 1990. In April 1991, the Australian Government announced it would sell 49 per cent of Qantas and 100 per cent of Australian Airlines. In February 1992, the Government's "One Nation" statement detailed an overhaul of aviation policy including an end to the artificial barrier between Australia's international and domestic air services. This opened the way for Qantas to reenter the domestic market after an absence of over 40 years and to enter the bidding for
Australian Airlines.
In June 1992, the Government accepted Qantas' bid for Australian and decided to fully privatise the Qantas Group. The $400 million purchase of Australian was completed in September 1992 and operations of the two airlines were merged under the single brand "Qantas The Australian Airline" in October1993. Privatising Qantas began with a trade sale and in December 1992 the Government selected British Airways as the only successful bidder. British Airways completed its$A665 million purchase of 25 per cent of Qantas in March 1993.The Public Share offer was launched on June 22, 1995. It opened to the Australian public on July 3 and to Australian and foreign institutions on July 24.With the privatisation completed, Qantas shares were listed and began trading on the Australian Stock Exchange on July 31.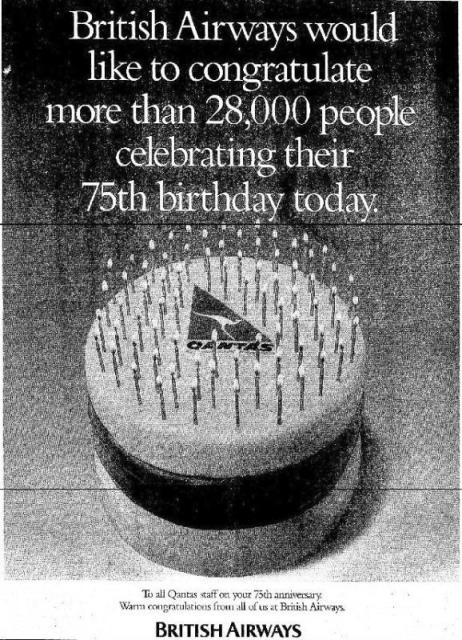 Daughter's quest for the real man behind Qantas
. (
1995, November 17
).
The Canberra Times
(ACT : 1926 - 1995), p. 2. Retrieved from
http://nla.gov.au/nla.news-article130570891
Advertising feature -
Qantas celebrates with a world wide dinner party for customers, suppliers, business partners and staff today.
Qantas 1920 - 1995: 75 Years
The celebration will be one of many activities and events designed to highlight the company's growth from an air taxi company in outback Queensland to one of the world's leading airlines.
Qantas has planned the ceremony, to focus on its contribution to the development of civil
aviation in Australia and overseas since the 1920s.
The theme it has chosen is " ... from the dawn of aviation", inspired by the evocative photograph of the first Qantas aircraft, the Avro 504K, against the early morning sunrise at a remote country aerodrome.
The image and the 75th anniversary logo have become familiar sights at airports, on billboards, on television and in books, magazines and newspapers since April this year.
The anniversary program celebrates November 16, 1920, the date that the Queensland and Northern Territory Aerial Services Limited (QANTAS.)-was registered as a company in Queensland.
The airline's principal dinner party will be in the Great Hall at Parliament House in Canberra, where a replica of the Avro 504Kwill be the centrepiece. Similar functions will beheld around the world simultaneously at such diverse venues as Churchill's Hotel in London, the Australian Embassy residence in Rome, the Pavilion of the Opera House on the foreshores of Sydney Harbour and other venues from Tucson to Hobart
Qantas Managing Director James Strong said: "We want to involve as many of our customers, business partners and staff as we can in celebrations throughout the world. I am delighted that we have been able to plan so many and diverse functions from within our normal promotional budgets."
The Qantas program of activities to celebrate its 75th anniversary also includes:
The publication of a prestige book titled "..from the dawn of aviation -The Qantas Story"
The screening of historical video vignettes on the company's history on its flights and on television;
Advertising focusing on the role that the airline has played in developing civil aviation;
A commemorative edition of the Qantas in flight magazine The Australian Way;
Special displays at airports in Australia and at overseas destinations served by Qantas;
An interactive CD ROM computer game called The Qantas Challenge;
An exhibition of selected works from the Qantas Art Collection at the Art Gallery of New South Wales from November 14 to 27;Features in newspapers throughout Australia;
The production of 75th branded merchandise, including clothing and luggage, available through the November edition of the Frequent Flyer Newsletter;
A commemorative certificate for all staff signed by the Qantas chairman and managing director; A commemorative Australia Post aerogram; A television documentary screened by the Seven Network in Queensland, the birthplace of Qantas; The renowned British aviation artist Robert Taylor has captured the romance of pioneering Qantas aviators in a painting which will become part of the permanent Qantas Collection.
In addition, Qantas will offer all passengers travelling on its flights today a slice of 75th birthday cake and a glass of Australian sparkling wine or a non alcoholic refreshment to celebrate. The breakfast Vegemite containers on that day will feature the 75th anniversary logo.
Qantas is also planning a special celebratory flight, details of which are still to be finalised, to commemorate the anniversary.
Although the celebrations will highlight the airline's long history of service and operational excellence, they will also highlight Qantas today as one of Australia's largest corporations and a major export earner serving Australia and 25other countries with one of the youngest jet fleets in the world.
Qantas will invite passengers world-wide to help celebrate its 75th birthday today by offering them a slice of cake and a glass of premium Australian sparkling wine.
The airborne festivities will mark the foundation of the company, initially as an outback: aerial taxi and joy ride operation, in Queensland in 1920.
Qantas General Manager, Inflight Customer Services, Paul Miller, said that individual
serves of 75th birthday cake would be offered to all passengers, including children, as dessert with lunch and dinner on international flights, and for lunch, dinner and supper on all domestic flights.
"Our aim is to give all of our passengers the chance to share our pride and pleasure in what is a very significant milestone for the airline," he added.
Mr Miller said that the logistics of the exercise were illustrated by the fact that some 10chefs had used 2100 dozen eggs and 225kgs of flour to make all the cake for the airborne birthday celebration.
To toast the Qantas birthday, Croser (methode champenoise) sparkling wine, one of Australia's finest, will be offered to all domestic passengers. International flights will
also be well stocked with Australian sparkling wine.
In addition, Qantas will offer passengers the choice of starting the day in a typical Australian way, with a taste of the breakfast spread, Vegemite!Individual portions of Vegemite, with a message carrying the manufacturer's congratulations to Qantas, will accompany some 200,000 breakfast trays on domestic services operating out of Sydney, Melbourne, Brisbane and Perth this month. Advertising. (
1995, November 16
).
The Canberra Times
(ACT : 1926 - 1995), p. 5 Supplement: SUPPLEMENT TO THE CANBERRA TIMES. Retrieved from
http://nla.gov.au/nla.news-article130570612
Christopher's QANTAS 75th prints are now quite rare and for those who love flight memorabilia, or beautiful and brilliant art. They are quickly snapped up when they appear. As all are only 1 out of 150 of any offered to people, it is understandable that even just 20 years later those who have them keep them, and those who want to see them go to a someone who will appreciate not only their art value but also their historic basis will ask more than a few dollars. One recently sold for more than a few hundred dollars and it would be fair to state they got a bargain.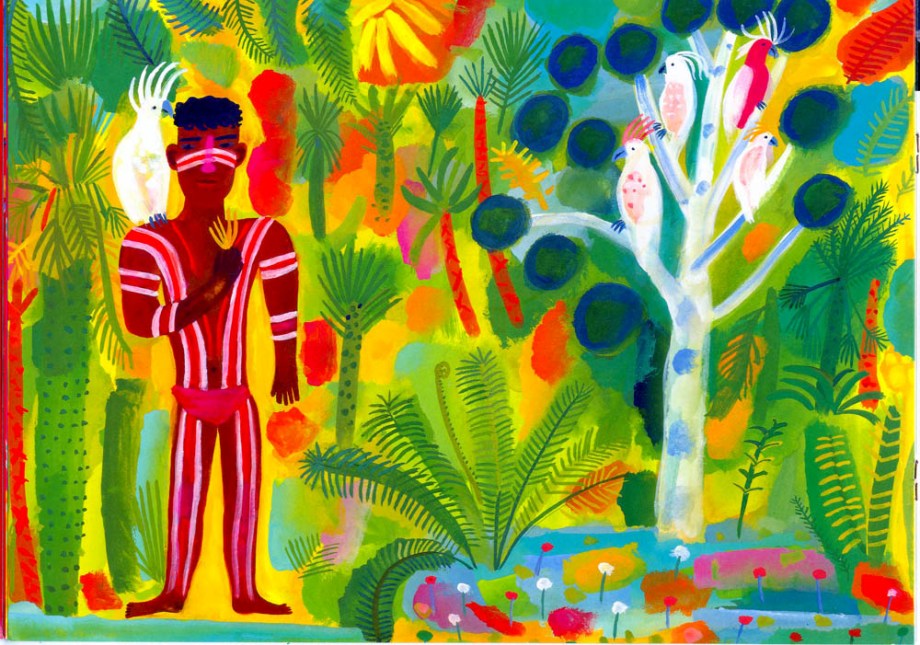 'Boys & Birds in the Rain Forest' - 1995 by Christopher Corr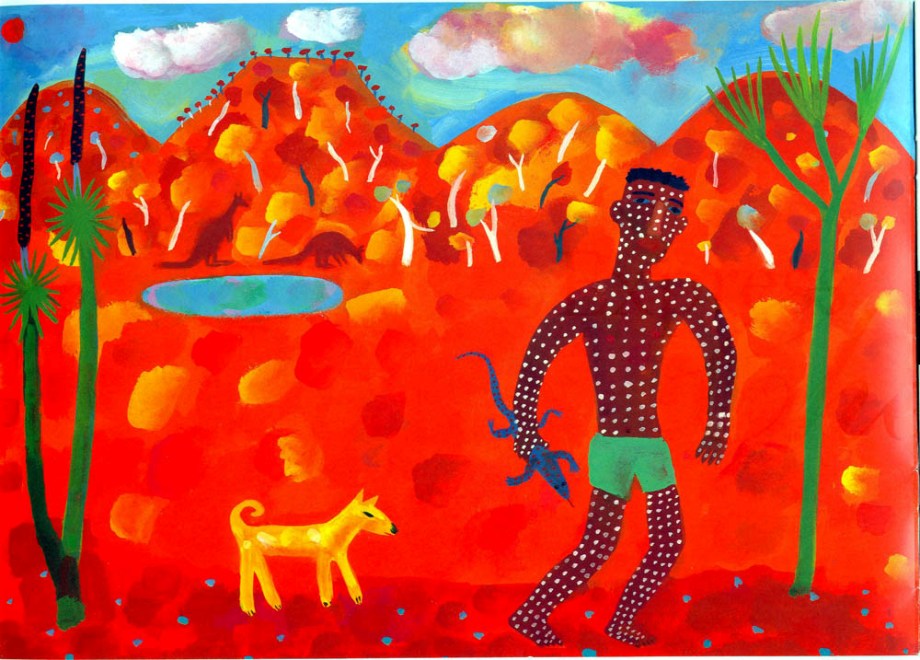 'Red Centre' by Christopher Corr
Meanwhile, we'll be back to deep downtown Bondi again soon and persist in the "that's Pinchgut" - "that's Rose Bay" revelling in a superb view of one of the world's best harbours that has more than a few faces to its historic developments.
One of these, of a QANTAS nature, follows: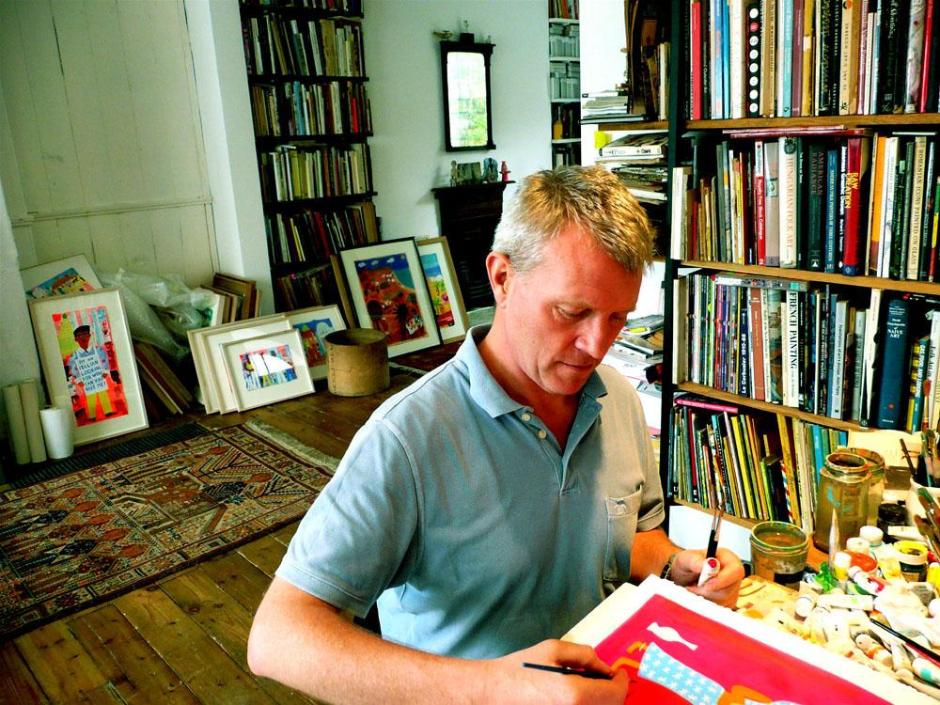 Christopher Corr in his Studio
QANTAS at Rose Bay
A few Pittwater residents have spoken of their fondness and remembrance of flying to many parts of the world from Rose Bay, a place people still fly from in Sydney Seaplanes, only nowadays the focus is on scenic flights over Sydney and bringing people to ... Pittwater!
When flights began from Rose Bay though they were to connect Sydney, and Australia, to England via Singapore and as such were considered the 'Gateway to the Rest of the World'.
These were the Catalinas, the romantic 'flying'boats' of the QANTAS fleet which served Australia so well before, during and after WWII.
On the opening of Rose Bay on August 4th, 1938:
NEW AIRMAIL SERVICE OPENED.
Lord Huntingfield's Speech.
The Acting Governor-General Lord Huntingfield who yesterday, at the Rose Bay flying-boat base officially opened the new thrice-weekly air-mail service between England and Australia said the day was an out-standing occasion in the history of civil aviation in that it represented a successful achievement of great magnitude in the Empire's network of aerial communications
Lord Huntingfield inaugurated the service by cutting a red white and blue ribbon connecting the flying boat Camilla to the shore. He handed to the commander of the ali ti alt Captain L J Blain a special mailbag containing letters from his Excellency to the King from the Prime Minister Mr. Lyons to the Prime Minister of Great Britain Mr. Chamberlain and from the Postmaster General Senator McLachlan to the British Postmaster-General Major Tyron.
It was well to recall said Lord Huntingfield that it was only in 1903 that the first aeroplane flight was made and that commercial operations by aircraft were not seriously attempted until after the war. Such a recollection gave them some idea of the extraordinary advances In aviation in less than 20 years-a progress naturally fraught with extreme difficulties and achieved by a tenacity of purpose which had resulted in world-wide benefits. The first t flight that envisaged the flying boat service was that if the late Sir Ross Smith and Sir Keith Smith who in 1919 flew in 29 days from England to Australia. In 1931 Captain Blain left Brisbane in charge of a Quantas-Empire Airways plane to begin the first of the land flights with air mails between Australia and Great Britain. Many difficulties had been encountered and aviation engineering feats accomplished in bringing England to within nine days flight from Australia on the new flying-boat service. The Commonwealth Government in conjunction with the British and New Zealand Governments was now engaged in perfecting a scheme for the extension of the service across the Tasman Sea. That proposal recalled to his mind the outstanding achievements in the pioneering and development of long-distance civil aviation by the late Sir Charles Kingsford Smith and Mr. Charles Ulm
Lord Huntingfield thanked the Government of the Netherlands Indies for its co-operation and assistance in the organisation requirements of a section of the route. The friendly rivalry between the Empire flying-boat service and the Royal Netherland- Indies airways service would further ensure the advancement and development of civil aviation he said
SITE OF BASE.
The Minister for Defence, Mr. Thorby, said he hoped for an early start of the Sydney- Auckland services across the Tasman Sea, In which flying-boats of a larger type and a longer range than those on the Sydney-England service would be employed. He was unable to predict when the flying-boat base would be transferred from Rose Bay to Botany Bay, but he thought there was now general agreement among the citizens of Rose Bay that it would be regrettable if the change had to be made and Rose Bay was deprived of one of the most graceful spectacles on Sydney harbour-the arrival and departure of the flying-boats
The Postmaster-General, Senator McLachlan said they could look forward to the day when the aerial service would be extended not only to New Zealand, but across the Pacific to Canada, so that they would have an "All Red" air route, and be able to give a fresh rendition of "Rule Britannia," which would be " Britannia rules the air."
The representative of the British Trade Commissioner, Mr. P. Liesching, who represented the British Government at the function, said the significance of that occasion was as well realised In London as in Sydney. The thrice-weekly service of flying-boats between Sydney and England was not an end in itself, but a stepping-stone to further effort, and the looked forward with confidence to the day when Sydney would be not only a terminal, but a junction for a similar service to New Zealand and beyond that they might look to the establishment of the other link across the Pacific which would join Australia to the great nations of North America at Vancouver and San Francisco.
The Premier, Mr. Stevens, said that tentative and experimental aerial mail services had now given place to that of a service of proven technical and commercial practicability, so that air mail transport now became a regular system of communications
Mr. Fergus McMaster, chairman of Qantas Empire Airways, Ltd, said that the Camilla was owned by Imperial Airways, and was one of 31 flying-boats employed by that company, whilst his company had six similar boats now actually flying between Australia and Britain, so that the Australian flag was being carried alone the whole route from Sydney to Southampton
When the Camilla took off It circled over the crowd of about 5,000 people, and was escorted out of sight by three aeroplanes of the Royal AERO club of New South Wales. NEW AIR MAIL. (1938, August 5). The Sydney Morning Herald(NSW : 1842 - 1954), p. 12. Retrieved from http://nla.gov.au/nla.news-article17493223
LORD HUNTINGFIELD OPENS NEW AIR MAIL SERVICE.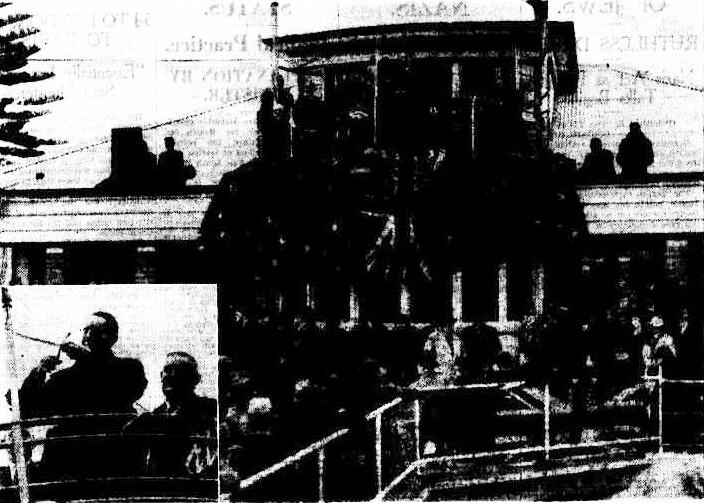 The scene at the official opening of the new air mail service at Rose Bay flying-boat base yesterday when the Acting Governor-General, Lord Huntingfield, severed a ribbon joining the Camilla to the control tower. The flying-boat took off for Brisbane bearing a special mail bag containing letters for the King, the British Prime Minister, and the British Postmaster General. Inset: Lord Huntingfield cutting the red, white, and blue ribbon. The Postmaster-General, Senator McLachlan, is on the right. LORD HUNTINGFIELD OPENS NEW AIR MAIL SERVICE. (1938, August 5). The Sydney Morning Herald (NSW : 1842 - 1954), p. 12. Retrieved from http://nla.gov.au/nla.news-article17493305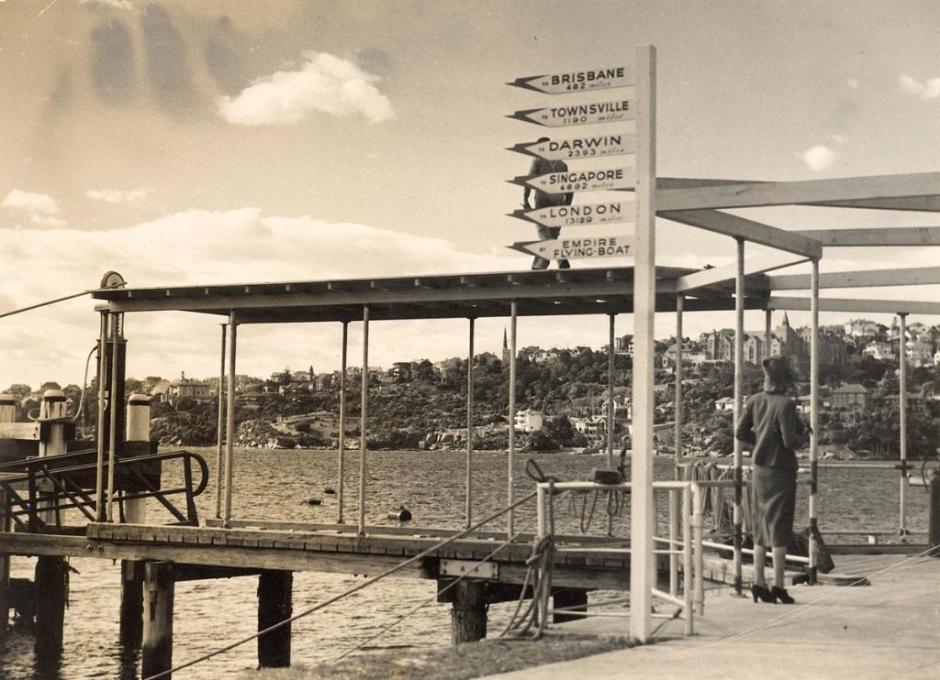 Gateway to the world - Rose Bay flying boat base 1939 - courtesy QANTAS Historic Images - from QANTAS Heritage Collection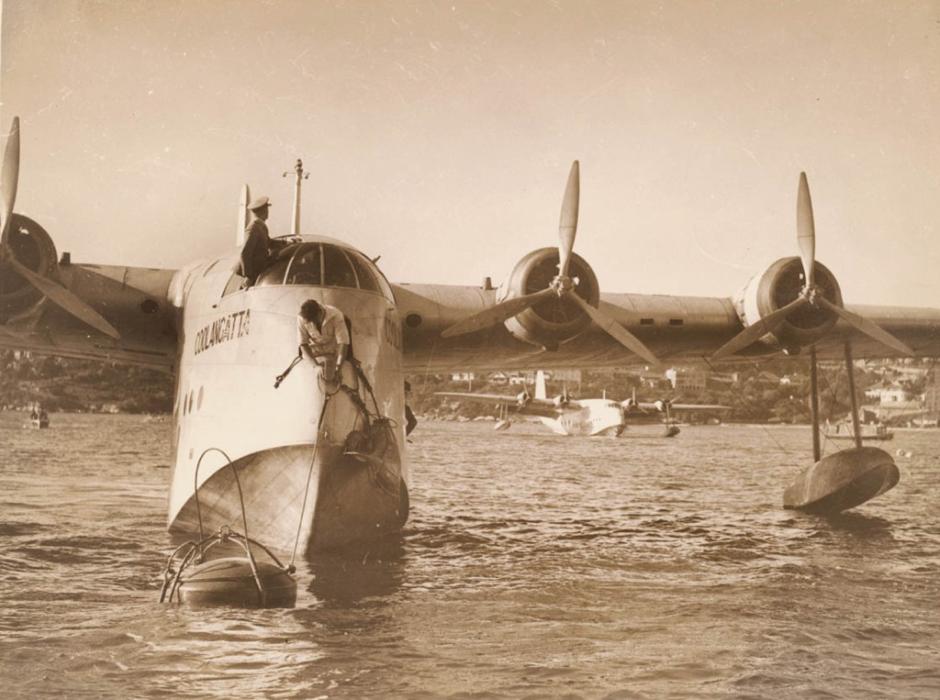 Above: Qantas flying boat 'Coolangatta' Digital Order Number: a169024 buy Hood, courtesy State Library of NSW from Album: Hood Collection part II : [Aviation]
QANTAS performed many services for Australia during her formative decades and went places others would not go. A few articles from her opening years at Rose Bay and through the conflict of World War Two, shows some of these and what was done at times when everyone was expected to do what they should do:
COORONG ARRIVES. SPEEDY CLEARANCE AT ROSE BAY.
The Qantas flying-boat Coorong which left Singapore or Saturday with mails from England, arrived at Rose Bay at 4 5 pm yesterday, 10 minutes ahead of the schedule. The mooring of the aircraft and the landing of the passengers were carried out speedily and within 20 minutes of their arrival most of the passengers were on their way to the city In Qantas cars.
The Coorong brought eight passengers; two from London one from Singapore and two from Darwin and three from Brisbane and 240lb of mail and 96lb of freight
The landing operations were witnessed by the Director of Postal Services Sir Harry Brown and the Deputy Director of Posts and telegraphs Mr Butler,'I am out here merely for my own amusement and to see the transfer of the mails' , said Sir Harry Brown 'I am completely satisfied with the sv iv in which the mails aie handled The en Ice is »till In the experimental stage and efficiency has already been achieved. '
SECRET NAVAL MISSION
Among the passengers on the Coolong was Commander G C Bannister, naval officer attached to the British Admiralty who Ins come to Australia on an official mission of a confidential nature. He will proceed to the Navy Office in Melbourne where he will confer with the Australian authorities
I am not at liberty to tell you of my mission he said but I am bringing communications from the Admiralty in the speediest manner obviating the necessity of posting them
Commander Bannister said he would be in Australia for three weeks
COOLANGATTA DEPARTS
The Coolangatta left Sydney at 7 am yesterday with the second flying-boat air mail for London and 11 passengers, including journalists from England who had travelled in the Challenger and Sir Carrick Robertson a prominent New Zealand surgeon
The Coolangatta also carried 1, 260 lb of mail and freight
Included in the freight were a wide variety of goods including fresh fruit and vegetables for the residents at Groote Eylandt and Kalumba, evening frocks consigned to buyers in Singapore, motion picture films for England, advertising material and wooden models of machinery parts which had been ordered from an England engineering concern by a Sydney manufacturer. COORONG ARRIVES. (1938, July 13).The Sydney Morning Herald (NSW : 1842 - 1954), p. 16. Retrieved from http://nla.gov.au/nla.news-article17491780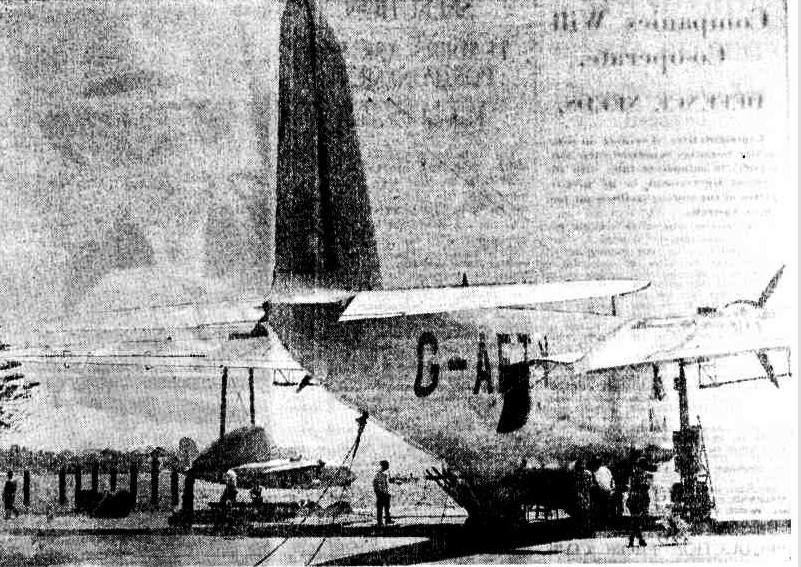 The Qantas Empire Airways flying-boat Clio being hauled up the slipway at Rose Bay yesterday for servicing. The top picture shows the huge tail unit. The bow and engines are shown in the picture below.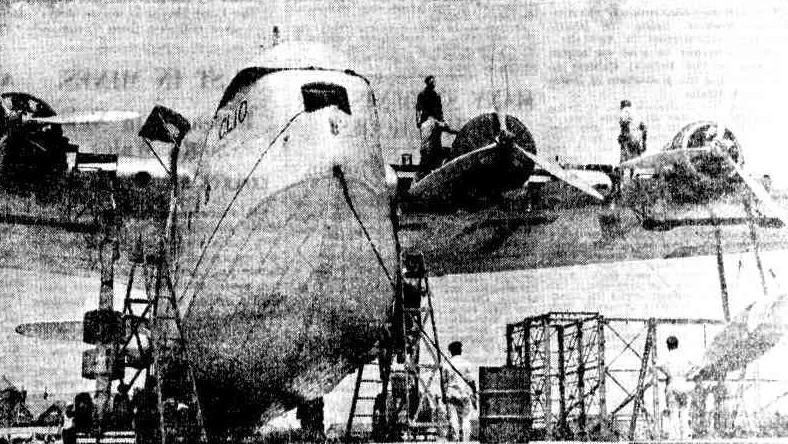 H.M.A.S. SYDNEY CO-OPERATES WITH AIRCRAFT AT SEA — FLYING-BOAT SERVICED ON SLIPWAY, AT ROSE BAY. (1939, February 8). The Sydney Morning Herald (NSW : 1842 - 1954), p. 20. Retrieved from http://nla.gov.au/nla.news-article17546819
FLYING BOAT CRASHES AT ROSE BAY SYDNEY. October 11—
The Q.A.N.T.A.S. flying -boat "Coolangatta" crashed at Rose Bay at 720 this morning; One. passenger is missing, the remaining 22 were rescued, also the crew. The Managing Director of Q.A.N.T.A.S. Empire Airways (Mr.Hudson Fysh) said that the "Coolangatta" carried a full complement of 23 passengers, and crew of seven, including two supernumeraries. The flying boat was bound for Townsvillle. It took off successfully, but after some minutes in the air one of the engines commenced to give trouble and the boat returned.
After circling several times it was about to land when it crashed. It floated for a short while then appared to swing over and sink. Rescue boats were quickly on the secen and picked up those struggling in the water. Just before the plabne sank some of the passengers were seen jumping Into the water'. The Police Department has supplied a list of those injured, which includes: I.. E. Walker (51).Brisbane, shock and immersion; and Mrs. C, Freeleagus .(43)Brisbane, lacerated wounds to the head, shock, and Immersion. The missing victim of the flying-boat crash was Mr.' Mott, .a Business man from Townsville. The plane broke in two on alighting and sank immediately. FLYING BOAT CRASHES AT ROSE BAY. (1944, October 12).Queensland Times (Ipswich) (Qld. : 1909 - 1954), p. 1 Edition: DAILY. Retrieved from http://nla.gov.au/nla.news-article115488654
During WWI Conflict: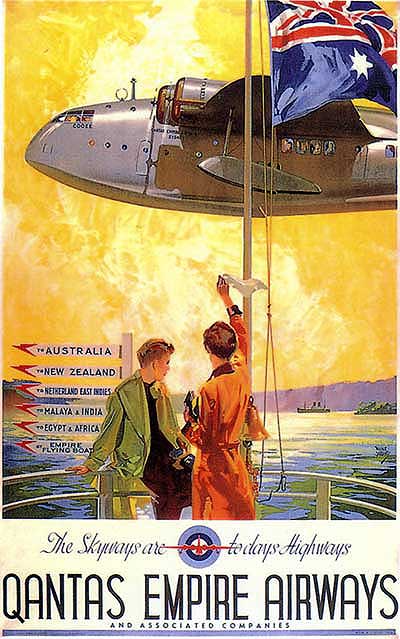 FLYING BOAT TRAGEDY-- 13 Men Missing
Thirteen men are missing as the result of a Quantas flying boat sinking after it had made a forced landing in the sea near a northern port last Thursday. The search for the missing men-seven R.A.A.F. men, four American Servicemen, and two members of the crew ' of the flying-boat has been abandoned. The R.A.A.F. missing are :Corporal E.. J. Grady, of Glen Innes, N.S.W.; L.A.C. A. J. Ellis, of Stanmore, Sydney; L.A.C. D.W. Nicholson, of Melbourne; A.C.1A. R. Stephens, of East Melbourne;A.C.1 E. R. Flanagan of Oakleigh, Vic.; A.C.1, E. Grogan, of Curyo, Vic.; and A.C.1 J. A. Harris, of Rose Bay, Sydney. The missing members of the crew are: T. J. Phillips, radio officer, and W. R. Bartley, purser. Two R.A.A.F. men were seriously injured. They are: A.C.1 W. L. Gardiner, of South Lismore, N.S.W., and A.C.1 W. E. Warhurst, of Coburg, Vic.
These two men are in hospital.
THICK WEATHER
The flying boat was in charge of Captain A. A. Koch, with S.W. Peak as first officer. These two men are safe, as is one American Serviceman. During the flight a thick weather front' was encountered, and visibility became extremely bad. Captain Koch decided to attempt a landing in the open sea, but in the touch-down, because of the heavy sea which was running, the flying boat suffered damage, and sank in six minutes. The survivors were in the water' for some hours.
SHOT DOWN BY FIGHTERS
Captain Koch, who lives in Sydney, was captain of the Quantas flying-boat which was shot down by seven Japanese fighters while on a flight from Darwin to Koepang on January 30, 1942. A number of the complement was killed. The flying-boat was attacked when about 400 feet from the water and about to land at the end of its flight. When machine-gun bullets ripped through the cockpit Captain Koch swerved and dived to avoid the bullets, but the tail had been shot away and the flying-boat crashed.; Five survivors managed to swim to land, where they were cared for by natives and their wounds and injuries treated. Captain Koch was bombed four times while in Ioepang recovering from his injuries and he had been in Darwin Hospital only a few days when the town was raided on February 19. He was flown to Sydney the next day. With more than 10,000 flying hours to his credit, Captain Koch, who is a Tasmanian, entered the R.A.A.F. in 1926. He joined Quantas Empire Airways in 1938,when he was chief pilot for Guinea; Airways, and was appointed to acting-command on flying-boats in 1940. FLYING BOAT TRAGEDY—13 Men Missing. (1943, May 2).Army News (Darwin, NT : 1941 - 1946), p. 1. Retrieved from http://nla.gov.au/nla.news-article38333821
NEW QANTAS SERVICE
Qantas Empire Airways have finalised preparations to operate two flying-boat services from Sydney to Suva at the request of the Fijian and Australian Governments. The Empire Flying-boat "Coriolanius" in the command of Captain O. D. Denny departed from Rose Bay at 5.15 a.m. last Saturday and the flight to Suva occupied two days, calling at Brisbane and night stopping at Noumea (New Caledonia). The return flight occupied Tuesday and Wednesday of this week. The two services are being operated to relieve passenger congestion in Suva, caused by lack of shipping and to assist in the transfer of the administrative staff, who, because of war conditions, are long overdue for leave. A small quantity of mail will be carried on both services. The second return trip is expected to depart from Rose Bay to-day. NEW QANTAS SERVICE. (
1945, November 24
).
The Longreach Leade
r (Qld. : 1923 - 1954), p. 13. Retrieved from
http://nla.gov.au/nla.news-article125211169
Poster in text: The Skyways are Today's Highways, c.1940.
This poster presents an idealised view from the balcony of the Rose Bay flying boat base terminal. The signpost, although not listing destinations as in above at ground photo of the Rose Bay Terminal, was meant to invoke the connections Australia now had and Rose Bay as The Gateway to the Rest of the World
Australia was at war with Germany when this colourful item was made, although the Phoney War had not yet led to the conquering of Europe. The 'Kangaroo Route' to the United Kingdom was still open even though passage through the Middle East, Italy and France would soon be severed, while in the Pacific, Japanese actin would make travel perilous and restricted, as cited in a few of the examples from the papers of the times show.
The Qantas Heritage Collection
from QANTAS website: www.qantas.com.au/travel/airlines/heritage-collection
The Qantas Heritage Collection is a permanent exhibition of the rich and colourful history of Qantas. Located on the mezzanine level of Sydney Domestic Terminal (T3) near Gate 13, it is open to the public, free of charge Monday to Friday between 9.30am and 4.30pm.
Situated overlooking the spectacular background of landing and departing aircraft, it features superb panoramic views of Sydney airport. The Qantas Heritage Collection includes artefacts and memorabilia drawn from thousands of items of historical significance donated by passengers and airline staff.
Covering an area of 1,000 square metres, the exhibition was created by Qantas as a result of the voluntary work of 15 retired staff. Since the early 1990s, the group has worked diligently to sort, catalogue and preserve a diverse range of items. The Collection welcomes the donation of suitable items. Enquiries may be directed to the Curator on 0418 416 728 during business hours.
Visitors can follow the story of Qantas through a series of interconnected exhibition spaces.
Exhibits include:
 Finely crafted models titled 'Da Vinci to Sputnik' depicting significant global developments in the history of flight, including the role of pioneer Australian inventor, Lawrence Hargrave.
 Photographic overview of Qantas highlights of each decade since 1920, depicted on a series of colourful hanging banners.
 Nostalgic look at Qantas uniforms over the years.
 Timetables, tickets, menus, advertising posters, photographs of celebrity passengers and various other archival treasures.
 Assortment of historical objects, including navigational equipment, early model aircraft and assorted memorabilia.
 Engines used on Qantas aircraft in outback Australia in the 1920s.
 Wicker chairs used by passengers on early flights.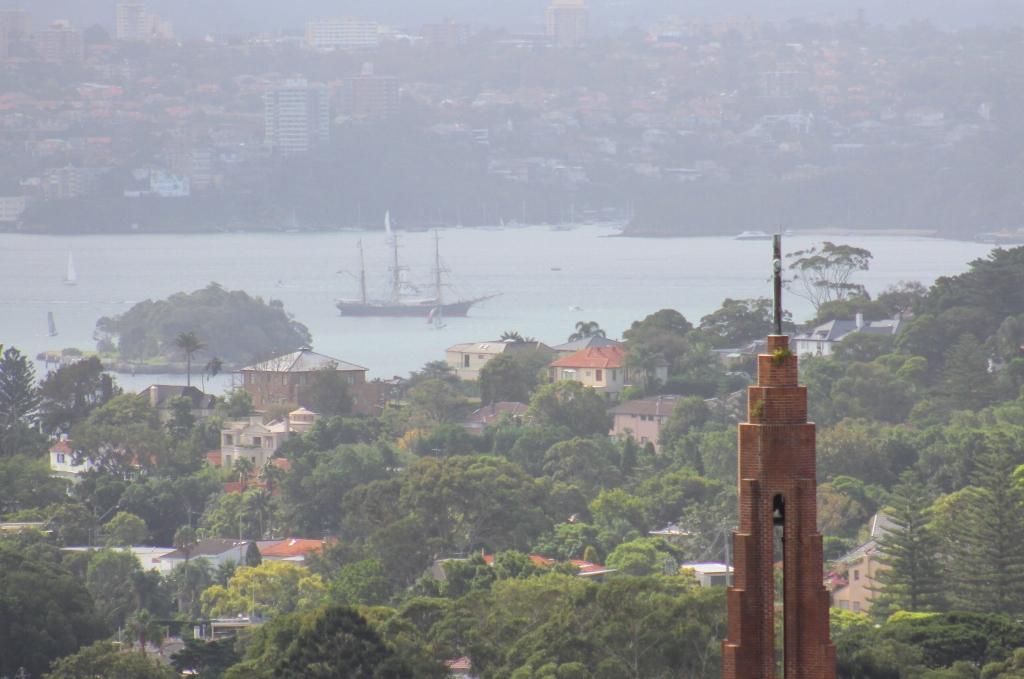 Above - Clark Island from Bondi Junction on a hazy Sunday, March, 2015 - photo by A J Guesdon.
Clark Island is a small island in Sydney Harbour, near the coast of New South Wales, Australia. The island is part of the Sydney Harbour National Park and lies offshore the Sydney suburb of Darling Point, in the eastern part of Sydney Harbour between the Harbour Bridge and the harbour entrance.] It is 0.9 hectares in area.[3] Although the island is uninhabited, facilities include picnic tables, toilets, and drinking water. No ferry services operate to the island.[4]
The island derives its name from Lieutenant Ralph Clark, an officer of the First Fleet. In the early days of New South Wales, naval officers were allowed to keep their own vegetable gardens, which were tended by convicts. Clark established one such garden on the island, which was unsuccessful as any produce was soon stolen as a result of the limited rations available at the time. In February 1790, Clark noted that"some Boat had landed since I had been there last and taken away the greatest part … it is impossible for any body to attempt to raise any Garden stuff here, before it comes to perfection they will steal it." - Hughes, Robert (1987). The Fatal Shore. New York City: Alfred A. Knopf. p. 97. ISBN 0-394-75366-6.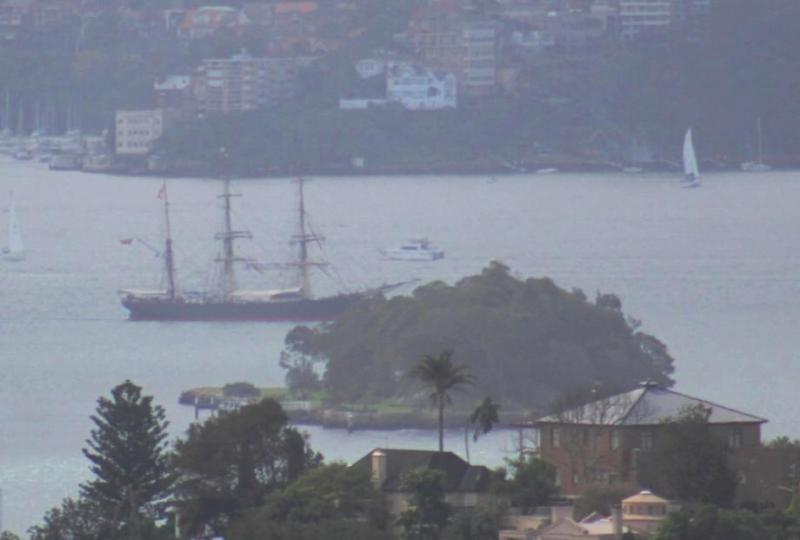 Clark Island (New South Wales). (2014, November 21). In Wikipedia, The Free Encyclopedia. Retrieved from http://en.wikipedia.org/w/index.php?title=Clark_Island_(New_South_Wales)&oldid=634846028
All QANTAS 75th artwork images copyright Christopher Corr 2015 - article by A J Guesdon, 2015.