July 2 - 8, 2017: Issue 319

Collecting Vintage Photographs: An Early Tasmanian Photographer - J W Beattie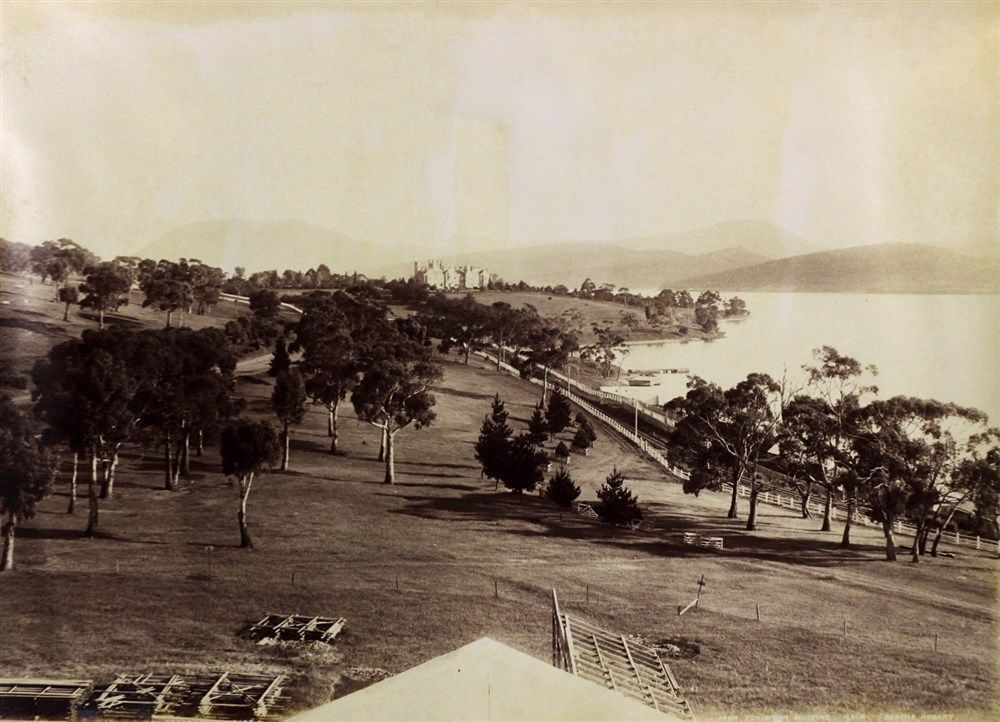 Government House TASMANIA large albumen photograph, circa 1890 by John Watt Beattie
In 2011, a modern-day treasure hunter was browsing through an antique shop in Fresno, California. Going through boxes, he came across an old photograph. The image was of an unsmiling group of men, 19th century Americans it seemed, who were playing croquet in front of a wooden building in a rural setting. As it was an interesting photograph he paid $2 for it and walked out.
After much investigation, it was concluded that one of the men was Billy the Kid, aka Henry McCarty, and the other players were his gang, The Regulators. This was only the second known photograph of the Wild West's most infamous outlaw. That photo is now worth several million dollars.
Rare vintage photos can be valuable; a signed photograph of American industrialist and philanthropist Andrew Carnegie sold for $3,500, a signed photograph of political activist Helen Keller fetched $2,750, a photo of actor Basil Rathbone sold for $2,500 and a signed photo of author Arthur Conan Doyle commanded $2,300.
There are several factors that can affect the value of a vintage photograph:
Scarcity: fewer copies mean greater value.
Condition: avoid creases and handling marks.
Original or reprint: Originals are more expensive. Look for photographer stamps showing the date of production. Reprints are designed for decoration.
Print date: You want an image printed as close to the creation of the negative as possible.
Reputation of the photographer: Has their work being converted into a book or displayed in an art gallery? Are they lauded and applauded still? Were they one of the earlier photographers in Australia?
Reputation of the human subject: Were they famous? Did they sign it? Is there another copy of that particular image?
It's important to become familiar with the language associated with vintage photography too. The main photographic processes from 19th century are daguerreotype, ambrotype, tintype, cabinet card and CDV.
The daguerreotype, the first commercial photographic process, was expensive to produce as a silvered copper plate was required. Subjects were often wealthy individuals. These images could not be reproduced and originals are very fragile. Daguerreotypes can be expensive to purchase, particularly if the image displays something out of the ordinary.
By the mid-19th century, the ambrotype process was introduced, and it was more widely used due to cheaper costs. Family portraits of all classes became common. Photographic plates preceded photographic film as a capture medium in photography. The light-sensitive emulsion of silver salts was coated on a glass plate, typically thinner than common window glass, instead of a clear plastic film. Glass plates were far superior to film for research-quality imaging because they were extremely stable and less likely to bend or distort, especially in large-format frames for wide-field imaging. Early plates used the wet collodion process. The wet plate process was replaced late in the 19th century by gelatin dry plates. Glass plate photographic material largely faded from the consumer market in the early years of the 20th century, as more convenient and less fragile films were increasingly adopted. However, photographic plates were reportedly still being used by one photography business in London until the 1970s, and they were in wide use by the professional astronomical community as late as the 1990s. Workshops on the use of glass plate photography as an alternative medium or for artistic use are still being conducted.
[1]
Stereoviews, or stereographs, were popular for several decades in the second half of the 19th century. They simulated a three-dimensional view and often captured faraway locations or gave us a great view of places here.
Next came Carte de Visite (also called CDVs). These had a uniform size and were mounted onto card.
CDVs were supplanted by cabinet cards, also called cab cards, which were about 6×4 inches in size.
You will also hear the term, photogravure. This can be a photographic or printmaking process where a copper plate is coated with a light-sensitive gelatin which had been exposed to a film positive, and then etched, resulting in a high quality print.
Collecting vintage photographs is a voyage of discovery and although the above instances show you may discover something remarkable, you probably shouldn't collect photographs for financial gain. Collect because you love the history shown, or the imagery of places now changed, or people captured in a single moment of time. Collect them because you like a particular type of camera and what it could create, or because the work of a particular photographer resonates with you.
A guide of the type of photographs should you collect:
Subject matter: From people (including signed images) to landscapes.
Era: From the Victorian times to the selfie age.
Photographer: From George Barron Goodman to an obscure street photographer just waiting to be discovered anew. Remember those discovered plates that now comprise the 'Holtermann Collection' by photographers Beaufoy Merlin and Charles Bayliss, now digitised and available at The State Library of NSW and included on the UNESCO Australian Memory of the World register in May 2013.
Format: From Polaroids to daguerreotype.
Intended usage: From a family memento to a publicity handout for theatre productions.
Photo postcards are one option and are still created today, although these may not be the windows into the past the earlier versions were, even if created for a similar purpose.
If you decide to collect images from entertainment industries like music, cinema or sports, you will encounter publicity images that could be intended for the general public or the media.
If you choose a particular era or photographer, do some research and find out when and where they took that image - you may find something refered to in newspaper articles, for example, that has not actually ever been seen since - e.g.:
SUCCESS OF THE SERVICE ASSURED.
When the buses reached Mr. Brock's residence refreshments were served,
after which some photographs of the new vehicles with the passengers aboard were taken.
Mr. Quirk, Mayor of Manly, occupied the chair, in the course of his remarks he said that every credit was due to Messrs. Reid for having had the courage to Import motor buses.
Mr. Dugald Thomson, M.P., proposed success to the new venture, and eulogised the Importers as men of enterprise, who had surmounted great difficulties. He hoped soon to see a regular service of 'buses running between Manly and Pittwater, and trusted the venture would meet with the success It deserved.
Dr. Arthur, M.L.A., in supporting the toast, said he was a humble admirer of anything In the shape of enterprise. He thought the Manly-Pittwater buses would be a decided acquisition to the neighbourhood. He characterised Pittwater and the surrounding neighbourhood as one of the loveliest districts in this State, and hoped the present buses would be compared favourably with those at present in Sydney, would always be kept busy.
Mr. M'Kenzie, M.L.A., also spoke, and pointed out the necessity that existed for proper communication, between Manly, Newport, and district. He had no doubt that in a short time many more similar buses would be in use....
MOTOR OMNIBUSES. (
1906, February 10
).
The Sydney Morning Herald
(NSW : 1842 - 1954), p. 17. Retrieved from
http://nla.gov.au/nla.news-article14732737
Vintage photographs can be sourced from online marketplaces for collectibles, antique shops, flea markets, garage and estate sales, and auctions. It's always recommended that you establish a budget and stick to it, but most of all, choose a subject you have a passion for and do your research once you have found something - it may turn out to be something so unique and fill a gap in our hidden histories.
If your passion is for Australian scenes and photographs familiarising yourself with these early creators and the wneding paths they weaved is a good idea.
Most historians state that the captain of a French ship made the first photographs in Australia in
May 1841
when he demonstrated the daguerreotype process in Sydney.
This first photograph taken in Australia, a view of Bridge Street (now lost) is believed to have been taken by the visiting naval captain, Captain Augustin Lucas (1804-1854).
In November 1842 George Barron Goodman arrived in Sydney and became Australia's first professional photographer. In August 1843 he took his daguerreotype apparatus to Tasmania, but was back in Sydney by March the following year. From 11 August to 31 December 1845 he was in Melbourne where he reportedly made 870 likenesses, then sailed for Adelaide, before returning to Sydney in February 1846.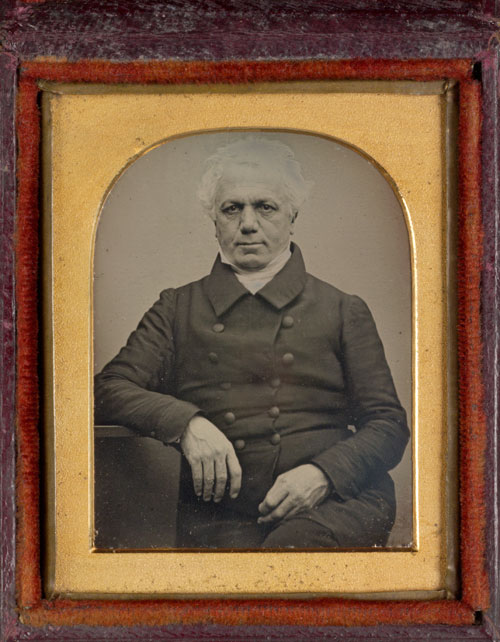 Photograph of Dr William Bland, taken by George Baron Goodman. This photograph (c. 1845) is the earliest known surviving Australian photograph. Courtesy State Library of NSW. Image No.: 03_a128689u

Those not able to witness the process could read about it:
PHOTOGRAPHIC PORTRAITS.
— The wonderful apparatus, by means of which portraits are taken with unerring exactness, has been fitted up, and put in order, and will commence operations on Monday next
at the Royal Hotel.
The experiment has already been most successfully tried upon several parties. This invention has excited a high degree of attention in Europe from the rapid manner in which portraits are taken by its means, and their exact fidelity to the original, and we have no doubt, the easy opportunity which it presents to the public of obtaining lasting remembrances of themselves and their friends, will be extensively embraced by the inhabitants of New South Wales. We publish in another column an advertisement in reference to this invention, in which is embodied the opinions of the most influential of the London journals, to which we refer our readers.
No title (
1842, December 9
).
The Australian
(Sydney, NSW : 1824 - 1848), p. 2. Retrieved from
http://nla.gov.au/nla.news-article37113326
We extract the following from a report of the tenth meeting of the British Association : —
'New Method of Photogenic Drawing. — After some observations on the comparatively low value of all drawings taken by means of the camera-obscura, in au artistical point of view, and on the principal points on which Mr. Talbot's and M. Daguerre's methods of fixing the drawings of the camera-obscura were fortnded, the author, Dr. Schafhatuelt, proceeded to describe his peculiar method of producing photogenic drawings in Mr. Tulbot's, that is, in a negative way ; then, secondly, he described two new methods of obtaining photographs f n a positive way. His first method tended to obtain a paper of very great sensibility by a comparatively short process. He recommended Peunj's improved patent metallic paper, and spreading a concentrated solution of the nitrate of silver (140 grains, to 2 ½ drachms of fused nitrate to 6 fluid drachms of distilled water), by merely drawing the paper over the surface of the solution contained in a large dish, in order to convert this nitrate of silver into a chloride, the author exposed it to the vapours of boiling muriatic acid. A coating of a chloride of silver, shining with a peculiar silky lustre, was by this method generated on the surface of the paper, without penetrating into its mass; and in order to give to this coating of chloride the highest degree of sensibility, was dried, and then drawn over the surface of the solution of nitrate of silver again. After having been dried, the paper was ready for use, und no repetition of this treatment was able to improve its sensitiveness. The author's process for fixing definitively the drawing was as follows : He steeped the drawing from five to ten minutes in alcohol, and, after removing till superfluous moisture by means of blotting paper, and drying it slightly before the fire, the paper thus prepared is finally drawn through diluted muriatic acid, mixed with a few drops of an acid nitrate of quicksilver, into the tincture of the preparation of which we cannot here enter. The addition of the nitrate of mercury requires great caution, and its proper action must be tried first on paper slips, upon which have been produced different tints and shadows by exposure to light ; because, if added in too great a quantity, the lightest shades disappear entirely. The paper, after having been drawn through .the above-mentioned solution, is washed well in water, and then dried in a degree approaching to about, 158 Fahr., or, in fact, till the while places of the paper assume a slight tinge of yellow. The appearance of this tint indicates that the drawing is fixed permanently. The author's way of reversing the drawing is, in the principal point*, the same us that suggested by Mr. Fox Tulliot. In order to obtain a photografik drawing in a direct or positive way, the author uses his above-mentioned paper, allows it to darken in a bright sunlight, and macerates it tor at least half an hour in a liquid, which he prepared by mixing one part of the already described acid solution of nitrate of mercury with from nine to ten parts of alcohol. ....WE extract the following from a report of the tenth meeting of the British Association:— (
1841, July 14
).
Inquirer
(Perth, WA : 1840 - 1855), p. 5. Retrieved from
http://nla.gov.au/nla.news-article65581680
Our focus is on the wonderful images taken by John Watt Beattie - those of the landscapes, and those of people, and also because he collected articles that may well have been lost without his appetite for retaining these items. A wonderful website, dedicated to sharing the works of another great and early Tasmanian photographer, Thomas Nevin, lends an insight into
just how many photographers worked in the apple isle
during the first half century of this medium.
As Mr. Beatties prints, singular or in sets, still fetch around $2000.00 at
auctions in Europe
, knowing more about the man and his style of photography will give you something worth having on two fronts - one because it's Australian and secondly because these works hold their value. These are brilliant landscapes of a place now much changed.
Mr. Beattie's works included framed prints, postcards, lantern-slides and albums, and was the basis for a popular and pleasing set of Tasmanian pictorial stamps (in print 1899-1912). So there's a range of items available for collectors. We'd also recommend visiting the Beatties Studio website to see more:
www.beattiesstudio.com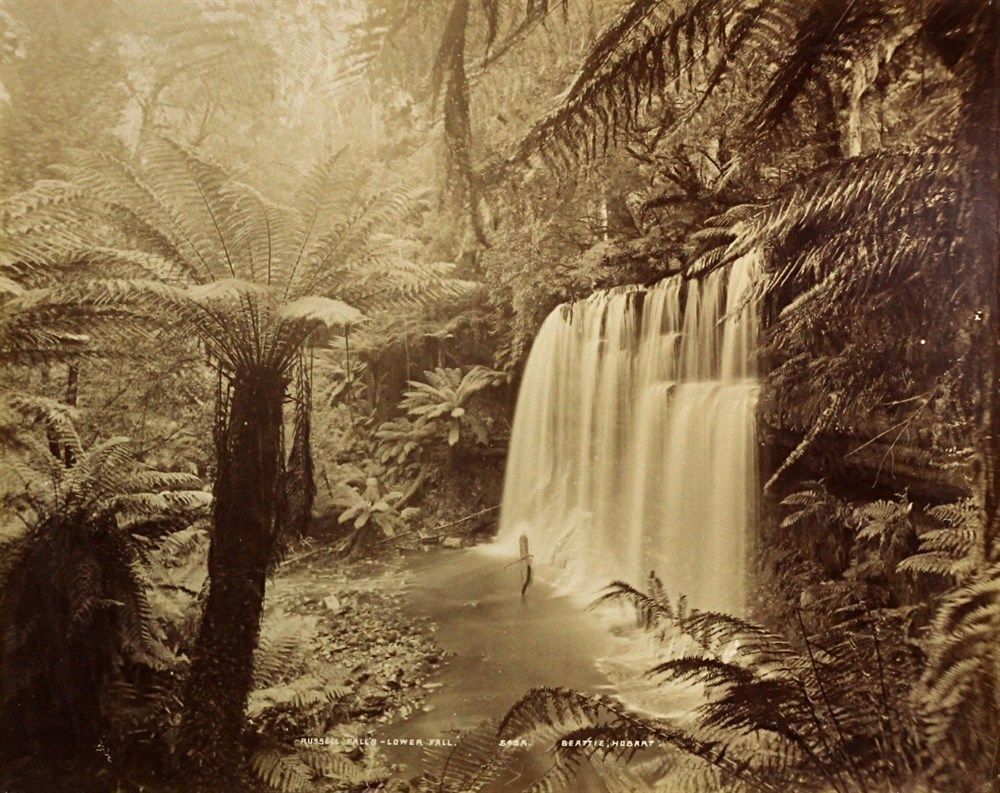 Russell FALLS TASMANIA, large albumen photograph, circa 1890 by John Watt Beattie
'I love the bush, and nothing gives me greater delight than to stand on the top of some high land and look out on a wild array of our grand mountains. I am struck dumb, but oh! my soul sings.'

John Beattie c1899
Beattie was also a man whose craft for faithfully capturing the wild aspects of Tasmania transferred into his attitude towards faithfully addressing the life of c
onvicts at Port Arthur and the plight of the then fast disappearing Tasmanian Aboriginals. Thanks to him we have some images of both these subjects.
Mr. J. W. Beattie is a photographer of repute to whom I have previously referred. He is the Official Photographer to the exhibition, and has taken prizes at Paris, Sydney, Melbourne and Calcutta
. I ask Mr. Beattie to tell me his story. He says — " I took over the business of the firm of Anson Brothers about three years ago, previously having served them in the capacity of manager for nine years. I have a fixed determination to photograph every nook and corner of Tasmania before laying down my cameras. For this purpose I induced my brother to come out from the old country to join me. He was connected with a large Scotch firm of photographers in Aberdeen, G. W. Wilson and Co., of world wide reputation, and especially in lantern slides.
"We make a specialty in this department, and with our large stock of subjects, over 3000, and still accumulating fast, we can satisfy the growing demand for this class of photograph.
I take a deep interest in the historical associations of my adopted home, and am getting together a photographic collection of places, and faces, which have passed, or will soon pass away
, and which will be of great value by and bye.
Foremost in this line are the aboriginal photographs. I have a very large collection of this interesting lost people, a great many pictures of whom I have rescued from total oblivion
. I am quite proud of my aboriginal collection.
Another line I go in for is Melanesian pictures, landscapes, types, &c. The initial series of these were procured for me through the great kindness of our beloved bishop, Dr. Montgomery, whom I fitted out and coached in photography previous to his visitation recently to that part of the Pacific ocean. I am looking forward to yet greater additions to this series. I have one great grievance against our Government.
There is no copyright for my pictures obtainable in this colony, hence, any special picture I may desire to have protected from being pirated by others, is open to this danger. I have lost through this considerable sums. The Government would derive a considerable addition to their revenue by introducing a cheap registration law similar to that in force in Britain, where any one can register pictures at 1s. each and be secure. I have a branch in Launceston, under the superintendence of Mr. Richard Gee. Our work meets with approbation there, and although we only opened last February, the greatest encouragement has been the result."
Thus, Mr. Beattie, who like all good photographers, is very modest as to his attainments. I have never seen better landscapes than his in any part of the world. …Commercial HOBART (
1894, October 6
).
Leader
(Melbourne, Vic. : 1862 - 1918), p. 14 (THE LEADER SUPPLEMENT). Retrieved from
http://nla.gov.au/nla.news-article196507845
'For about 30 years this ancient people held their ground bravely against the invaders of their beautiful domain', he wrote of the Aboriginals.

It is for the many photos that appeared in journals and newspaper articles, many of which are still available and we have made use of to show you how great he was, that he remains known - some of them, like these, were taken in familiar grounds - New Norfolk being where his father, also named John, took land and he worked when arriving from Scotland in 1878:
SCENES ON THE DERWENT, TASMANIA.
(PHOTOS. BY J. W. BEATTIE, HOBART.)
Good old fashioned Hobart, with its majestic river and harbor, charming headlands, its yachting, fishing, excursion trips, mountain retreats, sea breezes, and majestic Mount Wellington, has been the happy hunting ground of more holiday-makers from Sydney this summer than usual. Even Lord and Lady Hampden and party have been there for over a month. Though Hobart is badly off for amusements worthy of the name, and sadly needs a place for public promenade and general rendezvous, he or she Who loves mountainous heights, sylvan, scenery, bewitching glens, rugged rocks, swirling seas, pastoral plains, fruit orchards, and with all a bracing climate (though lit has been pretty hot at times in Tasmania this summer), can find within the tight little island all these varied specimens of nature. A brief retrospect of the appearances of the passengers on the steamer Oonah in coming and going on this pleasant trip, presents many phases of life. In going you sit abaft the funnel, and see lively maidens, frisky matrons, sedate mothers, rakish mashers, gallant lovers, respectable husbands, and burly squatters. Children ore few in number, for, when people go for pleasure, they don't want a flock of children about their heels. That, however, is another story. Looking at the visitors, you see hope on every face, and what they are looking for is a real good tame. Let but the weather clerk smile, and every man and woman will enjoy themselves. Cheeks are pale and sickly now, but see them a week or so later, and what a metamorphosis has taken place. The voyage and the change to a more temperate and breezy climate have worked wonders on the pallid epidermis. He is ruddier than the cherry, and she is sweeter than the berry. The first week's experience of ordinary Tasmanian weather brings a beetroot-like color upon the cheek and the tip of the nose; succeeding days mellow the tints until a rich bronze complexion is acquired, and while this natural pigmenting process is going on the whole frame and physical attributes are strengthened, the elasticity of youth is renewed, the buoyancy of spirits is increased, and ere a fortnight or three weeks have passed, the visitor from hotter climes is transformed into another being under the mighty recuperating influences of the little colony.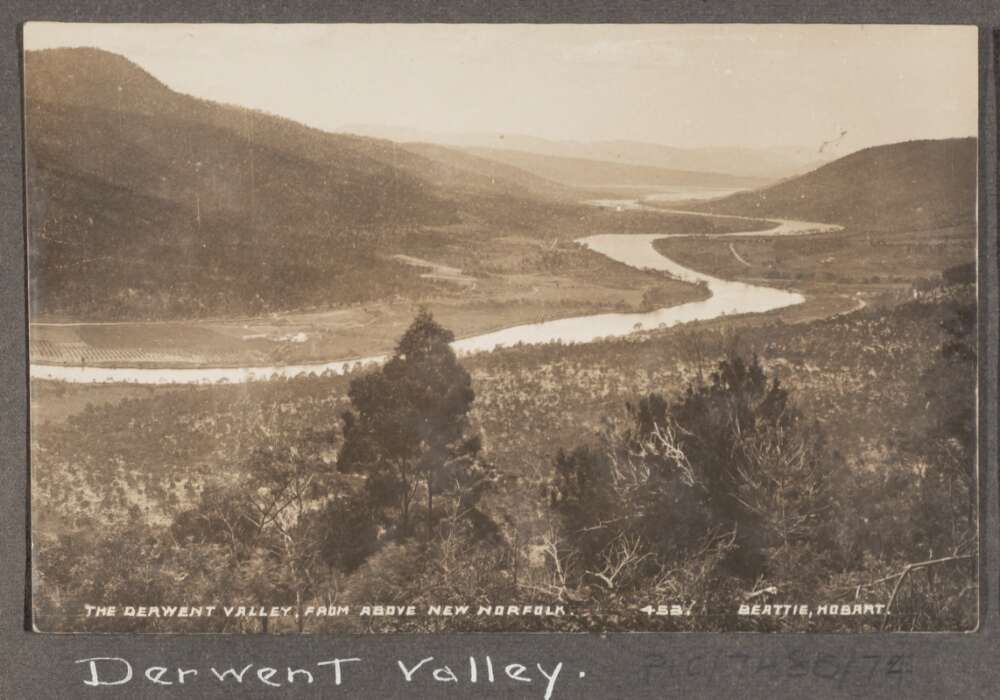 The Derwent Valley, looking East from above New Norfolk. Image No.: nla.obj-142156872-1, courtesy National Library of Australia
The Derwent Hop Gardens, New Norfolk.
Image No.:
nla.obj-142155972-1
, courtesy National Library of Australia
But this, by the way. My object in writing is to convey to the readers of the "Town and Country Journal" who have been to Tasmania some notion of what a trip up the Derwent by water from Hobart to New Norfolk is like, for of all the enjoyable jaunts from though metropolis of the colony this seems to be the best, provided the day is well chosen.
Some weeks ago on a grey summer's morning, all full of sunshine and shadow, the writer got on board one of the river steamers bound for the Upper Derwent. The sun, as he had often done before, soon after his rising, had ripped the front of lofty Mount Wellington's nightcap, and in lifting it left a deep fringe of calico-colored cloud hanging in the gully lying between the "Orgonpipes" and the city. In the fore part of the boat were a number of empty raspberry casks, which were being returned to the growers at our " port " of destination in order to be again refilled and brought down to the Hobart wholesaleman. As we steamed up the river the southerly breeze which chased us was a trifle lusty in its playfulness, but the vapory clouds -were fast rolling by, and rapidly increasing the patches of blue sky and bursts of sunshine. The little farms, plantations, bushy hedgerows and woodlands (just as you see them in the Old Country) looked deliciously fresh and green after recent rains. On such a morning as this," said our skipper, "pick out the tiniest bit of cloud you can find specking the blue and watch it closely. If it grows bigger, look out for a wet day, If it slowly melts and disappears, snap your fingers at Wragge's or any other forecast that threatens rain. The day will improve," Some of us experimented on a white baby cirrus overheat! that noon cleared out of the sky.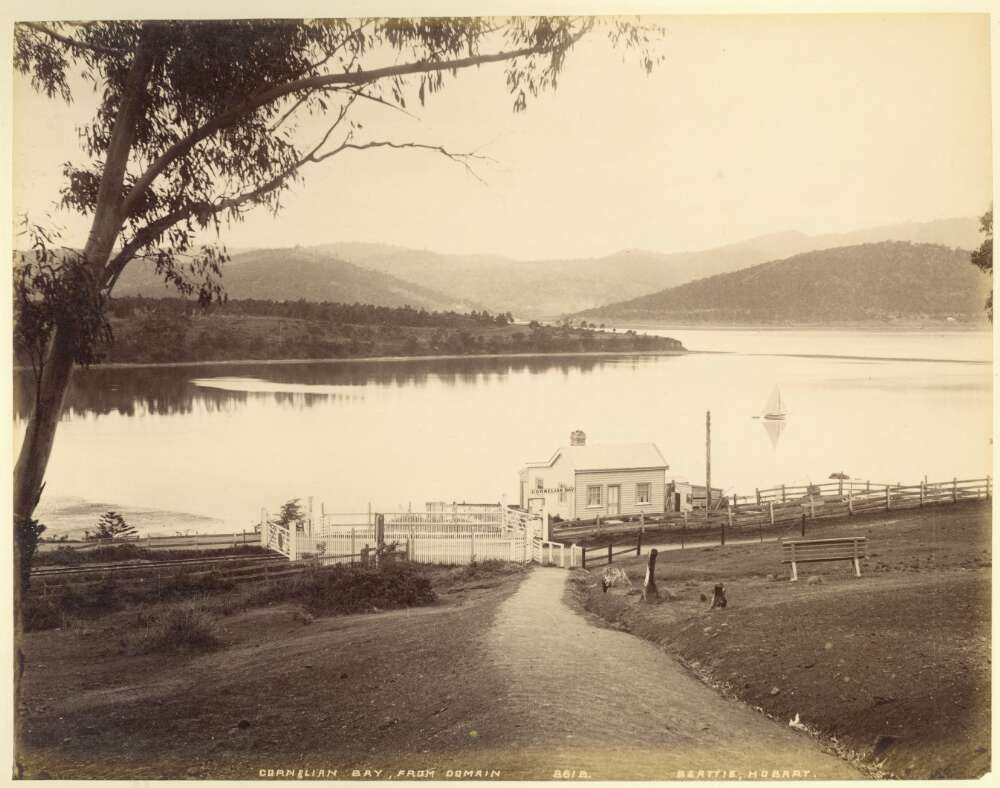 Cornelian Bay, from the Domain.
Image No.: nla.obj-142156872-1, courtesy National Library of Australia
The rolling masses of cloud gradually soared higher and higher, and in turn melted away. A bright summer's day followed. The principal characteristic of the river until Bridgewater is readied, at about half the journey, is that it gracefully expands into a succession of lake-like sheets of water, and in the intermediate distances narrows into a deep, sullen waterway. A succession of high mountains and a tumultuous range of high hilltops lie in all directions, till you wonder how the river finds a course between them. The pretty little hornea of the apple, apricot, and hop-growers peep out here and there amid the woodlands and on the slopes. On these waters the fishing is said to bo excellent. Several cormorants were seen. One of these impudent poachers among the feathery tribe stood on a rock close by as we passel through one of the "narrows," gulping down a fish as his morning's meal. Another of theses "birds of Satan" stood on a rock just rising above the water's surface within a stone's throw of the boat and had a good stare at u«. A Victorian sportsman on board sighed for a loaded fowling-piece.
Immediately Bridgewater is left behind the aspect of the river changes from a wide sweeping expanse of water to a deep but much narrower river, and upon approaching each successive bend one imagines that surely it must next- become a canal cut through a defile, so close and precipitous do the rocks become. But the Derwent is full of surprises, the scenery changing and shifting at every turn. The water now becomes clearer and unpolluted with tidal washes. The English salmon, liberate 1 from the New Norfolk salmon ponds, leap up playfully above the water's surface. Many tales are told of the stratagems resorted to by an ardent sportsman in pursuit of the wild ducks which abound in the dense fringes of willows, rushes and marshes on both sides of the river immediately above Bridgewater. Presently we were steaming under the brow of a high-peaked mountain called the Dromedary, which we were told was noted for its wild berries, wild flowers, and heaths, and on the wilds of which the bushranger Martin Cash used to roam. That daring robber's look-out was pointed out to us by the skipper. Soon the river narrows still more,' both banks being densely wreathed with foliage, the branches of the trees (which even include some English oaks) hanging over into the stream, and then the waters run deep between ledges of shelving rock, with here and there nooks and dim recesses among the aldorá, sowing to remind one of the Canadian boat song and visions of Lalla Rookh. After rounding another bond or two, the imposing heights of the Pulpit Rock, which keeps eternal watch over these waters, comes into view, throwing half the surface of the river into shadow at noonday. Next the township of New Norfolk is seen occupying a gentle slope on the western side, and a new book is opened, for the scene expands again into a fruitful vale, the landscape being quite English in character, with bushy hedgerows, hawthorns, and dog roses everywhere, A few more pull's, and the vessel is alongside the landing stage, close to a fine bridge over the river, which commands a charming view tip and down the stream. There were several cabs in waiting, and less than five minutes' drive brought the visitors to the hotel of their choice. I found the Star and Garter a most comfortable family hotel, Host and Hostess Byrne being very kind people, as well as moderate in their charges, whilst the host, to many, has a special recommendation in being a keen sportsman.
The township is a very quiet one, with an antiquated look about it. It has many cottages similar to those to be seen in remote country districts in Britain, with old world gardens in which the bees continually lilt about with a rejoicing hum, and there are old-fashioned roses and such ancient garden Howers as the lilac, jasmine, mignonette, stock, polyanthus, speedwell, "old man," and sunflowers. ' There is plenty of boating, fishing, and shooting to be had. Many visitors spend days at the salmon ponds contemplating the breeding of English fish for replenishing the rivers and lakes. Of fruit there is plenty for the asking. Walks among the orchards are just now extremely pleasant. Other orchards there are nearer the metropolis which are also pleasant places, but they are somehow more identified with puddings and tarts and the market gardener. About New Norfolk they lead one to think of the sacred groves which were the abodes of Pomona and the Hamadryades, Still, they are to the neglected apple orchard what Dodona was to the common woodland, cr Castalia to the horsepond. The delicious air is exceeding balmy and refreshing. A man coming here for a spoil from the worry and turmoil of city life revels in such a climate as one weary and travel-stained in a tropical land revels in a bath of a mountain stream. It is the very best medicine for jaded nerves, and outworn energies.
The return journey to Hobart was made by train, and, as the railway skirts the river nearly all the way, this mode of travelling in the Derwent Valley affords much pleasure. SCENES ON THE DERWENT, TASMANIA. (
1897, April 24
).
Australian Town and Country Journal
(Sydney, NSW : 1870 - 1907), p. 30. Retrieved from
http://nla.gov.au/nla.news-article71292456
Mr. Beattie also became quite famous for his museum, and attracted criticism from one visiting MP for the display of convict artifacts in a nation trying to distance itself from such roots. The collection, or some of it, as he had enough for a new exhibition, made its way north from Hobart to Launceston:
THE BEATTIE MUSEUM COMES TO LAUNCESTON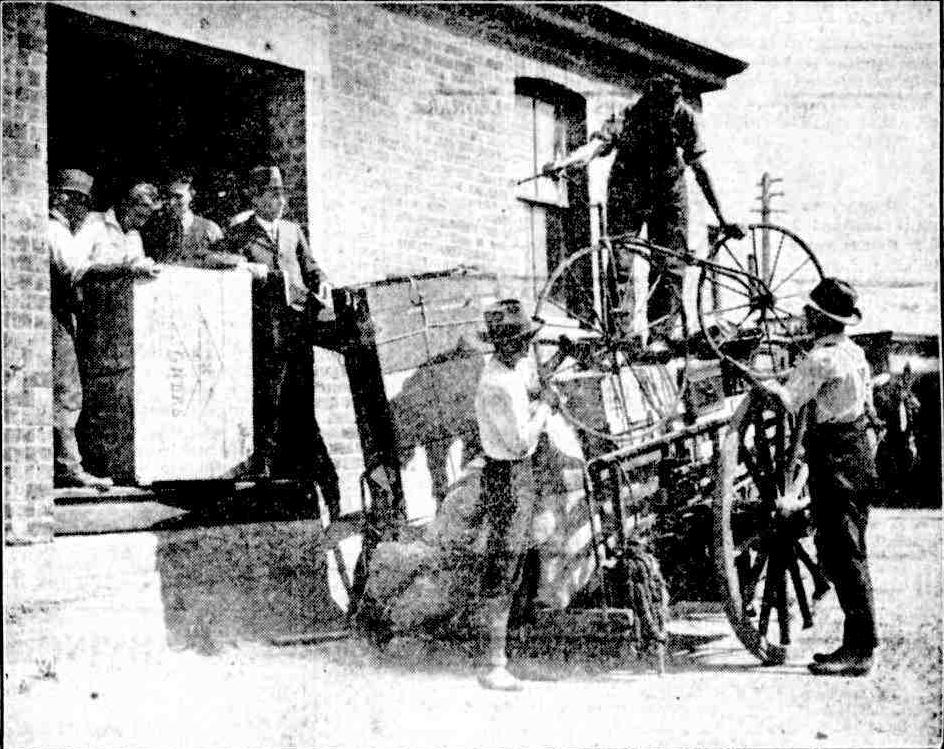 Mr. H. H.. Scott (Curator, of the Queen Victoria , Museum check off some of the interesting consignments. THE BEATTIE MUSEUM COMES TO LAUNCESTON (
1928, February 11
).
Examiner
(Launceston, Tas. : 1900 - 1954), p. 11 (DAILY). Retrieved from
http://nla.gov.au/nla.news-article51462409
Referring to Messrs. Munro and Quinn's contract to carry out alterations to the Queen Victoria Museum in connection with the housing of Beattie's historical collection, the whole Council Committee reported last night to the City Council that it had confirmed the action of the Mayor in accepting a quotation from this firm for the execution of the additional works enumerated in the attached report from the city building surveyor, dated March 8, for £27 15s. The action of the committee was approved. MUSEUM ALTERATIONS (
1928, March 27
).
Examiner
(Launceston, Tas. : 1900 - 1954), p. 6 (DAILY). Retrieved from
http://nla.gov.au/nla.news-article51469366
The first section of the historical Port Arthur Museum which was purchased from Mr. J. W. Beattie, by the Launceston City Council is now at the Victoria Museum, Launceston, and will be officially opened by the Mayor (Alderman H. C. L. Barber) at 11 a.m. on Friday. The original collector of the Museum (Mr. J. W. Beattie) will be present, accompanied by Mr. Clive Lord, Director of the Tasmanian Museum, Hobart. Mr. Beattie has not lost his penchant for collecting antiques, and in a small way has already established another private museum in conjunction with his studio. PORT ARTHUR MUSEUM (
1928, May 10
).Examiner (Launceston, Tas. : 1900 - 1954), p. 7 (DAILY). Retrieved from
http://nla.gov.au/nla.news-article51476900
The extension of the Queen Victoria Museum to accommodate the Tasmanian historical collection in still in progress. The curator (Mr. H. H. Scott) announced last night, at the annual meeting there of the Royal Society of Tasmania (northern branch), that two more rooms were being painted out this week. He hoped to have them ready for the public by Christmas. He was anxious to have the exhibition of the "Beat-tie collection" as near completion as possible before the next tourist sea-son. Seven rooms remained to be done, including three downstairs. The upper rooms are still in occupation by the Technical College. MUSEUM EXTENSION. (
1928, June 13
).
Examiner
(Launceston, Tas. : 1900 - 1954), p. 6 (DAILY). Retrieved from
http://nla.gov.au/nla.news-article51482998
Despite interruptions due to the rearrangements of the Art Gallery and to the illness of the curator (Mr. H. H. Scott), it is anticipated that three rooms of the early Tasmanian relics bought by the City Council from Mr. J. W. Beattie, Hobart, will be ready for public view by the summer. Tile first room in the building which used to be part of the Technical. College adjoining the Queen Victoria Museum has been open for some months, displaying examples of early Tasmanian art and other interesting mementoes. The second room, which is situated across the passage of the old school, and at the rear, will contain Port Arthur relics, including some objects of art. "Lady Franklin's room" will be in front of the second. In the passage will be portions of the collection and a fair display of pictures. Later a fourth room, in the centre of the front of the building, will be proceeded with. Among the relics to be shown there will be casts of noted criminals of the old days. MUSEUM EXTENSION (
1928, October 19
).
Examiner
(Launceston, Tas. : 1900 - 1954), p. 8 (DAILY). Retrieved from
http://nla.gov.au/nla.news-article51507025
Another Port Arthur Museum
When some few months ago the well-known collection of Port Arthur relics which Mr. J. W. Beattie had got together was sold to Launceston, and went to the North, there were many persons in Hobart who decried the loss when it was too late, and expressed the view that some philanthropic person should have come forward and kept the collection in Hobart, where it is much nearer to the scene from which the relics were drawn. Launceston has now got that Port Arthur museum, and is deservedly proud both of the collection and of the civic spirit which secured it. But Hobart, too, has its collection from those interesting, if somewhat gruesome, days, for Mr. Beattie, with a commendable enterprise, has set to work again, and has already built up another collection.
Many of the exhibits now on view in the room above his shop in Murray Street he had stored away in various places for many years, and was not, indeed, aware just how extensive this second collection was until he came to put it all together. The second collection is now set out in the place formerly occupied by that now In Launceston
, and visitors who have seen it vote it most interesting. Another Port Arthur Museum (
1928, November 27
).
The Mercury
(Hobart, Tas. : 1860 - 1954), p. 6. Retrieved from
http://nla.gov.au/nla.news-article24246856
A few insights into the gentleman himself show he was uncle to John Cyril (Jack) Cato (1889-1971), photographer, born in Launceston, ho had a great career here and overseas. Putting down his camera long enough to pick up a pen, Cato's The Story of the Camera in Australia (1955), is acknowledged as the first Australian national history of the medium.
Mr. Beattie was also resilient:
DESTRUCTIVE FIRE. BEATTIE'S PHOTOGRAPHIC PREMISES GUTTED.
Beattie's photographic premises were gutted by fire at 1.15 this morning. Mr. Beattie was engaged at his business premises until 10.30 last night, attending to his English correspondence, The origin of the fire is not known. It is assumed that the gale must have fanned the dying embers which were in the grate, left from the fire during the day. Sad havoc was made of the beautiful photos which adorned the show-room. Fortunately Mr. Beattie's valuable stock of negatives was saved, as they were kept in the rear of the buildings, which have been recently erected. The cameras were not destroyed either, as Mr. Beattie had been engaged with them at the tourist room, and had left them there. His loss will be considerable, as much of his stock and curios cannot be replaced. The stock is insured in the Commercial Union and Phoenix Companies for £600. Much sympathy is expressed for Mr. Beattie in his loss. DESTRUCTIVE FIRE. (
1905, May 31
).
Examiner
(Launceston, Tas. : 1900 - 1954), p. 6 (DAILY.). Retrieved from
http://nla.gov.au/nla.news-article38784816
J. W. BEATTIE'S NEW PHOTOGRAPHIC STUDIO
To preach to the photographic world the advantages of doing things In the right way in business will seem to many a mere work of superogation. Yet it may be doubted whether a majority of business people practise what they consider is to wholly superfluous to preach. They undoubtedly carry on their practical work in life with every desire that it should work be successful, and according to methods which they believe to be the right one. or securing the end held in view" To be successful In any business, whether the sphere be wide or narrow, requires not only the mind to conceive and the hand to execute, but no less the ability to carry through the process in the way most calculated to secure the greatest possible success, Mr. J. W. Beattie, whose new photographic studio has just been erected Elizabeth street, is a gentleman who progresses with the times. The building, which stands on the south side of that historic spot, Wellington Bridge, has an Imposing and ornate front which cannot but attract attention. One took a run over the new premises the other day, with Mr Beattie acting as cicerone. 'You are progressing with a vengeance,' said the Writer, 'Yes,' was the reply,' one must keep up to date these days, especially undertakings ... I have had my ups and downs in this business; … by periods of favoring winds and tempestuous gales, and whether shall reach the haven of prosperity sounder by the way depends to a very large extent not only upon my knowing the right thing to do, but upon my doing them in the right way and thus earning the patronage of a discerning public.' Mr Beattie then went on to say that he had been in business 14 years, and he threw some interesting delights on the conditions under which photography was carried out a decade or two back. No time was lost in getting right down to the main issue, which was—the improvements. First of all, one inspected a the ground floor two commodious shops. One of these is used by Mr Beattie himself for the exhibit of photographs, works of art, and pati cards, the production of which have been made a feature of this season. At the rear of the shop is the Tasmanian Book club and Select Library, here all the works of modern authors may be obtained. This library is an in conjunction with the library of Messrs Angus and Robertson, Sydney, and should a work asked for not be on the shelves it can be procured from the Sydney branch. A lady librarian is in constant attendance to afford information to subscribers and minister to their wants. Never before in the history of photography in Tasmania has there been a studio to compare in size and appointments to the one erected by Mr. Beattie. Its dimensions are 60ft x 20ft, and a group of 70 or 80 people could be taken in it. The studio is on the top floor, and access is afforded to it from the shop by a side staircase.
The dressing room, which is on the Elizabeth street side, is elaborately furnished, and is a lofty end airy apartment. It is perhaps unnecessary to state it is provided with every convenience. In this flat are two spare rooms available for living or other purposes. On the floor below are two spacious apartments looking into Elizabeth street, which could be utilised as offices, or, for the matter of that, any business purpose. A small room near the top of the grand staircase will be used by Mr Beattie for an office, whilst adjacent to this is a roomy alcove decorated with palms and pot shrubs, where patrons may rest whilst they are waiting their turn to interview the operator. The retouching room is on this flat, and is a commodious, well-ventilated apartment. The developing room is particularly large. It is fitted with electric light, and every attention has been paid to ventilation in order to ensure healthy working. A line which has been added to the business is the one of picture framing. Special machinery has been imported for this purpose, and skilled workmen are employed. On the basement floor are rooms set apart for the production of lantern slides and finishing photos. Altogether Mr. Beattie has one of the last complete photographic establishments in the Commonwealth. In erecting such first-class business premises he is assisting in the development of Hobart, whilst giving to his patrons the highest, developments of photographic art at a reasonable figure. Mr Beattie's stock of scenic and panoramic views are second to none in the Commonwealth. He occupies the position of photographer to the Government of Tasmania, and as an artist in his particular line acknowledges no superior. CITY IMPROVEMENTS. (
1906, February 16
).
Tasmanian News
(Hobart, Tas. : 1883 - 1911), p. 6 (FOURTH EDITION). Retrieved from
http://nla.gov.au/nla.news-article180335995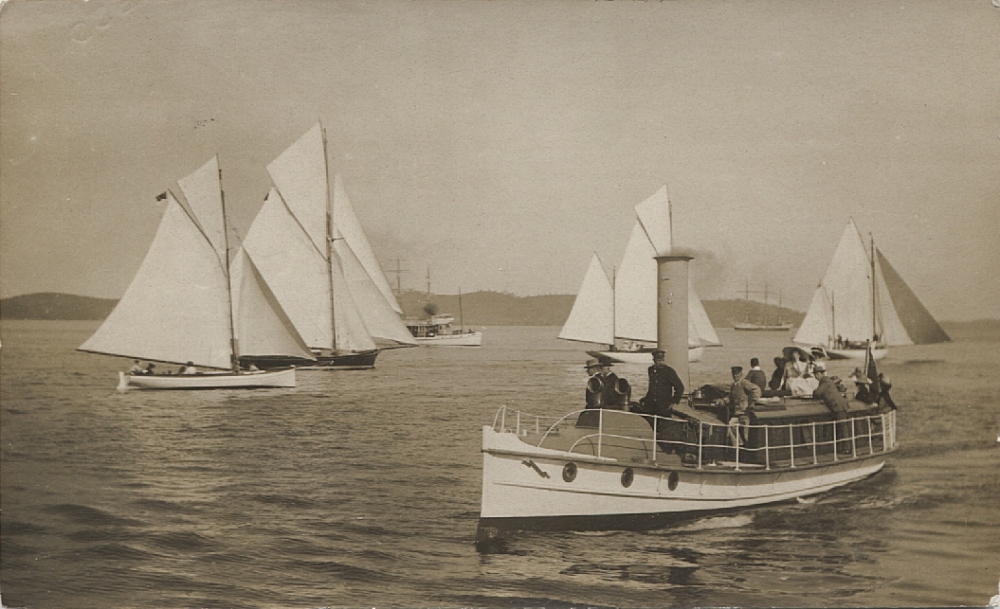 A Beattie photo card (postcard) - 1911 - a rather fine view by Beattie of the Hobart Marine Board's yacht "Egeria", possibly hosting a Vice-Regal party at the Hobart Regatta.
A VETERAN PHOTOGRAPHER MR. J. W. BEATTIE TO RETIRE
Mr. J. W. Beattie, who is retiring from active business at the end of this month, has had a long career in Hobart as a photographer. He arrived from England with his father and family in 1878. Mr. Beattie, sen., took up 250 acres of land at New Norfolk, and his son remained with him for a couple of years clearing the timber. Mr. Beattie then came to Hobart and became manager of Messrs. Anson Bros. photographic studio in Elizabeth-street. He remained in charge of this business for a period of nine or ten years, when he took it over on his own behalf. Some years ago Mr. Beattie removed his studio to Murray-street, where the premises were larger and gave more room for the fine historical collection which he made of relics of the early days at Port Arthur.
Mr. Beattie, even when he was managing Messrs. Anson Bros. business, took an interest in Tasmanian scenery and travelled over practically the whole state taking photographs of the numerous beauty spots located in various parts. The West Coast in those days was just opened up, and its wonderful scenery of mountain and river was little known by those who had not visited this district. There were no railways there then, the line from Strahan to Zeehan being constructed at a later date. The country was heavily timbered and all stores had to be conveyed to Zeehan by horse and dray. The North-East Dundas tram was opened subsequently and the Emu Bay line from Burnie also. Mr. Beattie has throughout his career in this state led a very active life and at times a very strenuous one.
He contributed photographs for the "Weekly Courier" when that paper and "The Examiner" were under the management of the late Mr. C. R. Thomlinson. The editor of the "Weekly Courier" at that time was Mr. Oscar Balfe. Mr. Beattie has continued to contribute to the pictorial pages ever since. He is retiring from active work but his studio will still continue as Beattie Pty. Ltd. The Port Arthur Museum, which Mr. Beattie was collecting for five years, was sold to the Launceston City Council two years ago, to be placed in the Victoria Art Gallery. A VETERAN PHOTOGRAPHER (
1930, March 28
).
Examiner
(Launceston, Tas. : 1900 - 1954), p. 4 (DAILY). Retrieved from
http://nla.gov.au/nla.news-article51651236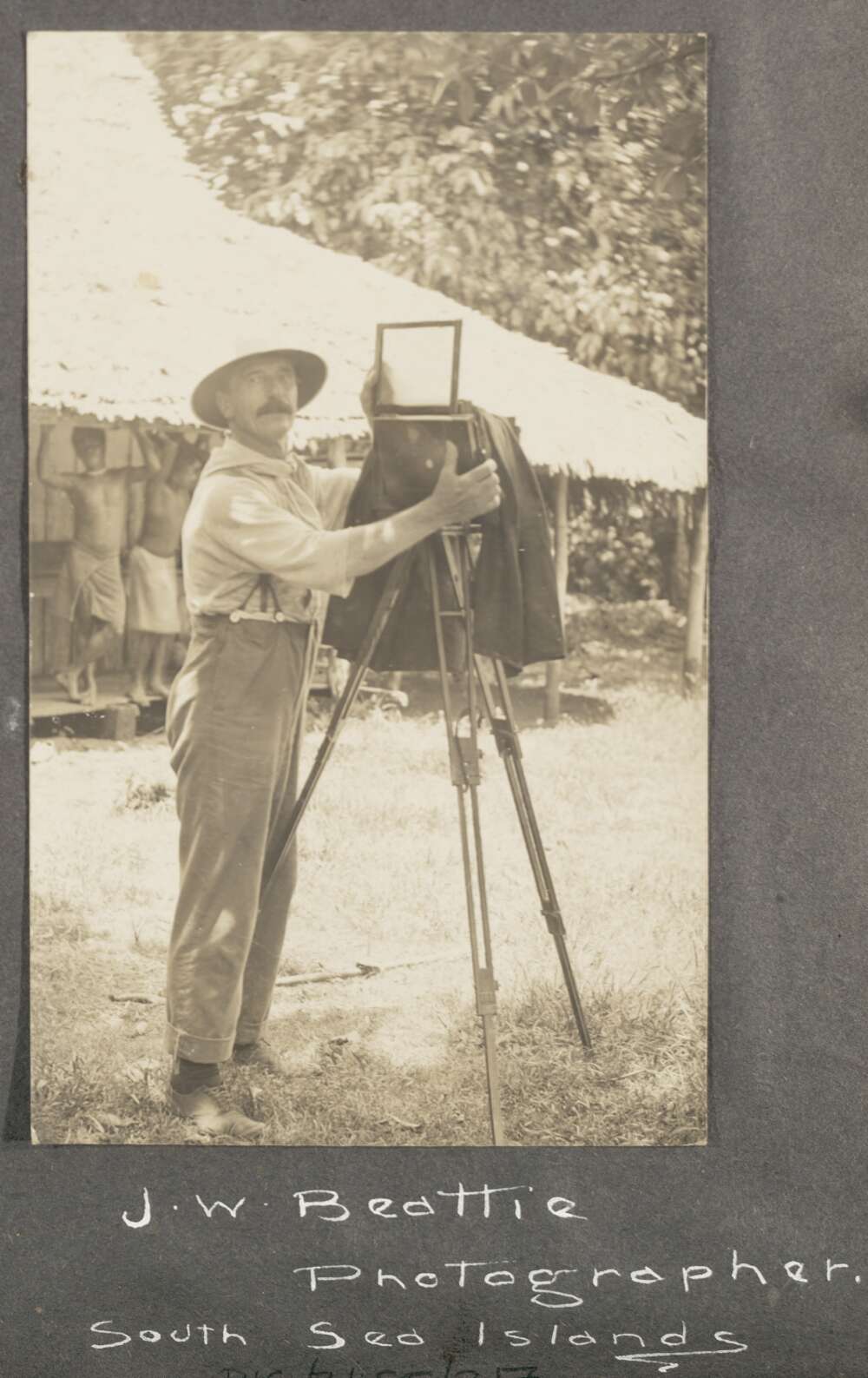 J.W. Beattie photographer, South Sea Islands. Image No.: nla.obj-142169826-1, courtesy National Library of Australia.

DEATH OF MR. J. W. BEATTIE
Widely-known Photographer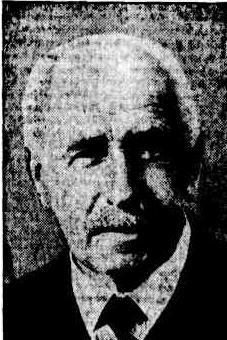 Suddenly, at Sandy Bay yesterday afternoon, the death occurred of Mr. John Watt Beattie, of 28 Jordan Hill Road, Hobart, who, as a photographer, carried on business for many years in the city, and by reason of his close knowledge of Tasmania, gained in the course of extensive travels, was known and respected throughout the State. Mr. Beattie had visited a relative, Mr. A. C. Cato, in Margaret Street, Sandy Bay, during the afternoon, and left Mr. Cato's home in order to walk to that of his sister-in-law, Mrs. Richard Smith, in Regent Street, where Mrs. Beattie awaited him. He reached the house about 3.15, and within 15 minutes was noticed to collapse in his chair. An attempt was made to revive him with a stimulant, but he was unable to take it, and expired in his wife's arms. Apart from a slight physical decline consequent on his advanced age— he was in his 71st year—his health had been normal, though Dr. Stuart Gibson had attended him on occasions, and, it is understood, is able to certify as to the cause of death.
The personality of the late Mr. Beattie was in many respects outstanding, and his death will be regretted by many to whom he was known in business and private life. Of him it may be said that during his career he was a good friend to Tasmania, for by his photographic skill he made the beauties of the State known far and wide throughout Australia and overseas. At one time he was the official photographer to the Government of Tasmania.
THE LATE MR. J. W. BEATTIE.
He was born in Aberdeen, Scotland, on August 15, 1859, the son of Mr. and Mrs. John Beattie, and was educated at the Grammar School in his native city. He came to Tasmania in 1878, as he himself stated in some memoirs written in 1926, having been sent here by his father to "spy out the land" as regards the prospects it offered. He reported unfavourably on the country which was to become his permanent home as regards farming, but despite his adverse opinion his parent, "with true Scotch thrawness, came out in spite of the prospects two years later."
The family settled at New Norfolk at Murray Hall, while (to further quote from the memoirs):
"Father, my brother, and I worked on a block of 320 acres in the bush at Mt. Lloyd, 12 miles from New Norfolk, literally 'carving a home out of the forest.' These were the days when my soul got soaked in the lore of Port Arthur, all our working men being 'old hands,' and the romance of their experiences fascinated me. And then there came the wild freshness of my photographic wanderings into the beautiful scenic surroundings of New Norfolk and district. Bush land clearing was not to my taste. I photographed all around, and it was in 1879 that I made my first real photographic expedition, using my father's horse, and hiring the Glenora mall cart from old Bob Marriott, our party consisting of Messrs. Alex. Riddock and R. Smith, the New Norfolk village school-master, and myself, made a start for Lake St. Clair.
That was the first time gelatine dry plates were used at the lake
. I was so delighted with it all, and was so energetic that dear old Mr. Riddock declared, seated on a log at the south end of the lake: 'John, if you will come to Hobart Town I'll put down £200 to start you in business.'"
It was in 1882 that Mr. Beattie entered upon his business career at Hobart in the service of Messrs. Anson Brothers, photographers, of Elizabeth Street. In 1891 he took over the business, which about 1921 was transferred to Murray Street. This he carried on until he disposed of it a very short while ago, having worked it up until it was one of the best of its kind in the State.
"Two years after the promise of £200 was made me if I would start in business at Hobart," Mr. Beattie wrote "one of the Ansons, then photographers in Hobart, came up in a dog cart and pulled me out of dear old Murray Hall, took me to town, and there I've been ever since! I have been essentially an out-door man. I love the bush, and nothing gives me greater delight than to stand on the top of some high land and look out on a wild array of our mountain giants. I am struck dumb but oh, my soul sings! I am thinking now particularly of the view from Seager's Look-out, National Park, looking south-west.
I used to hump around a big '15 x 12' camera, with a weight, fully charged, of about 60lb.
I often feel I could kick myself for being such a fool!
If I had only used a whole plate camera I would have done double the amount of work, and with half (or more) the amount of wear and tear
. I have always been enthusiastic over tourist matters. A member of the old Tourist Association, I used to 'lantern lecture' very considerably, and these lectures used to give me no end of pleasure, and I think did a lot of good.
"Then I made a trip, at the invitation of the Bishop of Melanesia all round the Solomon Islands, being away four months, seeing everything and photo-graphing everything. That was a memorable trip, and I have to thank my dear old friend, Bishop Montgomery, for bringing it about. I used about 1,200 whole and half plates in this expedition, and I think the Melanesian Mission appreciated the work I did. But, oh! it was a hot job! When I weighed myself at Vila on the outward trip I was 12st. 3lb.; on the return, at the same place, I found I was 9st. 6lb. No more Melanesian Inlands for me: but, all the same, I would not have missed the experience.
"Then I must not forget my association with the Royal Society, as I think I am one of its oldest members. I am very proud of my connection with the society. Bishop Montgomery formed its first historical section, with Mr. J. B. Walker and myself as vice-presidents. Bishop Montgomery was very enthusiastic, and so was dear old 'J.B.' "
In view of the above, written without formality by the late Mr. Beattie, it is easy to understand why as a landscape photographer he excelled. There surely is no better exponent of the art in the Commonwealth than he was. Particularly good at making lantern slides, he knew how to make the scenes they depicted appear real when he lectured with the slides. Associated with the photography business has been, and still is, a complete museum of relics of Tasmania, mostly reminiscent of the convict days at Port Arthur, the history of which ever commanded his interest and attention. After a number of vain attempts to induce the Hobart Corporation to acquire for the public his original museum, he disposed of it to the Launceston Corporation in 1927. Apart from this museum he possessed the nucleus of another, and gradually added to it by acquiring further momentoes of olden times, until the second collection of articles closely resembled the first. He had offered this collection to the Hobart Corporation, but the negotiations were not successful. It was his idea that the collection should find a resting place in the Lady Franklin Museum building at Lenah Valley.
As a business man he always considered the interests of those who served him, and even in times when trade was depressed managed to retain the full staff.
He was elected a Fellow of the Royal Society on May 21, 1890.
The late Mr. Beattie married Miss Emily Cato, daughter of the late Mr. Joseph Cato, of Paraclete, Mount Stuart, Hobart, and there are two daughters, the Misses Jean, and Muriel Beattie, the former being in the service of the Tasmanian Railway Department. Some 10 years, ago he resided in Mount Stuart Road, and moved from there to Jordan Hill Road. A brother, Mr. W. Beattie, is a resident of Auckland, New Zealand, and a sister, who was associated with him in business for many years, Miss Jean Beattie, died some years ago. He attended the Swan Street Methodist Church, but had few activities in other directions, his real hobby being the collecting of Tasmanian relics, and the study of history of the Island.
The funeral will take place tomorrow.
References
1. Photographic plate. (2017, June 25). In Wikipedia, The Free Encyclopedia. Retrieved
from https://en.wikipedia.org/w/index.php?title=Photographic_plate&oldid=787522441
Extras:
IT would be difficult to proceed ten miles in any part of Tasmania without viewing scenery of a picturesque nature. Yet there are certain places which one must admit are worthy of higher praise than those above mentioned, namely, the once famous Port! Arthur. Anyone living in the Colonies, and being fairly well versed in the literature of the country, will, in all probability, have heard of, and in most cases read, Marcus Clarke's great work, ' For the Term of his Natural Life,' the interest of which is so telling that it makes them wish to see for themselves the actual localities of that drama of real life. So once they are in Hobart they can easily gratify their wish by taking a trip to Macquarie Harbour, or, if that is too far, to Port Arthur, a much simpler matter. We, however, contented ourselves with visiting the latter place only. Port Arthur is not to be found as a township, as its name, with all its disagreeable associations, belongs to the past, and in its place we see Carnarvon, one of the most picturesque little villages possible. The distance from Hobart, should one go direct, is about seven hours journey, partly by water, and partly by land. Our trip, however, took us fully two hours longer than the time before mentioned, as although we started from Hobart at about 8.30 o'clock in the morning to steam to our destination, we did not arrive there until after five o'clock in the afternoon. This delay was caused through our steamer calling in at various points of interest, such as Cascades and Saltwater River, small penal settlements of years gone by, though in both places very little remained to note them as such. In some parts only the bare walls exist of the once well-guarded and barricaded huts and prisons.
The destination of our steamer was a little place called Taranna, where a mail coach awaited us, and we then commenced the drive so often described before, a distance of seven miles, through the most varied scenery possible. The first three were through most uninteresting, true Australian bush ; then the road became quite tropical, banked on both sides by the most perfect growth of tree-ferns imaginable. Along this road the tracks of the old tramway made by convicts, and actually drawn by them, they being then employed in the place of beasts of burden, were still visible. Our path then suddenly changed to about two miles of hill and dale, of such a length, and so peculiar, that it is visible for almost that distance until one could imagine the end of the world was near, when suddenly we see before us a most perfect little township, situated in one of the prettiest little valleys possible to imagine. It is the much-renowned 'Port Arthur,' so well described in the annals of convict history.
For nearly half a century this place was occupied by prisoners, as many as 3000 being detained there, and most of the old buildings are still standing, though several begin to show signs of decay. Some of those which, were officers quarters are now private residences, for numerous settlers have taken up land here of late, and there is even a school in the centre of this scene of old-time horrors. The weed-grown prison yards, the open cells, sunshine and hope, where once nought but misery and despair reigned; and the crumbling, ivy grown walls, are fitter accompaniments for the bright sky and blue sea, than the clank of chains and the curses of the hopeless men. The principal places of interest still standing are the Penitentiaries, the Asylum, and the Model Prison. The walls alone remain of a most antique-looking church, now in most parts overgrown by English ivy, which gives it an aspect picturesque in the extreme. The story goes -that it was designed by a well-known convict, who purchased his freedom in two years, through his skill in designing architecture, which was first observed by a warder discovering him sketching an imaginary church on an old bit of slate. We were fortunate in securing, as guide, the services of an old identity, an ex-convict, nearly sixty years of age-he and another man are the only two left of the original inhabitants-and he seemed almost to take a delight in describing to visitors some of the horrors of past years. The hotel, kept by a man named Cowan, was formerly the Commandant's own private residence. It is situated on a little hill, surrounded by an old-fashioned garden, and is built in a manner equally antiquated. The rooms are large, but with low-panelled ceilings, and windows situated almost in the garden itself, where the fruits and sweet-smelling blush roses lent an air of sentiment almost worthy of a poet's soliloquy.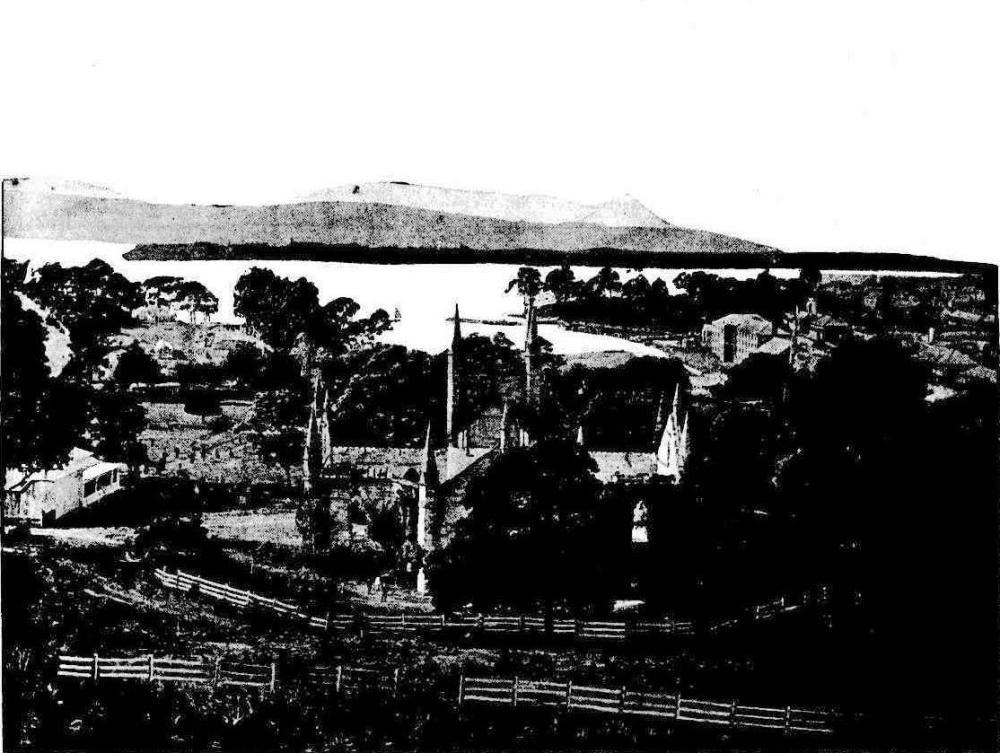 In the vicinity of the house are the court house, (of which only the walls remain), what were formerly the officers quarters, the hospital, and the model prison. This is especially interesting, as it is the place which was used as a church for condemned prisoners, so de-signed and barricaded, that each individual man went through his devotions without being visible to his next place comrade ; it is said that this is the only churchroom of the kind at present in existence. We noticed on sauntering along the green lanes of the village, what few precautions were taken fifty years ago against guarding the prison, as very probably in those days the surrounding residents depended entirely on the militia for protection in case of need, and on the slightest alarm their services were called upon. The general impression is, I believe, that the characters, and, in most instances, the names, in Marcus Clarke's work are fictitious, but our old guide declared he remembers hearing of almost all those mentioned, and pointed us out several spots of interest mentioned in the book, such as the Cascades, Long Bay, and the Great Eagle Hawk Neck. This latter was the spot where twelve or fourteen huge dogs were kept chained across a bar of sand, 200 feet long and 60 feet wide, which presented a most terrific barrier to any chances of escape. These dogs were treated almost like soldiers, receiving their regular rations of bread and meat per day, no doubt to keep up their ferocity. We regretted not having sufficient time at our disposal to enable us to visit the spots so often heard of, Tasman's Arch, and the wonderful Blow Hole, which is, we were told, a perfect tunnel, and opens inland about 120 yards, and as the rolling sea rushes through this chasm, the sound resembles the booming of artillery. This was the scene of John Rex's wonderful escape ('For the Term of his Natural Life,' Book III., Chap. 26.) We left Port Arthur with feelings of great regret, its present appearance impressing upon us most picturesque reminiscences.
The remains of the church formed a charming background to the oak trees of nearly seventy years standing; the commandant's villa on the Hill, the thickly growing briar hedges (for which Tasmania is noted), and the old-fashioned buildings, are indeed worthy of an artist's brush, and are, in my opinion, equal to any place or ruin of interest I have ever visited either here, or in any part of Europe.
EAGLE HAWK NECK. TASMANIA.
The following account of a locality remarkable for its peculiar position and for the uses to which it has been turned is taken from a very interesting vrcrk on the ' Antipodes,' by Lieutenant- Colonel Mundy. 'If the reader will consult the map of Van Diemen's Land he will find that Tasman's Peninsula is a kind of ear-ring hanging at the left ear or south-east extremity of the island, and forming the eastern horn of Storm Bay, the estuary of the Derwenfc. The pendent is divided into two parts. The uppermost, or most northern — — known as Forestier's Peninsula — is attached to the mainland by a very narrow isthmus called East Bay Neck; the lower half, or Tasman's Peninsula, is joined to Forestier's Peninsula by a similar isthmus, called Eagle Hawk Neck. Tasman's Peninsula, being surrounded by the sea on every point except at this narrow, natural causeway, is singularly well adapted to the restriction find coercion of prisoners. Port Arthur, the chief settlement, in situated in a fine bay of that name opening to the south, and running inland in a northerly direction so far as to leave only fire miles of land between its own head and that of Norfolk Bay, which bounds the Peninsula on the north. Round the shores of Norfolk Bay are situated three probation stations — the Cascades, Saltwater River and Impression Bay ; and the Coal Mines is a station for convicts under magisterial sentences. At Eagle Hawk Neck — the key to Tasman's Peninsula — is stationed a military detachment, strengthened by a chain of dogs, to bar all egress and ingress. The Lieut.- Governor having; obligingly put at the disposal of my companions' and myself the small steamer Kangaroo, we got under weigh at five in the morning from Sulliven's Cove, and were noon paddling down the Derwent. Rounding Long Point, the north-east extremity of Tasman's Peninsula, we entered Norfolk Bay about half past tea o'clock. On our left we had the pretty wooded Garden Island lying in the jaws of the Bay. To our right, oh a high arm of the Peninsula, a black patch. of cleared land, with some tall Lancashire like chimneys, showed where the coal mines; are worked by prisoners, under the management of a company who rent them from the Government and have the advantage of penal labor.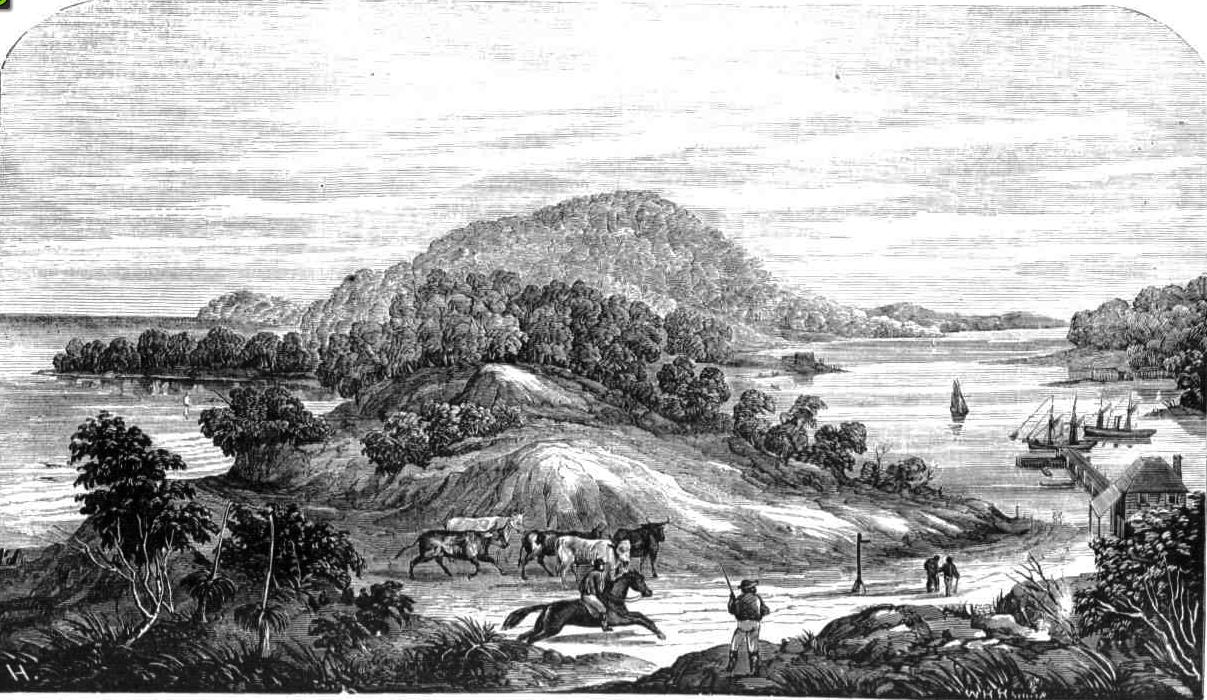 EAGLE HAWK NECK, TASMANIA.
We passed Saltwater River, where a band of lunatic convicts are employed in agriculture under proper surveillance; then Impression Bay, where some 600 invalids are stationed, and are given such work as suits their strength, while about 100 hale prisoners do the hardest of the labor; next, the Cascades, a probation station for about 300 men ; all of which stations are situated on the shore of a hilly and wooded country; and finally, about midday, our little craft running up the narrow inlet of Eagle Hawk Bay, we soon after moored off the long wooden wharf of the military post of that name. This post, by reason of its somewhat unique feature — a line of canine sentries — is one of the lions of Van Diemen's Land. On either shore of the inlet running up to the station there is a chain of hats, each containing a constable and his dog, to prevent the escape of runaways by swimming this arm of the sea, a desperate measure, since the fugitive fortunate enough to evade the tipstaff and the mastiff would have to battle the watch with an outlying picquet of sharks, abounding in these waters. It was related to me that on one occasion four prisoners, good swimmers, led by a notorious black named Jacky, attempted to cross from a headland called Sympathy Point to Woody Island, and thence to Forestier's Peninsula. The Englishmen — perhaps because their fair skins acted like whitebait for the sharks — were one and all seized and devoured by these tigers of the deep ; the native made good his landing, but was afterwards retaken. No sooner came we in sight of the low, sandy, scrub-grown isthmus, which cuts across the head of the inlet, than our ears were saluted by the load baying of the deep-mouthed dogs, and as we walked up the pier towards the guard-room at the end of it, they all joined in a grand chorus, including throe or four videttes stationed on little platforms laid on piles in the water. The opposite shores of the two peninsulas are lofty, sloping away into uplands covered with fine timber. ? The soldiers' barracks and the officers' quarter, a rural cottage with a pretty garden, are placed with their backs against the declivity of Forestier's Peninsula, commanding the neck, which is not more than 200 yards long by 60 yards wide.'
THEIR DISCOVERY AND EARLY

OCCUPATION.
EARLY DAYS OF THE SEALING

INDUSTRY.
(Paper read by Mr. J. W. Beattie before

Tasmanian Royal Society.)
The Beagle called at Hobart from Sydney on July 19, 1838, and it is very pleasant to read, and I must do so even at the risk of reproof for digression, of the impression made on the Beagle people in meeting our old Governor.
Stoke writes - "From Sir John Frank-lin, the Governor, we experienced all the attention and courtesy - all the frank and generous hospitality which it was in his power to bestow. Had we been without
the claims of previous acquaintance to have recommended us to his best offices, the fact that our voyage was intended to advance the cause of science would have been quite sufficient to interest in our welfare one who has achieved a reputation as enduring as it is honourable."
H.M.S. Beagle had a most interesting history. Built in 1819, "she belonged,"
writes Stokes, "to that much abused class the '10-gun brigs' - 'coffins,' as they were not infrequently designated in the service. Her first voyage was as sister ship to the Adventure in the expedition of Captain P.P. King, in the survey of the Australian Coast in 1826. The second voyage she made alone under Captain R. Fitz-Roy in 1839, with whom was associated the celebrated Charles Darwin and her third voyage, the one under review, was commenced under the command of Captain Wickham, who, however, resigned owing to ill health in favour of Captain Stokes. This third voyage commenced in 1837, and it was not until the long period of six years had elapsed when her allotted task was fulfilled that she returned
to England having amply reached the objects for which the expedition was
undertaken. To expedite the work of the Beagle in Bass Strait, Sir John Franklin placed at the disposal of the Commander the colonial cutter Vansittart, a Port Arthur built vessel of 70 tons, two of the Beagle's officers being placed on board in charge - Mr. Forsyth, commander, with Mr. Pasco as second. Captain Pasco
ultimately
settled in Melbourne and was for many years a well known figure in Australian marine circles, well known also in Tasmania and remembered by many of us as president of the geographical section of the 1892 session (Hobart meeting) Australasian Association for the Advancement of Science.
The survey of the northern coasts of the strait was completed in a little over a year. Amongst the most prominent additions to the straits nomenclature, results of the Beagle survey, the following may be mentioned:-
"Franklin Channel"- Between Flinders and Cape Barren Island named after
Sir John Franklin.
"Vansittart Island" - Replacing the name "Guncarriage Island" of the
sealers named alter the Government cutter Vansittart.
Strzelecki Peaks --Named after the great Polish traveller and scientist Count
Paul Strzelecki.
With the completion of the Beagle survey of Bass Straits the safety of commerce within its waters became assured and to quote the reviewer of Captain Stokes's admirable account of the expedi-tion published in 1846, "Bass Strait, hitherto justly dreaded by the masters of ships, may now be navigated with that safety which ought to distinguish the high road, between England and Sydney."
With the work of survey the question of lighting the straits received serious consideration both by our own Government and that of New South Wales, but our Government was the first to act, Sir John Franklin initiating the work by building the Goose Island lighthouse, and one of his last acts was the laying the foundation stone of the Swan Island lighthouse.
THE SEALING INDUSTRY.
After the completion of the Flinders Bass voyage and as its results became generally known, public attention and in- terest turned in the direction of the Straits Islands, as a promising field for speculative enterprise. The results of Flinders's first trip to Preservation Island had pointed to the possibilities of this group as a great field for seal fishing and on the enterprising spirits among the Sydney people of that day Flinders' seed fell and fell on good soil ; and so, when the Flinders-Bass voyage was commenced
the first sealer, the Nautilus, a vessel of 60 tons. accompanied the explorers little craft , the Norfolk, and Flinders piloted her to the fishing grounds where he left her to continue his voyage of exploration. The results of this, the first seal fishing venture among the Tasmanian straits islands was a cargo for the Nautilus of 6,000 seal skins and several tons of oil.
For some years after, four small vessels belonging to Sydney merchants and others were constantly engaged in the seal and sea elephant trade and there were others besides, whose visits were not so regular. In 1805 the total number of those vessels (sloops and schooners) is given as ten, and the tonnage ranged from 11 to 38 tons. 180 persons being scattered over the islands in small parties, or gangs, employed in procuring the cargo for this little fleet. At first site one may express surprise at the small tonnage of the vessels employed in this trade but ship building in those days was restricted to small keels. The old John Company,
the great trade octopus of that day, had to be reckoned with, for its royal charter secured it an absolute monopoly of trade not only with India and China, but with the entire East. Even trade with the mother land was blocked by the East India Company, who, in resisting a "trial shipment "of skins and oil to England, stigmatised it as a piratical venture,
and it was not until about the year 1807 that the company's restrictions were removed, allowing future freedom of colonial trade with Great Britain. Under such conditions therefore the colonists had to content themselves by selling or bartering their seal skins and oil with the masters of vessels at Sydney going to
China and the East.
Governor King did all in his power to foster and encourage the sealing trade which he regarded, so he wrote, "as the most considerable among the very few natural productions of this country. He granted exclusive sealing privileges to some of the New South Wales inhabi
tants, and to certain English vessels and companies, and refused to allow land grants to be made on any of the islands in Bass Straits. This line of action was no doubt originated to block, as far as possible, the enterprise of foreign companies for the harvest of the Straits Islands, for, as the value of this fishing ground became generally known. American and French vessels, but more parti
cularly the former, were attracted to the straits, and appeared to do very well.
Amongst the numerous little communities scattered among the islands on our northern coasts, the intrusions of those foreigners often caused a good deal of friction and also fighting affording, it may have been welcome, opportunities of relieving the monotony of a fishing life, but nevertheless making "bad blood" and increasing the resentment of the Government against their visits. Complaints
often of a sensational character, were
from time to time sent up to Sydney to the Governor, but he, being without instructions from Home as to correct procedure, shrank from interference in case of creating complications, and usually excused his apathy by expressing the
opinion that "no doubt there were faults
on both sides."
It may be of interest to mention here that one of those early American visitors to our shores was a person of considerable ability, not only as a sailor and sealer, but as an explorer, an accurate observer, and a literary man. Captain Amasa Delano wrote a narrative of his voyages and discoveries between the years 1793 and 1810. The work forms a thick 8 volumes of 598 pages, and was printed and published in America. He commanded the schooner Pilgrim, and, while on his first visit to V.D.L. in February, 1804, he mentions having made two excursions to the River Derwent and out round the South Cape. His anchorage was in Kent's Bay, on the south coast of Cape Barren Island, where, along with a fellow American, the ship Perseverance, they remain-ed moored from the 3rd of March till the 23rd October, and during the greater part of that time he states having had "from four to seven boats exploring the islands in all directions in search of seals, which, he writes, "were tho principal object of our pursuit" This energetic skipper's visits to the Derwent were not quite the result of scientific yearnings, but were, one might say, 'conducted on sound business lines. "
To those who know something of our early Tasmanian history, it will be remembered, in connection with the Risdon Settlement occupation by Bowen, that that worthy officer left his infant colony in charge of the next in command (the man who started the aboriginal trouble), while he (Bowen) superintended the conveyance of some of his party, who had been found guilty of robbing his stores, to Sydney for punishment. Governor King sent Bowen back to Tasmania in the colonial cutter Integrity, and on the way the little vessel got disabled by losing her rudder in the vicinity of Cape Barren, which was fortunate, as Captain Delano came to the rescue, and brought them safely into Kent's Bay.
He then states :
"I took the lieutenant, ten passengers, the cargo of the cutter, together with her broken rudder, on board the schooner Pilgrim and proceeded with them to their place of destination, where I delivered them all in safety, and waited seven days for the rudder to be repaired."
This little bit of salvage work, no doubt, helped Captain Delano to considerably reduce the expenses of his Tasmanian trip. Colonel David Collins, the founder of Hobart, was at the time of Delano's visit in the midst of the bustle of settlement having landed from the Ocean, which was then lying off Hunters Island but two weeks previous to the arrival of the American vessel. Delano writes but little of this early settlement, but what he mentions is most interesting reading at this time. He commends Collins for the judicious choice of the place of settlement, and states the Governor appeared to be a man very well qualified for conducting a new settlement. Col
lins found out, while the Yankee was at Sullivan Cove, something of their doings
at Kent's Bay, Barren Island, and he handed on the information to his chief (Governor King) at Sydney by first opportunity.
At about this period the occu
pation of Port Dalrymple was "in the air," and in the appointment of Colonel Paterson to the command of that place, part of his instructions were to visit Kent's Bay. The section reads as follows, and will explain the position -"Infor-mation having been given me of an American vessel, now said to be lying in Kent's Bay, among Cape Barren Islands, where the crew are building a vessel from the remains of the Sydney Cove's wreck and other timber which they have col- lected on different parts of this coast, and have erected a dwelling, you will on ar-riving direct the master to desist from building any vessel whatever," etc. However, by the time Paterson's expedi-tion reached the Tasmanian coast, Captain Amasa Delano had got a clear start for
America, but, in any case, on account of very bad weather, Paterson would have been prevented from calling at Kent's Bay, as instructed.
As regards returns, showing the number of seal skins and the quantity of oil won through this industry, one hesitates to place much reliance on them, but one or two examples may be given, showing the inward cargoes of some of the foreign shipping arriving in Sydney direct from the sealing grounds: -
January 6, 1804-An American vessel, The Union, came in with a cargo of 5,000
seal skins.
June 29, 1804. -The same ship came in with a cargo of 12,000 seal skins
April 11, 1805 - An American vessel, the Ceres, came in with 2,000 skins.
July 22, 1805 -The English ship Houdorous, came in with 7,000 skins
These rough returns will afford some slight conception of the extent of the sealing operations, which it must be remembered, does not touch the 'take ' of the 10 colonial vessels also engaged in the trade. In 1804 prices in England for seal skins and oil were: -Seal skins, 6s to 14s each, oil, £35 to £42 per ton. Finney states (on what authority I do not know) that in 10 years-between 1800 and 1810-the number of seals killed on the Australian islands amounted to 240, 000.
I feel I am tolerably safe in affirming that the Straits sealing industry ceased to become profitable after 1820. In those early days, before ruthless utilitarianism broke in upon and wrecked the beauty and harmony of prevailing natural conditions, it is sad, though extremely interesting, to peruse the descriptions of eye witnesses of those virgin colonies of sea elephants and seals among our Straits
Islands.
SEA ELEPHANTS.
The habitat of the sea elephant in our Straits was said to be wholly confined to King Island, no other island being regu
larly visited by them. When the French expedition of Baudin visited King Island in 1803, they found the beach at Elephant Bay covered with sea elephants, their brown colour making them strikingly visible on the white strand, where they lay like great rocks, roaring frightfully as they plunged into the sea. In that year it is reported that the captain of a vessel (the Harrington, 180 tons) at New Year's Island, on the west side of King Island, in 10 weeks killed 600 sea ele
phants, and 4,300 seals. A sea elephant, it was calculated, yielded half a ton of oil. Flinders while at Cape Barren surveying, describes a seal colony very inter
estingly.
"The number of seals," he writes, "exceeded everything we had, an of us, be-fore witnessed. The commotion excited by our presence, in this assemblage of several thousand timid animals, was very interesting to me, who knew little of their manners The young cubs huddled together in the holes of the rocks and moaned piteously ; those more advanced scampered and rolled down to the water, with their mothers, whilst some of the old males stood up in defence of their families, until the terrors of the sailors' bludgeons became too strong to be resisted. Those who have seen a farmyard well stocked with pigs calves, sheep, oxen, and with two or three litters of puppies with their mothers in it, and have heard all in tumult together, may form a good idea of the confused noise of the seals at Cove Point "
THE SEALERS.
The decline of the sealing trade meant, of course, the gradual withdrawal of the indentured parties stationed at the vari-ous islands, and in 1830 the population of the whole of our Straits Group was 39 white males and 11 aboriginal women. These people were now working on their own account, selling the produce of the
season's sealing to the small craft which
traded among them for necessaries of life, spirits, tobacco, and guns.
This handful of a former fairly numerous population were the remains of the indentured gangs, and sailors who frequented the islands. Becoming attached to the places with which they had been so long associated, on the expiration of their terms of service or the withdrawal of their gang, they had preferred to settle down in the islands rather than return to civilisation, and would take, in lieu of pay, generally a boat and stores. Their rude huts, usually surrounded by gardens, well stocked with vegetables and flowers, became invested with the charms of home and the additional charm of coloured so
ciety, in the shape of female aboriginals of the Tasmanian race, may be regarded as completing the picture. The Tasmanian aboriginal woman played a most important part in the work-a-day life of the sealing community. Her worth was dis-covered, according to Stokes, by a party of sealers or, as they usually preferred to be termed, "Straitsmen," who were fishing in the very early days on the north-east coast near Cape Portland. A mob of the Cape Portland natives effected communication with the sealing party, and bartered three of their women for an
equivalent
number of seal carcases.
The sealers placed these women on one of their islands, leaving them while they
continued their sealing work. On returning, they were surprised to find their huts well supplied with wallaby by the native women and as skins began to form a considerable part of the stock in trade of a Straitsman, the value of the native women as collectors became very great. Their adroitness in fishing was remarkable.
Captain James Kelly gives a most interesting instance of this in the log he kept on that wonderful trip of his in 1816, when he circumnavigated Tasmania in a small, open five-oared whaleboat. While on the north-east coast on their return journey they put in a few days sealing, and were helped by one or two aboriginal women obtained from a friendly tribe in the vicinity. It is worth quoting, as a further demonstration of what the value of the services of these women meant to a Straits Islander, and it may also remove (it may be in small measure) the impression that the sealers were only actuated by the very basest motives in their deal
ings with the females of the native tribes of V.D.L.
"Tolo ordered six stout women into the boat. They obeyed with alacrity, evidently delighted
with the prospects of the trip. We gave
the women each a club that we had used to kill the seals with. They went to the water's edge, and wet themselves all over their heads and bodies, which operation, they said, would keep the seals from smelling them an they walked along the rocks. They were very cautious not to go to windward of them, as they said, 'A seal would sooner believe his nose than his eyes when a man or woman came near him.' The women all walked into the water in couples, and swam to three rocks about 50 yards from the shore. There were about nine or ten seals on each rock lying apparently asleep. Two women went to each rock, with their clubs in hand, crept closely up to a seal each,
and lay down with their clubs alongside. Some of the seals lifted
their heads up to inspect their new visitors, and smell them. The seals
scratched themselves and lay down again. The women went through the same motions as the seal, holding up their left elbow and scratching themselves with their left hand, taking and keeping the club firm in their right ready for the at-tack. The seals seemed very cautious now and then lifting up their heads and looking round, scratching themselves as before, and laying down again, the women still imitating every movement as nearly as possible. After they had lain upon the locks for nearly an hour, the sea occasionally washing over them, all of a sudden the women rose up on their
seats, their clubs lifted at arm's length,
each struck a seal on the nose and killed him, in an instant they all jumped up, as if by magic, and killed one more each. After giving the seals several blows on the head, and securing them, they commenced laughing aloud, and began dancing. They each dragged a seal to the water and swam with it to the rock upon which we were standing, and then went back and brought another each, making 12 seals, the skins of which were worth £1 each in Hobart Town. We skinned the seals and pegged them out to dry. The women then commenced to cook their supper, each cutting a shoulder off the young seals weighing three or four pounds. They simply threw them on the fire to cook, and when about half done commenced devouring them and rubbed the oil on their skins, remarking that they had had a glorious meal"
(To be Continued ) OUR STRAITS ISLANDS. (1911, June 15). The Mercury (Hobart, Tas. : 1860 - 1954), p. 7. Retrieved from http://nla.gov.au/nla.news-article10104519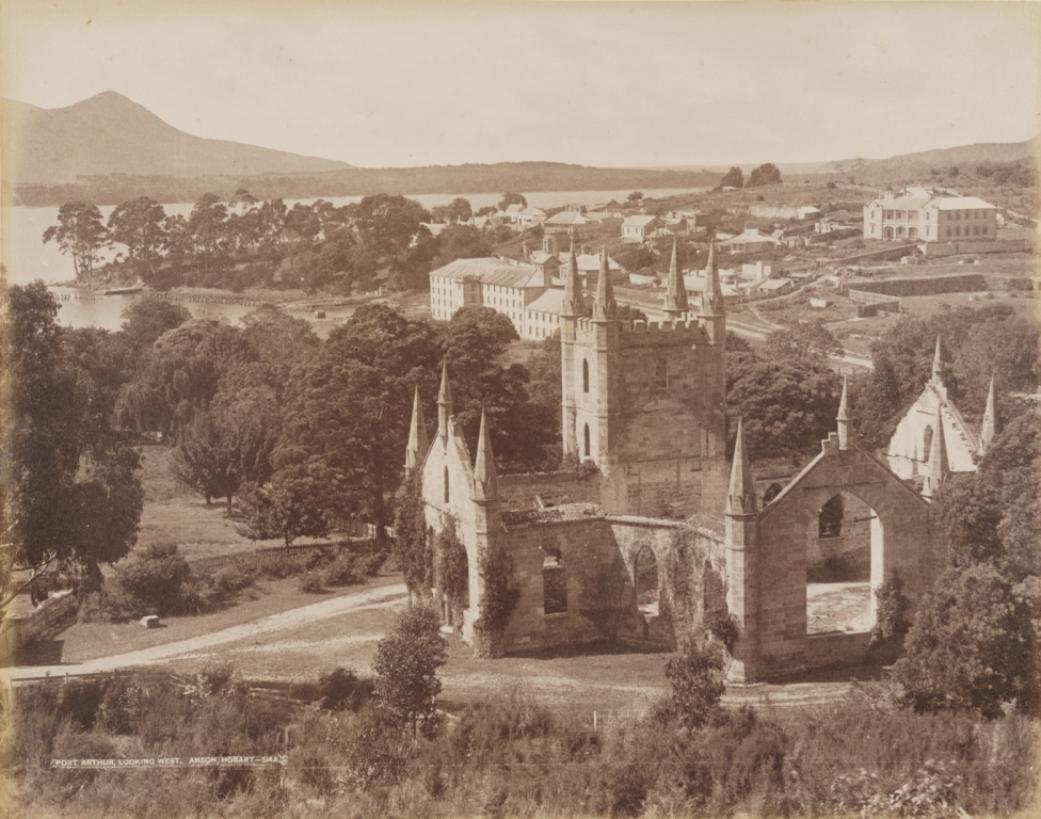 Settlement of Port Arthur (Penal Settlement), Past and Present [ca. 1871-1891] /
Photographed by Anson Bros
. .
Port Arthur, Looking West
Digital Order No. c029890008, courtesy State Library of NSW
Collecting Vintage Photographs: An Early Tasmanian Photographer - J W Beattie by A J Guesdon, 2017.