October 6 - 12, 2013: Issue 131
Trinket boxes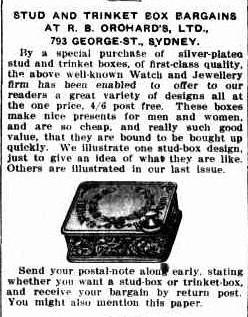 Right: STUD AND TRINKET BOX BARGAINS AT R. B. ORCHARD'S, LTD., 793 GEORGE-ST., SYDNEY. (1913, July 17). Watchman(Sydney, NSW : 1902 - 1926), p. 2. Retrieved fromhttp://nla.gov.au/nla.news-article112379476
Trinkets and trinket boxes have been around for almost two thousand years. Until medieval times not many records exist on these beautifully ornate storage devices but now they are part of the vast items collectors collect. From the 17th century onwards the production of trinket boxes has escalated and two forms of these, Fabergé eggs and the Limoges Box, as these were manufactured by the King's own kilns, became a rage with nobility.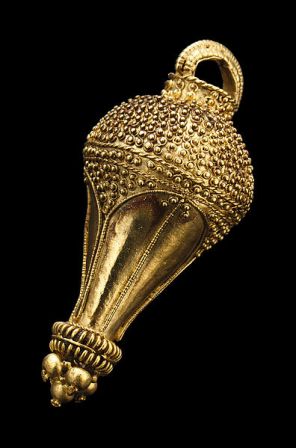 Left: A Trinket Berlock from the graveyard Darzau, near Quarstedt, Parish Neu Darchau, Landkreis Lüchow-Dannenberg, Lower-Saxony, Germany. Dating around 125 AD. Image courtesy Archaeological Museum Hamburg, Germany
Settlers in Australia brought these delicate small boxes with them or made them, women in particular finding an outlet for their craft orientated talents as well as a means of providing themselves with an income. The Victorian era brought a whole new dimension to trinket boxes – some would say quite literally as small figurines like children and animals were added to the tops of the boxes. The figures were painted with careful detail in the traditional Victorian hues of bright white and soft pastels. The trinket boxes continue to be a popular collectible today, although the gilded mirrors have fallen out of many of the designs from use.
Made from metals, porcelain, cloth and decorated with tiny gathered shells, discarded gumnuts – you are limited only by your imagination should you choose to make your own. The word 'trinket' defines "a small showy ornament, such as a jewel or a ring, or something that is a mere trifle." From Old English trenket ("a sort of knife, hence, probably, a toy knife worn as an ornament"); probably from an Old French dialectic form of trenchier ("to cut").
TRINKET BOXES. Clever Fingers Can Make Gifts That Find Ready Sale. At this season of tho year we begin to think of gift-making either for our friends or for bazaars or sales of work, and a surprising number of little gifts can be mado for very little cost, some of tho daintiest little trinket boxes Imaginable were on show at a recent bazaar, and the work is as easy as possible. For round boxes three circles of linen half an inch greater than the diameter of tho box will be required. A strip of linen, half an Inch deeper than tho box, some stranded cotton and cord or gallon. On one circle of linen work a cross-stitch design. A scrap of Penelope canvas a little larger than the design can be used. The cross-stitch is worked over the canvas, pulling the threads away afterwards. Pad the lid of the box with a thin layer of wool, anther round the edge of the embroidered circle, place it over the lid and gather the drawing thread tightly. Fold In the edge of plain circle of linen and slip-stitch it to the underside of tho lid. Turn up a narrow hem around the base circle and join the selvedge of the strip to it. Fold down tho opposite edge so that the strip fits the box in depth; join so that it fits tho box tightly. A hinge for any box can be made by sewing a short piece of cord or braid over the seam at the back and on to the lid. TRINKET BOXES. (1930, October 4). The Farmer and Settler(NSW : 1906 - 1957), p. 16. Retrieved fromhttp://nla.gov.au/nla.news-article117514354
TRINKET BOXES. CLEVER WORK. It is some years ago since it was first discovered that a biscuit tin, covered with cretonne, made a useful trinket box, but now there is quite a demand for them. The boxes are of all sizes, both round and square, and the material is usually pasted on to the tin. The original idea has developed so much that now special tins are made for the purpose, as are wooden boxes, and even Easter eggs are being covered with cretonne or printed sateen this year. Any ordinary tin. which has contained biscuits can be converted into .a fashionable little box at home without much trouble. Cretonne with a bright pattern is the favored material, very little being required. Most of these tins have loose lids, but hinges can be made by carrying the material over the lid. This method, however, is not very satisfactory in use, and it will be found preferable- to be contented with the loose lid. There is usually a double row of braided trimmings at the edges, frequently of tinsel, which adds to the appearance of the box. TRINKET BOXES. (1928, March 29). Cairns Post (Qld. : 1909 - 1954), p. 10. Retrieved from http://nla.gov.au/nla.news-article40615712
VICTORIAN TREASURES. Forthcoming Melbourne Exhibition. 'BRINGING with them Early Victorian' treasures for exhibition in Melbourne shortly in connexion with the centenary celebrations. Misses E. and A. Stawell. The daughters of Sir Richard and Lady Stawell, of Melbourne, passed through Fremantle on the Ormonde yesterday. In an interview, Miss E. Stawell said that she and her sister had been asked by the Victoria League (which was arranging the exhibition) to act as escorts to the treasures, which had been selected by the league's secretary in London (Miss Drayton). Most of the treasures were on loan from Buckingham Palace and from the collections of Lady Forster and Lady Jersey. They were mostly small things, such as lockets, miniatures, trinket boxes, Victorian prints, and so on, and had been heavily insured. They were being brought to Australia through the courtesy of the Orient Company and were safely locked in the Captain's cabin. It was understood that one of the exhibits from Buckingham Palace — a framed panel of needlework representing Queen Victoria's pets — would be presented by Queen Mary to the City of Melbourne. During their absence in England, the Misses Stawell have travelled considerably on the Continent, Miss A. Stawell studying fabric designing and stained glass windows, while her sister . studied French and German. Their mother, Lady Stawell, is president of the Melbourne Centenary Hospitality Committee. Misses E. and A. Stawell. WOMAN'S REALM. (1934, September 19). The West Australian(Perth, WA : 1879 - 1954), p. 4. Retrieved from http://nla.gov.au/nla.news-article32957071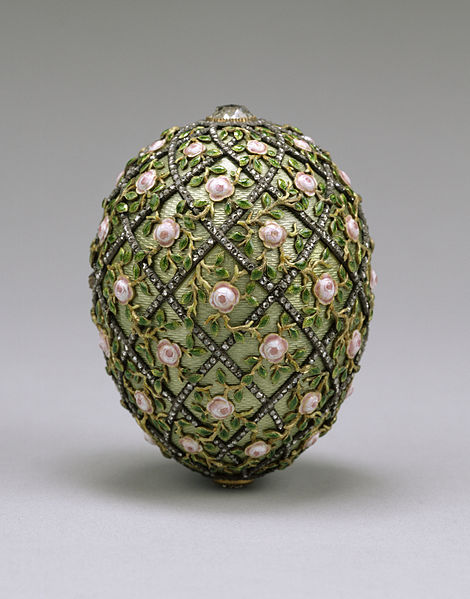 A Fabergé egg (Russian: yaytsa faberzhe) is one of a limited number of jeweled eggs created byPeter Carl Fabergé and his company from 1885 to 1917. The most famous of the eggs are the ones made for the Russian Tsars Alexander III and Nicholas II as Easter gifts for their wives and mothers, often called the 'Imperial' Fabergé eggs. About 50 eggs were made, and 42 have survived. Another two were planned for Easter 1918, but because of the Russian Revolution were not delivered.
After the Revoluton, the Fabergé family left Russia (see House of Fabergé). The Fabergé trademark has been sold several times since, and several companies have retailed egg-related merchandise using the Fabergé name. The trademark is now owned by Fabergé Limited, which makes egg-themed jewellery.
Right: Rose Trellis Egg: On April 22, 1907, Tsar Nicholas II presented this egg to his wife, Alexandra Fedorovna, to commemorate the birth of the tsarevich, Alexei Nicholaievich, three years earlier. Because of the Russo-Japanese War in 1904, no Imperial Easter eggs had been produced for two years. The egg contained as a surprise a diamond necklace and an ivory miniature portrait of the tsarevich framed in diamonds (now lost). Fabergé's invoice, dated April 21, 1907, listed the egg at 8,300 rubles.
Fabergé egg. (2013, September 8). In Wikipedia, The Free Encyclopedia. Retrieved from http://en.wikipedia.org/w/index.php?title=Faberg%C3%A9_egg&oldid=572021711
The Limoges Box is a small hinged porcelain trinket box produced by Limoges factories near the city of Limoges, France that are collected worldwide made of a specialized porcelain made of a clay called Kaolin that is only found in the Limousin Region of France. The Limoges Porcelain Box was first created in the mid-1700s during the time that Jacques Turgot, Finance Minister of King Louis XVI, gave a Royal edict to the city of Limoges, France the exclusive title to produce Royal Limoges Porcelain for the Kingdom of France. The first Limoges trinket boxes were long narrow containers that were created for scarce and expensive needles. From here, other shapes of limoges porcelain boxes evolved. The earliest were those that held thimbles and embroidery scissors and then round flat Limoges boxes were formed and used as powder boxes, and/or snuff boxes.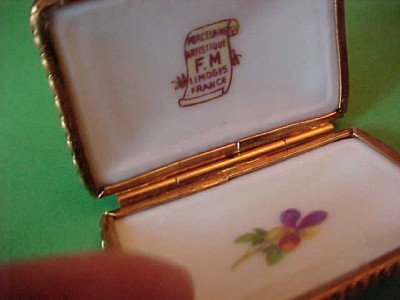 Exactly when and who made the first porcelain Limoges snuffbox is up for debate. There were soft paste Faience snuffboxes that were produced sometime around 1730. These antique snuffboxes can't either be identified by back stamp marks, for none were put on them. There were though four big factories that made the original Limoges snuff boxes at the time, Chantilly(1725–1800), Saint Cloud(1677–1766), Mennecy(1734–73), and Vincennes(1740–56), which became Royal Sèvres(1756–present), though often independent artists of the time would commonly create them with no signature or marking.
Snuff eventually went out of fashion around time of the French Revolution but putting pills in Limoges Boxes came forth again in the 1840s as the aristocracyonce again began to use these as wardrove assemblage. During the Victorian era the Limoges boxes lost popularity again until the 1970s when people began to carry their pills in the limoges porcelain figurine boxes. In the 20th century they became popularly used as pillboxes and decorative figurines.
The creation of the Limoges Porcelain Box is an arduous and time intensive process of creating a master mold, detail painting by hand of color and design, performing multiple firings and glazing upon the porcelain mold, and a final touch of a metal hinge for opening and closing. The Painting of the Limoges porcelain in the Limoges box industry are accomplished by small handed French artisans, as experts at the fine brush strokes required for such detailed work. After painting, there are multiple firings. The final firing at a temperature of 1400C is unique to Limoges, giving them a very fine pure and strong white finish. The final touch to a Limoges Box is the metal hinged mountings that are meticulously fitted to the finished box. The entire work process is made by hand, so small variations are the norm, thus making each piece really unique. Each model is often made in very limited numbers, & signed by the Artists or the Atelier.
Limoges Box. (2013, August 15). In Wikipedia, The Free Encyclopedia. Retrieved from http://en.wikipedia.org/w/index.php?title=Limoges_Box&oldid=568661062
Ranging in price from a mere five dollars up to several hundreds of dollars for antique pieces, as with all collecting items, trademarks should be scrutinised and only reputable dealers purchased from. Either way, whether you are gentleman interested in the provenance of these delightful items and the history associated with them, or an aunt looking for something delightful for a little niece, to begin or add to a trinket box collection is to share something small and delightful that you won't need a whole garage to house.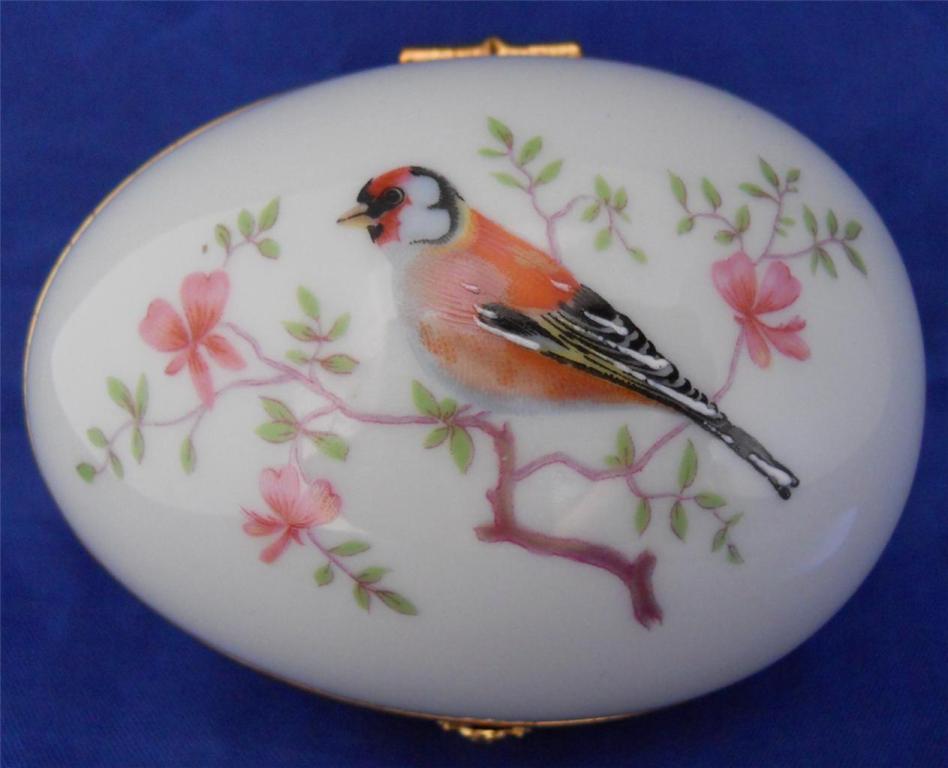 Limoges vintage egg trinket box.
Copyright Pittwater Online News, 2013. All Rights Reserved.