November 16 - 22, 2014: Issue 189
The Compleat Angler - Izaak Walton Inspires Generations of Fisherfolk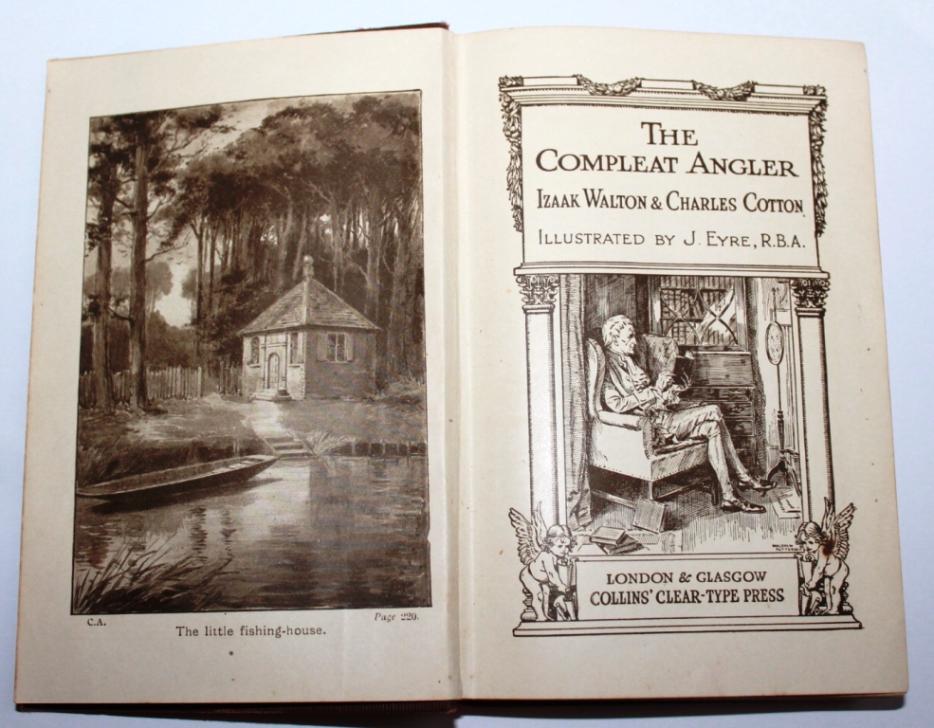 The Compleat Angler - Izaak Walton's Discourse Inspires Generations of Fishers
While researching in numerous places for the Pittwater's Water Environs history pages, run recently here, numerous references were made to 'The compleat angler or the contemplative man's recreation by Izaak Walton' by the writers and compilers of facts we found for those pages.
A few weeks ago a copy of this work was discovered in a St Vincent's Op Shop, much to our delight, and had for a small price in comparison to all it contains. Filled with Old English, this work transports you to an idyllic time and place and also gave a few insights into the origin of pen-names of some of the writers of fish and sailing columns in our own older and in some cases, defunct, newspapers.
The Compleat Angler was first published in 1653, but Walton continued to add to it for a quarter of a century. It is a celebration of the art and spirit of fishing in prose and verse; 6 verses were quoted from John Dennys's 1613 work The Secrets of Angling. It was dedicated to John Offley, his most honoured friend. There was a second edition in 1655, a third in 1661 (identical with that of 1664), a fourth in 1668 and a fifth in 1676. In this last edition the thirteen chapters of the original had grown to twenty-one, and a second part was added by his friend and brother angler Charles Cotton, who took up Venator where Walton had left him and completed his instruction in fly fishing and the making of flies.
Walton did not profess to be an expert with a fishing fly; the fly fishing in his first edition was contributed by Thomas Barker, a retired cook and humorist, who produced a treatise of his own in 1659; but in the use of the live worm, the grasshopper and the frog "Piscator" himself could speak as a master. The famous passage about the frog, often misquoted as being about the worm—"use him as though you loved him, that is, harm him as little as you may possibly, that he may live the longer"—appears in the original edition. The additions made as the work grew did not affect the technical part alone; quotations, new turns of phrase, songs, poems and anecdotes were introduced as if the author, who wrote it as a recreation, had kept it constantly in his mind and talked it over point by point with his many friends. There were originally only two interlocutors in the opening scene, "Piscator" and "Viator"; but in the second edition, as if in answer to an objection that "Piscator" had it too much in his own way in praise of angling, he introduced the falconer, "Auceps," changed "Viator" into "Venator" and made the new companions each dilate on the joys of his favourite sport. These names were adopted by Australian columnists during the 1800's and early 1900's – some of these overseeing not only fishing columns but those on sailing as well.
The work became so popular that hundreds of years later it was referred to here and also used as an acronym for other 'compleat' things – such as depicting 'fishing' politicians in that pun producing characteristic Australian witticism as 'compleat fishermen' too!
"The Compleat Angler."
WHEN Izaak Walton first published "The compleat Angler, or the Contemplative Man's Recreation," he ventured, in his foreword to the reader, to envisage the possibility that "this discourse which follows shall come to a second impression; for," he added he, "slight books have been in this age observed to have that fortune." That was nearly 300 years ago, and Walton's "slight book" is still finding new impressions. The latest (Black) is not the least covetable: for it is a facsimile of the original small octavo of 1653, with all Its details of paper, plate marking, and pagination, and with the same binding of brown sheepskin. It is an edition well designed "to find a place in the bulging pockets of anglers," but it is a treasure, not only for anglers, but for all book lovers. What makes "The Competent Angler" such an unfailing delight is its mingling of simplicity and wisdom, its genial humard artiste prde. Walton was careful to protest that, in writing his "discourse of fish and fishing," he made "a recreation of a recreation"; and so that his book might not "read dull and tediously," he had "in several places mixt some innocent Mirth." But he was none the less conscious of the dignity of his task as "a Brother of the Angle," discussing an Art "worthy the knowledge and practice of a wise and a serious man." It is pleasant to think of old Izaak, during all the fevers of the civil war, quietly fishing his favourite streams, and taking his catch to some "honest alehouse" to be dressed, where he might find "a cleanly room, Lavender in the windowes, and twenty Ballads stuck about the wall." There is no hint in these tranquil pages of the convulsions through which England was then passing. Viator and Piscator talk of many things as the pad it together over Totnam Hill; but they never mention the conflict between King and Parliament, and Piscator- antagonisms are reserved for such enemies as the Otter, and for "men of sowre complexions; monye-getttng-men that spend all their time first in getting, and next in anxious care to keep it"—"the poor-rich-men," as he calls them. It is not surprising that old Izaak made so many converts in the generations that have succeeded him. There is much to be learnt from his lore, if his natural history Is sometimes a thing to smile at. Chapter 10, for instance, which contains "several observations of the nature and breeding of Eeles," is a curious mixture of shrewd observation and childlike credulity. Yet Walton accepted conclusions that are still prevalent in the remoter parts of England. To dip into "The Compleat Angler" again is to be moved to cry Amen to its final invocation, of a blessing of St. Peter's Master "upon all that hate contentions, and love quietnesse and vertue and Ailing."—''Morning Post," London. "The Compleat Angler.". (1928, July 26). The Queenslander(Brisbane, Qld. : 1866 - 1939), p. 68. Retrieved from http://nla.gov.au/nla.news-article22951214
ANGLERS' SPRING FEVER.
An artist drew a picture showing a young sporting gentleman lavishly equipped with all the paraphernalia that an angler could desire. It was a very 'compleat angler' study. Alongside it he drew another picture. It showed a small perky urchin with a cheap line and a questionable hook. And the point was that it was the urchin who hooked the fish while the gentleman with the rod looked on unrewarded, and aghast. The first picture the artist called 'Fishing' — with an 'ing,' you observe. The other he called ' Fishin Very much the same idea was in the mind of our artist when he sketched his playful cover for this week's issue. THE fishing fraternity are getting ready for the campaign. Indeed, some have already begun to gather the harvest. For spring is just breaking through the winter barrier, and the heart of the angler is responding. The fish are on the move, and the prospects of better sport improve with every day of sunshine. After the winter, when black bream — those coy, uncertain creatures — have yielded up the ghost to fine-line exponents and anglers, there usually comes a spell of slackness. This year that slack spell has been bridged for sea fishermen, and they will be able to carryon until the breeding shoals have settled down to the good food Nature provides for them. At the tail-end of the winter Narrabeen anglers had a surprise. A great liberation of red worms occurred in South Creek, one of the three feeders of the lake, and whiting sped to the feast in such incredible numbers that both banks of the stream were lined daily with scores of fishermen, who secured catches that exceeded their wildest dreams. For about ten days the shoals remained in and about the narrow creek, and 'men nearly froze their legs off getting the bait most acceptable from the lake. Then came a thunderstorm, and the shoals disappeared. Two' men, who caught 2000 fish on lines in a week, asked;' Where have the whiting gone, since we caught only a fraction of them?' They asked, but they had no answer. Submarine secrets are generally well held. It is when surface shoals appear that fishermen gather definite knowledge. The whiting are in the lake, that is certain; but how to locate them is a problem that must remain unsolved while turn their attention to what is in sight. It's a poor angler who sits down to bemoan the loss of something when fresh sections of the many-sided game appeal to him. Those pound-weight whiting are a delightful memory, and that is all there is to it.
LAST week fine shoals of cowanyung came into Sydney Harbour. They doubtless came after pilchards and sprats, as the tailer have been doing along the coast for a few weeks. Trevally also showed up. ANGLERS' SPRING FEVER. (
1920, August 25
).
Sydney Mail
(NSW : 1912 - 1938), p. 7. Retrieved from
http://nla.gov.au/nla.news-article159041248
The best-known old edition of the Angler is J. Major's (2nd ed., 1824). The book was edited by Andrew Lang in 1896, followed by many other editions.
The version we have so recently acquired cost us a few gold coins and sells for around $10.00 elsewhere. A small amount of Googling shows other versions, due to their rarity or condition, as much as Edition, may fetch thousands of dollars.
To wit: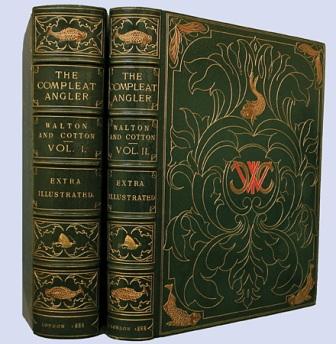 Izaak Walton and Charles Cotton. The Compleat Angler. London: Sampson Low, Marston, Searle and Rivington, 1888. - 2 vols. 4to, full polished dark green morocco decorated with the intertwined initials of the authors (in imitation of the emblem on the fishing cottage they shared) and other inlaid and gilt figures of fish and flies, gilt titles, marbled endpapers, by Morrell. Skillful repairs to joints, still a fine copy.
This is the Lea and Dove 100th edition of The Compleat Angler, extra-illustrated and containing Westwood and Satchell's Chronicle of the Compleat Angler. Number 98 of 250 copies signed by editor R. B. Marston of The Fishing Gazette. An absolutely stunning binding and extremely important edition. Price: $ 25,000
Other p[rices and editions may be seen here - including a set of the first five editions for which the price is scheduled at US$ 125,000.00 - a good indication that some of us collect old books and First Editions because we want to hold them and read the originals while others are clearly collecting such works due to the investment they represent.
As with all old books knowledge of Editions, Publishers, the quality of the book or even whether it still has a dust jacket, is made from cloth or is leather bound - all this should be taken into consideration when considering collecting an old work for investment. Buying these from reputable dealers is also key.
Do you have books at home that may be worth thousands? A little wondering, a little researching is the only way you will find out.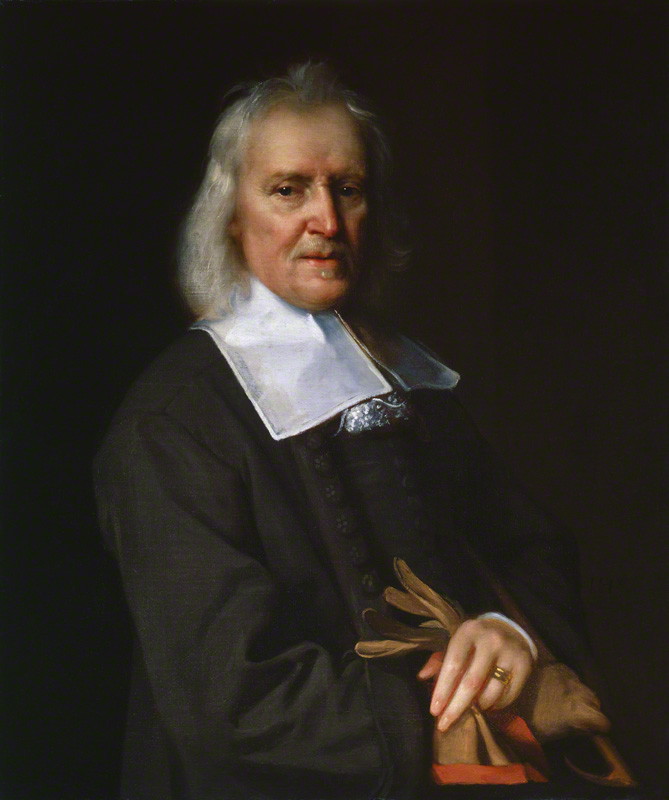 Izaak Walton (c. 1594 – 15 December 1683) was an English writer. Best known as the author of The Compleat Angler, he also wrote a number of short biographies that have been collected under the title of Walton's Lives.
Walton was born at Stafford c. 1594; the traditional '9 August 1593' date is based on a misinterpretation of his will, which he began on 9 August 1683. The register of his baptism gives his father's name as Gervase. His father, who was an innkeeper as well as a landlord of a tavern, died before Izaak was three. His mother then married another innkeeper by the name of Bourne, who later ran the Swan in Stafford.
He settled in London where he began trading as an ironmonger in a small shop in the upper storey of Thomas Gresham's Royal Burse or Exchange in Cornhill. In 1614 he had a shop in Fleet Street, two doors west of Chancery Lane in the parish of St Dunstan's.[2] He became verger and churchwarden of the church, and a friend of the vicar, John Donne.[1] He joined the Ironmongers' Company in November 1618.[1]
Walton's first wife was Rachel Floud (married December 1626), a great-great-niece of Archbishop Cranmer. She died in 1640. He soon remarried, to Anne Ken (1646–1662), who appears as the pastoral Kenna of The Angler's Wish; she was a stepsister of Thomas Ken, afterwards bishop of Bath and Wells.
After the Royalist defeat at Marston Moor in 1644, Walton retired from his trade. He went to live just north of his birthplace, at a spot between the town of Stafford and the town of Stone, where he had bought some land edged by a small river. His new land at Shallowford included a farm, and a parcel of land; however by 1650 he was living in Clerkenwell, London. The first edition of his book The Compleat Angler was published in 1653. His second wife died in 1662, and was buried in Worcester Cathedral, where there is a monument to her memory. One of his daughters married Dr Hawkins, a prebendary of Winchester.
The last forty years of his life were spent visiting eminent clergymen and others who enjoyed fishing, compiling the biographies of people he liked, and collecting information for the Compleat Angler. After 1662 he found a home at Farnham Castle with George Morley, bishop of Winchester, to whom he dedicated his Life of George Herbert and his biography of Richard Hooker. He sometimes visited Charles Cotton in his fishing house on the Dove.Walton died in his daughter's house at Winchester, and was buried in Winchester Cathedral.
Walton left his property at Shallowford in Staffordshire for the benefit of the poor of his native town. He had purchased Halfhead Farm there in May 1655. In doing this he was part of a more general retreat of Royalist gentlemen into the English countryside, in the aftermath of the English Civil War, a move summed up by his friend Charles Cotton's well-known poem "The Retirement" (first published in the 5th edition of Walton Compleat Angler). The cost of Shallowford was £350, and the property included a farmhouse, a cottage, courtyard, garden and nine fields along which a river ran. Part of its attraction may have been that the River Meece, which he mentions in one of his poems, formed part of the boundary. The farm was let to tenants, and Walton kept the excellent fishing.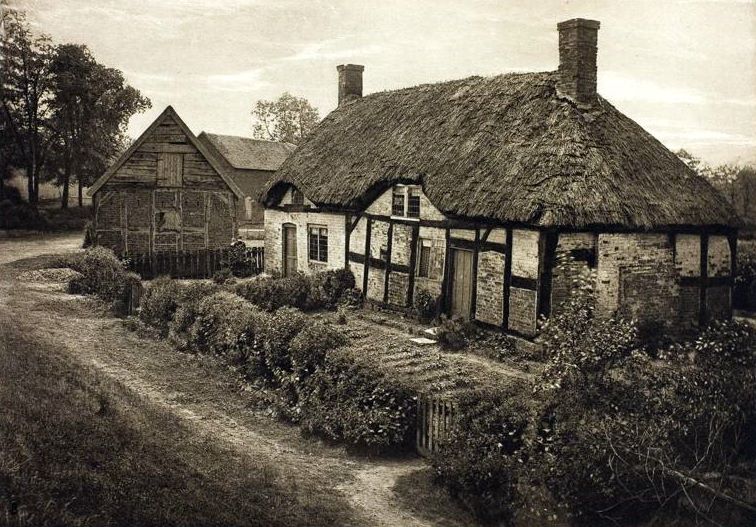 George Bankart English, 1829–1916 Izaak Walton's House at Shallowford, Staffordshire, 1888 Photogravure from "The Compleat Angler," Volume II, printed by William Clowes and Sons, Ltd., 1888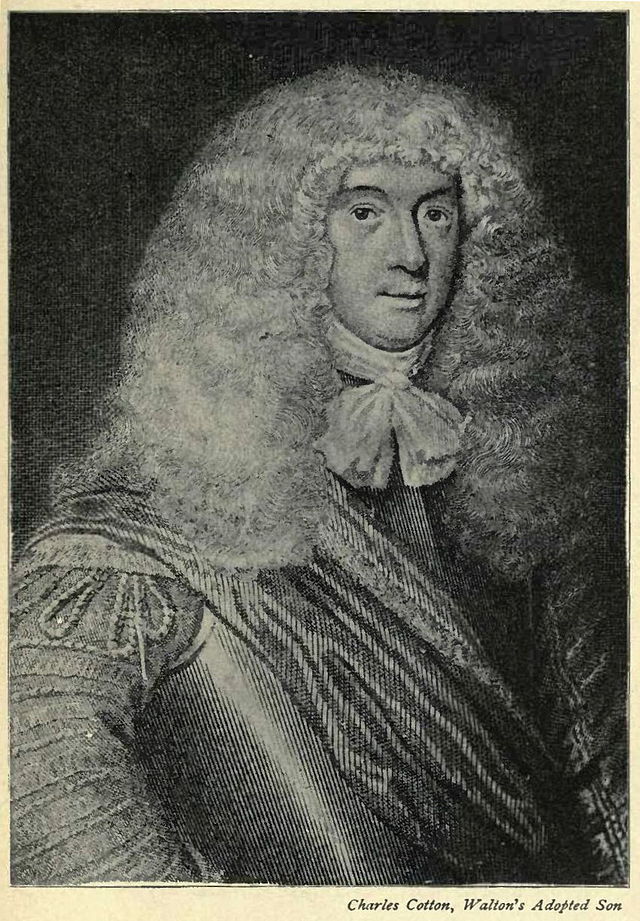 Charles Cotton
(28 April 1630 – 16 February 1687) was an English poet and writer, best known for translating the work of Michel de Montaigne from the French, for his contributions to The Compleat Angler, and for the influential
The Compleat Gamester
attributed to him.
He was born in Alstonefield, Staffordshire, at Beresford Hall, near the Derbyshire Peak District. His father, Charles Cotton the Elder, was a friend of Ben Jonson, John Selden, Sir Henry Wotton and Izaak Walton. The son was apparently not sent to university, but was tutored by Ralph Rawson, one of the fellows ejected from Brasenose College, Oxford, in 1648.
Cotton travelled in France and perhaps in Italy, and at the age of twenty-eight he succeeded to an estate greatly encumbered by lawsuits during his father's lifetime. Like many Royalist gentlemen after the English Civil War the rest of his life was spent chiefly in quiet country pursuits, in Cotton's case in the Peak District and North Staffordshire. HisVoyage to Ireland in Burlesque (1670) states that he held a Captain's commission and served in Ireland.
His friendship with Izaak Walton began about 1655, and contradicts any assumptions about Cotton's character based on his coarse burlesques of Virgil and Lucian. Walton's initials, made into a cipher with Cotton's own, were placed over the door of Cotton's fishing cottage on the Dove near Hartington. Cotton contributed a second section "Instructions how to angle for a trout or grayling in a clear stream", to Walton's The Compleat Angler; the additions consisted of twelve chapters on fishing in clear water, which he understood largely but not exclusively to be fly fishing. Another addition to the volume was Cotton's well-known poem "The Retirement", which appeared from the 5th edition onwards.
At Cotton's death in 1687 he was insolvent and left his estates to his creditors. He was buried in St James's Church, Piccadilly, on 16 February 1687. Cotton's reputation as a burlesque writer may account for the neglect with which the rest of his poems have been treated. Their excellence was not, however, overlooked by good critics. Coleridge praises the purity and unaffectedness of his style in Biographia Literaria, and Wordsworth (Preface, 1815) gave a copious quotation from the "Ode to Winter". The "Retirement" is printed by Walton in the second part of the Compleat Angler.
He was a Derbyshire man who loved the Peak District and wrote a long topographic poem describing it: his father had moved there from the south of England, to live on his wife's estates. In Cotton's day, in the decades after the Civil War, the inaccessibility of good fishing spots was physical as well as legal. The opening chapters of his section of the Compleat Angler draw Cotton and his friend across a savage and mountainous landscape. The friend, who will be taught fly-fishing, expresses doubt as to whether they are still in Christendom:
"What do I think? Why, I think it is the steepest place that ever sure men and horses went down; and that, if there be any safety at all, the safest way is to alight..." says the pupil. After he picked his way down, they reach a bridge. "Do you ... travel with wheelbarrows in this country" he asks. "Because this bridge certainly was made for nothing else; why, a mouse can hardly go over it: it is not two fingers broad."
They come at length to the sheltered valley in which stands Cotton's house and fishing hut. It is the first description of paradise in fishing history. "It stands in a kind of peninsula, with a delicate clear river about it." There Cotton and his friend breakfast on ale and a pipe of tobacco to give them the strength to wield their rods. For a trout river, he says, a rod of five or six yards should be long enough. In fact, "longer, though never so neatly and artificially made, it ought not to be, if you intend to fish at ease".
Though he used a light line of carefully tapered horse-hair, Cotton's rod, of solid wood, was heavy. His description of the sport differs from modern fly-casting, which began with the arrival of heavy dressed-silk lines 200 years later. On windy days, he advises his guest to fish the pools because in the rapids, where the gorge of the Dove is narrower, the wind will be too strong for fishing.
Some of Cotton's advice is still useful, as when he tells his guest to fish "fine and far off"; and he argues for small and neat flies, carefully dressed, over the bushy productions of London tackle-dealers. The flies which catch fish will always look wrong to the untrained eye, because they look too small and too delicate.
Cotton's dressings are made with bear hair and camel's under fur, the soft bristles from inside a black hog's ear, and from dog's tails. "What a heap of trumpery is here!" cries his visitor, when Cotton's dubbing bag is opened. "Certainly never an angler in Europe has his shop half so well-finished as you have."
Cotton replies with the touchiness of a true obsessive: "Let me tell you, here are some colours, contemptible as they seem here, that are very hard to be got; and scarce any one of them, which, if it should be lost, I should not miss and be concerned about the loss of it too, once in the year."
Cotton devotes a whole chapter to collection of flies for every month of the year. Few have modern analogues, but they are based on accurate observation, as with his stonefly:
His body is long and pretty thick, and as broad at the tail, almost, as at the middle; his colour is a very fine brown, ribbed with yellow and much yellower on the belly than on the back: he has two or three little whisks also at the tag of his tail, and two little horns upon his head: his wings, when full grown, are double, and flat down upon his back, of the same colour but rather darker than his body and longer than it...
On a calm day you shall see the still-deeps continually all over circles by the fishes rising, who will gorge themselves with these flies, will they purge again out of their gills.
In Montana, the fish still rise to stoneflies until the water is "continually all over circles", but in the UK it is an anachronism. Cotton's Derbyshire is more remote from modern England, and closer to the wilderness than Montana or Alaska are now. He is quite unashamed of bait fishing, whether with flies or with grubs. He kills fish until weary. "I have in this very river that runs by us, in three or four hours taken thirty, five and thirty, and forty of the best trouts in the river." And he concludes his advice with a note of earthy practicality not to be found as the sport becomes more refined: a recipe for fresh trout boiled with beer and horseradish. It is excellent, by the way.
Cotton loved nothing more than that his friends should share his delight. In the gorge of the Dove he had a private garden "with a delicate clear river about it" where the world was reduced to its simplest and best essentials.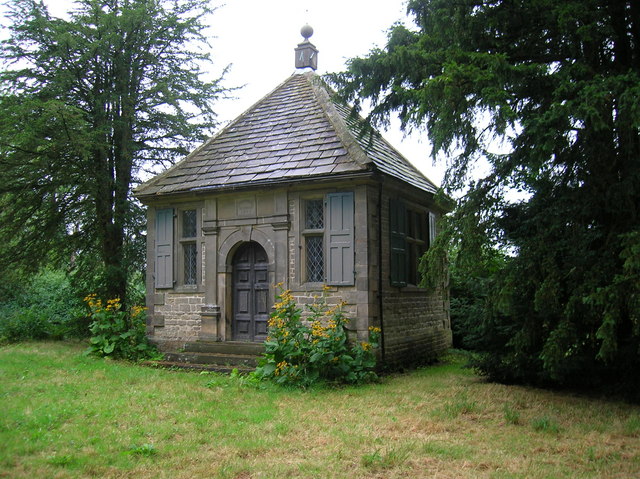 Charles Cotton's Fishing House built (1674) on the Banks of the River Dove This is a is a secular shrine to all (particularly game) anglers; Charles Cotton wrote the fly-fishing section of Isaac Walton's 'The Compleat Angler' in 1676. He lived in nearby Beresford Hall and practised his sport on the trout and grayling of the River Dove. Picture by Neil Gibbs - From geograph.org.uk
His masterpiece in translation, the Essays of M. de Montaigne (1685–1686, 1693, 1700, etc.), has often been reprinted, and still maintains its reputation; his other works include The Scarronides, or Virgil Travestie (1664–1670), a gross burlesque of the first and fourth books of the Aeneid, which ran through fifteen editions; Burlesque upon Burlesque, ... being some of Lucian's Dialogues newly put into English fustian (1675); The Moral Philosophy of the Stoicks (1667), from the French of Guillaume du Vair; The History of the Life of the Duke d'Espernon (1670), from the French of G Girard; the Commentaries (1674) of Blaise de Montluc; the Planter's Manual (1675), a practical book on arboriculture, in which he was an expert; The Wonders of the Peake (1681); the Compleat Gamester and The Fair one of Tunis, both dated 1674, are also assigned to Cotton.
References:
Izaak Walton. (2014, September 25). In Wikipedia, The Free Encyclopedia. Retrieved from http://en.wikipedia.org/w/index.php?title=Izaak_Walton&oldid=626999351
Charles Cotton. (2014, September 7). In Wikipedia, The Free Encyclopedia. Retrieved from http://en.wikipedia.org/w/index.php?title=Charles_Cotton&oldid=624512651