August 21 - 27, 2011: Issue 20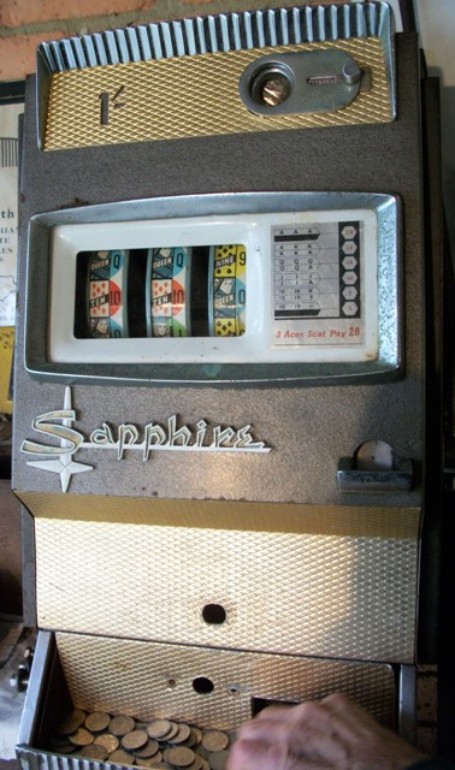 Copyright Pittwater Online News, 2011.
All Rights Reserved.
Sapphire Slot Machine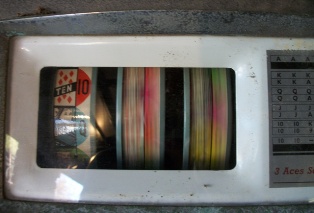 Sapphire slot machines were an Australian made version of what was called a 'one armed bandit' due to the lever at the side of the machine and its ability to fleece a user of all their money. We now call these gaming machines 'pokies' in Australian slang. Poker machines were first established in Australia in 1956 and allowed only into clubs to help them generate more income.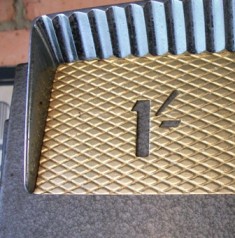 The money symbol here shows what was one shilling (10c) and Trevor's machine still operates on ten cent pieces. This also places its commercial use before the change top decimal currency in 1965.
Australia had the highest gambling rate, per capita, in the world in 2002. We may be filled with hope as a nation but these machines do not run on emotion. They are not always used as a bit of fun. The Whitlam's song 'Blow up the Pokies', written after a band member committed suicide due to an inability to stop playing these machines and because of the devastating effect they had on his life, attests to this. As the dad of a staff member says 'You don't see casinos closing down, just the people who go into them.'
A whole new aspect to old words, such as 'chasing'; when a gambler addicted to 'pokies' keeps funnelling money into a machine they've already made a large deposit into without result have come into the language of our society. Even places where they appear are christened anew; 'BrisVegas'. Fortunately help is at hand; Gamblers Anonymous teams addicts to help each other in moments of crisis; Clubs encourage patrons to 'ban' themselves from these machines. The best remedy may be to just go fishing instead.
History of from Wikipedia:
The first slot machine was invented by Charles Fey of San Francisco, California, U.S., who devised a much simpler automatic mechanism. Most assert that Fey invented the machine in 1887, however some believe that he may have conceived the machine in 1895. Due to the vast number of possible wins with the original poker card based game, it proved practically impossible to come up with a way to make a machine capable of making an automatic payout for all possible winning combinations. Charles Fey devised a machine with three spinning reels containing a total of five symbols – horseshoes, diamonds, spades, hearts, and a Liberty Bell, which also gave the machine its name. By replacing ten cards with five symbols and using three reels instead of five drums, the complexity of reading a win was considerably reduced, allowing Fey to devise an effective automatic payout mechanism. Three bells in a row produced the biggest payoff, ten nickels. Liberty Bell was a huge success and spawned a thriving mechanical gaming device industry.
From: http://en.wikipedia.org/wiki/Slot_machine