December 4 - 10, 2011: Issue 35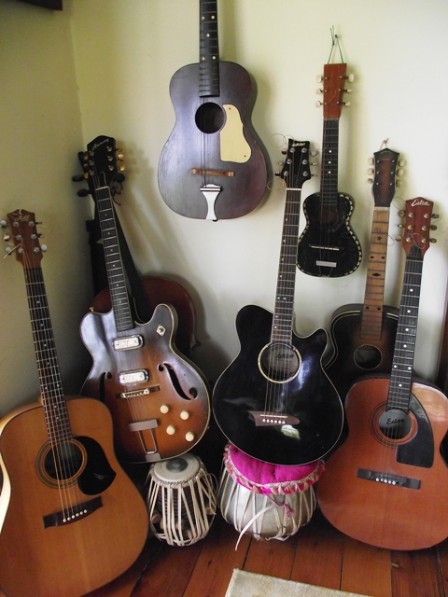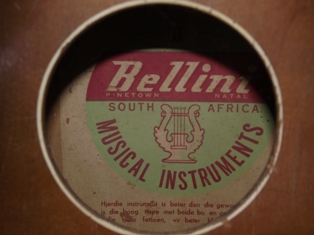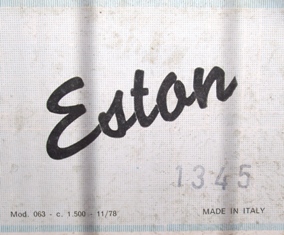 Copyright Pittwater Online News, 2011. All Rights Reserved.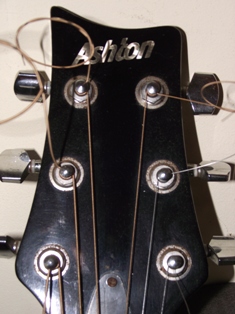 Vintage Guitars
Many musicians have more then one of whichever instrument they play. If these are made from wood there's a knowledge that the timbre or tone of the instrument improves with age. Some, such as harps, have to be kept in rooms that removed the humidity from the air so the wood won't swell and ruin them or make them out of tune.
Even those who are not aficionados on any particular instrument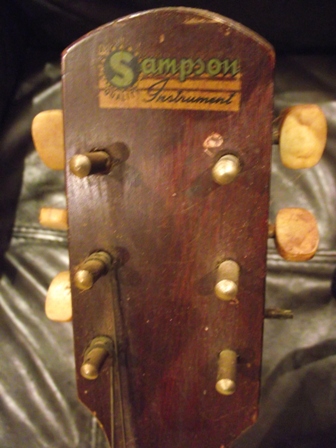 can collect more then one piece. The range here contains a Sampson jazz guitar from 1930's Chicago, an Eston, made in Italy, a Maton, made in Australia and even an old Ashton and Harmony, the two in this collection, apart from the Maton, which their owner states produces the sweetest sounds. The range is both acoustic and electric with one being borrowed by a local musician on a few occasions due to his love of its sound.
Eston guitars were made in Italy by Eko and imported into Australia in the 1970's by Lamberti Brothers of Melbourne under there own brand Eston not as Eko. The "TON" part of ESTON is named after Tony Lamberti. [Source: Fetish Guitars] The Eko acoustic guitars Rangers, 100 series and Classical series were those available here to purchase.
Harmony: In Chicago, 1892 Wilhelm J. F. Schultz and four employees began production on a modest scale. By 1915 Harmony had 125 employees. In 1916 Sears, Roebuck acquired Harmony in order to gain its substantial ukulele production. Harmony also made mandolins, banjo ukes, tenor banjos, and other instruments. In February 1928 Harmony introduced its Roy Smeck Vita series-Standard, tenor, and plectrum guitars. In January 1930 the Roy Smeck Grand Concert and Hawaiian models were unveiled. In March 1931 the Vagabond guitar line was first produced, and in the following September the Cremona professional guitar appeared. In May 1939 Harmony bought several brand names from the bankrupt Oscar Schmidt Company including La Scala, Stella and Sovereign. During this period Harmony substantially increased its trade names to include Valencia, Monterey, Harmony Deluxe, Johnny Marvin, Vogue, and many more.
From 1961 through 1969 Harmony continued to grow and as imported instruments began taking a larger share of the American market, the company was purchased by a conglomerate along with some other companies. There was heavy indebtedness, and the factory equipment and other assets were sold at auction to satisfy the creditors and they finally liquidated. The current day Harmony is owned by Charlie Subecz. [Source: Harmony]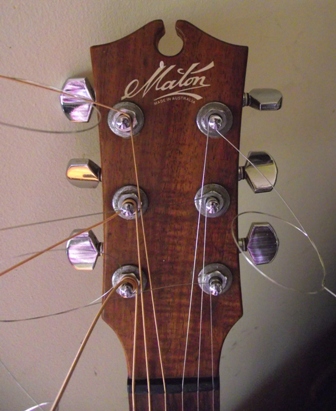 Maton (1946 to present): During the early 1940's, Bill May established a custom guitar manufacturing and repair business known as "Maton Stringed Instruments and Repairs". This enterprise was successful and Bill was joined by his older brother, Reg, a wood machinist, to join him as a full time guitar maker. In March 1946 the "Maton Musical Instruments Company" was born. [Source: Maton ]
Dating Maton Guitar
"re electrics. ..the 'Serial Number' for the electric guitars can be found on the back of the headstock, can be difficult to see as the guitar gets older. The first four numbers of a not too old electric represent the date of manufacture, the following numbers are where that guitar sits in the series." [source: De'arne, Maton, email 30/1/2007]
Vintage Guitars: http://www.jedistar.com/jedistar_vintage_guitar_dating_a.htm