February 26 - March 3, 2012: Issue 47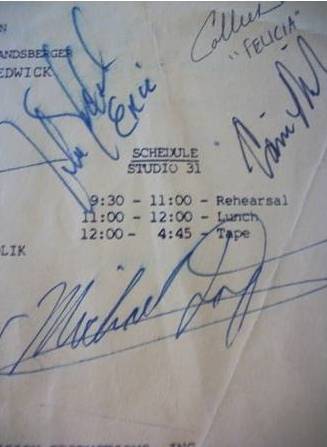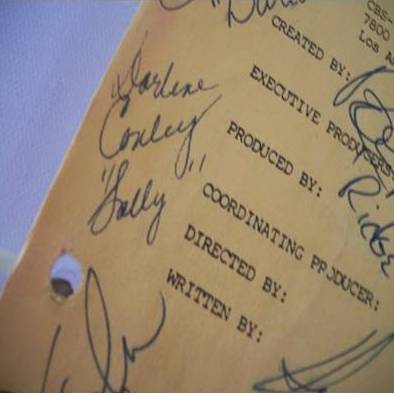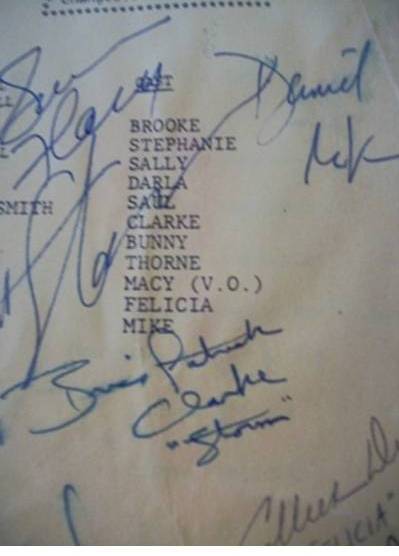 Copyright Pittwater Online News, 2012. All Rights Reserved.
Memorabilia III: The Bold and the Beautiful Script with Cast Autographs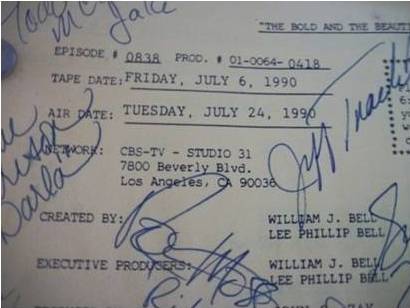 Ok; one for the lady who cries out, at 4.25pm every weekday afternoon, Charge your glasses and get the washing off the line now; it's almost Bold time !' or words to that effect. Yes, you know who you are...
The Bold and The Beautiful, a soapie that for those of you whom have never heard of this epic snapshot of af ashion family fantasy based in LA,, is purported to be the most watched soap opera in the world with an average 26.5 million viewers each week. It centres around the Forrester Family. You may think you could not watch for a few months and still 'catch up' but with regular cast character changes, and some who are considered iconic now long gone, it does become a daily adventure and does draw you in. You may start out laughing at what seems ridiculous, but current themes in society addressed through the dilemmas of those on the show will have you shouting 'behind you!' back at the screen or even 'that's just wrong!' as some new dastardly deed unfolds.
Premiering on March 23rd, 1987 and created by William J. Bell and Lee Phillip Bell for CBS Daytime in America, The Bold and the Beautiful is a sister show to the Bells other soap opera The Young and the Restless, as several characters from each of the two shows have crossed over to the other since the early 1990s, and its title derived from Y&R. The show typically uses the traditional soap oper'a look, featuring constructed sets such as the Forrester Mansion, the Shady Marlin, and the Forrester Creations offices. Like other soap operas. B&B is usually taped 3-4 weeks in advance.
Scripts from popular television programs and or even better, those from iconic movies, if complete with all those who appeared in them autographing their covers, including the Director, can fetch paltry or enormous sums, depending on the popularity of the show, movie and actors. Although the going rate for soaps alike B&B, signed by all members and in original condition, is only a mere $75.00 currently, others researched for this week are fetching $2999 (LA Law; a now defunct show). Certifications of Authenticity should always be provided, and from registered authorities you can check the item with, unless you gathered the autographs yourself.
How much a Collector wants a certain piece also plays a huge part. Bidding wars over signed album covers complete with those of members who have since left Rock groups may fetch more then more current versions of line ups. First issues, episodes and drafts also, due to being rarer, will fetch more. Some people may earn a living out of these fascinations, others are simply fans and true Collectors who wish to have something in their hands that has once been in the hands of their heroes and heroines.
The Bold and the Beautiful Website: http://www.boldandbeautiful.com/
More on the show: The Bold and the Beautiful. (2012, February 24). In Wikipedia, The Free Encyclopedia. Retrieved from http://en.wikipedia.org.windex.php?title=The_Bold_and_the_Beautiful&oldid=478640874