May 20 - 26, 2012: Issue 59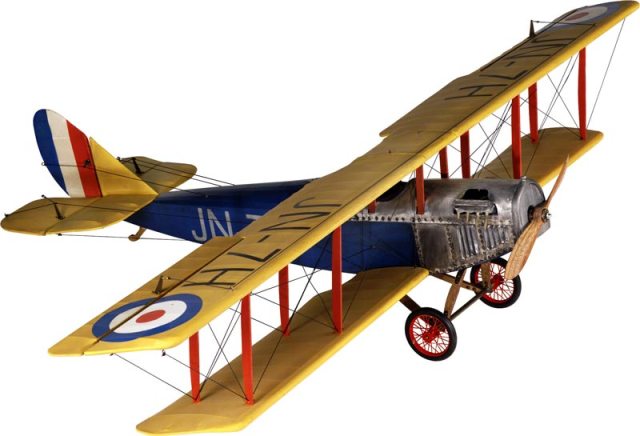 Authentic Models Jenny JN-7H Barnstormer; Glorify aviation through a Jenny JN-7H Barnstormer Authentic Model! About the Jenny JN-7H BarnstormerCurtiss JN-4 "Jenny" was one of a series of "JN" SKU:MGAP009 Price:$550.00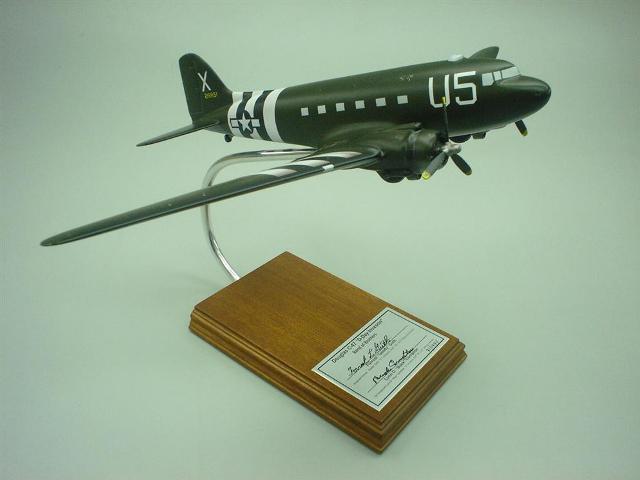 C-47 "Band of Brothers" Signed by Forrest Guth and Buck Compton; C-47 Model Airplane: A True Work of Art About the C-47 "Band of Brothers" In 1936, Douglas DC's military career began in 1936 when the Army Air Corps ordered a pair of DC-2s and then a contract followed for 18 more DC-2s. By 1941, the time when the Army Corps became transformed as the Army Air Forces, they selected the C-47 Skytrain, a modified version of the DC-3, to become their standard transport aircraft. SKU:AC047BBSS Price:$279.95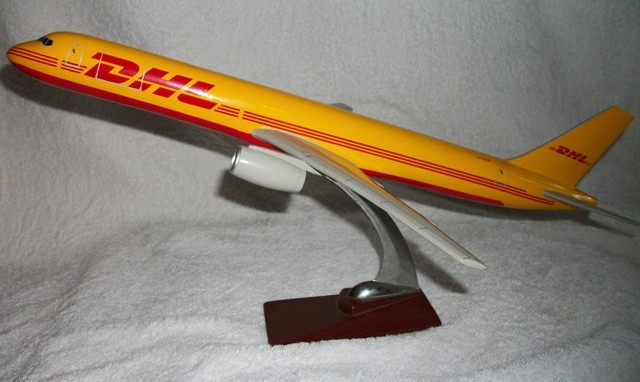 Advertising Version DHL G-BIKM - Boeing 757-236(SF) ; The Boeing 757 is a mid-size, narrow-body twin-engine jet airliner that was built by Boeing Commercial Airplanes from 1981 to 2004. The twinjet has a two-crew glass cockpit, turbofan engines, a conventional tail, and for reduced aerodynamic drag, supercritical wings. Designed to replace the three-engined 727 on short and medium routes, the larger 757 can carry 200 to 289 passengers for up to 3,150 to 3,900 nautical miles (5,830 to 7,200 km), depending on variant. The 757 was developed in tandem with the larger wide-body 767, with shared design features allowing pilots to obtain a common type rating for both aircraft.
Further:
Model aircraft. (2012, May 10). In Wikipedia, The Free Encyclopedia. Retrieved from http://en.wikipedia.org/w/index.php?title=Model_aircraft&oldid=491829600
Aviation and Model Aeroplanes for Enthusiasts website: http://www.aviation-directory.aero/article/model-airplanes-facts-for-the-aircraft-enthusiast/
Model aircraft; http://www.warplanes.com/
Planespotters: HERE
Copyright Pittwater Online News, 2012. All Rights Reserved.
Model Aircraft – Static
Big boys and small boys love planes, any kind of plane. If they can't fly them then they'll collect model versions with those that are scaled down versions of the real thing proving most popular and expensive. There are a few versions; static, or those which are displayed on stands or from mobiles, and those that have motors added and can be flown, are the most well known. Some producers have many models, a few of which are offered as 'signature' versions. These have been mounted on stands where the signature of a well known aviator associated with that plane (in full scale) is added and certified to be genuine.
The more intricate, the more expensive seems to be the rule. Some can be bought fully assembled while others are constructed by the hobbyists and collectors. They can be made from many materials including wood, plastic, cloth, metal, synthetic resins or a mix of all of these. Those made of cast resin are the most expensive as the raw materials also cost more and the cast resin process requires a lot of labour. Static display models range from mass produced toys to highly accurate models requiring thousands of hours to produce for display in museums. Aircraft manufacturers produce models of their own full sized aircraft both for wind tunnel testing and for advertising. Some of these static models are scaled specifically for use in wind tunnels, where the data acquired is used to aid the design of full scale aircraft.
Static Aircraft models are collected especially by aviation and history buffs. Usually, static model airplanes are used for publicity or promotional campaigns of the aircraft they were modelled after. Some are used for acquiring an up-close and personal look at the look and details of the aircraft they were modelled after. Static models which still need to be assembled and are also known as snap models are more popular among hobbyists.
From World War I through the 1950s, model airplanes were built from light weight balsa wood and often covered with tissue paper. This was a difficult, time consuming procedure that mirrored the actual construction of airplanes through the end of World War II. Some early version were constructed by fans of aviation from studying aircraft drawings.
Ready-made models (desk-top models) include those produced in fibreglass for travel agents and aircraft manufacturers, as well as collectors models made from die-cast metal, mahogany and plastic.
Scale (From Wikipedia):
Static model aircraft are primarily available commercially in a variety of scales from as large as 1:18 scale to as small as 1:1250 scale. Plastic model kits requiring assembly and painting are primarily available in 1:200, 1:144, 1:72, 1:50, 1:48, 1:32 and 1:24 scale, often depending on the size of the original subject. Die-cast metal models (pre-assembled and factory painted) are primarily available in 1:400, 1:200, 1:72, and 1:600, 1:500, 1:300, 1:250,1:48. A variety of odd scales (e.g. 1:239) are also available but less common.
The scales are not random but are based on easy divisions of imperial measuring systems so that 1:48 scale is 1" to 4 feet, 1:72 is 1" to 6 feet. Even numbered scales are similarly based on metric systems. 1:72 scale was first introduced in the Skybirds wood and metal model aircraft kits in 1932. According to "Fine Scale Modeler" magazine, 1:72 was also popularized by the US War Department (renamed the Department of Defense) when it requested models of single seat aircraft at that scale. The War Department also requested models of multi-engine aircraft at a scale of 1:144. The War Department was hoping to educate Americans in the proper identification of aircraft. These scales provided the best compromise between size and detail. After WWII, the toy manufactures continued to favour these scales. More detailed models are available at 1:32 and 1:24. Some manufacturers introduced 1:50 scale and 1:30 scale. Japan offers 1:100. The French firm Heller SA is the only manufacturer to offer models in the scale of 1:125. Herpa and others produce promotional models for airlines in scales including 1:200, 1:400, 1:500, 1:600, 1:1000 and more. A few First World War aircraft were offered at 1:28 by Revell.