September 23 - 29, 2012: Issue 77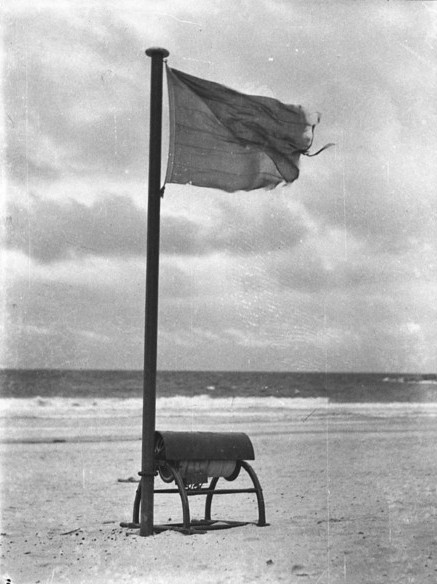 Bondi Beach; Date of Work 4/6/1935. Home and Away – Hood 1235. Courtesy State Library of N.S.W.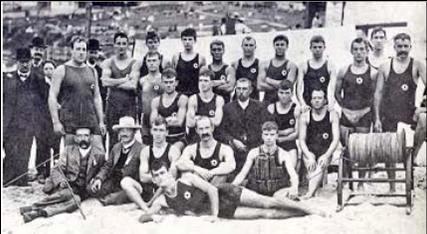 Bondi Bathers Surf Life Saving Club, December 1906 with the newly modified reel and cork filled vest. Courtesy Bondi SLSC.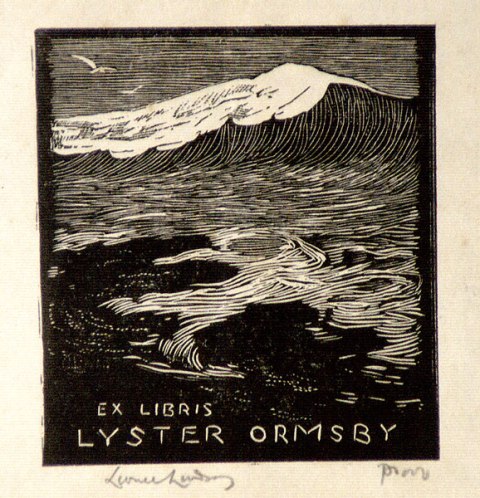 Book plate: 'The Blue Wave' for Lyster Ormsby 1923 by Lionel LINDSAY - Creswick, Victoria, Australia 1874 – Hornsby, New South Wales, Australia 1961
A small woodcut of a mounting wave by Lionel Lindsay (done for Lyster Ormsby) is complete, and expresses more than many a canvas. THE VOGUE OF BOOKPLATES. (1930, April 12). The West Australian (Perth, WA : 1879 - 1954), p. 5. Retrieved from http://nla.gov.au/nla.news-article31073756
Extras:
Lyster Charles Irwin Ormsby, born 1885 Molong, N.S.W., to Charles Irwin Ormsby and Louise (nee Blakefield). One of seven children, five boys and two girls.
Death of Inventor of Surf Reel - SYDNEY, Friday. - the inventor of the Surf reel, Lyster Ormsby, died in hospital to-day, aged 56. He was a foundation member of the New South Wales Surf Life-Saving Association. The reels invented by Mr. Ormsby are now in use on sea beaches all over the world. ORMSBY.-December 26, 1941, at a private hospital. Waverley, Lyster Ormsby, of Erambie, West Pennant Hills, formerly of Waverley, beloved husband of Agnes Ormsby(nee Anderson), aged 56 years. Death of Inventor of Surf Reel. (1941, December 27). Advocate (Burnie, Tas. : 1890 - 1954), p. 4. Retrieved from http://nla.gov.au/nla.news-article68366888
BOXER AND BURGLARS - AN EXCITING FIGHT.A REVOLVER PRODUCED.SYDNEY. Saturdav. Mr. Lyster Ormsby discovered two burglars in his bedroom last night and captured one. Mr. Ormsby, who is an amateur boxer, landed a heavy blow on the nose of one of the intruders, who pointed a revolver at him. Mr. Ormsby. then floored the second man, but both soon got to their feet ready for flight. Mr. Ormsby again staggered one and held him on the floor until the police arrived. BOXER AND BURGLARS. (1921, August 20). The Daily News (Perth, WA : 1882 - 1950), p. 8 Edition: FINAL EDITION. Retrieved from http://nla.gov.au/nla.news-article81803051
JOHN BOND Life Saver, Army Officer . BORN: C.1854, England. DIED: 25 February, 1927, Waverley N.S.W. AGE: 72 years. GRAVE: 1951A General Ordinary Section 16
The name of Major John Bond is associated with the very beginnings of the Surf Life Saving movement in Australia and with the invention of the surf reel. "He was one of the founders of the Royal Life-Saving Society, N.S.W., and one of the last of the fine old warrant-officers who were promoted on sheer merit," wrote The Bulletin.
"As a warrant-officer, he was held in high esteem among his comrades at Victoria Barracks, and when [Boer] war broke out he was assigned the task of instructor to the Ambulance Corps that went to the front," reported the Daily Telegraph. "He was painstaking and earnest in all the duties he undertook, and the instruction he imparted was appreciated by his pupils."
In 1894 a branch of the English Life-saving Society was formed with Bond as its drill instructor and "Mr Lloyd granted the use of the Bronte Baths for the members of the club to hold their drills in," reported the SMH.
Bond's trained squad of volunteers later formed into a permanent group which became the Bronte Surf Life Saving Club. The invention of the surf reel is claimed by several, "far better supported is the tradition, still lively in the Bondi district, that the reel as it is now known was the result of the combined planning of [John] Bond, [Lyster] Ormsby and Flynn," records Surf, Australians against the Seas.
Bond was elected an officer of the Bondi S.B.L.S.C. at its first annual meeting in 1907, and two years later "it was decided to place the name of W.O. John Bond A.A.M.C. on the life membership list for valuable services rendered in the shape of instructional work," states History of Bondi Surf Bathers' Life Saving Club. Bond was the Bronte club's drill instructor until 1912 and a Vice President from that year until his death. All his sons and daughters were champion swimmers and life-savers.
SOURCE: Waverley Cemetery Archives; Australian Genius 50 Great Ideas by Vivien Encel; The Australian Life Saver.
Surf Life Saving Reels
We cannot fence in our long stretches of ocean beaches, or even sections of them ... Life-lines with stable supports might be provided, and patrol-boats to ply off every bathing resort. They would popularise the beaches even more than at present, render the recreation of the bathers safer, and protect many valuable lives.
Sydney Morning Herald, 2 January 1906
This may only form part of Australian collections in our surf clubs but certainly warrants being kept, and collected, not only for its intrinsic value as an Aussie invention but also due to its huge tally in saving lives. Although now largely superseded by IRB's (Inflatable Rubber Dinghy's, another Australian invention) the surf life saving harness and reel for surf rescue is an iconic part of our beach culture.
Since time immemorial people who venture into the sea on all sorts of floating craft have used ropes to ensure those venturing out on deck during storms, whether for rescue or to change sails etc. have been tethered by ropes to the craft. Although bathing, fully clothed, in salt waters was practiced by those with money and leisure from Georgian times, it was surf bathing that the Australian settlers took to, discarding weighty robes in their dash into the foam. This love of 'surf bathing' necessitated a similar method for safety and for rescues on our sandy shores. In 1903 swimmers at Bronte Beach formed a Surf Club complete with their version of this equipment; a coil of hemp rope on a pole stuck in the sand in the middle of the beach with a cork buoy attached similar to that used by the Royal Life Saving.
Bondi Surf Bathers Life Saving Club foundation members John Bond, Lyster Ormsby, Sig Fullwood and Percy Flynn took this idea a little further and adapted it to what was needed; something functional and mobile for surf rescues. Lyster, a huge man possessing natural leadership skills, was also responsible for the formation of the Surf Bathers Association of NSW (the beginnings of the Surf Life Saving Association). He was Bondi's first Club Captain and was instrumental in the design of the famous surf reel and also the first duty roster. Soon after the Bondi Bathers began, the Club also formed a Lines and Tackle Committee under club captain, Lyster Ormsby and Major John Bond (a Royal Australian Medical Corps officer and instructor) and S. Fullwood (Honorary Secretary). This committee recommended replacing the life buoy ring with a cork filled life-jacket and sought to improve the handling of the lines.

Lyster Ormsby, with Percy Flynn and Sig Fullwood, are credited as the inventors of the 'first' life saving reel in 1906, initially constructing a home made model from a cotton reel and hair pins. Others claim a similar method had already been invented, or modified by W H Biddell at Bronte who had a reel attached to his Torpedo Buoy pre 1906.
From this cotton reel and hairpins model, a local coachbuilder, Olding and Parker of Newcombe Street, Paddington, built a full-sized surf reel. Other sources state it was Sgt John Bond of Victoria Barracks in Paddington who built the first full sized reel and this was improved on in the same year by Sydney coachbuilder G H Olding. His final design was used until 1993. This first reel was made of a cedar drum mounted on a wooden frame with a handle to pay out or wind in the rope. A brake was added soon after.
The reel rested in a frame that would rest on the sand. The life saver would attach the harness to himself (no women allowed then) then swim out to the struggling bather/surfer. Once they reached the patient they would attach the patient to the harness and another life saver on the beach would reel them in. The life saver in the water would tend to another patient or swim alongside the patient to reassure them if they were conscious or make sure that nothing went wrong if they were unconscious. Five men were required to operate the reel, line and belt. The actual reel and rope would weigh about 50-60 pounds and was officially made part of the surf lifesaving community on Sunday 24 March 1906 although some sources state its official launch occurred at a demonstration by Ormsby at Bondi Beach on December 23rd, 1906. Urban myths state future iconic aviator Charles Kingsford Smith, then eight years old, along with another young lad, was the first to by rescued with the reel and safety belt harness.
The surf life saving reel was especially useful during the disaster on the 6th of February 1938. Folk at Bondi call this 'Black Sunday' after a series of freak waves hit the beach and washed between 200-300 bathers into a rip where most required rescuing. 80 surf life savers equipped with 8 reels saved all but four swimmers. Those four died before reaching shore and were the first surf related deaths ever on Bondi beach.
The 'lifeline' and its belts were not without problems though; these first belts, made of cork, made swimming in them difficult and there was no way of removing them in an emergency. After a lifesaver drowned when his line became tangled, Stephen Charles Dowling, a Manly life saver and WWI Veteran designed in 1923 a belt with a quick release pin. Following two similar deaths in 1950, the Ross safety belt, a modified version of the Dowling belt, became standard.
While lifesaving competitions still include the use of the reel, it was phased out of active service for rescues in 1994.
References
Surfresearch, 1900 - Before Duke, fromwww.surfresearch.com.au/1900_Before_Duke.html
Waverley Cemetery Archives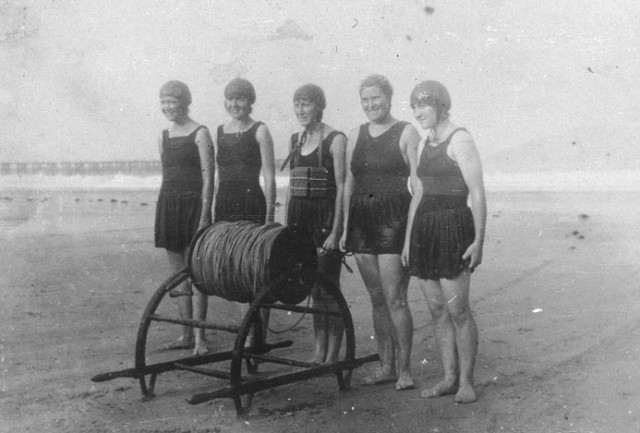 Coffs Harbour, NSW, circa 1924, At Work and Play – BCP 01901; Thelma Shea, Effie Shea, Dot Thompson, Phyllis Thompson, Edith Hoschke. Coffs Harbour Jetty Surf Club Ladies Team. Courtesy State Library of N.S.W.
Copyright Pittwater Online News, 2012. All Rights Reserved.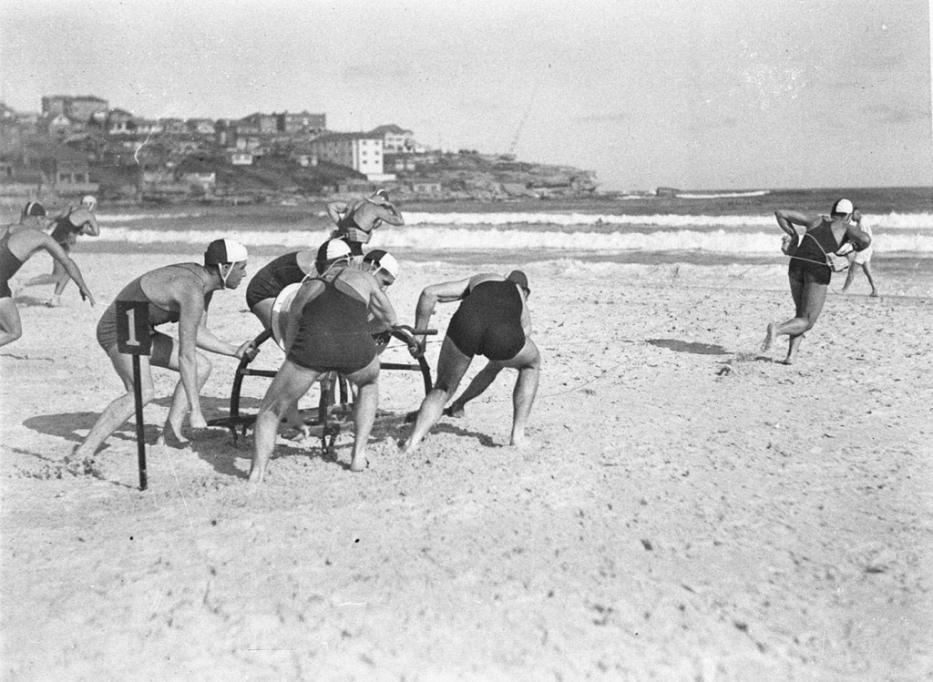 Surf Life Carnival at North Bondi; rescue event. 1925. Creator Hood, Sam, 1872-1953 Call Number, Home and Away – 1925; Digital Order No. hood_01925. Courtesy State Library of NSW.