March 18 -24, 2012: Issue 50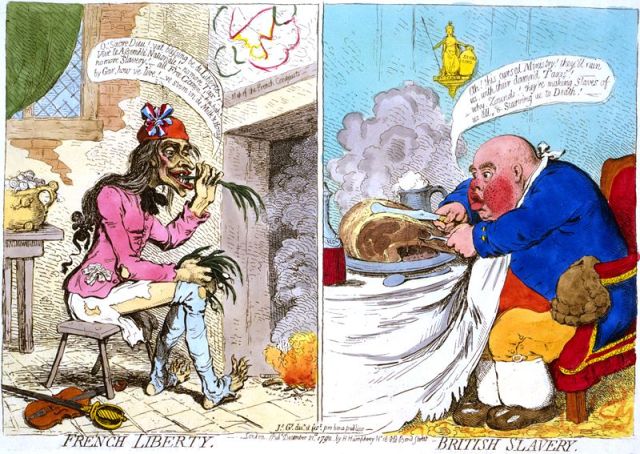 French Liberty. British Slavery, James Gillray's 1792 caricature poking fun at the French Revolution, anticipates the modern comic strip in having both separate panels and characters speaking via speech balloons. English: French Liberty. British Slavery. Js. Gy. desn. et fect. pro bono publico. SUMMARY: A design in two compartments. On the left is a lean and ragged sansculotte, seated on a stool before an open hearth ravenously eating raw onions, while he warms his bare toes at the fire. He is rejoicing. On the right is an immensely fat Englishman dining well, who is complaining about taxation and starvation. MEDIUM: 1 print : etching, color. CREATED/PUBLISHED: London : Pubd. by H. Humphrey, December 21st 1792. Source Library of Congress, Prints & Photographs Division, LC-USZC4-6088. Creative Commons Licence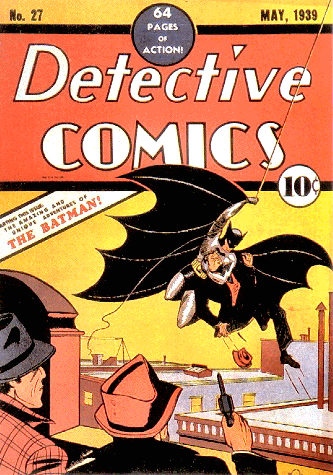 Name: Detective Comics, No. 27 Value: $1,380,000. Batman made his debut in the 27th issue of this monthly series. The comic book sold for 10 cents when it hit the market in 1939. Seventy years later, the comic fetches $1.38 million.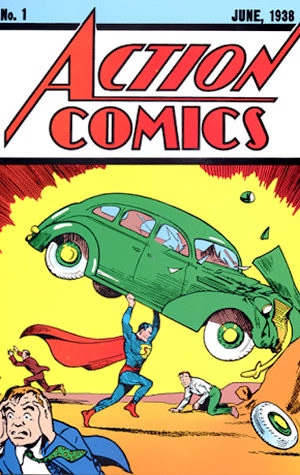 Name: Action Comics, No. 1 Value: $1,500,000. This American comic book series - which first introduced Superman to the world - made its debut in April 1938. "Action Comics #1 is the Holy Grail of comic books," Stephen Fishler, a leading expert on collectible comics and founder of ComicConnect.com, told YourNabe.com. "Before Action Comics #1, there was no such thing as a superhero or a man who could fly. Comics weren't even that popular. It's the single most important event in comic book history."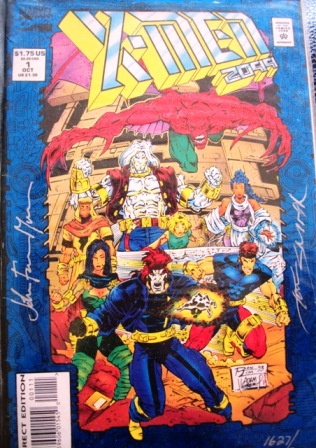 X-Men2099
Comic Books
Collecting comic books has become quite a pastime since the first comic books were issued. In 2010 Action Comics No1, which introduced Superman to the world, sold for $1,500.00. A Detective Comics No. 27, which had originally been sold for 10cents in 1939, realized $1.38 million dollars. This was the debut of Batman's comic issue.
They may be great adventures to inspire little boys and girls to fly, but the artwork and rarity of originals, and the competition between avid collectors, may turn what was a pleasant childhood idle hour into the deposit for the young man's or lady's first home.
Comics began appearing in newspapers around the 1890s.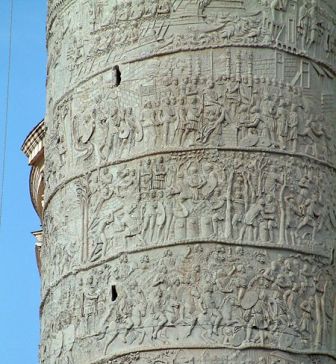 Printing presses, invented in the 15th century allowed people to begin pamphleteering caricatures or events in satirical form earlier then this, and others state examples such as sequential depictions on Trajan's Column (13AD) are really the first examples of comics. Trajan's Column is a Roman triumphal column in Rome which commemorates Roman emperor Trajan's victory in the Dacian Wars by depicting the battles or 'epic wars'. It has been much copied since.
Although the word 'comic' stems from the Greek kōmikos "of or pertaining to comedy" kōmos "revel, komos", via the Latin cōmicus, the term has been extended to include those that address more serious subjects and have heroes as main characters. It also describes a medium where pictures predominates over words. In 1845 the satirical drawings that appeared in magazines and newspapers were named 'cartoons', which may have stemmed from Punch magazines (first issued in 1841) naming their drawings of humorous depictions of current events 'cartoons' to lampoon the Parliament of the day, who were themselves organising an exhibition of cartoons, or preparatory drawings, at the time.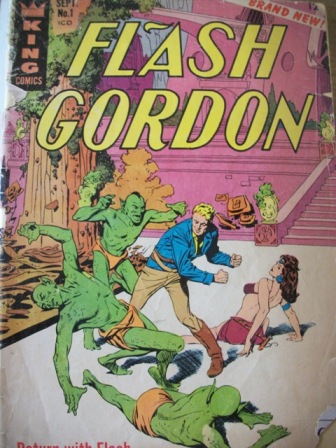 Those shown here, the Flash Gordon No 1 from September 1966, and the X-Men2099 signed first edition are from a big boy's collection. The Flash Gordon one, kept in a sealed plastic bag, is the first drawn by Alfonso "Al" Williamson (March 21, 1931 – June 12, 2010) an American cartoonist, comic book artist and illustrator specializing in adventure, Western and science-fiction/ fantasy. He gained recognition for continuing Alex Raymond's (1909-1956), the original illustrator of Flash Gordon comics, with his own work on the Flash Gordon comic-book series. First published January 7, 1934, the strip was inspired by and created to compete with the already established Buck Rogers adventure strip. Alex Raymond, known as "the artist's artist"
In Australia, the character and strip were retitled Speed Gordon to avoid a negative connotation of the word "Flash". At the time, the predominant meaning of "flash" was "showy", connoting dishonesty.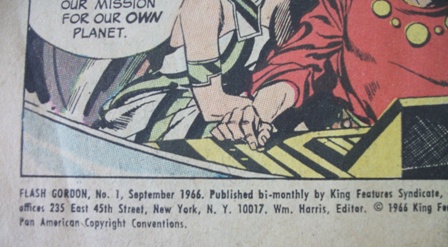 X-Men 2099 was a comic book series published by Marvel Comics from 1993 to 1996 that chronicled the adventures of an X-Men team in the year 2099. It extends the Marvel 2099 imprint, which features other future versions of popular Marvel characters, such as Spider-Man 2099 and Hulk 2099. The series was written by John Francis Moore and largely pencilled by Ron Lim, whose signatures are on this cover and it too is the First of this run of editions, October 1993.
As with all vintage items the condition of the comic itself dictates the price it may realise if surrendered to a comic auction or to another collector. The flash Gordon is currently worth only $24.00, the XMEN for a mere $6.80, perhaps a little more due to the creators signatures on the cover. They have not been collected for any value they may bring in at some future decade, their owner is an avid X-Men fan and he thinks Flash Gordon is ok too. He wonders why Hugh is taking so long to come out with a new movie…
The vintage You Tube Flash Gordon video we've placed here is one of numerous available on the Internet and was produced by Columbia in 1936 as its first successful Movie Serial. Movie serials, or Chapter plays, were short serialised fiction made to run in conjunction with a feature film. The Flash Gordon serials were some of the most expensive made. They ran at the theatres they were shown in for a week with their cliff-hanger endings designed to induce patrons to return the following week simply to find out what happens next.
Al Williamson. (2011, November 30). In Wikipedia, The Free Encyclopedia. Retrieved from http://en.wikipedia.org/w/index.php?title=Al_Williamson&oldid=463313188