September 9 - 15, 2012: Issue 75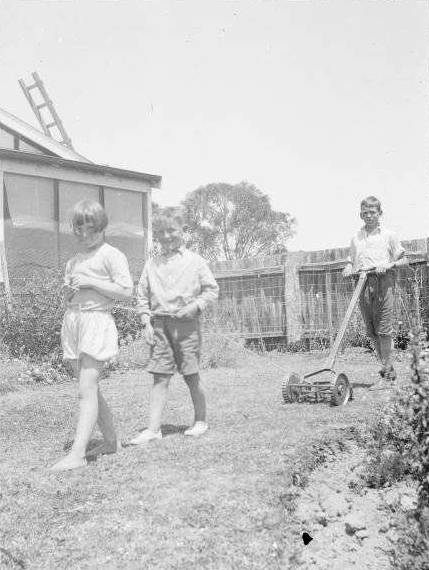 Heather, Ben and Phil Champion in the garden with a push mower, Pine Range, Australian Capital Territory, ca. 1930 [picture]. Part of De Salis, Farrer and Champion families photograph collection, Australian Capital Territory and New South Wales [picture]. ca. 1880-1945. Courtesy National Library of Australia. nla.pic-vn4652783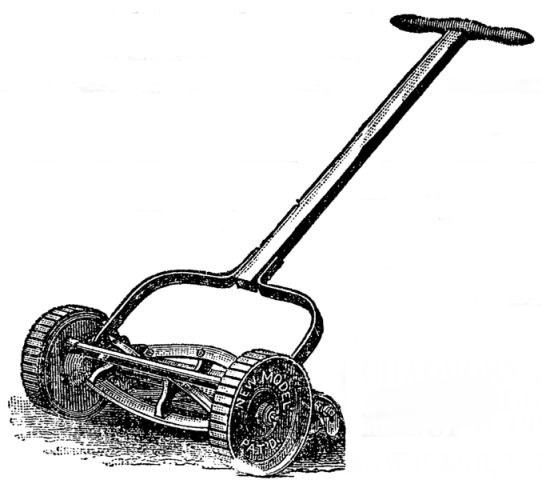 English: A reel lawn mower, adapted from an illustration used in an advertisement in a 1888 issue of Garden and Forest. Source English: Garden and Forest, February 29, 1888 issue (available from the Library of Congress)The lawn mower shown is an American design actually made by the Chadborn & Coldwell Mfg., Co., Newburgh, New York.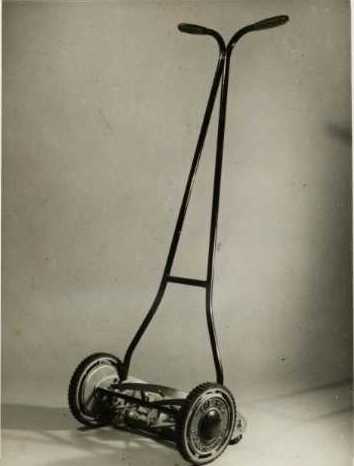 Crowe hand mower was 'The Rex' circa 1931-31. http://from.ph/350839 |title=2005/101/3 Photographic prints (3), black and white, lawnmowers, published by The Crowe Engineering Works Pty Ltd, Sydney, New South Wales, Australia, 1942-1960 |author=Powerhouse Museum, Australia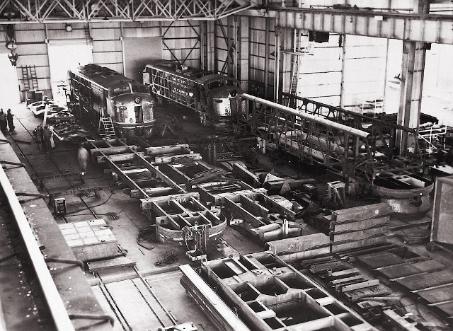 The factory floor at Clyde's Granville NSW plant 1952 courtesy of Victorian Railways photos.
Copyright Pittwater Online News, 2012. All Rights Reserved.
Reel Mowers in Australia
Reel mowers in Australia were imported from England initially. Many local engineering shops made mowers but Clyde Engineering, Qualcast Australia, and Crowe Engineering were the three main engineering firms producing non-motorised lawn mowers in Australia, Crowe from 1922 and Clyde from 1934. The Powerhouse Museum cites two Sydney companies as the origin of Aussie made mowers;
The Clyde Lawn Mower
From its origins in 1855, and founded by English immigrant William Henry Hudson, Hudson and Sons, Redfern as the firm was known from the early 1860s, was the forerunner of the giant engineering firm Clyde Industries Limited, Granville, Sydney, and its predecessors The Clyde Engineering Company Limited, Hudson Brothers Limited. The firm moved from Redfern to Granville in 1881. Eventually, the Granville factory occupied about 22 acres (8.8 hectares) and there steam and diesel locomotives, tramcars, aircraft, cranes, automobiles, batteries, air-conditioning units, and lawn mowers (to name some of the industrial products) were designed and manufactured over a period of a hundred years.
The company was also a major training facility for trade apprentices in many areas of industry. In 1970, a large section of the firm's operation was moved to Bathurst, and by 1972, much of the diesel locomotive plant at Granville had ceased operation, with engineering manufacturing being dispersed to Clyde facilities at Bathurst and Eagle Farm, Queensland.
After the Great Depression of the early 1930s, industry was in general slow to resume full capacity. Clyde Engineering was no exception with production having fallen dramatically with staff capacity slowly regaining pre-Depression levels. A large engineering contract was required to boost Clyde's stalled productivity. The outstanding Australian civil engineering project of the time, and an important economic gain for many Australian firms, was the design and construction of the Sydney Harbour Bridge, for which Clyde Engineering supplied the steelwork for the northern approaches to the bridge.
By 1934, the economy had regained its lost economic activity, and consumer confidence was also on the rise, so it was in this context that Clyde Engineering made a decision to produce a non-motorised lawn mower, which was given the tradename 'The Clyde'. This was a comparatively minor project at Clyde and only occupied the firm for a short period. The number of lawn mowers produced is uncertain, however most likely the numbers were small, thus making 'The Clyde' a 'one-off' production line domestic mower, which is now largely 'lost'. The iron and steel for the product was supplied by the Broken Hill Proprietary Ltd (BHP) company.
Crowe Engineering Works Ltd.
The firm was established in 1910 by Ernest Charles (E.C.) Crowe, first promoting his firm as general and motor engineers manufacturing crank shafts, buffing and grinding machines, automotive spare parts, and cylinders. However in 1922, Crowe Engineering began the manufacture of what was to become their lasting contribution to product design and development, the lawn mower. The decision to branch into the lawn mower business was, interestingly, similar to that of Qualcast Australia (see above), namely, to compete with the lawn mower imports that were considered to be dominating the local market. So consuming was the lawn mower business, that the firm promoted themselves as Lawn Mower Manufacturers. For the next 44 years, Ernest and his son Victor Charles (V.C.) Crowe, ran a very successful business, which produced some of Australian's most well-known brands of non-motorised lawn mowers.
The firm had a factory 31-39 Holmsdale Street, Marrackville, Sydney, and remained there until operations ceased on Monday 28 March 1966, when the remaining plant was auctioned by F.R. Strange Pty Ltd., Sydney, owing to an earlier sale of the factory, the death of Ernest, and the retirement of Victor Crowe.
The most popular brand of Crowe hand mower was 'The Rex' and later the all metal 'Super Rex', the former being made from the early 1930s, economically supported by an Australia-wide regime of high tariff protection for general engineering production. A measure of the success of tariff protection was that by the late 1930s, Crowe was producing ten different models of non-motorised lawn mowers, with names such as 'Al-KRO, 'CLEAN CUT', 'BURNLEY', SENIOR', and 'SUPERB'. One interesting example was the model named 'SIRDAR', which Crowe made for the large Australian engineering trade, retail, and supply manufacturer; John Danks & Son Pty Ltd. Crowe was commissioned to make the the machine, which was then sold and recommended by John Danks and Son.
After the Second World War, Crowe Engineering started to produce petrol and electric mowers, but they were considered to be not as popular as their traditional line of mower. The firm was represented at the Marrackville Manufacturers' Exhibition, which was held in the Marrackville Town Hall during March and April 1935, and photographs of the exhibition indicate the large range of non-motorised lawn mowers being made by Crowe Engineering.
Retrieved from Powerhouse Museum. Read more: www.powerhousemuseum.com/collection/database/?irn=350569#ixzz24yakNUUg - Under Creative Commons License: Attribution Non-Commercial
Clyde also made the famed C3801 steam locomotive.
Some sources state that the idea of 'lawns' evolved with tending sheep and prior to the large mowers built for harvesting crops, sheep were installed on many a large property to clear or 'crop' turf. The first patent for a machine for mowing lawns was granted to Edwin Beard Budding (1795-1846) from Stroud, Gloucestershire, on August 31, 1830. Budding entered into an agreement with John Ferrabee, owner of Phoenix Foundry at Thrupp Mill, Stroud, to produce the mower.
This version was a series of blades arranged around a cylinder with a push handle patterned after a machine used for shearing the nap on velvet in a cloth factory. The reel or cylinder mower, as it is called in England, shears grass in the same way a pair of scissors works. The cutting blades are riveted or welded to a series of piders located on a central shaft. As the shaft turns the blades come in contact with the stationary bed knife to cut the blades of grass. This clean cut promotes healthier, thicker and more resilient lawn growth that is more resistant to disease, weeds and parasites.
In 1841 Alexander Shanks of Arbroath, Scotland, built a 27-inch pony-drawn reel lawn mower, and the following year registered a 42-inch horse-drawn mower. The human would have to walk alongside the horse, hence the expression for walking "to go by Shanks' Pony".
Due to their quietness and ability to reach areas inaccessible to larger petrol fuelled mowers they are becoming popular again. They are also collector's items and range in price from $25.00 for those that need a bit of TLC. Brand new versions may also be purchased for not much more but don't have that element of Australian heritage Clydes and Crowes may.
Further: