March 13 - 19, 2016: Issue 255
Heart Padlock Charm Bracelets for Newborns: A Golden Tradition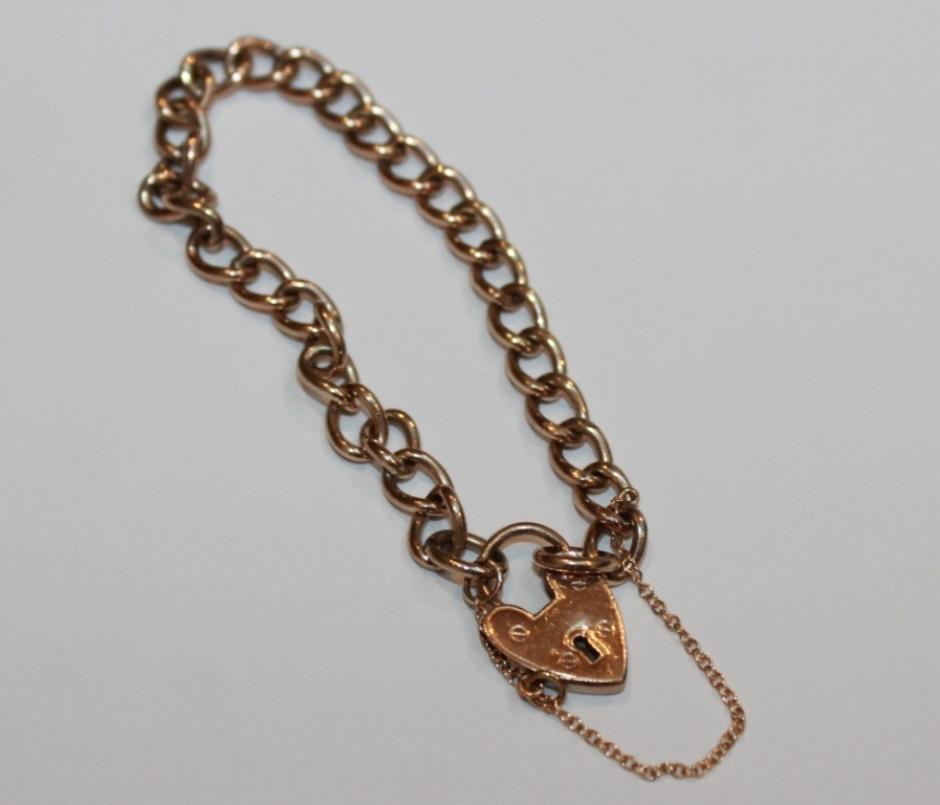 A few months back a tiny gold charm bracelet, which neatly fits around two index fingers nowadays, was cleaned and polished by a jeweller skilled in such work and handed back by two doting parents to the person it had been given to several decades before. It was the first time it had ever been seen by its owner.
It may be hard to imagine when we're as big as we hope we'll ever be, with bones that are holding up sums of flesh sliding earthwards, that all of us once had wrists as small as a fairy's and fingers as tiny as the fronds of ferns.
When these tiny wrists and fingers appeared they were often gifted by adoring grandparents, if a girl, with a just as tiny charm bracelet, usually with a small heart as the charm. The significance of the heart, apart from the obvious 'love' was to 'lock the new arrival to life' – thus the added 'padlock' on many of these.
These were and still are given as Christening gifts, and in that scenario also indicate the Sacred Heart of Jesus.
The origin of the term 'bracelet' is from the Greek 'brachile' meaning 'of the arm', via the Old French 'bracel'. A bracelet is also a small brace or bracer (an arm-guard used by archers).
From Wikipedia:
The history of Egyptian bracelets is as old as 5000 BCE. Starting with materials like bones, stones and woods to serve religious and spiritual interests.
In 2008, Russian archaeologists from the Institute of Archaeology and Ethnology of Novosibirsk, working at the site of Denisova Cave in the Altai Mountains of Siberia, uncovered a small bone fragment from the fifth finger of a juvenile hominin, dubbed the "X woman" (referring to the maternal descent of mitochondrial DNA,) or the Denisova hominin. Artifacts, including a bracelet, excavated in the cave at the same level were carbon dated to around 40,000 BP.
In Bulgaria there is a tradition called Martenitsa, which sometimes involves tying a red and white string around the wrist to please Baba Marta in order for spring to come sooner.
In Greece a similar tradition, weaving a bracelet from red and white string on the first day of March and wearing it till the end of summer, is called "Martis" and is considered to help protect the wearer's skin from the strong Greek sun.
In some parts of India, the number and type of bangles worn by a woman denotes her marital status.
In Sikhism a bracelet is one of the mandatory articles known as the Five Virtues.
In Latin America, Azabache Bracelets are worn to protect against the Mal de ojo, or evil eye. The evil eye is believed to result of excessive admiration or envious looks by others. Having newborn babies wear an azabache (a gold bracelet or necklace with a black or red coral charm in the form of a fist), is believed to protect them from the evil eye.
Taken in the plural, bracelets is often used as slang for handcuffs. (1.)
Found in Trove:
FEMALE SKELETON. FOUND IN A BRONZE VAULT. RELIC OF ANCIENT DAYS. LONDON, April 15.
At Newchatel, in Switzerland, a bronze vault, made six hundred years before Christ, has been unearthed. It contained a female skeleton,four bronze and two lignite braclets. FEMALE SKELETON. (1912, April 16). The Evening Star(Boulder, WA : 1898 - 1921), p. 3. Retrieved from http://nla.gov.au/nla.news-article206525970
AGE OLD HISTORY OF BRACELET - "Ancient" Fashion Revived.
No detail of the newest fashions is so effective as the bracelets which are worn alike with the sleeved and the sleeveless gown, and sometimes even posed one above the other, to as many as half a dozen.
Fashion could not have revived an ornament with more graceful associations. The bracelet, in fact, is older than history, and is as becoming to the savage as to the mondaine. Heavy bracelets may be seen on the sculptures of Assyria, and a famous recent excavation has shown us how lovely were the golden bracelets of Egypt. The Trojan women wore them, and they existed among the relics of Hissarlik, popularly supposed to be the site of ancient Troy.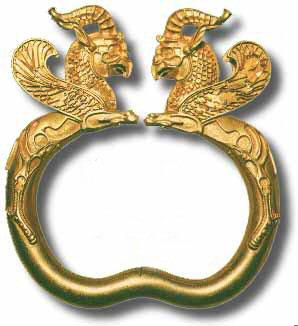 The Medes and Persians delighted in bracelets. So did the Greeks, but adornments for women only. But In Roman times they were universally worn, and Nero's golden "armilfa," containing a serpent-skin amulet, is one of the famous bracelets of history, while Livy has told us how the armlet was conferred as a military reward for valor. Among the Gauls and Britons, as Caesar noted, bracelets often served as money, and generous chieftain was sometimes called a bracelet giver. It is strange how this semi-savage utility, of the bracelet survives until to-day, when Birmingham, England, still manufactures, for barter on the Guinea Coast the copper ring—or bracelet—money known as "manillas."
Right: Ancient bracelet, Achaemenid period, c. 500 BCE, Iran
It was a royal jewel which the young Amalekite took from the dead Saul's arm, after the disaster of Mount Giboa—just as the splendid diamond set armlets of the modern Shahs of Persia are the insignia of a king. These, again, are historic bracelets, and "once belonged to the Mogul Emperors of India.
In the Middle Ages.
During the Middle Ages, when wide sleeves were the fashion, the bracelet disappeared. But by Renaissance days it was again revived, that prince of jewellers, Benvenuto Cellini, making some lovely examples. In the centuries succeeding the fifteenth its popularity has never waned. Tudor bracelets were of heavy gold, foreshadowing the modern taste. Stuart fashions favored the twisted string of pearls, which has, again, been recently worn. And the hair bracelets, which had so great a vogue a century ago, were also worked in Stuart days "of soft and dainty mayden haire," as Herrick tells us in a charming poem.
The eighteenth century, however, saw the bracelet at its loveliest, clasped about a wrist whose slenderness was accentuated by the fall of the lace ruffle from the elbow sleeve above it.
Under the Directoire and Empire the classic bracelet of golden links or supple chainwork, worn about an arm bare to the shoulder, superseded the eighteenth century model. The "30's"started the fashion of the bracelet, which was practically a cuff. It is this type which endured until late Victorian days, and of which so many varied examples are available today. AGE OLD HISTORY OF BRACELET. (1931, July 4). Daily Standard (Brisbane, Qld. : 1912 - 1936), p. 8. Retrieved from http://nla.gov.au/nla.news-article189040622
Charms are an equally old tradition with stones carried for good luck, small figurines found in Neolithic graves and pendants indicating we have long carried such talismans.
In The History of Charms and Charm Bracelets: A Short Introduction by David Clark, the writer explains:
The role of charms, however changed over time from that of practical use and as a means of warding off evil (or for luck), to a purely aesthetic one. Queen Victoria's own fascination with charms, jewellery and pendants made charm bracelets enormously popular amongst the gentry of the time, as a luxurious fashion items. At such a time it was common for the wealthier classes to show off their fortune by wearing elaborate and exotic clothing, and the wearing of charm bracelets as a fashion accessory.
It wasn't until World War II, however, when soldiers, who collected trinkets as a reminder of men they knew, the women they loved, and their time in battle that the wearing of charms really took off throughout Britain and the rest of Europe. Fighting, often away from their loved ones for years at a time, soldiers would buy small reminders of the places they had been as presents for their families back home. Such presents, some bought, others found, seemed to encapsulate moments from the soldiers' time away and as such charms became hugely popular as a means of capturing emotion and personal memories. Since then charms have often been collected as reminders of good times, and because they signify a great amount of sentiment which their wearers wish to carry around with them. (2.)
While in Australia, our investigations found:
Jewels For Babies
The increase in jewel-wearing has reached the nursery. Twenty years ago, a row of coral beads and some coral 'tie-ups' wore thought sufficient for the most elaborately dressed tiny. Now Mistress Baby has her.
STRINGS OF NICE PEARLS, From which a nice gold heart or dainty amulet depends. A little gold bangle is on her dimpled wrist day and night, and clasps are specially made which, once snapped on with a kiss from mother, can never be unfastened except with file or saw. Other more ELABORATE BANGLES are sometimes seen on chubby arms, and little chains studded here and there with turquoise, pearls or diamond miniatures, in fact, of all the bracelet devices made for their elders are now sold for the little ones.
Tiny boys, too have followed the fashion set by their fathers in having bracelets. It was the Princes of our Royal Family, who first wore bangles in England, and the idea is a great deal more followed than many have any notion of, for the jewel is of course nearly always concealed.
LITTLE MISSES OF SIX receive enamel and jewel-studded watches from devoted parents who, a decade ago, would have given a doll for a birthday or Christmas gift. Many parents have followed the example, of the Royal Family in giving two or three pearls every year, so that by the time the child is to be presented she owns a handsome string of pearls.' Some of the AMULETS are extremely dainty, and novelties for children's wear are a recognised branch of the trade, so that puzzled godparents, desiring to present something more novel than the orthodox mug or bowl, may have a delightful choice of such dainty wear.
One facsimile of an envelope in gold, measuring half-an-inch all told, has the name of the child engraved upon the address side. A little ruby represents the seal, the envelope opens, and the name of the giver and date of baptism are engraved upon the thin gold plate which slips out. Another closed fuchsia-bud opens to show the giver's name upon the purple enamel of the petals. A little boy, with the BABY'S NAME IN DIAMONDS as the title, opens to show her mother's photograph on the title-page. Such are some of the costly and beautiful jewels now made for his Majesty King Baby. FOR BABIES. (1902, December 24). The Scrutineer and Berrima District Press (NSW : 1892 - 1948), p. 4 Supplement: CHRISTMAS SUPPLEMENT TO THE SCRUTINEER. Retrieved from http://nla.gov.au/nla.news-article125203569
NELLIE STEWART BANGLES - A WEE SIZE FOR THE BABY'S ARM.
So many friends wrote for the little cable bangles which Messrs. Angus and Coote were offering in babies' sizes a few weeks ago, that they have decided to make another offer of a wee gold Nellie Stewart bangle for the baby's special benefit. One likes to think that there is something of this kind that one can give little girlies, because they are able to Wear them for such a long lime before they become too small, and they are not so likely to be lost as a brooch or a rattle —both favorite presents. Somehow, the, a bracelet seems a comfort of some sort to them, for they love playing with it. I know that there is many a deal in my own old Nellie Stewart that was left there by some baby tooth at some time or other. This little bracelet is made in a good nine-carat gold, in a small baby's size; it is beautifully made, and will prove a delightful present for many a wee friend of mine, I am sure. The price—post free, of course— is only 10/6, and considering the excellent value of all Angus and Cootes things, I think it a bargain. The same style of bangle can also be had in larger sizes for older lassies, at ...These little bracelets make charming presents, as they are something that a girl may keep, and after one grows up, it is lovely to have, something that one received when a baby, isn't it? If anyone would like to have one of these, I shall be happy to have it sent as soon as I receive the order. I can safely say that the quality is of the very best, and none who buy can fail to be satisfied with their purchase when it arrives. If you would rather write direct to the firm, you may be sure of the promptest attention and courtesy always. Address, George Street, Sydney. Around the Shops. (1913, April 8). The Farmer and Settler(Sydney, NSW : 1906 - 1957), p. 8. Retrieved fromhttp://nla.gov.au/nla.news-article116116419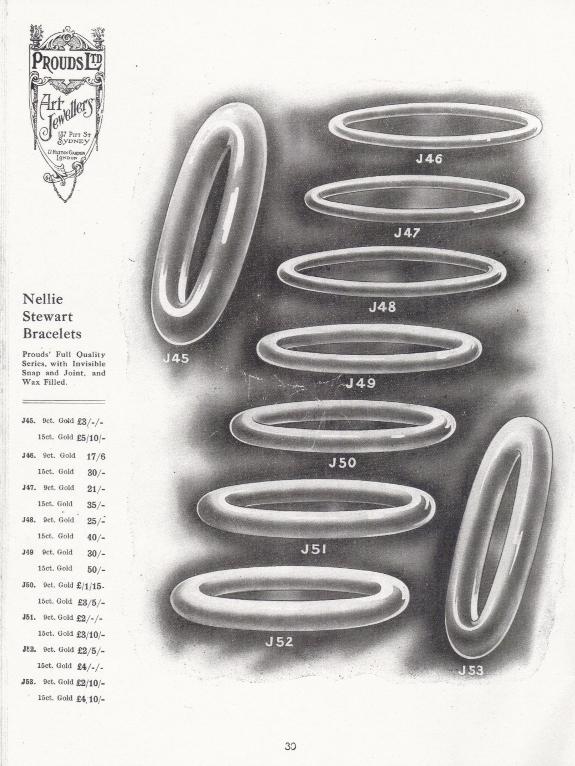 Prouds Magazine 1912 (4.)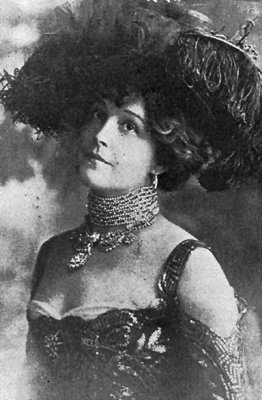 Eleanor Towzey "Nellie" Stewart (born in Sydney on 20 November 1858 – 21 June 1931) was an Australian actress and singer, known as "Our Nell" and "Sweet Nell". Born into a theatrical family, Stewart began acting as a child. As a young woman, she built a career playing in operetta and Gilbert and Sullivan operas.
Stewart held a place by herself on the Australian stage. Beautiful in face and figure, full of vivacity, a natural actress, she had also an excellent soprano voice which she lost in middle life, probably from over-working it. She took her art seriously, lived carefully and never lost her figure. She had unusual success at playing "younger" parts late in life. She had great versatility, and after being for many years at the head of her profession in Australia in light opera, she was able, after the loss of her voice, to take leading parts in non-musical comedy and drama. Though not judged a great actress, she was an effective one in both emotional and comic parts. Her autobiography displays a woman of charming character, kindly, appreciative of the good work of others, and free from the petty jealousies often associated with stage life. She had the admiration, affection and respect of Australian playgoers, both men and women, for 50 years.
"Nellie Stewart bangles" became a popular fashion accessory for young Australian and New Zealand women in the late 19th and early 20th centuries. Usually worn on the upper arm, they were an emulation of Nellie Stewart's style.
Right; Nellie Stewart circa 1885
In 1886, as a token of thanks for her support of a fund to commemorate the death of General Gordon of Khartoum, Stewart was presented with 25 gold sovereigns. She had them made into a simple bangle which she wore on her upper arm for the rest of her life. Jewellers, such as Angus and Coote, marketed the bangles. (3. and 4.)
So apart from being wonderfully reminded of a grandmother's loving smile by holding on to such keepsakes, these tiny little bracelets, with their wonderful charms, are a gift that can cause us to marvel that we too came from something much smaller – once upon a time, in a faraway and often magical land.
They make you wonder 'was I ever that small?'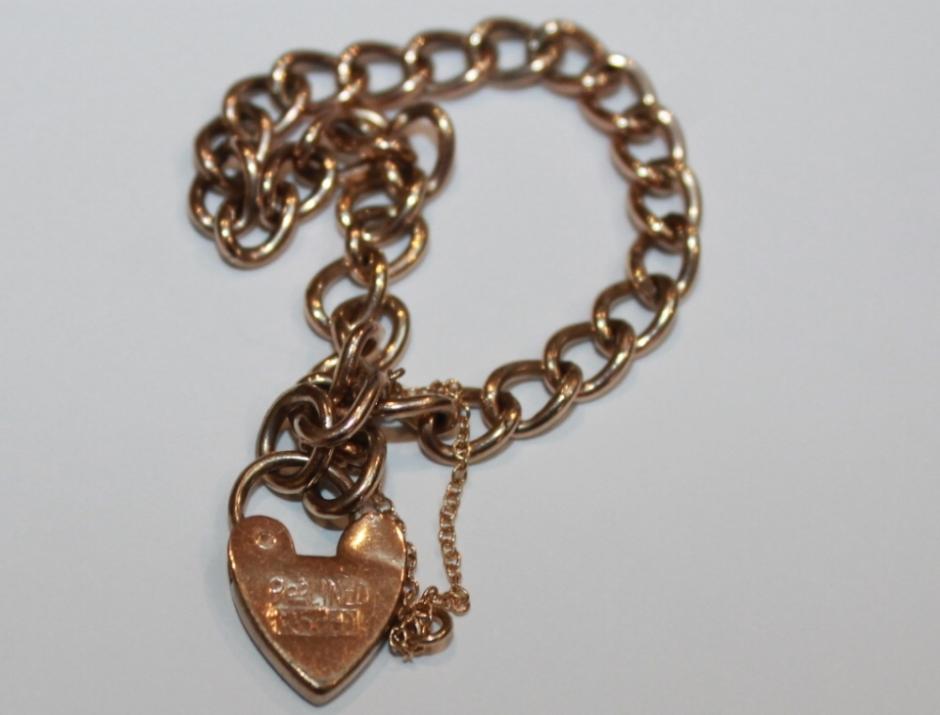 Heart Padlock Charm Bracelets for Newborns: A Golden Tradition by A J Guesdon, 2016.