April 15 - 21, 2012: Issue 54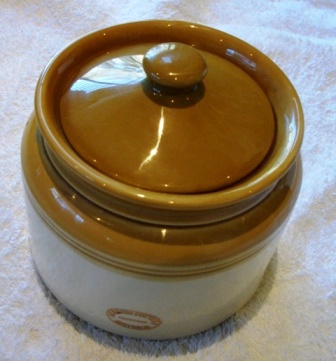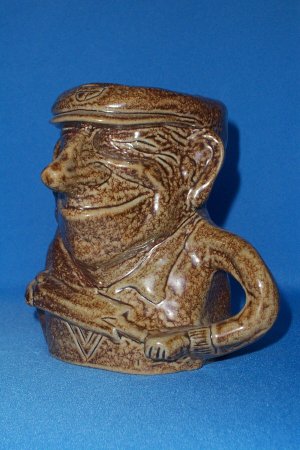 Above: Don Bradman Toby jug. Top: small crock, circa 1980.
Copyright Pittwater Online News, 2012.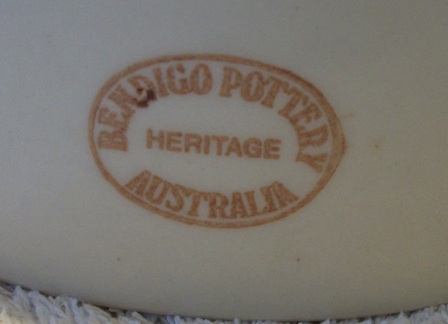 Bendigo Pottery
The story of Australian ceramics is alive and well thanks to the oldest pottery works in Australia, Bendigo Pottery. Begun in 1858 by a young Scottish migrant who was already a master potter, George Duncan Guthrie, formerly of Sydney's Camperdown (as a ginger beer bottle maker), went through a few personal and business tragedies in the years he landed in Australia (1950) before marvelling at the fine white clay beside a Bendigo creek whilst prospecting for gold and returning to his first trade. Initially The Epsom Pottery works, Mr Guthrie provided an alternative to everything in ceramics being imported during the first era of this business.
Bendigo was known as Sandhurst in those days; The current name dates to the Victorian Gold Rush as a shortened form of Bendigo Creek goldfields, simply "Bendigo Creek" or "Bendigo's Valley". The creek was named after a famous local boxer and shepherd who had earned the nickname Bendigo in reference to the Nottingham prize-fighter William Abednego Thompson, generally known as "Bendigo Thompson". Its first official name was Castleton after the mining town Castleton, Derbyshire, England. Sandhurst, after Royal Military Academy Sandhurst, became the official designation for the settlement in 1854 although the nickname Bendigo remained popular and after a plebiscite in 1891 the city was renamed to the popular 'Bendigo'.
Almost every home in Australia has at least one piece of Bendigo Pottery and vaster collections are kept in museums in Victoria. Bendigo Pottery, in Epsom still, has one of the most significant collections of historic wood fired kilns in the world and is open for tourists, still, year round. (From Bendigo, Wikipedia)
Some pieces, as part of a collection, are worth more then others. Older and rarer and in prime condition, as with all collecting, commands higher prices from those seeking to add to, expand, or complete their collection. Some of those most valuable currently are the series of Toby jugs commissioned from Melbourne cartoonist John Frith, fetching around $500 in 2001. This series of salt-glazed stoneware of Australian characters, including Sir Robert Menzies, Ned Kelly, Sir Donald Bradman, Albert Namatjira, Henry Lawson and Sir Charles Kingsford-Smith, was in a Limited Edition run of 3000 each and sold from 1974.
Collecting smaller pieces makes Bendigo ceramics a viable hobby as so many, of so many kinds were and are made, that there is something for everyone. Bread crocks, plates, goblets, water filters, you name it if it's in ceramics and they've created an Australian alternative. Pieces can be purchased second hand from as little as $5. Beautiful, functional and Australian; how could you go wrong?
Further:
MARRIED. At 511, George-street, Sydney, on the 24th February, 1853, by Mr. Joseph Kemish, Baptist Minister, George Duncan Guthrie, of Camperdown, potter, to Agnes, third daughter of the late Mr. Robert Craig, of Edinburgh, shawl manufacturer. Family Notices. (1853, February 25). Empire (Sydney, NSW : 1850 - 1875), p. 2. Retrieved from http://nla.gov.au/nla.news-article60135684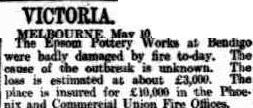 More in Research File: below.