March 4 -10, 2012: Issue 48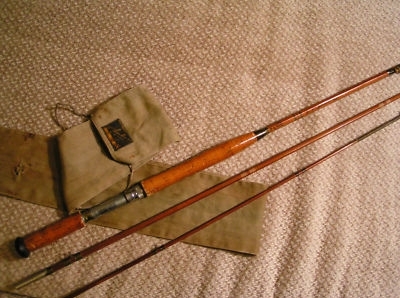 Above: 1930's antique William "Bill" Southam Split Bamboo Rod with canvas bag. Below: Advertisement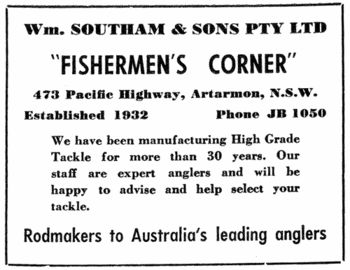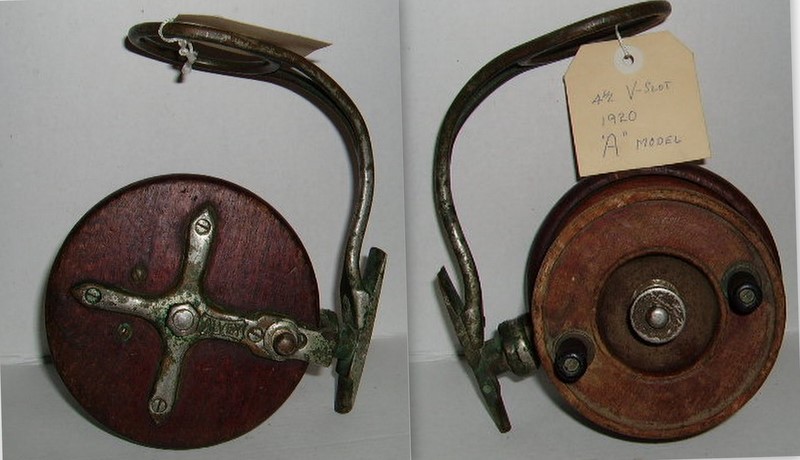 Above: The 1920 Charles Alvey reel; Silky Oak wood for the back and spool of the first 3" and 4" diameter reels. The back support, line guide and ratchet parts were hand filed from cast gunmetal. Courtesy Alvey Website; link to in Further.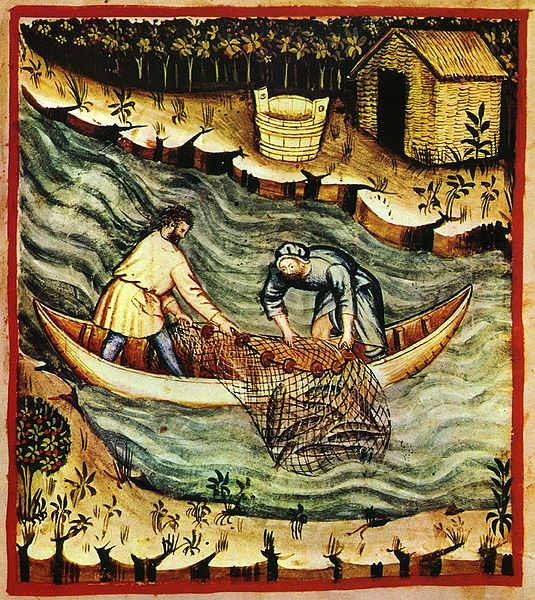 Above: Illustration: Fishing, tacuinum sanitatis casanatensis (XIV century)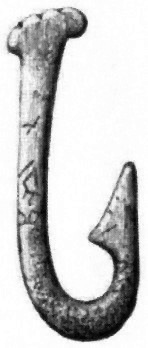 Left: Stone Age fish hook made from bone. This image was first published in the 1st (1876–1899), 2nd (1904–1926) or 3rd (1923–1937) edition of Nordisk familjebok. The copyrights for that book have expired and this image is in the public domain.
Copyright Pittwater Online News, 2012. All Rights Reserved.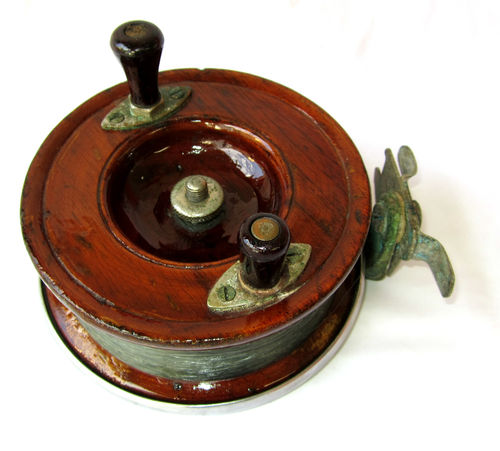 Fishing Equipment
Fishing rods and reels are not only collectors items, they can, if well looked after, still be functional decades after first being purchased. In Australia the early split cane rods of tackle-maker Sydney-based William Southam Pty Ltd and J M Gillies of Melbourne were both well regarded. William "Bill" Southam began making cane rods in Sydney in the early 1930s, some of these taking up to 100 hours to make. By July 1948 William Southam had premises at 419 Pacific Highway, Artarmon, promoting themselves as 'Rodmakers to Australia's Leading Anglers' ("Outdoors & Fishing", January 1952, p185, advertisement to left).
Keen fisherman and author Zane Grey was reputedly impressed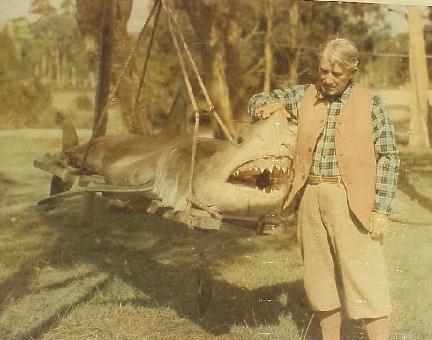 with the quality of the Southam cane rod used during his visit to Australia in 1936. The writer's capture of a world record tiger shark he christened 'white death' created national headlines and enormous public interest as well as being a boon to Wm Southern's. During Easter 1936 over 3,000 people visited Watson's Bay to view Grey's world record shark; A world's record for a shark caught with rod and reel was established three miles off the Heads last night, when Mr. Zane Grey landed this1036 lb specimen.
THRILLS OF THE RING AT THE ROYAL EASTER SHOW—INCIDENTS IN THE HIGH JUMP AND WATER JUMP. (1936, April 10). The Sydney Morning Herald (NSW : 1842 - 1954), p. 10. Retrieved from http://nla.gov.au/nla.news-article17346959
Len Butterworth, a Queensland gent, began producing split cane rods in 1939. Len began his business in his shed and would catch trams, witht he rods wrapped in newspapers, to sell them at tackle stores in Brisbane. An international cane shortage following World War II and the Korean War forced rod-makers to trial fibreglass. A new generation of Australian rod makers began producing quality fibreglass rods to international success. Today John Mc Ginn make split cane fly rods in Australia.
Charles Alvey began making reels in 1920 on a treadle lathe and from Silky Oak wood. This Queensland based and family run business, still in operation today, manufactured the most beautiful and functional reels from materials to suit their times.
Antique fishing equipment, whether rod or reel, seels from anywhere from ten dollars up to hundreds of dollars. Some are collected for their attractive appearance and hung on walls. Some are sought simply for the pleasure of fishing with a true original.
Fishing dates back to at least the beginning of the Paleolithic period (about 40,000 years ago). Isotopic analysis of the skeletal remains of Tianyuan man, a 40,000 year old modern human from eastern Asia, has shown that he regularly consumed freshwater fish. Judging by stone inscriptions dating back to 2000 BC, fishing rods go back to ancient Egypt, China, Greece, Trinidad and Tobago, Rome and medieval England, where they were called "angles" (hence the term "angling" as a synonym for fishing).
Originally fishing rods were made from split Tonkin bamboo, Calcutta reed, ash wood, hickory, iron wood, maple, lance wood, or malacca cane, as it was necessary that they be made light, tough, and pliable. Rods were generally made in three pieces called a butt, midsection, and tip. The butts were frequently made of maple, with bored bottom; this butt outlasted several tops. Midsections were generally made from Iron wood because it was a thicker strong woods. Tips were generally made from bamboo for its elasticity which could through the bait further and more accurately. Handles and grips were generally of cork, wood, or wrapped cane. Guides were not added to fishing rods until around the 17th century. Guides were made of simple wire loops or, later, loops with ring-shaped agate inserts for better wear. Even today, Tonkin split-bamboo rods are still popular in fly fishing.
Rod Making Bench: An old rod making bench would generally consist of a 6 to 8 foot bench, vice, a drawing knife, a jack, a fore plane, large coarse flat file, sand paper, and several strips of wood about 2 feet long with different size grooves in them.
Fishing continues to be one of the most popular pastimes and sports in Australia. A NSW Fisheries survey of Recreational Fishing in December 2002 estimated there were one million NSW recreational fishers, or 17.1% of the population.
Further and Citations:
Antique Fishing Reels website: http://www.antiquefishingreels.com/
Alvey Reels website with great history page: http://www.alvey.com.au/
ROD and TACKLE maker to AUSTRALIA'S LEADING ANGLERS and ZANE GREY. WILLIAM SOUTHAM 77 Longueville Road, LANE COVE SYDNEY Phone JW1030
Advertising. (1938, March 5). The Sydney Morning Herald (NSW : 1842 - 1954), p. 25. Retrieved from http://nla.gov.au/nla.news-article17446133
WM SOUTHAM PTY LIMITED capital £10000 in 5000 preference shares of £1 each and 20 000 ordinary shares of 5/ each manufacturers and distributes of fishing rods and tackle etc. First directors William L Southam and George H Montgomery
NEW REGISTRATIONS. (1938, July 1). The Sydney Morning Herald (NSW : 1842 - 1954), p. 10. Retrieved from http://nla.gov.au/nla.news-article17486374
Fishing. (2012, March 2). In Wikipedia, The Free Encyclopedia. Retrieved from http://en.wikipedia.org/w/index.php?title=Fishing&oldid=479854053
Link for info on all things Tonkin cane rods
http://www.cane-rods.mistral.co.uk/
TUBULAR FIBREGLASS/ POWERODS/ MADE BY LEN BUTTERWORTH BRISBANE QLD', further along the body is the yellow, cursive text 'Beach Beauty'.
The red canvas rod bag has two internal compartments to store the two halves of the rod. The bag is closed by folding over a canvas flap and tying it shut with two white, cotton ties. The rear of the rod bag has been printed in black, upper case text 'BEACH BEAUTY' using a stencil.
Read more: http://www.powerhousemuseum.com/collection/database/?irn=346425#ixzz1o0YJadZZ
Under Creative Commons License: Attribution Non-Commercial
During the early decades of the 20th century game fishing remained the sport of enthusiasts, who mainly fished out of Port Stephens. This changed with the visit to Australia of fisherman and author Zane Grey in 1936. Grey single-handedly boosted the profile of the sport and Sydney as an international fishing destination.
Australia's sesquicentenary celebrations included the Big Game Angling Contest that ran from 1 January to 23 April 1938. The major trophy for the largest game fish caught during the competition was valued at £500. This was won by Mrs A W Sams of Milton, NSW. Some indication of the female to male ratio of big game anglers in 1938 may be gained from a review of the contest which stated 'It was not that the women entrants in the competition lacked the necessary skill, endurance and experience but rather that they were in such a huge minority; they were probably outnumbered by male anglers by at least fifty to one.' ('Big-game Angling Contest', "Walkabout", June 1 1938, p43, see file) The Contest did much to boost the profile of the sport and Australia's reputation as a big game fishing destination. World War II was a major setback for the sport in Australia, but by the 1950s the sport was becoming well established, particularly in northern Queensland.
Read more: http://www.powerhousemuseum.com/collection/database/?irn=344225#ixzz1o0lCGm7h
Under Creative Commons License: Attribution Non-Commercial